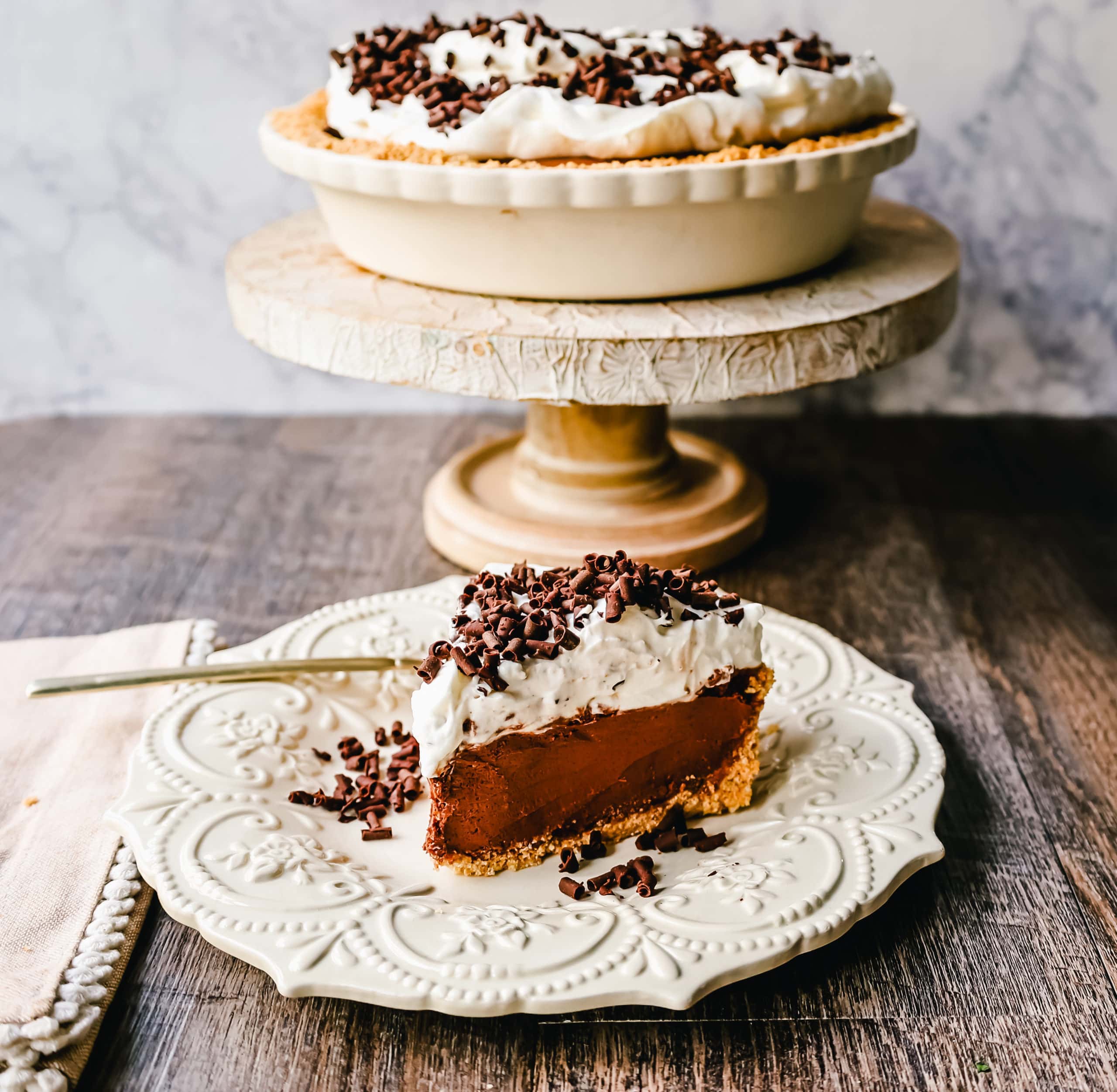 French Silk Pie Recipe
Rich, creamy chocolate cream topped with fresh whipped cream and chocolate shaving all in a buttery graham cracker crust. This Chocolate French Silk Pie is heavenly!
We are officially 16 days until Thanksgiving and the pie prep is in full force! If you have read many of my Thanksgiving posts, you know that it is a huge holiday in my family. It has always been a huge deal and there's no less than 30-50 people there every year. So if you can imagine, we have a lot of pies! There's usually at least 20 pies of all varieties and it is so fun to try a little taste of each one.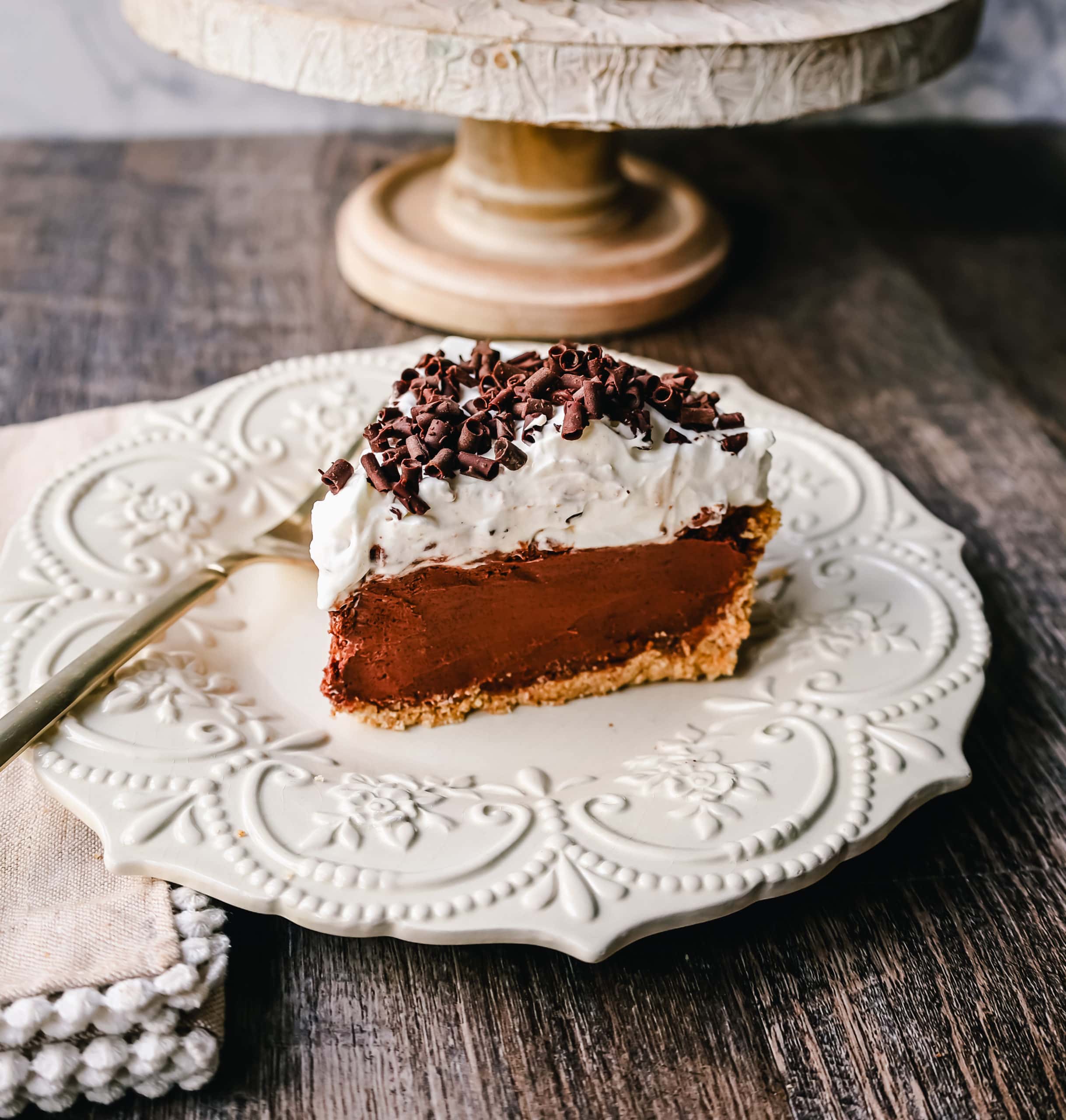 We have found that the cream pies are always a big hit! You can't wrong with an award-winning PUMPKIN PIE that is unlike other pumpkin pies but chocolate is always a popular one too. So is time to finally share a creamy Chocolate French Silk Pie. This French Silk Pie is made with pure unsweetened chocolate so you get that rich chocolate flavor.
This Chocolate French Silk Pie Recipe is made with unsweetened baking chocolate, sugar, butter, vanilla, and eggs. That's it! It is all about the fresh ingredients and unique technique that sets this French Silk Pie apart from the rest. I will share all of my tips and tricks!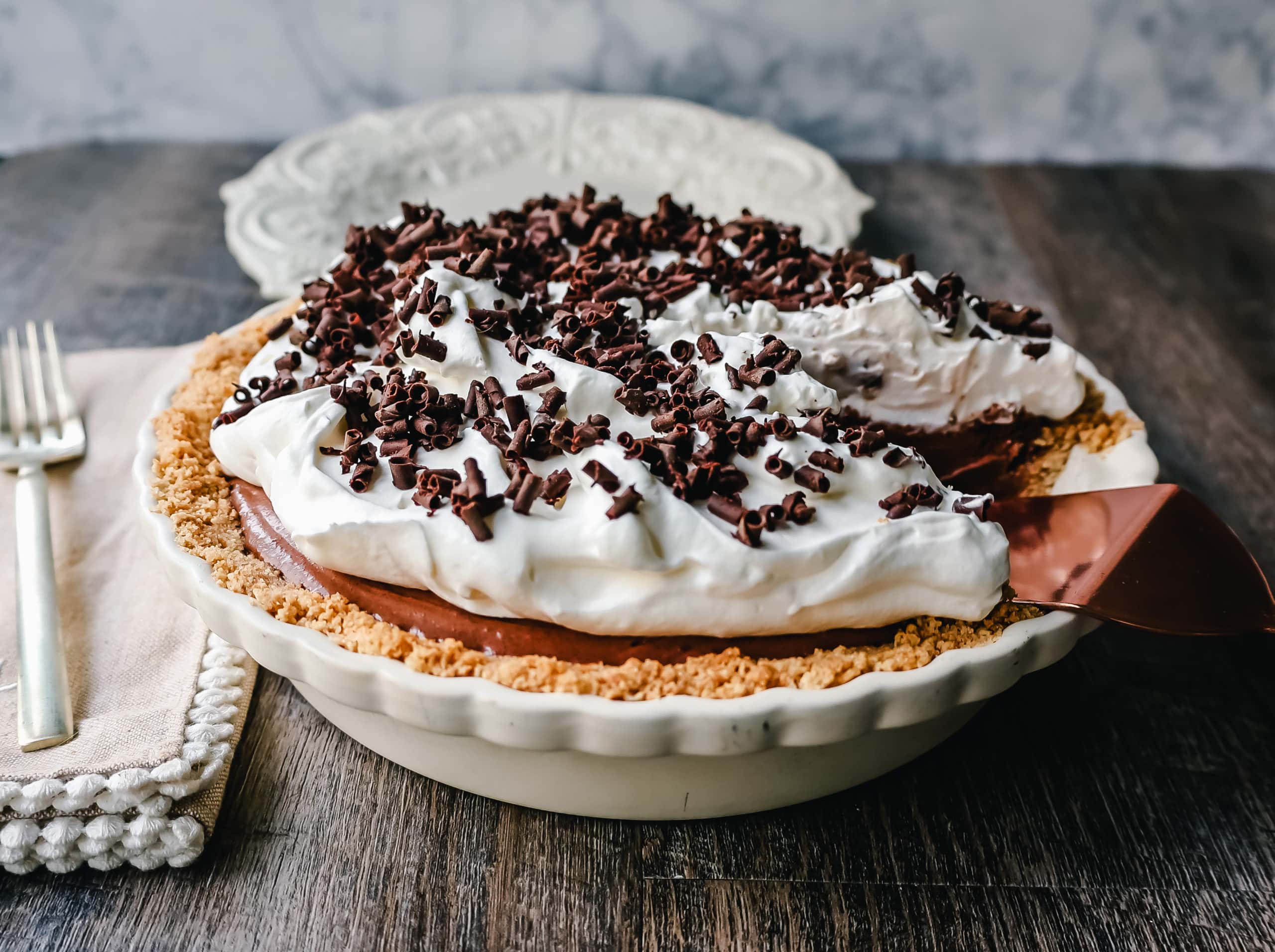 Start off with high-quality unsweetened chocolate. I suggest using superfine sugar because it is so much easier to cream it with the butter and we want to make sure it doesn't turn grainy! You want your butter to be at room temperature (but not hot or melted) so it can easily incorporate into the sugar.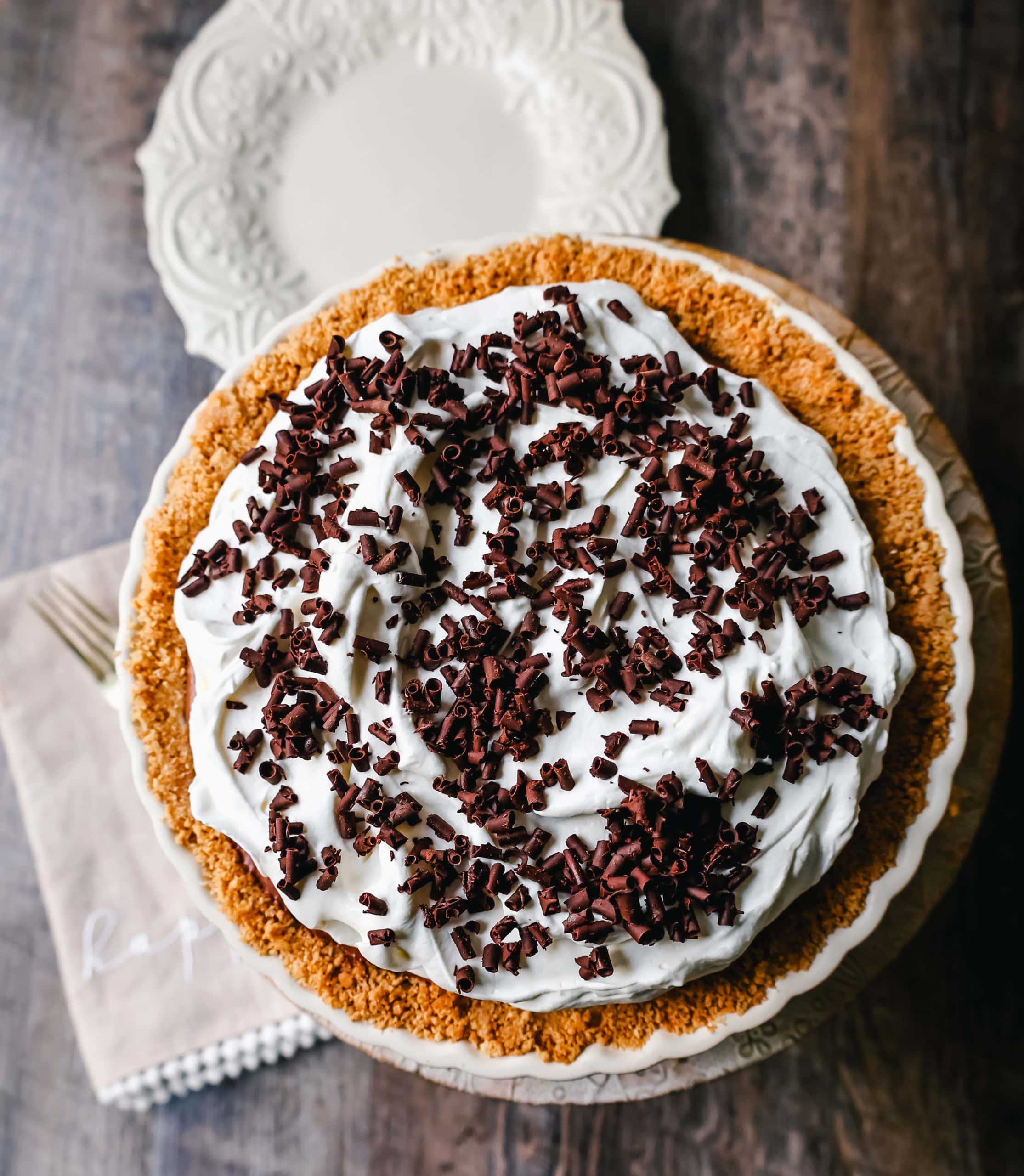 You can use your favorite type of pie crust with this French Silk Pie recipe. I used a graham cracker crust because it is super quick and easy to put together. You can also use an All-Butter Pie Crust and THIS recipe is amazing! You can also make a simple OREO cookie crust if you want to make it all chocolate. You just can't go wrong with any of those pie crust ideas!
The topping is made with heavy cream and powdered sugar. It is worth the extra 5 minutes to make the homemade whipped cream! It is absolutely heavenly. Top it with fresh grated chocolate or chocolate curls to make it look extra special...and who doesn't want some extra chocolate on top?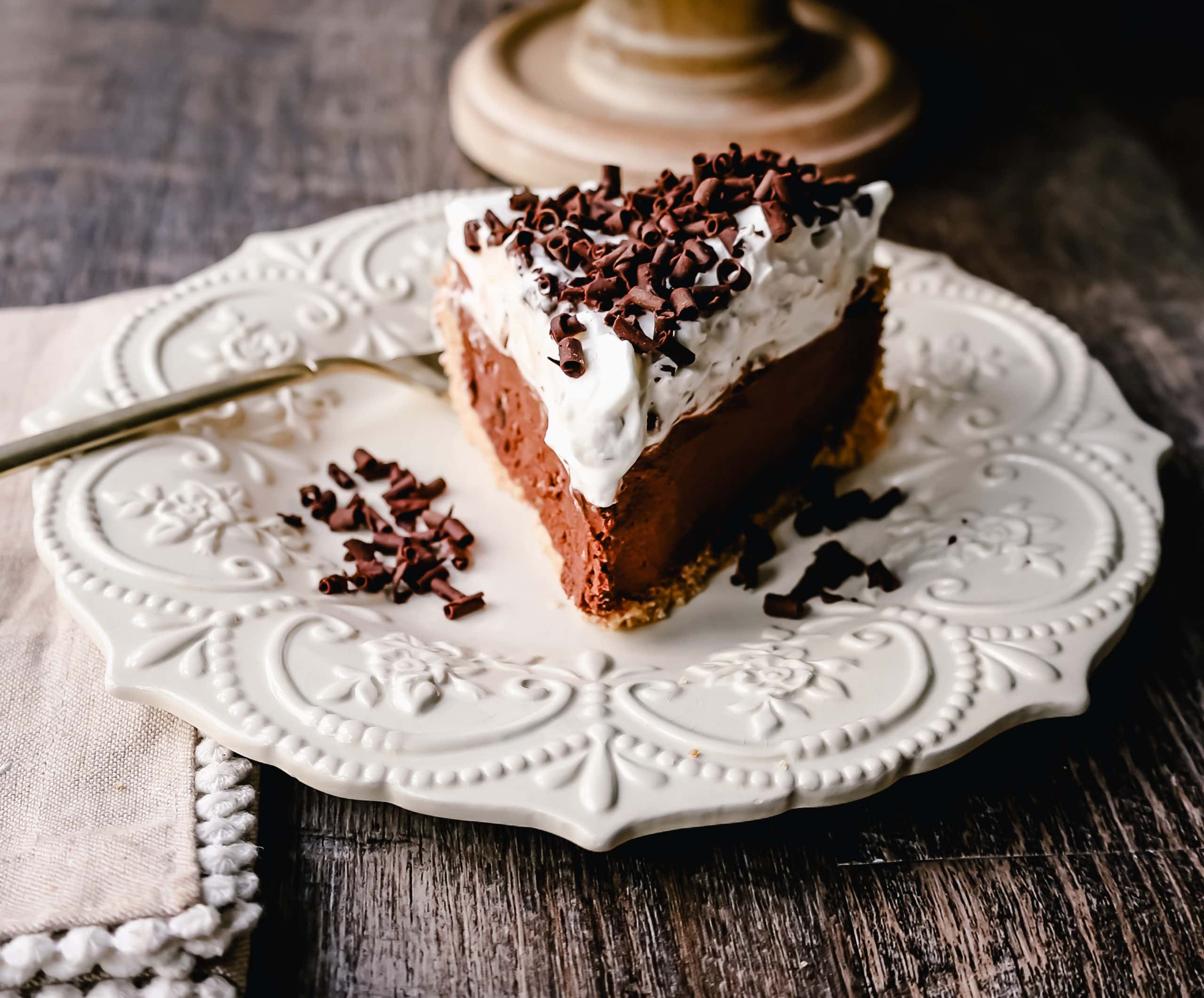 How to make the Best French Silk Pie:
Start by making your favorite pie crust. If you are making a graham cracker crust, it is the easiest to make in a food processor. Bake for only 5 minutes and set aside. If you are making a traditional pie crust, use pie weights or beans to ensure the pie crust stays in place.
Melt the chocolate in a microwave or in a double-boiler. When using a microwave, I always suggest melting chocolate at 50% power to prevent burning or over-cooking and always use a microwave-safe bowl.
Bring the butter to room temperature. This is an important step to make sugar the butter and sugar properly cream together. You don't want the butter to be hot or melted but just soft to the touch.
Cream the butter and sugar together for at least 4-5 minutes, scraping the sides of the bowl often.
Add eggs one at a time and beat for 5 minutes before adding another one. This takes 20 minutes total but it is integral for the final product.
Once you add the chocolate cream to the cooled pie crust, make sure to chill for at least 2 hours.
When ready to serve, whip the heavy cream and sweeten with powdered sugar. Sprinkle with grated semi-sweet chocolate all over the top.
I always have to include a disclaimer but anytime you consume raw or undercooked eggs, it may increase the risk of food borne illness.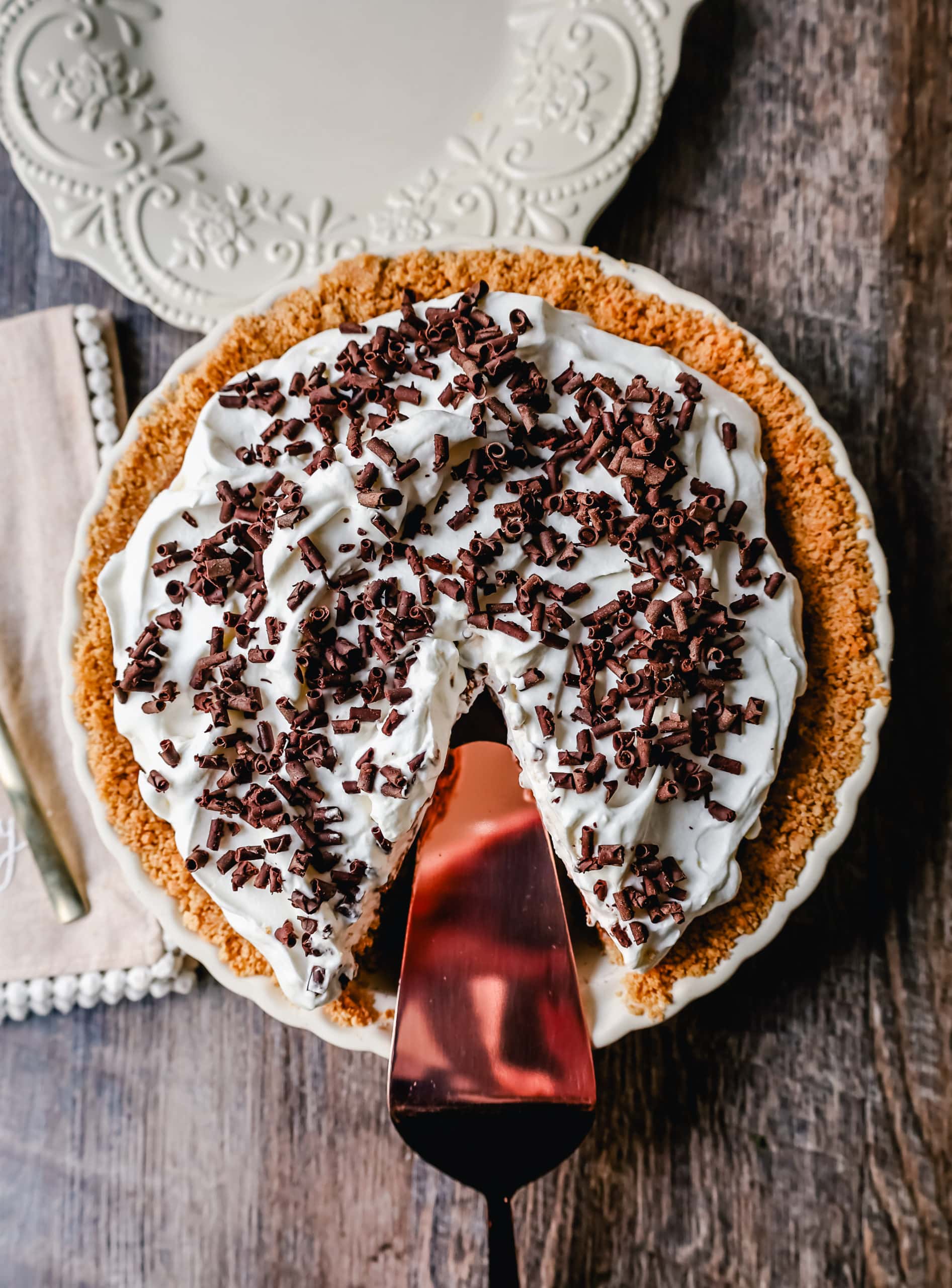 If you LOVE pie, check out these popular PIE RECIPES:
LEMON Cream Pie
Triple BERRY Pie
STRAWBERRY Cream Cheese Pie
RASPBERRY Almond Cream Cheese Pie
COCONUT Cream Pie
CHOCOLATE CREAM PIE
Caramel APPLE Pie
White Chocolate MACADAMIA Chocolate Ganache Pie
Double CHOCOLATE Marble Pie
The BEST PUMPKIN Pie
Mini PUMPKIN Pie Bites
Old-Fashioned PECAN Pie
Sweet CHERRY Pie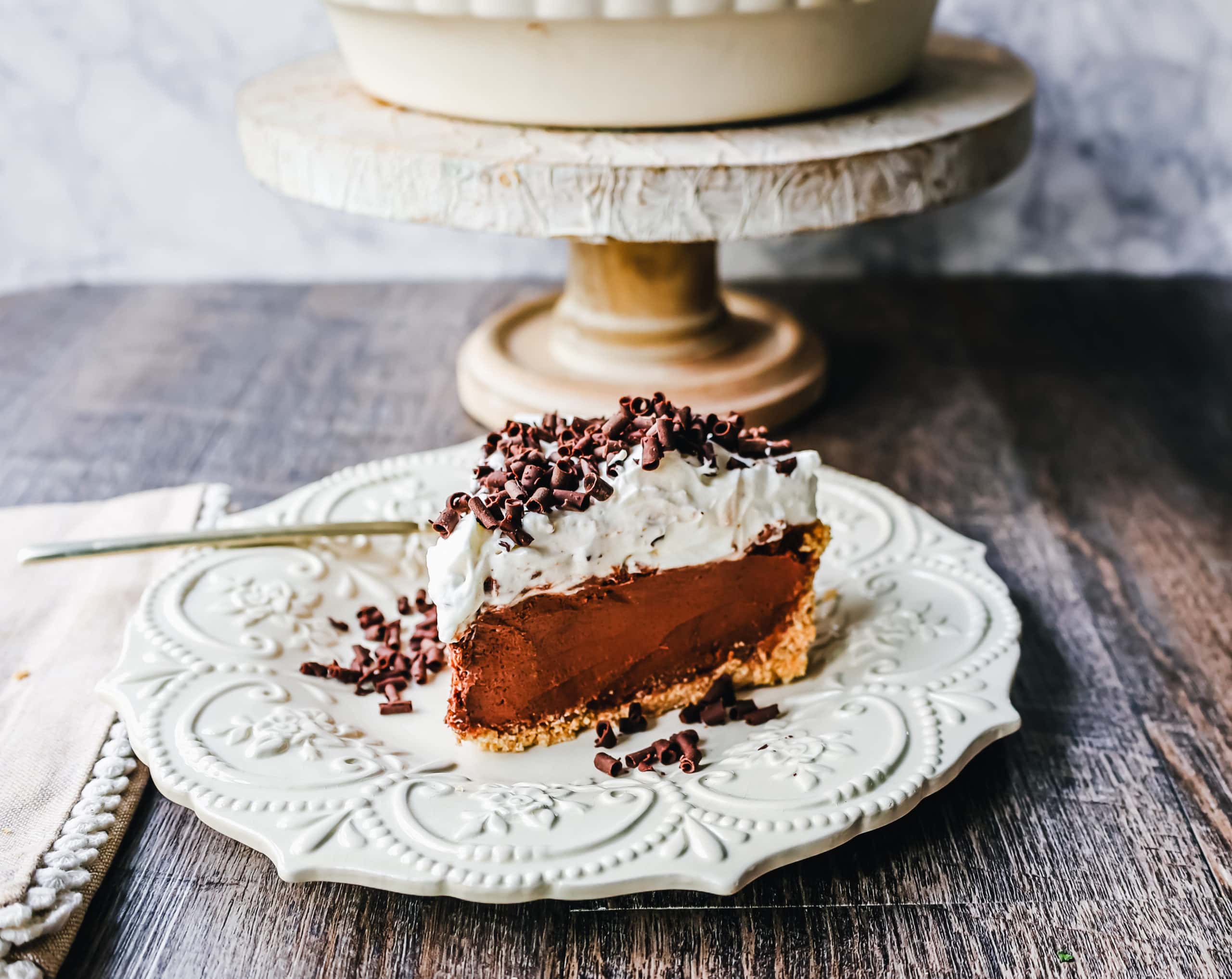 Here are a few of my favorite baking tools for making pies:
I love to hear from you! If you make this recipe, please be sure to leave a comment and give this recipe a rating. Sign up for my newsletter below so you never miss a recipe. Thank you for following along! I truly do have the greatest readers. FOLLOW ME ON: INSTAGRAM — FACEBOOK— PINTEREST