This Cranberry Jalapeno Cream Cheese Dip is a festive appetizer that is creamy, tart, a tad spicy, and sweet. This Cranberry Jalapeno Dip is made with fresh cranberry salsa atop cream cheese. It is the perfect holiday party appetizer!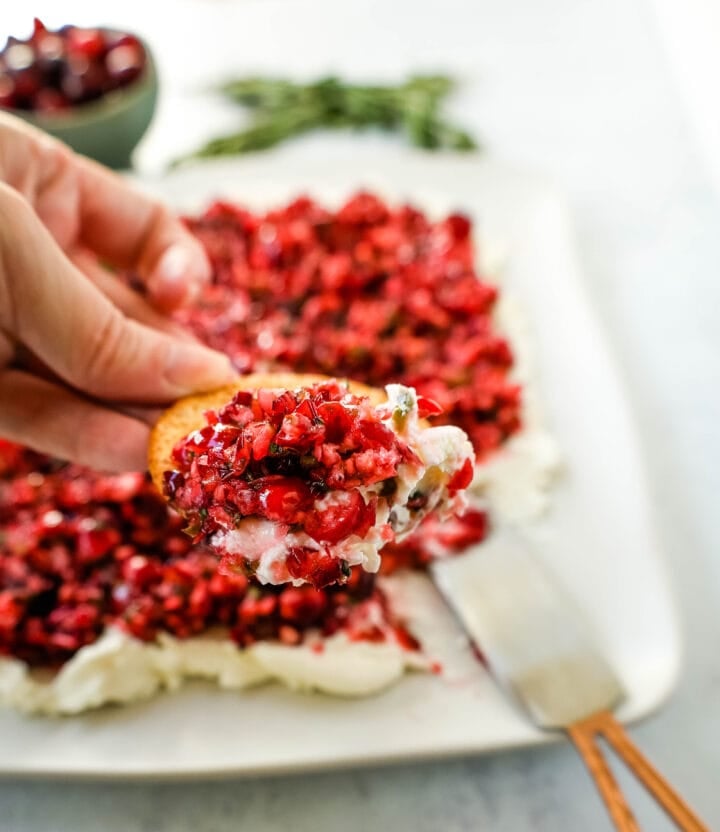 I dream about this Holiday Cranberry Dip. This is such an easy appetizer, looks so stunning, and tastes unbelievably delicious! Everyone begs for the recipe.
Growing up we always had the block of cream cheese with pepper jelly on top and everyone loved the creamy paired with the sweet and spicy. But why not add some freshness in there? A homemade cranberry salsa will do the trick!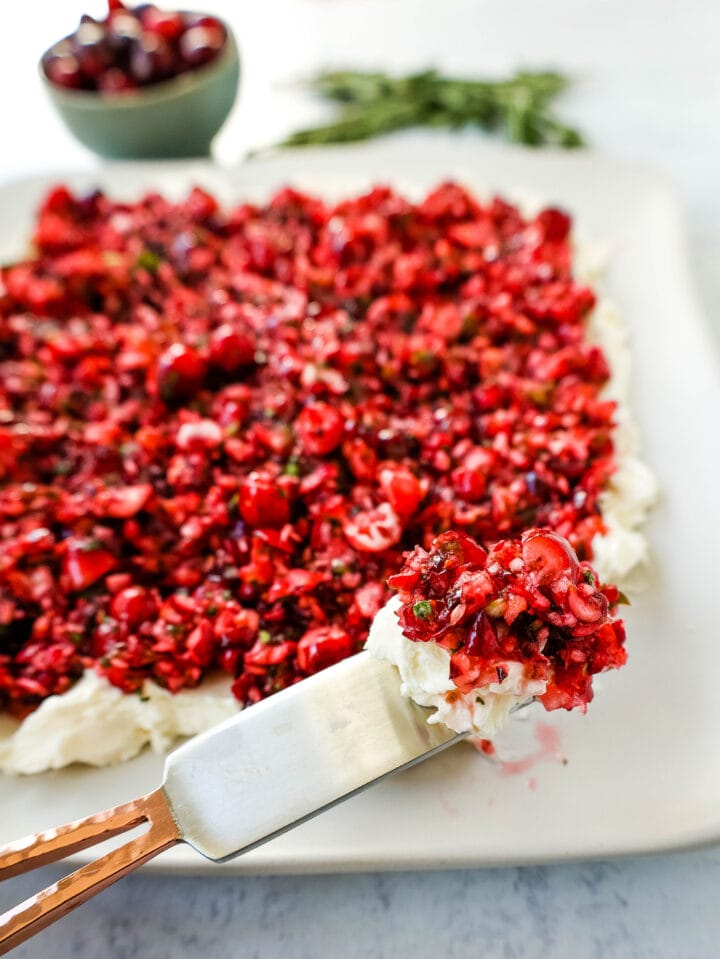 There's no cooking here. It is just chopping up some fresh ingredients and spreading them on top of cream cheese. You don't get much easier than that!
Get ready to share the recipe with everyone and their dog!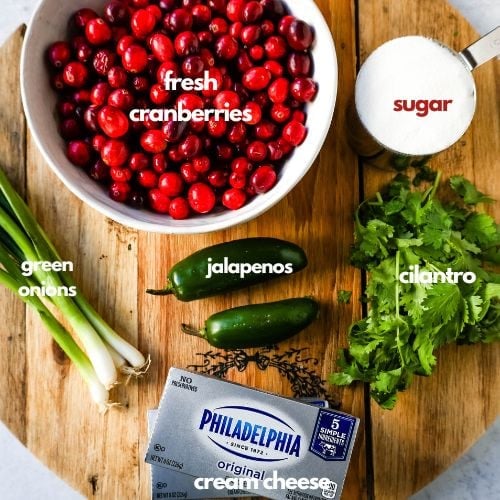 Cranberry Jalapeno Cream Cheese Dip Ingredients:
Fresh Cranberries -- use fresh cranberries found in the produce section
Jalapeno -- may remove seeds and membrane for less heat
Green Onion -- adds some fresh flavor
Cilantro -- adds freshness to the cranberry salsa
Sugar -- the perfect balance to the tart cranberries
Lemon Juice (optional)
Salt -- an integral ingredient to bring out the flavors of the ingredients
Cream Cheese -- use softened cream cheese. May whip the cream cheese to make it extra creamy.
Can I use frozen Cranberries?
No, this recipe calls for fresh cranberries only. Fresh cranberries are firm and perfect for this cranberry salsa dip.
Why is it important to strain the cranberry jalapeno salsa mixture?
This cranberry salsa needs to be refrigerated for at least 4 hours. The sugar helps to bring out the natural juices. It is important to strain the cranberry mixture so that the juices don't run all over the serving platter.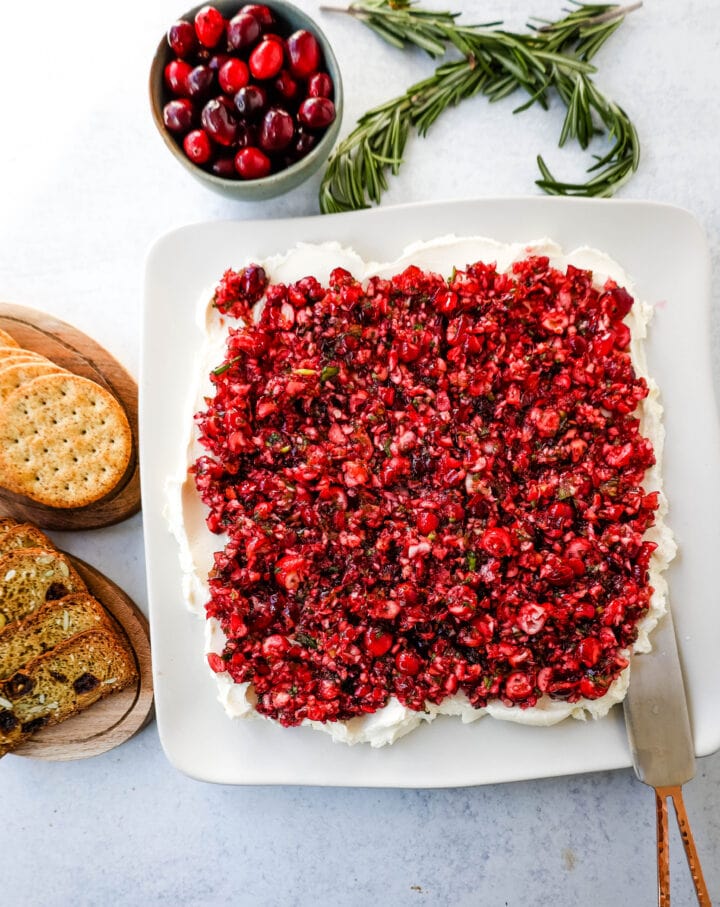 What is the best way to chop the ingredients?
Well, you can do it by hand but that would take a long time so let's find an easier route! I tested out both a hand chopper and a food processor. The hand chopper definitely left more chunks which gave variety to the cranberry mixture. The food processor was more uniform but you have to be careful of overmixing the cranberries and ending with cranberry puree.
What Crackers to serve with Cranberry Jalapeño Dip?
The best crackers to serve with this cranberry jalapeno dip are butter crackers, wheat entertainment crackers, nut and seed crackers, pita chips, or even tortilla chips. A cinnamon sugar pita chip tastes amazing with this dip!
You want to look for a sturdy cracker to make dipping easier.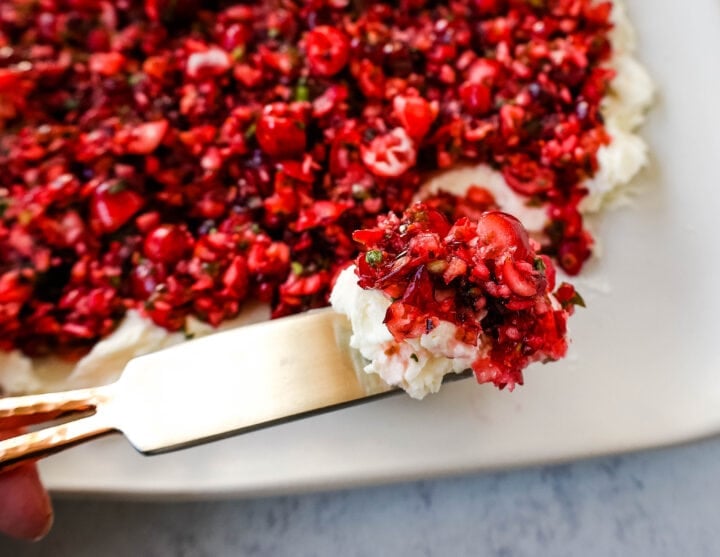 How to make Holiday Cranberry Cream Cheese Dip:
Start by chopping up the fresh cranberries, jalapeno, cilantro, and green onion. This is the easiest in a food processor...but be careful not to overprocess or puree the cranberries. I suggest using the pulse option.
Add a bowl and toss with sugar and salt and optional lemon (or lime) juice. The lemon juice will add some more tanginess and brightness to the cranberry salsa but isn't essential. If you do use it, I suggest only using fresh lemon juice.
Cover and place in the refrigerator to chill for at least 4 hours or overnight. This allows the cranberry mixture to meld together, marinate, and soften the cranberries. Since there is sugar and fruit together in a bowl, natural juices will be released. It is important to strain the mixture in a colander with small holes before placing atop the cream cheese.
Once you are ready to serve, I suggest whipping the cream cheese to make it extra light and fluffy. It makes it easier to spread too. Spread it on your favorite platter, serving dish, pie plate, or plate.
Spread the cranberry salsa mixture on top of the cream cheese and serve.
Serve with crackers, pita chips, or tortilla chips.
How to store Holiday Dip:
The cranberry jalapeno salsa can be stored in a covered container in the refrigerator. It needs at least 4 hours in the refrigerator before it is ready to serve so plan accordingly. You can make this fresh cranberry salsa up to one week in advance. Just strain the juices off before placing on top of the cream cheese.
Q & A:
What kind of cream cheese should I use?
I suggest using full-fat cream cheese but you can use low-fat cream cheese as well. I suggest whipping it as it creates a light texture and is easier to spread.
Do I have to use lemon juice?
You do not! You can use it if you want some extra tartness to compliment the cranberries and balance out the sugar. You can also use fresh lime juice.
Can I use less sugar in the recipe?
Yes! You can reduce the sugar to ¾ cup if you want a more tart, less sweet cranberry salsa.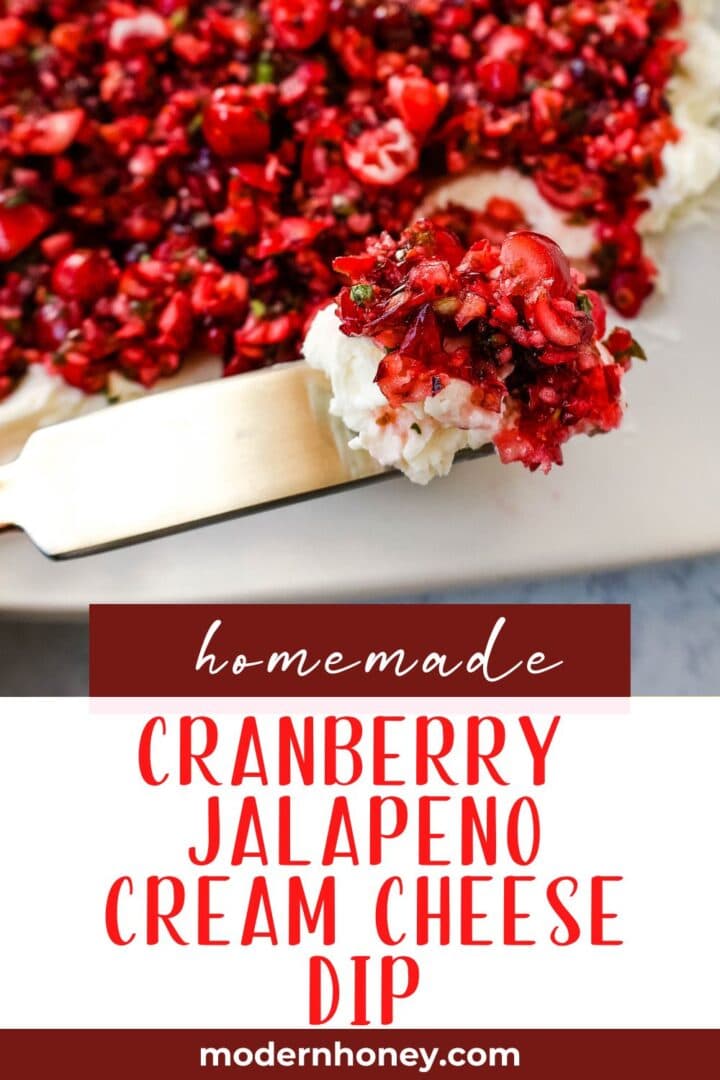 This holiday appetizer can be served as the perfect festive appetizer at a holiday party, before the meal on Thanksgiving, or at your Friendsgiving get together. You can even make it on a random Saturday because you are craving it. It is THAT GOOD. I can't wait for you to share this with friends and for the rave reviews to pour in!
Find all of my THANKSGIVING RECIPES HERE and if you love cranberries, check out my Soft and Chewy Cranberry Oatmeal Cookie Recipe, my Homemade Cranberry Orange Cake, or my Fresh Cranberry Orange Sauce.