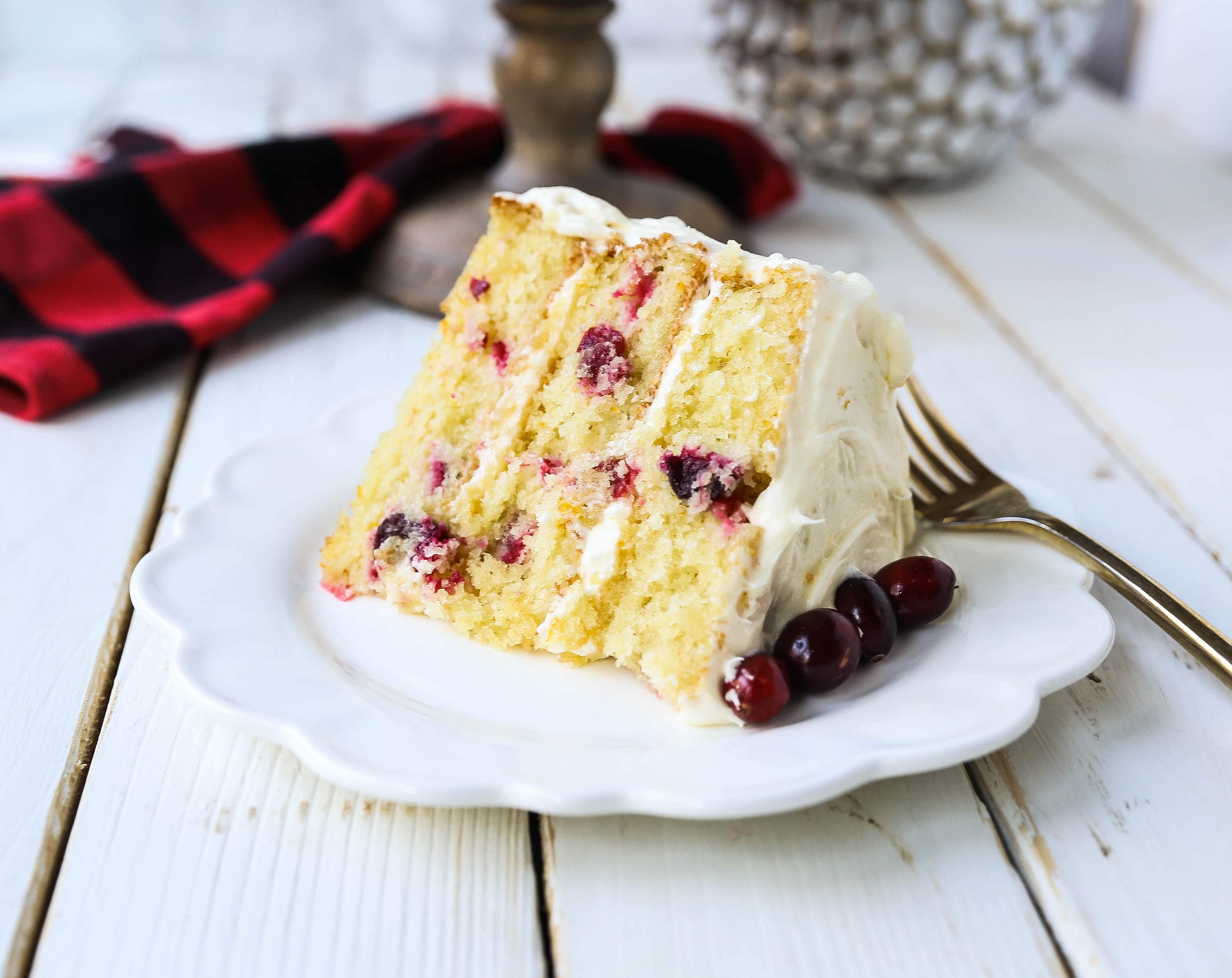 Cranberry Orange Cake
A moist orange zest cake with fresh cranberries with a sweet cream cheese orange frosting. A sweet yet tart holiday cake. 
I am just going to start off with this -- THIS CAKE IS INSANELY AMAZING. Okay I said it. It is ridiculously moist with a burst of fresh orange flavor and tangy tart cranberries. Then the cream cheese orange zest frosting puts it over the top. This is the perfect holiday cake to highlight fresh cranberries that are in season right now.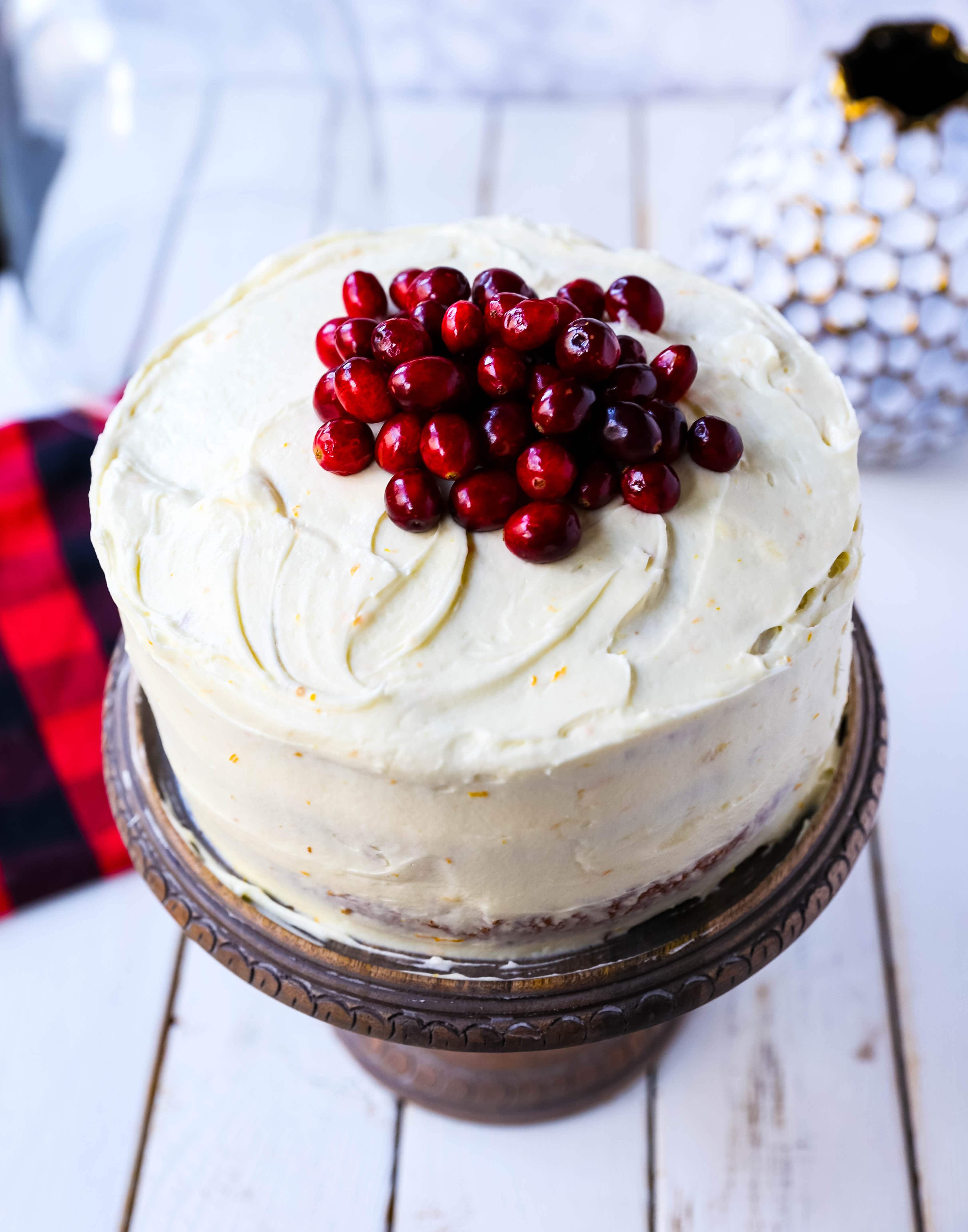 We live by groves and groves of orange trees. This is the time of year where fresh oranges are in abundance and we have dear friends who let us picks fresh oranges and lemons from their trees every year. I love using fruits when they are in season because they are at their peak ripeness. Both oranges and cranberries are in season in December and this cake highlights them perfectly.
I absolutely love baking homemade cakes because they taste so much better than boxed cake mixes. I only put my very favorite cake recipes on Modern Honey and my Mom has declared this her new favorite MH recipe. If you have tried my ORANGE CAKE RECIPE before, you will fall in love with this Fresh Cranberry and Orange Cake.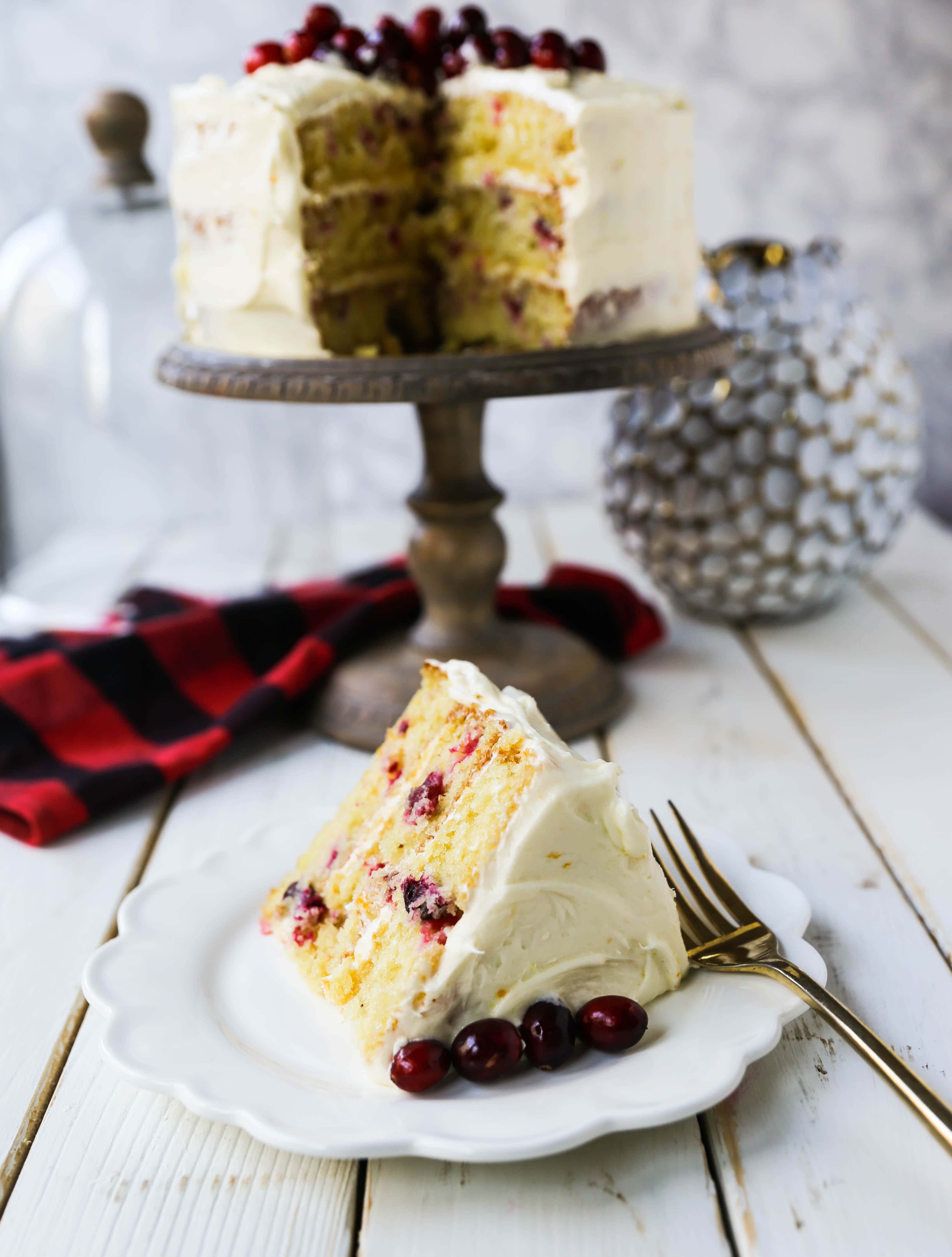 So what makes this Cranberry Orange Cake so special? It all starts off with making it extra moist. This is accomplished by using a mix of oil, eggs, orange juice, and sour cream.  Each of them plays an integral role to not only make it moist on the first day...but even after five days.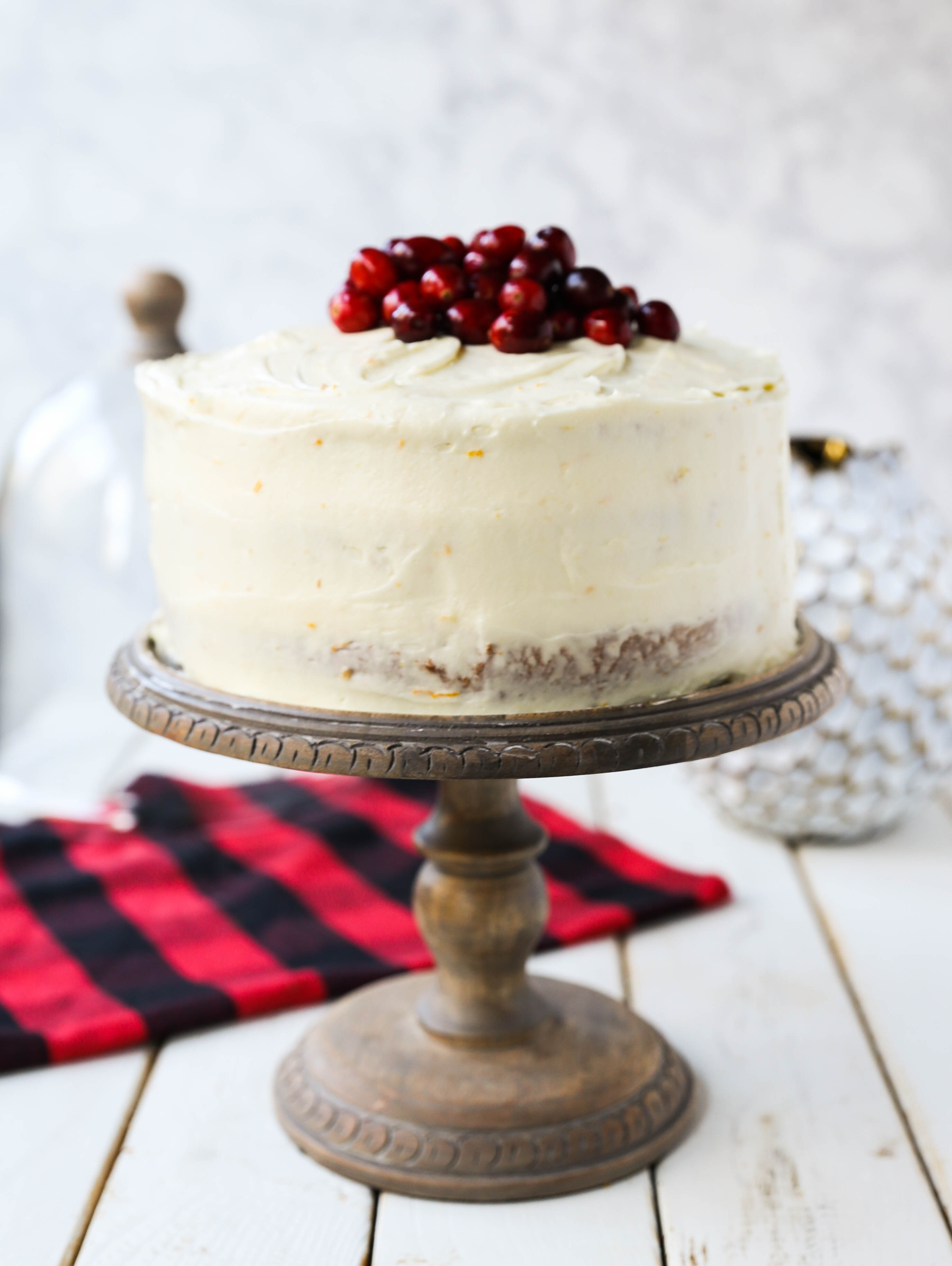 This Orange Cranberry Cake uses both orange juice and orange zest. The orange zest is where so much of the vibrant orange flavor comes from. One of my favorite gadgets is a zester. You can grab one here for about $13. I like to use freshly squeezed orange juice but you can use any orange juice from the grocery store as well.
I use fresh cranberries when they are in season to make this cake. Cut the cranberries in half and toss in flour to ensure the cranberries don't sink to the bottom of the cake.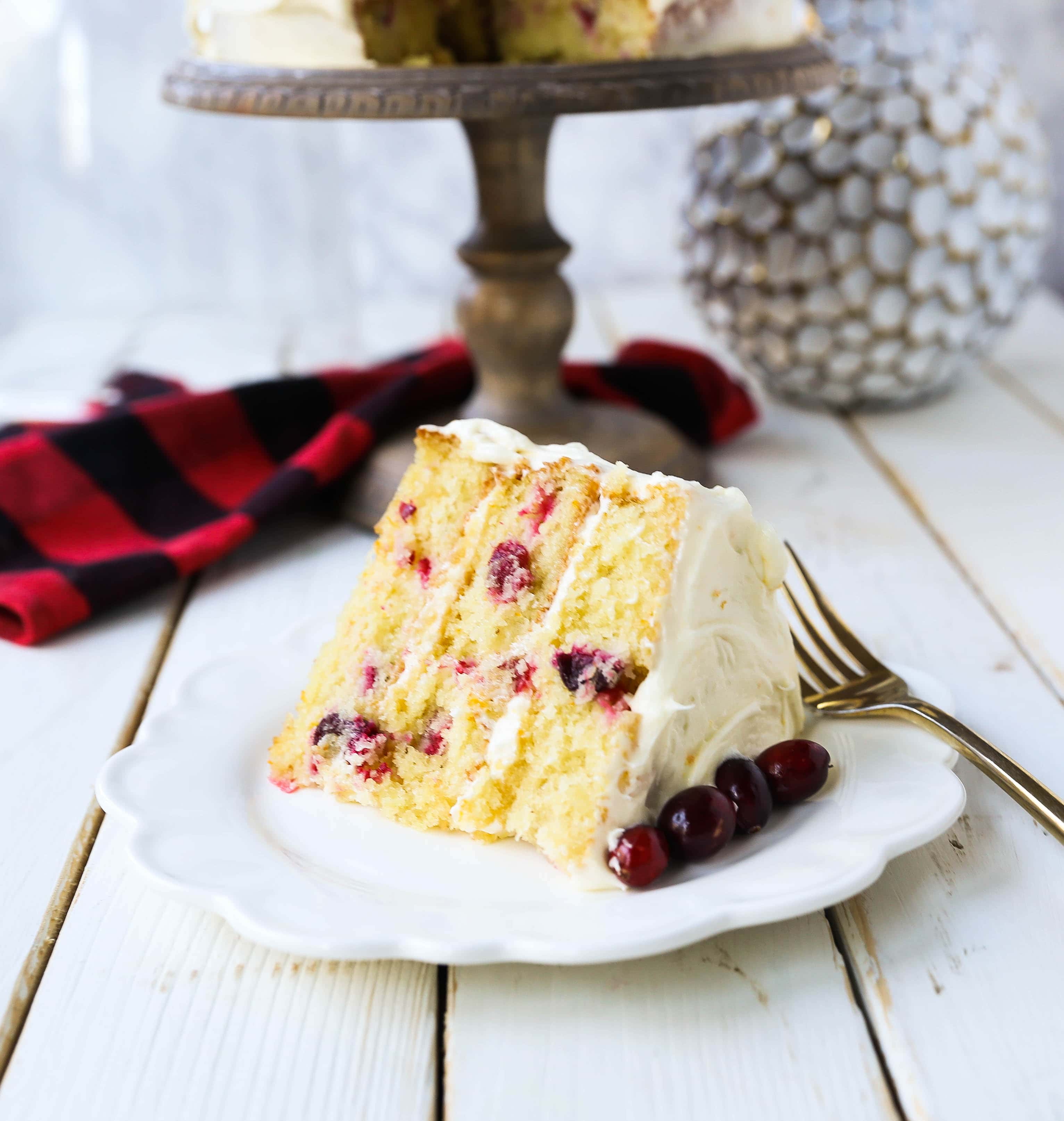 TIPS FOR MAKING THE BEST CRANBERRY ORANGE CAKE:
Start with the dry ingredients. Stir together the flour, sugar, baking soda, baking powder, and salt. The two leavening agents – baking soda and baking powder – give the cake a perfect rise. Keep in mind that homemade cake recipes don't dome in the center like boxed caked mixes do. This cranberry cake recipe stays pretty even.
Adding Oil makes the orange cranberry cake extra moist. You can use your favorite type of oil, as long as it is fresh. I tend to reach for canola oil in most of my cakes.
Use Orange Juice and Fresh Orange Zest to impart orange flavor into the cake. This gives it an all-natural orange flavor. A

zester

is an essential tool in the kitchen to ensure you only get the orange peel, instead of the bitter white rind.
Sour Cream helps to create a perfect texture. By using sour cream or buttermilk, it creates a moist and tender crumb. I use full-fat sour cream in all of my cakes.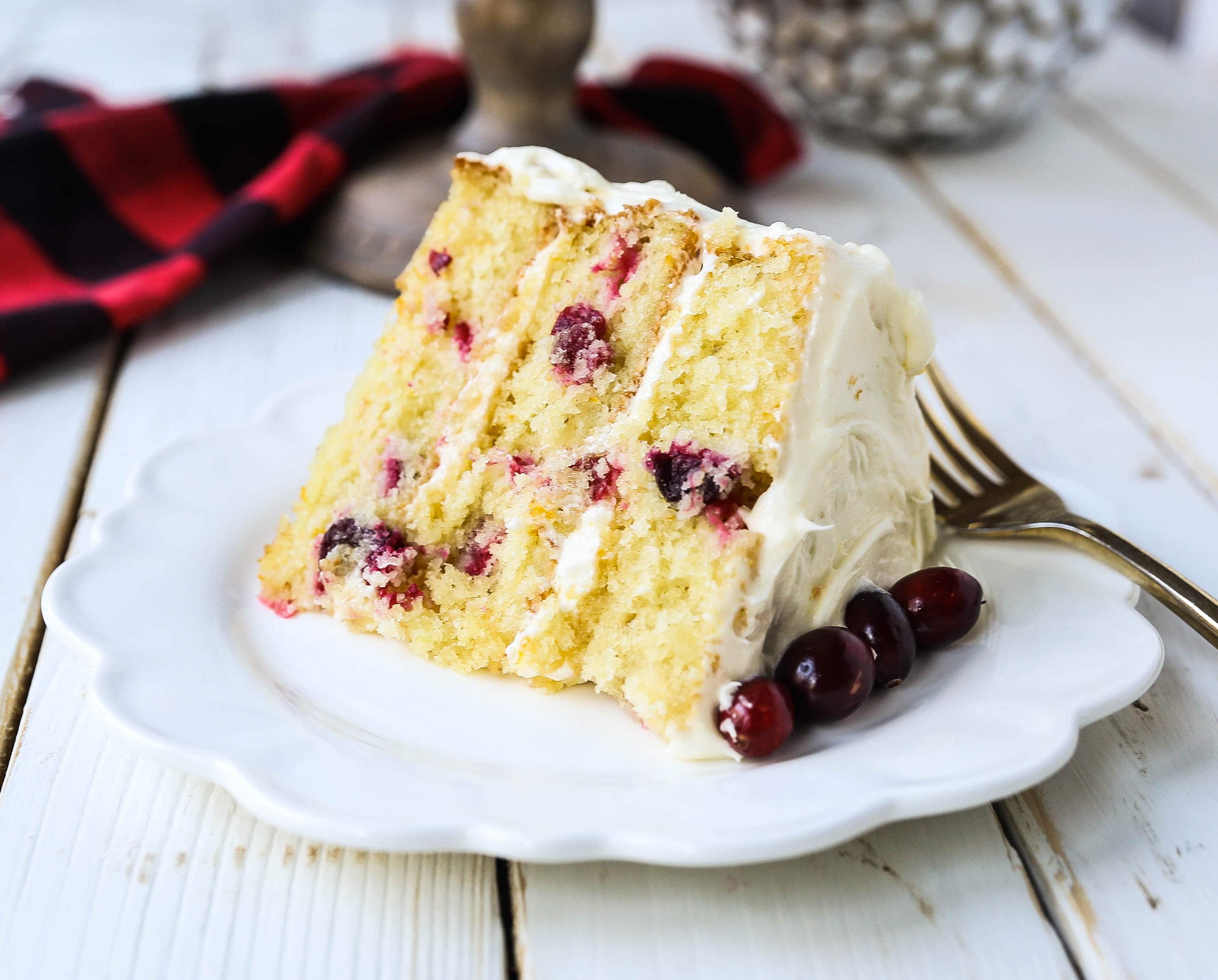 Use Fresh Cranberries, if available. Cut the cranberries in half and toss in flour to ensure the cranberries don't sink to the bottom of the cake.
Bake just until a toothpick comes out clean in the center of the cake. If you want the cake to be extra moist, you may brush the layers with a simple syrup, which is a water and sugar syrup mix.
Once the cakes are cool, frost with homemade orange cream cheese frosting. The frosting is made by whipping butter and cream cheese for 4 minutes until light and fluffy. Add powdered sugar, orange juice, and orange zest.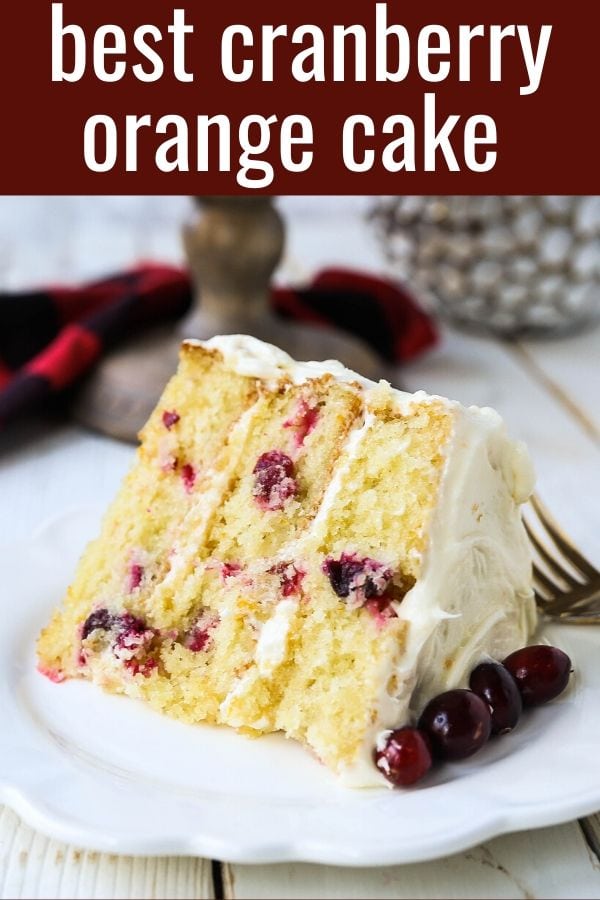 More favorite Modern Honey cake recipes:
My favorite cake baking essentials:
USA 8-inch cake pans
USA 9-inch cake pans
Icing Angled Spatula