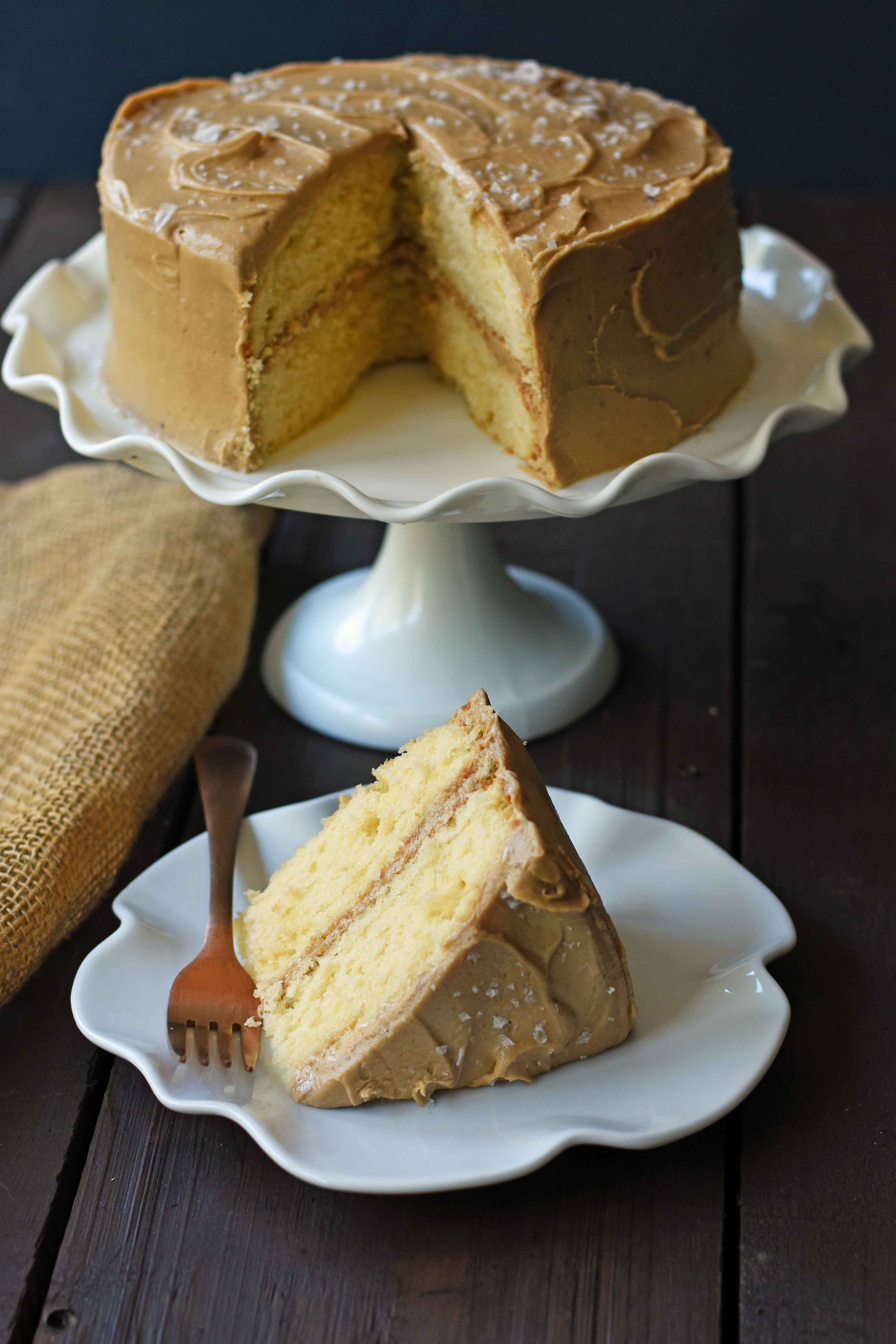 Southern Caramel Cake
Shut the front door. This Southern Caramel Cake is to die for, people! As you can probably tell by my blog, I kind of like baked goods. If "kinda like" meant a FULL-ON passion for baked goods kind of thing.  I am also pretty picky about my cakes.  I play around with my cake recipes until I get them just right and then never look back.
This Southern Caramel Cake is made with my homemade moist, tender, fluffy yellow cake made with a secret ingredient.  I am so glad to hear that people love this cake recipe! It has been pinned almost 100,000 times and still has a 5-star rating with 90 comments (and none of them are from my Mom!) 🙂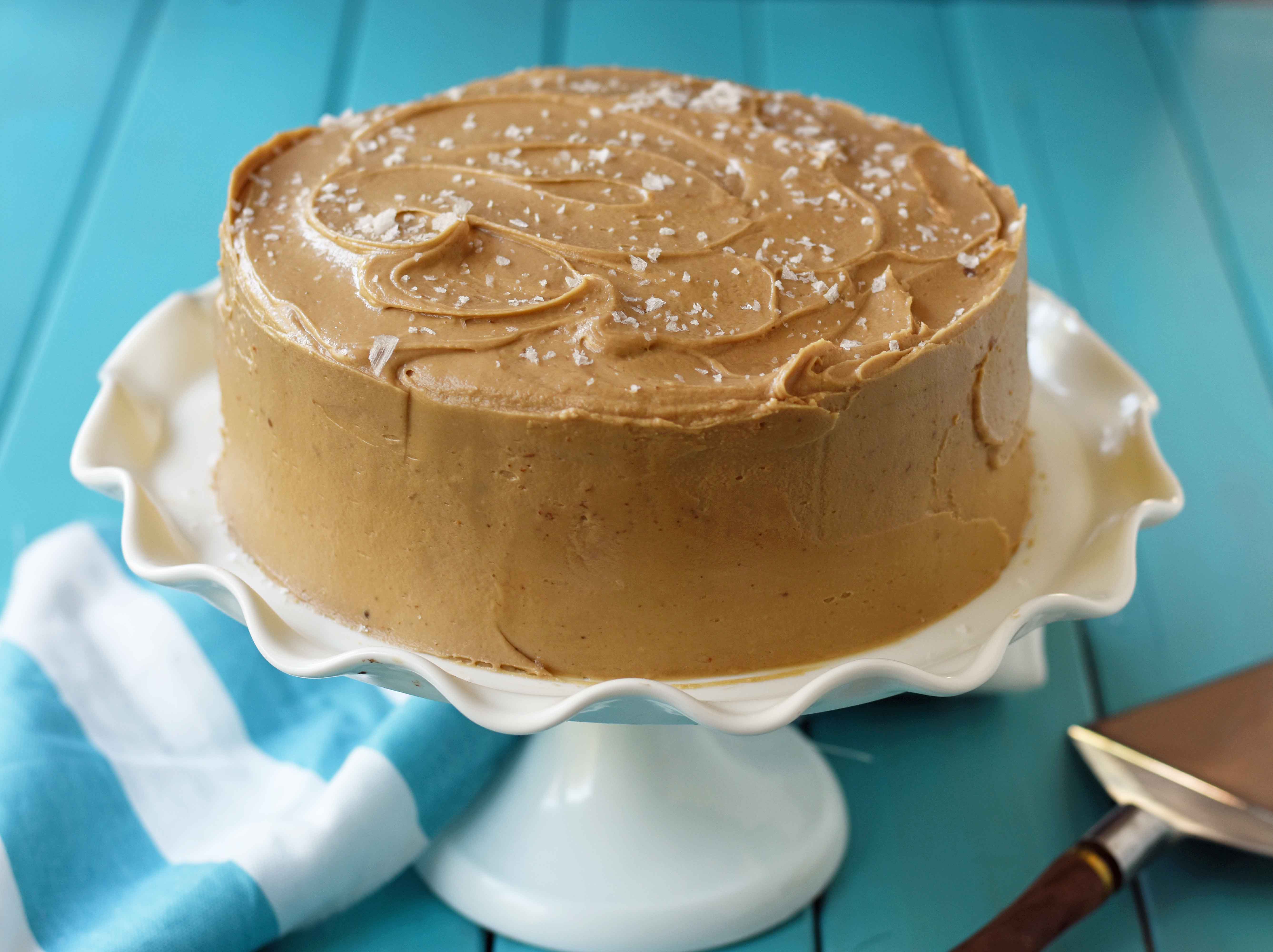 The cake, of course, is highly important as the crumb has to be just right.  But, the frosting should never ever be overlooked. Without a doubt, this can make or break a cake.  The Sea Salt Caramel Frosting on this cake is sinful and decadent.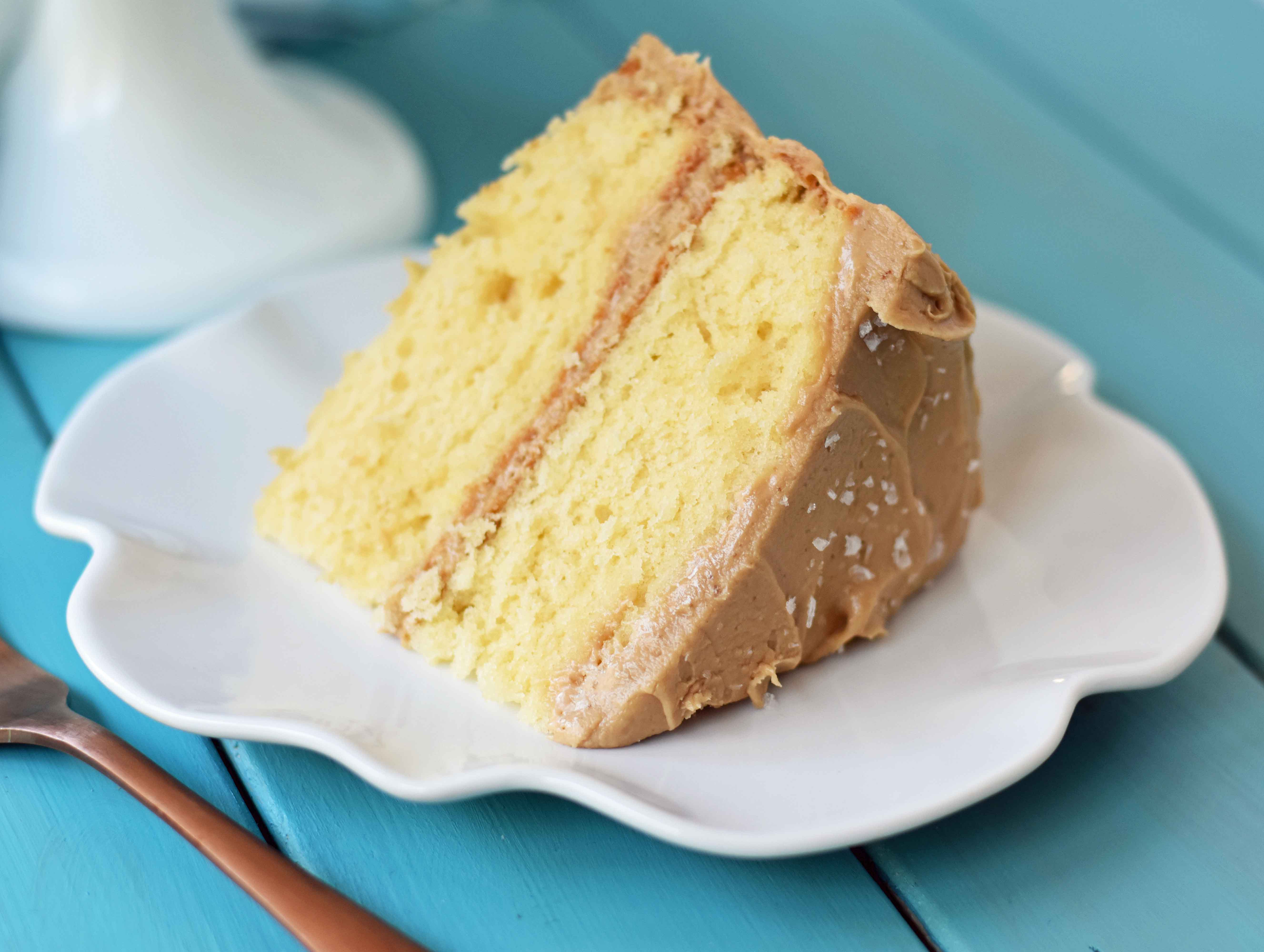 So if you read my blog, you know that I am also obsessed with the weather. When I was a kid, before I wanted to be a sportscaster, I wanted to be a weather woman. I was like 9 years old and would beg my Mom to stay up for the 10:00 pm forecast.
As I became older, I begged to stay up for the weather and then the sports forecast. I am not sure if it was a stalling tactic but needless to say, I developed a real fascination with weather and sports. Go figure.
Around this time of year, I have a conversation that goes like this with my husband, "how is it still 97 degrees in the middle of October." I reply, "honey, remember that we are still in shorts and flip-flops on Halloween. We are lucky if we can wear the thinnest sweater on Thanksgiving." Every. Single. Year. Such is life in Arizona.
It is supposed to be Fall but we are stuck with May temps. However, we are just pretending it is fall and making all kinds of salted caramel and pumpkin foods to imagine what it would be like to have those crisp Fall temps.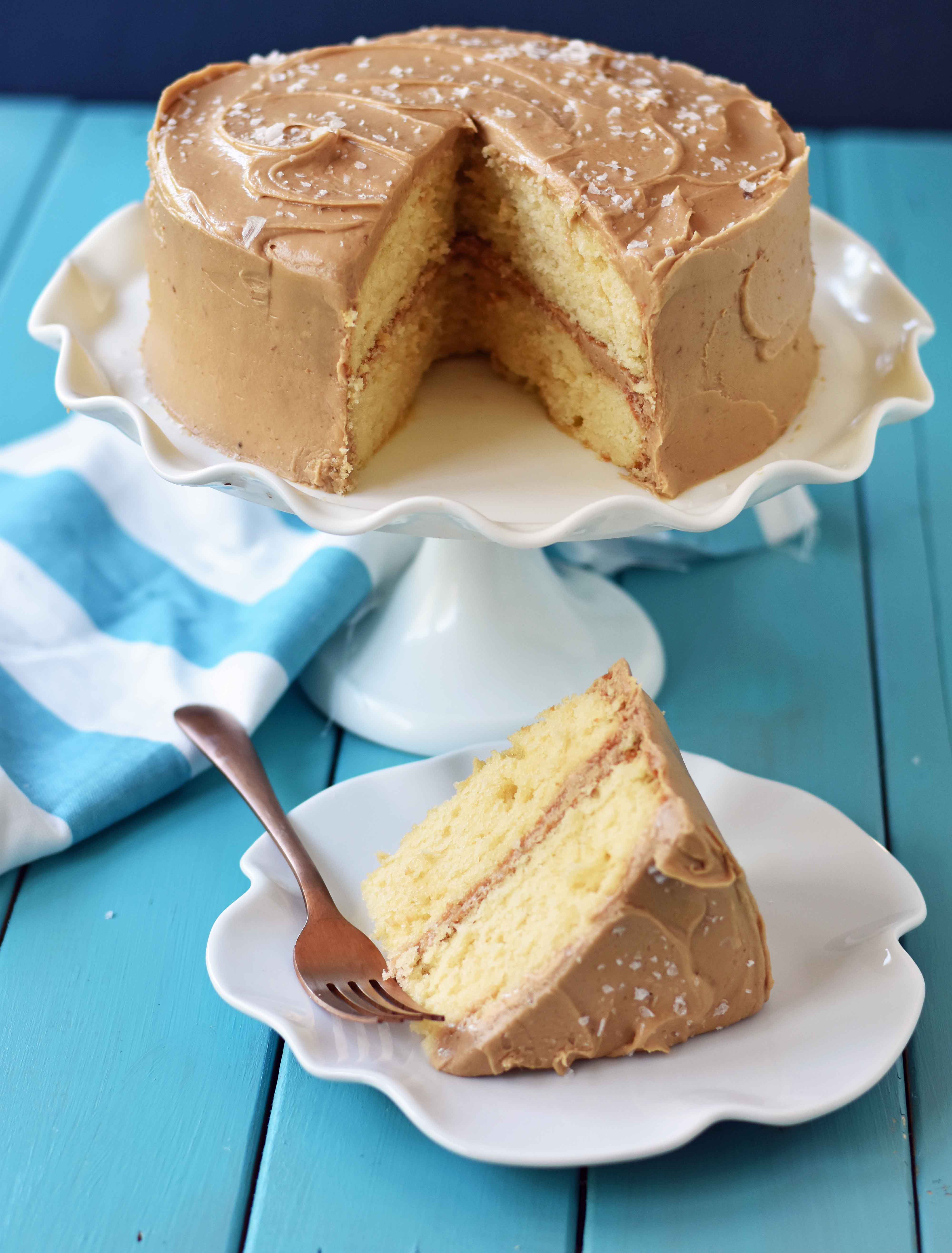 I made this cake recently and went crazy over the salted caramel frosting. It is sweet yet salty and pairs perfectly with this moist and fluffy yellow cake.  To make the salted caramel frosting, you use butter, dark brown sugar, heavy cream, powdered sugar, and sea salt. It creates the best caramel cake recipe!
My favorite baking tools for baking homemade cakes are the 8-inch Wilton Cake Pansand USA 9-inch Cake Pans and an angled spatula is a must to frost cakes. I keep mine a little rustic but you can also pick up a bench scraper for really smooth frosting. Don't forget the Maldon Sea Salt Flakes.
Click HERE to find all of my favorite essential kitchen products in one place.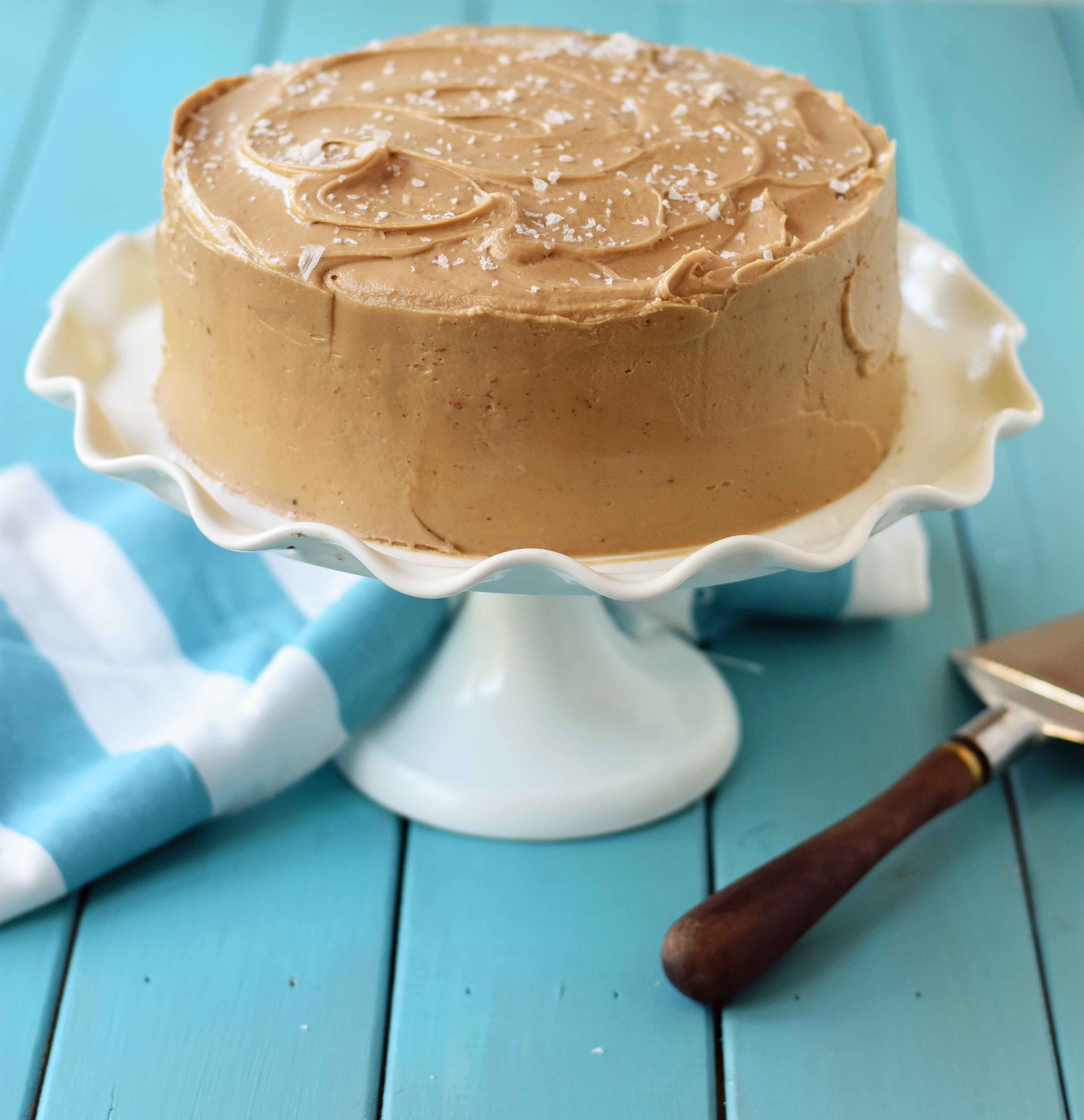 Find more CAKE RECIPES from MODERN HONEY:
Yellow Birthday Cake with Milk Chocolate Frosting
Love at First Sight Chocolate Cake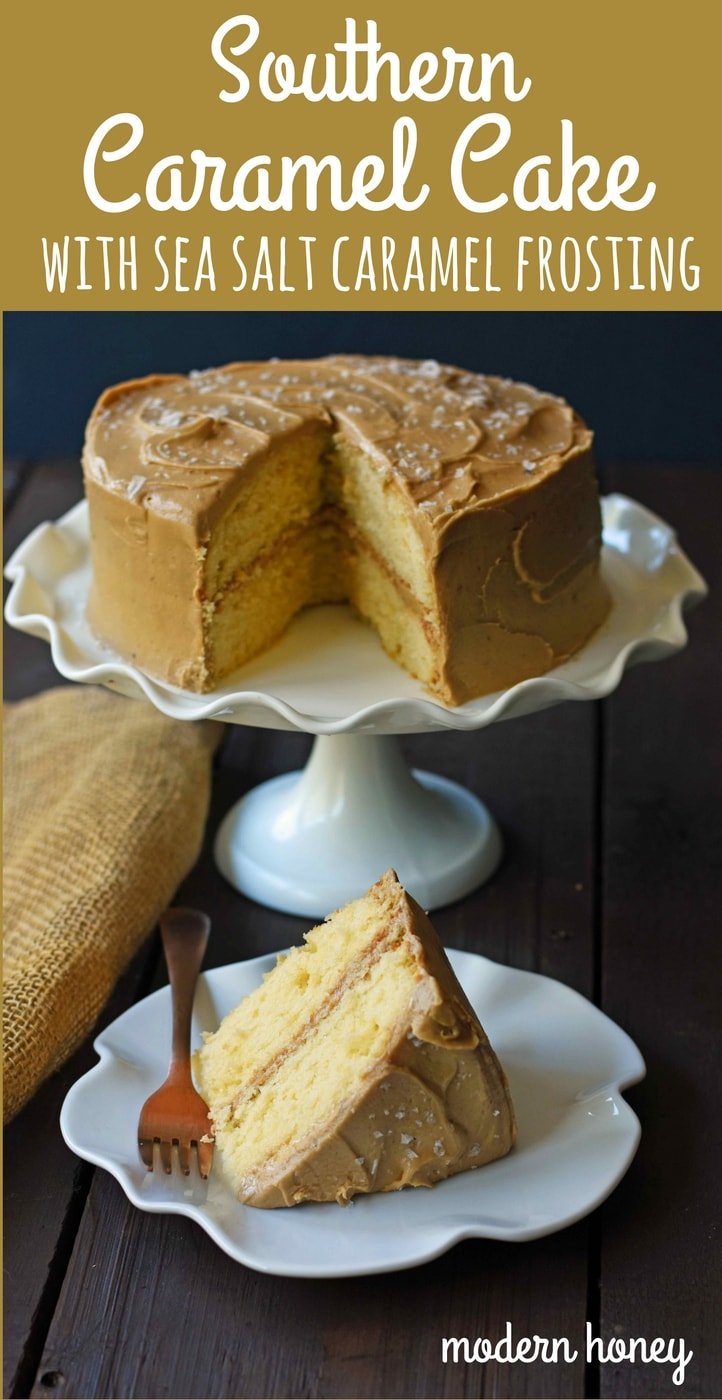 Let me know if you LOVE this Southern Caramel Cake with Sea Salt Caramel Frosting. If you are searching for the perfect chocolate cake, click HERE for the ultimate recipe.