The Best Coconut Cake Recipe
The Perfect Coconut Cake Recipe with Creamy Sweet Cream Cheese Frosting
I love baking. Now, this won't be a surprise to anyone who has followed Modern Honey for any time at all but it is something I am just so passionate about.
I wanted to start this website for two reasons — to have an outlet for creativity in the kitchen and to share my favorite family recipes. I am a true perfectionist about my food and want to create and share only the BEST recipes.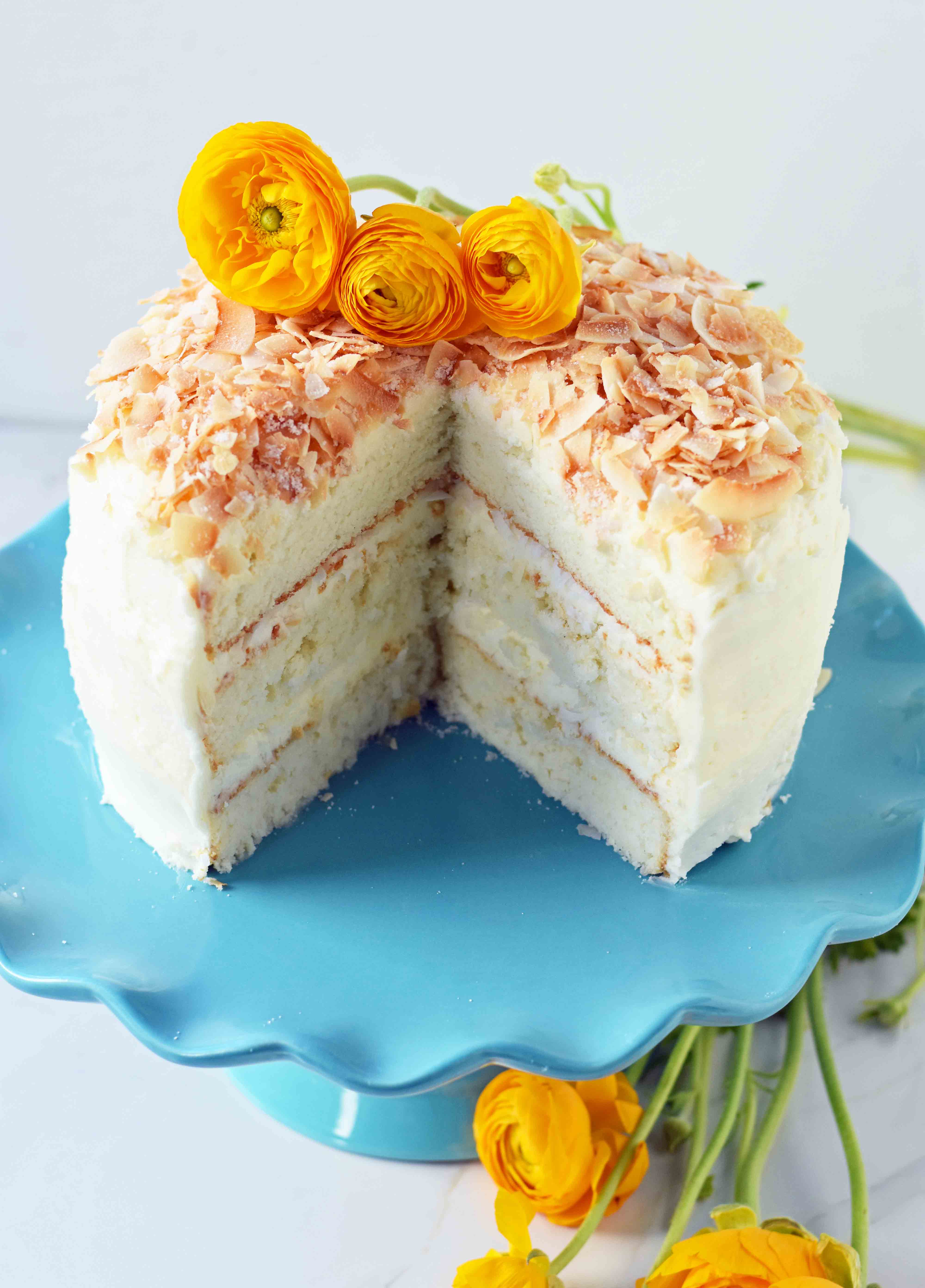 Let's talk about coconut cake. I have made dozens of coconut cakes in my days. Actually, ever since I was a little girl, I have been obsessed with coconut. I would finish special chores in our home so that my Mom would take me to Smitty's to pick out the biggest coconut I could find. I would spend hours in the backyard with a hammer trying to get it open. I would literally eat the entire coconut by myself.
Since my love for coconut is strong, I have made a ridiculous amount of coconut cakes in my days. They have been good but I have been searching for out-of-this-world-amazing. I want to create recipes that I can pass down to my kids and know that they are truly the best (according to my taste buds).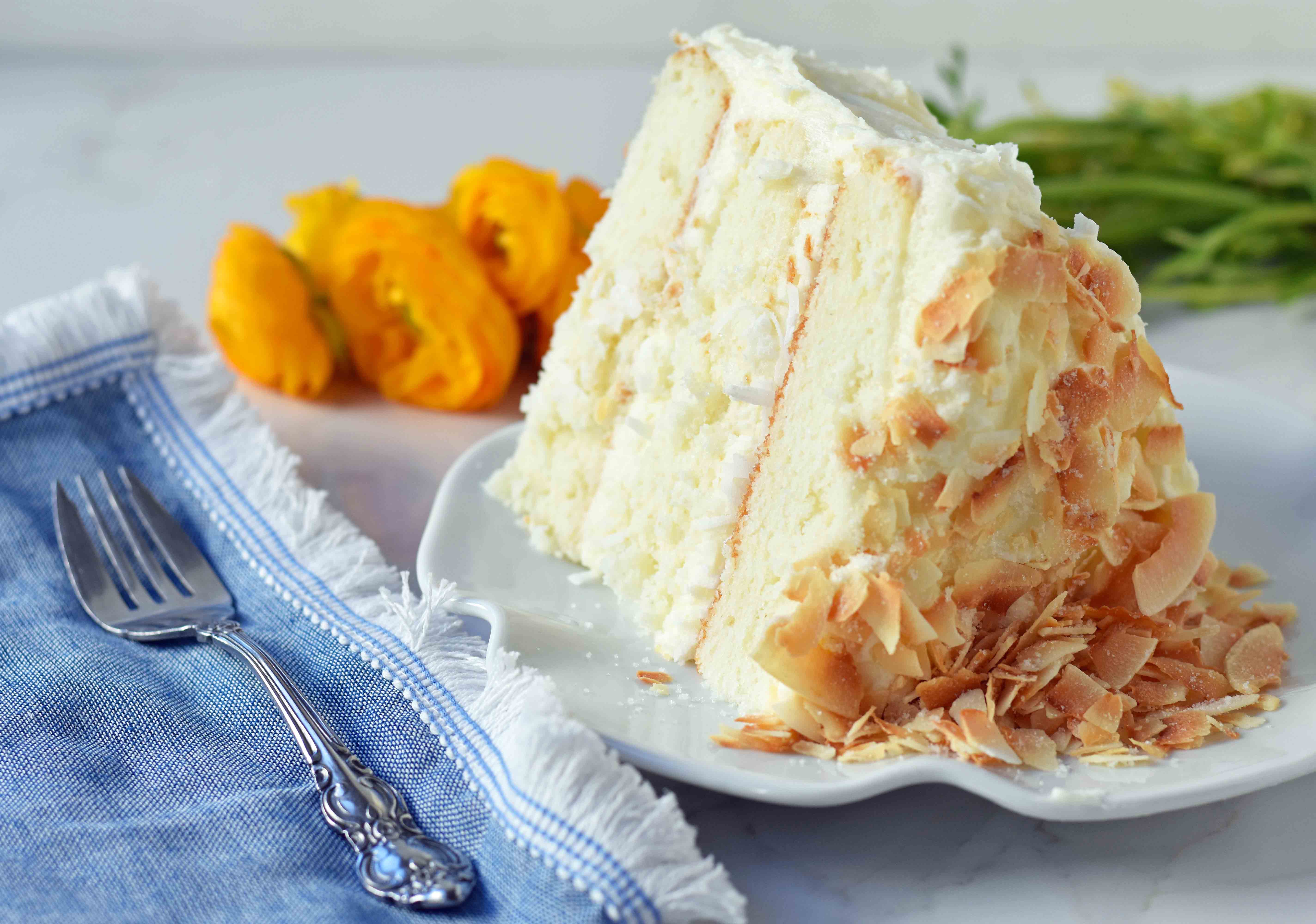 My cake recipes are some of the most popular recipes on Modern Honey and get 5-star reviews over and over again. You can find my Love at First Sight Chocolate Cake, Yellow Cake with Milk Chocolate Frosting, Red Velvet Cake with Cream Cheese Frosting, Italian Lemon Olive Oil Cake, Banana Cake with Cream Cheese Frosting, and Southern Caramel Cake.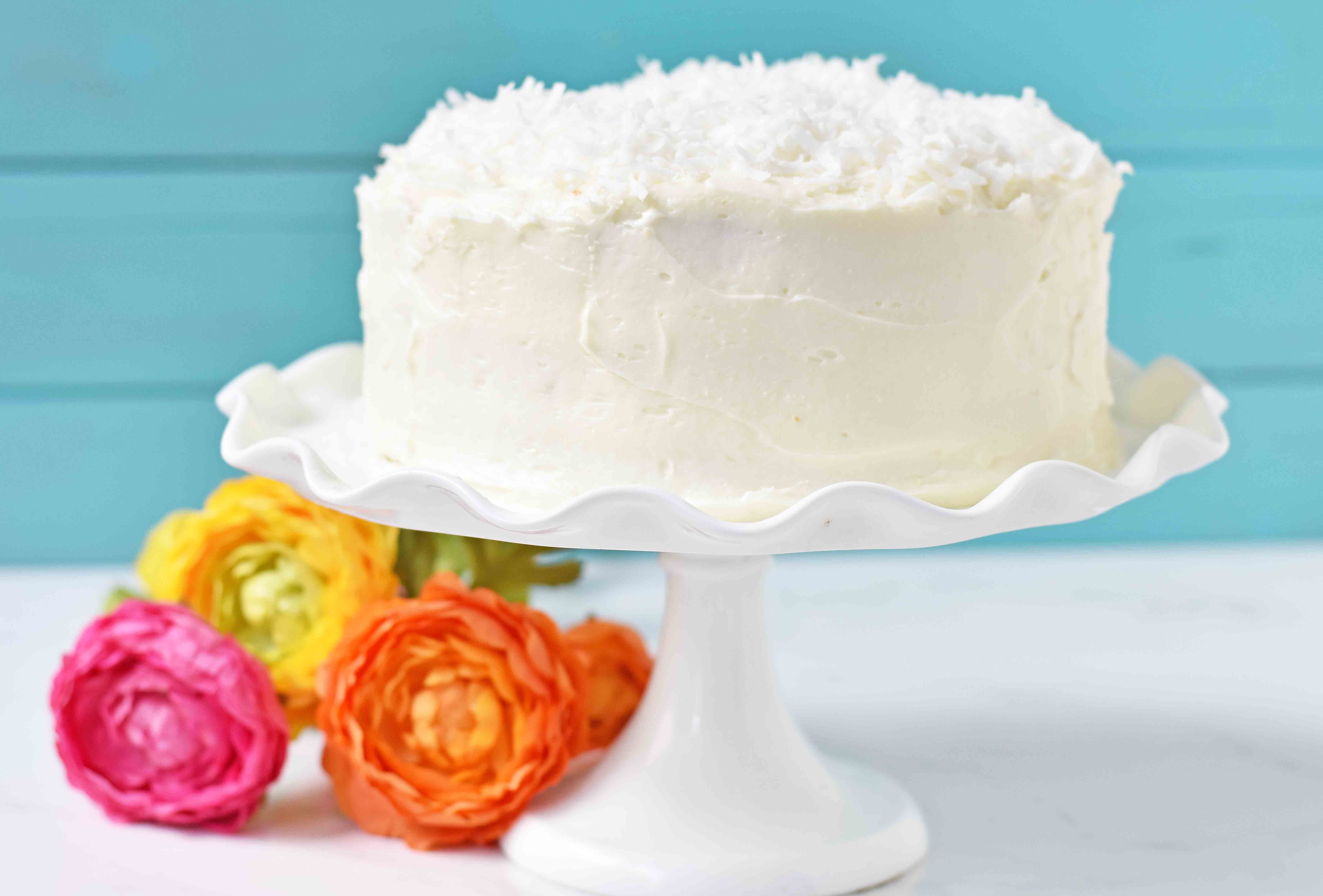 How to make the PERFECT COCONUT CAKE:
I wanted to create another winning Coconut Cake Recipe. This took many tries at creating the perfect coconut cake. The key is to get enough coconut flavor in the cake and frosting.
I wanted a moist cake filled with coconut flavor so I tried everything from sweetened cream of coconut to canned coconut milk. I tried both sour cream and buttermilk. I tried with pudding mix and without pudding mix. I tried with all egg whites, all eggs, and somewhere in the middle.
Basically, I have made A LOT of cakes in this process.
We have been taste-testing coconut cake in our home for weeks! I really wanted to fall head over heels in love with the all egg whites cake but I felt as if tasted too much like an angel food cake and needed more moisture. I added one egg and more buttermilk to make the cake extra moist. We have a winner!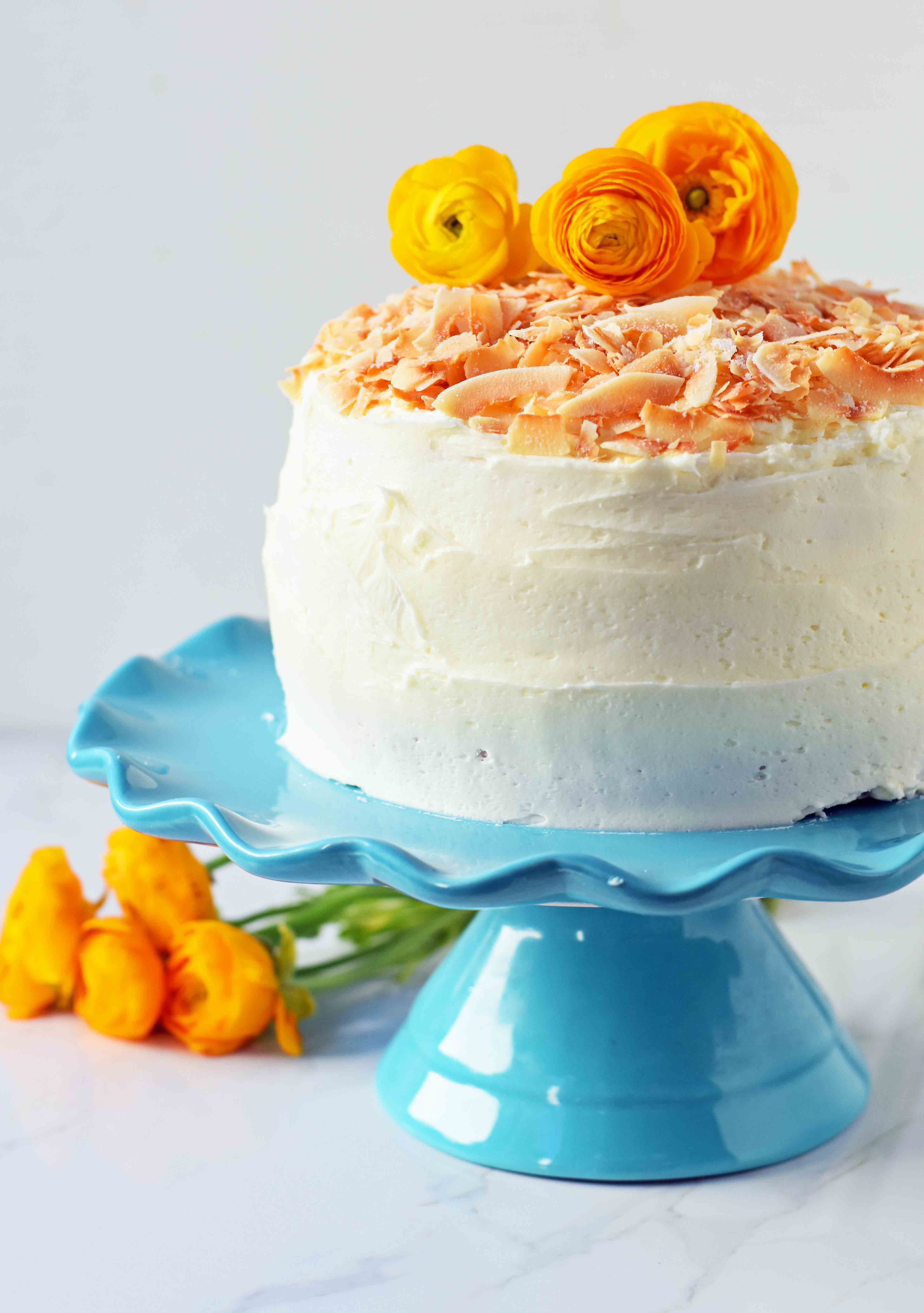 Tips and Tricks for making the BEST COCONUT CAKE:
Start with Cake Flour.

Cake flour contains 7-8% gluten while All-Purpose Flour contains 10-12%. When you use cake flour in cakes, it creates a more tender texture. We all want moist and tender cakes so cake flour is essential.

Use Baking Powder.

Since there is only sugar in this cake, I use baking powder and a lot of it. This helps the cake to rise and give it loft.

Add the Butter, in cubes, to the Flour.

This recipe doesn't call for the typical cream butter and sugar together. The butter is added to the flour, baking powder, sugar, and salt mixture and beat just until coarse crumbs are formed.

Use Egg Whites + One Egg.

I tried using only egg whites and the texture was very similar to angel food cake. Adding one egg yolk added the right amount of fat and helped to make the cake extra moist.
Use Canned Coconut Milk.

I used full-fat unsweetened coconut milk in this coconut cake recipe. It adds the authentic, real coconut flavor we are seeking.

Use Buttermilk.

We are looking for a moist cake and there is nothing better than buttermilk to help create a tender cake.

The Secret Ingredient is Dry Pudding Mix.

Just trust me on this one! You can use coconut cream pie, vanilla, or white chocolate dry pudding mix.
Bake just until the cake tester comes clean.

Use two 9-inch pans or three 8-inch pans. The cooking time will depend on the depth of the cake batter. The best way to figure out if the cake is baked through enough is to place a cake tester in the center of the cake.

To make a Toasted Coconut Cake

— place coconut flakes on a baking sheet and bake at 350 degrees for 2-4 minutes. Watch carefully. Sprinkle on top of the cake.

If you want to keep a cake extra moist, brush with a simple syrup.

What is simple syrup? It is sugar and water boiled down to make a syrup and brushed on the top of the baked cake layers. This is completely optional but it can help keep your cake extra moist.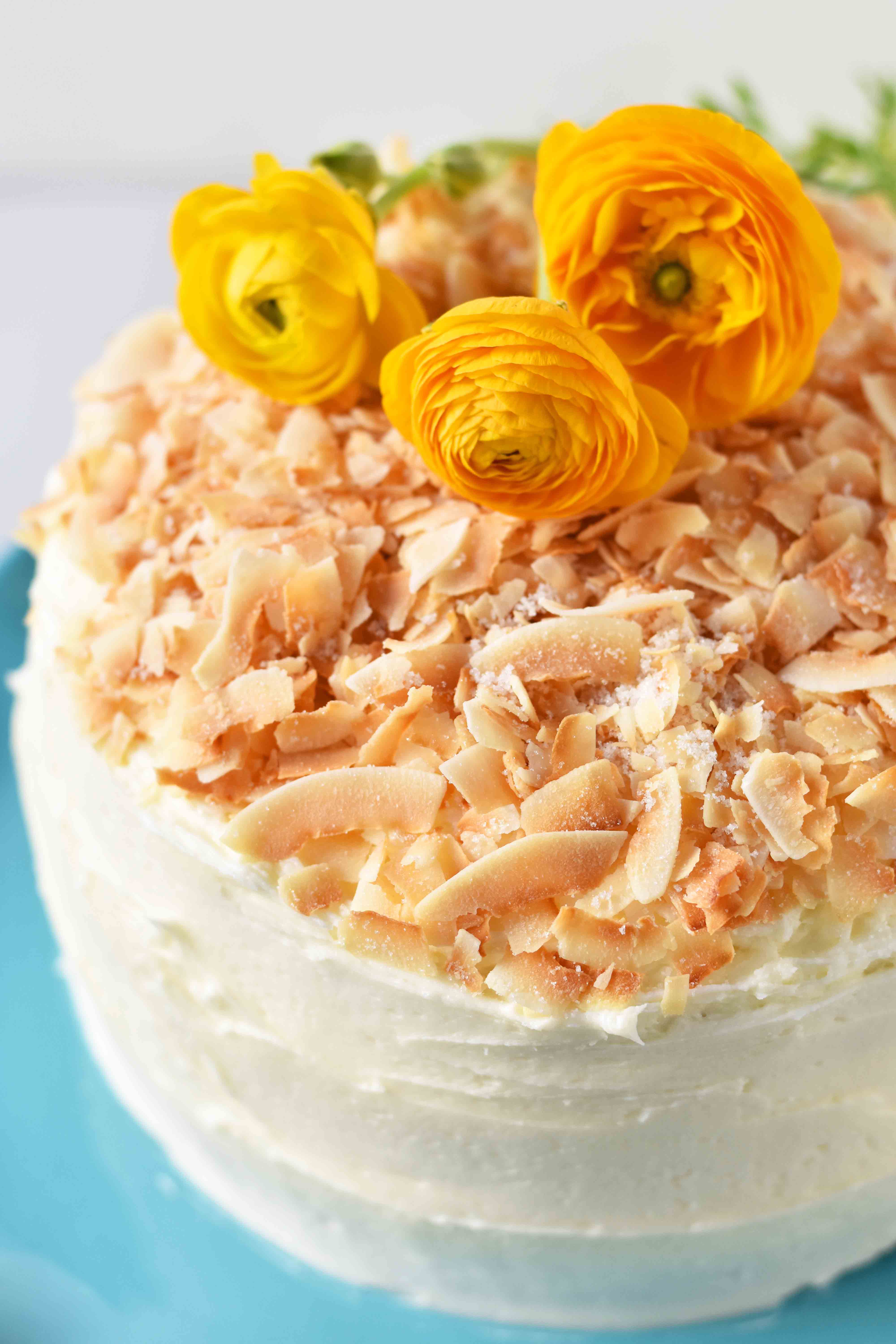 Here are my favorite baking pans — USA Bakeware Round Cake Pan 8 inch and USA Bakeware Round Cake Pan 9 inch.
A Wilton Angled Icing Spatula is the perfect tool to use to frost this cake.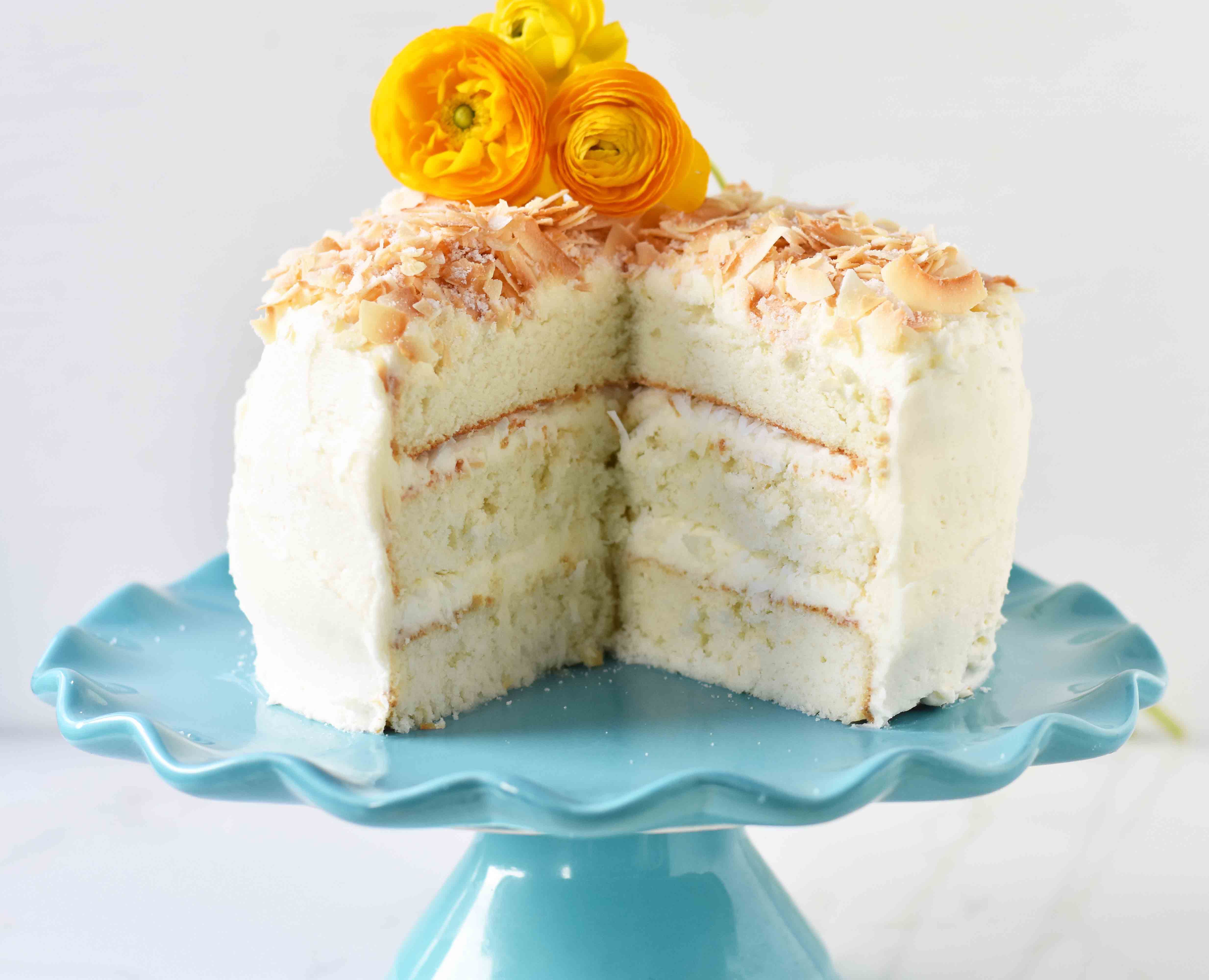 pin on pinterest: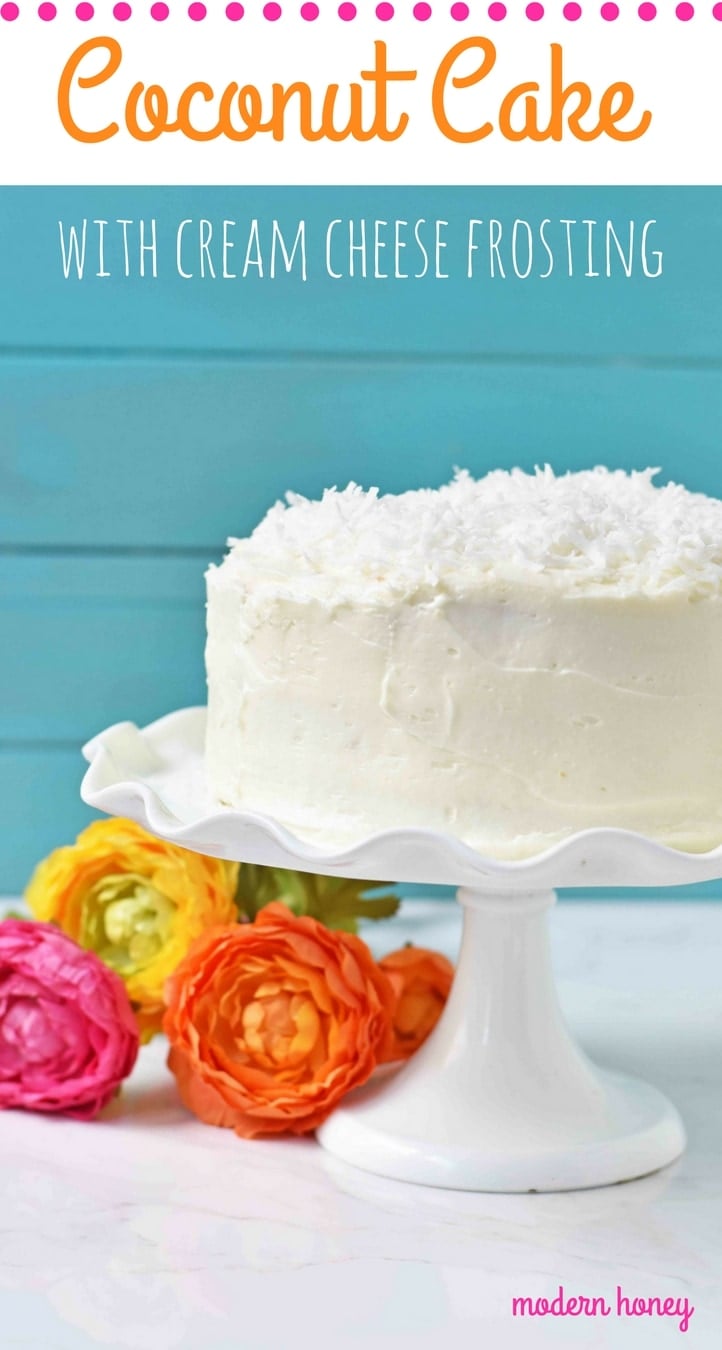 Pin this now to find it later
Pin It
Coconut Cake
The perfect coconut cake with sweet cream cheese frosting.
Ingredients
2 1/2

cups

Cake Flour

1 3/4

cup

Sugar

1

Tablespoon

Baking Powder

1/2

teaspoon

Salt

1/4

cup

Dry Pudding Mix

coconut or vanilla

1

cup

Butter

cut into cubes, softened

1

cup

Canned Unsweetened Coconut Milk

full-fat

1/3

cup

Buttermilk

4

Egg Whites

1

Egg

1 - 2

teaspoons

Coconut Extract
Sweet Cream Cheese Frosting:
1

cup

Butter

softened

(1)

8-ounce pkg.

Cream Cheese

softened

5

cups

Powdered Sugar

2

Tablespoons

Cream or Milk

1

teaspoon

Coconut Extract
Simple Syrup
1/2

cup

Water

1/2

cup

Sugar
Garnish:
1 1/2

cups

Coconut

Sweetened or Flaked
Instructions
Preheat oven to 350 degrees. In a standing mixer, stir together flour, baking powder, sugar, salt, and pudding mix.

Beat the butter into the flour mixture, one cube at a time. Continue to beat until it resembles coarse crumbs.

In a small bowl, whisk together coconut milk, buttermilk, egg whites, egg, and coconut extract. Add the 1/2 of the egg-milk mixture and beat the batter is light and fluffy. Add remaining egg-milk mixture and mix just until combined. Take a spatula and scrape the sides of the bowl.

Spread into greased pans and smooth tops with a spatula. Use two 9-inch pans or three 8-inch cake pans.

Bake for 18-22 minutes, depending on the depth of pans. If the cake layers are thin, they will cook for less time than the thicker layers. This time is for three thin 8-inch layers. Check for doneness by placing a cake tester or toothpick in center of the cake.

Let cakes cool. Run a knife around edge of cake pan and flip over.

To make simple syrup: heat water and sugar in a small pan over medium heat. Let it come to a simmer. Once the sugar is completely dissolved and is clear, remove from heat. Let cool. Brush simple syrup over cake layers.

Sweet Cream Cheese Frosting:

In mixing bowl, cream together butter and cream cheese for 4 minutes until light and fluffy. Stir in powdered sugar and heavy cream, milk, or cream of coconut. Add coconut extract, if so desired. Once the cake has cooled and has been removed from pans, frost each layer with frosting.

Top each layer with sweetened coconut or place all flaked coconut on top of the cake or all over sides and top of the cake.
Nutrition information is automatically calculated, so should only be used as an approximation.
Happy Baking, my friends! xo