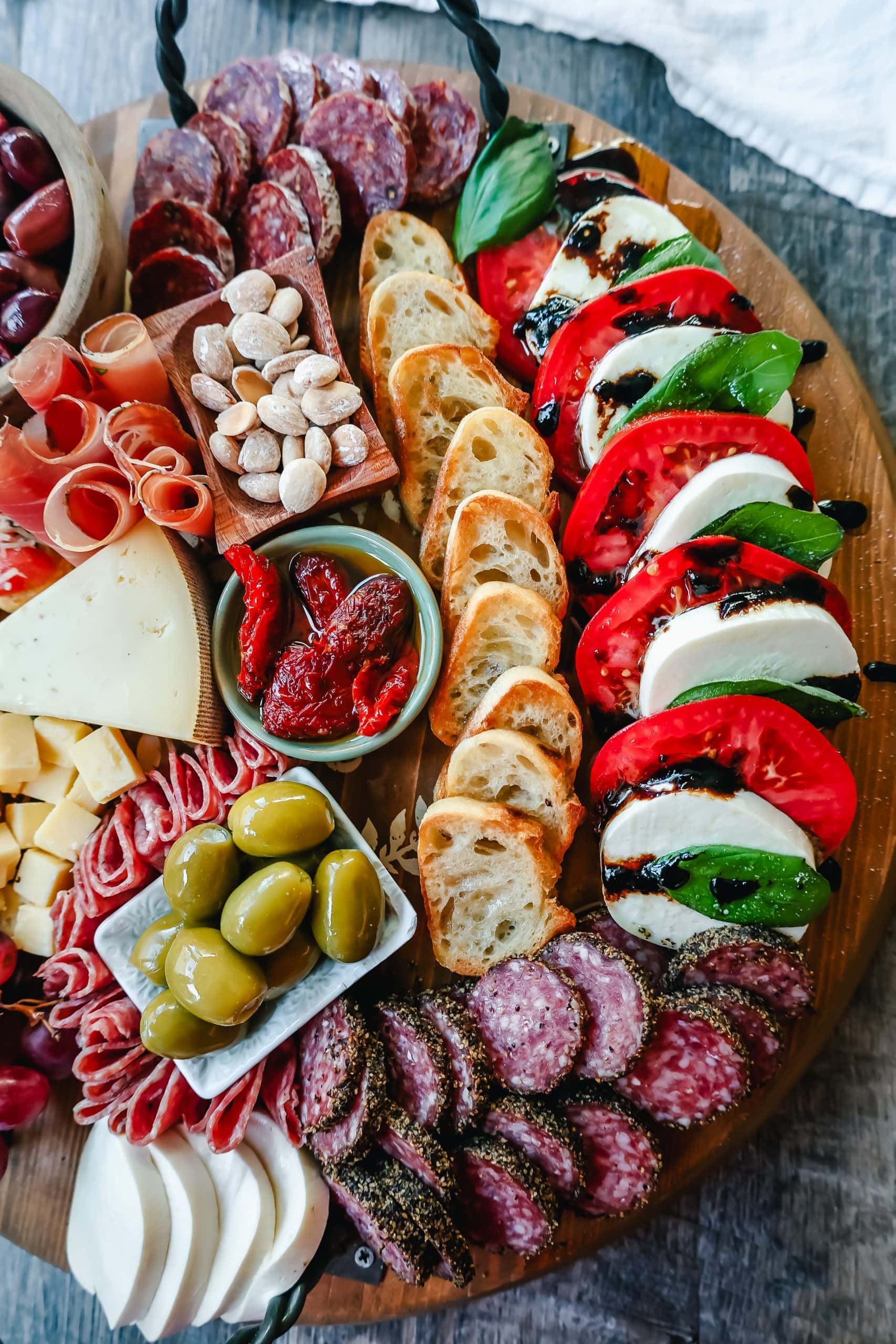 Italian Charcuterie Board
A beautiful Italian Charcuterie board filled with Italian meats and cheeses and paired with sauces, fruits, and vegetables. Perfect to pair with your Italian meal.
This is the time of year for entertaining! I love this time of year because it is when friends and family gather together and celebrate the many holidays. Anytime I am hosting anyone in our home, I always love to start off with a charcuterie board. You can find my other charcuterie board recipes down below. I think it is a beautiful way to start a dinner party or to just serve by itself at a party or get together.
This Italian Charcuterie Board was inspired by wanting to create a recipe to serve with Italian meals like chicken parmesan, spaghetti and meatballs, lasagna, and so many more. This is the perfect appetizer to get things started!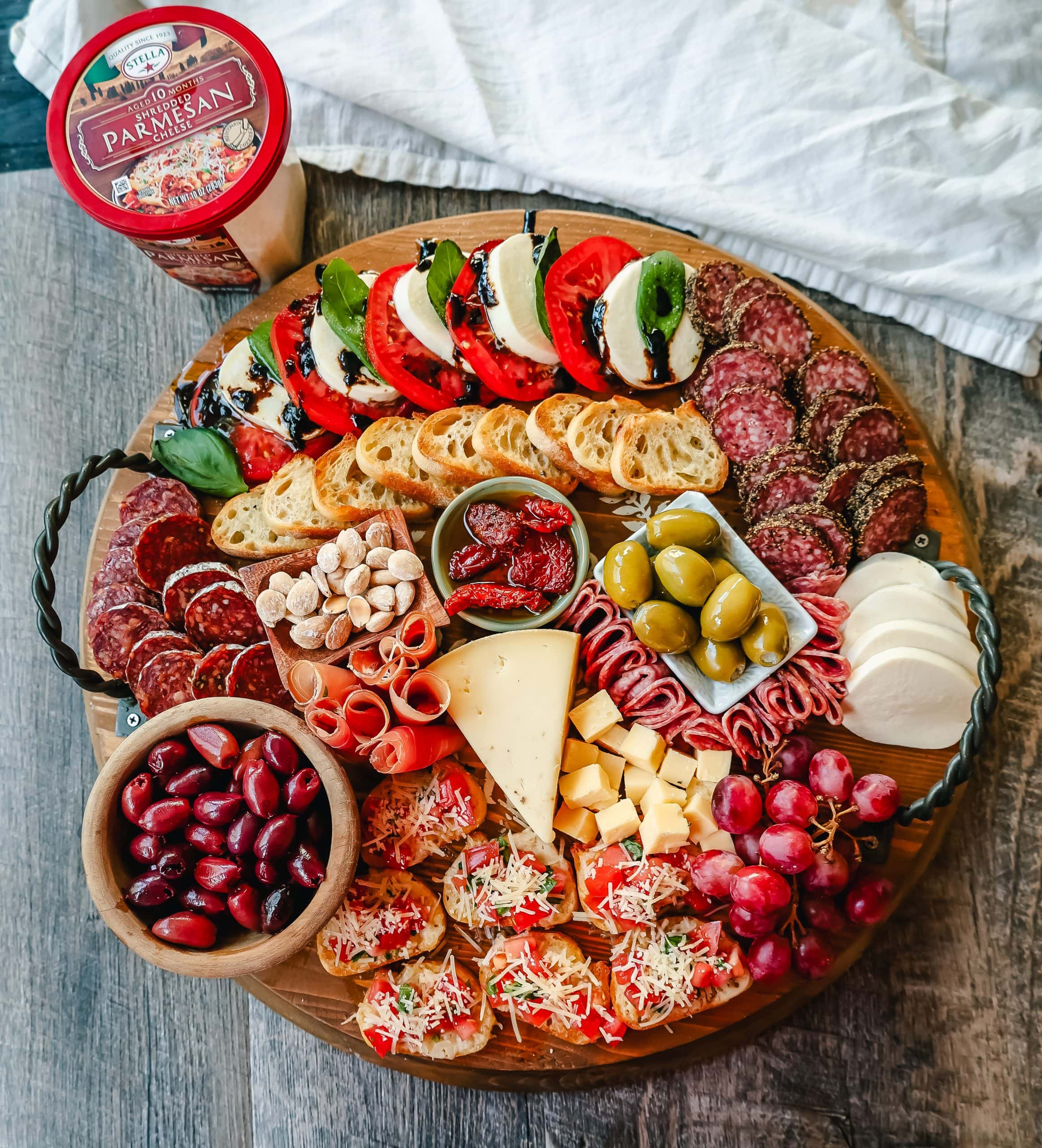 WHAT TO PUT ON YOUR ITALIAN CHARCUTERIE BOARD:
BURRATA or FRESH MOZZARELLA. Soft, creamy cheese which has a mild in flavor is always a popular choice. Mozzarella Cheese pairs well with olive oil, prosciutto, tomatoes, Italian cured meats, and olives. Burrata is the creamiest version and has rich, creamy center. I like to use both on my Italian charcuterie boards.
PARMIGIANO-REGGIANO. The famous Italian cheese is known for its sharp, nutty flavor. Cut it into wedges and pair it with figs, pears, dates, prosciutto, balsamic vinegar, walnuts, stone fruits, grapes, and honey.
BRIE or CAMEMBERT. Brie always makes a beautiful statement as the centerpiece of a cheese board. I always like to cut a wedge out of it and top it with fresh blackberries and a rosemary stem. You can also warm the brie so it is nice and melted which brings out the flavor. Brie pairs well with apples, French bread, cherries, dates, figs, pistachios, and strawberries.
WHITE SHARP CHEDDAR. Creamy white cheddar pairs beautifully with apples, nuts, dates, honey, grapes, French bread, nuts, pears, and walnuts.
MANCHEGO CHEESE. A firm, buttery cheese from Spain. Manchego pairs well with figs, crusty bread, fig spread, almonds, green olives, and prosciutto.
CURED MEATS. Meats will be one of the biggest stars on the meat and cheese board. Use an assortment of Italian meats such as salami, prosciutto, and other Italian meats. I like to use different kinds of salami on my meat platters. I use hard salami to cut into slices and then you use the thinly sliced salami to fold into fourths to make "salami flowers."
OLIVES. I love to buy the marinated castelvetrano and kalamata olives from the deli department. You can usually buy them by the pound which helps so you only have to buy what you need.
CRACKERS and BREAD. Set out an array of crackers and bread -- crostinis, flatbread crackers, and thinly sliced crackers. Try to choose plain crackers as strongly flavored crackers can take over the flavor of the cheese. I love to toast French bread with a little extra-virgin olive oil and toast it for 3-4 minutes on broil in the oven. You can also top it with a garlic parmesan butter.
CAPRESE SALAD. Layers of fresh mozzarella, thick sliced heirloom tomatoes, fresh basil, extra-virgin olive oil, balsamic glaze, and a sprinkle of sea salt.
FRUIT. Red seedless grapes are a beautiful addition to an Italian cheese board. You can also add green grapes. Blood orange slices are also stunning.
NUTS. I love to use Marcona almonds. The perfect salty addition to you Italian charcuterie board.
OTHER ADDITIONS. Pesto Sauce, Sun-dried Tomatoes, Boursin Garlic and Herb Cheese Spread, Roasted Sweet Peppers, Fig Jam, Ricotta Cheese, Mascarpone Cheese, Garlic Parmesan Butter Crostini, Brushetta.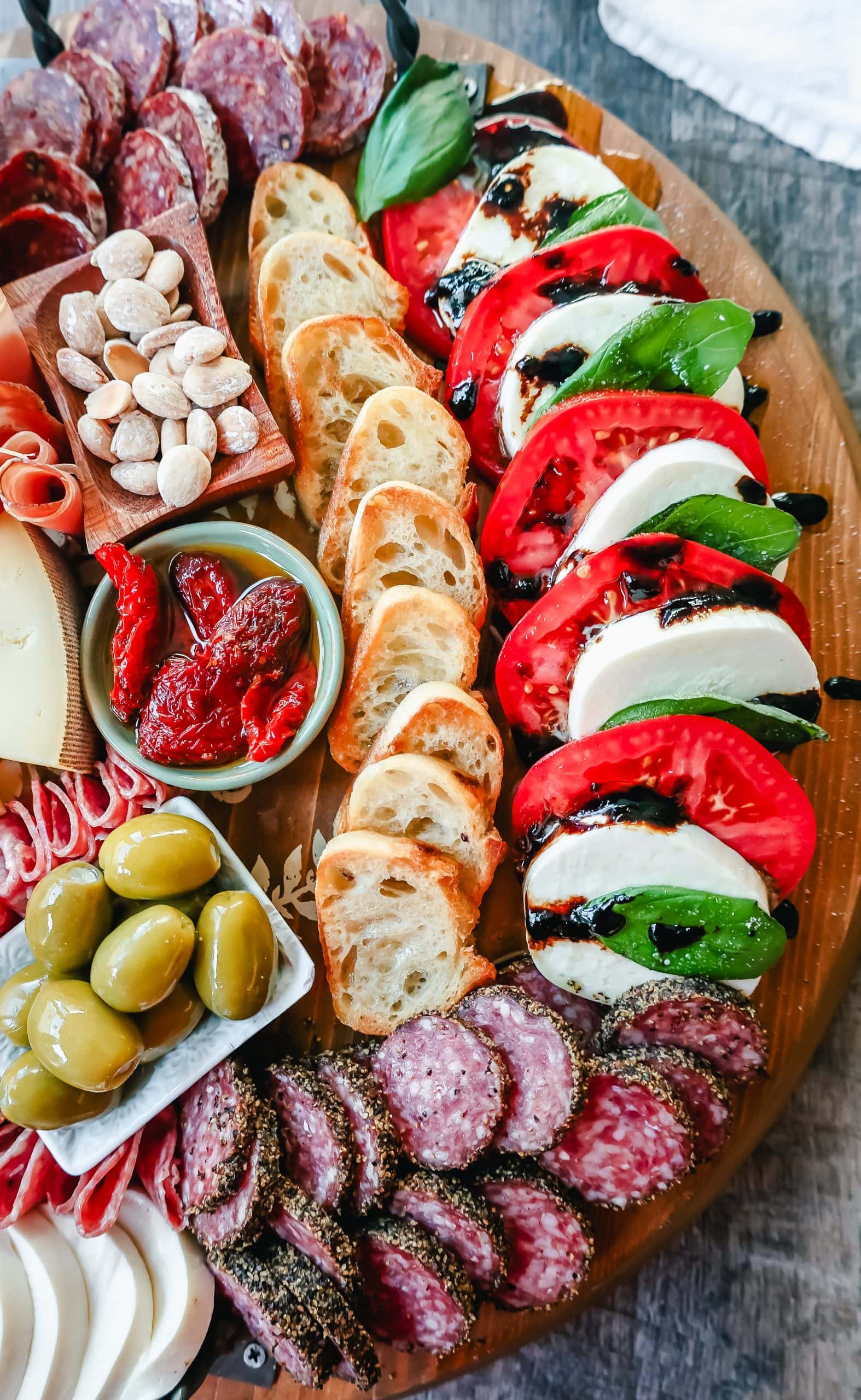 BRUSCHETTA COMBINATIONS:
Prosciutto Di Parma, Fig Jam, Mascarpone
Heirloom Tomatoes, Fresh Mozzarella, Extra Virgin Olive Oil, Balsamic Glaze
Garlic Butter Parmesan Crostini, Bruschetta, Basil
Fresh Burrata, Balsamic Glaze, Crostini
Pesto Sauce, Salami, Cheese, Cracker or Crostini
Here are my other CHARCUTERIE BOARD IDEAS:
MEAT and CHEESE CHARCUTERIE BOARD
FRUIT and CHEESE CHARCUTERIE BOARD
I love to hear from you! If you make this recipe, please be sure to leave a comment and give this recipe a rating. Sign up for my newsletter below so you never miss a recipe. Thank you for following along! I truly do have the greatest readers. FOLLOW ME ON: INSTAGRAM --- FACEBOOK --- PINTEREST