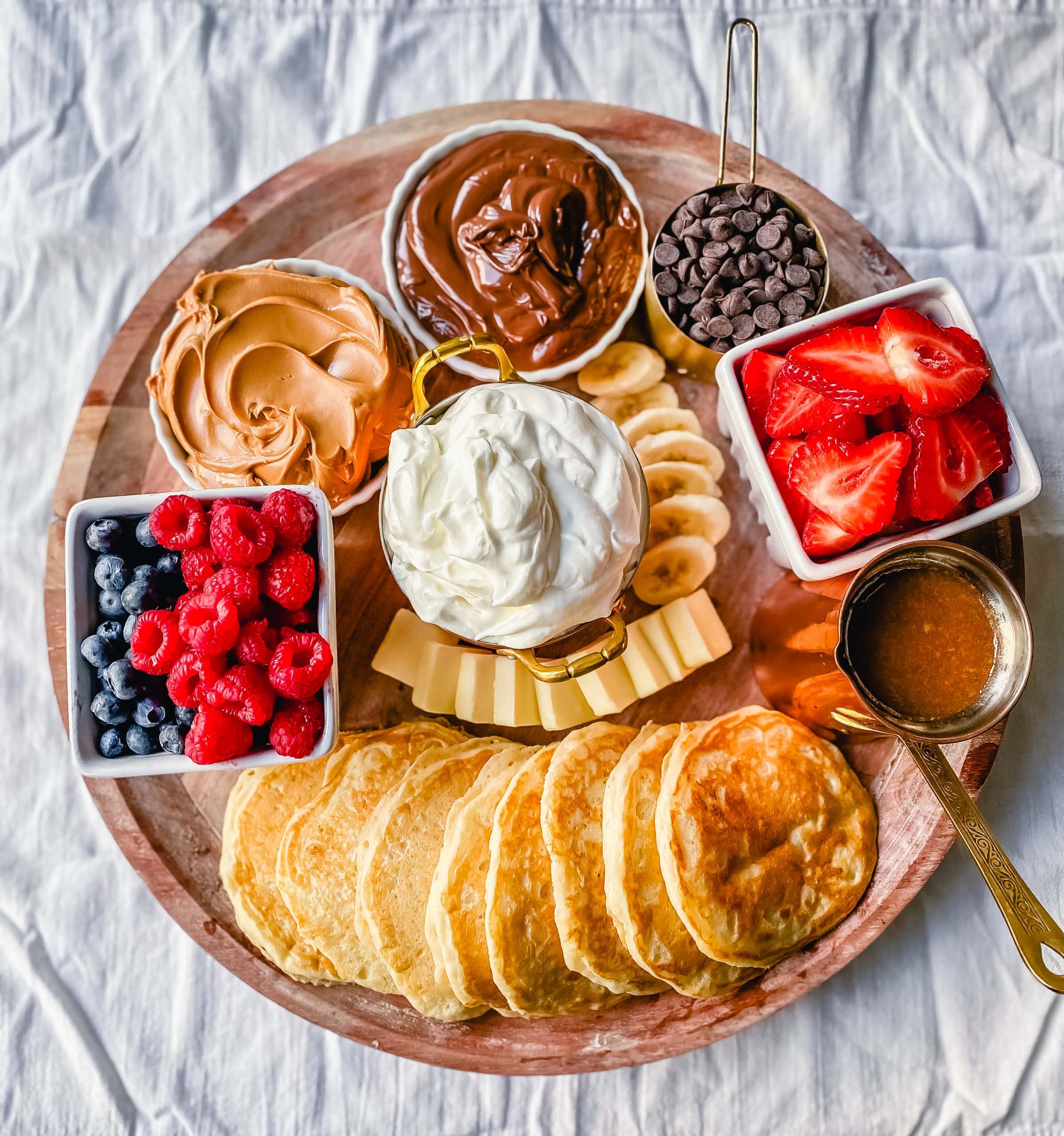 Breakfast Pancake Board
The perfect breakfast for entertaining! Homemade buttermilk pancakes topped with all of your favorite toppings -- fresh berries, whipped cream, homemade syrup, Nutella, chocolate chips, peanut butter, and more.
I love entertaining. I just love having people in my home and getting the opportunity to feed them! One of my favorite things to do is to create a beautiful food board. Food just looks so much more gourmet when displayed on a gorgeous board.
This Breakfast Pancake Board is one of my favorite things to serve when I have family and friends in town. You can do a lot of it ahead of time so breakfast time isn't stressful.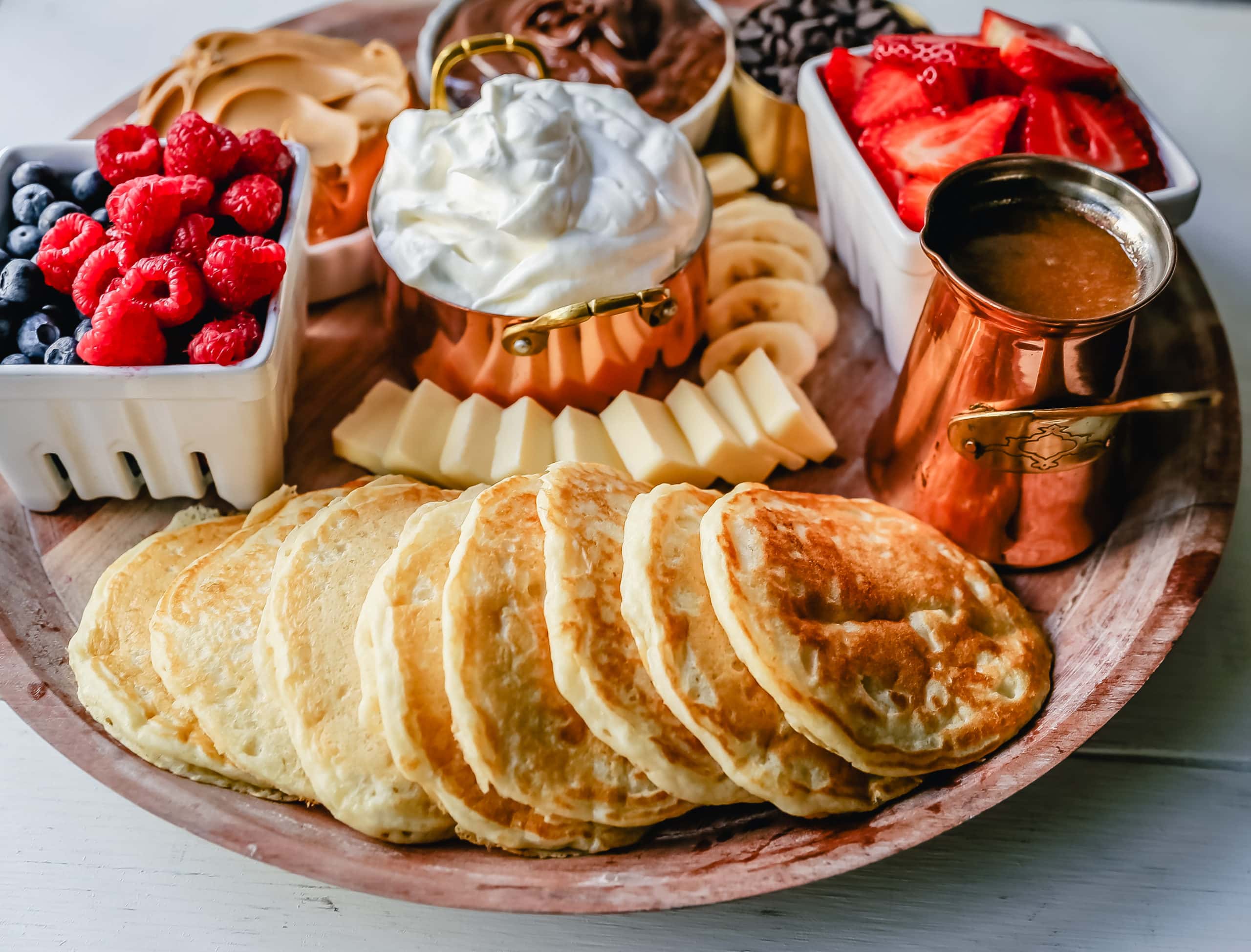 This Pancake Charcuterie Board starts off with the star of the show -- homemade buttermilk pancakes. This pancake recipe has been in my family for years and creates the creamiest and fluffiest pancakes that are never dry. This pancake recipe is made with simple ingredients and the addition of buttermilk makes them extra tender.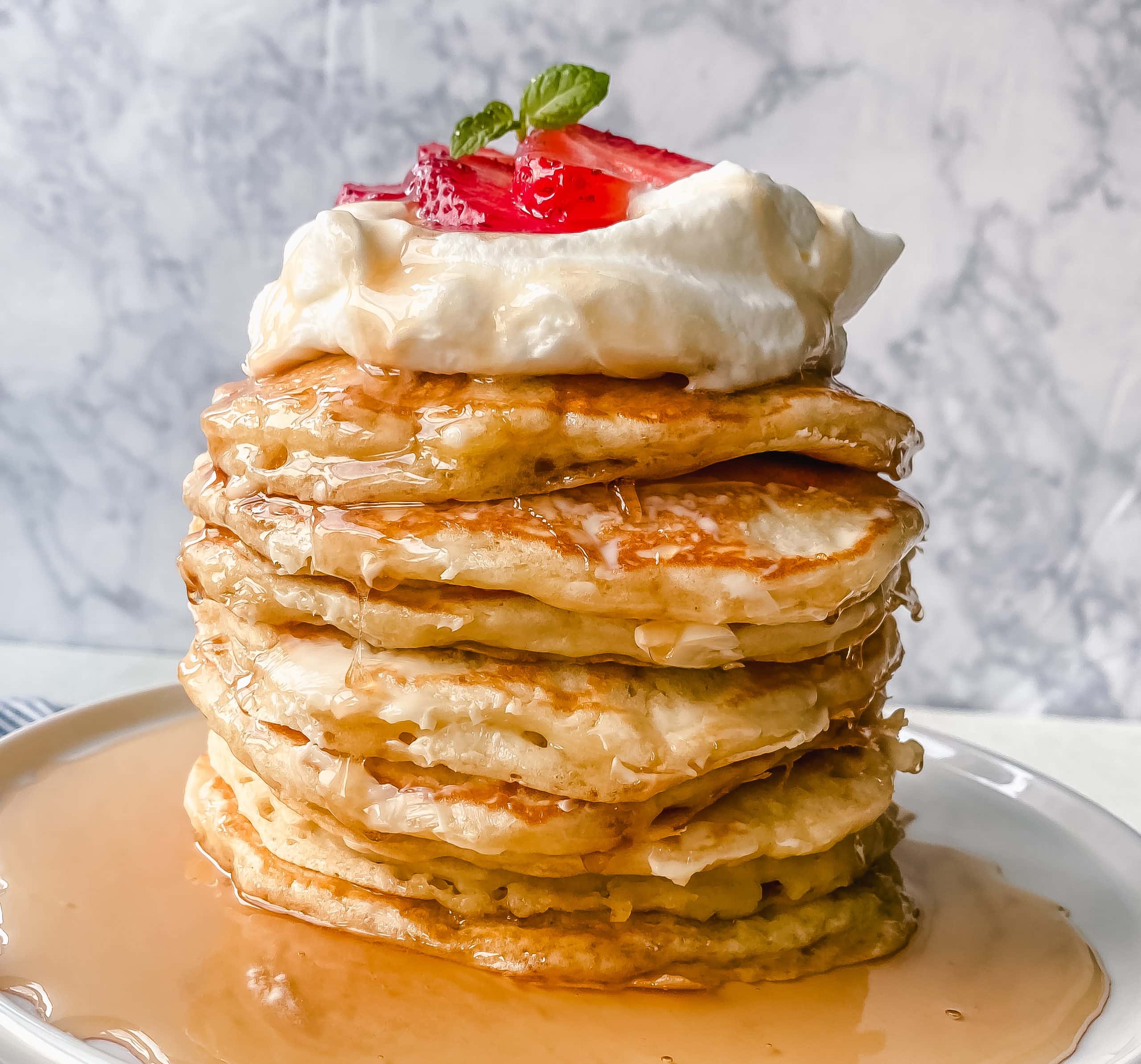 My kids' favorite part is definitely the pancake toppings! It just makes it so much more fun to display an array of toppings so you can change it up with every single serving. In our home, we definitely don't stop with one serving! Our go-to homemade syrup that has been in our family for over 50 years is definitely the HOMEMADE BUTTERMILK CARAMEL SYRUP. It is a must-have with pancakes!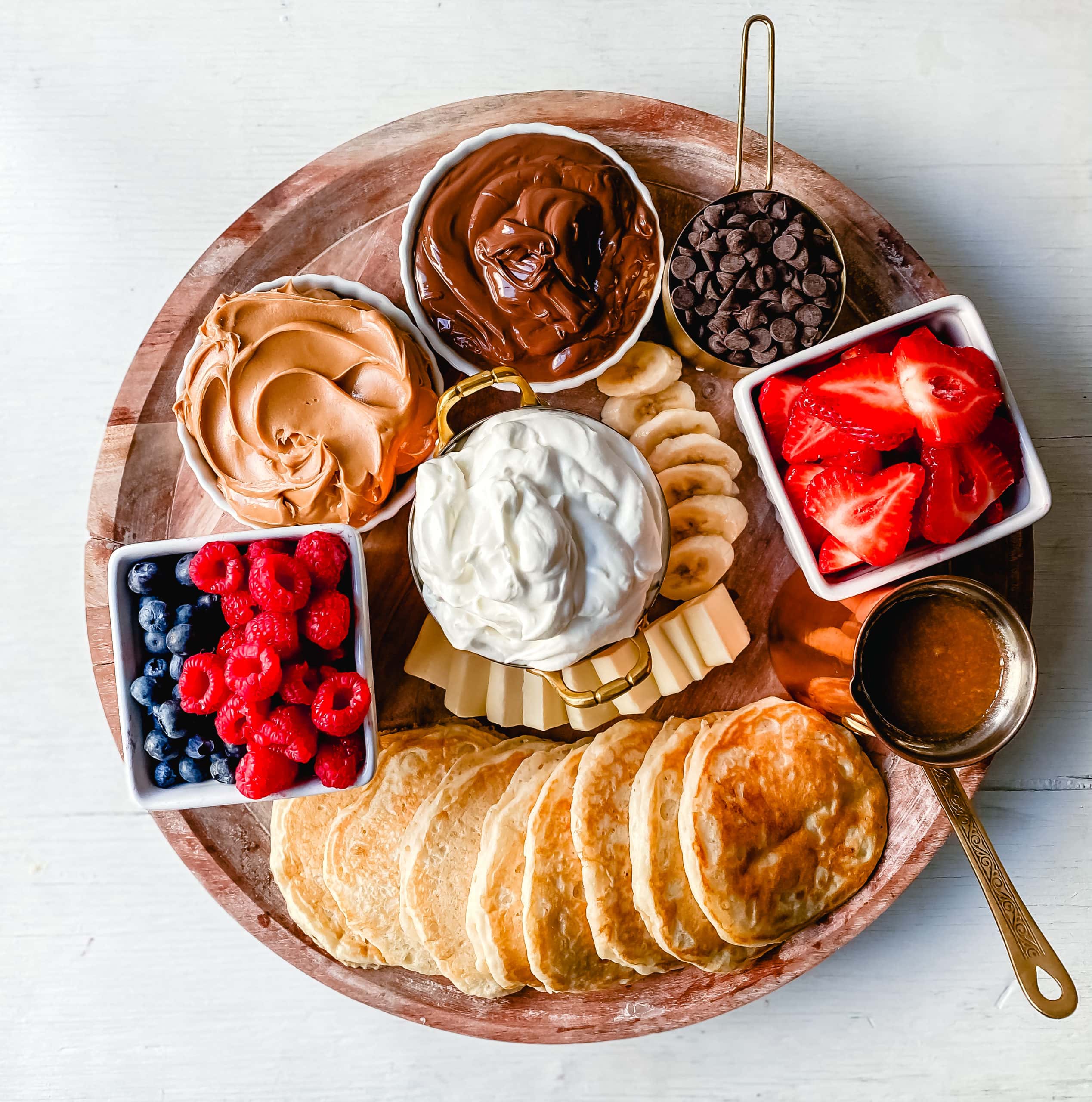 BEST PANCAKE TOPPINGS:
Fresh Strawberries
Fresh Bananas (sprinkled with a little lemon juice)
Fresh Raspberries
Blueberries
Homemade Sweetened Whipped Cream
Maple Syrup
Homemade Buttermilk Caramel Syrup
Nutella Chocolate Spread
Creamy Peanut Butter
Chocolate Chips or Dark Chocolate Chunks
Butter
Fresh Peaches
Homemade Berry Syrup
Lemon Curd
Biscoff Spread
Nuts -- Pecans and Walnuts
BEST PANCAKE TOPPING COMBINATIONS:
Strawberries + Whipped Cream + Maple Syrup
Bananas + Walnuts + Homemade Buttermilk Caramel Syrup
Raspberries + Biscoff or Nutella + Fresh Whipped Cream
Nutella + Chocolate Chips + Fresh Whipped Cream
Peaches + Whipped Cream + Powdered Sugar
Peanut Butter + Bananas + Caramel Syrup
Blueberries + Fresh Whipped Cream + Real Maple Syrup
Lemon Curd + Fresh Raspberries + Homemade Whipped Cream
Strawberries + Nutella + Chocolate Chips + Whipped Cream
Fresh Bananas + Whipped Cream + Homemade Caramel Buttermilk Syrup
I remember when my oldest brother's girlfriend came to visit us for the first time. I was only 10 years old and I remember this so clearly. We made homemade pancakes the first morning she was there and she asked for peanut butter. She told us that in her family she couldn't eat pancakes without peanut butter. It was the first I ever heard of such a notion but I tried it and it was actually pretty good! Any other peanut butter and pancake lovers out there?
If you are looking for more fun charcuterie board ideas, check out these posts:
CHARCUTERIE BOARD (Meat and Cheese Platter)