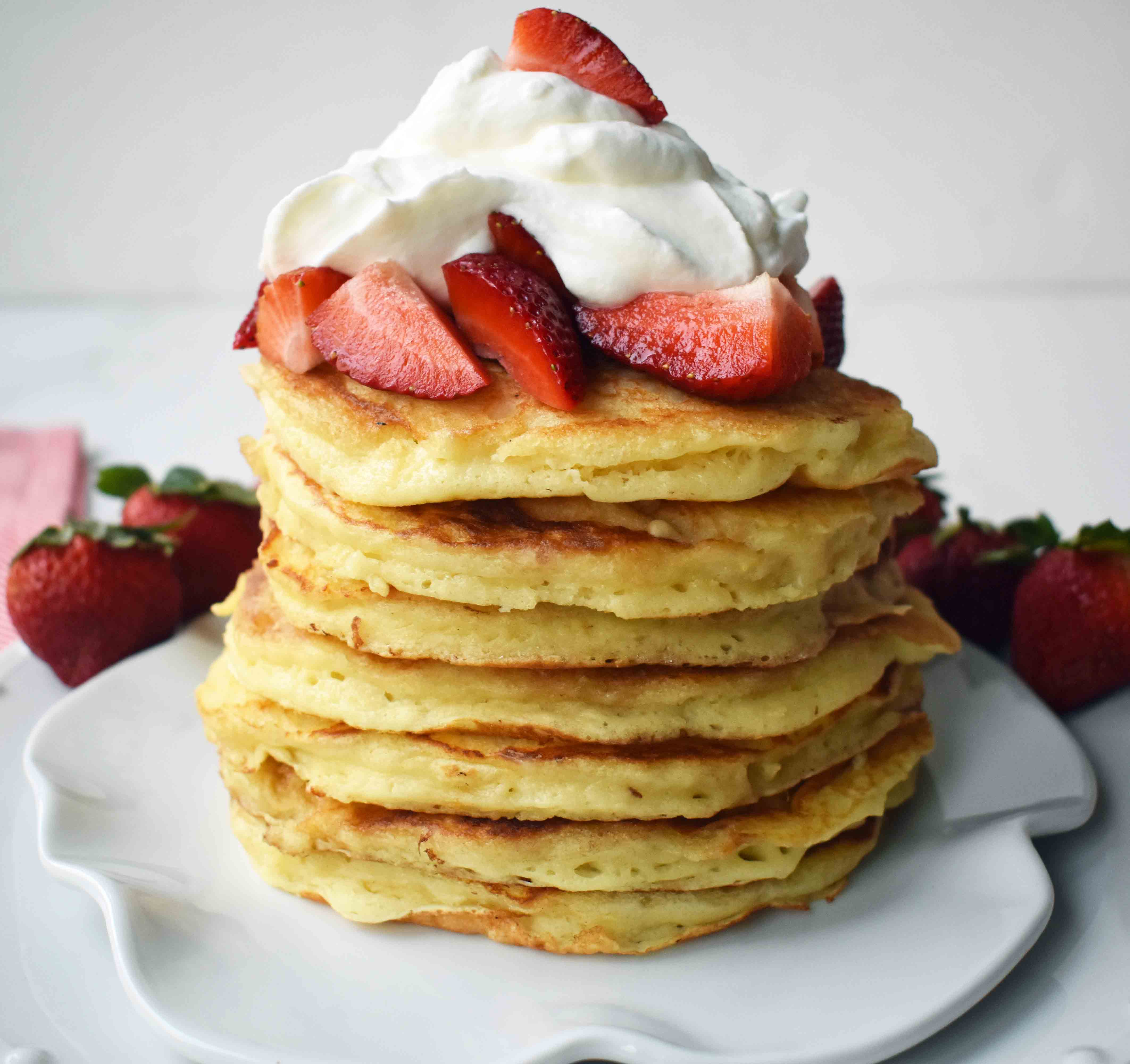 GOLDIE'S BEST BUTTERMILK PANCAKES
I am pretty sure I grew up on a steady diet of pancakes.
I strongly believe that pancakes are a necessity on the weekends, of course.
But one thing is for sure….not all pancakes are created equal. Maybe you've eaten hockey pucks before that were supposed to resemble pancakes. Pancakes just taste better from scratch.
Goldie's Best Buttermilk Pancakes are made with fresh buttermilk, eggs, a touch of sugar, butter, flour, and baking powder. It's the ratio that counts and the buttermilk is the big difference maker in the best buttermilk pancakes ever.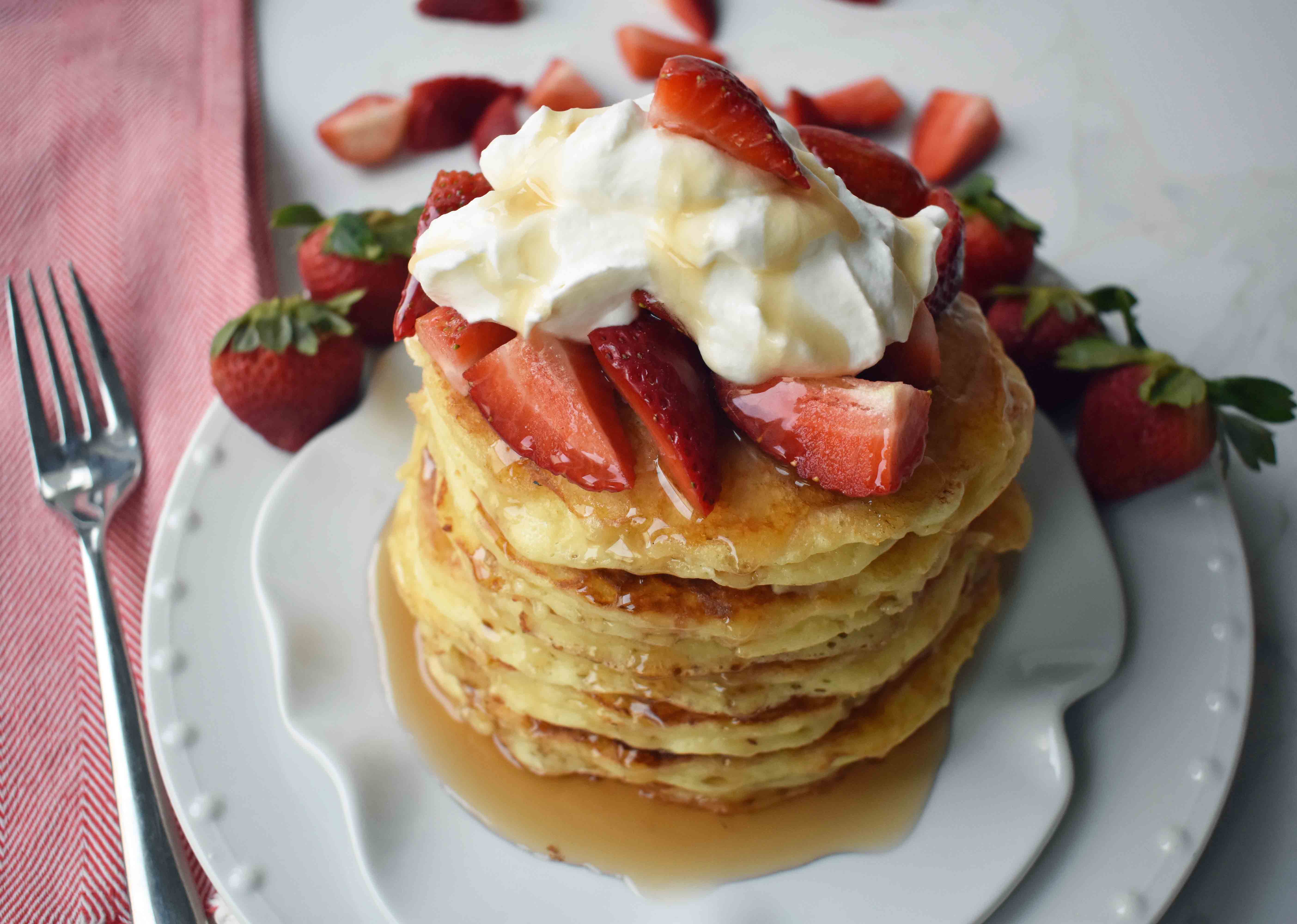 A pancake has to be fluffy yet tender. That's not an easy feat. You don't want it to be so thick and cakey that you think you are eating a piece of bread. A soft and tender pancake is made by using a higher ratio of buttermilk to flour. Buttermilk is a saint in the baking world!
A mix of baking powder and baking soda gives the buttermilk pancakes a nice rise.
Placing a pat on a warm butter on skillet before pouring the pancake batter onto the pan, gives the pancake a buttery crust. It is so heavenly! This is the skillet that we use because it fits 6-8 pancakes on it at once so it takes less time — Presto Electric Griddle
Top with freshly whipped cream and berries.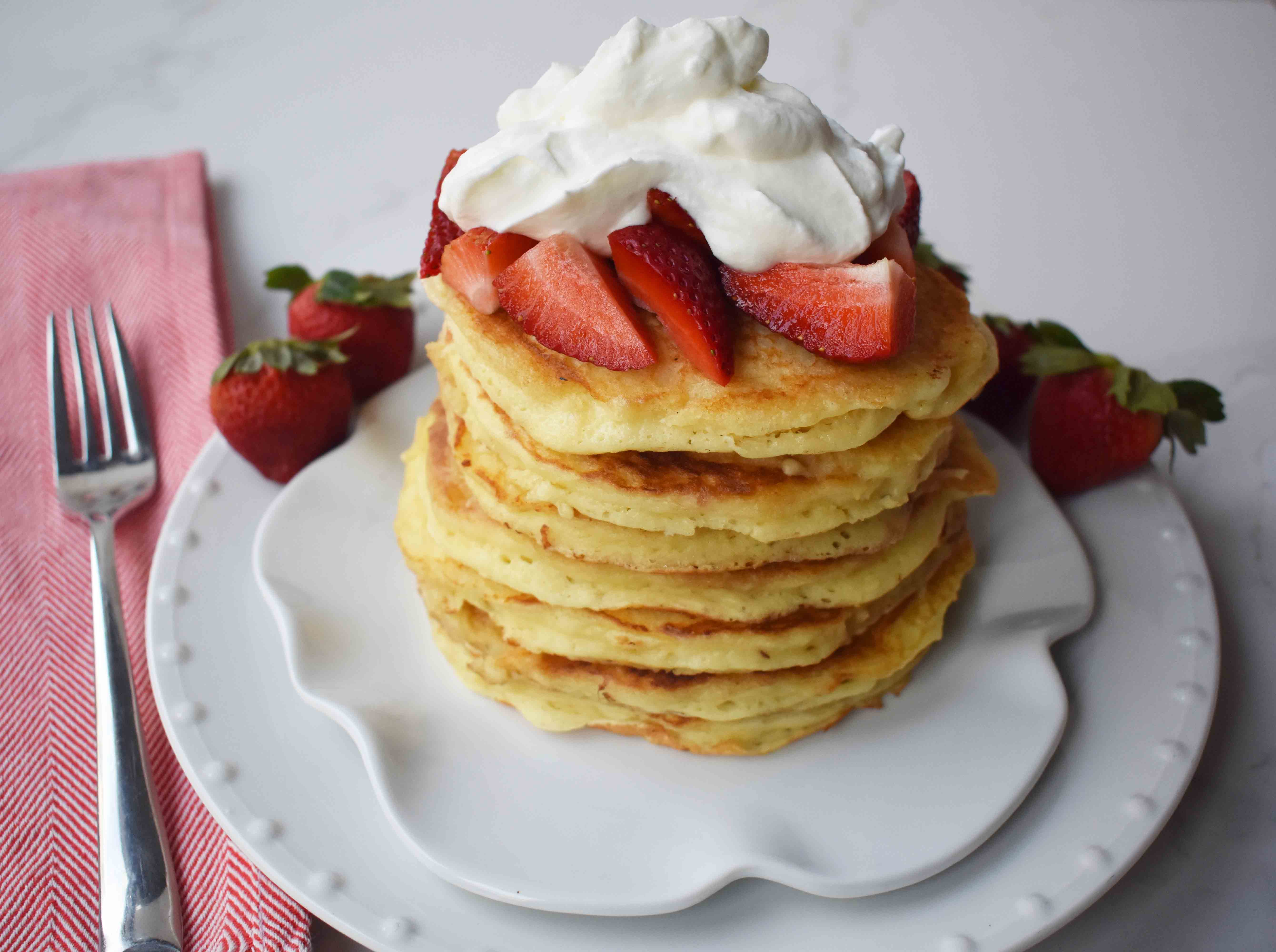 Goldie's Best Buttermilk Pancakes
Fluffy, soft, and tender buttermilk pancakes. A family favorite!
Author:
Melissa Stadler, Modern Honey
Ingredients
3 cups Flour
1 Tablespoon Baking Powder
1½ teaspoon Baking Soda
½ teaspoon Salt
⅓ cup Sugar
3 Eggs
4½ cups Buttermilk
6 Tablespoons Butter, melted
Instructions
In large bowl, combine flour, baking powder, baking soda, salt and sugar and stir until combined. Add eggs, buttermilk, and melted butter and whisk to combine. Batter should have some lumps. Embrace the pancake batter lumps.
Heat skillet over medium-low heat. Test for readiness by sprinkling some water on pan and if it spatters off the griddle, it's hot enough.
Coat with butter or spray with non-stick cooking spray.
Using a ½ cup, pour pancake batter onto pan.
When bubbles appear on top of pancake, flip to cook the other side. Watch carefully as pancakes can brown quickly. Keep it at a lower heat to ensure that the inside gets cooked through without the outside getting too brown. Serve warm.
Top with strawberries, bananas, berries, whipped cream, and real maple syrup.
We serve these every single Valentine's Day with a big glass of Strawberry milk….because calories don't count on holidays. I made up that rule. Just go with it.  Happy Sunday, my friends! xo 
https://www.modernhoney.com/5-ways-to-make-valentines-day-special-for-kids/
Follow me on instagram at @modern_honey. 🙂 Pin this image below on PINTEREST.