The Best Homemade light, fluffy buttermilk chocolate chip pancakes with sweet milk or semi-sweet chocolate chips. These easy chocolate chip pancakes make the most decadent breakfast!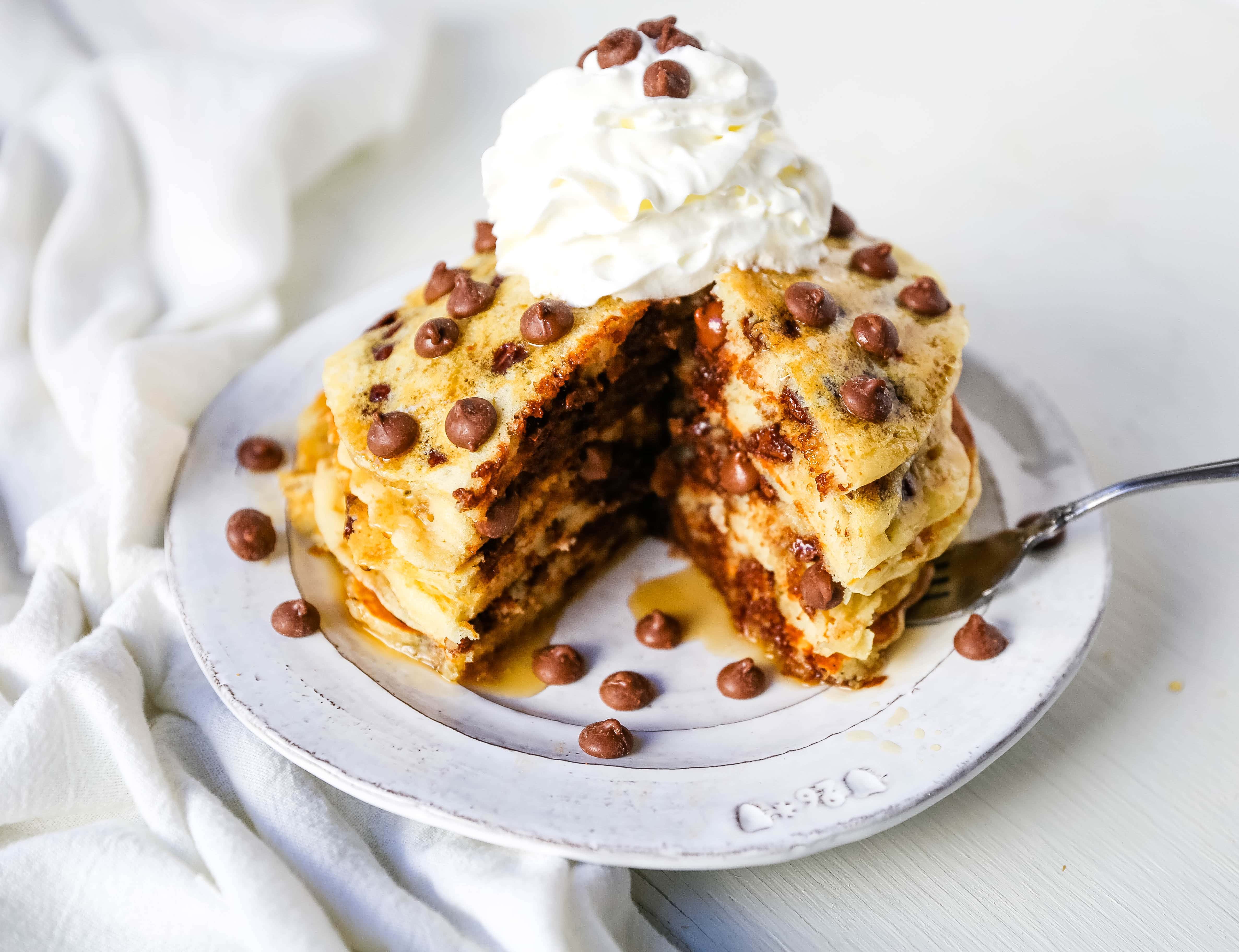 I think we should all be able to eat chocolate for breakfast...with zero guilt. If you are a chocolate lover, then buttermilk chocolate chip pancakes make the most heavenly breakfast.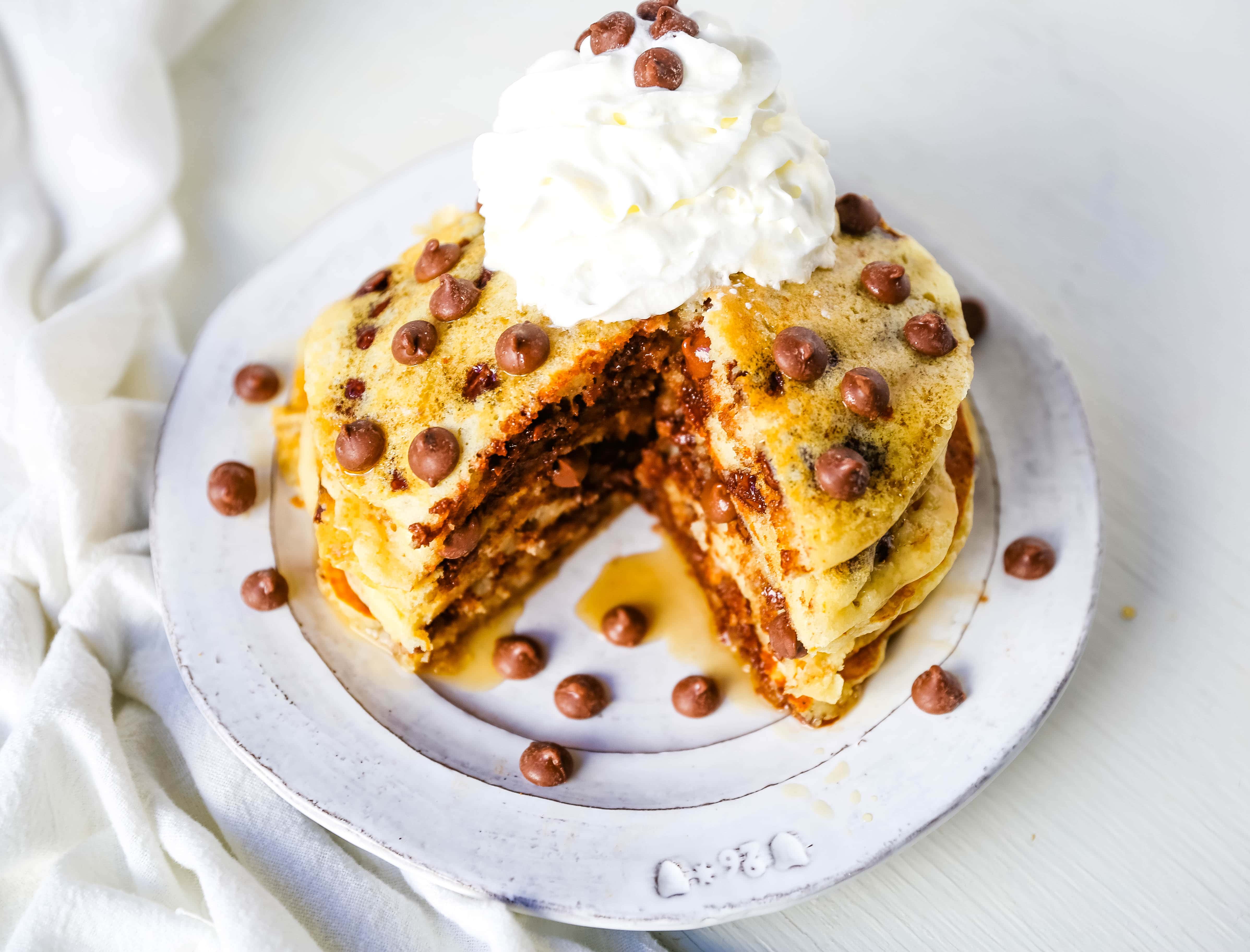 We are pancake snobs in our home. I grew up eating pancakes every single weekend at the very least. My Mom was known for making breakfast for dinner weekly and we loved it. To this day, my kids will say that no one makes better scrambled eggs and breakfasts than Grandma. She has the touch!
Of course...homemade buttermilk pancakes are amazing on their own. But when you sprinkle in milk or semi-sweet chocolate chips then the chocolate completely transforms the pancakes. You don't even need the butter and syrup because the pancakes are so spectacular on their own.
What ingredients are in Homemade Chocolate Chip Pancakes:
Buttermilk
Melted Butter
Eggs
Chocolate Chips
Sugar
Flour
Baking Powder + Baking Soda
The best chocolate chip pancakes begin with light and fluffy buttermilk pancakes. I am a huge fan of using buttermilk in my pancakes. Trust me on this one. It creates a tender texture that can only be achieved by the creamy acidic elements found in buttermilk.
A combination of melted butter, eggs, buttermilk, and a touch of sugar combined with flour, baking powder, baking soda, and salt makes these the best buttermilk pancakes. Then you add in the chocolate chips. You can use either milk chocolate chips or semi-sweet chocolate chips, depending on sweetness preference.
How to keep chocolate chips from melting in chocolate chip pancakes?
Chocolate Chips are meant hold their shape when they hit high heat but they can still melt slightly. If you are concerned about the chocolate chips melting into the pancakes, don't add the chocolate chips to the batter. Pour the pancake batter onto a warm skillet and then generously sprinkle one side of the pancakes with chocolate chips. This will allow for less time on the heat.
How you make make the Best Chocolate Chip Pancakes:
Start off by combining the dry ingredients -- flour, baking powder, baking soda, salt and sugar, and stir until combined. Add eggs, buttermilk, and melted butter and whisk to combine. The batter should have some lumps. Embrace the pancake batter lumps.
Stir in the chocolate chips being careful to just gently fold them into the batter. What type of chocolate should you use in chocolate chip pancakes? It depends on how sweet you like them! If I am using milk chocolate chips, I reach for Guittard milk chocolate chips. If I want to use semi-sweet chocolate chips, I reach for Ghirardelli.

Heat skillet over medium-low heat. Test for readiness by sprinkling some water on a pan and if it spatters off the griddle, it's hot enough. Make sure not to get the pan too hot or the pancakes will become too brown on the outside without fully cooking on the inside.

Coat skillet with butter or spray with non-stick cooking spray. I always say "everything is better with butter." It creates golden edges and gives the pancakes more flavor.

Using a ½ cup, pour pancake batter onto pan.

When bubbles appear on top of the chocolate chip pancakes, flip to cook the other side. Watch carefully as pancakes can brown quickly. Keep it at a lower heat to ensure that the inside gets cooked through without the outside getting too brown. Serve warm.

Top with extra chocolate chips, strawberries, bananas, berries, whipped cream, and real maple syrup.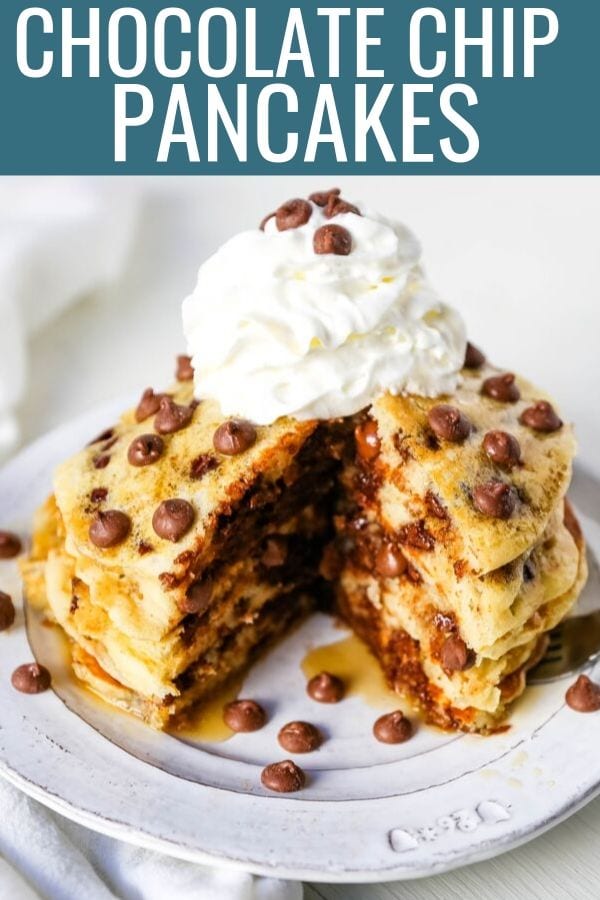 If you love pancakes, check out these favorite pancake recipes:
Goldie's Buttermilk Pancakes
Healthy Banana Oatmeal Pancakes
Blueberry Pancakes
Sweet Cream Ricotta Pancakes