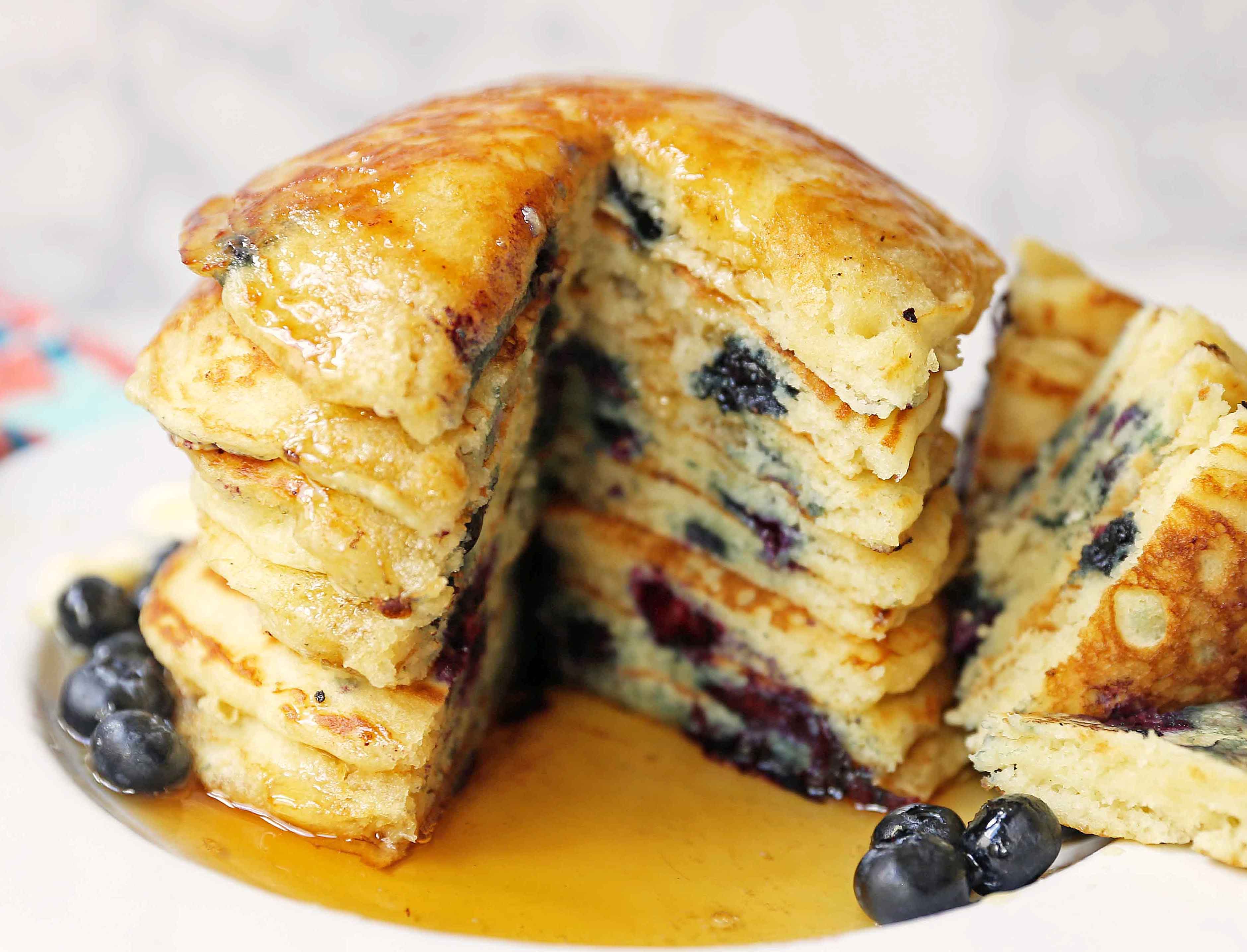 Blueberry Pancakes
Homemade fluffy blueberry buttermilk pancakes will be a classic recipe in your home in no time at all!
We take our pancakes very seriously in our home.  My husband, Dean, loves to whip up a batch of blueberry pancakes on the weekends and my kids love it too! He is the King of Pancakes in our house!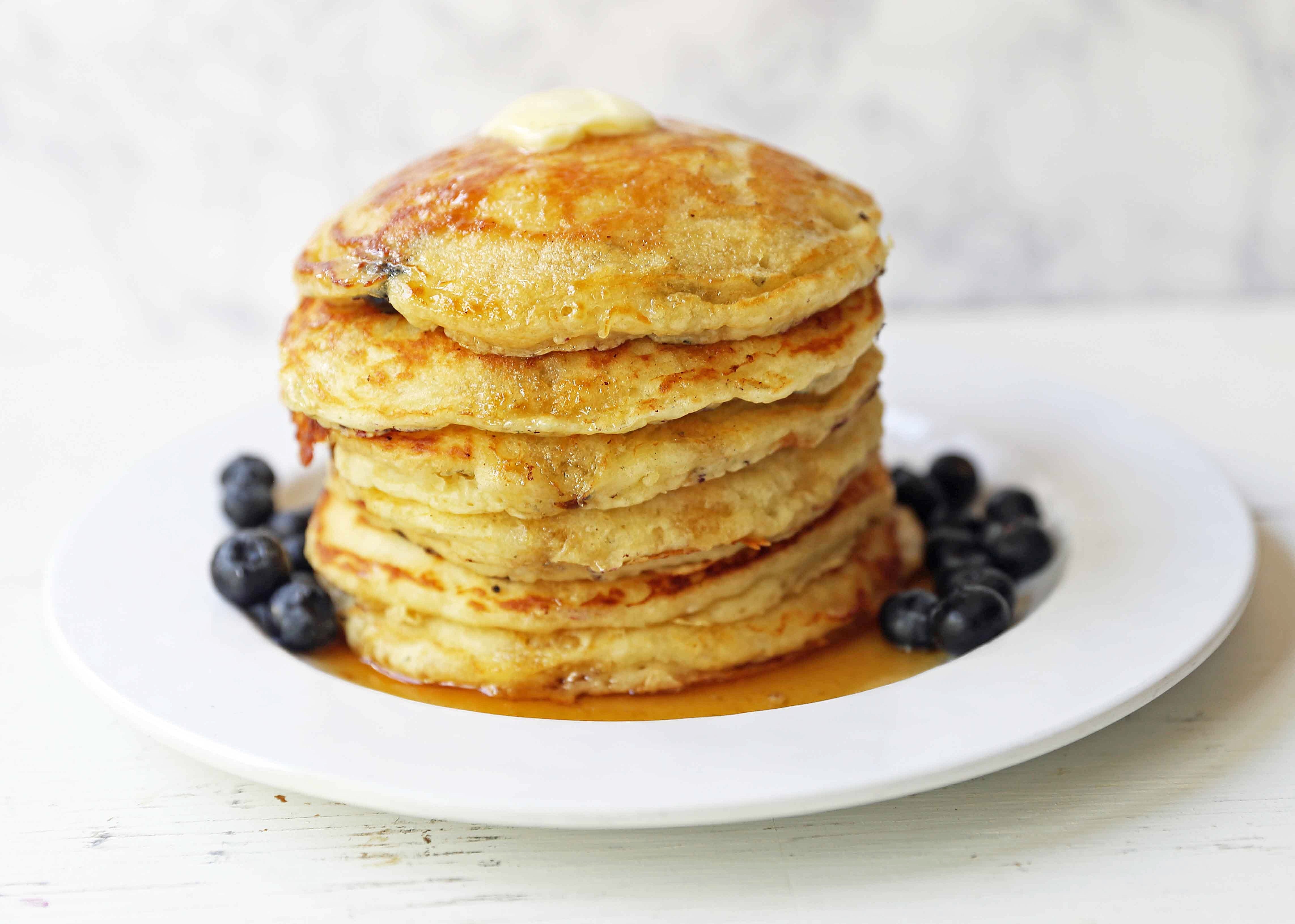 Years ago when I was first recipe testing how to make the perfect buttermilk pancakes, I discovered the magical power of buttermilk.  Yes, I used the word "magical." I am such a huge fan of buttermilk that we have a carton in our refrigerator at all times because it transforms the texture of baked goods.  It creates a melt-in-your-mouth, tender texture for the perfect blueberry pancakes.
There are a few integral ingredients to make the best blueberry pancakes -- a mix of baking soda and baking powder to make them light and fluffy, buttermilk for the creamy and tender texture, and melted butter for flavor and to keep them moist.
How to add fresh blueberries to blueberry pancakes?
I prefer to sprinkle the fresh blueberries over the pancake batter once it hits the pan to cook.  This way the blueberries keep their shape.  You can also stir the blueberries into the pancake batter but sometimes this can make them blueberries break apart and become mushy.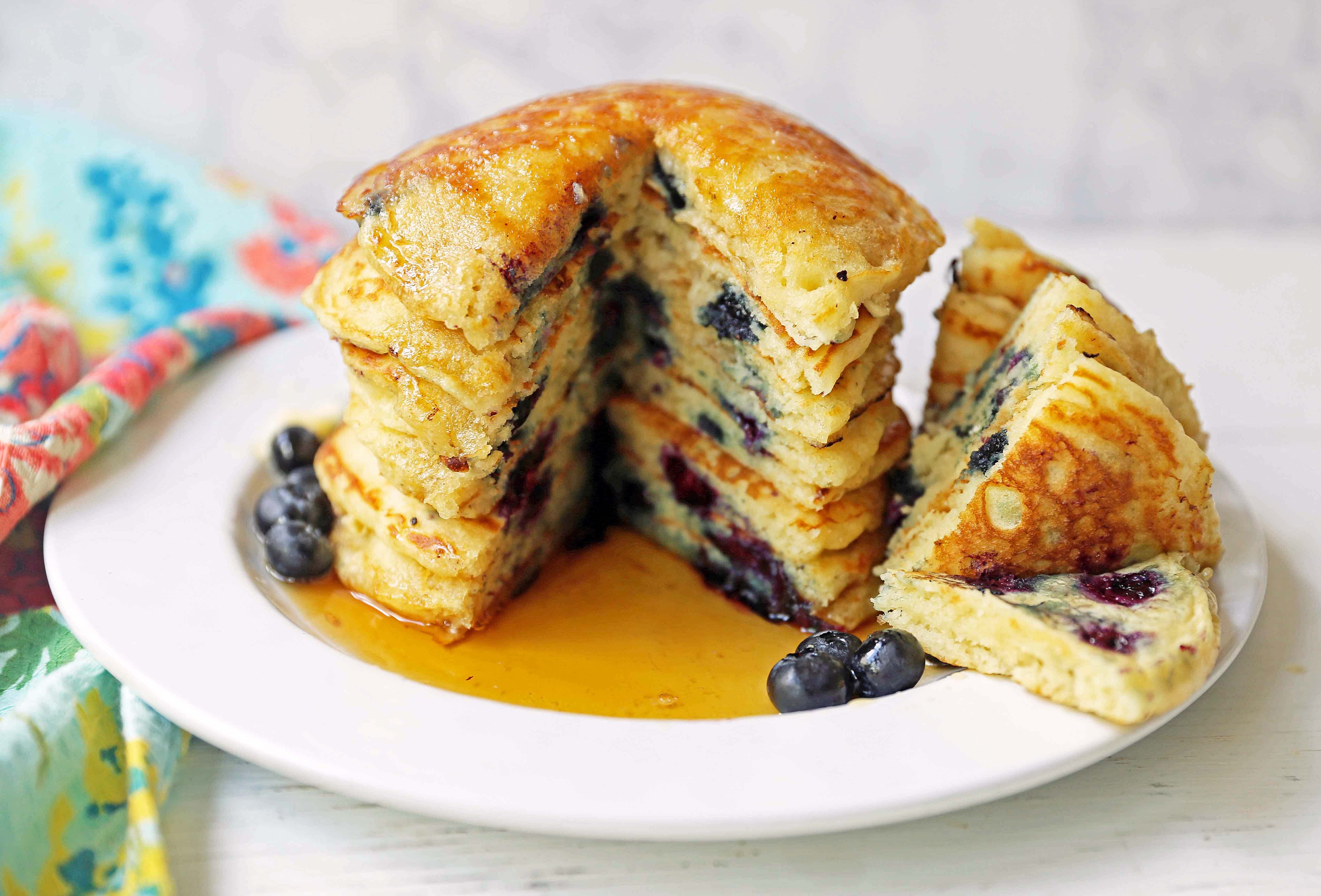 How to make the best blueberry pancakes:
Start by mixing the dry ingredients -- flour, baking soda, baking powder, sugar and salt in a bowl.
Stir in eggs, buttermilk, and melted butter. Make sure to get the eggs completely mixed into the pancake batter.
Set the skillet or pan to medium-low heat. I like to start with a lower heat setting to ensure the exterior doesn't burn before the inside gets fully cooked through. Place a generous pat of butter all over the skillet to give the pancakes a buttery golden exterior.
As soon as the pancake batter is added to the pan, sprinkle the top side (not touching the skillet) with fresh blueberries.  Watch for bubbles start to form and use a turner to check for the pancakes to start turning a light golden color. Flip and cook on the other side.
Serve with real maple syrup and sweet cream butter.
I love to hear from you! If you make this recipe, please be sure to leave a comment and give this recipe a rating. Sign up for my newsletter below so you never miss a recipe. Thank you for following along! I truly do have the greatest readers. FOLLOW ME ON:   INSTAGRAM --- FACEBOOK --- PINTEREST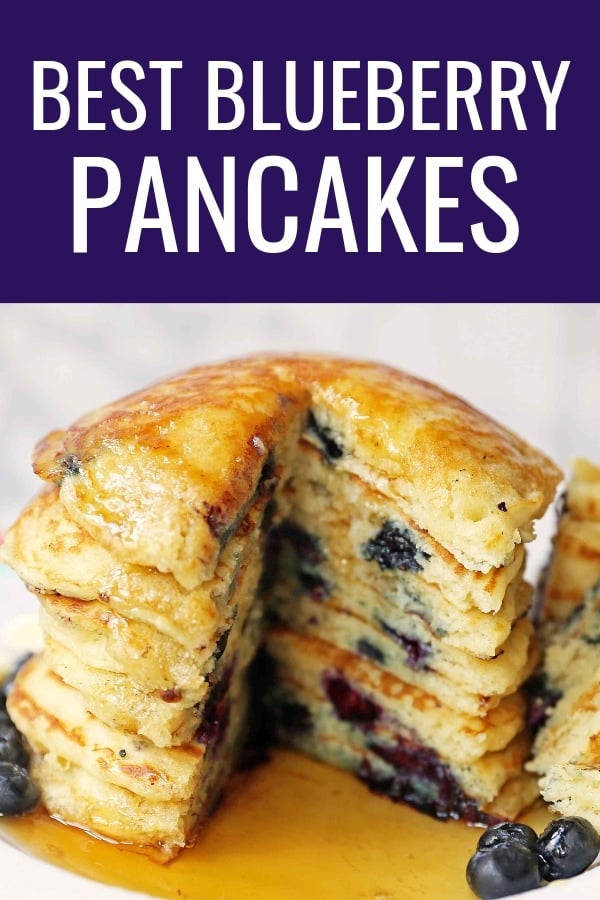 Blueberry Pancakes
Homemade Blueberry Buttermilk Pancakes are light and fluffy. How to make the perfect blueberry pancakes. Tips and tricks for making the best blueberry pancakes.
Keyword:
blueberry pancakes
Ingredients
3

cups

Flour

1

Tablespoon

Baking Powder

1 1/2

teaspoons

Baking Soda

1/2

teaspoon

Salt

1/3

cup

Sugar

3

large

Eggs

3 3/4

cups

Buttermilk

(if you want thinner pancakes, add 4 cups of buttermilk)

6

Tablespoons

Melted Butter

2

cups

Fresh Blueberries

Butter

(for skillet)
Instructions
In a large bowl, combine flour, baking powder, baking soda, salt and sugar, and stir until combined. Add eggs, buttermilk, and melted butter and whisk to combine.

Heat skillet over medium-low heat. Test for readiness by sprinkling some water on the pan and if it spatters off the griddle, it's hot enough. I prefer to start on a lower heat setting to ensure the inside of the pancake gets fully cooked through.

Coat with butter or spray with non-stick cooking spray. Pour pancake batter onto pan. Sprinkle the top with fresh blueberries.

When bubbles appear on top of the pancake, flip to cook the other side. Watch carefully as pancakes can brown quickly. Keep it at a lower heat to ensure that the inside gets cooked through without the outside getting too brown. Serve warm.

Serve with real maple syrup, fresh blueberries, and whipped cream.