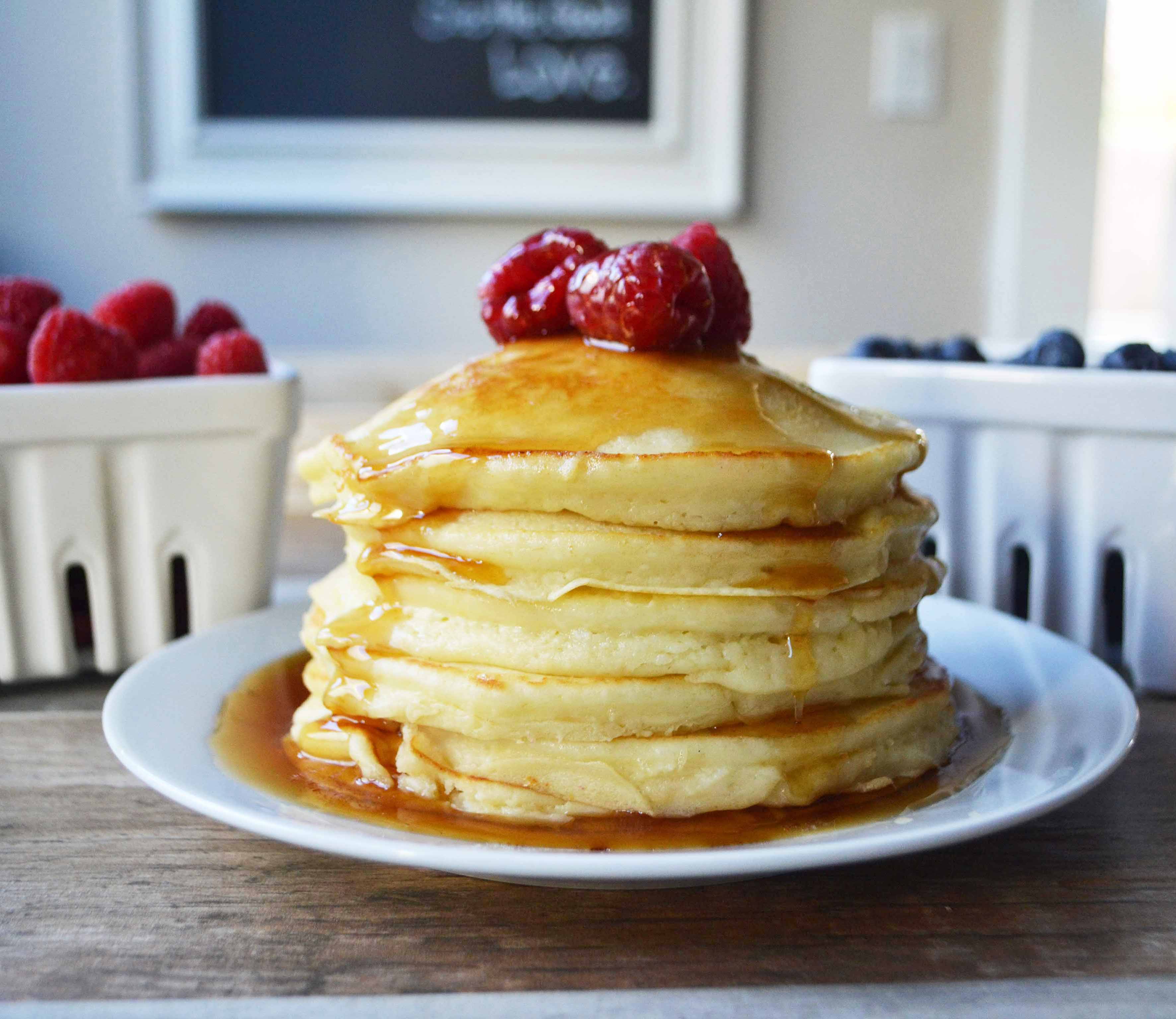 I am a full-on pancake snob.
If I am going to eat pancakes, I don't want them to be the gummy ones that stick to the roof of my mouth. Are you with me?
Sweet Cream Ricotta Pancakes are a game changer. I am going to lovingly refer to them as the "Crossover Pancake" because they are cross between a light and fluffy pancake and a creamy crepe. The texture of these pancakes is what sets them apart from the rest. These Sweet Cream Ricotta Pancakes are creamy, smooth, and literally melt in your mouth.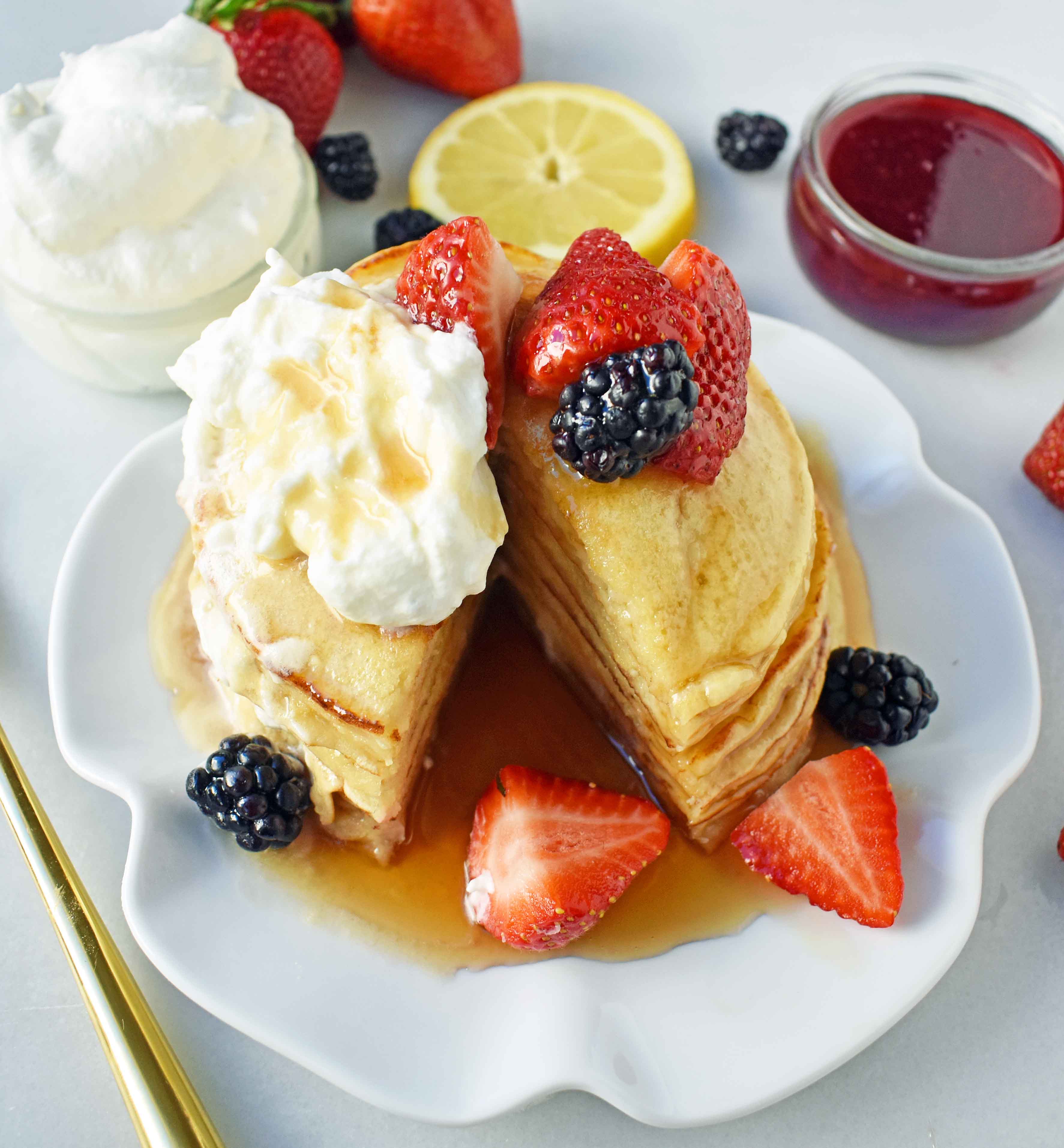 Ricotta cheese is the difference maker in these babies as it is responsible for making them extra creamy. Buttermilk is a magic potion that transforms baked goods, without all of the extra fat of heavy cream. It's low in fat yet transforms the texture of baked goods and makes them extra tender.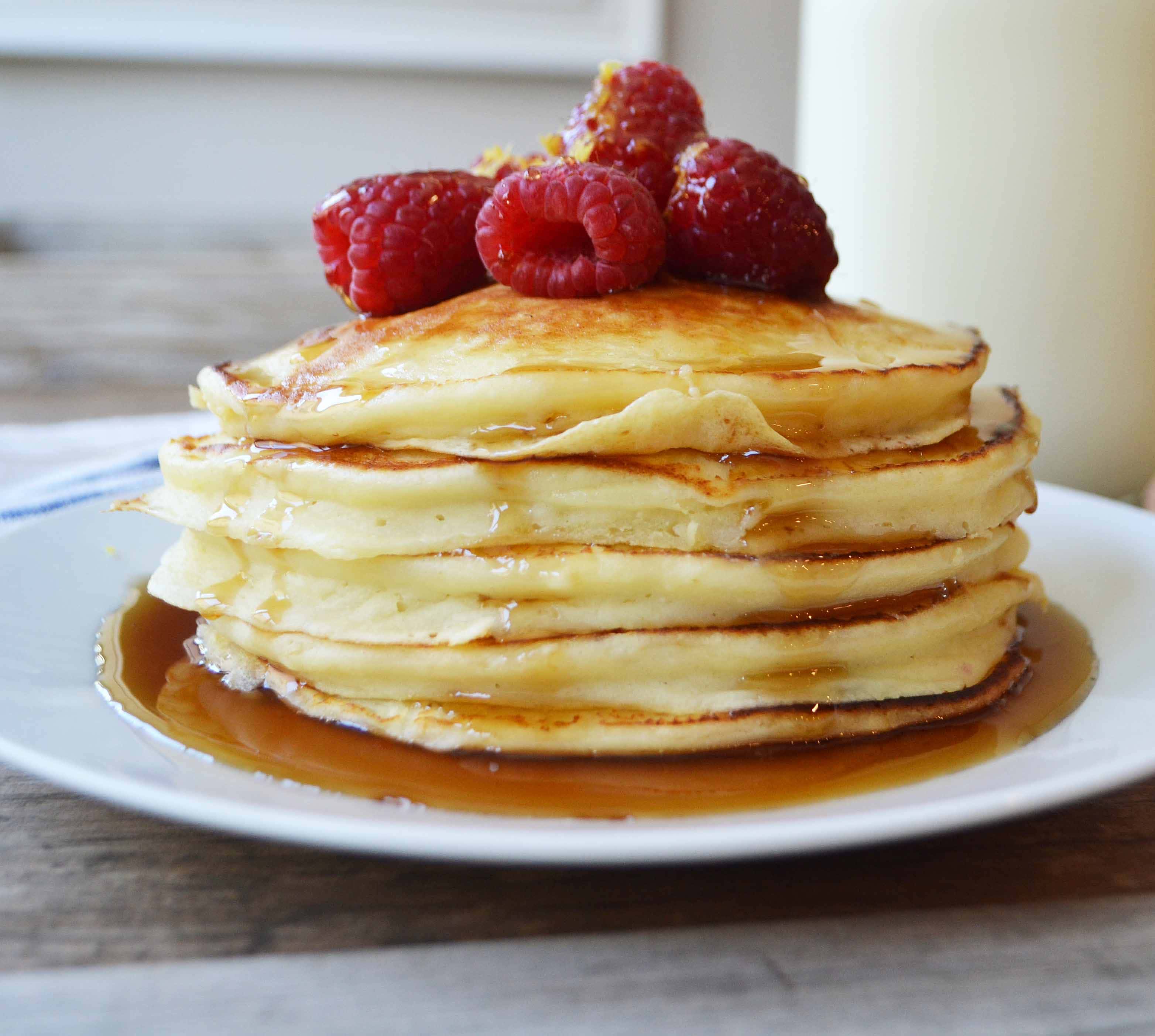 If you don't have buttermilk on hand, you can make your own. It's not as good as the original but it comes in a close second. It's super simple. Add 1 Tablespoon of white vinegar or fresh lemon juice per 1 cup of milk in a bowl and let sit for 10-15 minutes. It's imperative to let it sit so it can begin to curdle.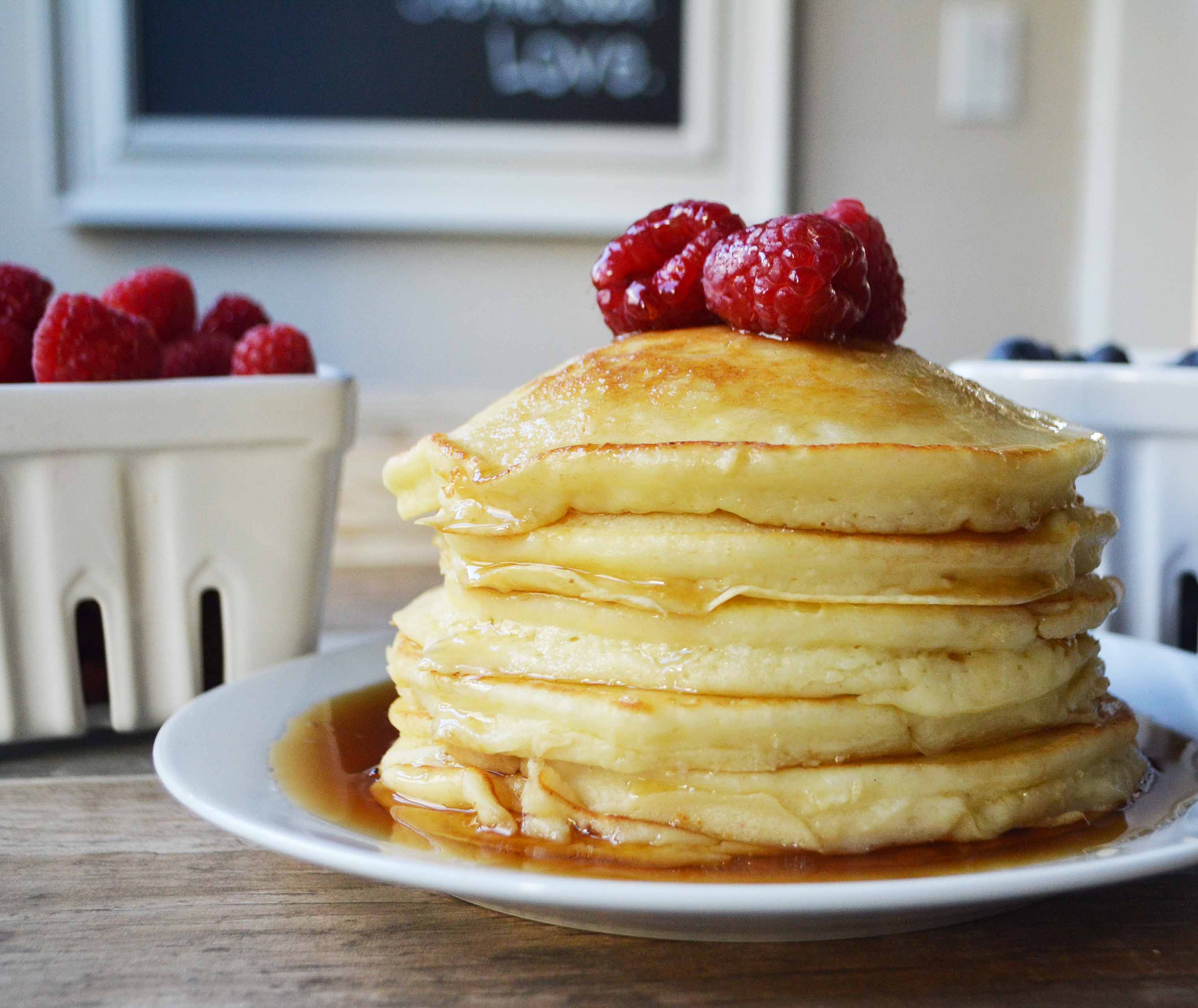 My kids LOVE breakfast and they are usually begging for breakfast before I can even fully open my eyes, so I want something easy. This is a one bowl recipe. There is no beating of egg whites (even though I fully support this method and it adds to the springiness of the pancake so knock yourself out if you have time). It can literally be mixed together in 2 minutes for those lazy mornings.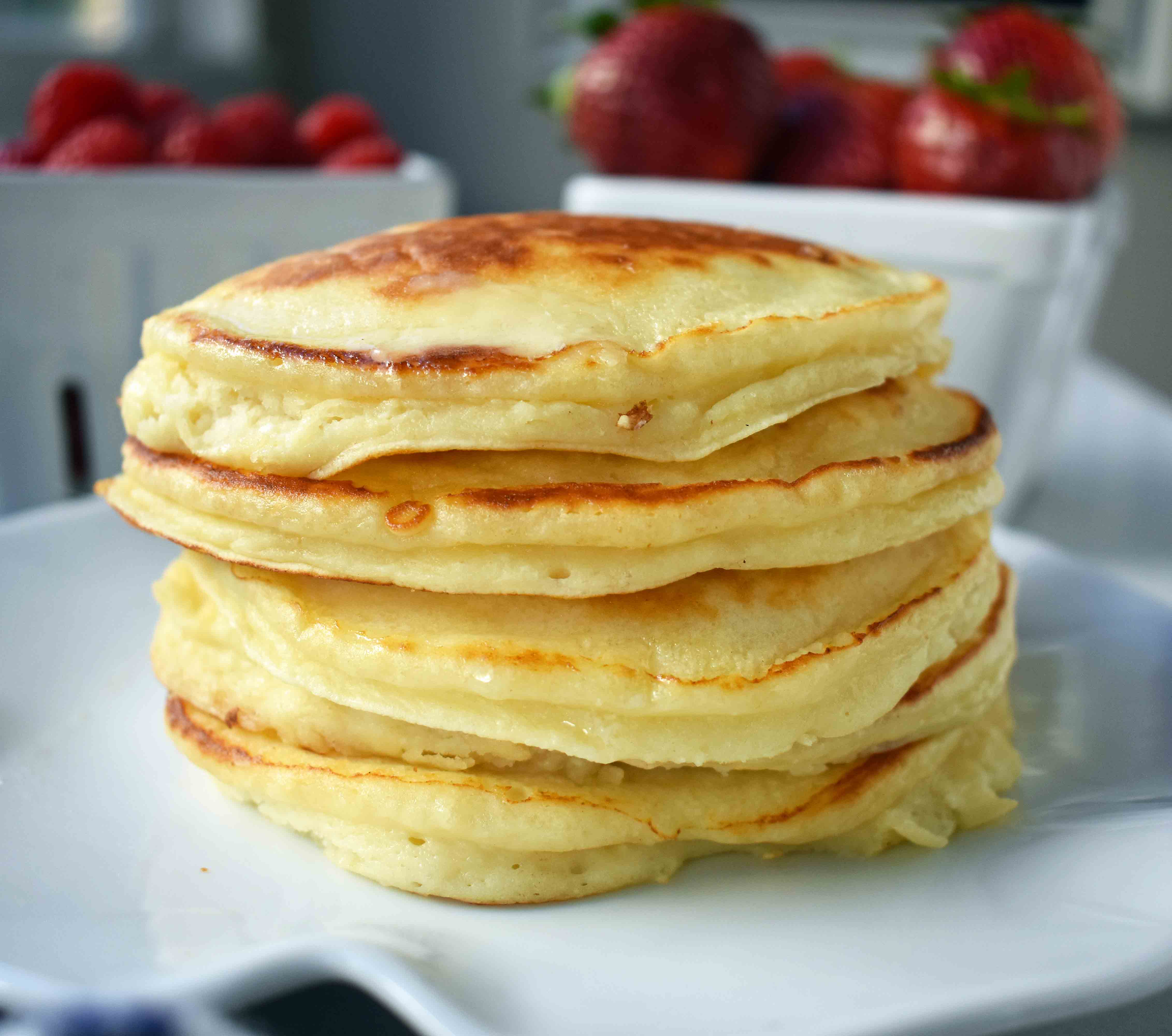 This is a super versatile pancake recipe. You can make Fresh Lemon Sweet Cream Ricotta Pancakes by adding 2 Tablespoons of fresh lemon juice and 1/2 tablespoon lemon zest (click HERE for a fabulous zester). It pairs perfectly with the Homemade Berry Maple Syrup. You can make the homemade syrup with blueberries, raspberries, or blackberries and it is oh so good. Homemade syrup in less than 5 minutes is a no-brainer to me!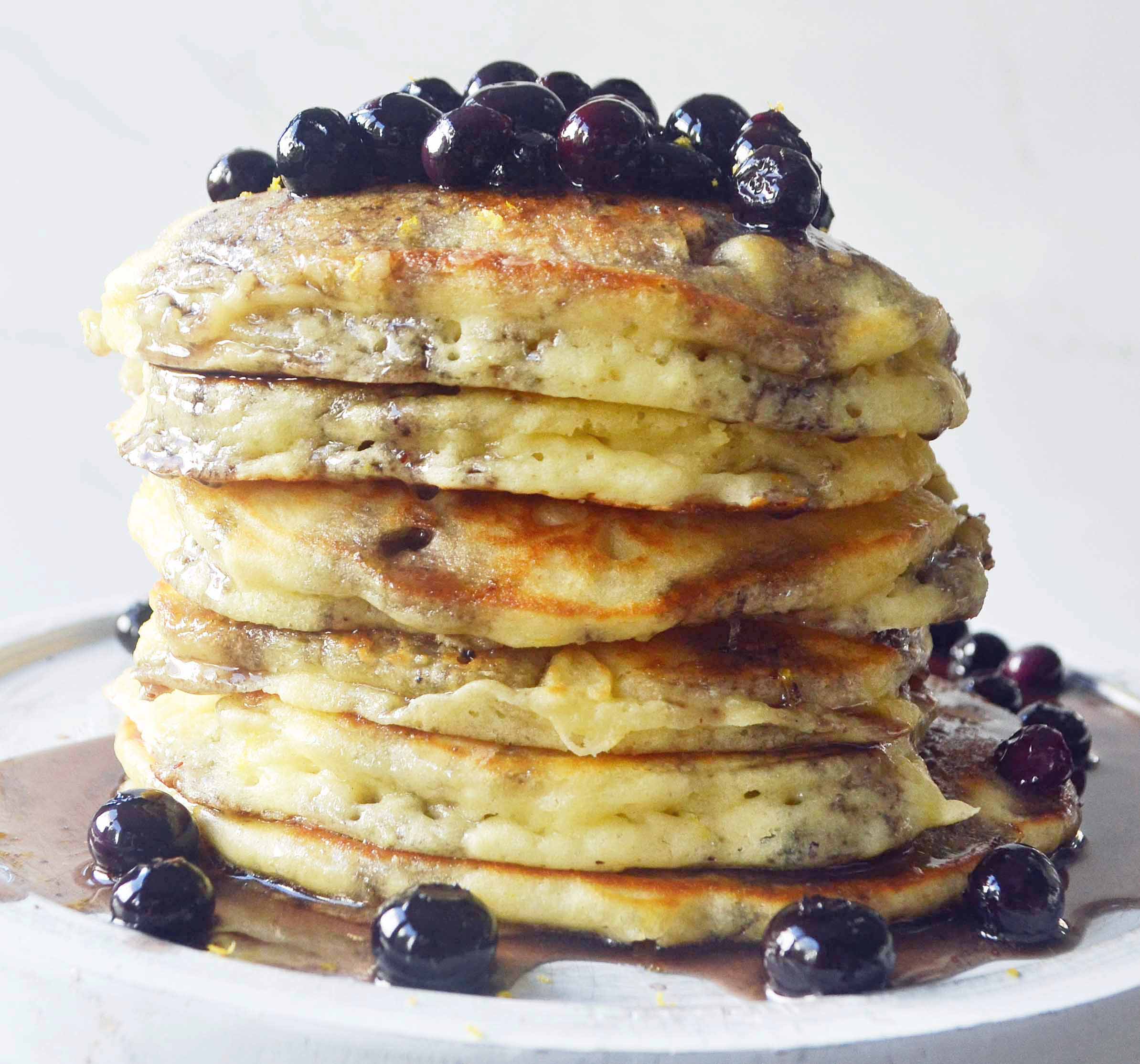 I am a huge fan of the 100% real maple syrup from Costco. It's a much better deal to buy it at Costco or Sam's Club but any grocery store carries the real thing too. Before my father-in-law became sick with Parkinson's, they would visit often from Texas. They would make the 1,000 mile journey and would always bring two things with them – their Vitamix and real maple syrup. I finally clued in and saved up to buy a Vitamix (best investment) and purchased real maple syrup the next time they came into town.
Once you drink the real stuff, it's hard to go back! You can also buy REAL MAPLE SYRUP online HERE.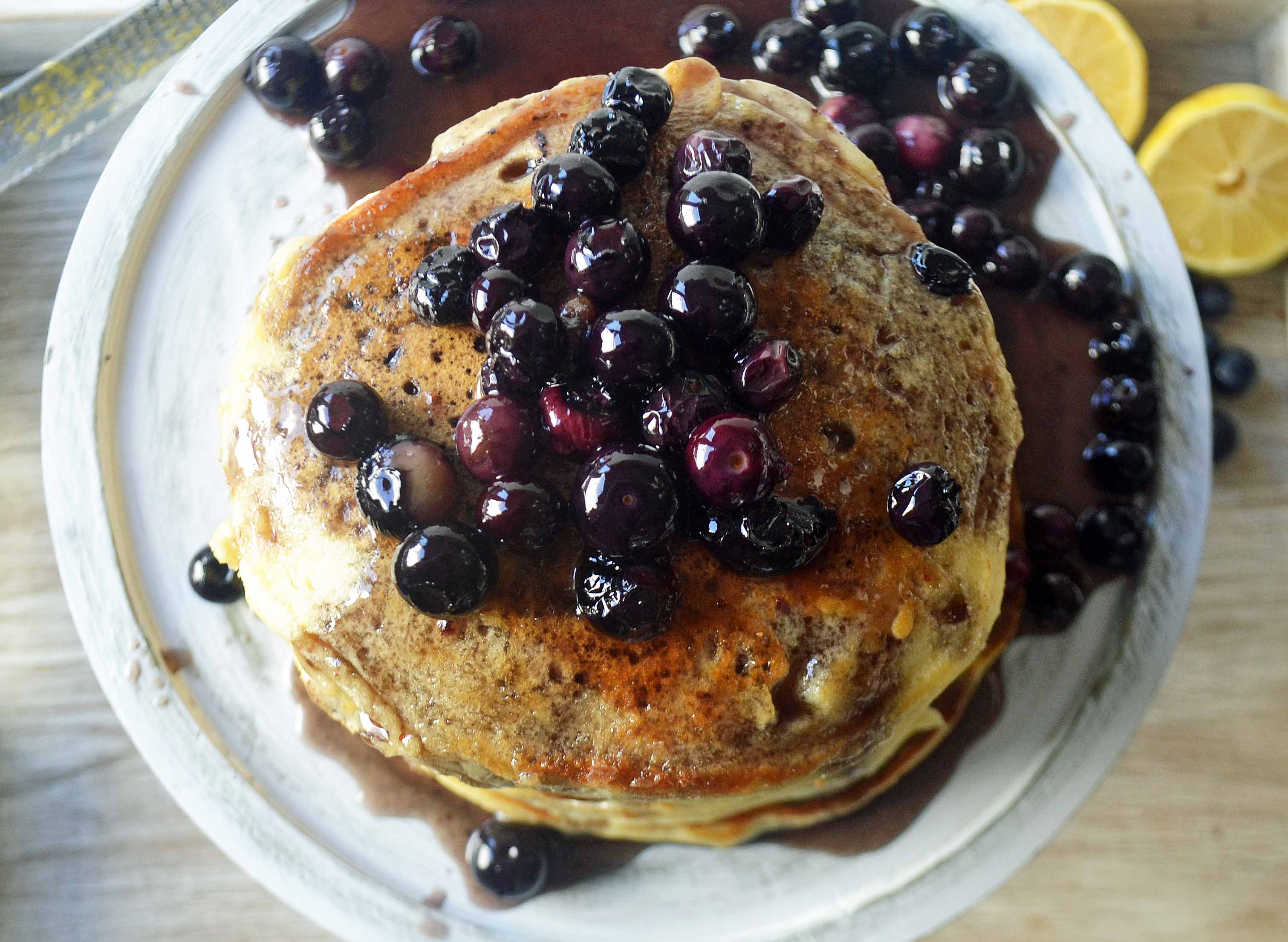 Another tip is to make sure that your skillet is at the correct temperature. If it runs too hot, it will char the outside without fully cooking the inside of the pancake. If it's too low, it will take forever to get golden brown. I tend to start with it at a lower heat and can always crank it up. Always coat your skillet with butter before cooking each batch of pancakes because butter helps to create that golden brown crust on the outside plus it's a huge flavor enhancer. I LOVE BUTTER.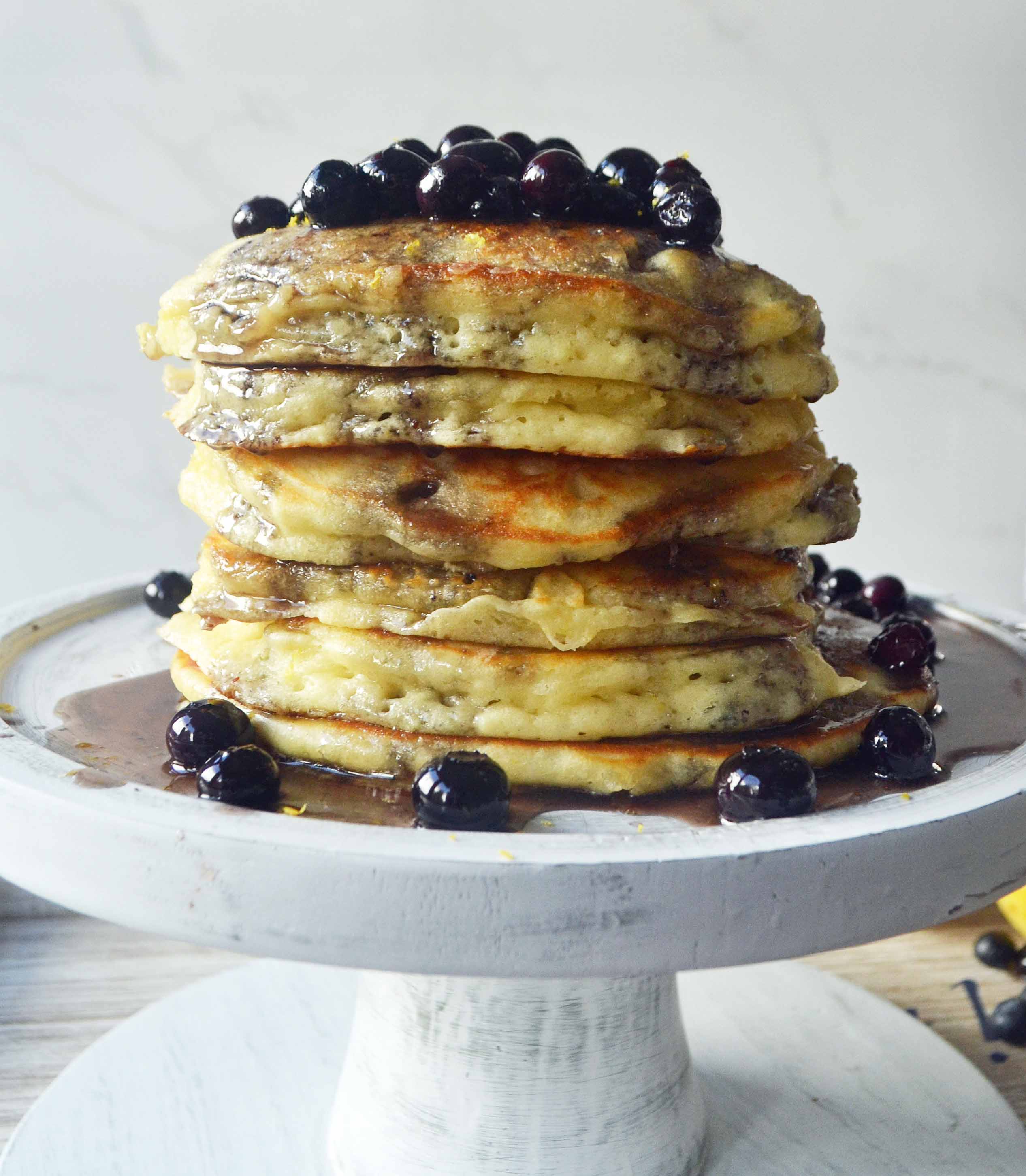 Pin this now to find it later
Pin It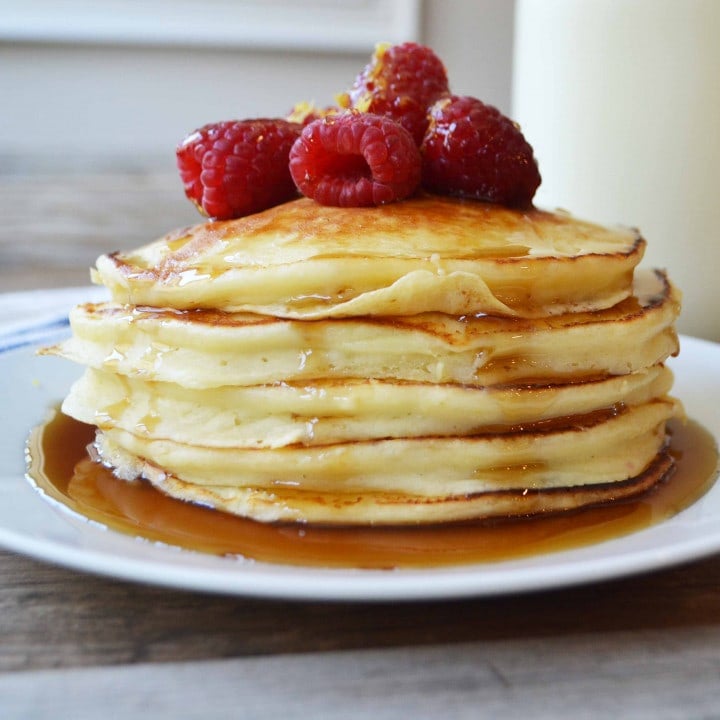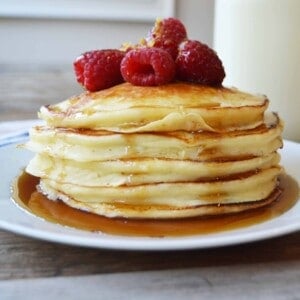 Sweet Cream Ricotta Pancakes
Light and fluffy sweet cream ricotta pancakes that will literally melt in your mouth!
Ingredients
1

cup

Ricotta Cheese

3/4

cup

Buttermilk

2

Eggs

1

teaspoon

Vanilla

1

cup

Flour

4

Tablespoons

Sugar

1

teaspoon

Baking Powder

(may use 1 1/2 teaspoons if you desire a thicker pancake)

1/4

teaspoon

Salt

Butter

for skillet
Optional Add-ins:
2

Tablespoons

Fresh Lemon Juice

1/2

Tablespoon

Fresh Lemon Zest



Berry Maple Syrup:
1/4

cup

Butter

melted

1

cup

Real Maple Syrup

1

cup

Blueberries or Raspberries
Instructions
In a large bowl, mix ricotta cheese, buttermilk, eggs, and vanilla until combined.

Carefully fold in flour, sugar, baking powder, and salt and stir until just combined, avoiding over-mixing.

Heat skillet over medium heat. Place a pat of butter onto skillet and wait for it to sizzle.Pour batter in 1/2 cup portions and cook until golden brown on each side.

Berry Maple Syrup:

In a saucepan over medium-low heat, add butter and let it melt. Add syrup and berries and heat for about 3-4 minutes until it starts to bubble. Remove from heat and serve with pancakes.
Nutrition information is automatically calculated, so should only be used as an approximation.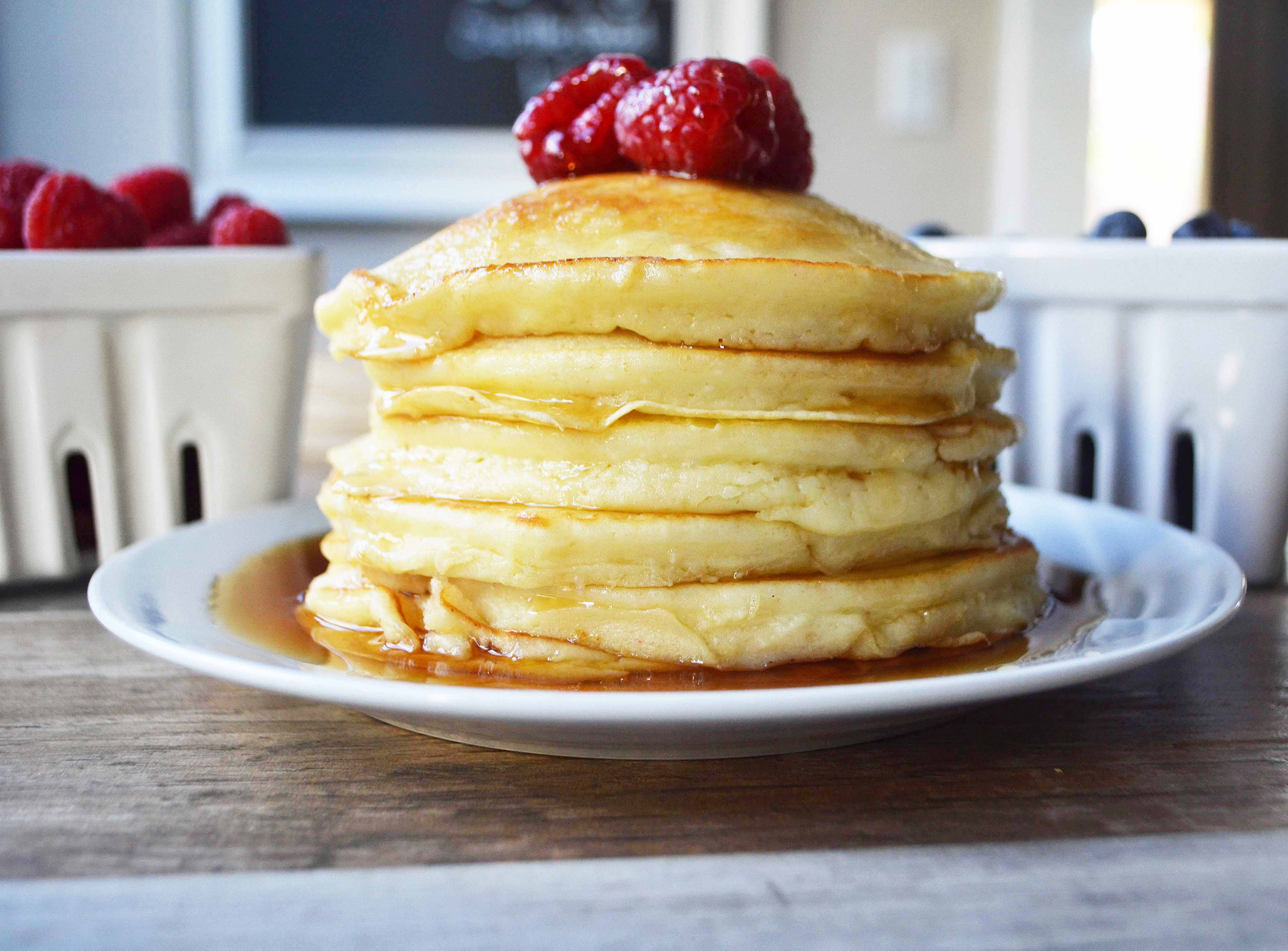 Simple, quick, easy Sweet Cream Ricotta Pancakes are going to be a hit in your family. Now go share this recipe with your fellow pancake lovers!
Happy Cooking! xo