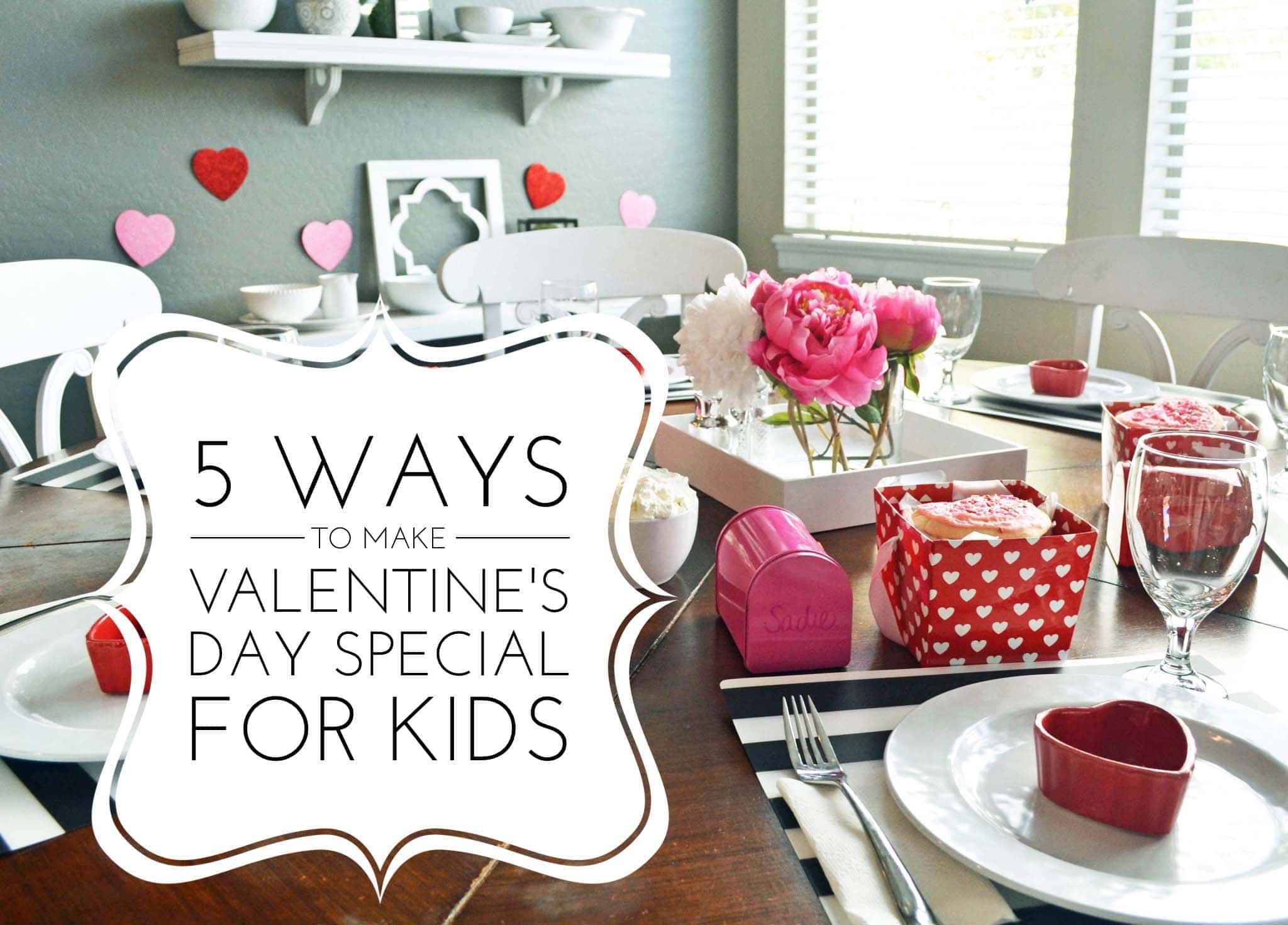 I always felt like a million bucks on Valentine's Day.
It wasn't because I always had some guy bringing me a dozen roses or a bunch of mylar balloons declaring his love to me. Nope. It was because my Mom always made us feel like we were the most important people in her life. It's one of her favorite holidays of the year and she did the little things to make it extra special for our family.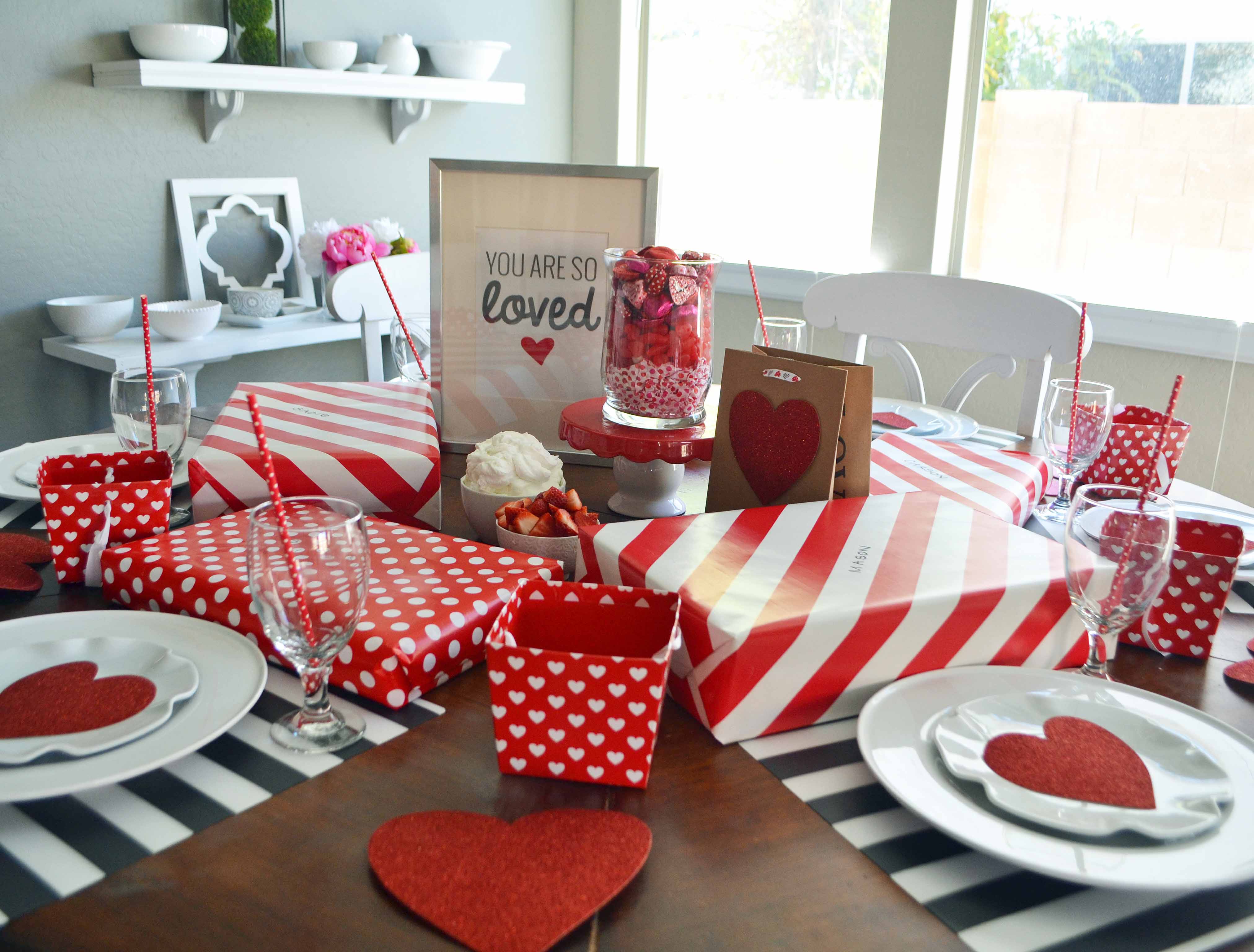 I love a good date night with my hubby and we always sneak out on Valentine's Day to celebrate – but it's also fun to make it a family affair and make the kids feel extra loved on this day. I am sharing Five Ways that we make Valentine's Day a Special Day in our home. I will be sharing photos from years ago of some of our cherished traditions.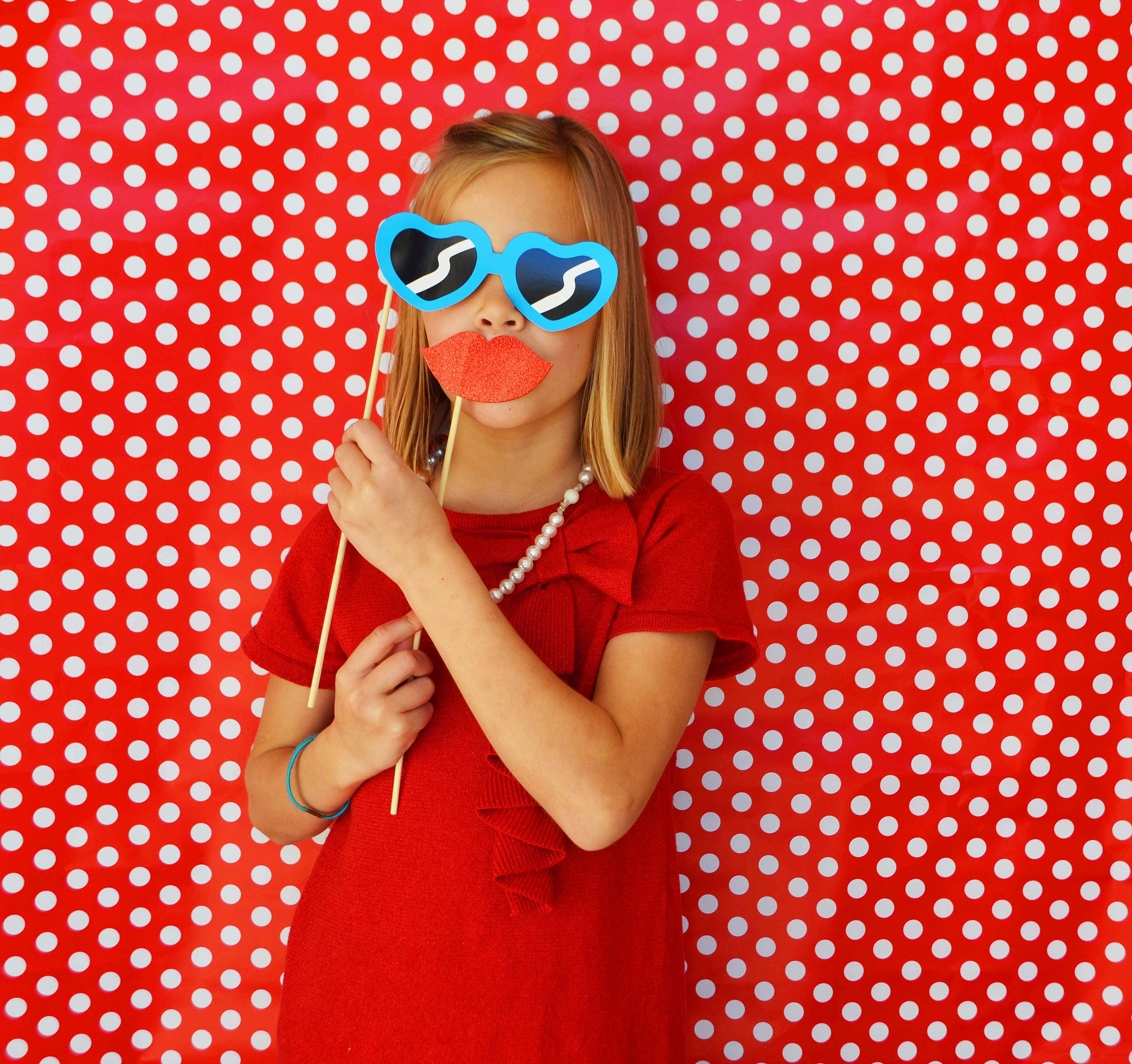 FIVE WAYS TO MAKE VALENTINE'S DAY SPECIAL FOR KIDS:
1. WRITE THEM VALENTINE'S DAY LETTERS. Tell them all the things you love about them. Here are some great ideas for specific compliments you can give them —  99 Kids Compliments. If you have more than one child, have your kids write valentines to each other.  I found glitter hearts of various sizes in a package at Hobby Lobby (also seen at Michael's and Target) and glued an envelope on the back with their name on it. I took red and white twine and hung each of them from the ceiling.
My Mom always hung them in the entry of our home but mine are hung over my dining room table. My kids can't wait to run downstairs in the morning to find their envelopes filled with notes! My Mom raised 5 boys and 1 girl (me) and to this day, my brothers will tell you that they loved reading their notes on Valentine's Day.
2. MAKE A SPECIAL VALENTINE'S DAY BREAKFAST. Growing up, my Mom made sure we had pink pancakes, pink milk, and even pink eggs. Our tradition is to serve strawberry milk, Goldie's pancakes with fresh strawberries, and homemade whipped cream.  The kids get strawberry milk once a year and they look forward to this breakfast. I usually set the table the night before, after the kids go to bed. Find GOLDIE'S BUTTERMILK PANCAKE RECIPE HERE.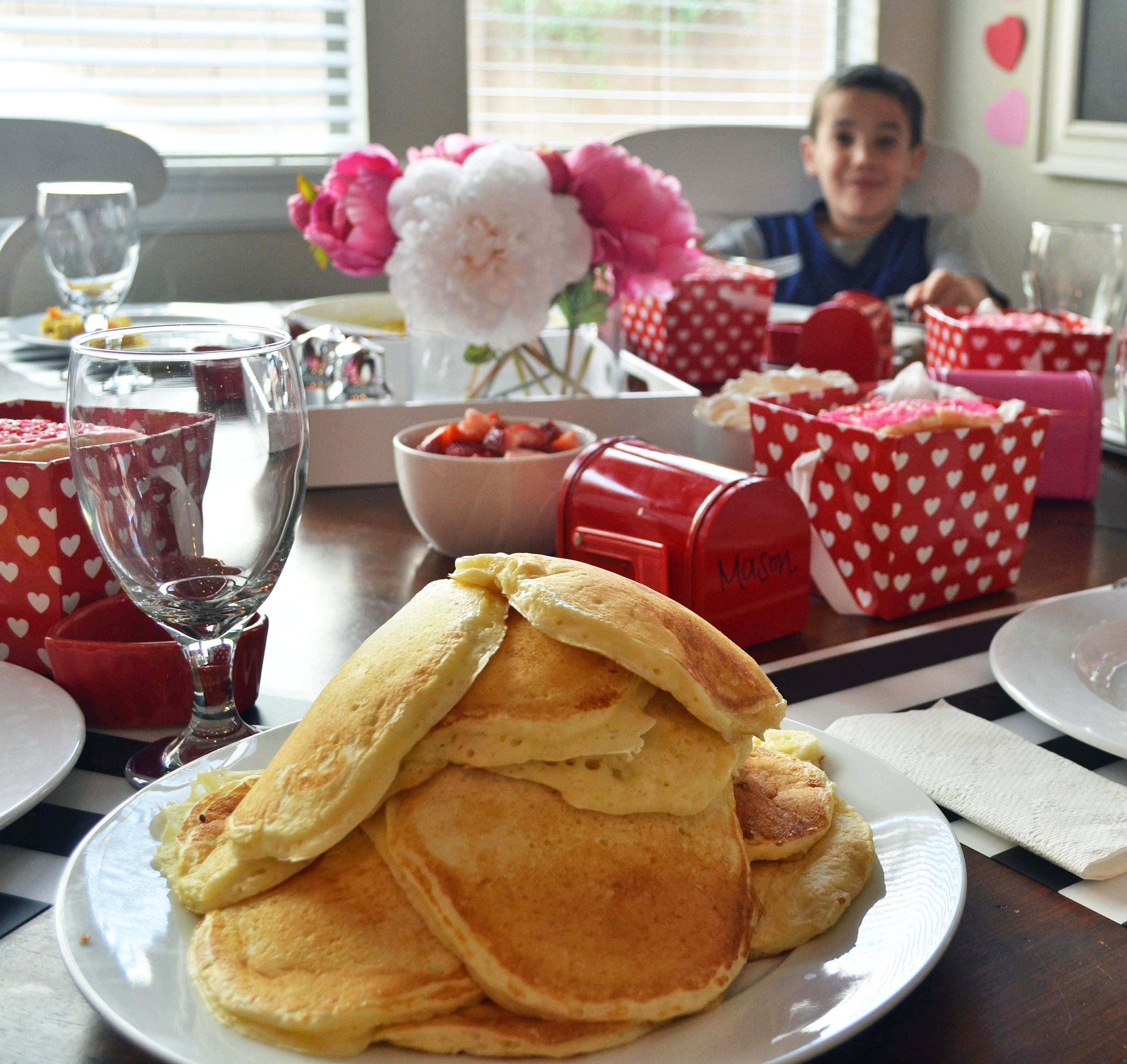 You can decorate your Valentine's Day table without spending a lot of money! You can decorate the walls without a lot of money by using a package of foam hearts. They are about $1-2 for a big package and you can put the hearts on their plate and write their names on them or you can tape the hearts on the walls to make it look festive. You can find them at the Dollar store, Michael's, Hobby Lobby, JoAnn's, Walmart, and sometimes Target. The mailboxes can be found in the dollar section of Target.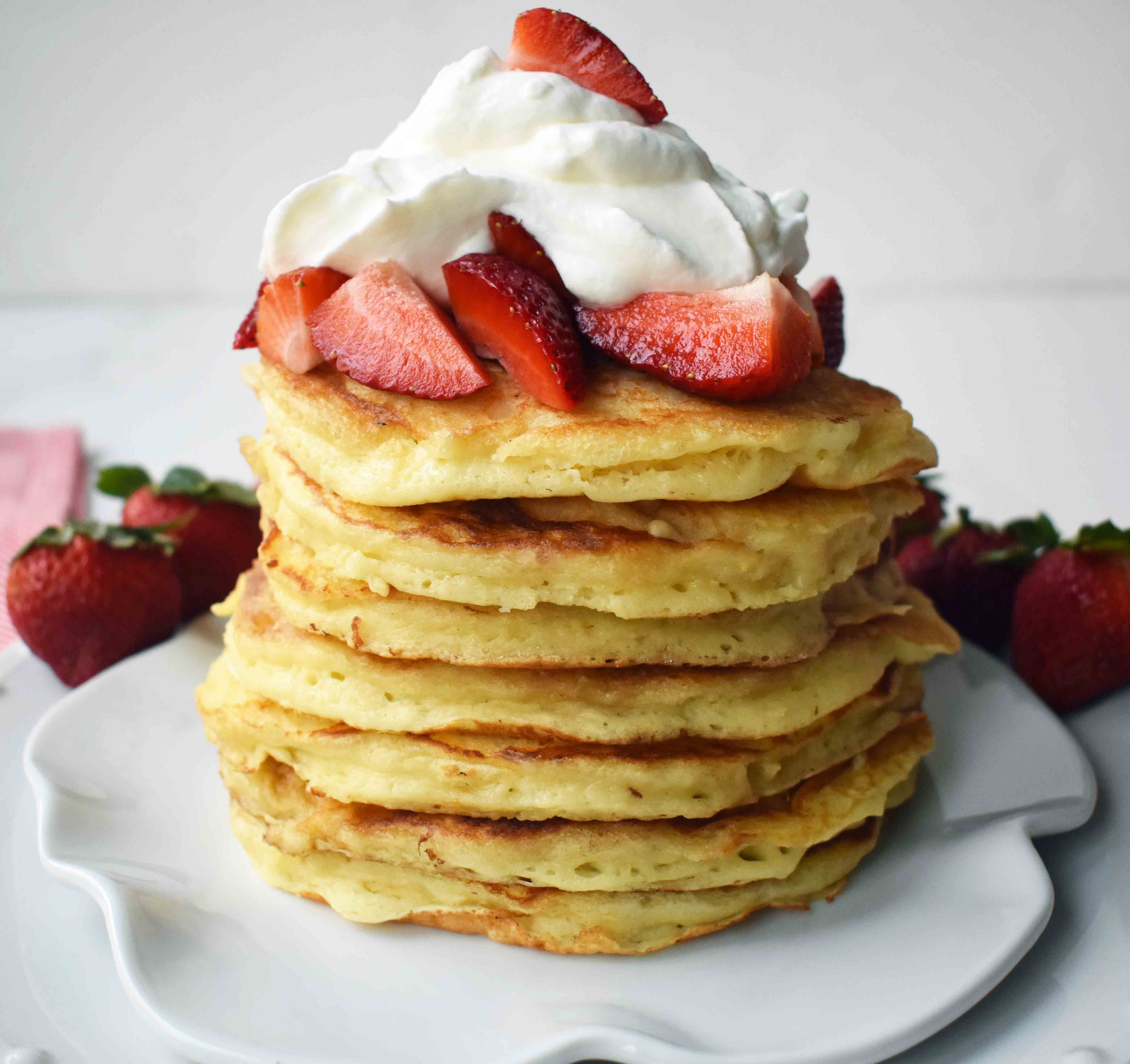 3. MAKE and DECORATE SUGAR COOKIES TOGETHER. There is something about kids cutting out their own sugar cookies that they seem to really enjoy. Let them frost them with pink frosting and decorate them with a ridiculous amount of sprinkles. It's a fun bonding tradition to do together and exciting for them to point out which cookies they created. Find the BEST SUGAR COOKIE RECIPE HERE.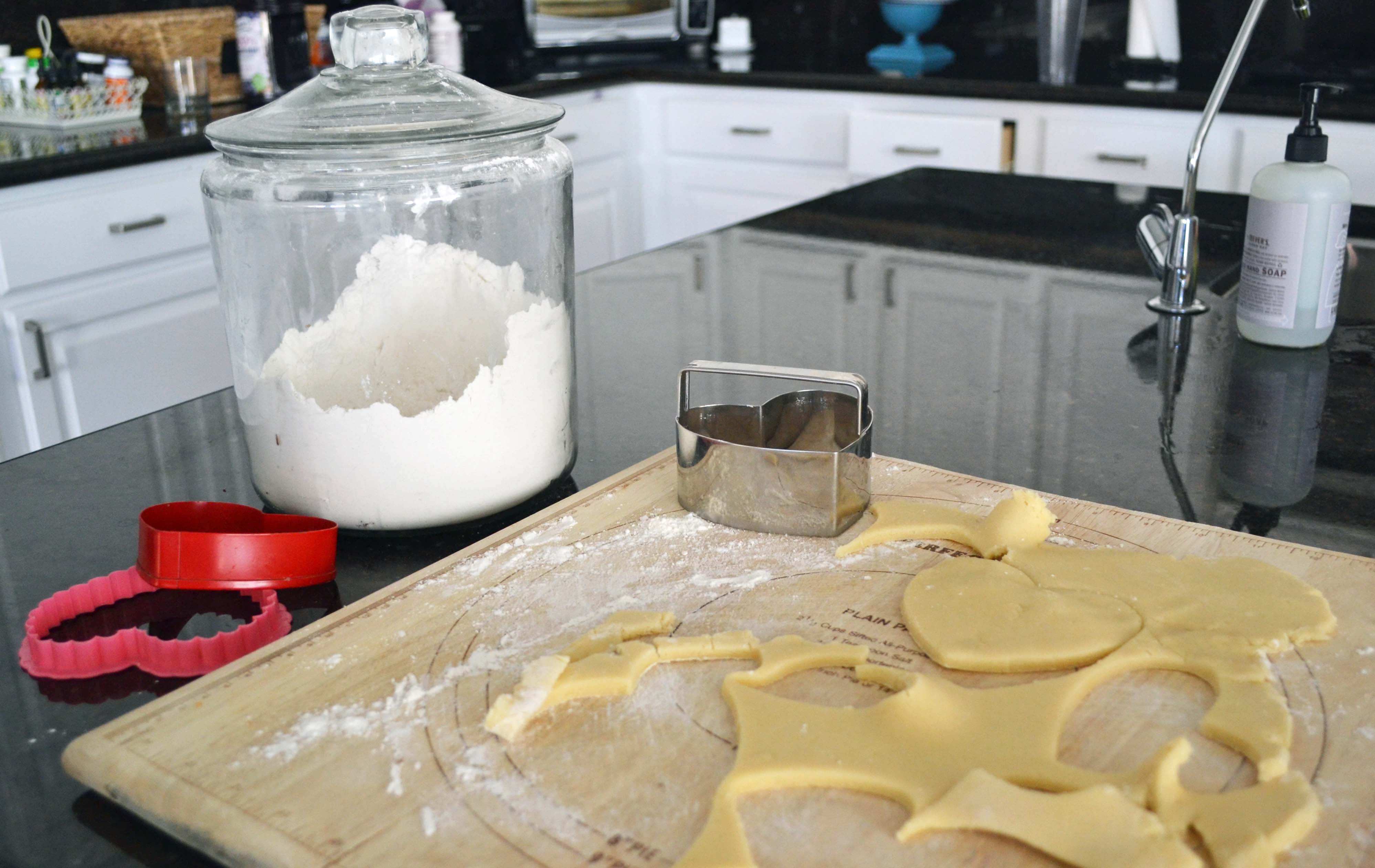 I love to collect cookie cutters and my Mom probably owned hundreds of them. I use all different sized hearts to make my sugar cookies. I love these Wilton Heart Shape Cookie Cutters.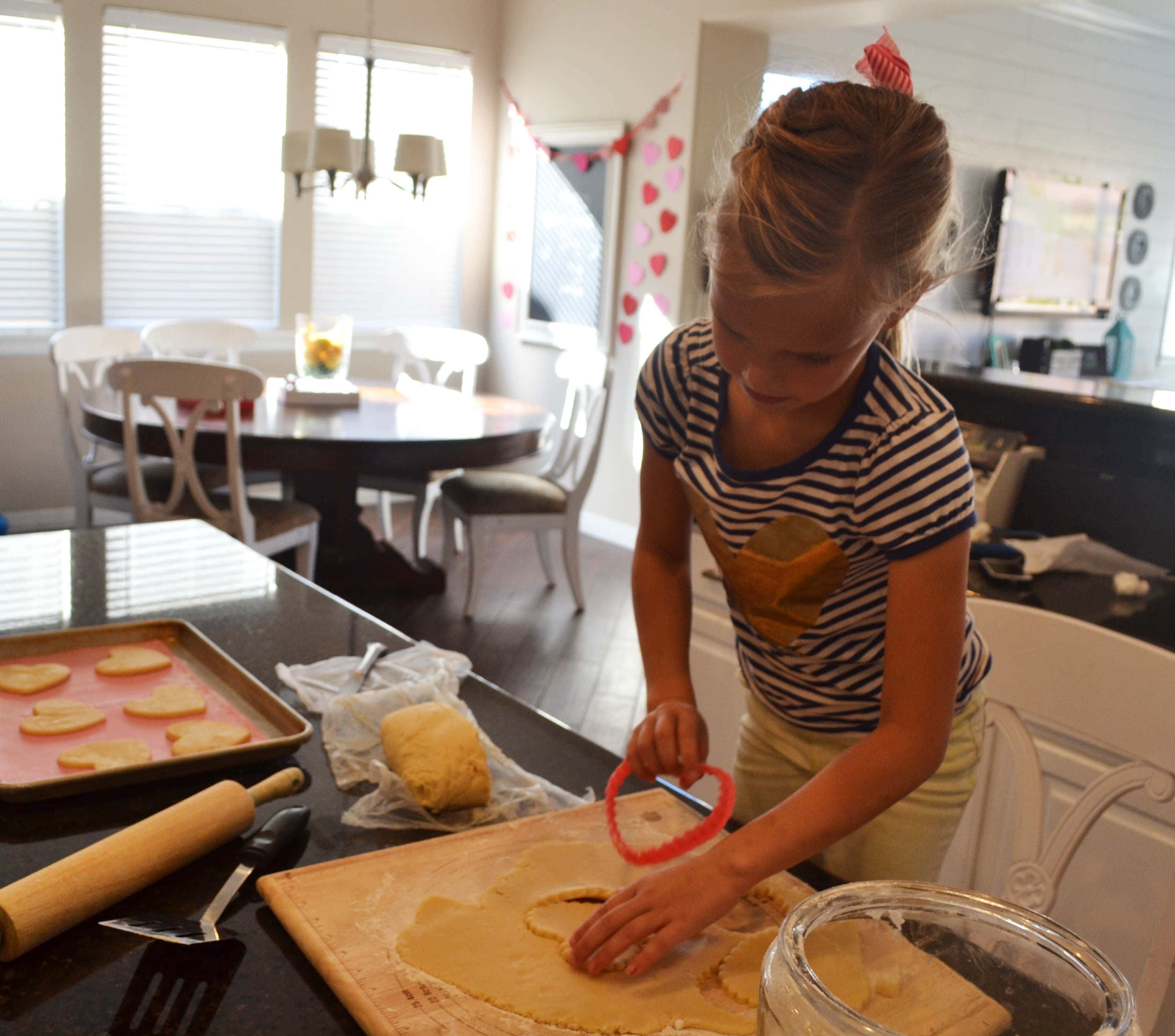 Let them do most of the work! They love it. Let them frost and decorate the sugar cookies with glitter and sprinkles.
It's one of our favorite traditions as the kids have free reign to create their own sugar cookie creations. It may be messy but oh so worth it!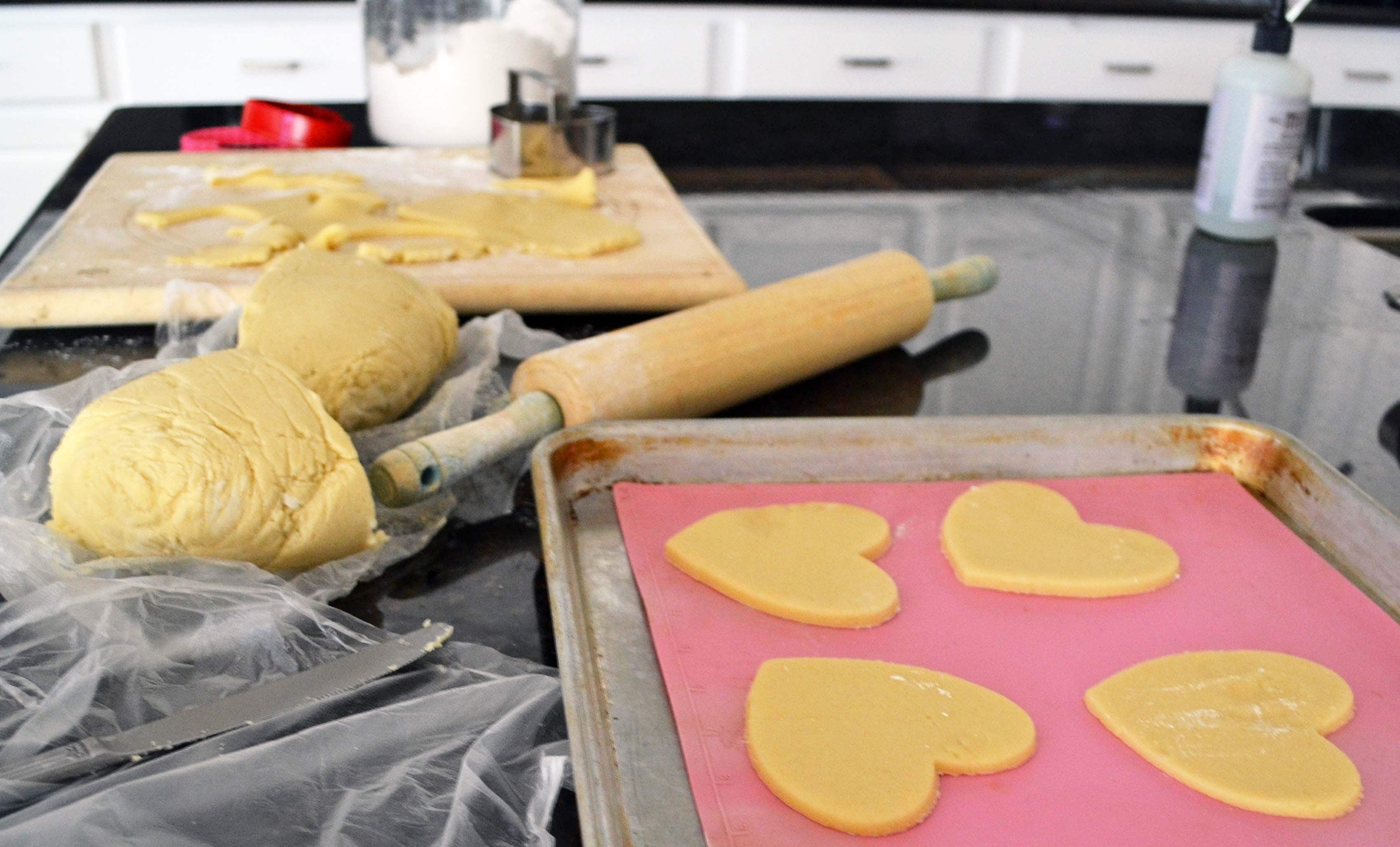 You can also make a RED VELVET CAKE for them.  This is the perfect Valentine's Day dessert. You can find a perfect RED VELVET CAKE RECIPE HERE.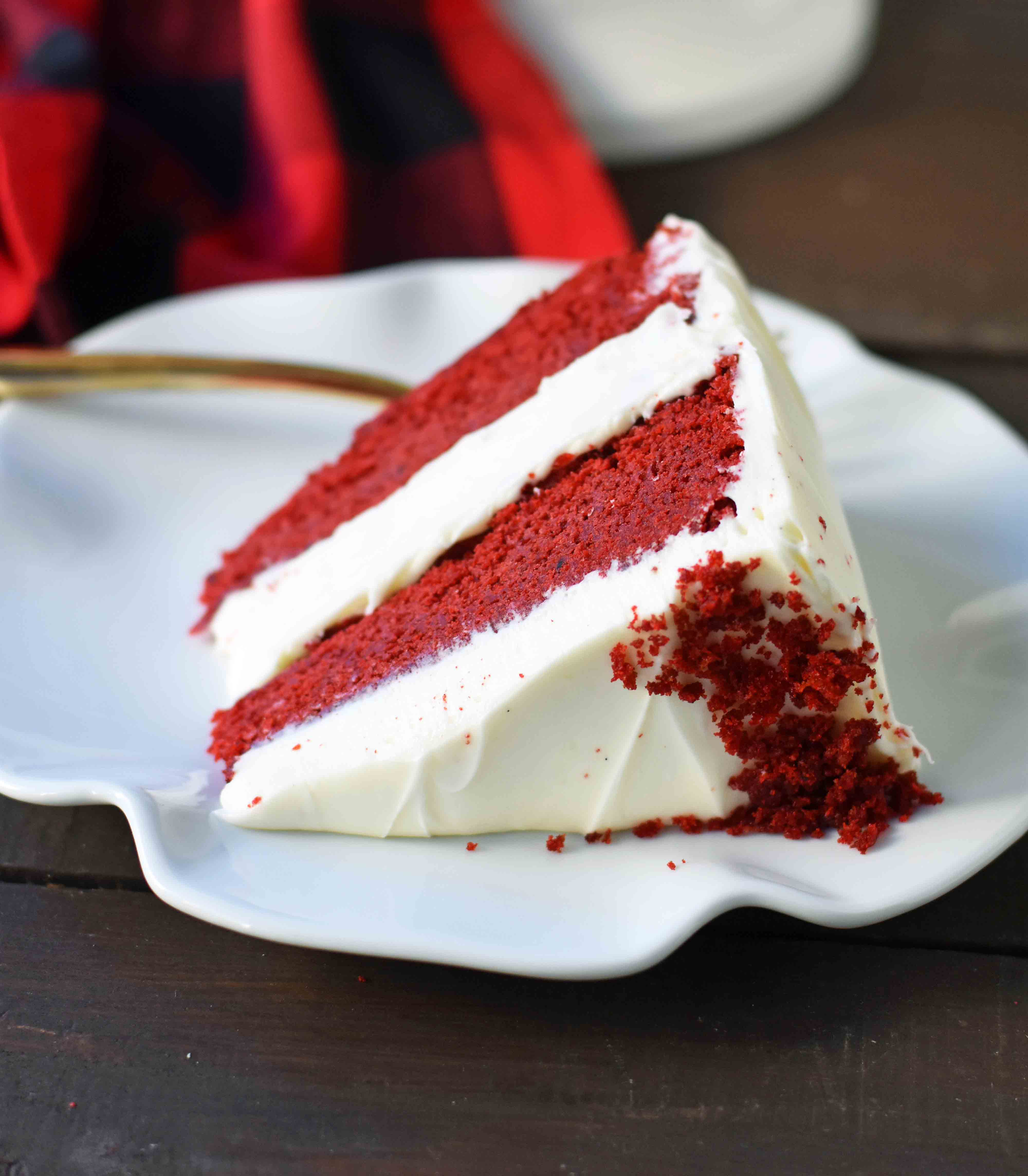 4. WRAP a SMALL PRESENT.  It doesn't have to be anything large or extravagant. My Mom usually bought me a brand new red shirt to wear to school. I try to buy something cute for my girls to wear and for my boys it may be a few Matchbox cars, a new game, or a ball to play with. It's the thought that counts!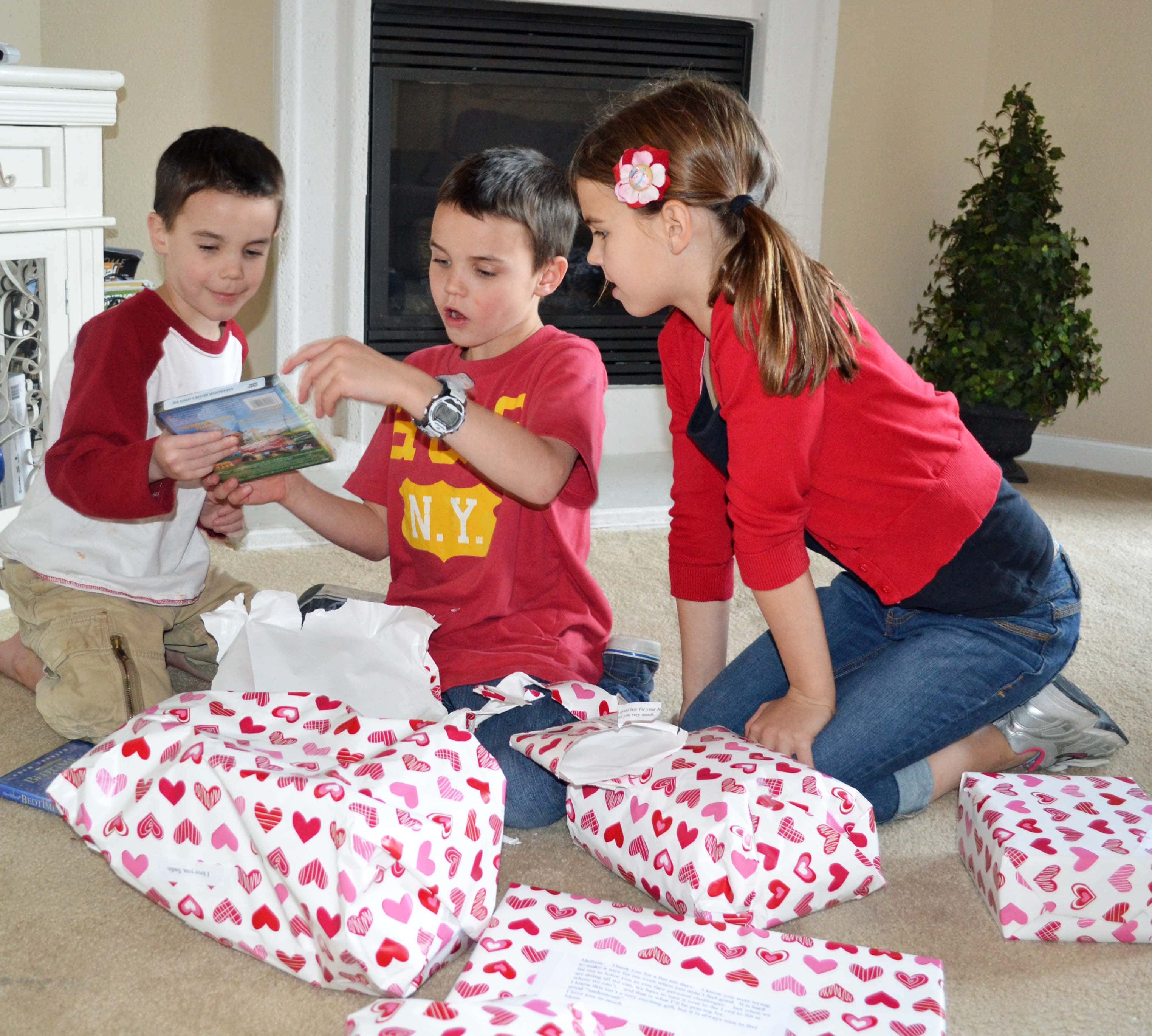 5. HAVE a SPECIAL VALENTINE'S DAY DINNER. Make a beautiful Valentine's Day place setting or tablescape for a special dinner. We try to go out every Valentine's Day, but many times when the kids were young, we would stay home with them for dinner, get them to bed, and then hit the town just the two of us.
We have a tradition of doing Valentine's Day LOVE pasta with tomato cream sauce, grated parmesan and fresh basil. Two years ago, we even mixed it up and made homemade pizzas together and last year we had a fondue party. Find the LOVER'S TOMATO CREAM PASTA RECIPE HERE.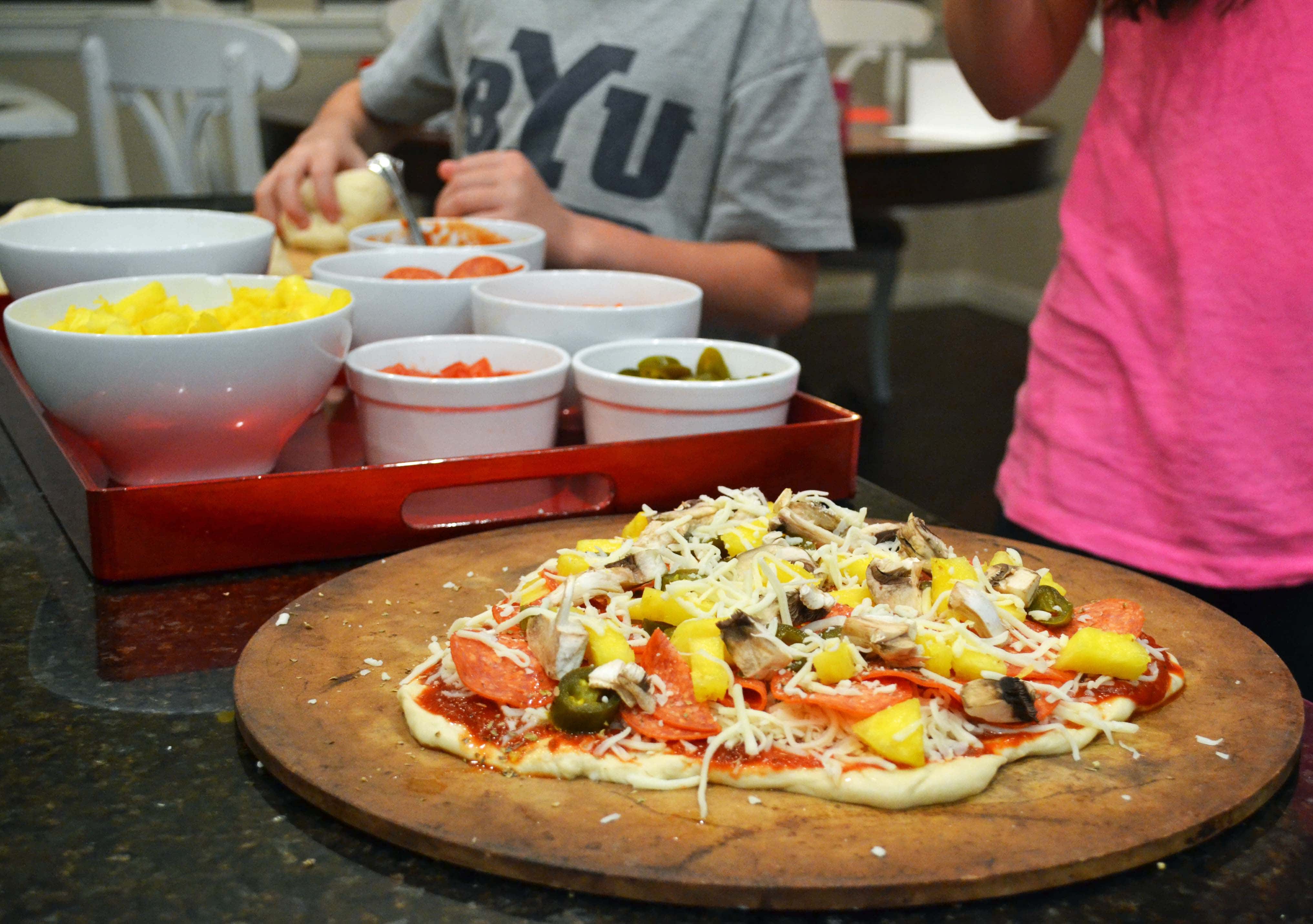 Setting a fun and festive table is easy. I used the glitter hearts that I picked up in the package and placed them on white plates. You can print out this free "You are Loved" sign to post at the table. Here is the link to the cute sign – You are Loved Print and this site has 100 free printables — Printable Love Notes.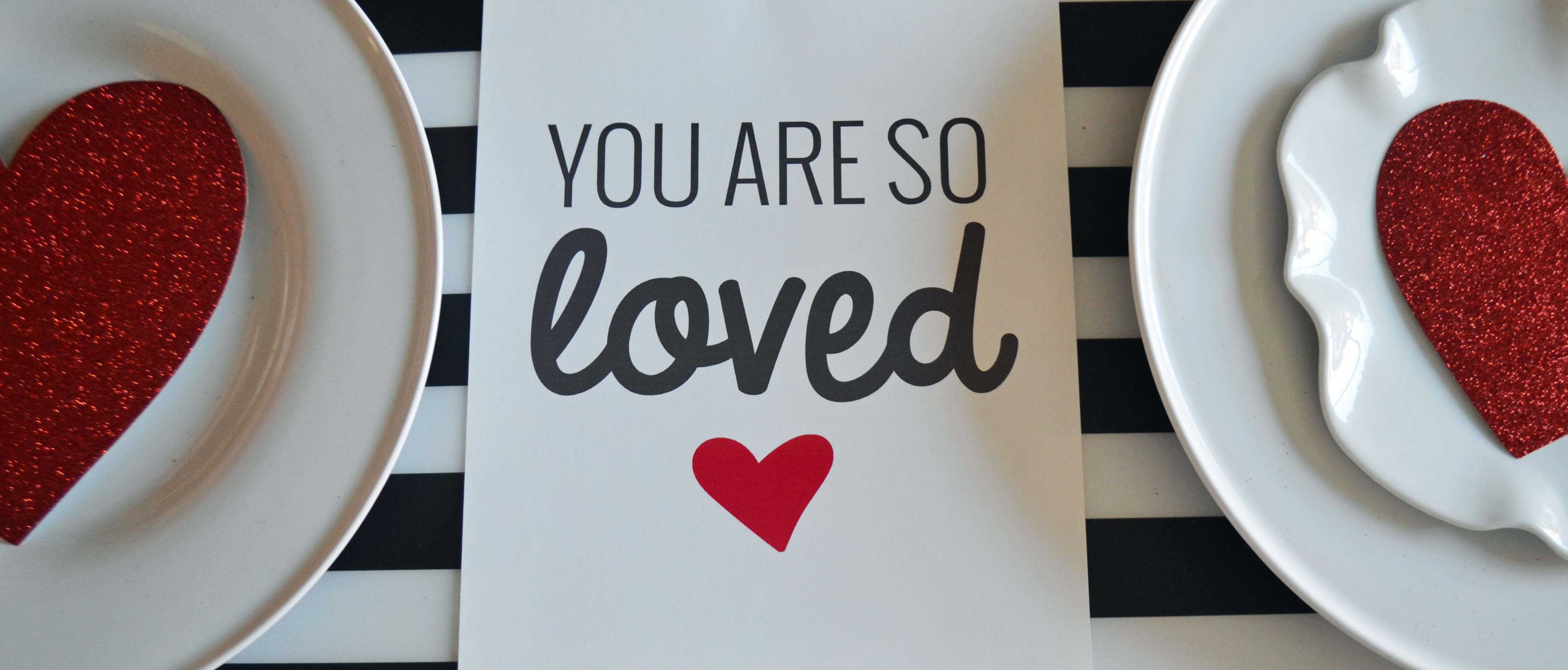 Fill a jar with layered Valentine's Day candy and chocolate and let your kids eat it on the big day. You can find Valentine's Day at any store right now and I found most of this candy in the bulk section of Winco. This year, I placed it on top of a cake stand I found in the dollar section at Target for $3. Score!
My kids are on the countdown already….but if the wrappers I am finding around the house are any indication, they've already started. 🙂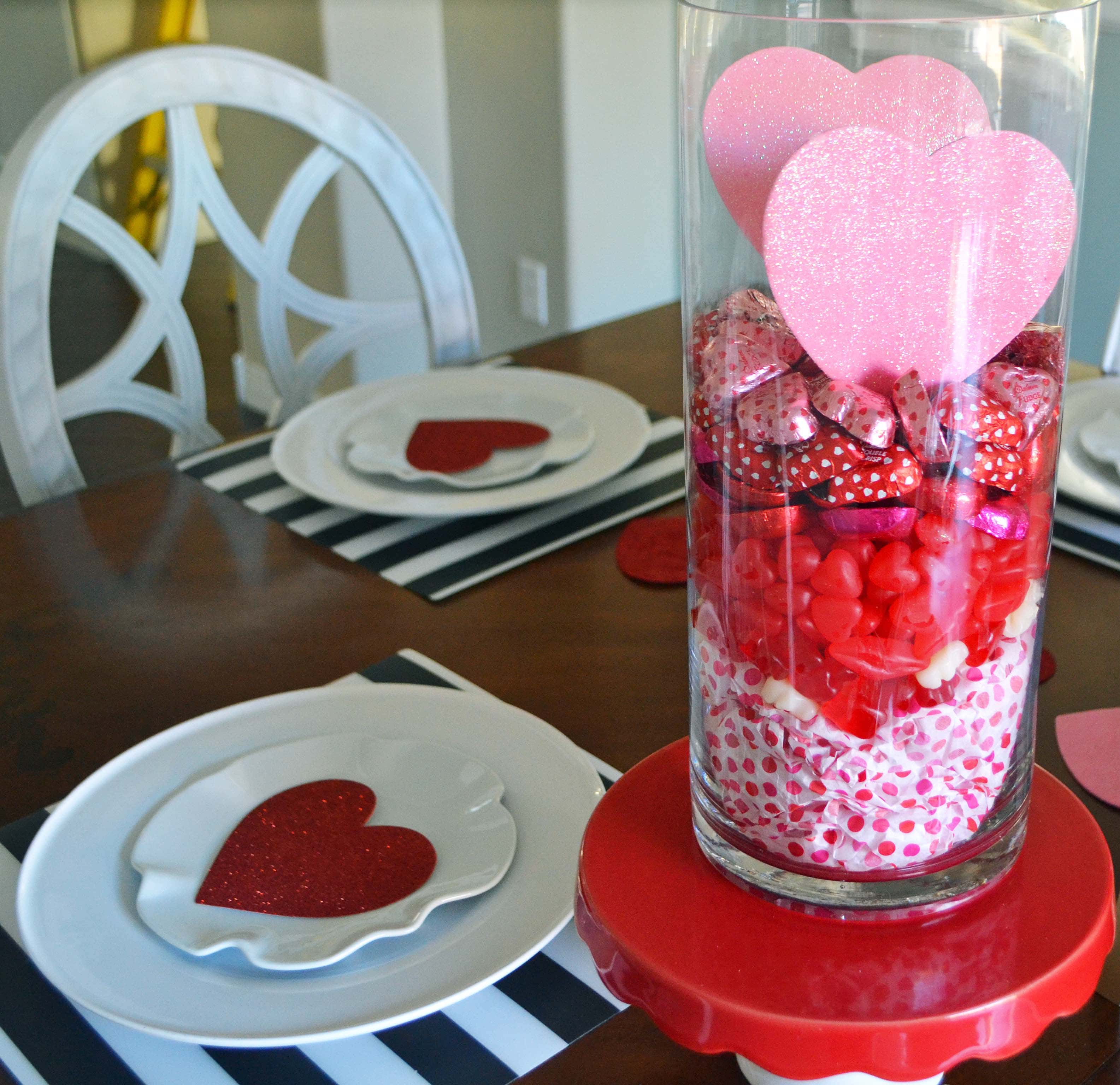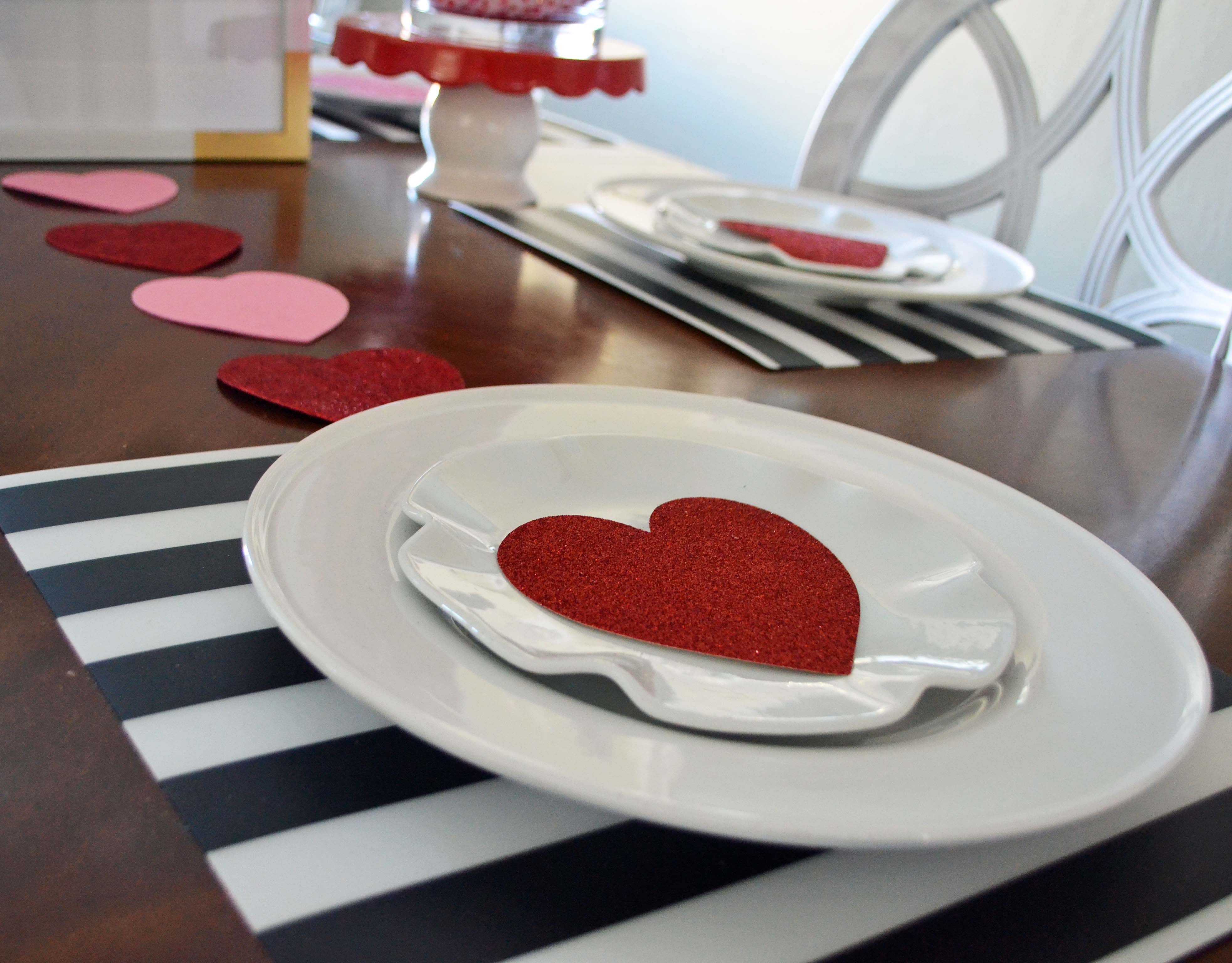 These glitter hearts were found at Michael's in a large package for less than $2.  I decorate the walls with these too!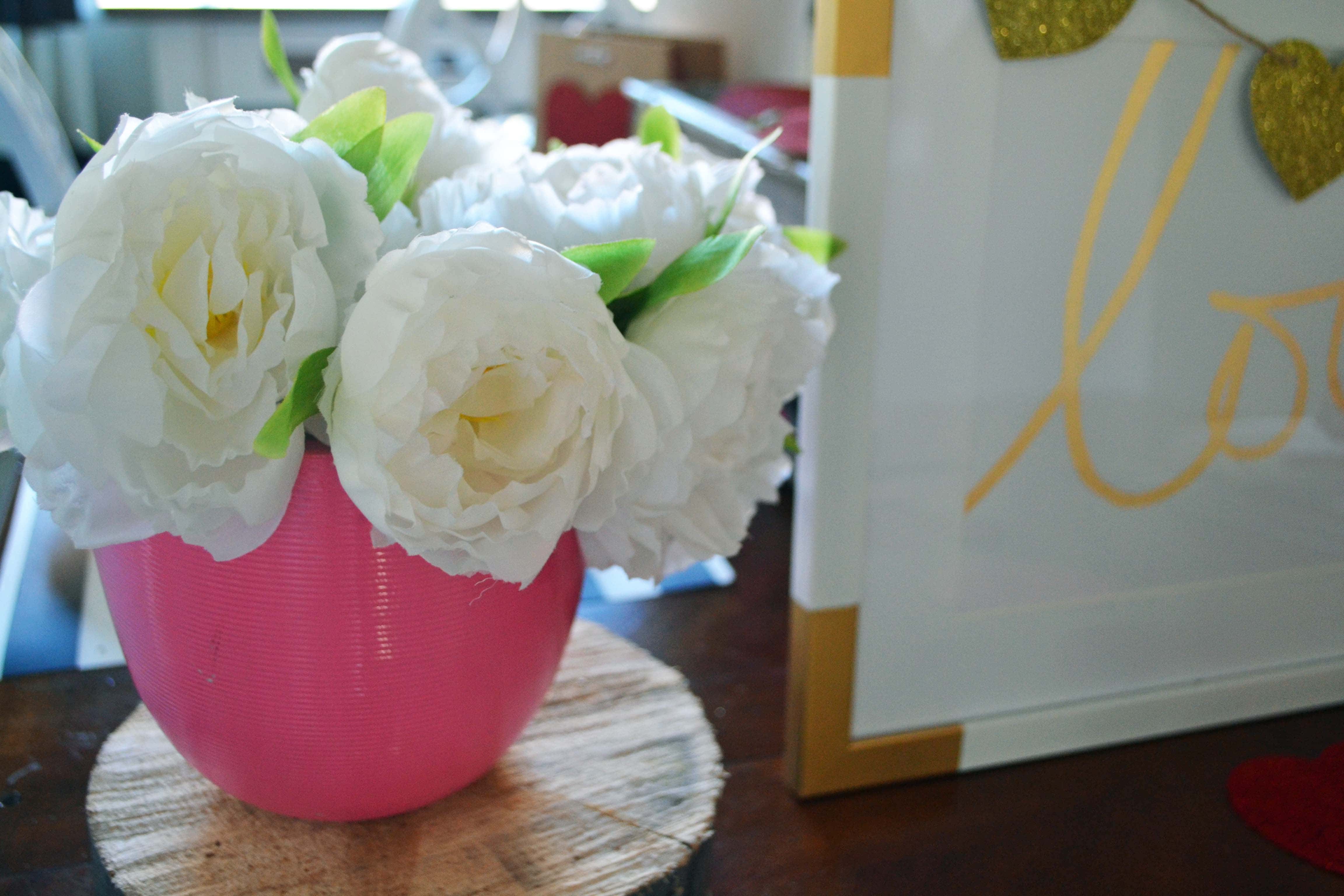 It doesn't have to cost a lot of money to decorate a table. Most of these items I found for dirt cheap! I am a sucker for the dollar section at Target, Michael's, Hobby Lobby, and the dollar store. Buy some pink and white peonies for half off at Hobby Lobby and put them in a simple glass vase.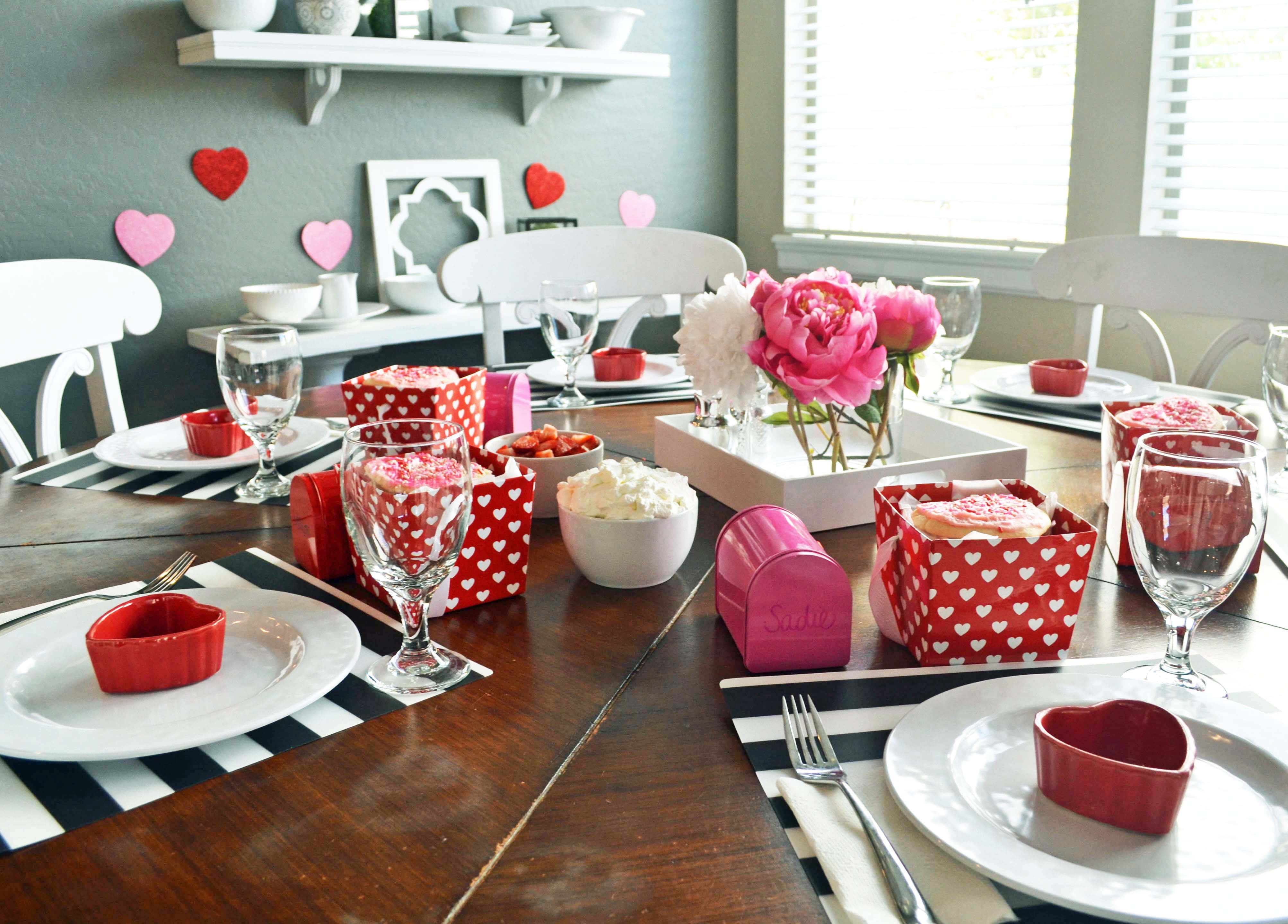 **BONUS FOR MAMAS: Valentine's Day Photoshoot with the kids. Set up a simple photo shoot using things you have at home. I took red and white polka dot wrapping paper and taped it on my front door.  The lighting is almost always good under the front door and it is so easy to transform it by using different wrapping paper.
I picked up some fun props at Target and had the best time shooting photos of my kids.  I will always treasure these photos!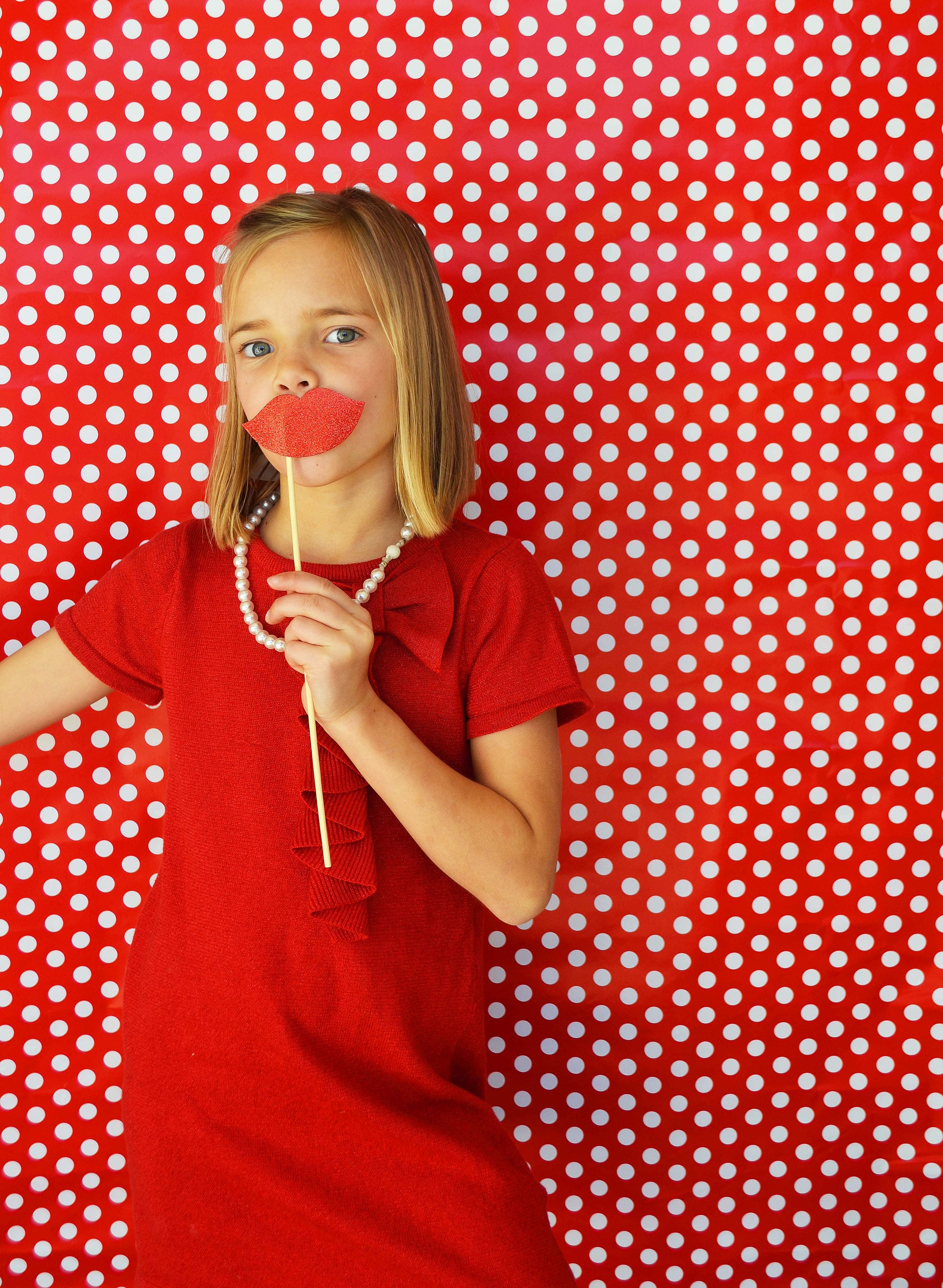 If you have school-aged children, they probably need a special Valentine's Day Box to hold all of the Valentine's they receive at school. I used to have to find old shoe boxes and decorate them but stores are making it so much easier! You can find medium or large boxes in Valentine's day colors — red, white, and pink at Target, Hobby Lobby, or Michael's. I just picked up medium ones at Michael's and love the smaller size.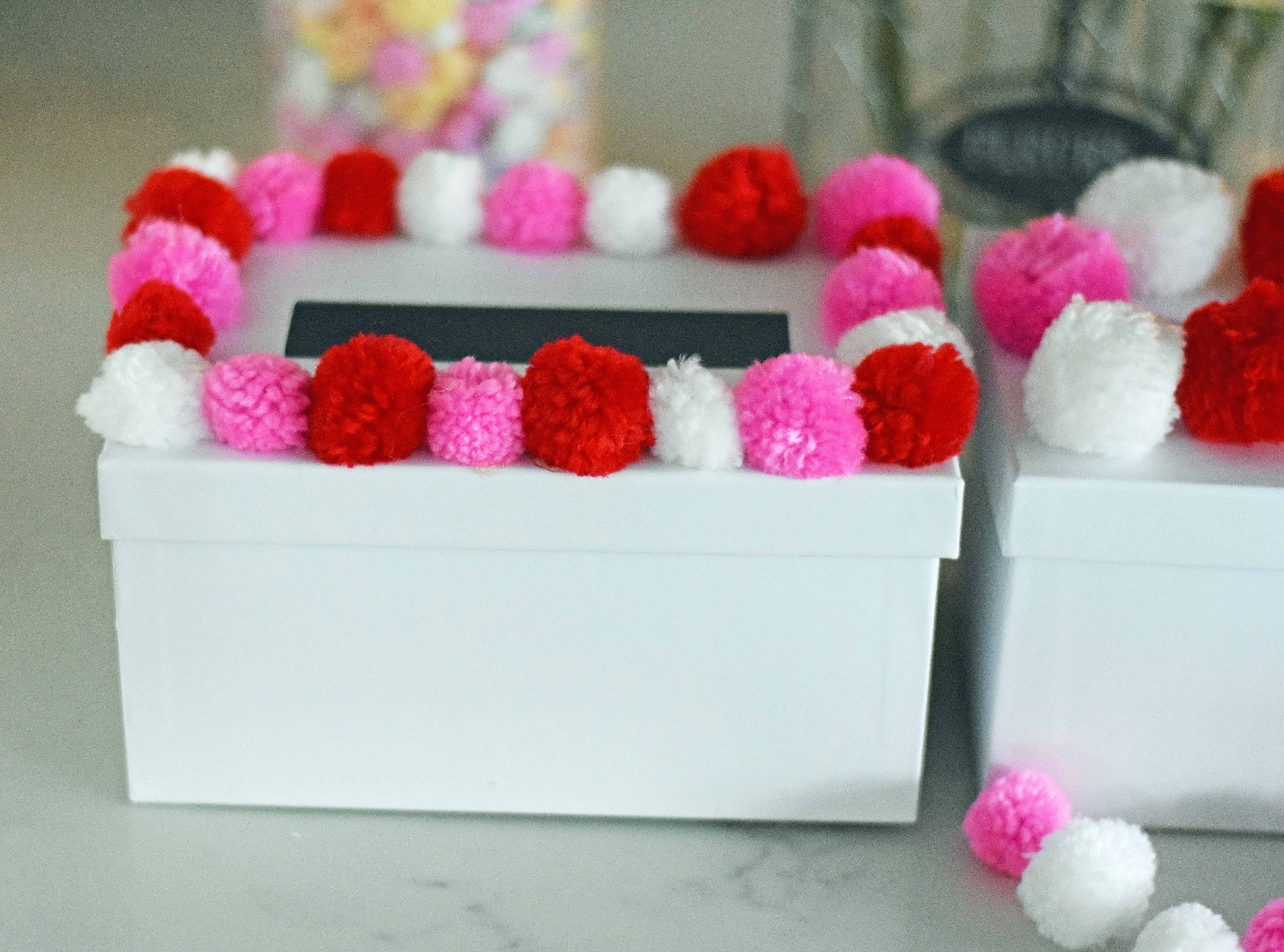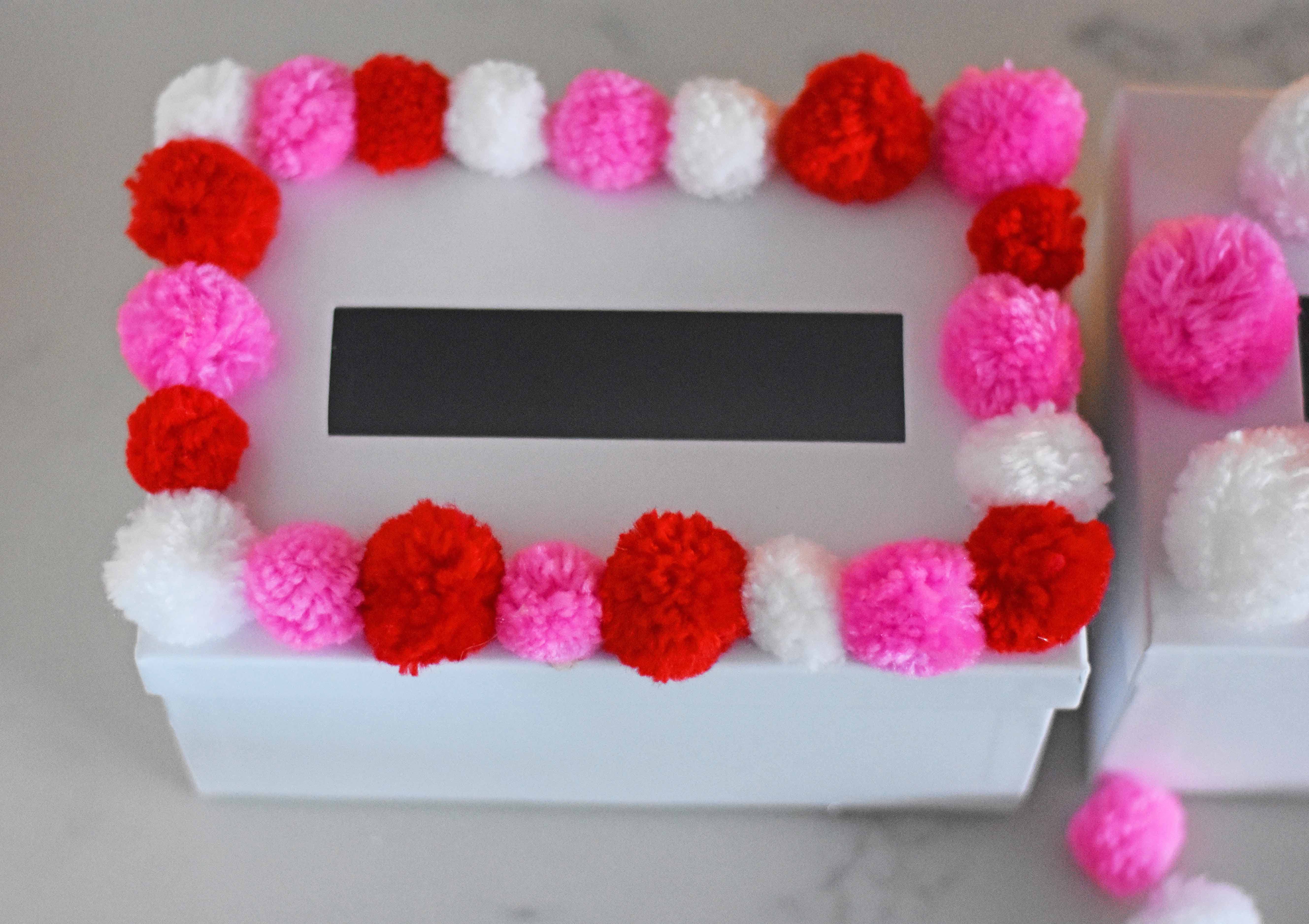 You can decorate them however you wish but my daughter loved using a hot glue gun to attach red, pink, and white pom poms.  They were only $1.49 at Michael's and come in varying sizes.  They add so much personality and make a darling Valentine's Day box. It was so fun to decorate it with her and took less than 10 minutes. Win-Win!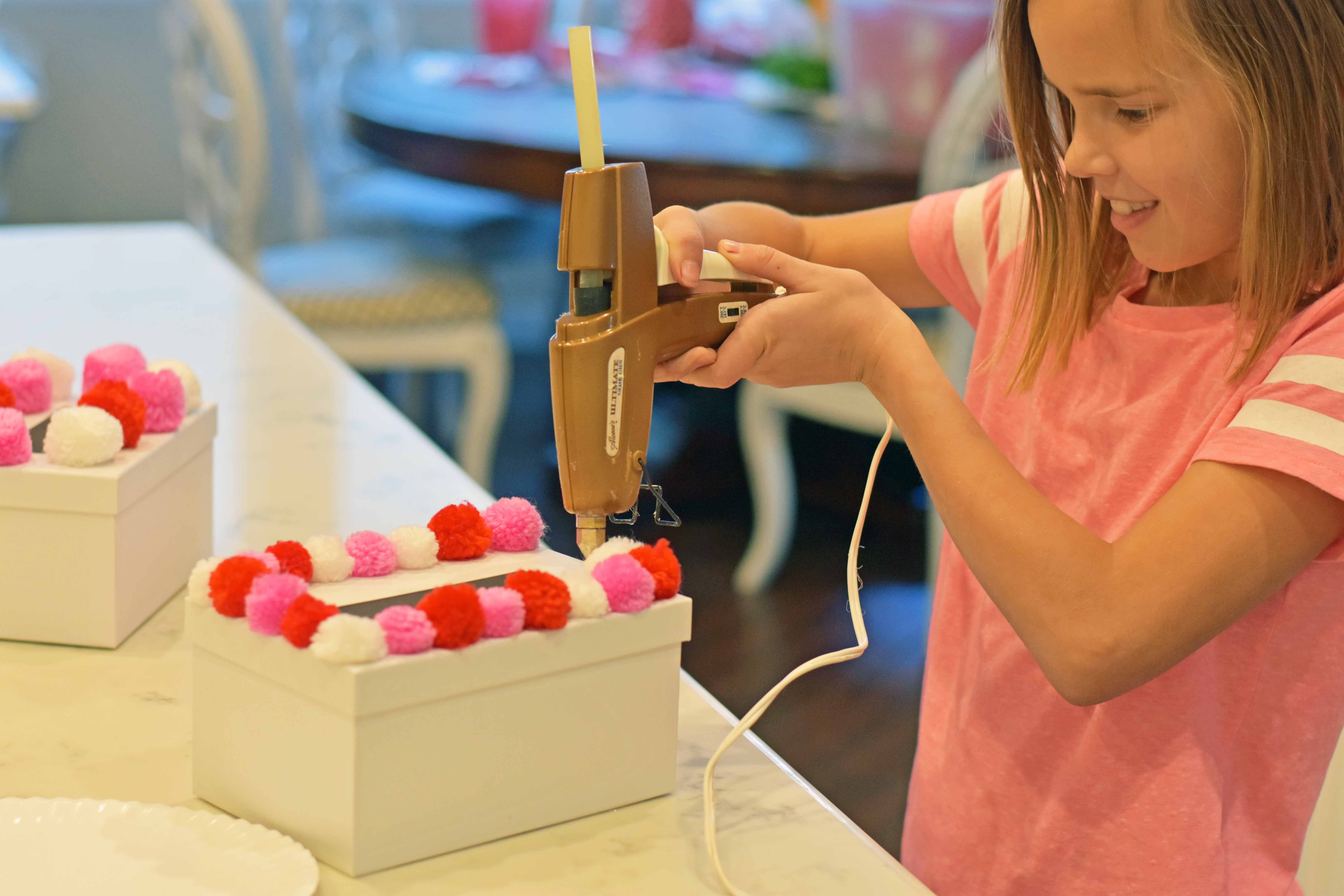 I hope you all have a Happy Valentine's Day! This day can be a great reminder to reach out and tell those we love, especially our kids, what we admire and love about them. If they are anything like me, they will tuck those valentine's away in a keepsake box and will take them out years later and be reminded of how loved they are. I hope you LOVE celebrating Valentine's Day with your kids! 
 Find the recipe for the BEST SUGAR COOKIES HERE. 
Happy Valentine's Day, my friends!