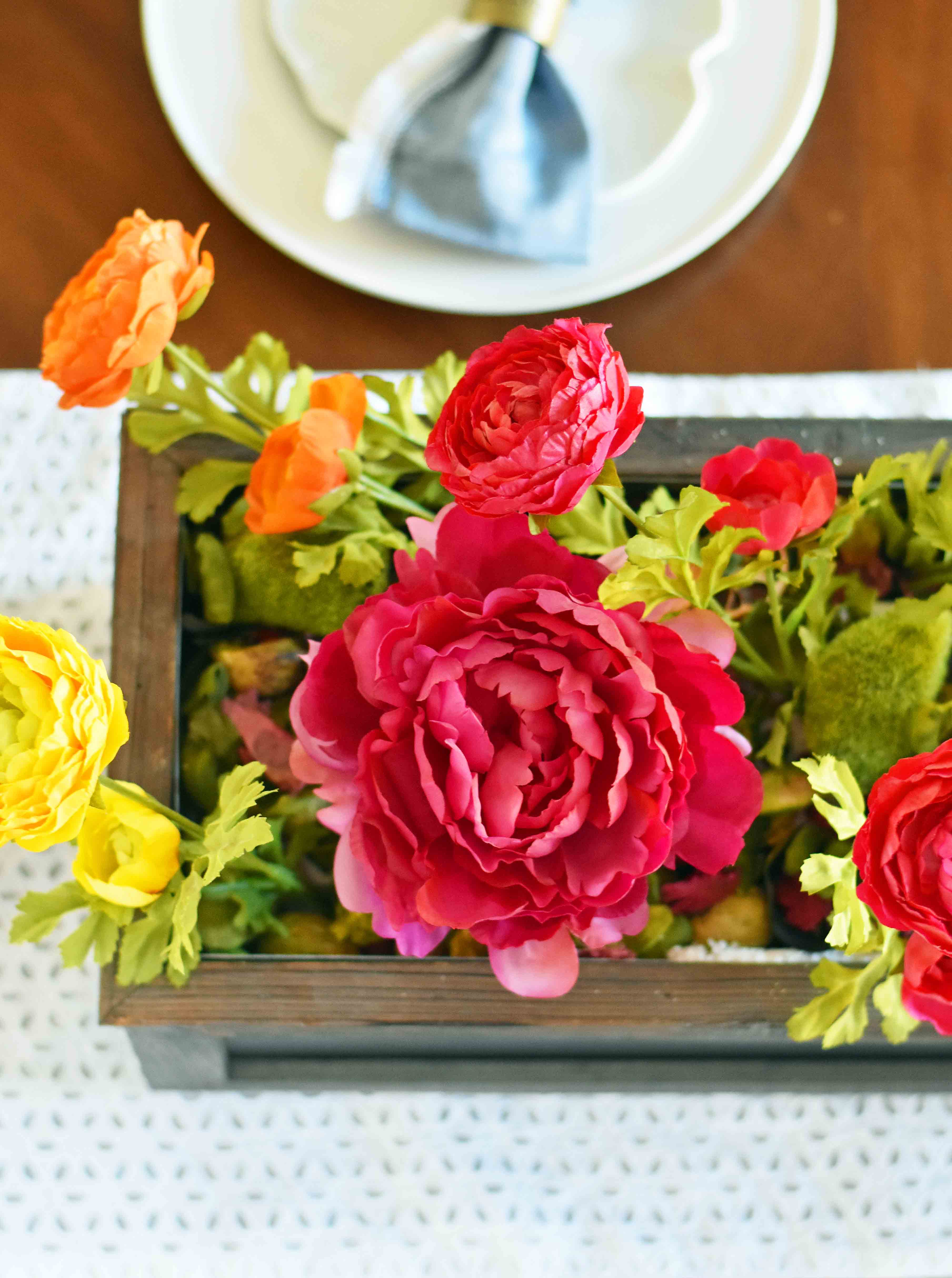 Spring Decorating Ideas for any budget. How to decorate your home for Spring without breaking the bank.
My favorite time of year to decorate my home is Spring. Everything is so bright and beautiful in the Spring as the flowers begin to bloom again. The focus is on soft florals, bright whites, and natural elements.
I want to share with you some of my favorite Spring Decorating Ideas. I will break down where I find the home decor items — everything is not only beautiful but reasonably priced as well. Win win!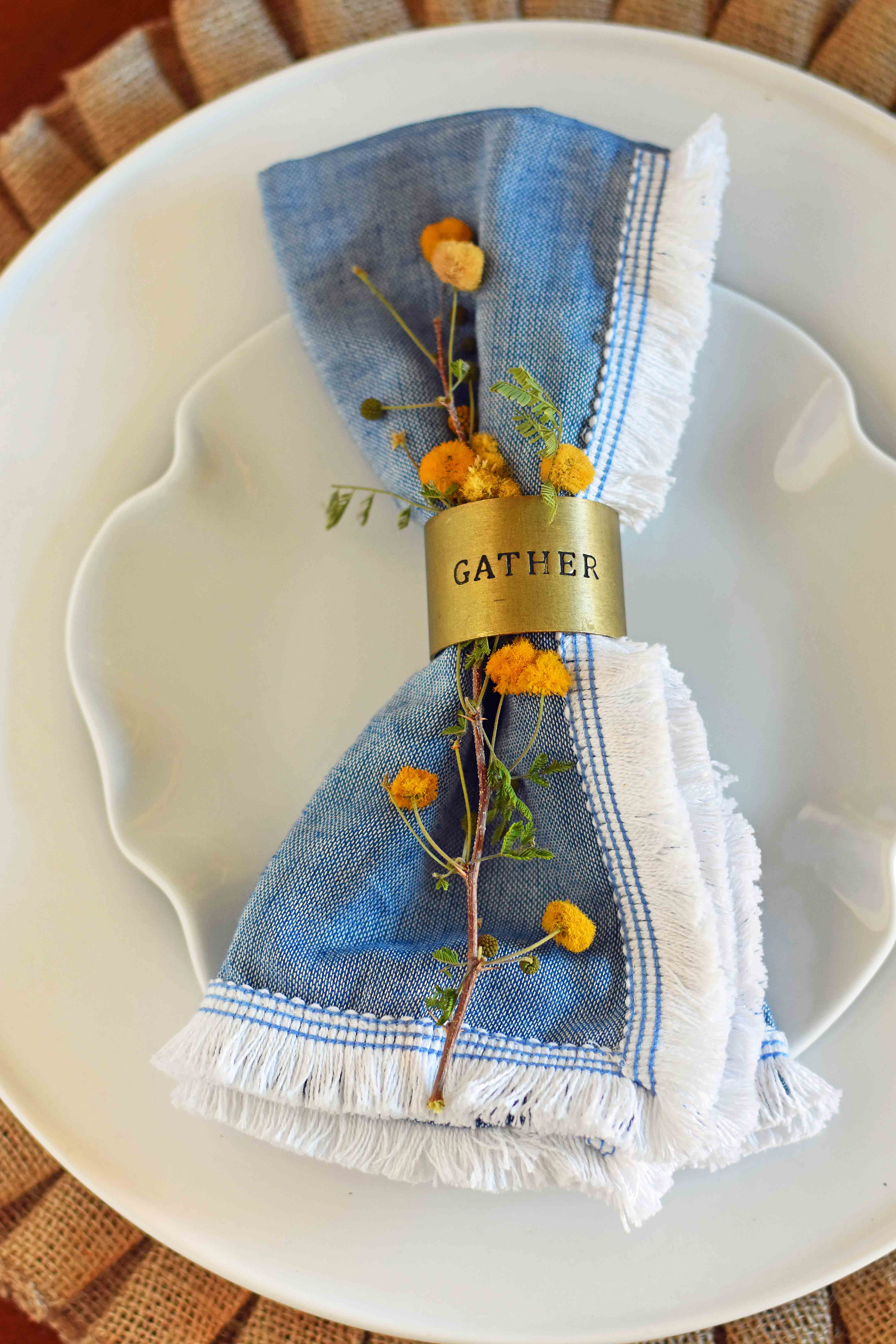 Setting a festive light and bright Spring table setting always makes me happy. After a cold winter, it always lifts my mood to bring out the vibrant flowers and white linens.
It doesn't have to cost much money to decorate a table. I tend to use my white plates over and over again throughout the seasons. I found the large charger plate at IKEA for such a great deal. The ruffle edged salad plates bring a whimsical feel.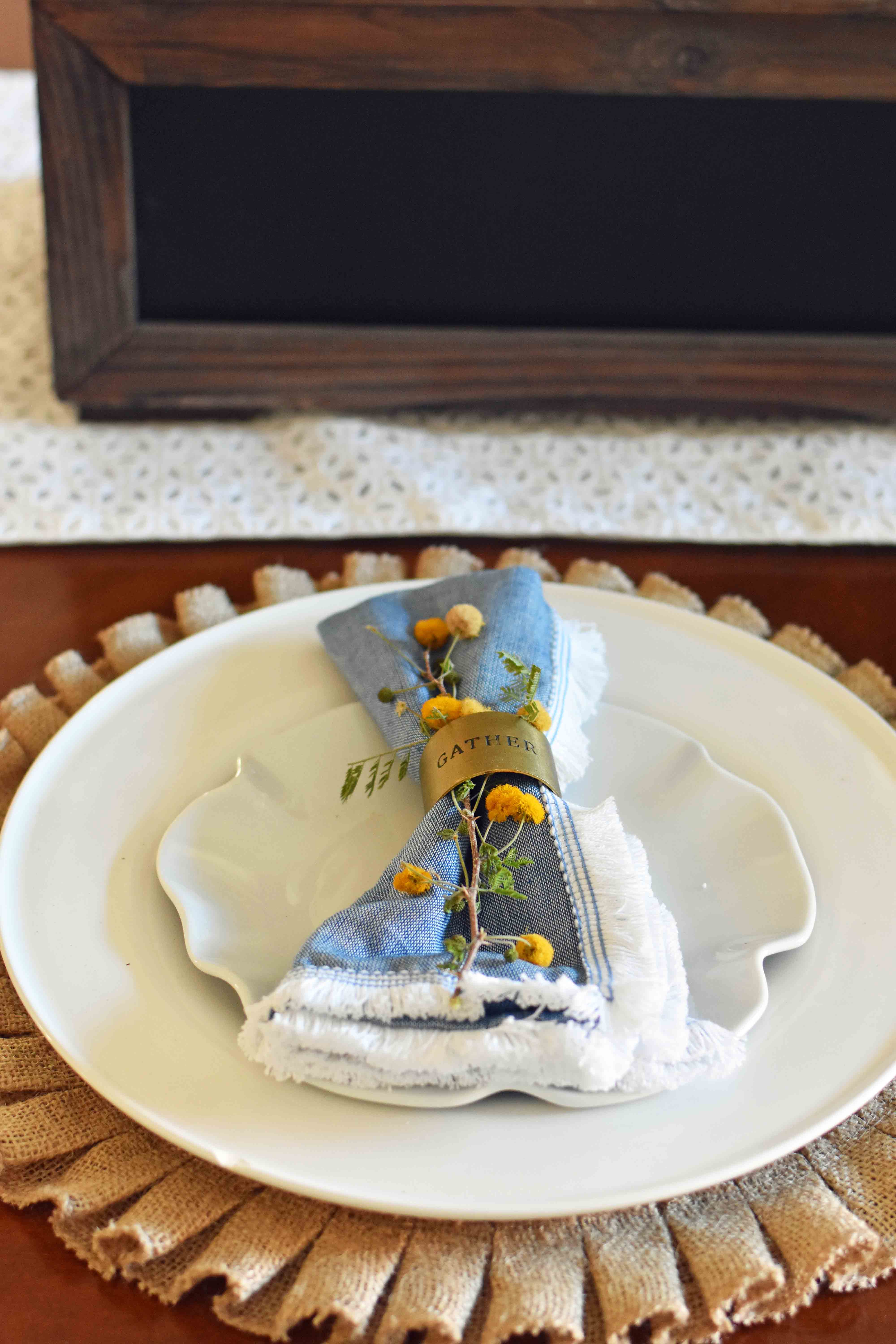 I found the ruffled burlap placemats at Pier 1 Imports. They are so unique and the ruffle accents are perfect for Spring. The chambray napkins were found at Home Goods for $4.99 for a package of 4. Such a steal!
The GATHER napkin rings are from the Magnolia Heart and Hand Collection by Joanna Gaines at Target. I use them on all of my napkins. You wouldn't believe what you can find right outside your door for adding flowers or herbs to your table. I picked these yellow ball flowers from a parking lot and am known to snip a few rosemary stems from our community bushes. Adding some simple flowers, leaves, or herbs can make it looks so pretty.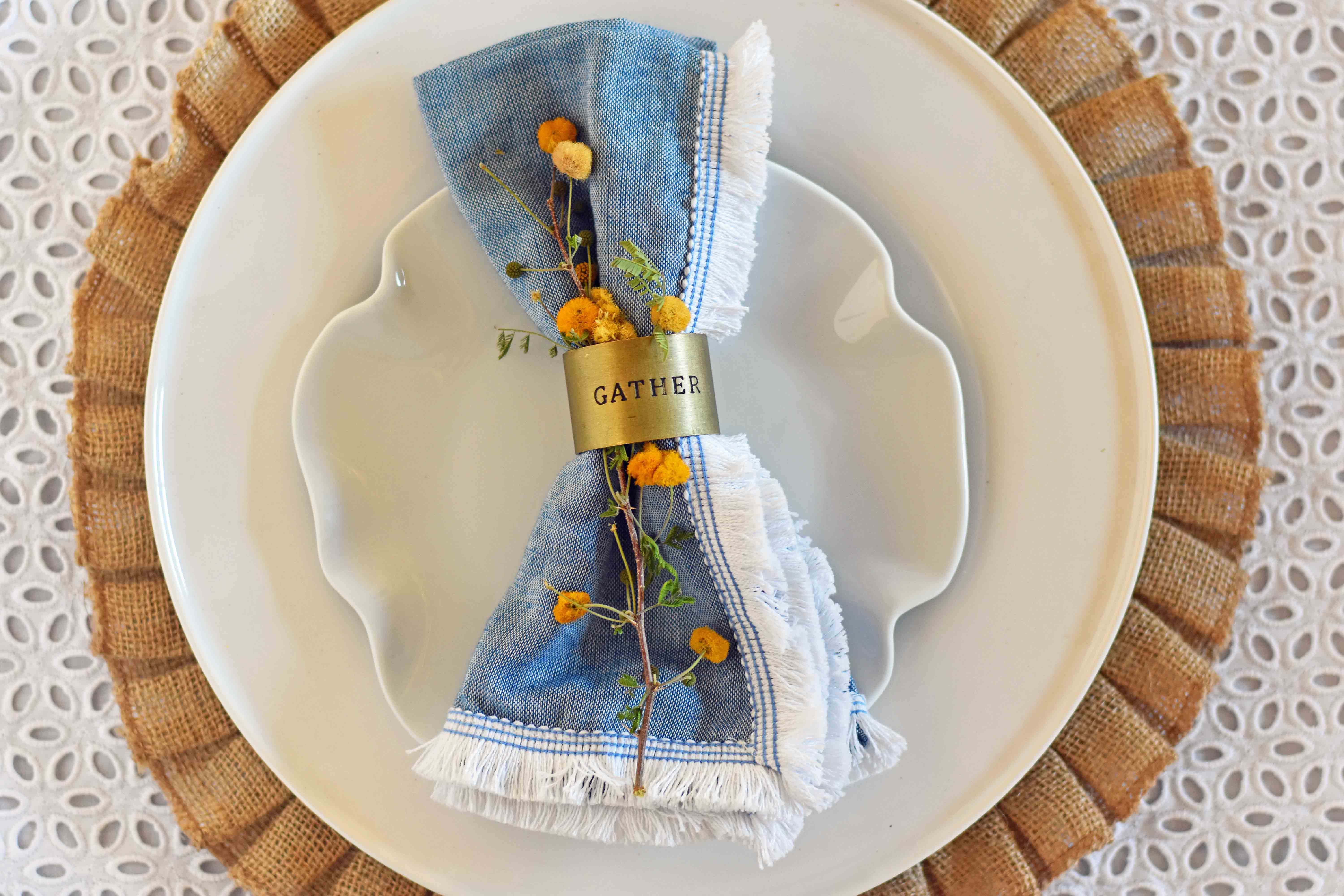 The Eyelet Table Runner was also found at Home Goods for $16.99. That place is addicting! It's so perfect for the light and fresh look of Spring.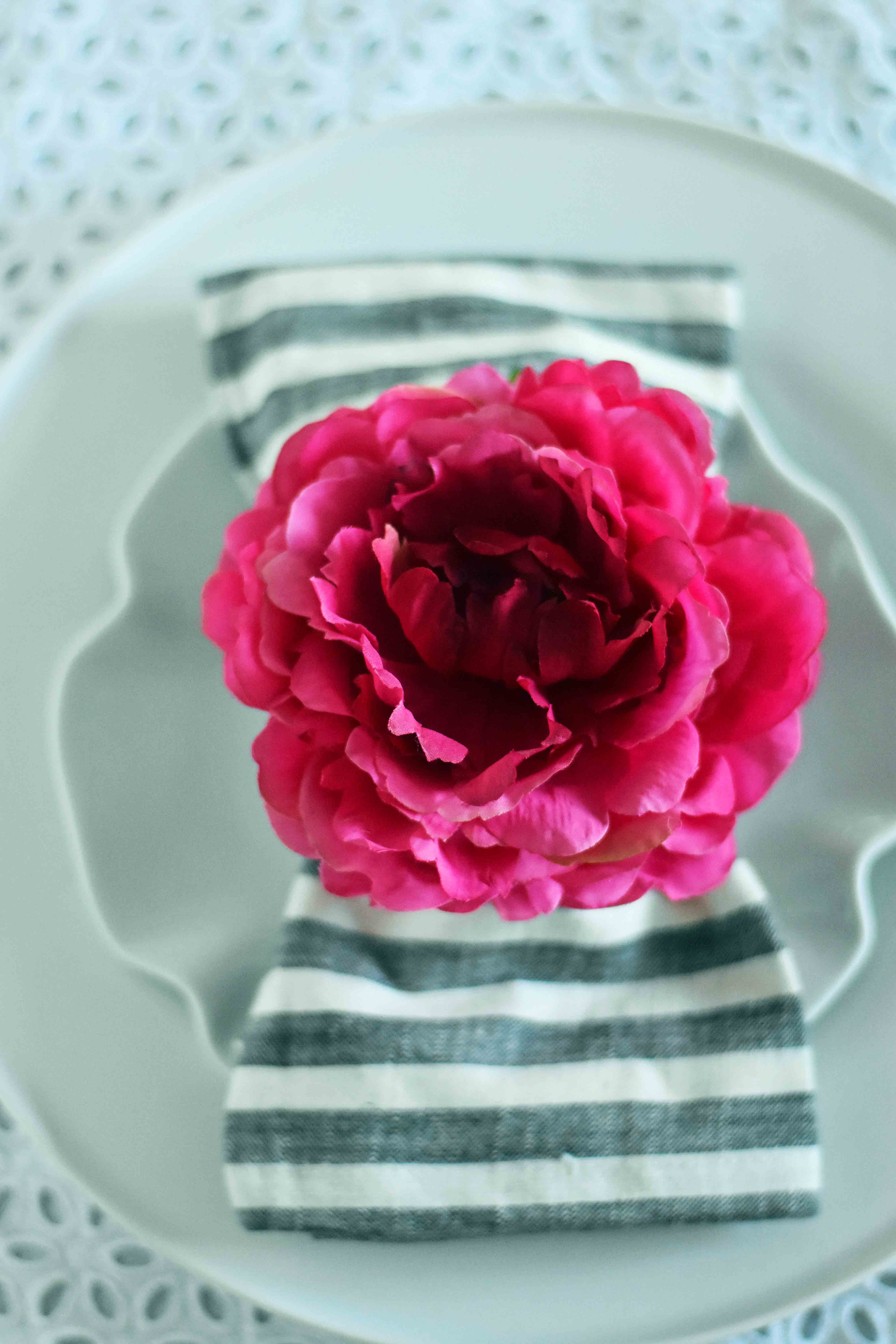 I also found some striped napkins from the Magnolia Hearth and Hand collection at Target and love them. I picked up some pink peonies napkin rings from Pier 1 to bring some color and vibrance to the napkins.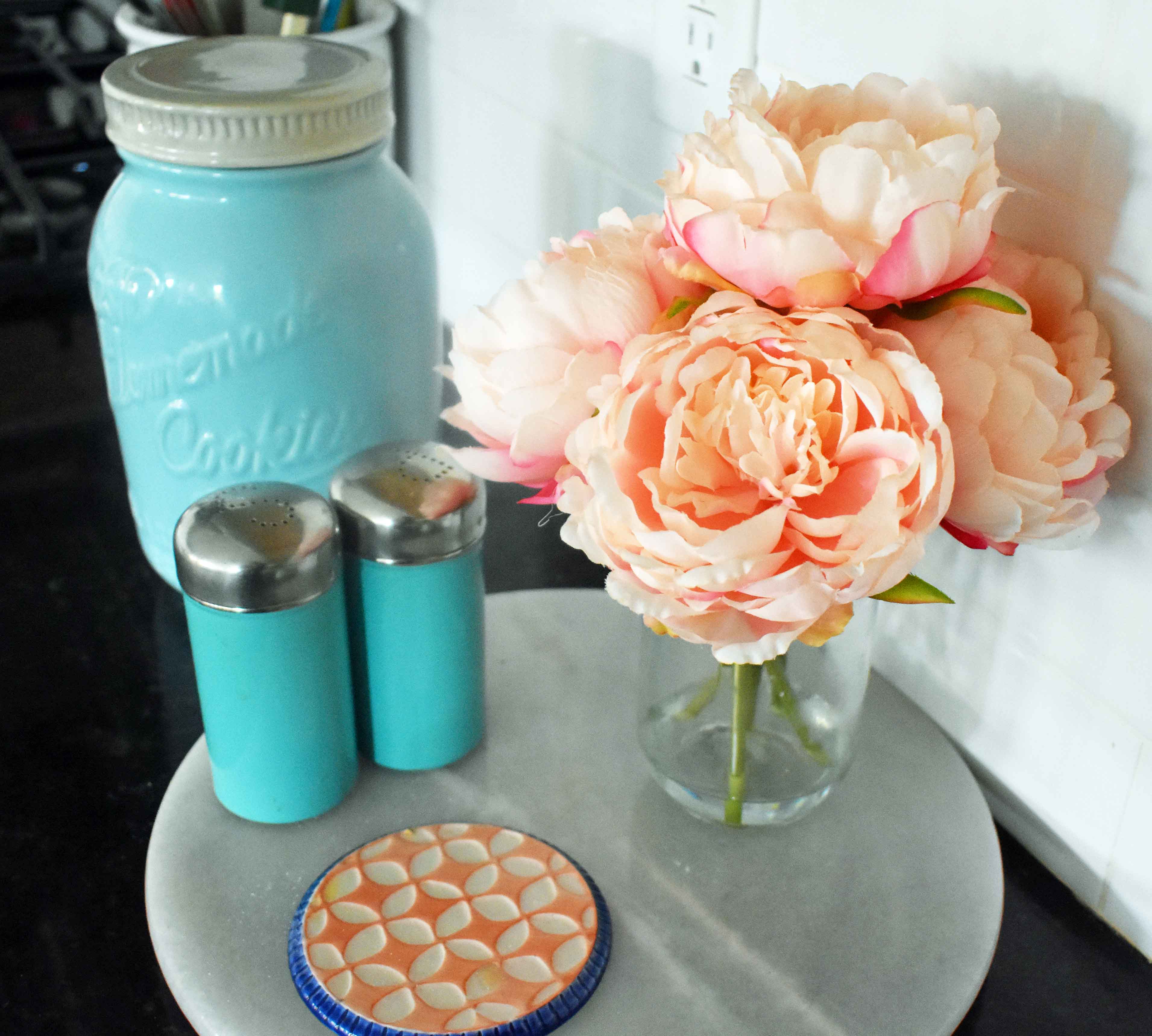 Spring Decorating Ideas:
It's amazing how much you can transform your space with a few flowers! I found this round real marble slab at Ross for $12.99. Now that is a deal! The cookie jar and salt and pepper shakers are sold at Cost Plus World Market. You can find the utensil jar here — Mason Jar Ceramic Utensil Crock. The glass floral jar was found at Home Goods.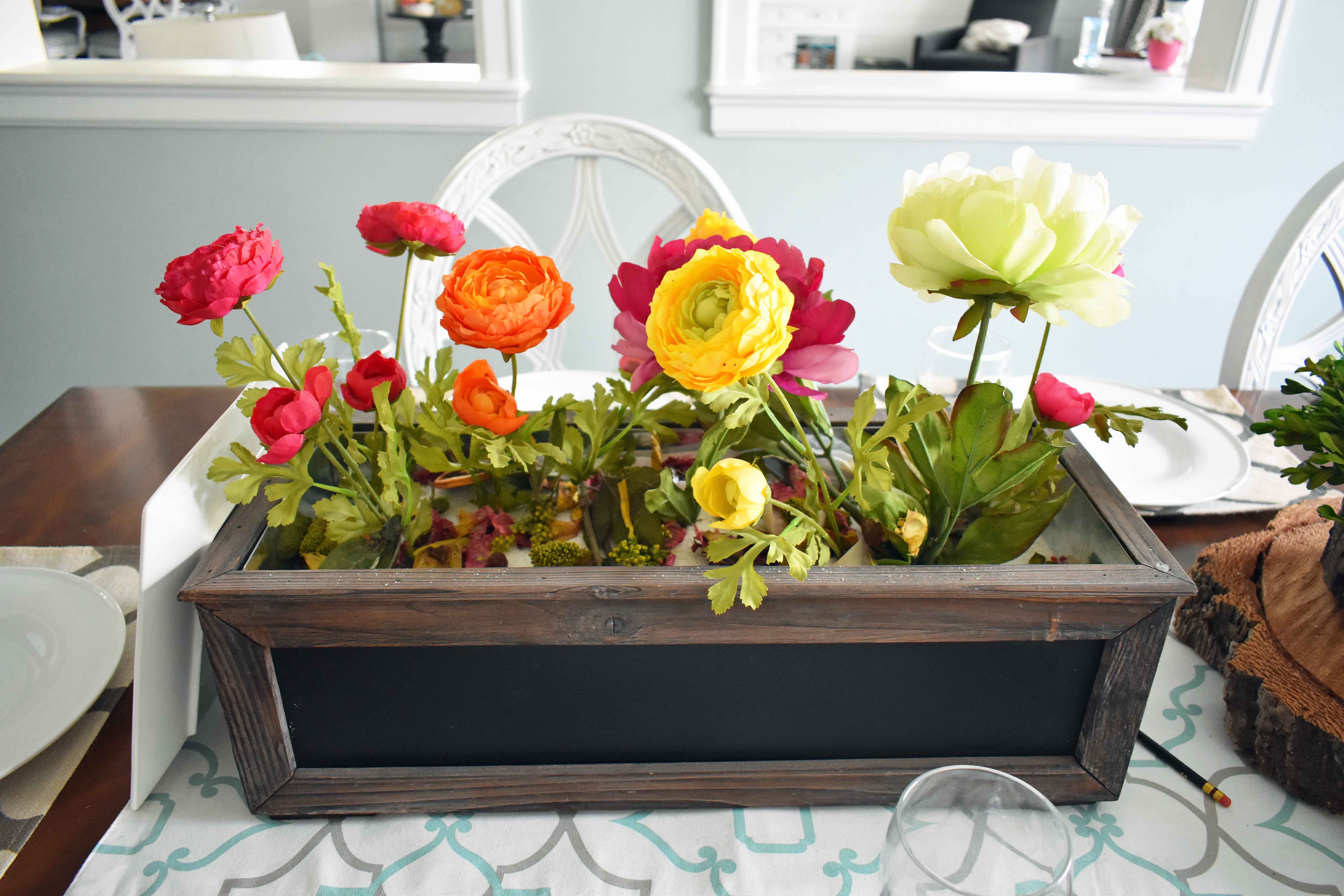 I found this wood chalkboard bin at Dillard's. You can find one similar here — Rectangle Wood Tub with Chalkboard.
I wanted to create a window box in my home with bright Spring flowers popping up everywhere. I used styrofoam from a package in the mail, cut it into a rectangle and stuck the floral stems in it to keep them in place. I sprinkled some potpourri that I found in Roundtop at their famous antique fair. It still smells so good!
The ranunculus can be found at Hobby Lobby. I love when they put their floral stems at 50%. If they aren't on sale this week, just wait because they go on sale every other week.
This coral floral arrangement can be found at Target. That place is beyond addicting! It is under $20.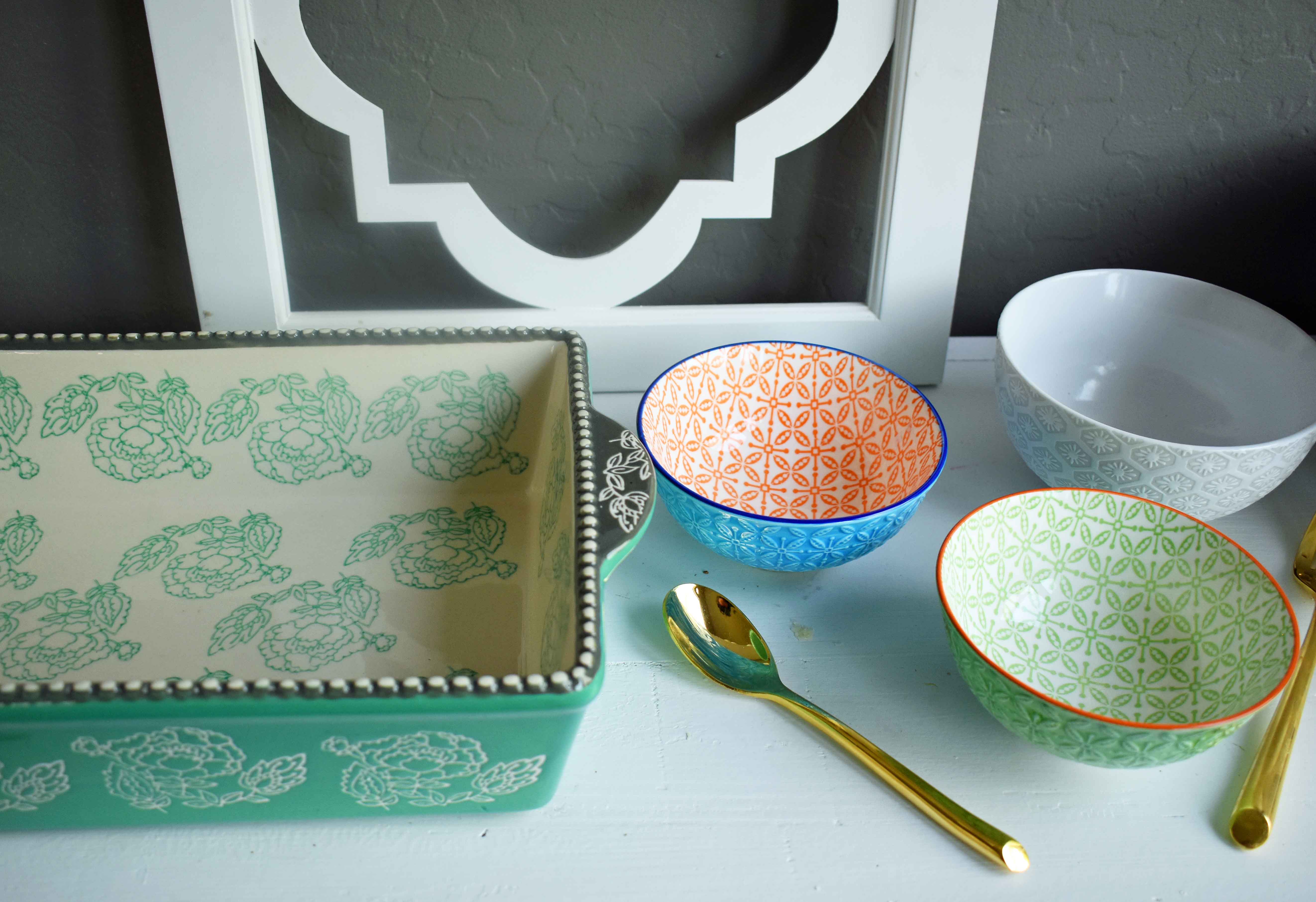 I am obsessed with Cost Plus World Market. Their dishes are so beautiful! The baking dish, decorative bowls, and gold flatware can be found there.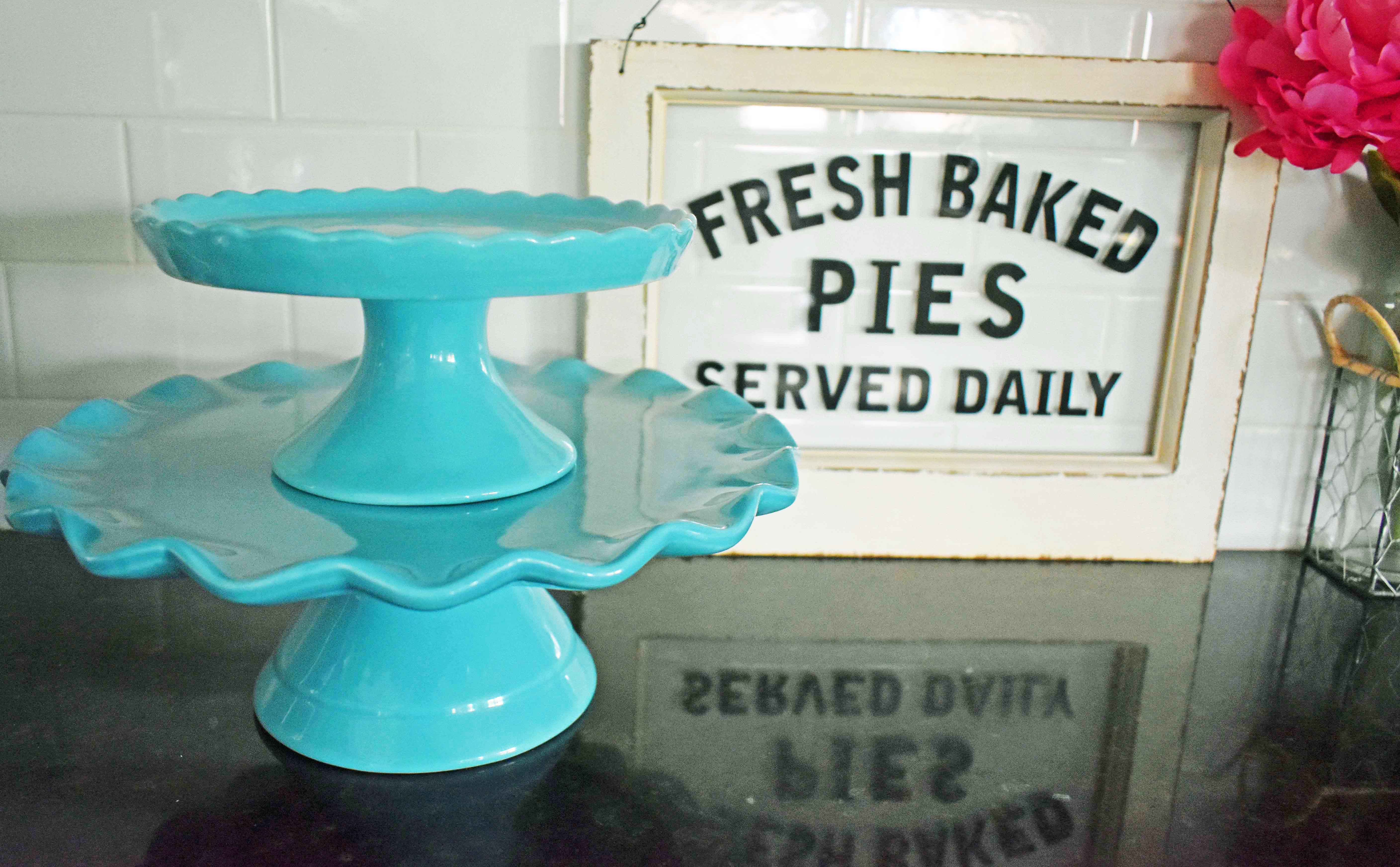 These cake plates can be found at Home Goods for a steal of a price. The large one was only $12.99 and the smaller one was $7.99. Such a deal!
The Fresh Baked Pies Served Daily farmhouse sign is one hot commodity! World Market has a tough time keeping it in stock. If you see it at your local store, grab it.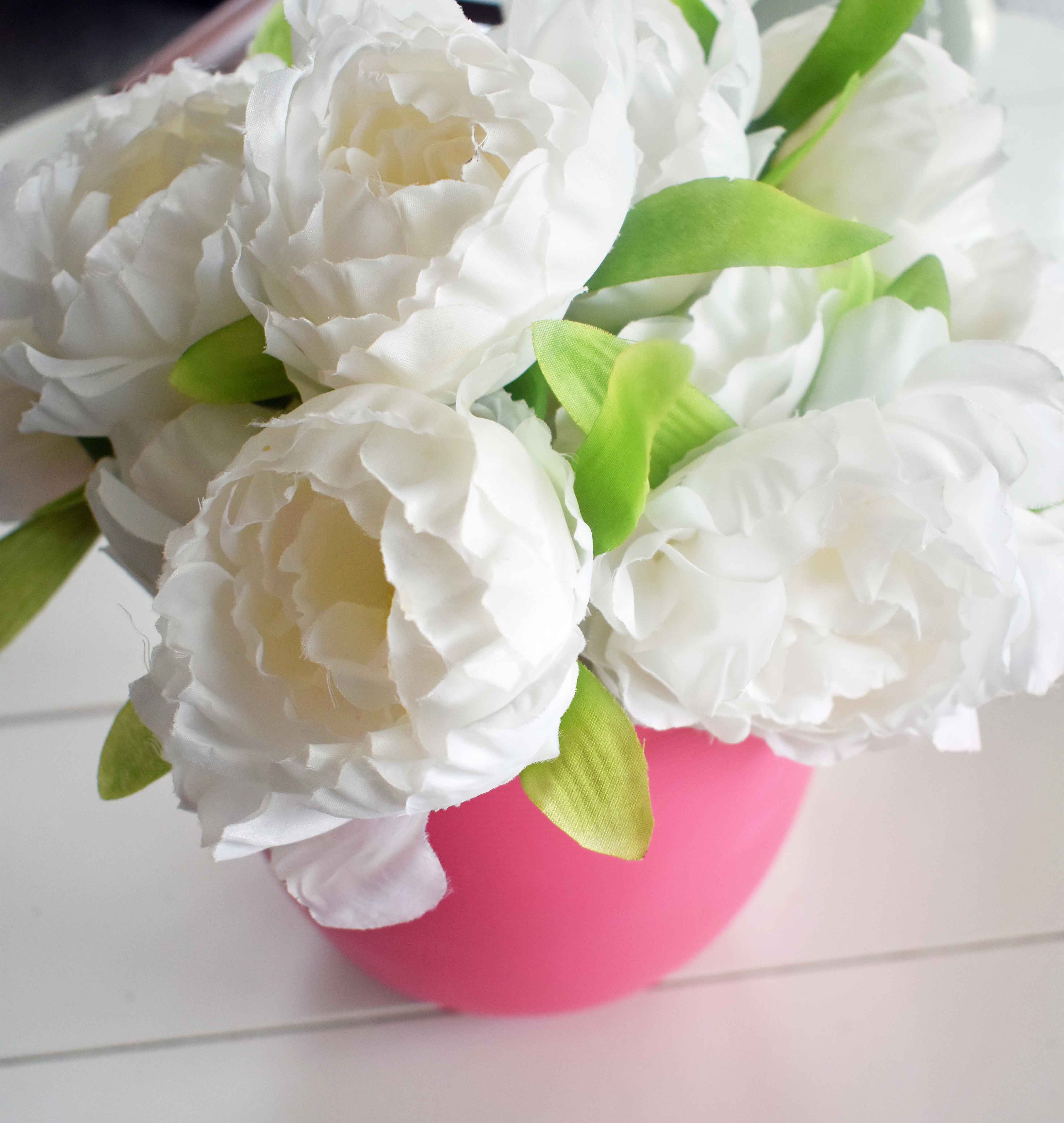 I love the simplicity of white flowers. If you can believe it, my husband bought these for me for Mother's Day. He knows that I don't like fresh flowers as much because they wilt away so quickly so he bought me some that will stay forever. He found these white flowers at Downeast Home.
I spray painted a plain brown pot with pink spray paint and made my own floral arrangement. Everything is prettier in pink!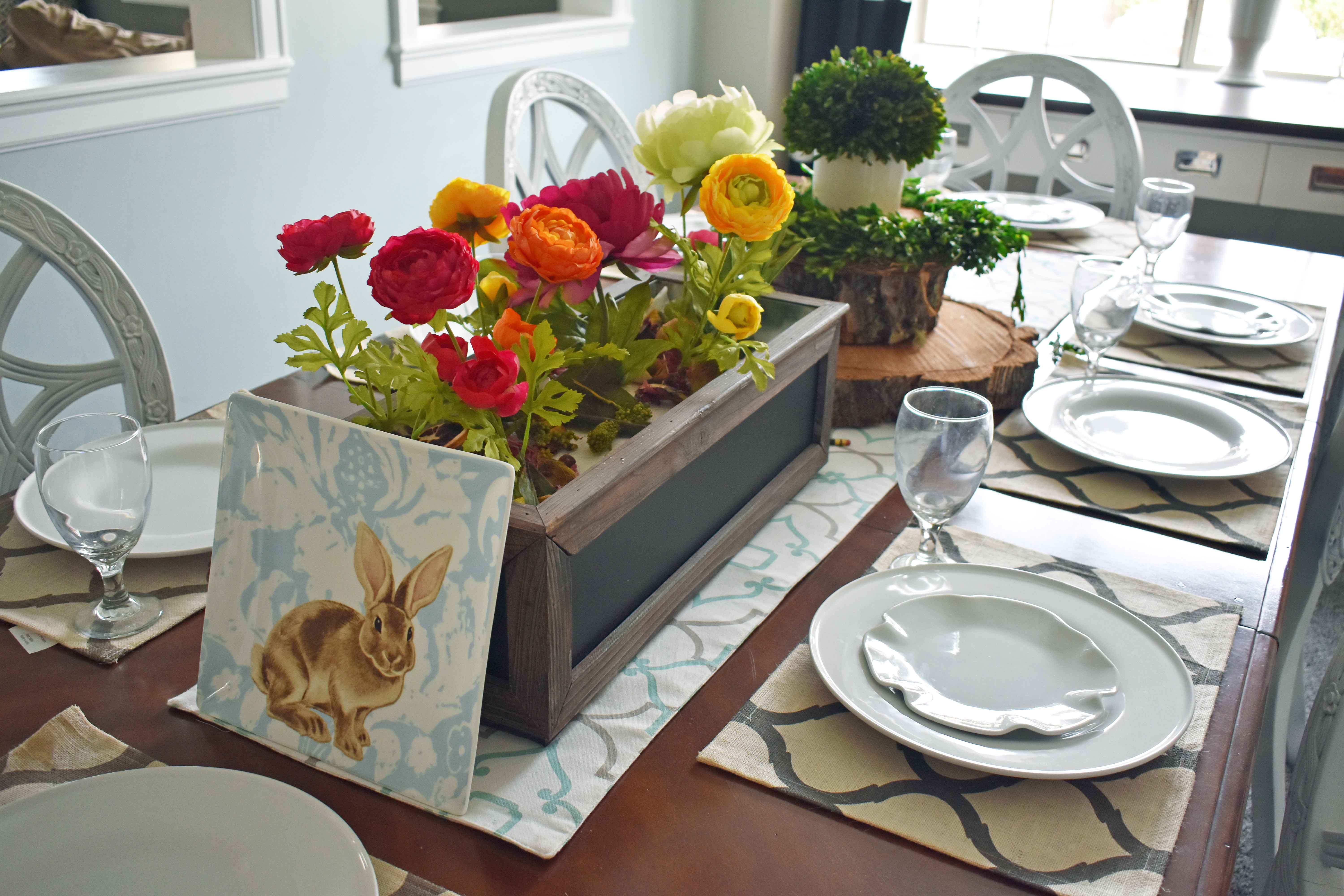 Isn't this just the cutest bunny plate? It can be found at good ol Home Goods. The placemats were found in a 4 pack at Ross and can go with so many decor themes.
The white dishes were found at IKEA. The table runner was found at Home Goods.
Thanks to Joanna Gaines, the farmhouse style is in full force. After seeing her galvanized steel bins all over instagram from her Magnolia market, I wanted the same ones. I found these a few weeks ago at Michael's. Their spring florals are 60% off right now so this is the time to buy.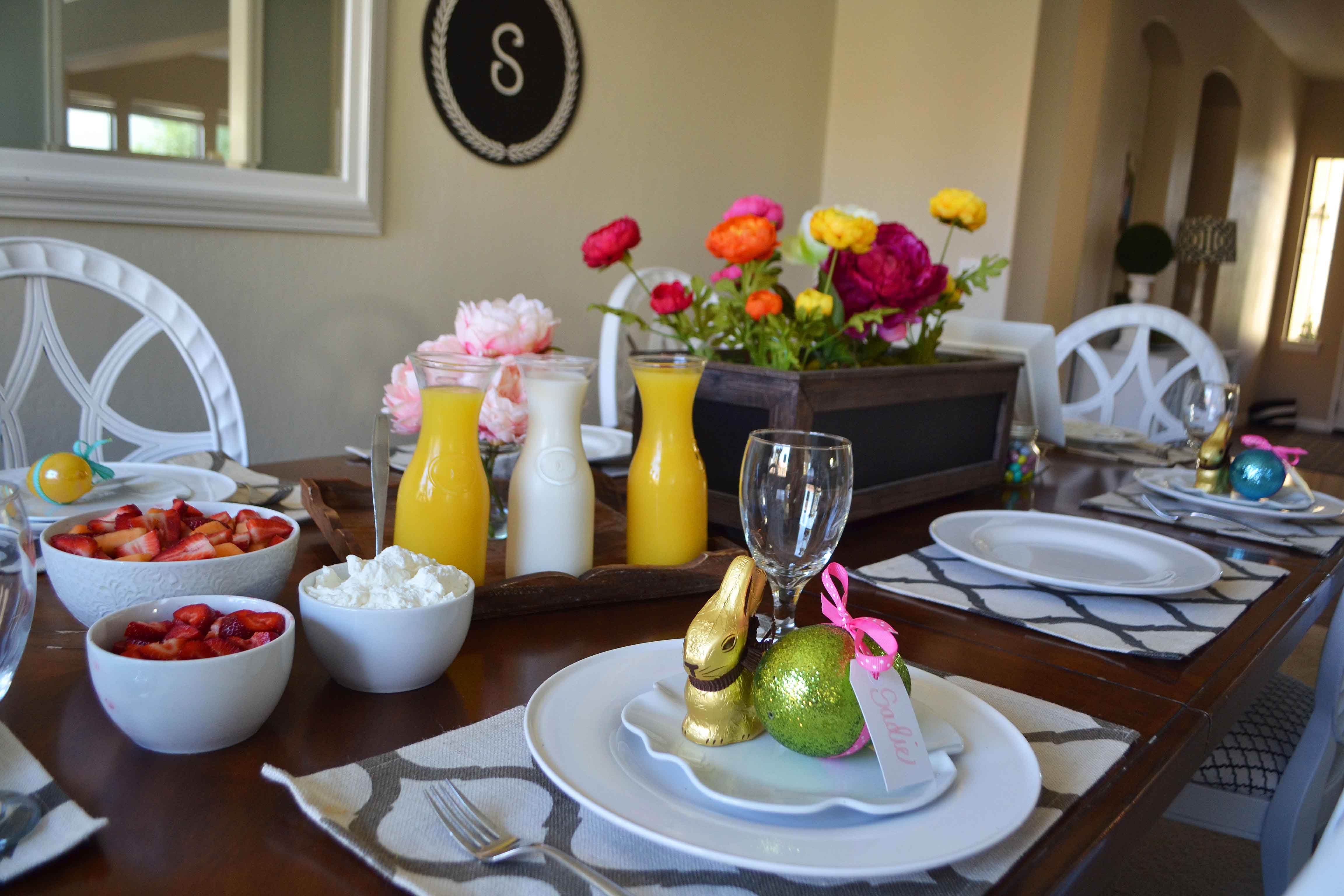 One of my favorite things to do is to create a tablescape — especially filled with food. This was from our last Easter brunch. I used large glittery eggs as the place card and wrapped them with a bow. Each of my kids love their Godiva chocolate bunny each year.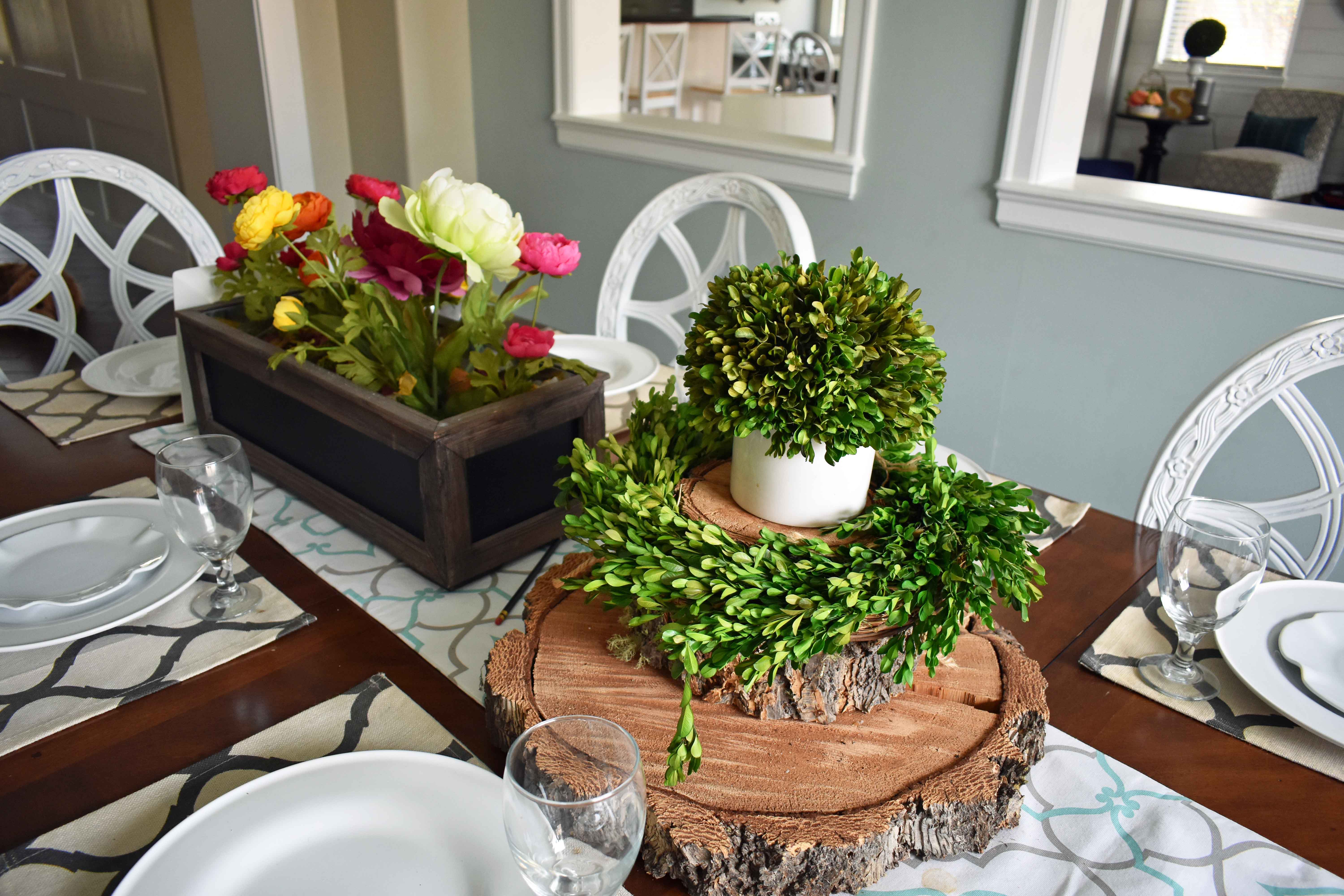 Boxwood Beauty wreaths are a favorite pick for front doors but you can use them for so much more!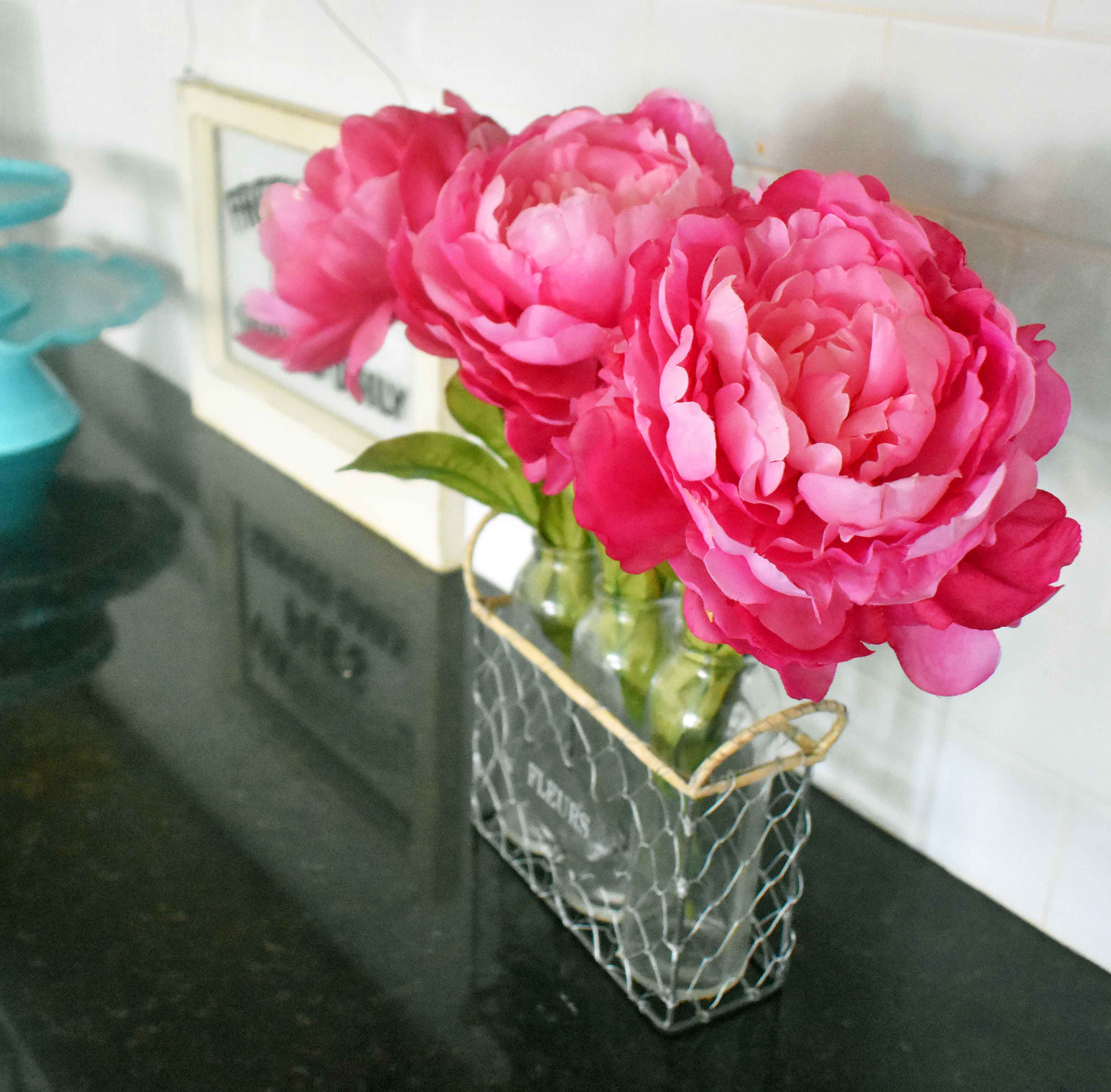 I found these glass floral stem jars and bright pink peonies at Michael's. It's the perfect pop of color for my kitchen.
Thanks for sharing these Spring Decorating Ideas on Pinterest! You can find me on instagram at @modern_honey. Have a wonderful weekend!