A soft chewy sugar cookie with sweet buttercream frosting. The best sugar cookies!
How to make homemade soft and fluffy sugar cookies from scratch with a sweet cream frosting. These sugar cookies are perfect for rolling out into any shape or size.
These soft and chewy sugar cookies are made with such simple ingredients -- butter, sugar, egg, vanilla, flour, baking powder, and salt.
Oh and one single secret ingredient. A touch of cream cheese makes the cookie so tender and chewy.
These Soft Chewy Sugar Cookies melt in your mouth! This is an important step to keep the sugar cookies soft.

It's DAY 1 of the 12 DAYS of COOKIE CHRISTMAS. If you can imagine, I have been baking up a storm to prepare for these magical 12 days. We are starting off with a classic sugar cookie with sweet buttercream frosting.
I made sugar cookies like CRAZY growing up. We had the sweetest neighbor growing up and she was known her buttery sugar cookie recipe. We all loved her and her cookies and I would make them every Valentine's Day, Easter, and Christmas for my family and friends.
It just wouldn't be Valentine's Day without my Mom making us our own sugar cookie shaped into a heart and topped with buttercream frosting.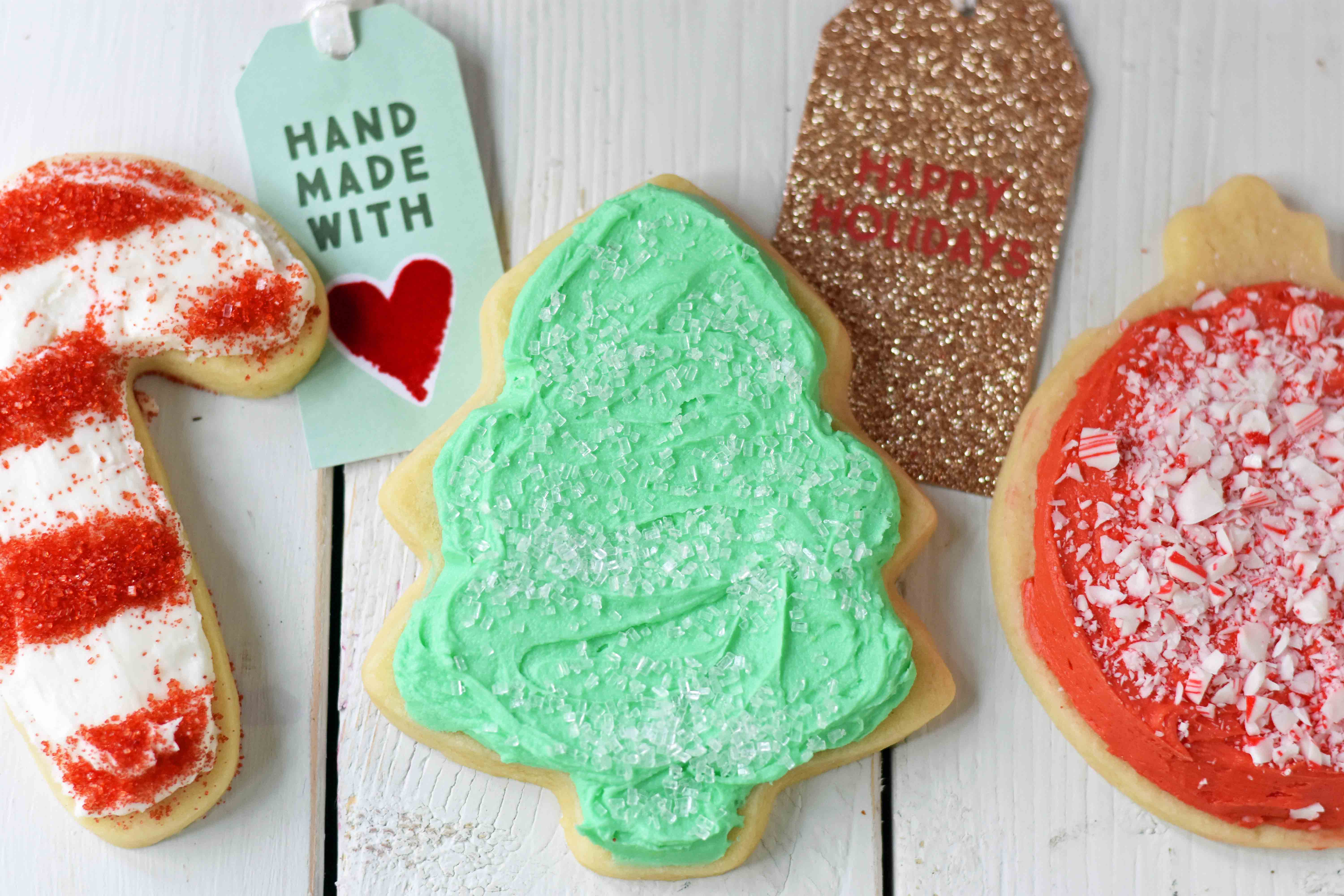 I love the versatility of sugar cookies. You can make them into any shape you can dream up and frost them in all kinds of colors and designs. The options are endless but it all begins with a classic soft chewy sugar cookie recipe. I don't want my sugar cookie to break a tooth because it is so hard.
Who wants to eat something rock hard? No thank you! Soft and chewy sugar cookies always win in my book.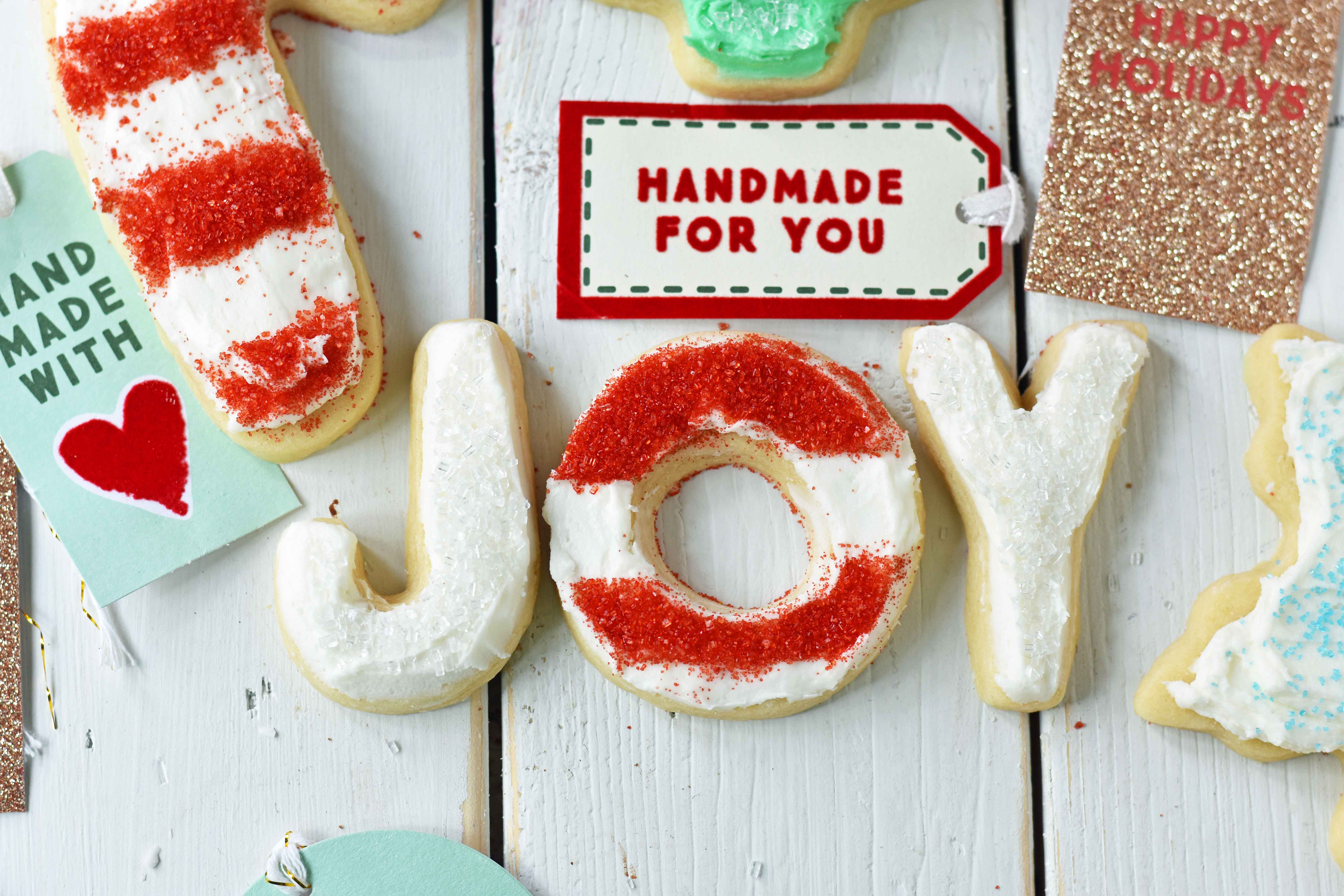 Tips for making the BEST SUGAR COOKIES:
Cream butter and sugars for at least 4 minutes until light and fluffy. This creates a smooth cookie and ensures there is no graininess.

Add cream cheese and beat for 2 minutes longer

. Use softened cream cheese to ensure optimal creaming conditions.

Once you add dry ingredients, don't overbeat as this would result in a tough cookie

. We are aiming for a tender cookie.
Chill the dough. Wrap the dough tightly in plastic wrap and make sure it is sealed. Chill for at least 30 minutes to 1 hour. This helps when rolling out.
Roll out with a rolling pin and cut into desired shapes.
Place on silicone baking sheets (Silpat) or parchment paper to ensure the cookies don't stick to the pan.
Bake just until lightly golden on the edges but still soft in the center. Let cool before frosting.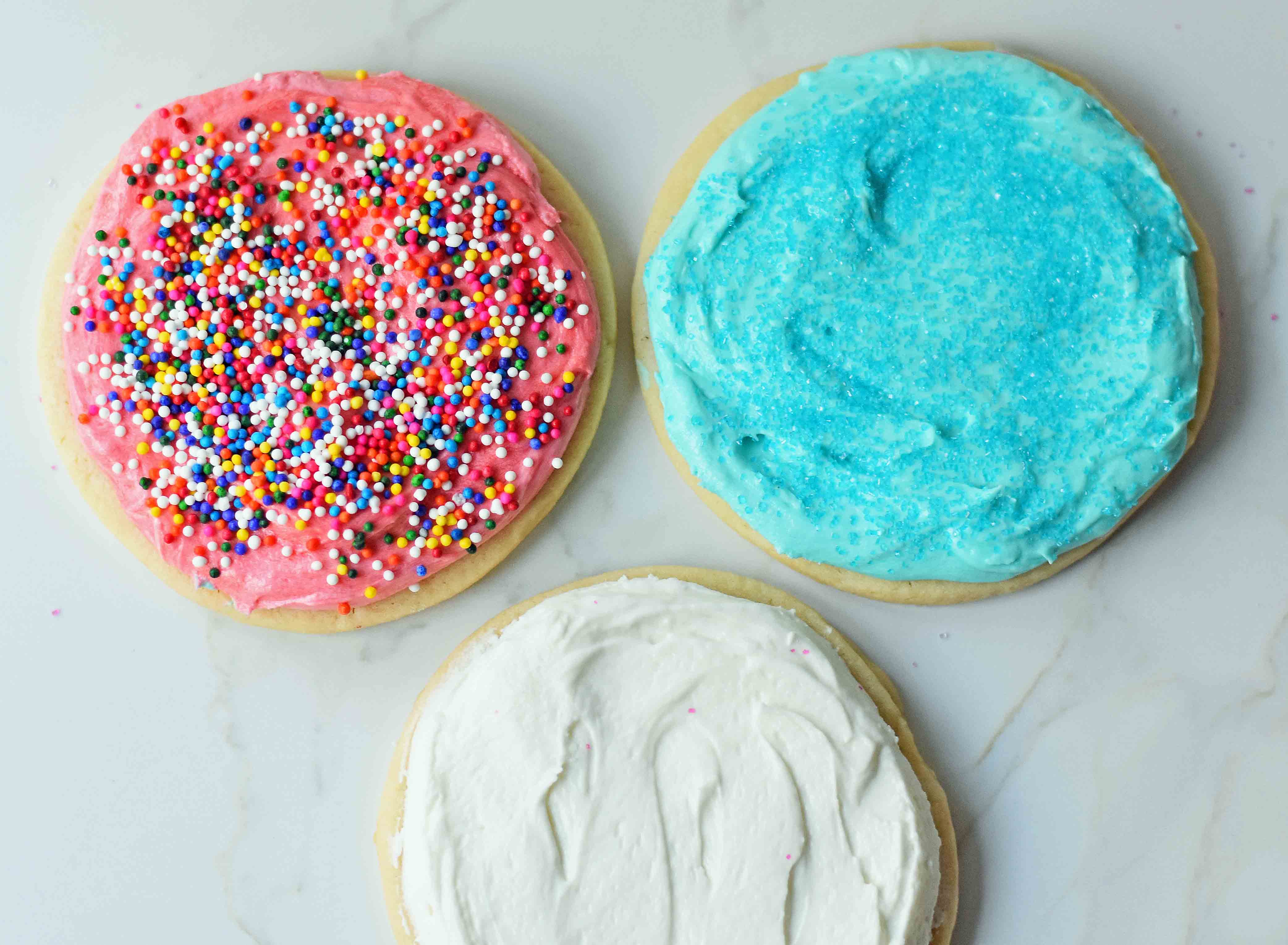 These sugar cookies are so easy to roll out. To ensure the cookie dough doesn't stick, sprinkle the counter with flour. Also, use parchment paper or silpat lined baking sheets to make it easier to remove from baking pan.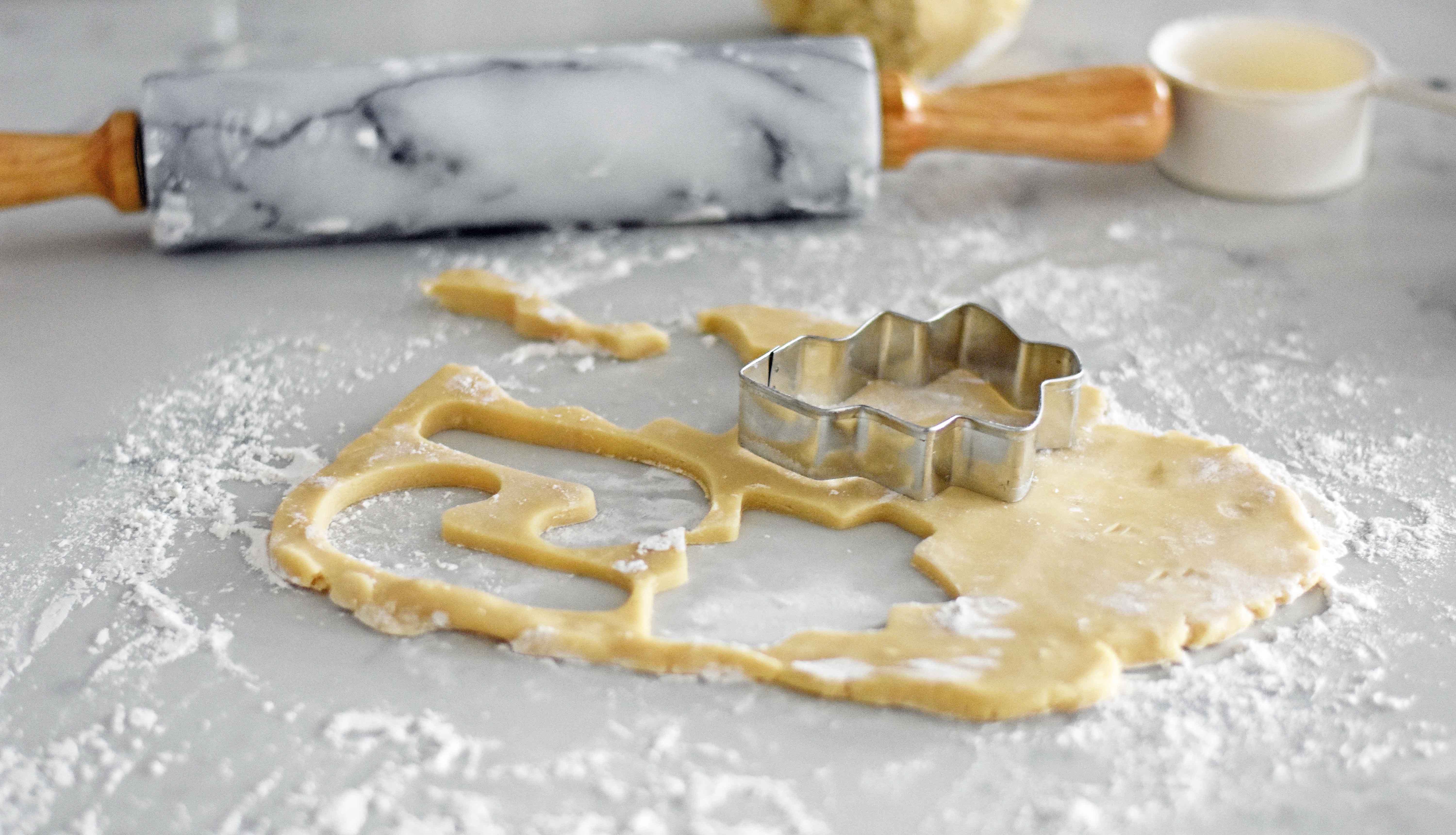 The BEST SUGAR COOKIE FROSTING:
The buttercream sugar cookie frosting recipe is made with sweet cream butter, powdered sugar, milk or cream, and a vanilla. So simple! Many buttercreams call for a ratio of 1 cup of butter to 8 cups of powdered sugar. That is way too sweet in my book!
I want to be able to taste the butter and not just a crazy amount of sugar. I use 1 cup of butter to 4 cups of powdered sugar. I find this ratio to be just right for a perfect buttercream frosting.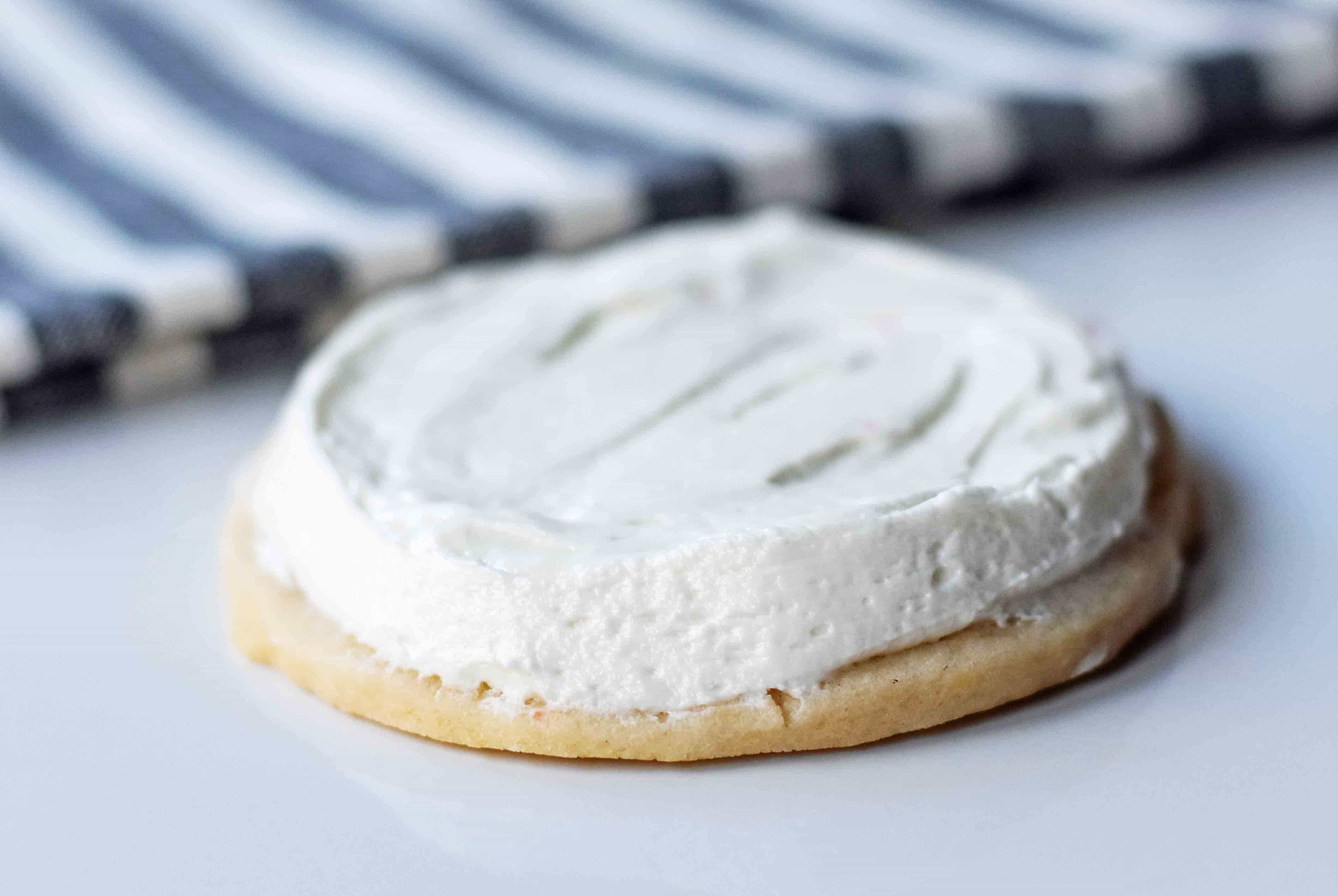 If you want to experiment with flavors, you can add almond, vanilla, peppermint, or even rum extract to the frosting. If you are looking for a traditional buttercream frosting, stick with pure vanilla extract.
If you want to focus on holiday flavors, go with almond, peppermint, or rum extract. Always remember that a little goes a long way! Start with a small amount of extract and you can always add more.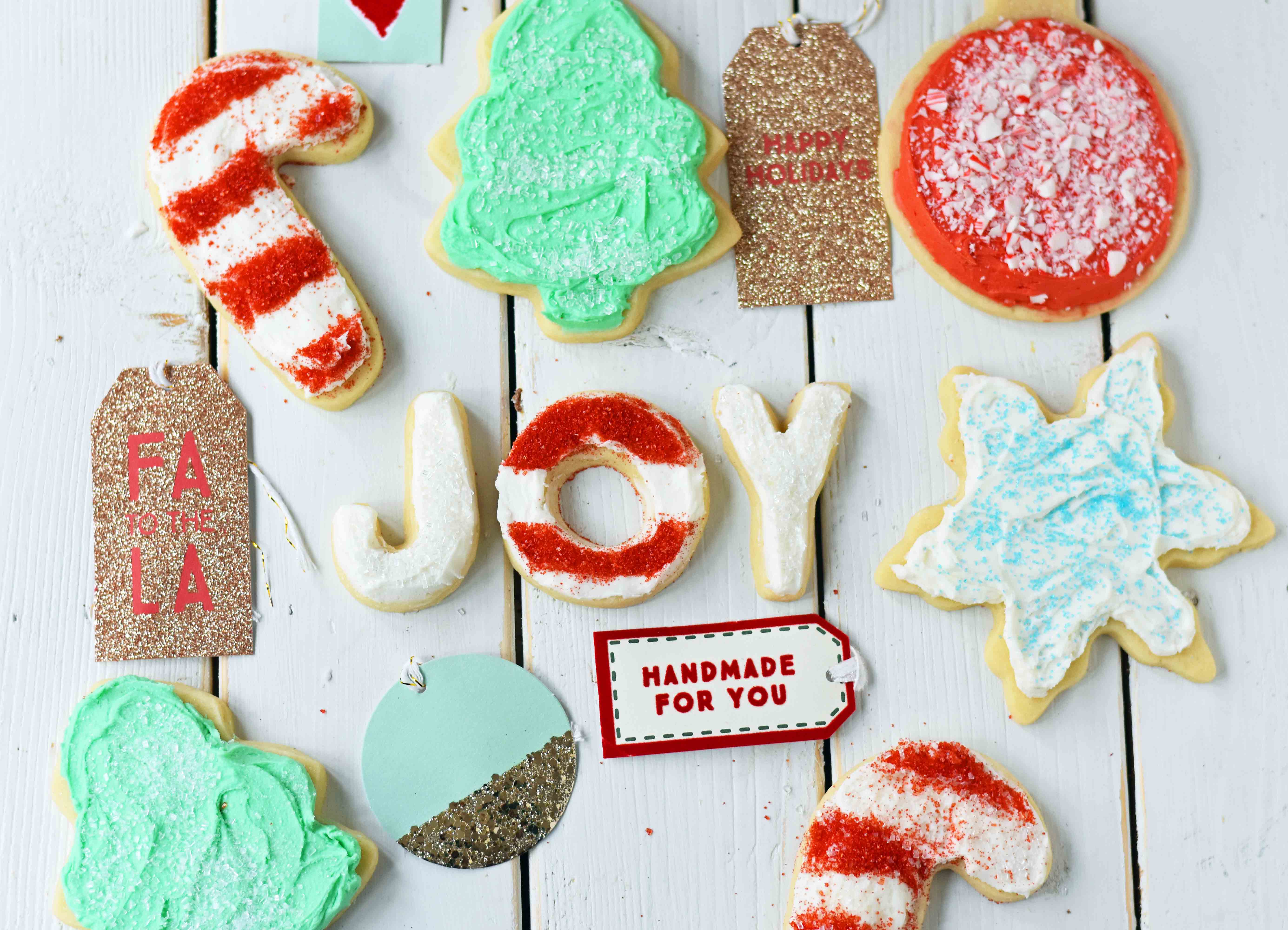 Top these Soft Chewy Sugar Cookies with sparkling sugar or sprinkles for a festive touch. These Soft Chewy Sugar Cookies freeze really well if placed in a freezer-proof container.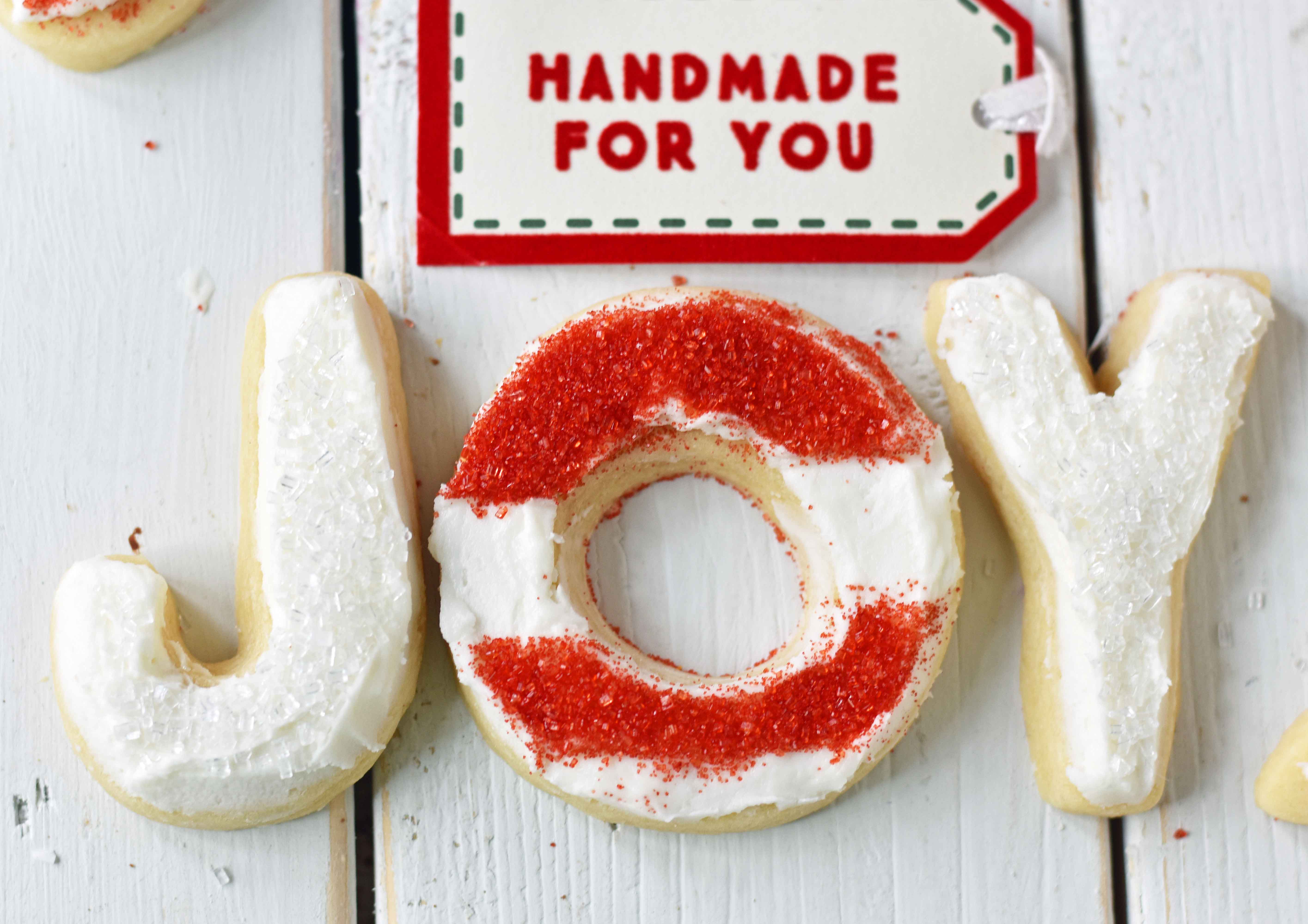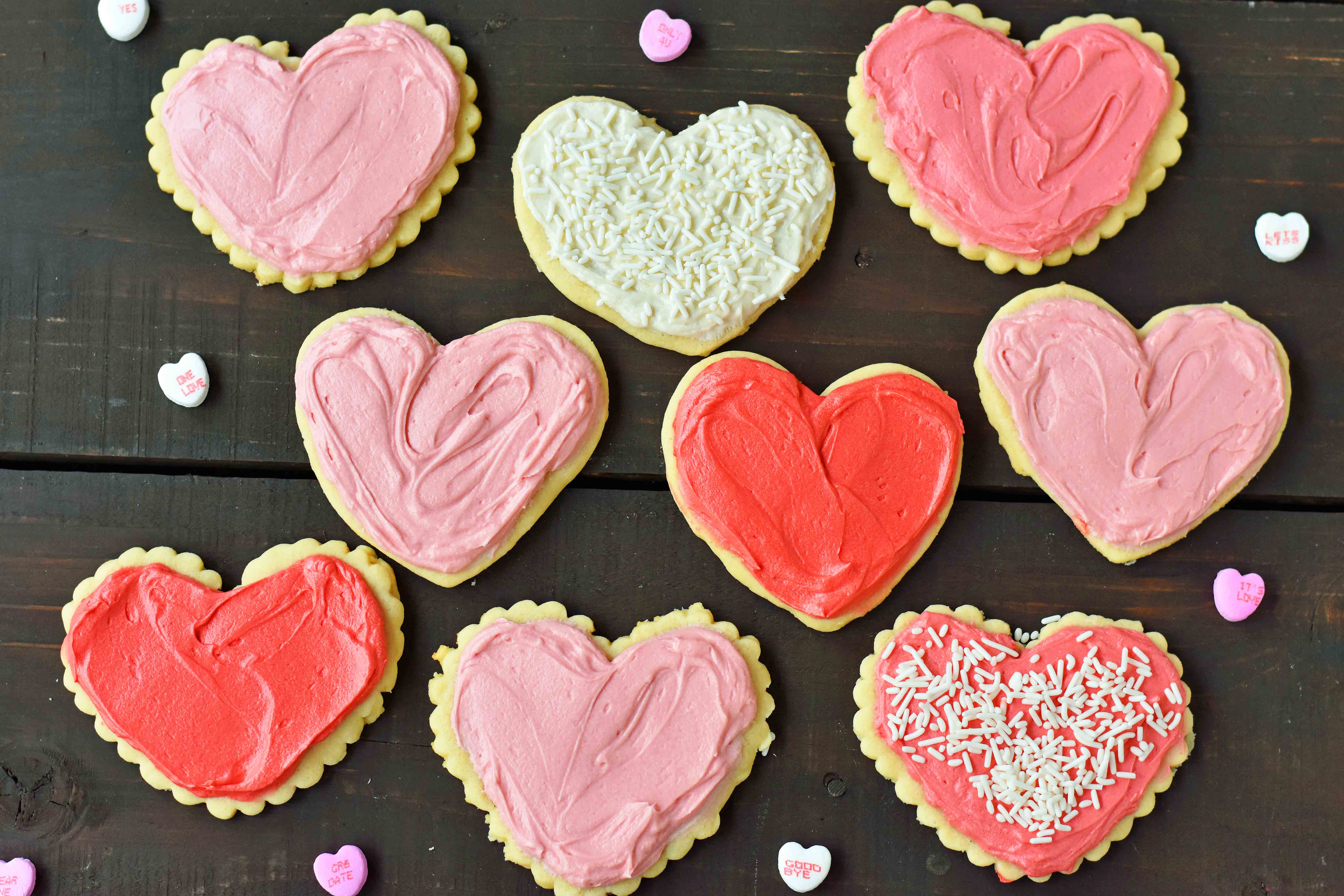 These Soft Chewy Sugar Cookies are the special cookies we leave out for Santa Claus every Christmas Eve. I love to watch my kids decorate their own cookies for Santa. I love that tradition. I don't want my kids to grow up! If you want to see more of our Christmas traditions, you can find our Christmas Bucket List post HERE.
If you are looking to make these Soft Chewy Sugar Cookies for Valentine's Day, find a list of ideas on how to celebrate the Valentine's Day holiday at home HERE.
Happy Baking, my friends!
PIN one of these images on PINTEREST to share with your friends: