Soft, chewy homemade Christmas Sugar cookies with buttercream frosting. This is the best cut out sugar cookie recipe!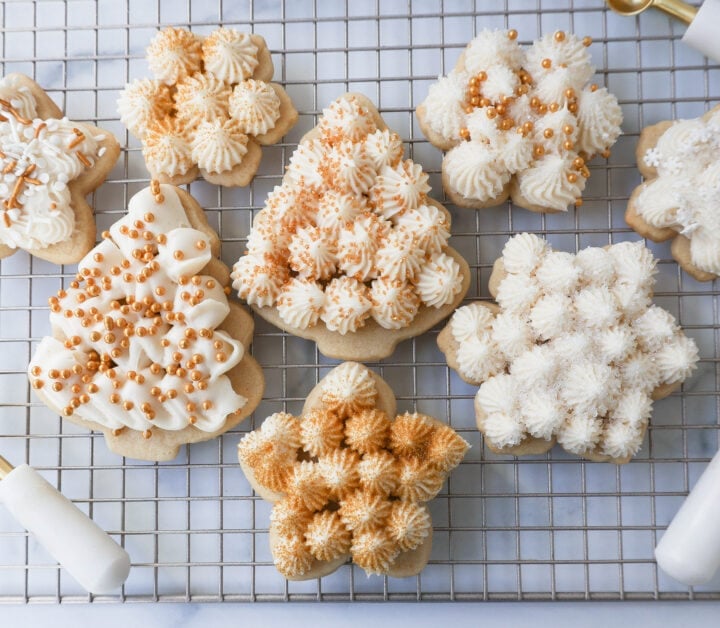 Welcome to Day #7 of the 12 Days of Christmas Cookies! I have loved creating new Christmas cookie recipes for you every single day.
I am sharing the classic Frosted Sugar Cookie Recipe. Don't let the simplicity fool you. This is a phenomenal sugar cookie with the best Christmas cookie frosting. This sugar cookie recipe has soft and thick centers and slightly crisp edges.
One of the best things about making sugar cookies is that you get to be creative! You can choose the decorations, the type of frosting you use from buttercream to cream cheese to royal icing, and the colors. The possibilities are endless!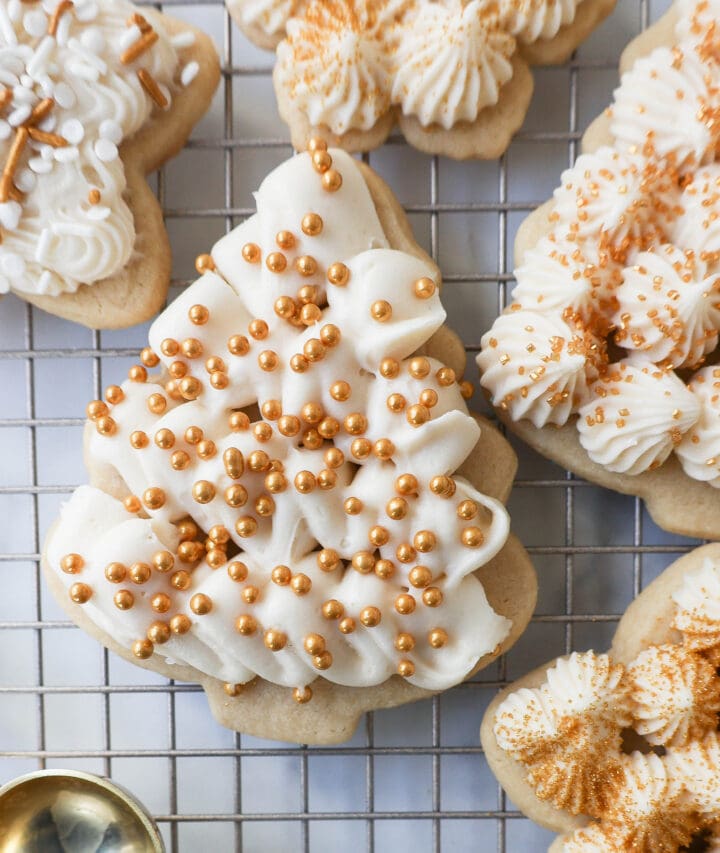 Why these are the Best Christmas Sugar Cookies:
Made with only 7 ingredients (plus frosting!)
The perfect rich, buttery flavor
Soft chewy centers with slightly crisp edges
The perfect canvas for creating beautiful AND delicious Christmas cookies!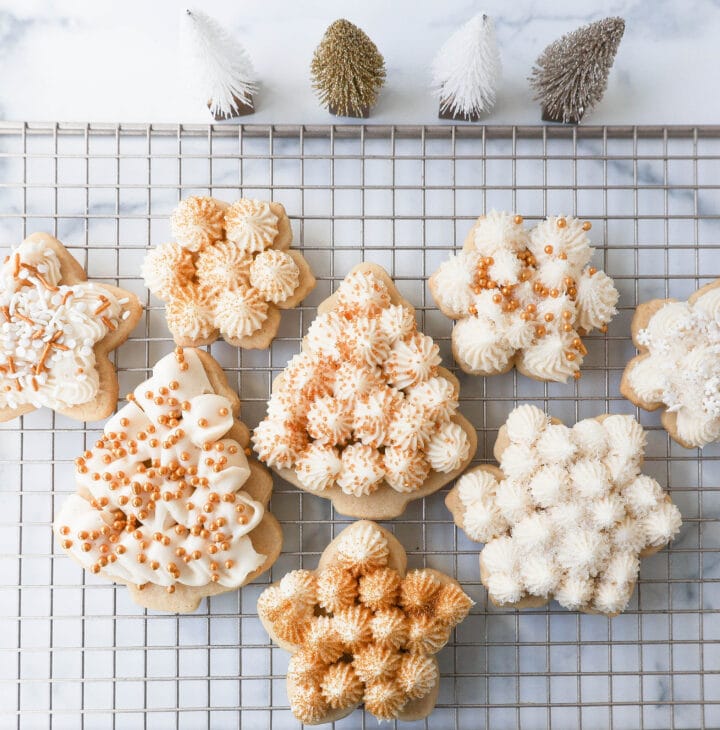 The Best Frosting for Christmas Cookies:
The best frosting for sugar cookies is up for debate but I prefer a classic buttercream frosting or cream cheese frosting. I love to combine my cream cheese frosting recipe and my buttercream frosting recipe to make the most perfect frosting for sugar cookies. The frosting recipe is simple and made with only 4 ingredients -- butter, cream cheese, powdered sugar, and vanilla. You can even add different flavorings like almond or peppermint.
You can choose your favorite color palette from red and green to white and blue for snowflakes or white and gold.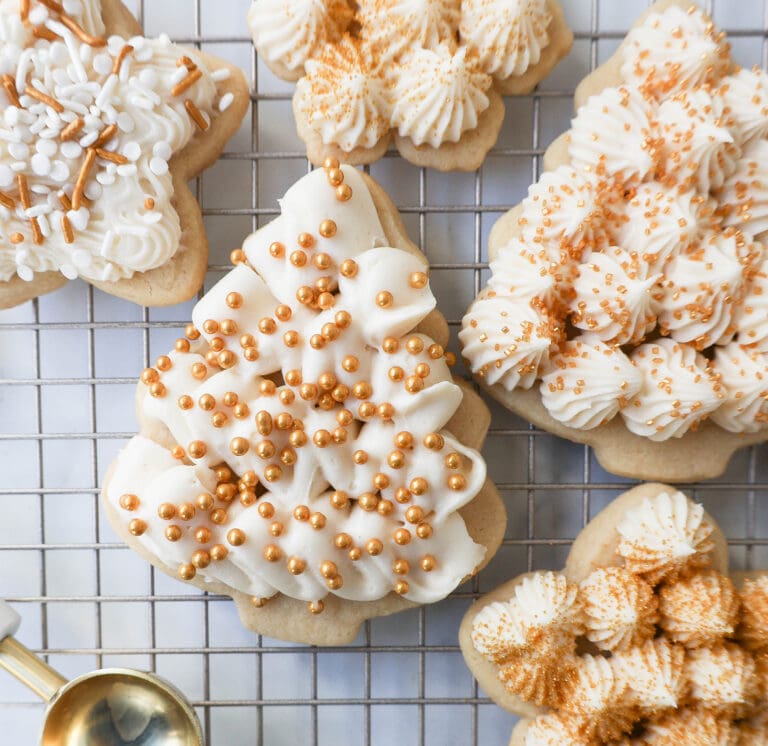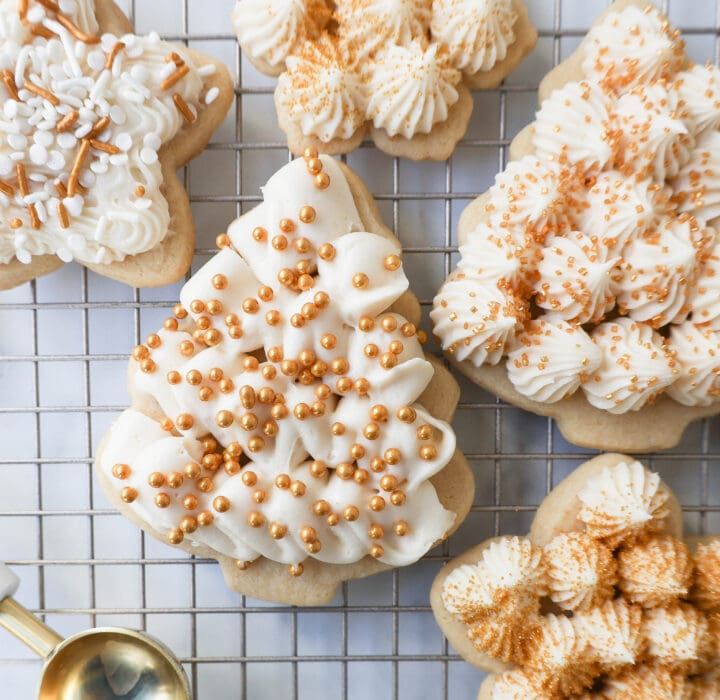 This year I decided to go with a classy gold and white theme and pipe the homemade frosting onto the sugar cookies and then sprinkle them with gold and white sprinkles. But you can sprinkle them with any color of your favorite holiday sprinkles!
This sugar cookie recipe is super simple and only calls for 7 ingredients. It makes super soft and chewy sugar cookies topped with frosting.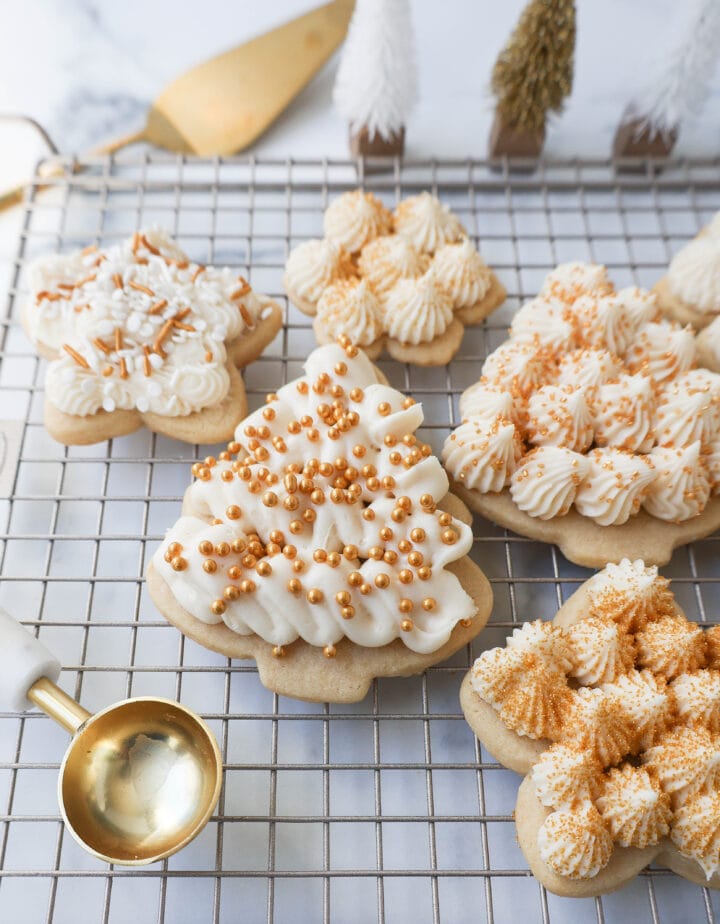 Roll Out Christmas Sugar Cookie Ingredients:
Butter - use unsalted or salted butter in this recipe. If using salted butter, reduce the salt amount by ¼ teaspoon. I suggest using high-quality butter in this sugar cookie recipe.
Sugar - this sugar cookie recipe calls for granulated sugar only which gives it the perfect buttery edges.
Eggs -- this recipe calls for 1 egg and 1 egg yolk. The egg yolk brings moisture to the sugar cookies and helps to create chewy centers.
Vanilla Extract -- I suggest using pure vanilla extract. My favorite brands are Nielsen-Massey Vanilla Extract or Real Mexcian Vanilla.
Flour -- this recipe calls for all-purpose flour. You may use half cake flour for a more tender texture.
Baking Powder - this is what gives the sugar cookies the best rise in the oven. I suggest using aluminum-free baking powder.
Salt -- the flavor enhancer and an integral ingredient in baking.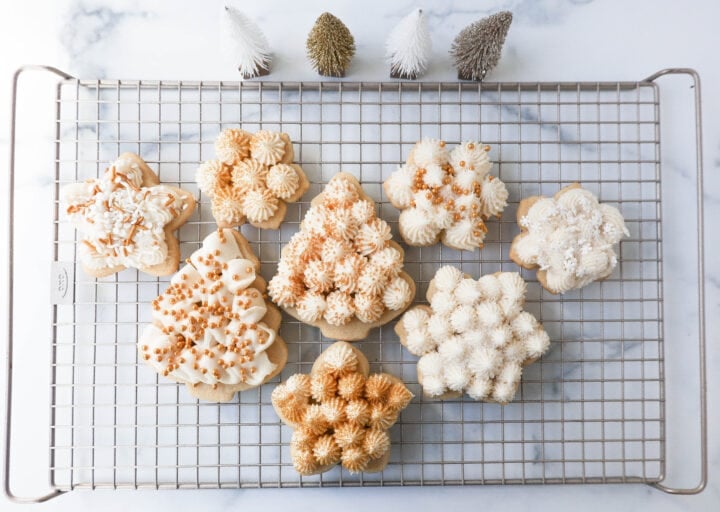 Sugar Cookie Frosting Ingredients:
Butter -- use salted butter in this frosting recipe. If you use unsalted butter, add a pinch of salt to the frosting.
Cream Cheese -- use full-fat cream cheese and ensure that it is softened to create the creamiest frosting.
Powdered Sugar -- if you want a thicker frosting, add ¼-1/2 cup more powdered sugar.
Vanilla Bean Paste -- for the most vanilla flavor, use vanilla bean pasteor scrape the vanilla seeds from a vanilla pod.
This is the perfect Sugar Cookie Frosting Recipe. This Christmas Cookie Frosting is made with butter, cream cheese, powdered sugar, and vanilla bean paste, for extra vanilla flavor.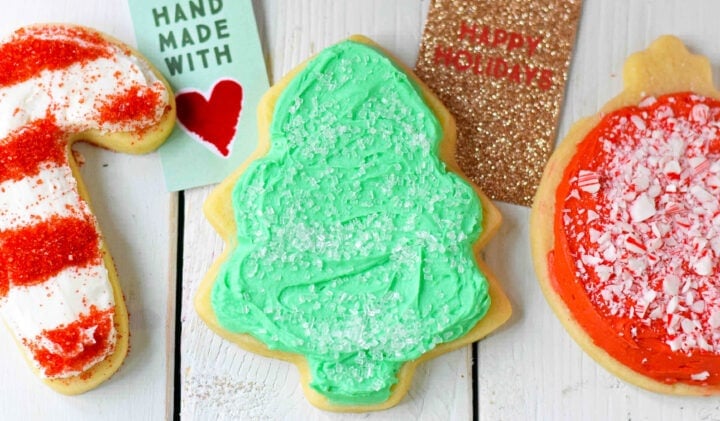 Christmas Cookies Baking Tips:
Use high-quality butter. This needs to be barely softened butter so you don't want it to be too soft or melted.
Chill the dough for about 1-2 hours to help keep the shape while baking. A pro tip is to roll out the dough BEFORE chilling it. This will make it so much easier to roll out. If you roll the sugar cookie dough onto a piece of parchment or wax paper, you can transfer it to a cookie sheet, cover it, and place it in the refrigerator to chill before cutting it into shapes.
If you prefer thicker cookies, roll out the cookie dough thicker.
Cut out the shapes close together. When cutting out cookie shapes, cut as close as possible to each other to get as many cookies as possible from the rolled-out dough.
This recipe makes soft sugar cookies. If you want crisper cookies, bake them for 2 minutes longer.
Use light-colored baking sheets for even baking.
Let cookies cool before frosting!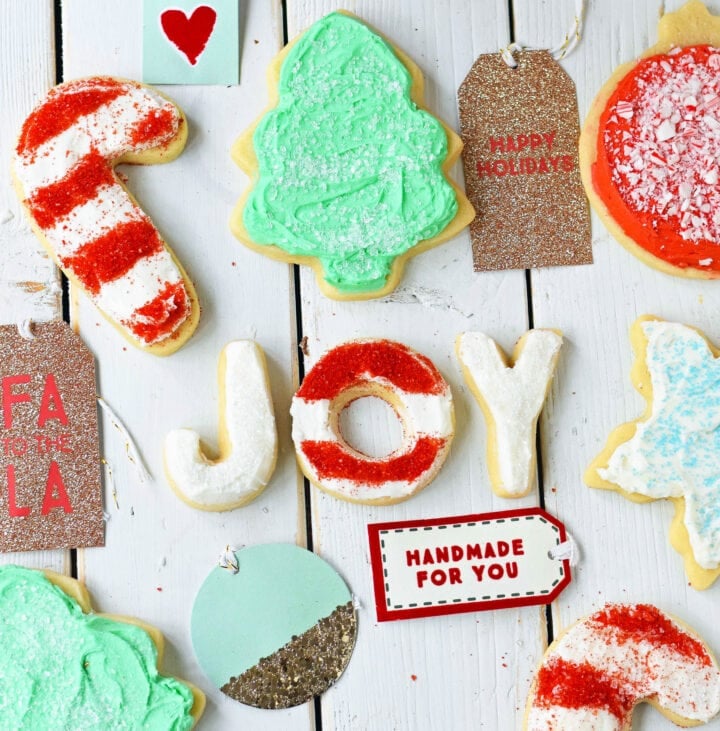 What type of butter should I use in homemade sugar cookies?
I suggest using a high-quality butter. I would suggest Kerry Gold or any European butter. I also suggest Land O Lake and Challenge Butter as well.
BAKING TOOLS: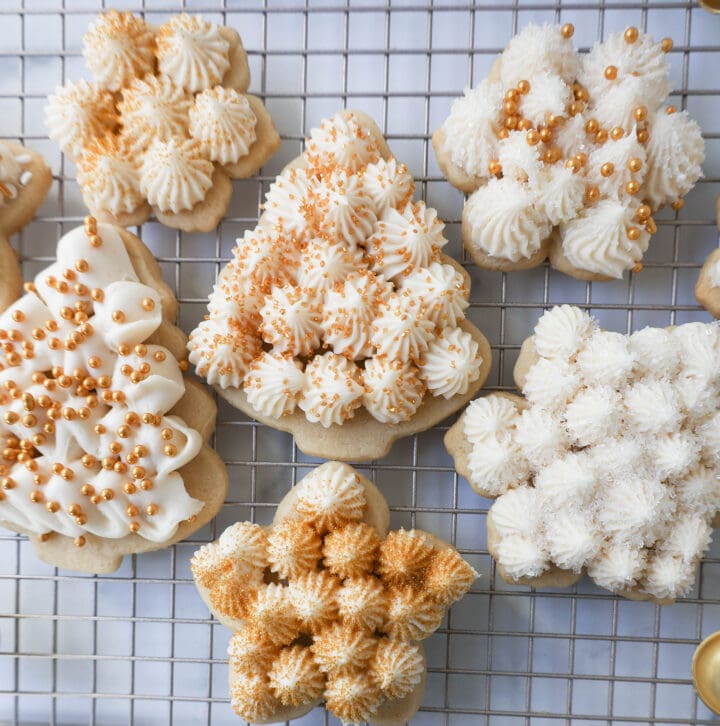 HERE ARE THE FIRST DAYS OF THE 12 DAYS OF CHRISTMAS COOKIE RECIPES:
I love to hear from you! If you make this recipe, please be sure to leave a comment and give this recipe a rating. Sign up for my newsletter below so you never miss a recipe. Thank you for following along! I truly do have the greatest readers. FOLLOW ME ON:INSTAGRAM — FACEBOOK— PINTEREST