Chocolate Caramel Pecan Turtle Cookies made with a chewy chocolate cookie rolled in pecans and topped with caramel and melted chocolate. The best turtle cookie recipe!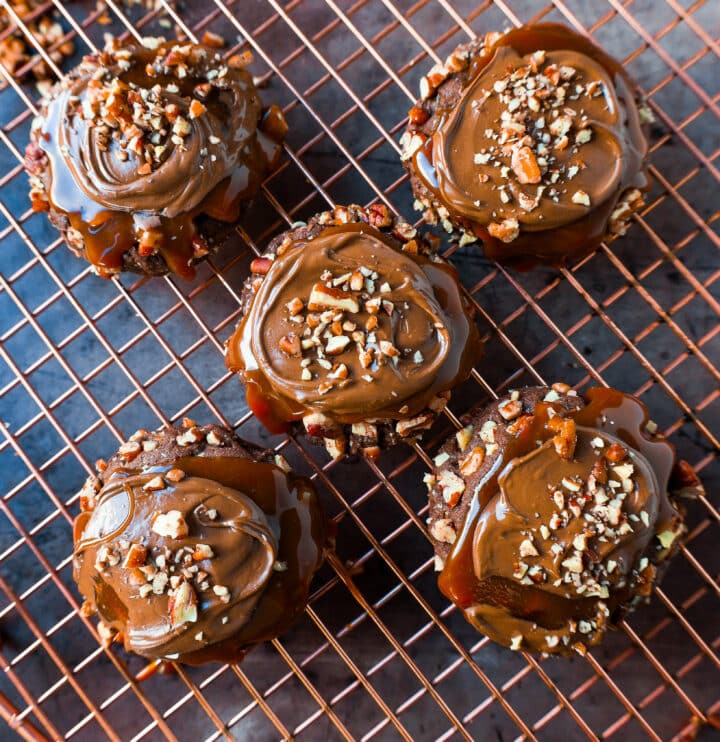 Welcome to Day #6 in my 12 Days of Christmas Cookies! This has been the most fun challenge for me and the amount of baking that has gone down in my kitchen is unreal! I am giving away cookie right and left.
I wanted to create a few gourmet Christmas cookies that will really impress. These Chocolate Caramel Turtle Cookies have it all -- rich decadent chocolatey flavor, the sweet and buttery flavor from the caramel, and the nutty crunch from the pecans. This is definitely a luxurious Christmas cookie!
This may sound more complicated than it really is. It starts off with a soft, chewy chocolate cookie, rolled in chopped pecans and baked. Then the chocolate cookies are topped with caramel and milk chocolate ganache. A perfect chocolate caramel cookie!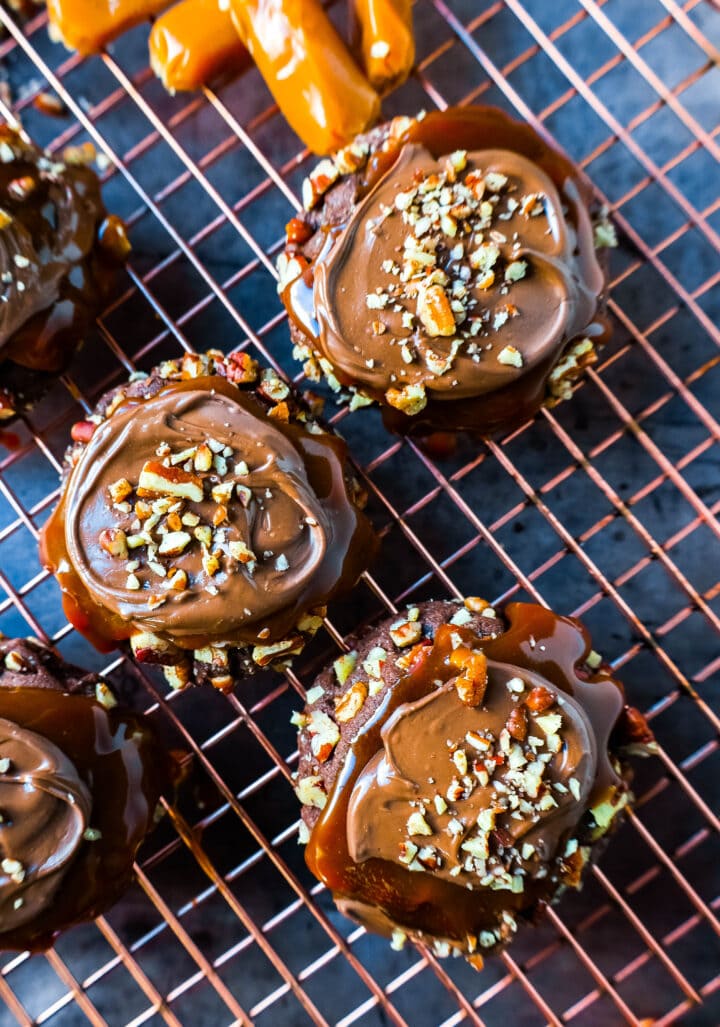 Chocolate Caramel Pecan Turtle Cookie Ingredients:
Chocolate Cookie:
Butter -- use salted or unsalted butter in this recipe. If using salted butter, reduce the salt by ¼ teaspoon.
Brown Sugar -- this recipe calls for light brown sugar and it helps to create chewy chocolate cookies.
Sugar -- this recipe calls for granulated sugar.
Eggs -- use large-sized eggs.
Vanilla Extract -- use pure vanilla extract. I suggest Nielsen-Massey Vanilla Extract or Real Mexcian Vanilla.
Unsweetened Cocoa Powder -- this is unsweetened baking cocoa found in the baking aisle. I buy the Callebaut cocoa powder at Winco in their bulk bin section.
Flour -- this recipe calls for all-purpose flour.
Cornstarch -- this is what adds the perfect soft texture and thickens the cookie without turning them cakey.
Baking Soda -- this is what helps the cookies to rise once they hit the oven to bake.
Salt -- this is the flavor enhancer and an integral ingredient in baking.
Topping:
Caramel Dip or Dulce de Leche -- this needs to be a thick caramel, not a runny caramel sauce. I like to use caramel dip (found in the produce section of the grocery store) because of its thickness.
Pecans -- use chopped pecans to roll the chocolate cookie dough in before baking.
Milk Chocolate Chips -- use either milk chocolate chips (my favorite milk chocolate baking chips are Guittard) or a milk chocolate bar.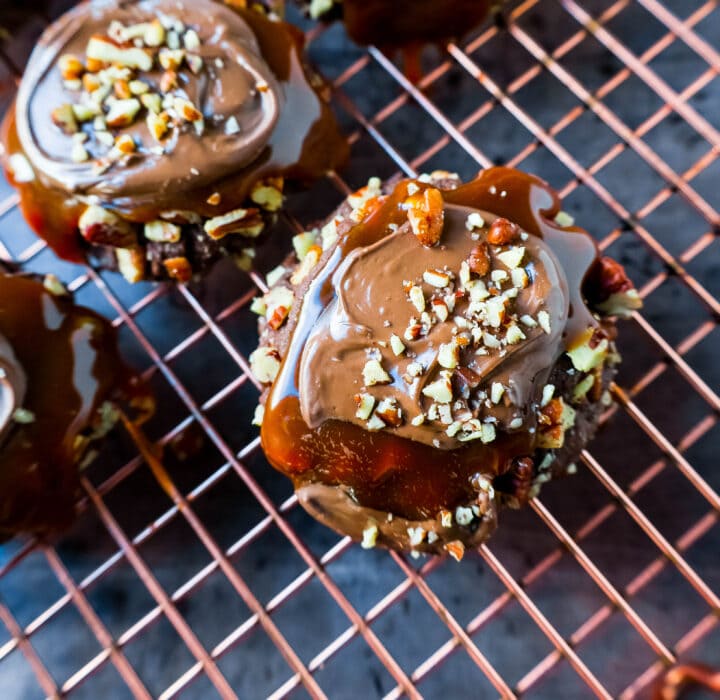 How to make Turtle Cookies:
Start by creaming together butter, brown sugar, and sugar until light and fluffy. Add eggs and vanilla extract.
Fold in cocoa powder, flour, cornstarch, baking soda, and salt. Don't overmix or it will create too much gluten, which will create a tough cookie.
Scoop out the cookie dough and roll into balls. These cookies can be made small, medium, large, or extra-large! I would say if you want an extra-large cookie, you want to roll it into 6-ounce balls. A large cookie would be 4.5-5 ounces. A medium cookie would be about 3 ounces. A small cookie of about two ounces. I suggest making them about 2.5 - 3 ounces.
Roll the sides of the cookie dough balls into chopped pecans and place on a light-colored baking sheet (may be lined with parchment paper). Gently press down on the cookie dough balls to slightly flatten them.
Bake for about 9-11 minutes. Be careful not to overbake these cookies. Set aside to cool.
Once the cookies have cooled, carefully top each cookie with caramel dip, and spread it all over the cookie.
Melt the milk chocolate in the microwave on half power or in a double boiler. Drizzle the top with the melted chocolate. May sprinkle with extra pecans, if so desired.
Chill in the refrigerator for at least 30 minutes to allow the caramel and milk chocolate to set up.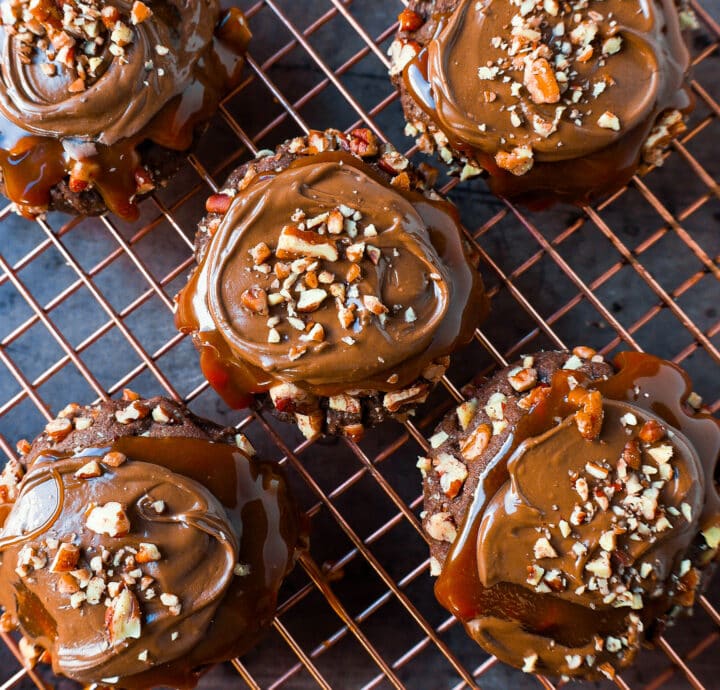 How to store Chocolate Caramel Pecan Cookies:
These cookies can be stored in an air-tight container in the refrigerator for 5-7 days. Serve these cookies chilled.
HERE ARE THE FIRST DAYS OF THE 12 DAYS OF CHRISTMAS COOKIE RECIPES: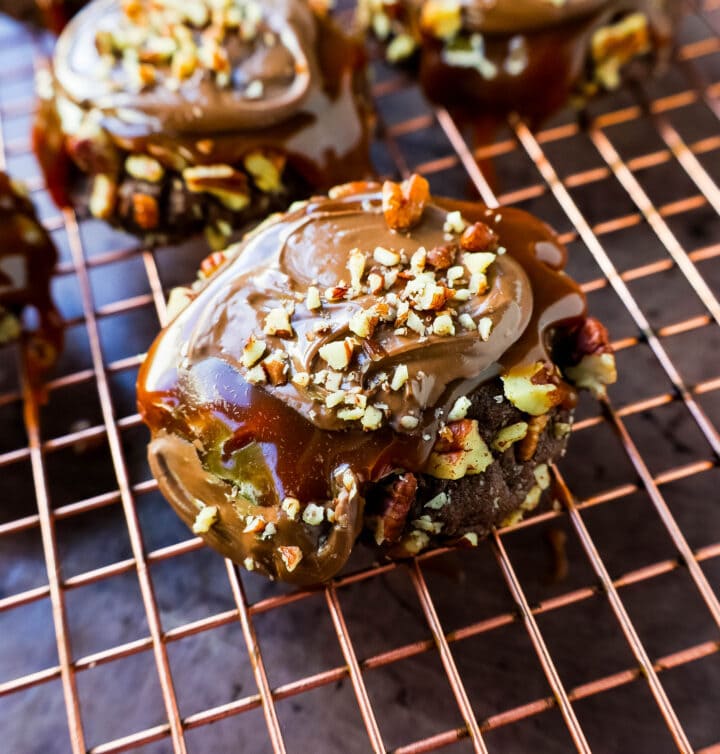 BAKING TOOLS: