Soft Cranberry White Chocolate Chip Cookies are perfectly chewy with buttery crispy edges filled with sweet dried cranberries and creamy white chocolate chip chips. The Best White Chocolate Chip Cookie Recipe!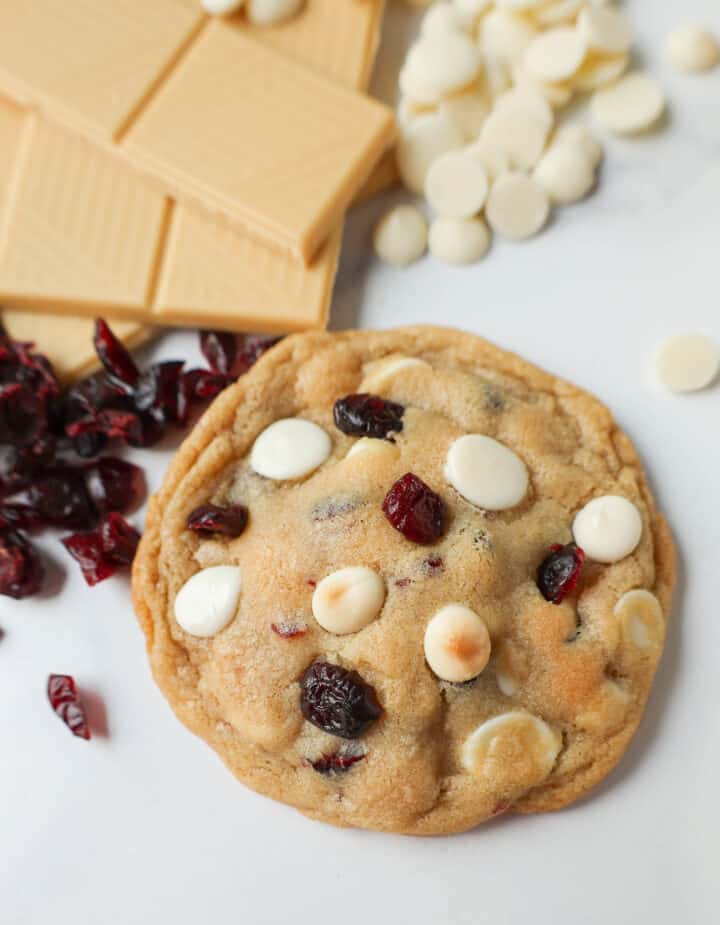 I am 100000% confident to declare these the Best Cranberry White Chocolate Chip Cookies.
These are the perfect Cranberry White Chocolate Cookies filled with sweetened tart dried cranberries and decadent white chocolate. The centers are super soft and chewy and the edges have the just right amount of buttery crispness. It is the perfect holiday cookie!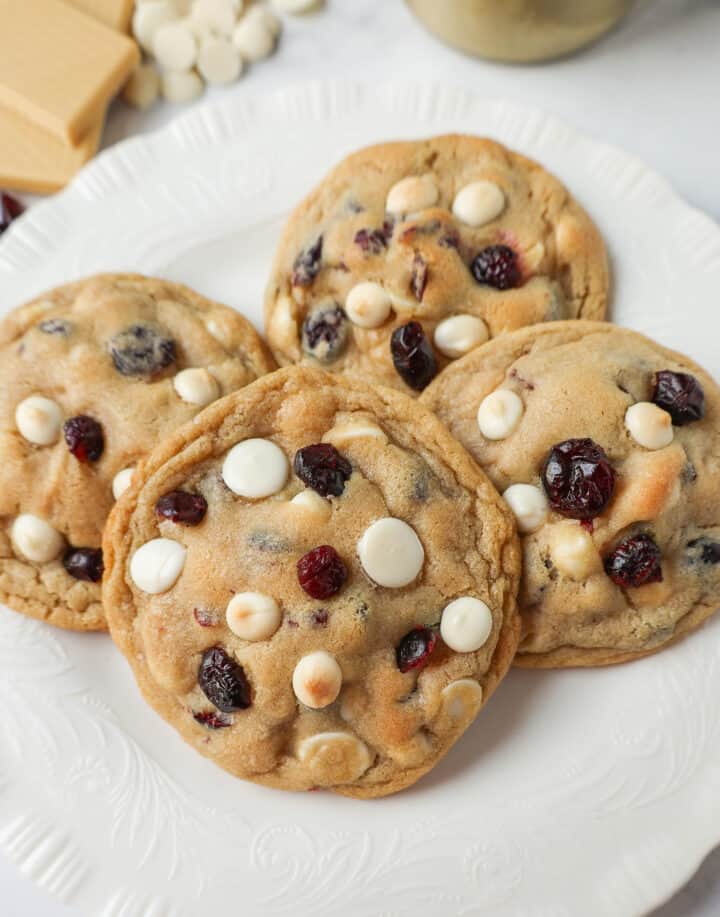 My Cranberry Oatmeal Cookies have been a HUGE hit on Modern Honey and always receives 5-star reviews. I wanted to create a similar recipe without oatmeal and add white chocolate chips. The result was the best cranberry white chocolate chip recipe in the world!
The key to making the best Craisin White Chocolate Chip Cookies is the balance of butter, sugar, brown sugar, and flour. For the maximum chewy texture, there is an abundance of brown sugar which adds that warm, caramel notes and makes the cookies extra chewy.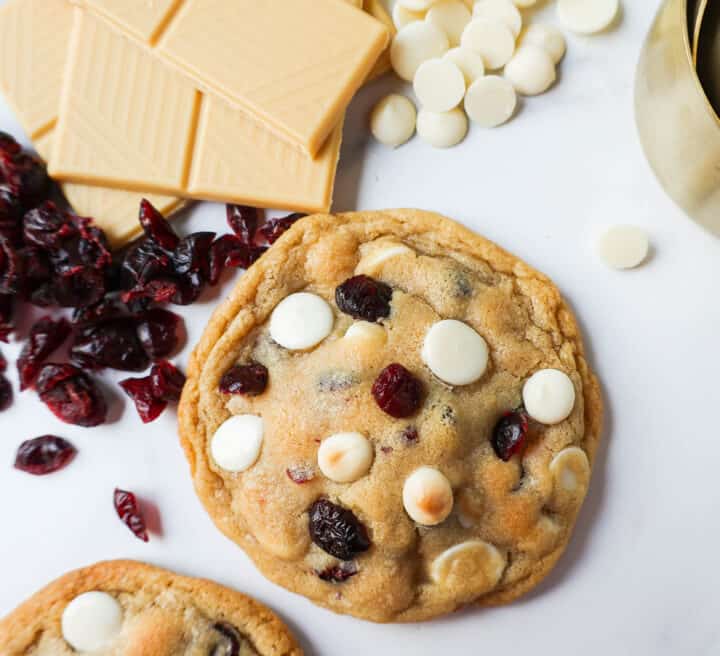 White Chocolate Cranberry Cookies Ingredients:
Butter -- use salted or unsalted butter in this cookie recipe. If you use salted butter, reduce the salt by ¼ teaspoon.
Brown Sugar -- use light golden brown sugar.
Sugar -- this recipe calls for granulated sugar.
Eggs -- always use large eggs.
Vanilla Extract -- my favorite pure vanilla extract is made by Nielsen-Massey or true authentic Mexican vanilla.
Flour -- use all-purpose flour in these cookies.
Baking Soda -- this is what gives the cookies the perfect rise.
Salt -- the flavor enhancer and integral ingredient in baking.
White Chocolate Chips -- I suggest using quality white chocolate chips from brands like Guittard and Ghirardelli.
Dried Cranberries -- also known as Craisins. I suggest buying these fresh to ensure a soft chewy texture.
How to make White Chocolate Chip Cookies with Craisins:
Start by preheating your oven. I would suggest checking your oven temperature with an oven temperature to ensure even baking.
Cream together softened butter, brown sugar, and sugar for about 4 minutes, or until light and fluffy. This is an important step as the butter wraps around the sugar crystals and helps to create a smooth cookie texture.
Add eggs and pure vanilla extract and mix for 1 minute longer, scraping the sides of the bowl halfway through mixing.
Fold in flour, baking soda, and salt. You don't want to overmix once you add the dry ingredients, as it will create too much gluten in the cookie dough, which can create a tough cookie.
Fold in white chocolate chips and dried cranberries (craisins). I suggest Ghirardelli or Guittard white chocolate chips.
Scoop the cookie dough onto parchment paper-lined light-colored baking sheets. The biggest tip would be to NOT OVERBAKE your cookies! The cookies will continue to bake on the cookie sheet once they are removed from the oven.
Let set up on a baking sheet for 3-4 minutes before transferring to a cooling rack.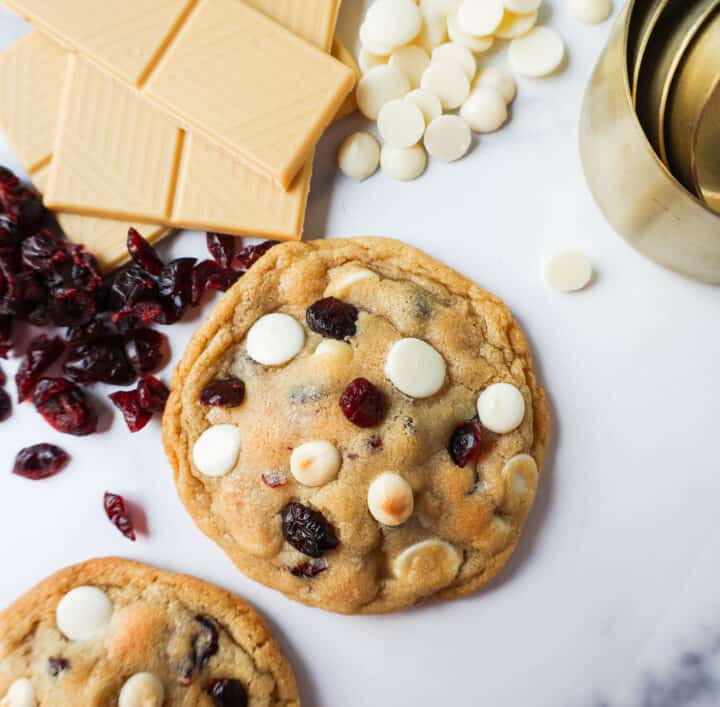 What makes a cookie moist and chewy?
To make a chewy chocolate chip cookie, you have to have the correct ratio of butter, brown sugar, sugar, and flour. Brown sugar has molasses in it and helps to create a chewy texture. If you want a chewier cookie, I suggest using more brown sugar than sugar.
Recommended Baking Tools:
Light-Colored Baking Sheets -- I suggest using a heavy-gauge aluminum pan. If you use a dark-colored baking sheet, the heat from the oven is attracted to the dark color and the bottoms of the cookies will cook faster and may become too brown.
Kitchenaid Mixer -- this is my go-to stand mixer and is perfect for creating the perfect cookies.
Parchment Paper Sheets -- these make for an easy clean-up plus help the cookies to bake evenly.
Measuring Cups and Spoons - you want to invest in a quality set of measuring cups and spoons.
Large Cookie Scoop —

a cookie scoop is perfect to use to make uniform looking, rounded cookies.

Wire Cooling Rack — a gridded wire rack allows air to circulate around the cookies which keeps them from getting soggy.
These are the best Soft White Chocolate Cranberry Cookies! I can't wait to hear from you once you try them. If you love them, please leave a 5-Star Review and comment below. I appreciate it so much!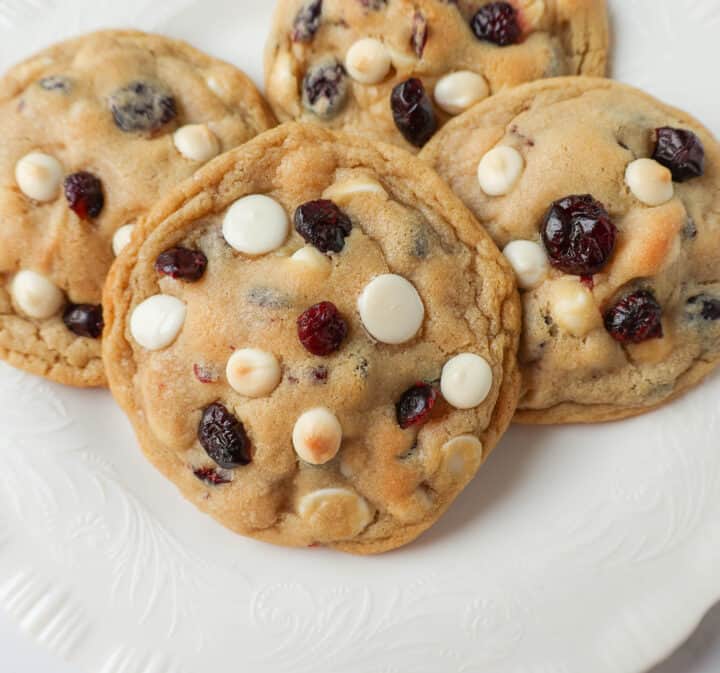 Here are some other popular holiday cookie recipes...
This festive holiday Cranberry Orange Cake Recipe is beautiful and delicious!