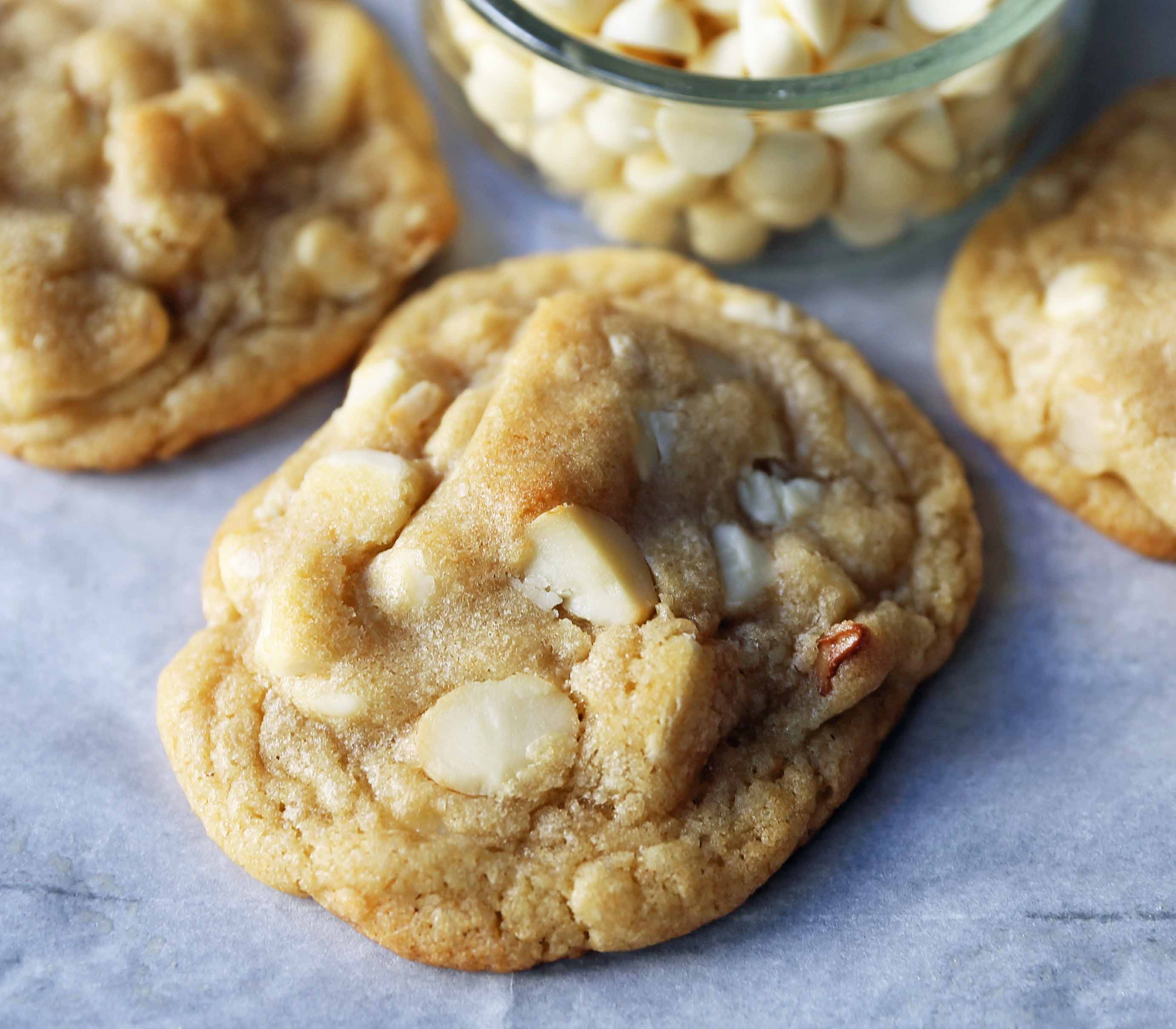 White Chocolate Macadamia Nut Cookies
Soft chewy white chocolate macadamia nut cookies are a sweet, buttery cookie and are always a crowd pleaser!
This has always been one of my all-time favorite cookies! It has everything in one cookie -- buttery goodness, the sweetness from the white chocolate chips, the saltiness from the macadamia nuts, and a perfect soft and chewy texture.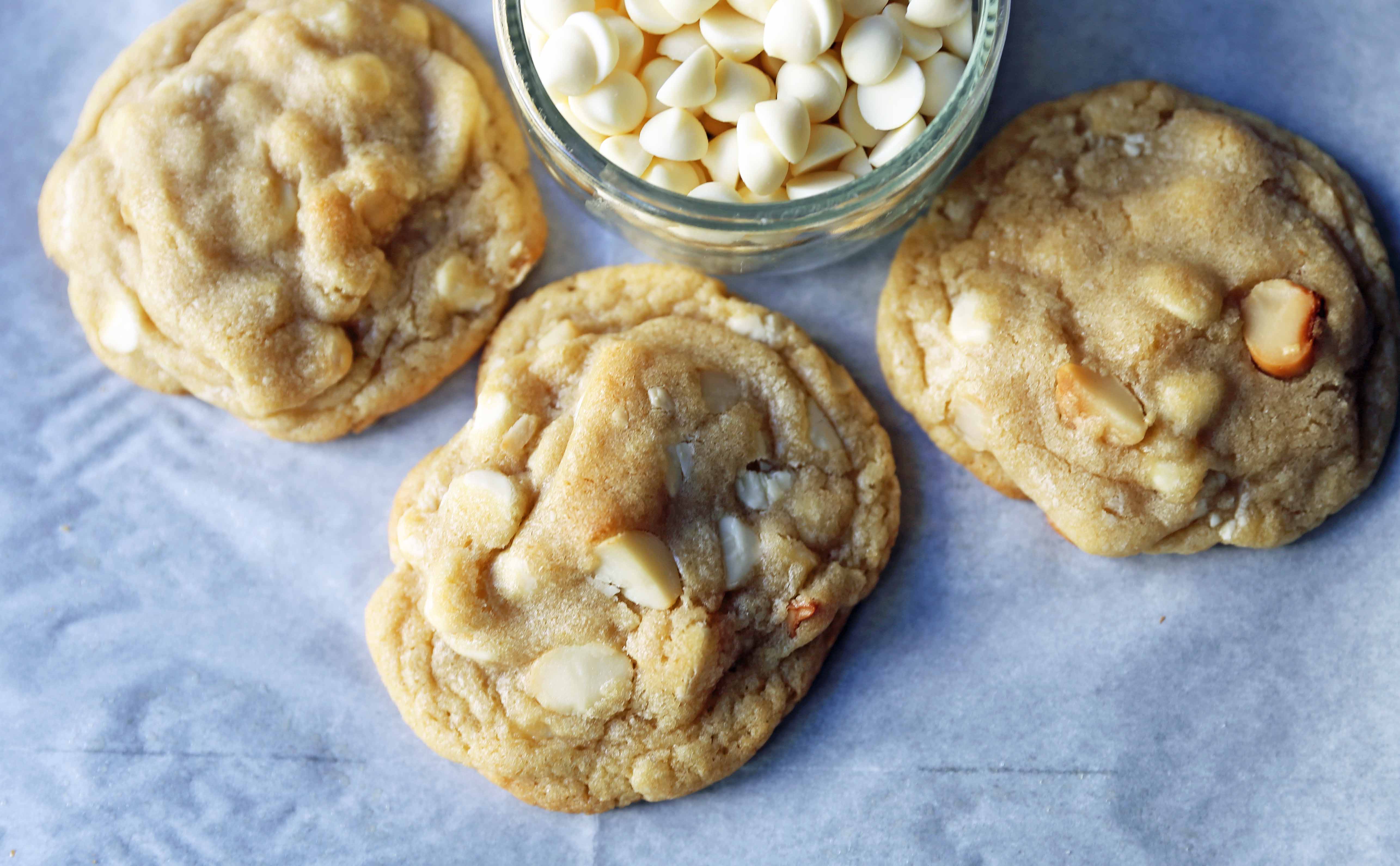 Growing up this was one of my favorite cookies to make. I will never forget traveling to San Francisco in a big RV with my family of 8.  We hit the famous Pier 39 and I beelined it to the Blue Chip cookie shop. Obviously, I have been a cookie freak since the time I was a little girl. I ate a white chocolate macadamia nut cookie every single day of that trip and as soon as I came home, I whipped up my own version and have been hooked ever since.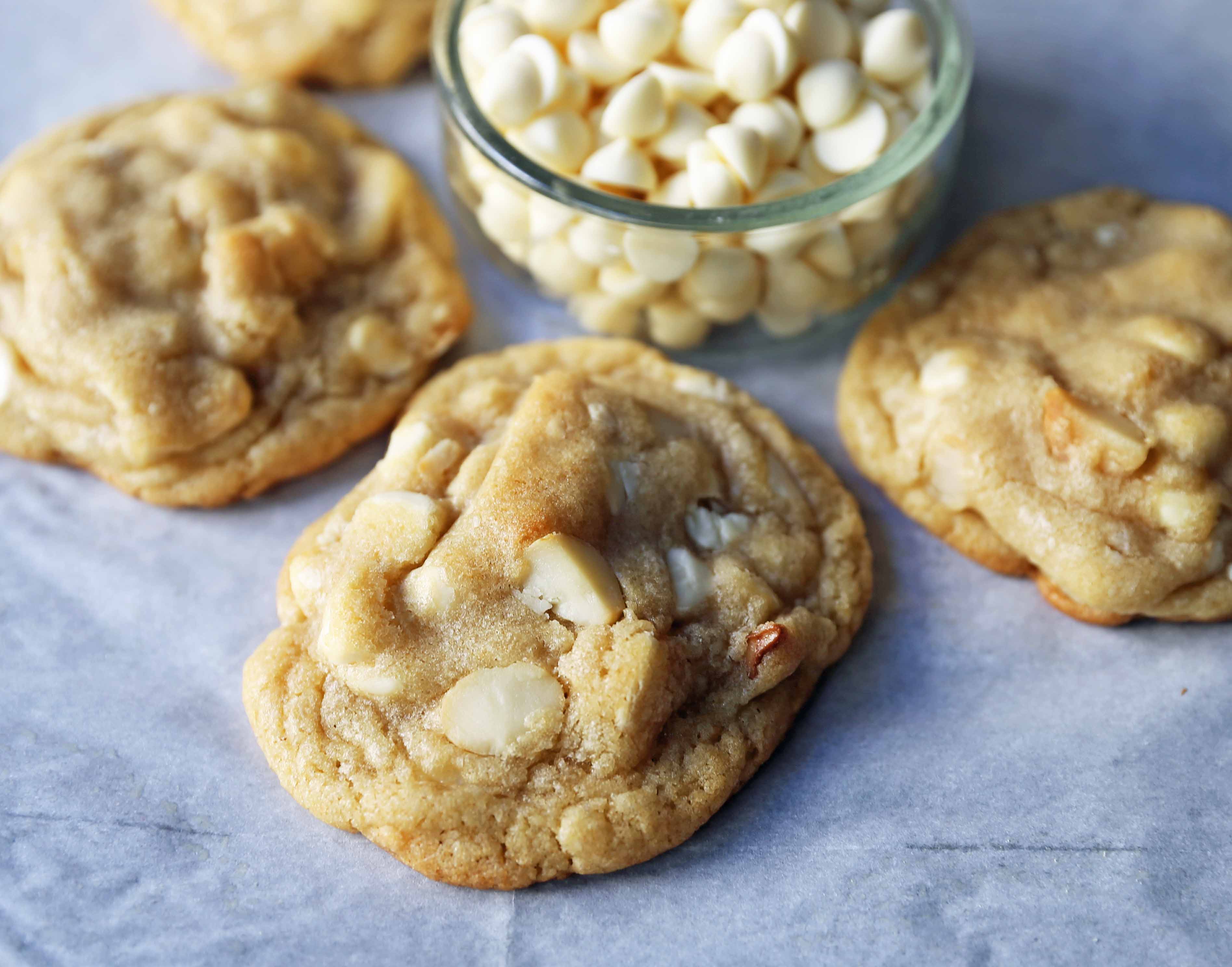 These White Chocolate Macadamia Nut Cookies also remind me of our time in Hawaii. Since macadamia nuts grow in Hawaii, you find them everywhere -- even in shave ice! When we arrived home from Hawaii this past summer, I couldn't wait to whip up a batch of these cookies to remind me of being back in Hawaii.  These are the perfect tropical cookie!
If you want to add a little more tropical flair to these cookies, add coconut to the cookie dough.  This can be sweetened flaked coconut or unsweetened coconut flakes. The sweetened flaked coconut is much softer and moister than the unsweetened flakes. The unsweetened coconut flakes are drier and have a slight crunch so it depends on what you are looking for.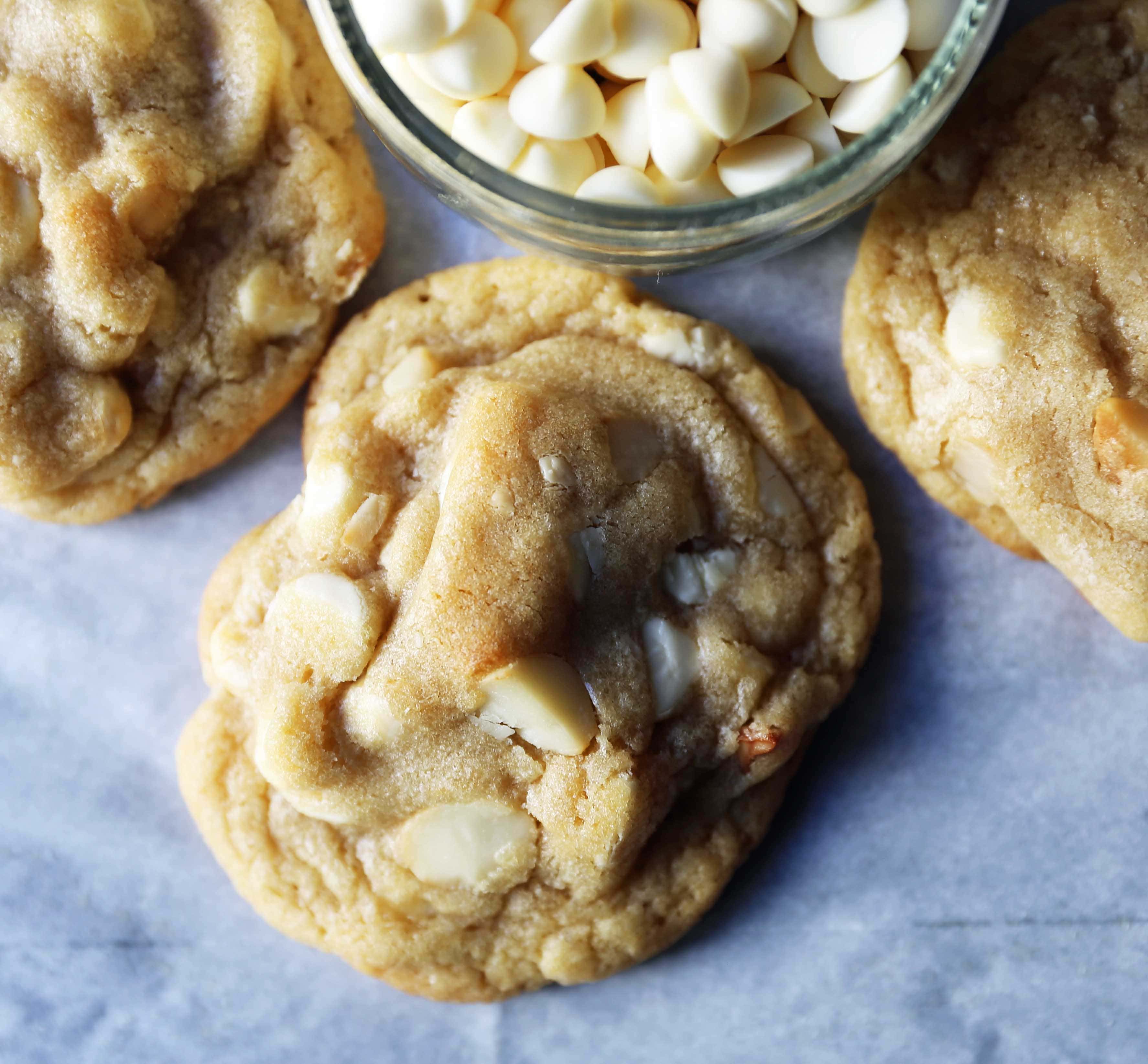 How to make the BEST White Chocolate Macadamia Nut Cookies:
 Cream Butter, Brown Sugar, and Sugar with a mixer for at least 4 minutes, until light and fluffy.  This process is an important step as it creates a smooth texture and adds air into the dough which will help give the cookies volume and loft once they hit the oven.
Add eggs one at a time, mixing well after each addition, and then add the vanilla.
Use good-quality white chocolate chips. All white chocolate is not created equal. Guittard and Ghirardelli are the hands-down winners in my book.
Bake just until the edges begin to turn a light golden brown color. These cookies are meant to be soft and chewy in the center so don't overbake.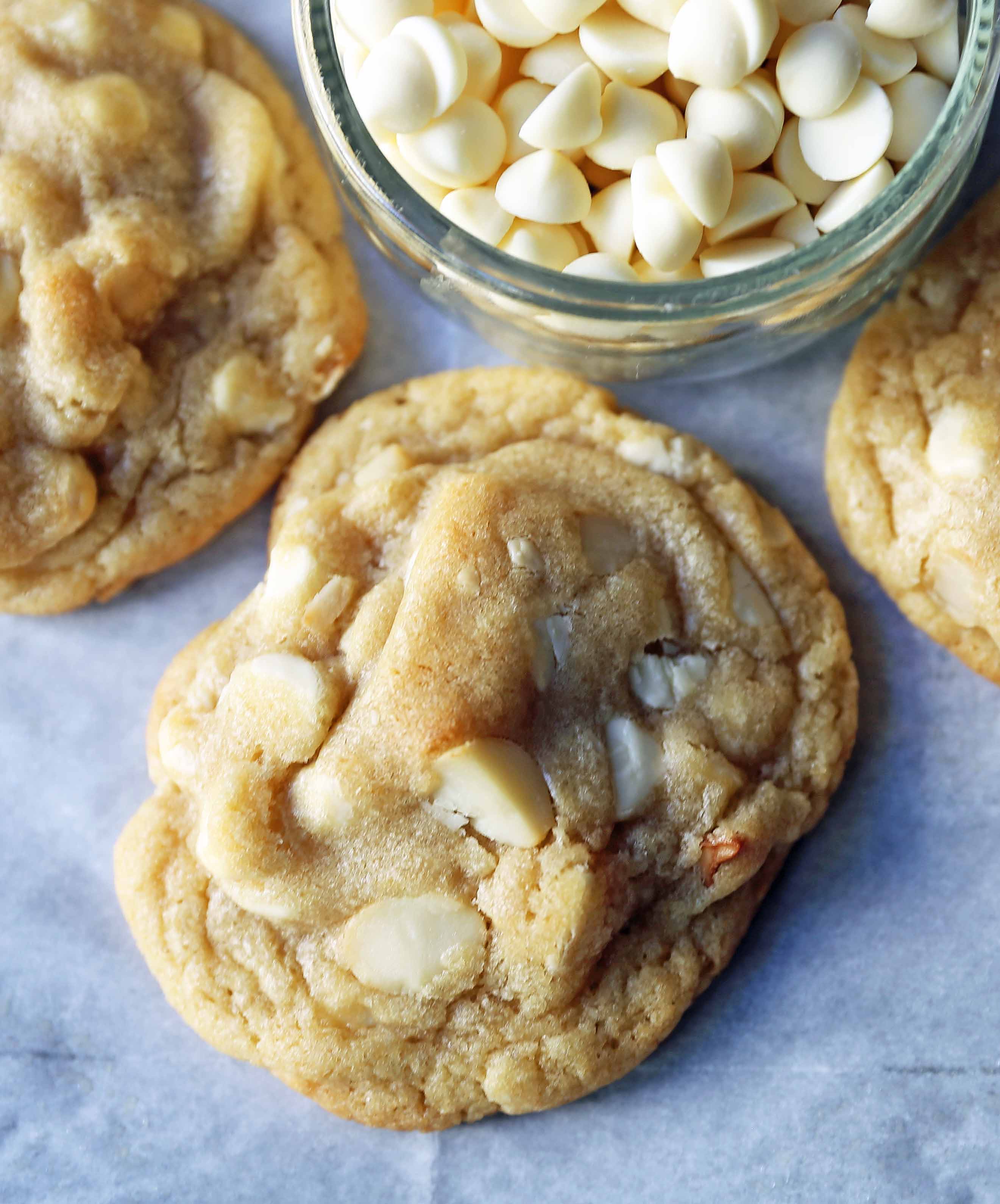 If you LOVE cookies, check out these other cookie recipes:
Levain Bakery Copycat Chocolate Chip Cookies Recipe
The Best Classic Chocolate Chip Cookies
Cinnamon Sugar Snickerdoodle Cookies
Lemon Sugar Cookies 
My favorite baking tools:
Aluminum Baking Sheets
Non-Stick Parchment Paper Sheets
Kitchenaid Mixer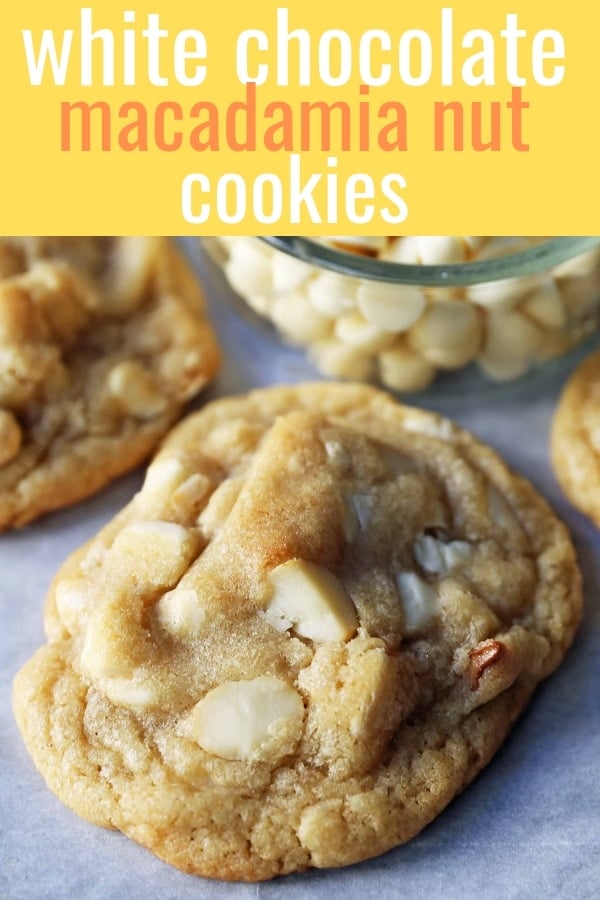 I love to hear from you! If you make this recipe, please be sure to leave a comment and give this recipe a rating. Sign up for my newsletter below so you never miss a recipe. Thank you for following along! I truly do have the greatest readers. FOLLOW ME ON:   INSTAGRAM --- FACEBOOK --- PINTEREST