These white chocolate coconut macadamia nut cookies have chewy centers, buttery crisp edges, and full of coconut, white chocolate, and macadamia nuts. The Best White Chocolate Macadamia Nut Cookies!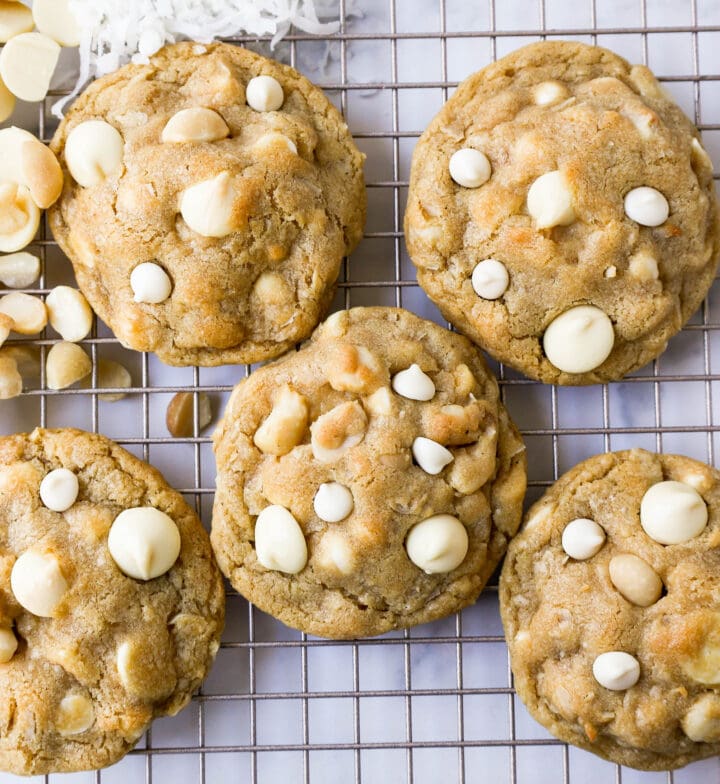 Welcome to Day #9 of our 12 Days of Christmas Cookies. I am sharing one of my favorite cookie recipes -- White Chocolate Coconut Macadamia Nut Cookies.
These are reminiscent of family vacations to Hawaii where we ate our weight in coconut and macadamia nuts. I wanted to create the ultimate Hawaiian cookie. It is perfectly buttery, sweet, and crunchy!
What do I love about these White Chocolate Chip Macadamia Cookies?
Sweet and salty combination with the salty macadamia nuts and the sweet white chocolate.
Perfect buttery, slightly crisp edges
Soft and chewy centers
This really is the best white chocolate macadamia cookie recipe! I am obsessed with them because they turn out perfectly every single time.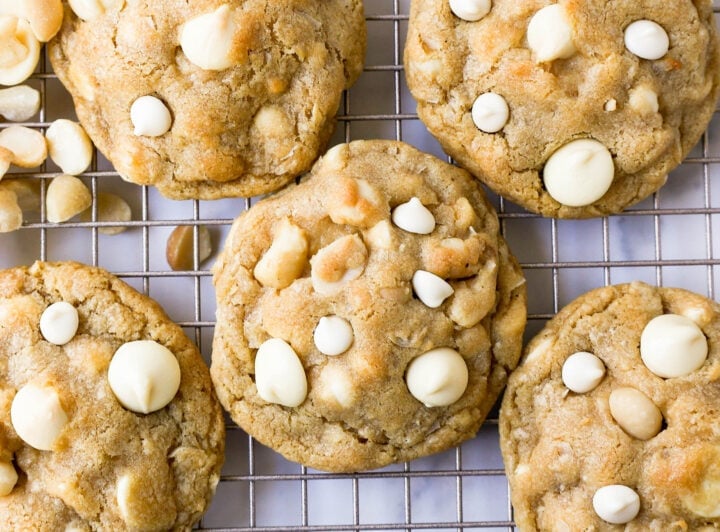 What ingredients are in White Chocolate Macadamia Nut Cookies?
Butter -- use salted or unsalted butter in this cookie recipe. If you use salted butter, reduce the salt by ¼ teaspoon.
Brown Sugar -- use light golden brown sugar.
Sugar -- this recipe calls for granulated sugar.
Eggs -- this recipe calls for large eggs.
Vanilla Extract -- my favorite pure vanilla extract is made by Nielsen-Massey or true authentic Mexican vanilla.
Flour -- use all-purpose flour in these cookies.
Baking Soda -- this is what gives the cookies the perfect rise.
Salt -- the flavor enhancer and integral ingredient in baking.
White Chocolate Chips -- I suggest using quality white chocolate chips from brands like Guittard and Ghirardelli.
Coconut -- use sweetened flaked coconut.
Macadamia Nuts -- use roasted, salted macadamia nuts.
What are the Best Macadamia Nuts to Use in Baking?
I suggest using salted dry-roasted macadamia nuts in this white chocolate macadamia nut cookie recipe. The salty, buttery flavor of the macadamia nuts pairs perfectly with the sweet white chocolate chips. It is the perfect sweet and salty combination!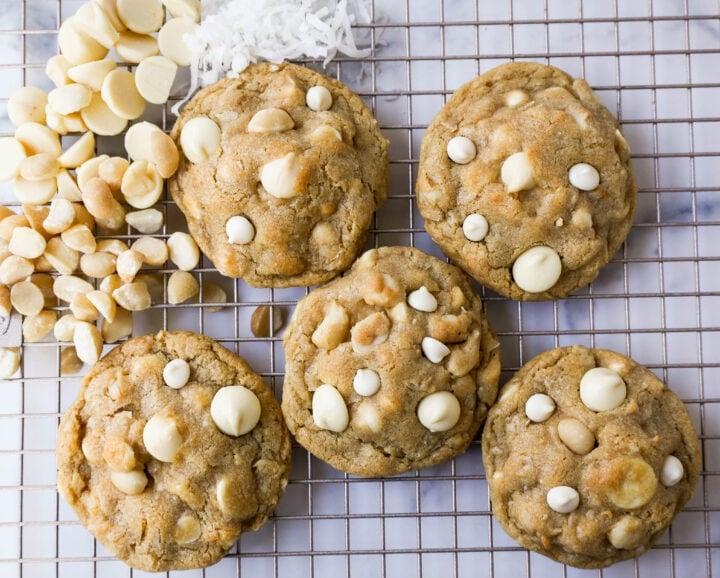 Tips for making the Best Coconut Macadamia Nut Cookies:
Cream your butter and sugars for 4 minutes! This helps to create a smooth texture and whip air into the cookie dough which gives the cookies the perfect amount of loft.
Don't overbake! These are soft baked white chocolate macadamia nut cookies and they are meant to be soft and chewy. The cookies will continue to bake once you remove them from the oven.
Use light-colored baking sheets. I love to use thick, light-colored baking sheets because they bake the cookies evenly. If you use dark colored baking sheets, the bottoms of the cookies may burn before the cookies are fully baked.
To make your cookies look more gourmet, as soon as you remove the cookies from the oven, lightly press a few extra white chocolate chips and macadamia nuts on the tops of the cookies.
If your cookies lose their shape in the oven, take a small spatula and press the edges toward the center to make a circle. You can also use a glass and move it around the cookie in a circular motion to make them into the perfect round circle.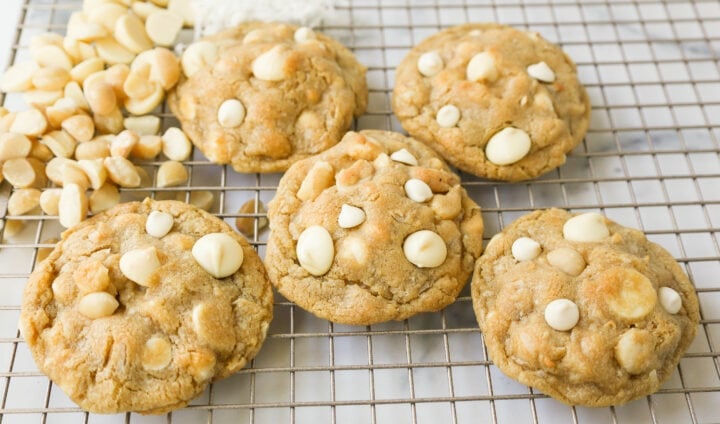 HERE ARE THE FIRST DAYS OF THE 12 DAYS OF CHRISTMAS COOKIE RECIPES:
BAKING TOOLS:
I love to hear from you! If you make this recipe, please be sure to leave a comment and give this recipe a rating. Sign up for my newsletter below so you never miss a recipe. Thank you for following along! I truly do have the greatest readers. FOLLOW ME ON: INSTAGRAM — FACEBOOK— PINTEREST