Levain Bakery Two Chip Chocolate Chip Cookie Recipe is their classic chocolate chip cookie made without nuts. Perfectly crispy on the outside and satisfyingly thick and gooey in the center, this cookie is brimming with semi-sweet and dark chocolate chips.
There's no question I am obsessed with Levain Bakery Cookies.
It all started when I was filming a segment for a show at Food Network Studios in New York City and I heard about the best cookie in New York City.
After I was done shooting, we rode our bikes along the Hudson River all the way to the Upper East Side to get our first taste of the uber popular chocolate chip cookie.
I was hooked and determined to go home and try to recreate their Levain Bakery Cookie Recipe. It took months of tweaking and when I finally debuted my website, modernhoney.com, it was the very first recipe I shared!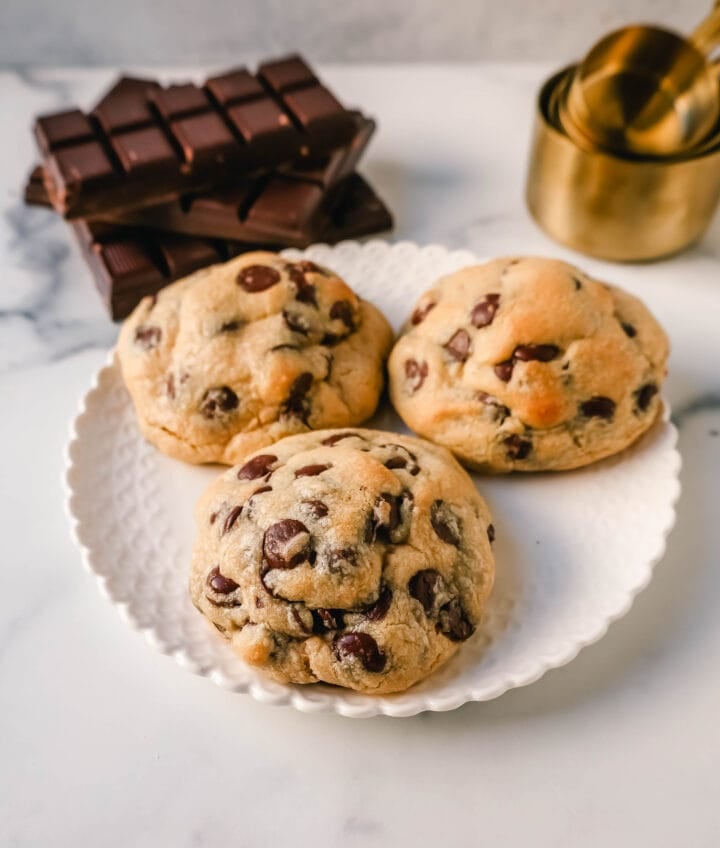 What I love about Levain Bakery Cookies is how unique they are from the ingredients to the size to the baking temperature. This isn't your typical chocolate chip cookie recipe!
Since then I have recreated so many of Levain Bakery's cookies from their Chocolate Peanut Butter Chip to their Dark Chocolate Chocolate Chip Cookies to their Oatmeal Raisin Cookies. I even share their popular seasonal cookie recipes.
When I first posted the OG Levain Bakery Chocolate Chip Walnut Cookie Recipe, many readers have asked over the years, "can I make these cookies without nuts?" Yes, absolutely! Levain Bakery came out with their Two Chip Chocolate Chip Cookies and they are made without walnuts.
This is the Levain Bakery Chocolate Chip Cookie Recipe without walnuts for all of my chocolate chip cookie purists out there.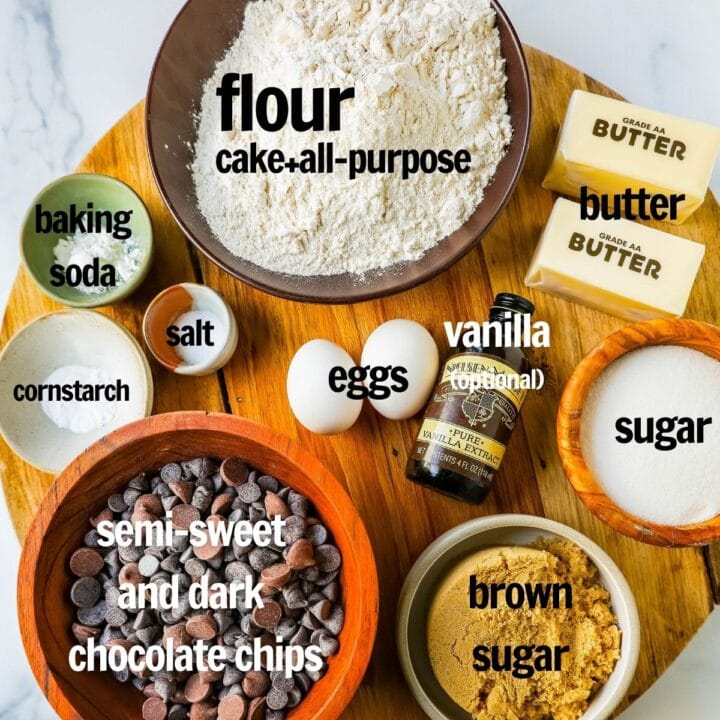 What ingredients are in Levain Bakery Cookies?
Butter -- this butter should be cold or barely softened and cut into cubes for easier creaming. This helps to keep the cookies from spreading too much and keeping their shape while baking.
Brown Sugar -- this is light golden brown sugar and helps to create the chewy centers.
Sugar -- this helps to give the perfectly crispy exterior Levain Bakery is known for.
Eggs -- use large eggs in this cookie recipe.
Vanilla Extract (optional) -- Levain Bakery is known for not using vanilla extract in its recipes. It adds flavor so add it if you would like to!
Flour -- I suggest using both all-purpose flour and cake flour. Cake flour has less gluten in it which helps to create a tender, soft texture. You can use only all-purpose flour in this recipe and the cookies still turn out delicious!
Cornstarch -- this is a game-changing ingredient as it helps to create a thick and gooey center, without making the cookies cakey.
Baking Soda -- this is what helps the cookies to rise once they hit the oven.
Salt -- a flavor enhancer and an integral ingredient in baking.
Chocolate Chips -- I suggest using semi-sweet chocolate chips or a mix of dark and semi-sweet chocolate chips. Levain Bakery uses both types of chocolate.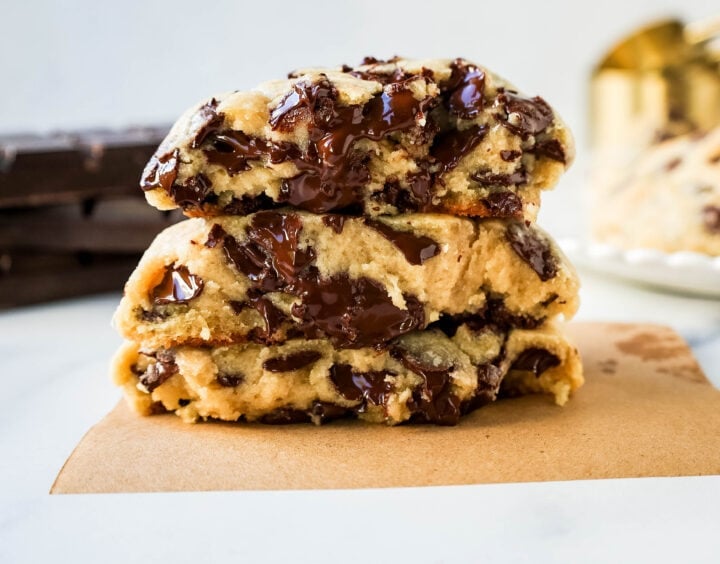 What makes Levain Bakery Cookies special?
Levain Bakery is known for its large, thick, gooey chocolate chip cookies. There is a reason why there is a line out the door at every single bakery! There are certain ingredients and techniques that make these cookies different -- the use of cold butter, no vanilla extract, using two types of flour, the addition of cornstarch, their large 6-ounce size, and baking at a high temperature.
This isn't your average chocolate chip cookie recipe! No chilling required chocolate chip cookie recipe.
Tips for making Levain Bakery Chocolate Chip Cookies:
Start by cutting the butter into small cubes to make the butter easier to cream with the sugar and brown sugar. Creaming the butter and sugars together is an important step to create a smooth texture and to whip air into the cookie dough, which helps to give the cookies loft.
Don't overmix the dry ingredients. If you overmix the cookie dough once you add the flour, it can create too much gluten and will result in a tough cookie.
Bake just until a light golden brown color on a light-colored baking sheet. Make sure to not overbake these cookies or they may end up brown on the bottom. To avoid that, read my tips below.
Let set up for at least 10-15 minutes. This is an important step as these are gooey cookies and need time to set up before eating them.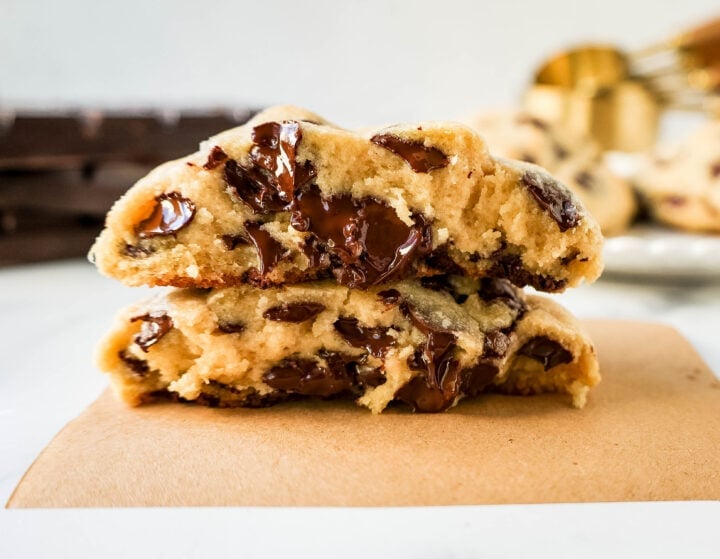 Why are my cookies burning or becoming too brown on the bottom? What can I do?
You may be baking your cookies for too long. The rule of thumb in baking is that it is better to underbake and cookie rather than overbake a cookie. The cookies will continue to bake on the hot cookie sheet once you remove the cookies from the oven. It is better to pull the cookies out of the oven before they look completely baked.
Use a heavy, light-colored baking sheet. The thin, dark baking sheets will attract too much heat and the cookies will burn on the bottom before they are fully baked in the center.

I suggest using light-colored baking sheets for even baking.

Check your oven temperature. Your oven may be running too hot which is burning your cookies. Also, make sure to rotate your baking pan halfway through baking time to ensure even baking and to avoid hot spots in the oven for too long.
Raise your oven racks. If your cookies are burning on the bottom, raise your rack to the middle or more toward the top of the oven. Since Levain Bakery is known for crispy tops and chewy centers, I tend to place them higher up in the oven.
Popular Levain Bakery Cookie Recipes: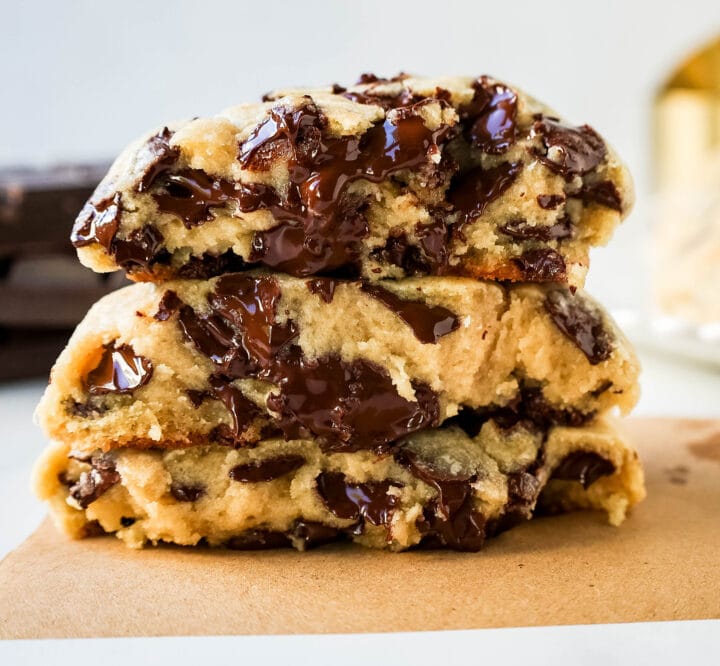 Baking Tools:
Light-Colored Baking Sheets — light-colored, heavy-gauge aluminum half-sheet pan measuring 18 x 13 inches. I suggest USA Pans or Nordicware.
Parchment Paper Sheets — prevents cookies from sticking to the pan and can be thrown away afterwards for easy clean up.
Kitchenaid Mixer — allows you to do other tasks while it creams and mixes the ingredients together. It combines the ingredients more thoroughly and evenly than by hand.
Rubber Spatulas -- a staple in the kitchen. This rubber spatula is perfect for scraping the sides of the bowl, especially when creaming the butter and sugars together, to ensure the ingredients are fully mixed.
Measuring Cups and Spoons - you want to invent in a quality set of measuring cups and spoons.
Wire Cooling Rack — a gridded wire rack allows air to circulate around the cookies which keeps them from getting soggy.
I love to hear from you! If you make this recipe, please be sure to leave a comment and give this recipe a rating. Sign up for my newsletter below so you never miss a recipe. Thank you for following along! I truly do have the greatest readers. FOLLOW ME ON: INSTAGRAM --- FACEBOOK --- PINTEREST