These Levain Bakery Rocky Road Cookies are rich, thick, soft, chewy chocolate cookies with semi-sweet chocolate chips, mini marshmallows, and cashews. The best Levain Bakery Copycat Rocky Road Cookie Recipe!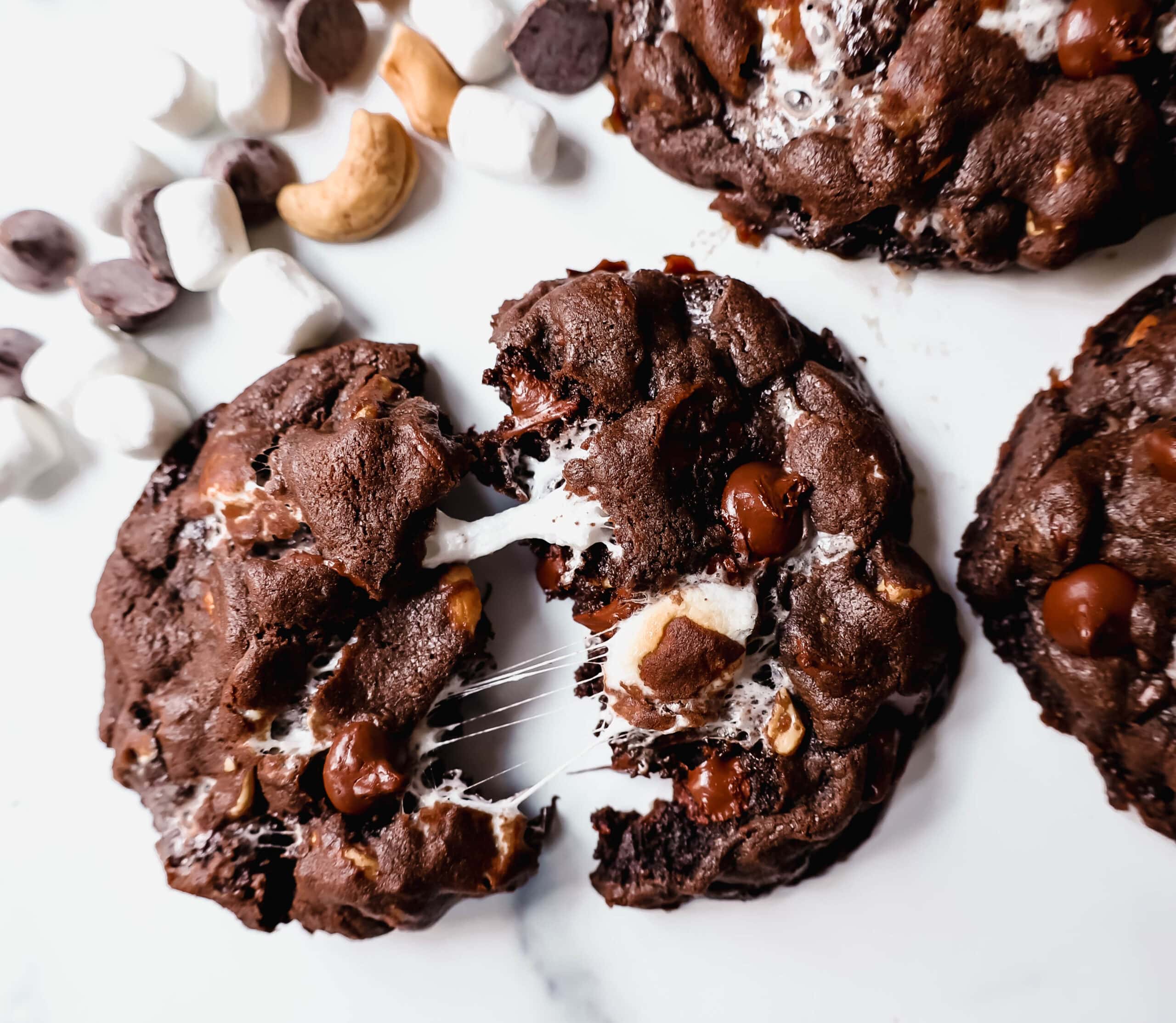 If you have followed Modern Honey for a while now, you know that the very first recipe I shared in 2015 was my Levain Bakery Chocolate Chip Walnut Cookie Recipe. It was one that I perfected and recipe tested for months and months to get it just right.
Years ago, I was in New York City to film a show in Food Network Studios after I won the Perfect Cookie Contest. As I was getting my makeup done, I was asking all of the producers and makeup and hair people, where the best places were to eat in New York City.
They told me hands down the best place to buy a chocolate chip cookie in the city is Levain Bakery. They told me how unique this chocolate chip cookie was and I literally couldn't wait to try it! The next morning, we made the trek to the Upper East Side and found chocolate chip cookie heaven.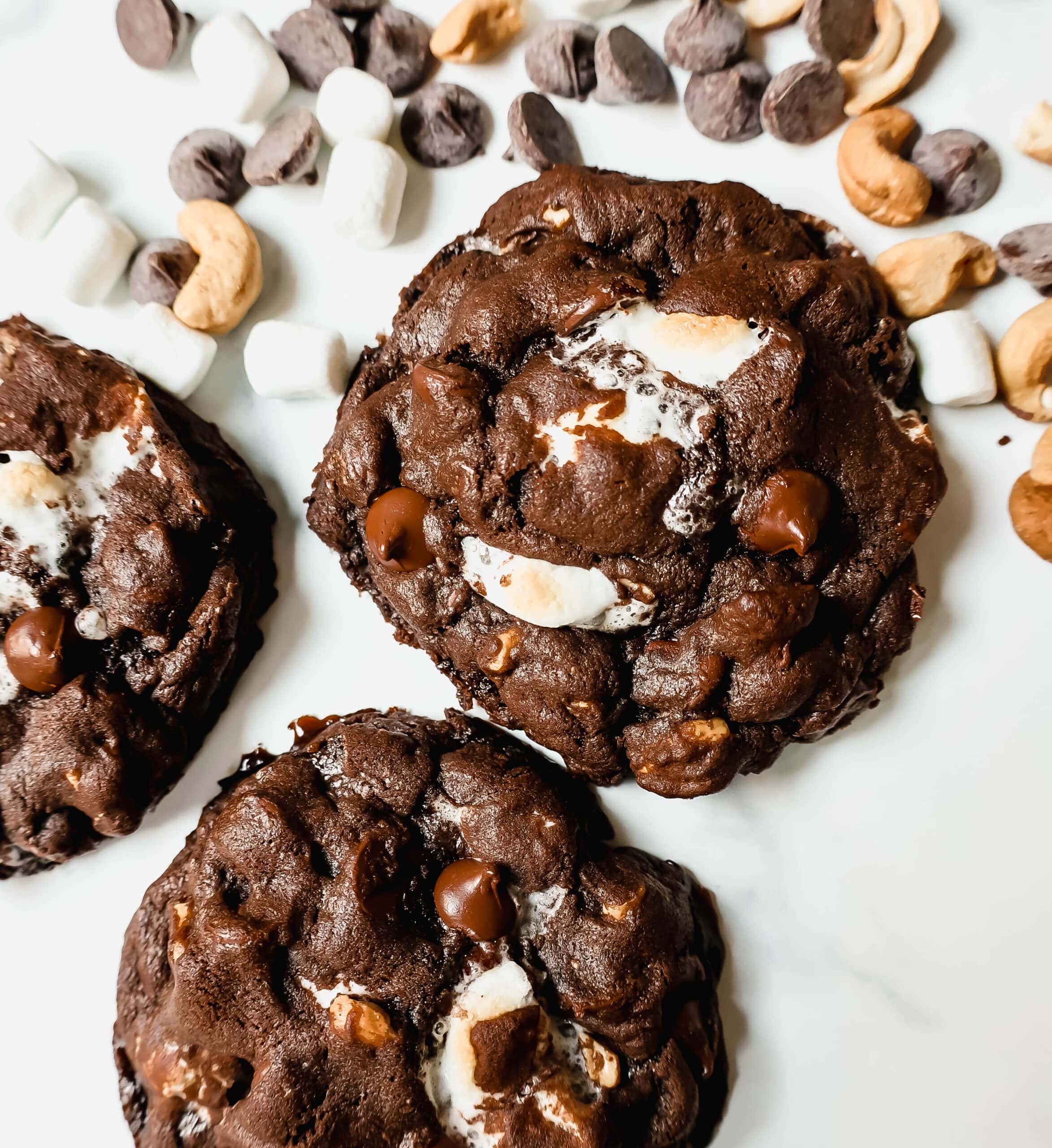 Of course, being a cookie connoisseur and a self-proclaimed baking nerd, I set out to figure out how they make their cookies. I am a researcher by nature and I went to my kitchen and went to work! I tweaked it again and again and even played with the oven heat by a couple of degrees. You wouldn't believe how many cookies I baked in a quest to perfect them at home.
I was so excited to create my knock-off version of the OG Levain Bakery Chocolate Chip Cookie Recipe. I am grateful that it has always been in the TOP 10 of my Most Popular Recipes on Modern Honey. The next time I was in New York City in 2013 for a baking competition, I tried all of their cookies and decided to replicate all of them. You can find all of my Levain Bakery copycat recipes below.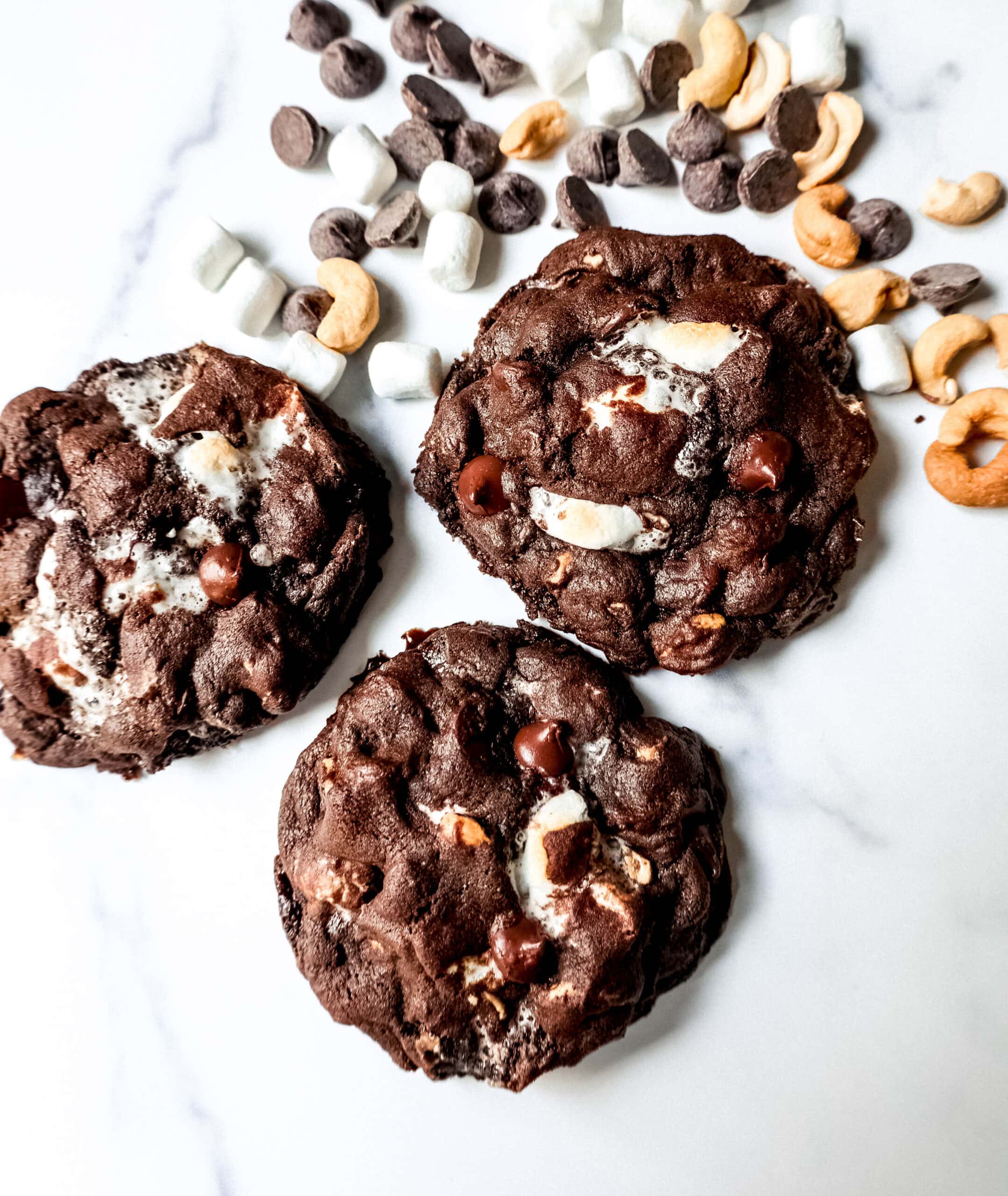 I received word that Levain Bakery has come out with a brand new cookie -- the ROCKY ROAD COOKIE. You better believe I was going to try it and create a recipe for all of you! It is straight up cookie perfection and after I had a bunch of recipe testers over to try the cookies, my son-in-law, Conner, declared it the best cookie he has ever tried in his entire life. It is now my husband's number one most requested and most loved cookie recipe.
These are THE BEST ROCKY ROAD CHOCOLATE CHIP MARSHMALLOW COOKIES!
Everyone went crazy for these Chocolate Marshmallow Cookies and I literally couldn't wait to share the recipe with you! So...what ingredients are in these Rocky Road Cookies?
Rocky Road Cookie Ingredients:
Butter
Brown Sugar
Sugar
Eggs
Vanilla
Unsweetened Cocoa Powder
Cake Flour
All-Purpose Flour
Cornstarch
Baking Soda
Salt
Semi-Sweet Chocolate Chips
Marshmallows
Cashews (or Almonds)
Most Rocky Road recipes call for chocolate, marshmallows, and almonds. I love that Levain Bakery made these Rocky Road Cookies with Cashews instead.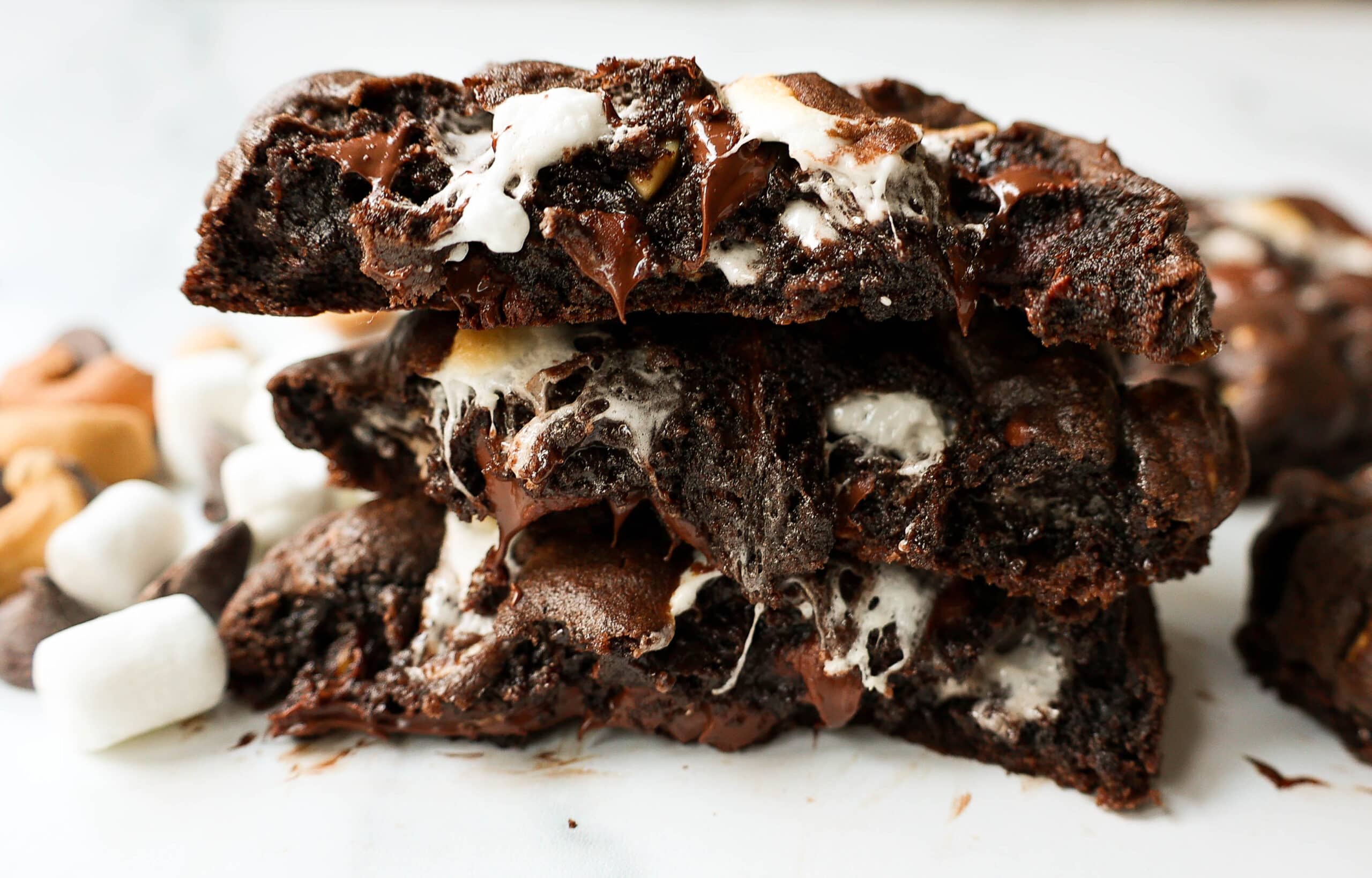 Tips for making Levain Bakery Rocky Road Cookies:
Start with Cold Butter, cut into small cubes. This may sound counterintuitive to what we have been taught about cookie baking. The key is to warm the butter just enough by mixing it for 4 minutes with the brown sugar and sugar. This will allow the butter and sugar to become creamy which creates a smooth texture. The cold butter helps the cookie to keep its shape while baking.
Use High-Quality Cocoa Powder. This is the star ingredient so use a good quality unsweetened cocoa powder.
Use a mix of Cake Flour and All-Purpose Flour. When I first set out to create a Levain Bakery Copycat Cookie Recipe, I wanted to get their cookie texture just right. The cake flour has a lower gluten content which helps to create a more tender, softer texture. If you don't have cake flour, you can substitute all-purpose flour.
Use Mini Marshmallows. One tip is that the marshmallows have a tendency to melt if the marshmallows are on the edge of the cookie dough. When you remove the Rocky Road Chocolate Marshmallow Cookies from the oven, you will need to take a small brownie spatula to press the edges towards the center of the cookie. This just shapes the rocky road cookie as it cools.
Use Cashews or Almonds. At Levain Bakery in New York City, they use cashews in their Rocky Road Cookies so we wanted to do the same. I love how the cashews don't overwhelm the cookie but give it a nice salty crunch to offset the sweetness of the marshmallows. Since Rocky Road is usually made with almonds, feel free to substitute almonds in the cookies.
To make your cookies look extra GOURMET, roll them into balls and then place a few additional chocolate chips and marshmallows on the top of the cookies. Just gently press the chocolate and marshmallows into the top of the cookie so that when you remove the chocolate marshmallow cookies from the oven, you can see the chocolate and marshmallows.
Bake at a High Heat. This is the signature of my Levain Bakery Cookie Recipes and is an important step. You want to crank up the heat which allows the cookies to basically keep from spreading. It holds them into place and allows the cookies to get a nice, crispy edge and a gooey center.
Let your Chocolate Rocky Road Cookies REST. These cookies need time to set up. Allow at least 10-15 minutes to set up on the cookie sheet before removing them.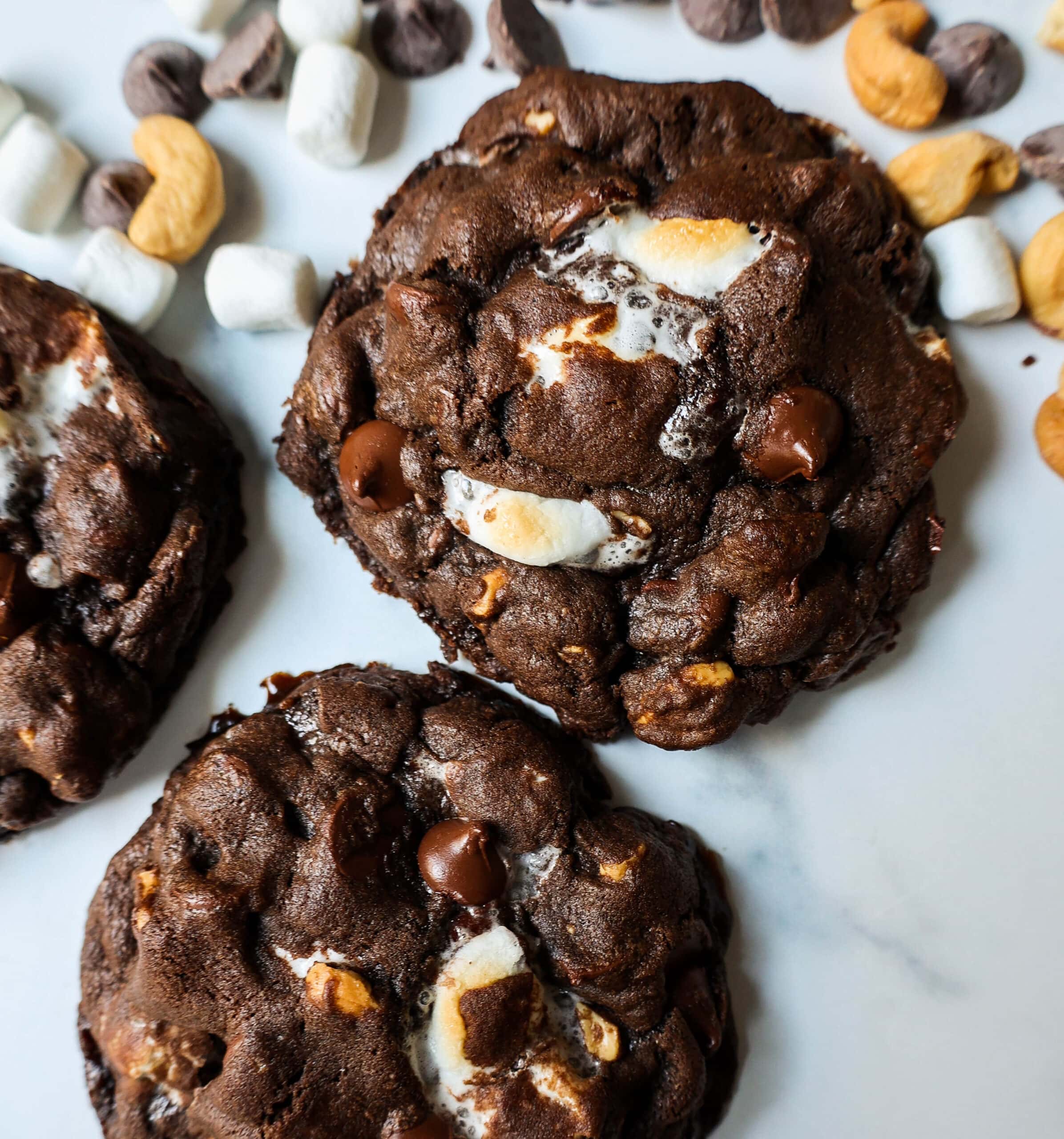 Popular Levain Bakery Cookie Recipes:
LEVAIN BAKERY CHOCOLATE CHIP COOKIES
LEVAIN BAKERY DARK CHOCOLATE CHOCOLATE CHIP COOKIES
LEVAIN BAKERY CHOCOLATE PEANUT BUTTER CHIP COOKIES
LEVAIN BAKERY OATMEAL RAISIN COOKIES
Cookie Baking Tools: