Thick, soft, chewy bakery-style chocolate peppermint cookie recipe. This Levain Bakery Chocolate Peppermint Cookie is made with a rich double chocolate cookie and peppermint chips. The perfect Christmas cookie recipe!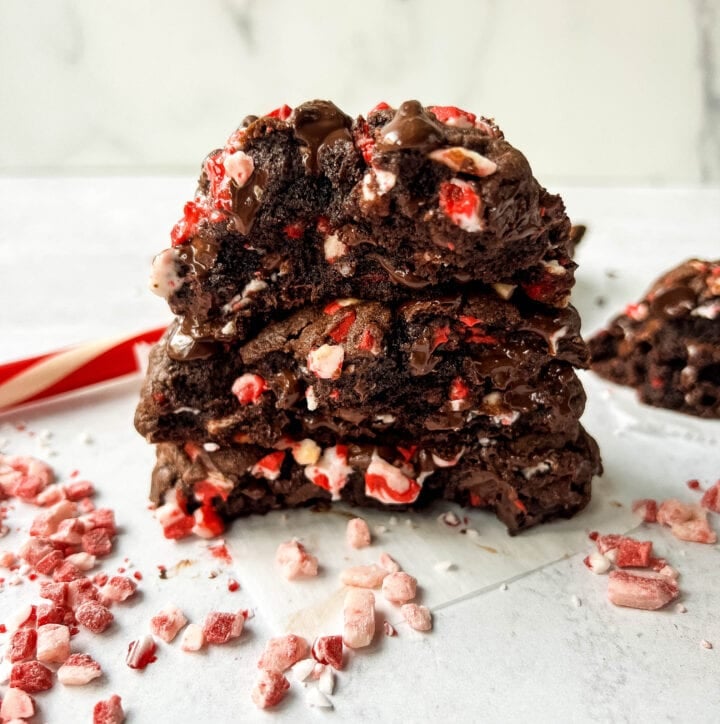 Welcome to day one of the Christmas Cookie collection! I am starting off with a bang with this epic bakery double chocolate cookie with peppermint bark chips. This brand new holiday cookie is from the famous Levain Bakery in New York City, Boston, Chicago, and Washington DC. I am obsessed with Levain Bakery cookies and love creating their recipes at home.
The very first recipe I posted on Modern Honey was their Levain Bakery Chocolate Chip Cookies after tweaking the recipe for years!
This Chocolate Peppermint Cookie is what you want in the perfect Christmas cookie -- a rich, chewy, decadent chocolate cookie with creamy peppermint chips. The best part of these cookies is that they are the perfect thick yet chewy bakery-style cookie.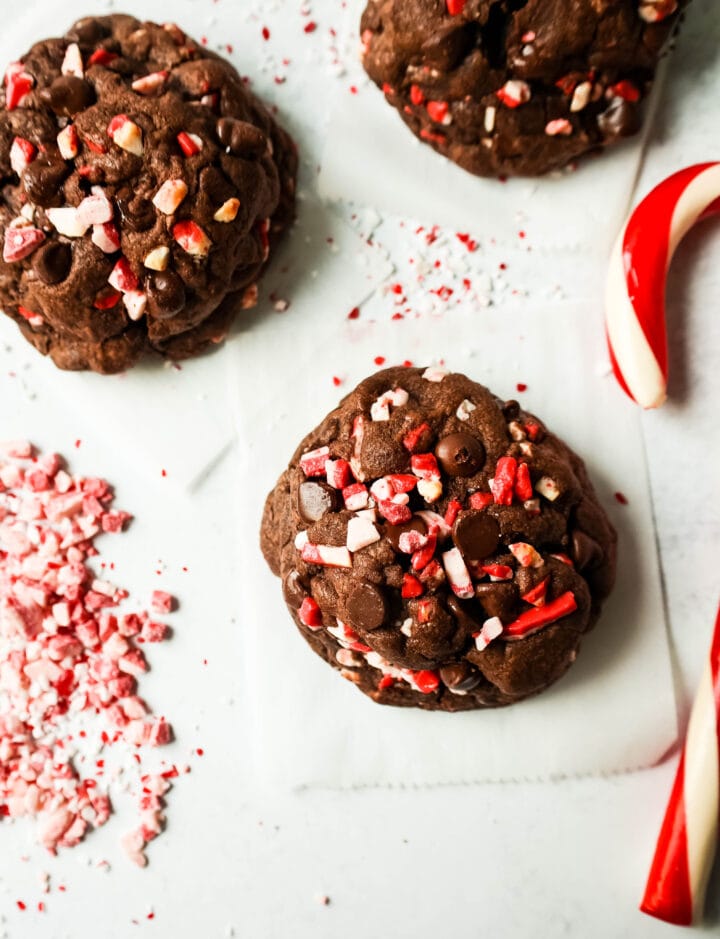 Chocolate Peppermint Cookie Ingredients:
Butter -- you can use either salted or unsalted butter in this chocolate cookie recipe. If you use salted butter, just reduce the salt by ¼ teaspoon.
Brown Sugar -- this recipe calls for light brown sugar. This is what makes these cookies have the perfect chewy center.
Sugar -- this recipe calls for granulated sugar. It is what gives these cookies their crispy edges.
Eggs -- this recipe calls for large eggs.
Vanilla Extract -- I love to use pure vanilla extract, no imitation vanilla in these cookies!
Flour -- I suggest using all-purpose flour or a mix of cake flour and all-purpose flour. The cake flour makes the cookie texture extra tender.
Cornstarch -- this is what gives these cookies their signature thickness yet softness. It also helps to keep the cookies soft for longer.
Baking Soda -- a leavening agent which helps the cookies to rise while baking.
Salt -- the flavor enhancer and is a must in all baked goods.
Semi-Sweet Chocolate Chips -- make these chocolate cookies extra decadent! My favorite chocolate chips are from Ghirardelli and Guittard.
Peppermint Chips -- there are many peppermint chips at the grocery store. I love the Andes Peppermint Crunch Baking Chips. I found them at Target.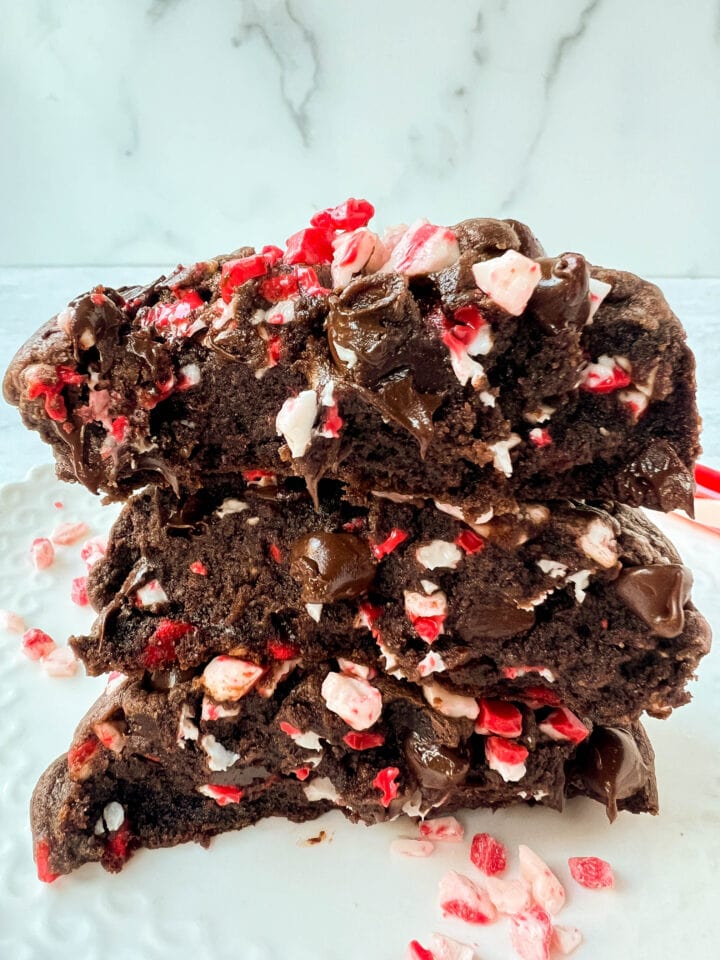 How to make Levain Bakery Christmas Chocolate Peppermint Cookies:
Start by creaming together butter, cut into cubes, and brown sugar and sugar for 4 minutes or until light and fluffy. Scrape the sides of the bowl halfway through to ensure even mixing.
Add eggs and vanilla and mix for 1 minute longer.
Fold in flour, cornstarch, baking soda, and salt. Add chocolate chips, and peppermint crunch baking chips.
Roll into large 6-ounce balls. You can make them smaller into 3-ounce, 4-ounce, or 5-ounce balls.
Place on a light-colored baking sheet. I like to line my baking sheets with parchment paper.
Bake for about 9 minutes, depending on how large the cookies are. These cookies will be slightly underbaked and will continue to bake on the baking sheet once the cookies are removed from the oven.
Let sit for at least 10 minutes to allow time for the cookies to set-up.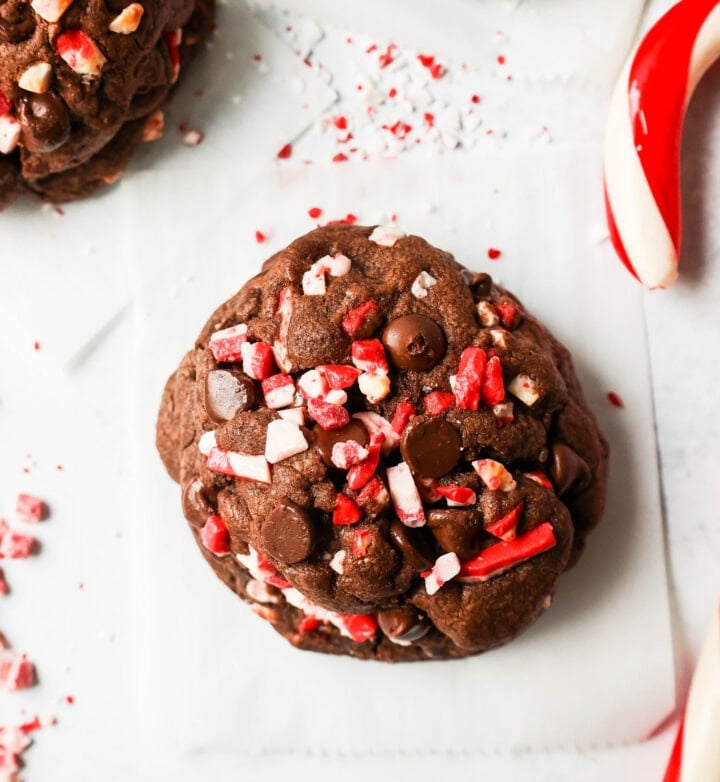 Baking Tools:
Expert Tips and Q & A:
Can I make these cookies smaller?
Yes! Levain Bakery cookies are 6 ounces and that is one large cookie! You can make these smaller. I suggest making them 3-ounce, 4-ounce, or 5-ounce cookies. I would suggest reducing the baking temperature to 385 degrees and reducing the baking time.
If you want a thinner cookie, I suggest pressing down on the cookie dough ball before baking. Also, there is a pan banging technique explained here.
What can I use besides peppermint chips in this recipe?
You can use Peppermint Crunch Baking Chips, Mint Chips, Peppermint Bark, chopped, Ghirardelli Peppermint Bark Squares, Andes Mints, chopped, and more.
Can I use peppermint extract instead of vanilla extract in this recipe?
Absolutely! If you want extra peppermint flavor, I suggest adding ½ teaspoon of peppermint extract. My favorite is Nielsen-Massey Peppermint Extract.
Why can't I use warm butter in this recipe?
This Levain Bakery Chocolate Peppermint Cookie recipe creates the perfect thick and chewy cookie and if the butter is too warm, the cookies will spread too much.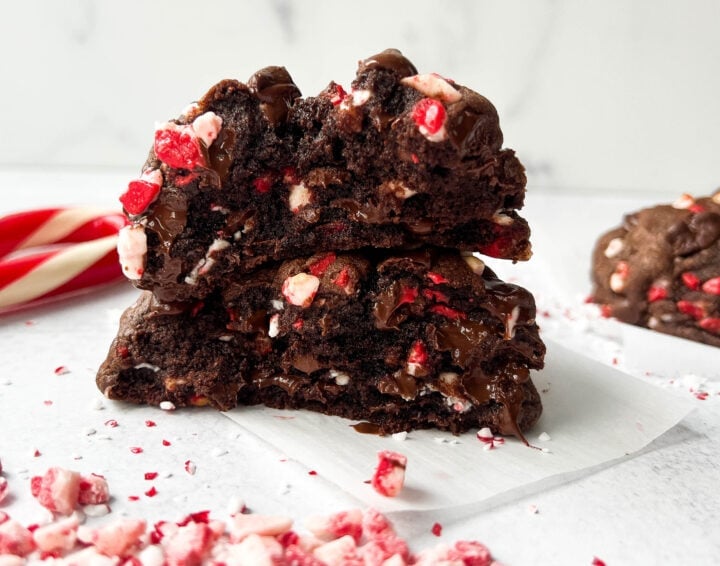 If you love the famous Levain Bakery cookies, check out all of my Levain Bakery Cookie Recipes:
If you love chocolate mint, check out my Peppermint and Mint Recipes: