Frosted Mint Chocolate Brownie Cookies are made with a chewy double chocolate cookie, topped with creamy mint frosting, chocolate ganache, and Andes mints. These Andes Mint Cookies are the perfect holiday mint chocolate cookie recipe!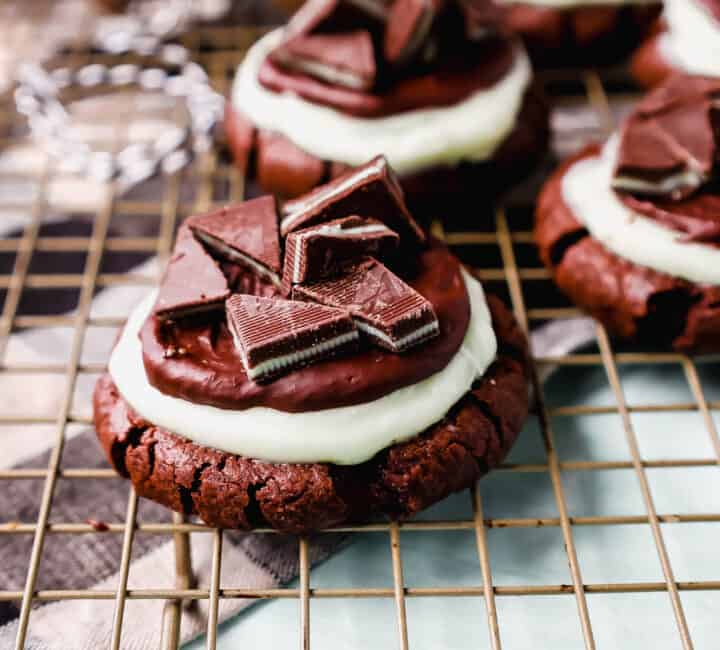 Welcome to Day #4 of the 12 Days of Christmas Cookie Recipes. I am sharing the perfect mint chocolate cookie for all of my mint lovers out there!
These Mint Chocolate Brownie Cookies are such a decadent cookie with layers of flavors starting off with a rich chocolate cookie topped with a mint frosting and a semi-sweet chocolate ganache and chopped Andes mint chocolate candies.
If you want a showstopping, beautiful, and delicious Christmas cookie, this is the recipe for you!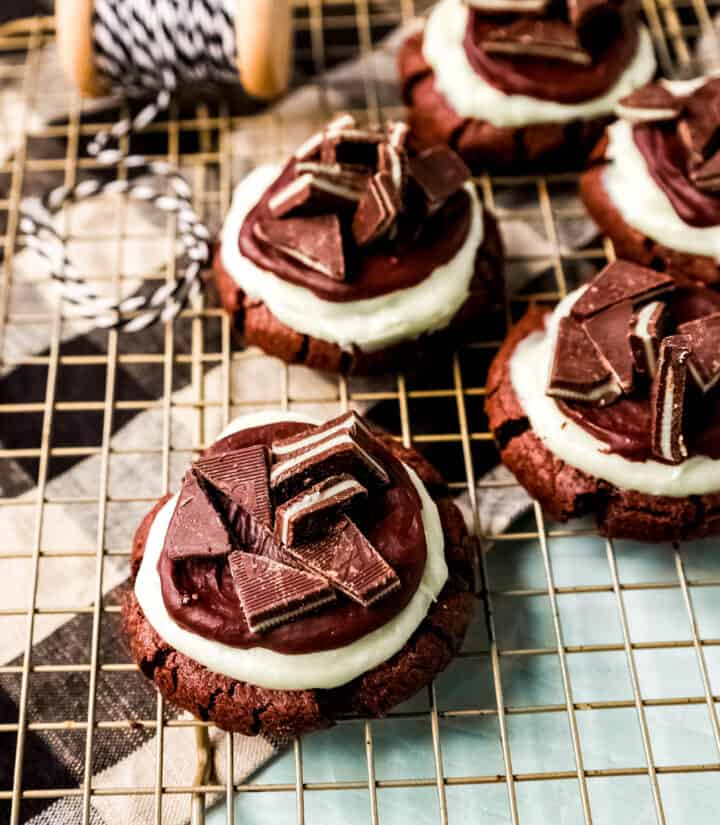 Mint Chocolate Brownie Cookies Ingredients:
Chocolate Cookie Ingredients:
Butter -- can use salted or unsalted butter in this recipe. If using salted butter, reduce the salt by ¼ teaspoon.
Brown Sugar -- this recipe calls for light brown sugar.
Sugar -- also called granulated sugar.
Eggs -- large-sized eggs.
Vanilla Extract -- I suggest using pure vanilla extract in this recipe.
Unsweetened Cocoa Powder -- I suggest Callebaut, Ghirardelli, Guittard, Trader Joe's. I buy my cocoa in the bulk bins at Winco.
Flour -- all-purpose flour
Baking Soda -- this is what gives the cookies the perfect rise.
Salt -- the flavor enhancer and integral in baked goods.
Chocolate Chips -- I suggest semi-sweet chocolate chips but can use milk chocolate.
Creamy Mint Frosting:
Butter
Cream Cheese -- make sure it is softened to ensure creamy frosting.
Powdered Sugar
Mint Extract -- I love to use Nielsen-Massey Peppermint Extract.
Green Food Coloring (optional)
Chocolate Ganache:
Semi-Sweet Chocolate
Heavy Cream
Andes Mints (for topping)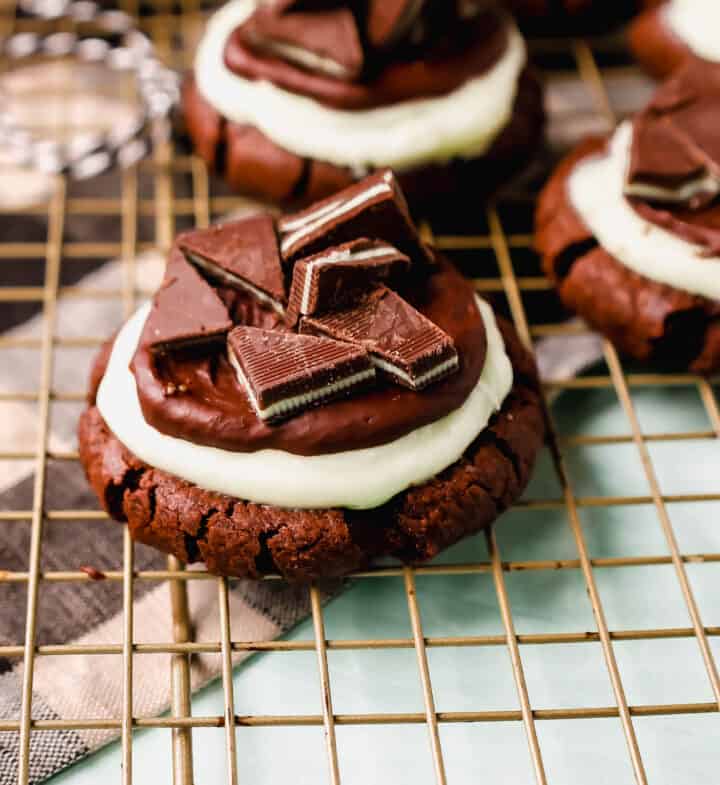 How to make Mint Chocolate Cookies:
Cream together butter, brown sugar, and sugar for 4 minutes until light and fluffy. Scrape the sides of the bowl. Add eggs and vanilla and whip for 1 minute longer.
Fold in cocoa powder, flour, baking soda, and salt. Mix until the mixture comes together. Mix in semi-sweet chocolate chips. I love to use Ghirardelli and Guittard chocolate chips.
Bake on light-colored baking sheets. Make sure to not overbake! It is better to underbake the cookies rather than overbake.
Make the mint frosting by whipping together softened butter, softened cream cheese, powdered sugar, mint extract, and a touch of green extract.
Make the chocolate ganache by melting together chocolate and heavy cream until smooth and creamy.
Once the cookies have baked and cooled, frost the cookies with mint frosting. Freeze the cookies for about 20-30 minutes before adding the chocolate ganache.
Top with chocolate ganache. Return back to the freezer or refrigerator to allow the chocolate to set up. Top with chopped Andes mints.
Store in an air-tight container in the refrigerator until ready to eat.
How to store Mint Brownie Cookies:
These cookies can be stored in an air-tight container in the refrigerator for up to 4 days. These cookies taste wonderfully served chilled.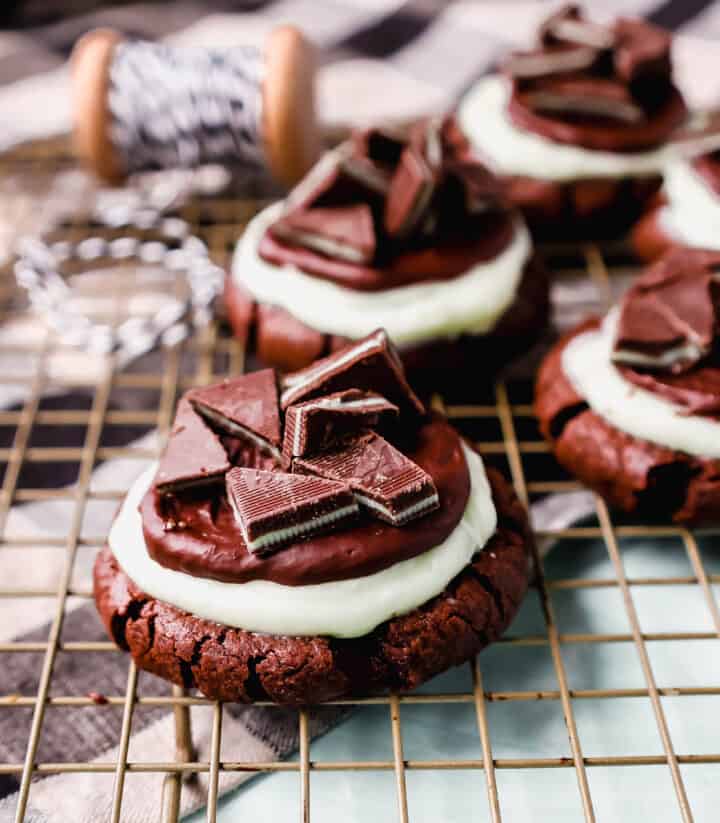 Here are the first few days of the 12 Days of Christmas Cookie Recipes:
Keep checking back daily for more Christmas Cookie Recipes!
Popular Mint Chocolate Cookie Recipes: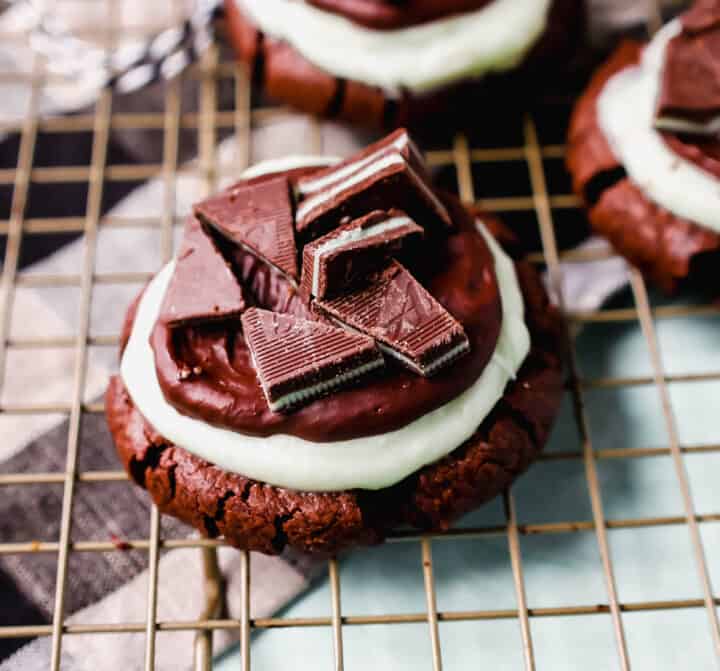 RECOMMENDED BAKING TOOLS: