Soft, chewy homemade red velvet cookies topped with a sweet cream cheese frosting. A festive and delicious Christmas cookie recipe!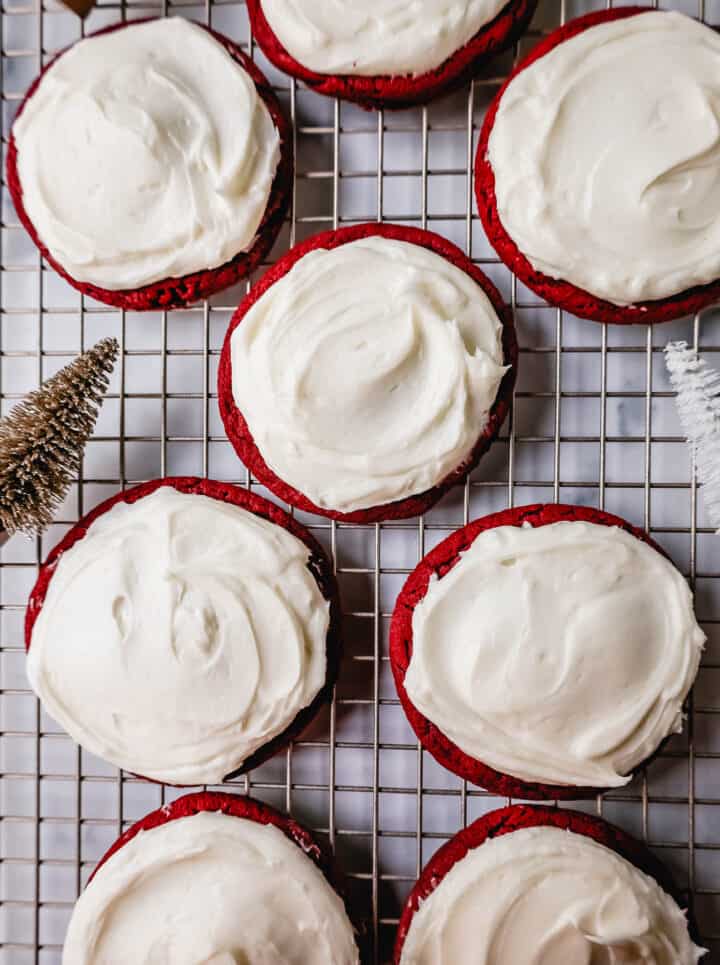 It is Day #2 on my 12 Days of Christmas Cookies! These Red Velvet Cookies with Cream Cheese Frosting are 10/10 and such a fun and festive Christmas cookie.
These are super soft and chewy red velvet cookies, with a hint of chocolate flavor, and topped with the perfect cream cheese frosting. Red velvet and cream cheese go together like pb+j. These Frosted Red Velvet Cookies will be a hit on your Christmas goodie plate.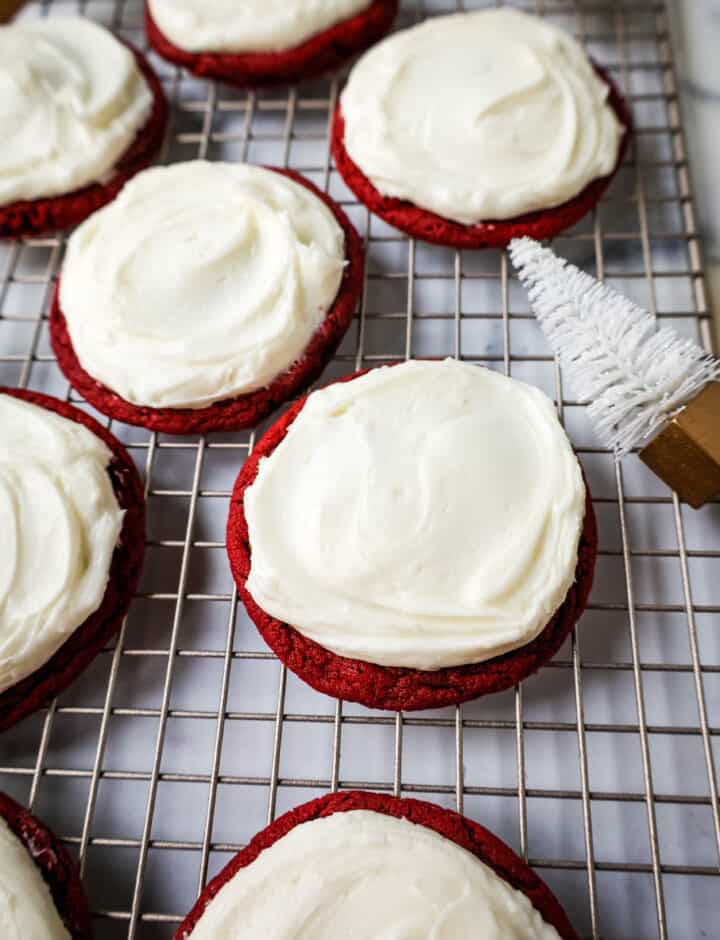 Red Velvet Cookie Ingredients:
Butter -- use salted or unsalted butter in this red velvet cookie recipe. If you use salted butter, reduce the salt by ¼ teaspoon.
Brown Sugar -- this is what gives the cookies that perfectly chewy center.
Sugar -- this is what gives the cookie sweetness and crisp edges.
Eggs -- this is the binder that pulls the liquid and dry ingredients together.
Vanilla Extract -- use pure vanilla extract in cookies for authentic flavor.
Red Food Coloring -- may use liquid or gel food coloring.
Unsweetened Cocoa Powder -- this gives the cookies a hint of light chocolate flavor. I buy Callebaut cocoa powder in the bulk bins at Winco.
Flour -- use all-purpose flour in these cookies.
Cornstarch -- this is what gives the red velvet cookies the extra soft texture.
Baking Soda -- this gives the cookies the perfect rise.
Salt -- a flavor enhancer and a must in all baking recipes.
Cream Cheese Frosting Ingredients:
Butter -- use salted butter to make this cream cheese frosting.
Cream Cheese -- use full-fat cream cheese and make sure to soften the cream cheese before whipping it.
Powdered Sugar -- also known as confectioner's sugar.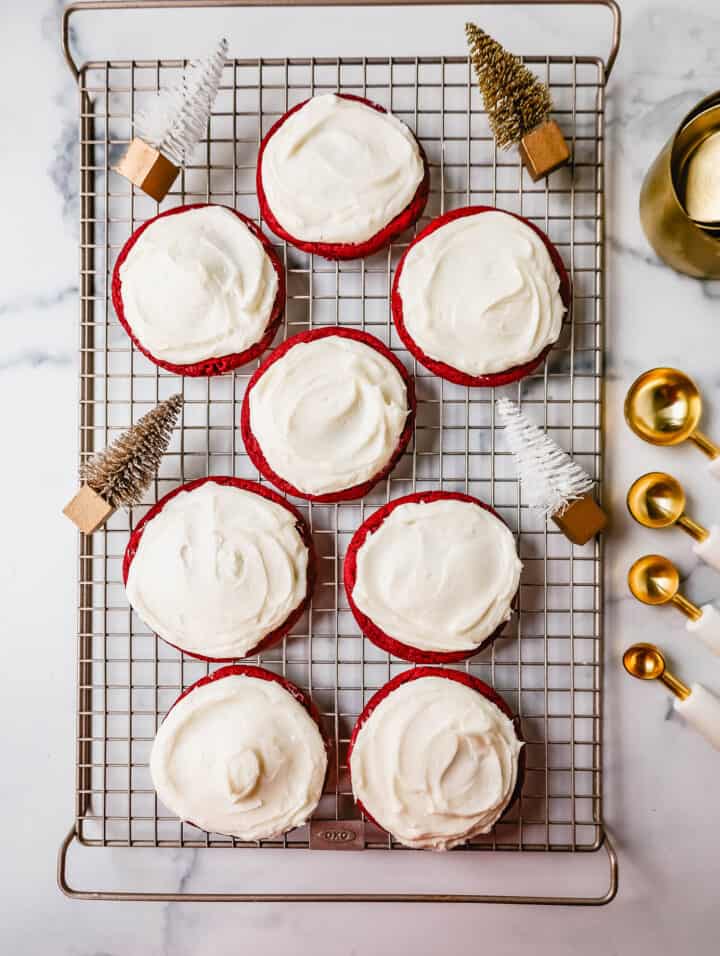 How to make Frosted Red Velvet Cookies:
Cream butter, brown sugar, and sugar together for 4 minutes until light and fluffy. This helps to create a smooth textured cookie and also gives loft to the cookie dough which helps the cookies to rise once they hit the oven.
Add eggs, pure vanilla extract, and red food coloring and mix for 1 minute longer. Add food coloring to desired red color.
Fold in cocoa powder, flour, cornstarch, baking soda, and salt. Be careful not to overmix once you add the dry ingredients as it can create too much gluten in the dough and will result in a tougher cookie.
Scoop onto parchment paper lined, light-colored baking sheet.
Bake just until the centers start to puff up. You don't want to overbake as the cookies will continue to bake on the cookie sheet once it is removed from the oven. It is better to underbake than overbake!
Let red velvet cookies cool. Once the cookies have cooled, you can frost them with homemade cream cheese frosting.
To make the cream cheese frosting, whip softened butter and cream cheese for 1 minute. Add powdered sugar and whip for 1-2 minutes. Add 1 teaspoon of milk if you need a thinner frosting. May add vanilla extract for extra flavor.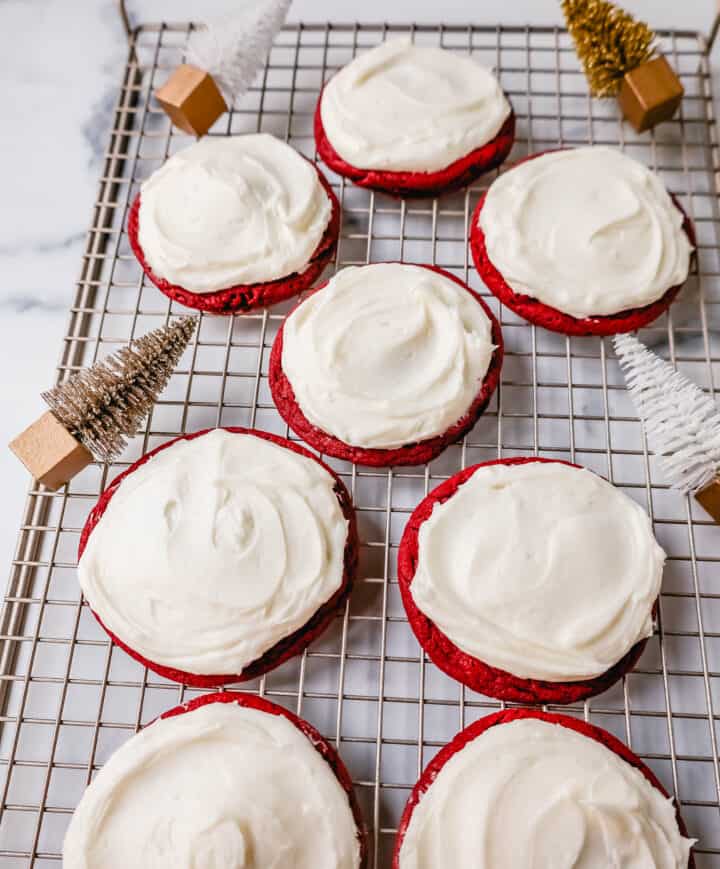 Tips and Q & A's:
What type of red food coloring should I use in Red Velvet Cookies?
There are two types of red food coloring -- gel food coloring and liquid food coloring.
Gel food coloring is more concentrated and has a corn syrup or glycerin base. You need less gel food coloring in recipes and it is a thicker consistency so it is perfect when you don't want extra liquid in a recipe.
Liquid food coloring has a water base and a thinner consistency. You will generally need more liquid food coloring in a recipe because it is thinner and not as concentrated as gel food coloring.
How do I know when the Red Velvet Cookies are done baking?
These soft red velvet cookies are perfectly chewy and it is important to not overbake these cookies.
The cookies will begin to spread and the edges will start to crinkle slightly and the centers puff up. It is better to pull them out on the earlier side as the cookies will continue to bake on the cookie sheet once you remove them from the oven.
What type of cocoa powder do I use in these cookies?
I suggest using a good-quality unsweetened cocoa powder.
I buy Callebaut cocoa powder at Winco in their bulk bin section. It is so reasonably priced compared to what you would pay online and the quality is amazing.
I also suggest Ghirardelli, Trader Joe's, and Guittard.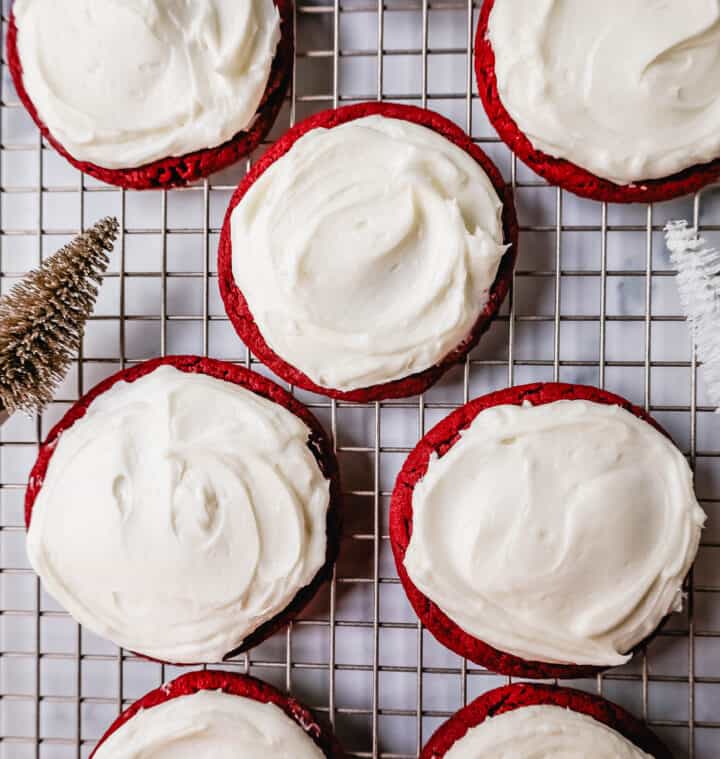 If you love Red Velvet, check out my popular Red Velvet Recipes:
Baking Tools:
I love to hear from you! If you make this recipe, please be sure to leave a comment and give this recipe a rating. Sign up for my newsletter below so you never miss a recipe. Thank you for following along! I truly do have the greatest readers. FOLLOW ME ON: INSTAGRAM — FACEBOOK— PINTEREST