Raspberry Almond Jam Thumbprint Cookies are buttery shortbread cookies made with only butter, sugar, flour, and almond extract, topped with jam, and baked until soft and topped with homemade vanilla or almond glaze. A festive and delicious Christmas cookie recipe!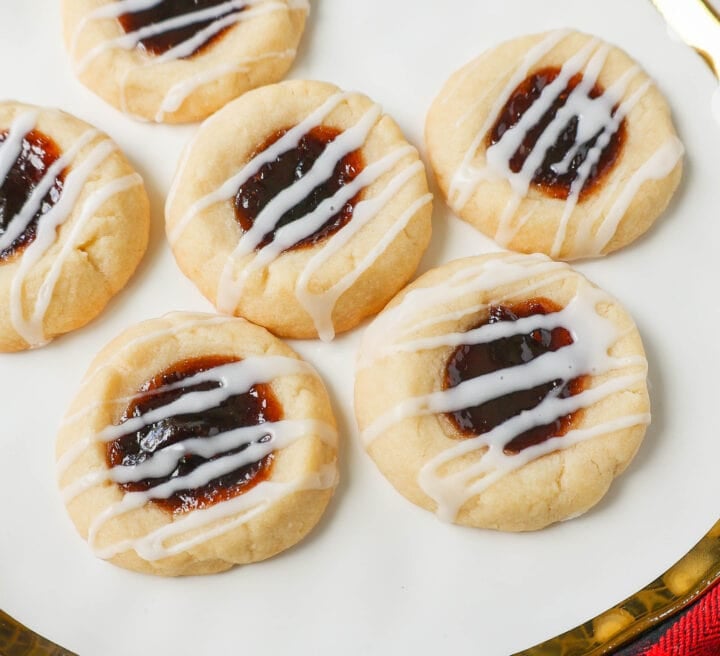 We are on Day #5 of the 12 Days of Best Christmas Cookies and I am sharing a classic Jam Thumbprint Cookie Recipe.
This Raspberry Almond Thumbprint Cookie Recipe is from my dear friend, Julie Martinez, who makes them for us every single year and my kids look forward to her cookie delivery! These are such a simple buttery shortbread cookie with vibrant fresh jam drizzled with an almond or vanilla glaze.
Sometimes the most simple recipes are the best. These cookies are made with only 5 ingredients (plus the glaze!) and are the perfect buttery jam thumbprint cookie!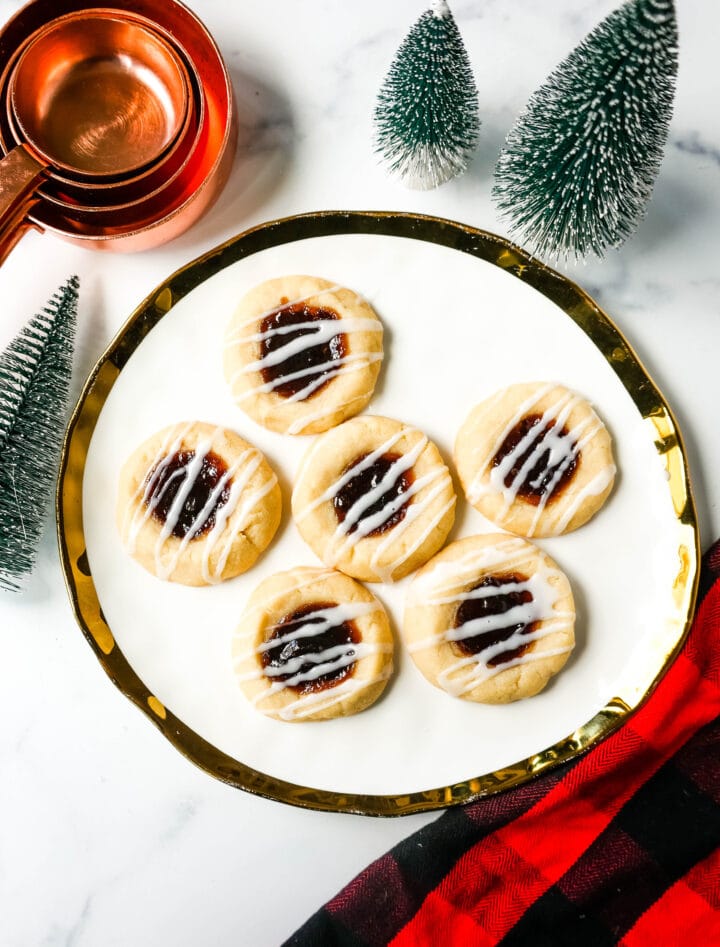 I love this time of year for many reasons and baking Christmas cookies for my family and friends is one of them. Some of my best memories are standing around the island in our kitchen rolling out soft ginger molasses cookies or frosted sugar cookies, while sipping homemade hot chocolate.
Jam Thumbprint Cookie Ingredients:
COOKIE INGREDIENTS:
Salted Butter -- for extra flavor and color, use Kerry Gold Butter.
Sugar
Flour
Almond Extract -- this Nielsen-Massey Almond Extract is my favorite.
Raspberry Jam
What type of jam to use in raspberry jam thumbprint cookies?
I suggest using seedless raspberry jam in these jam thumbprint cookies. You can also use any flavor of jam in this cookie recipe.
GLAZE INGREDIENTS:
Powdered Sugar
Milk
Almond or Vanilla Extract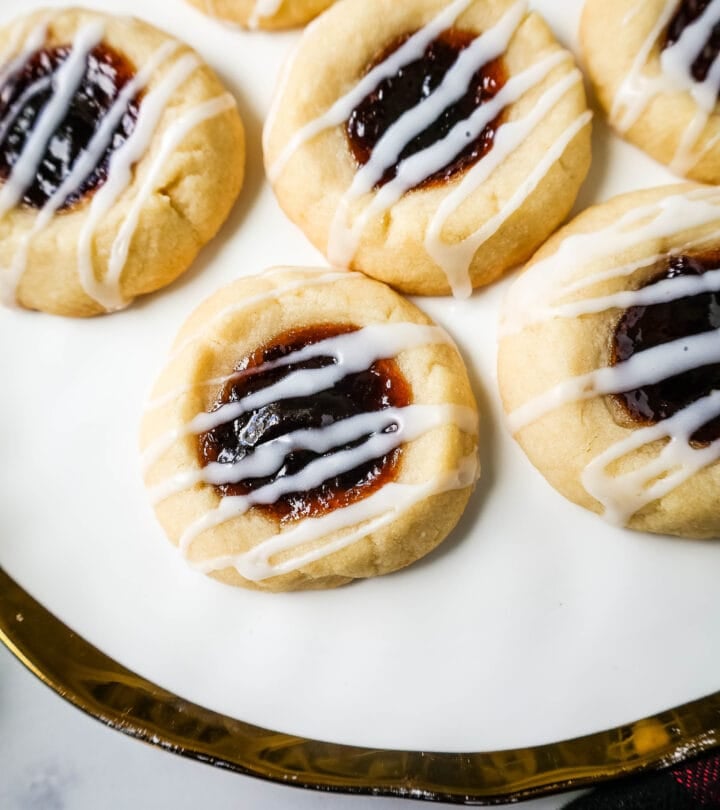 How to make Raspberry Almond Thumbprint Cookies:
Start by creaming the butter and sugar together for 3-4 minutes until light, fluffy, and creamy. Add almond or vanilla extract.
Fold in flour and mix just until combined.
Press the dough into a ball and tightly cover it with plastic wrap to chill for 1 hour.
When ready to bake, shape the dough into small balls, making sure the balls are nice and smooth.
Line light-colored baking sheets with parchment paper. Place the cookie dough balls onto the baking sheets and make an indention in each one with your thumb. The dough may crack slightly when you press your thumb into it so just smooth it out with your fingers.
Fill with about ½ teaspoon of jam, depending on the size of your cookie dough ball.
Bake for 10-14 minutes, or until very lightly browned on the edges. If you want a softer shortbread thumbprint cookie, bake it for only 10 minutes. If you want a crisper shortbread cookie, bake for 12-14 minutes. DO NOT OVERBAKE.
Allow cookies to cool on the baking sheet for 5 minutes before transferring to a cooling rack to cool.
Make the glaze by whisking the ingredients together. Drizzle over cooled cookies.
Storage:
Store Jam Thumbprint Cookies in an air-tight container at room temperature for 2-3 days or in the refrigerator for 5-6 days.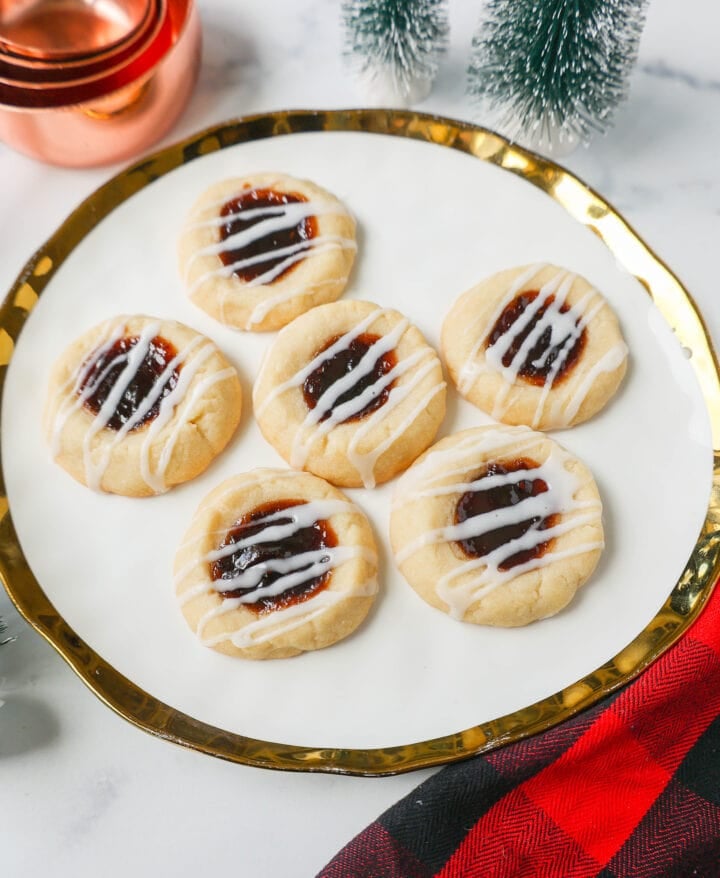 HERE ARE THE FIRST FEW DAYS OF THE 12 DAYS OF CHRISTMAS COOKIE RECIPES: