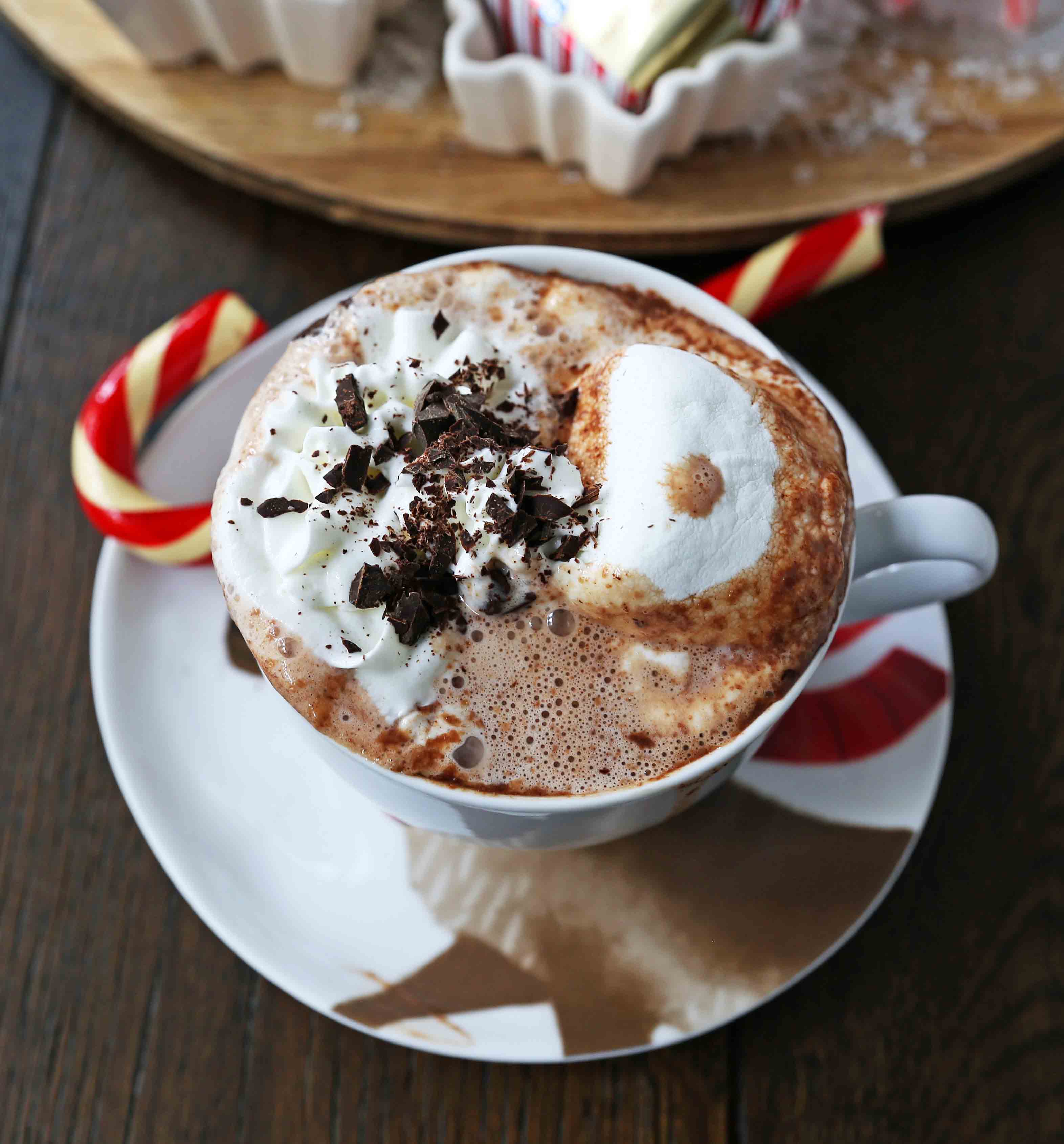 Homemade Hot Chocolate Bar with Toppings
This quick and easy homemade hot chocolate is topped with a variety of toppings. Always a hit at parties!
Tis the season for sipping homemade hot chocolate on the daily.  There's nothing better than whipping up a batch of homemade hot chocolate made with the freshest of ingredients. It is beyond easy, takes only a few minutes, and tastes so much more gourmet than pouring a packet of hot chocolate mix in hot water.  This is the real deal!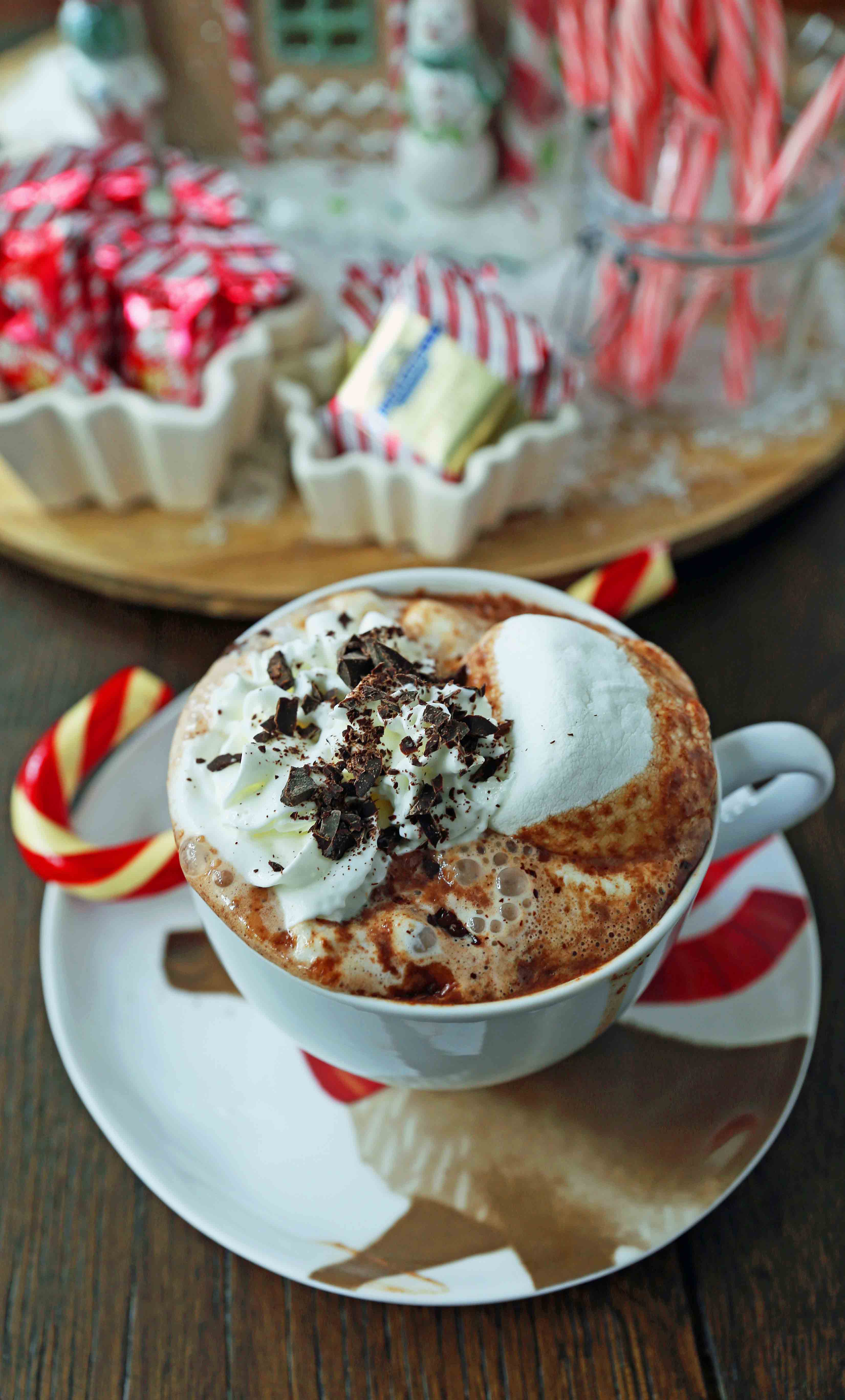 Since December is such a busy month, we are all looking for ways to simplify our lives and slow down, while still enjoying the holidays and special traditions with our families. Every year, we do a hot chocolate, PJ's, and movie night.  It is one of my kids' favorite traditions and they look forward to it every year.
To make it extra simple, I throw all of the ingredients into my crockpot to make Slow Cooker Hot Chocolate.  It is perfect because it keeps the hot chocolate warm and it takes almost no work.  It is perfect when you are throwing a party since the guests can scoop up warm hot chocolate at any time.  This helps to make a stress-free holiday!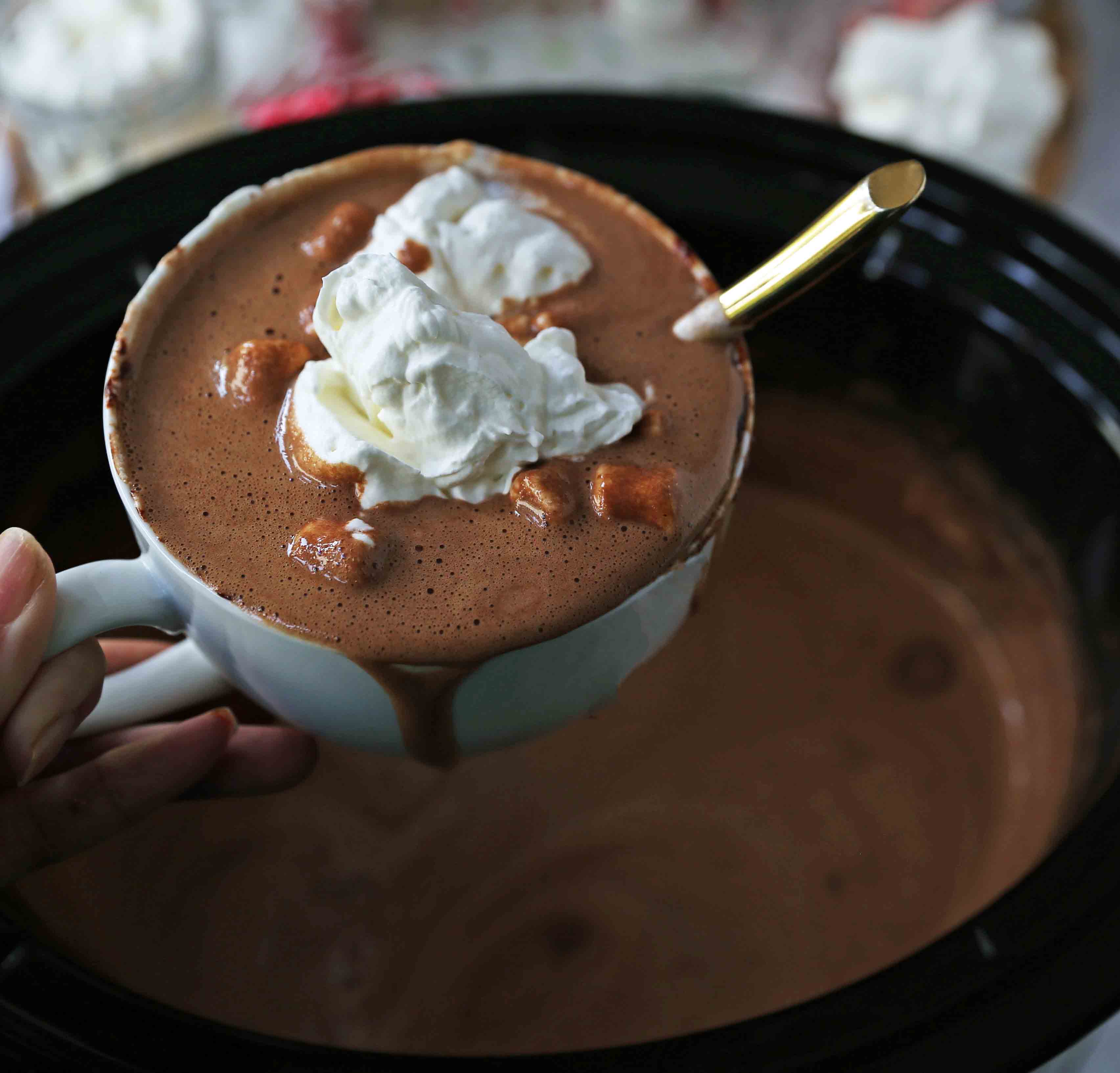 What ingredients are in Homemade Hot Chocolate?
It only takes 5 ingredients -- Semi-Sweet Chocolate Chips, Whole Milk, Heavy Cream, Sugar, and Vanilla.
Hot Chocolate Bar Topping Ideas:
Fresh Whipped Cream
Chocolate Shavings (grated or chopped from a chocolate bar)
Marshmallows
Candy Canes
Peppermint Bark
Caramels
Mint Chocolate Chips
Andes Mints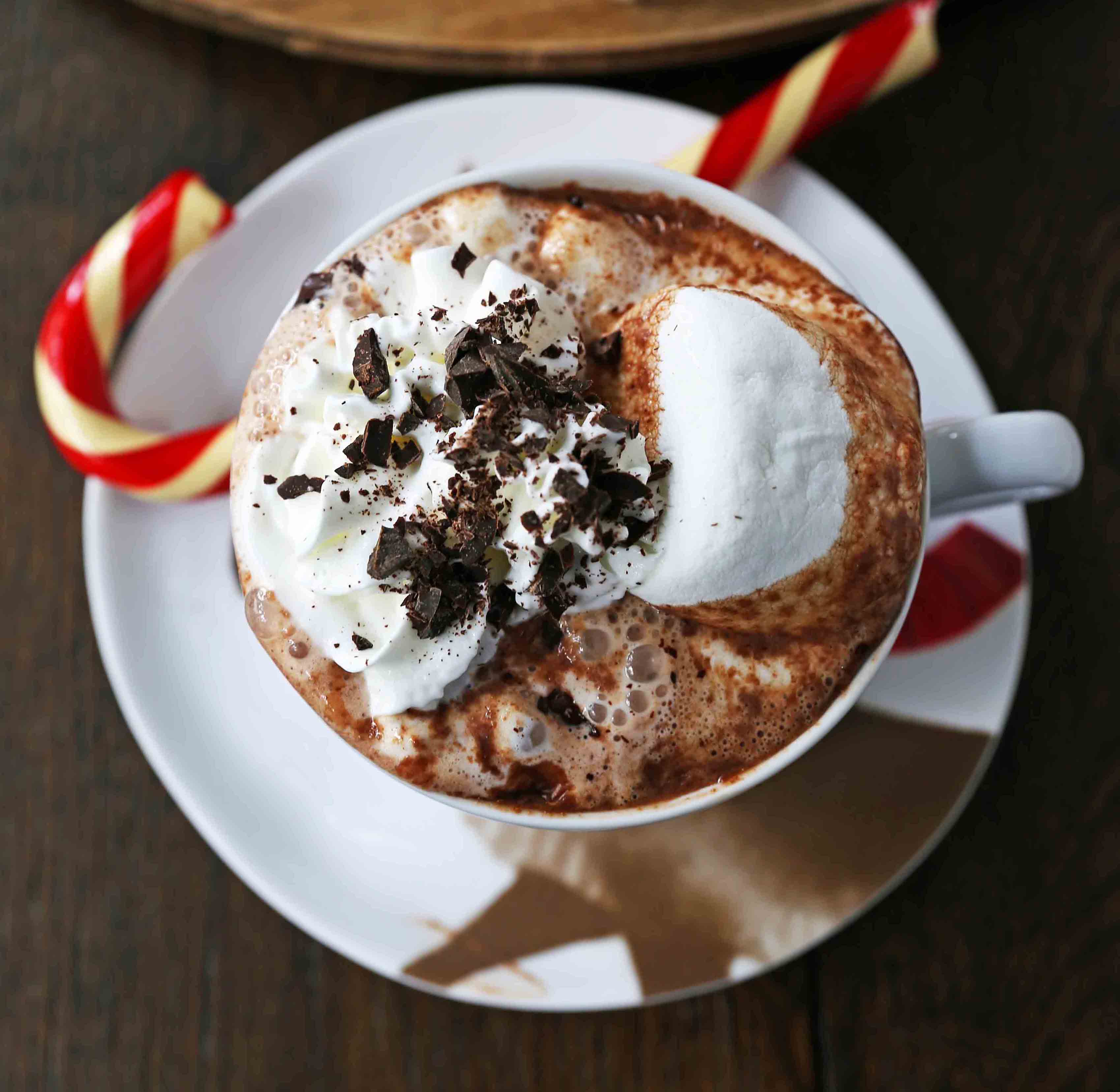 I find all of the ingredients to throw together an easy Hot Chocolate Bar at my Fry's store.  I love their Simple Truth Organic products use their whole milk in this recipe. It is perfectly rich and creamy. Also, Fry's has a huge holiday section in their store so it easy to find everything you need for a hot chocolate party.
This homemade hot chocolate recipe can be made on the stovetop or in the slow cooker. It will take longer to warm up in the slow cooker but it is perfect to keep on the warm setting during a party.  I will include directions for both methods.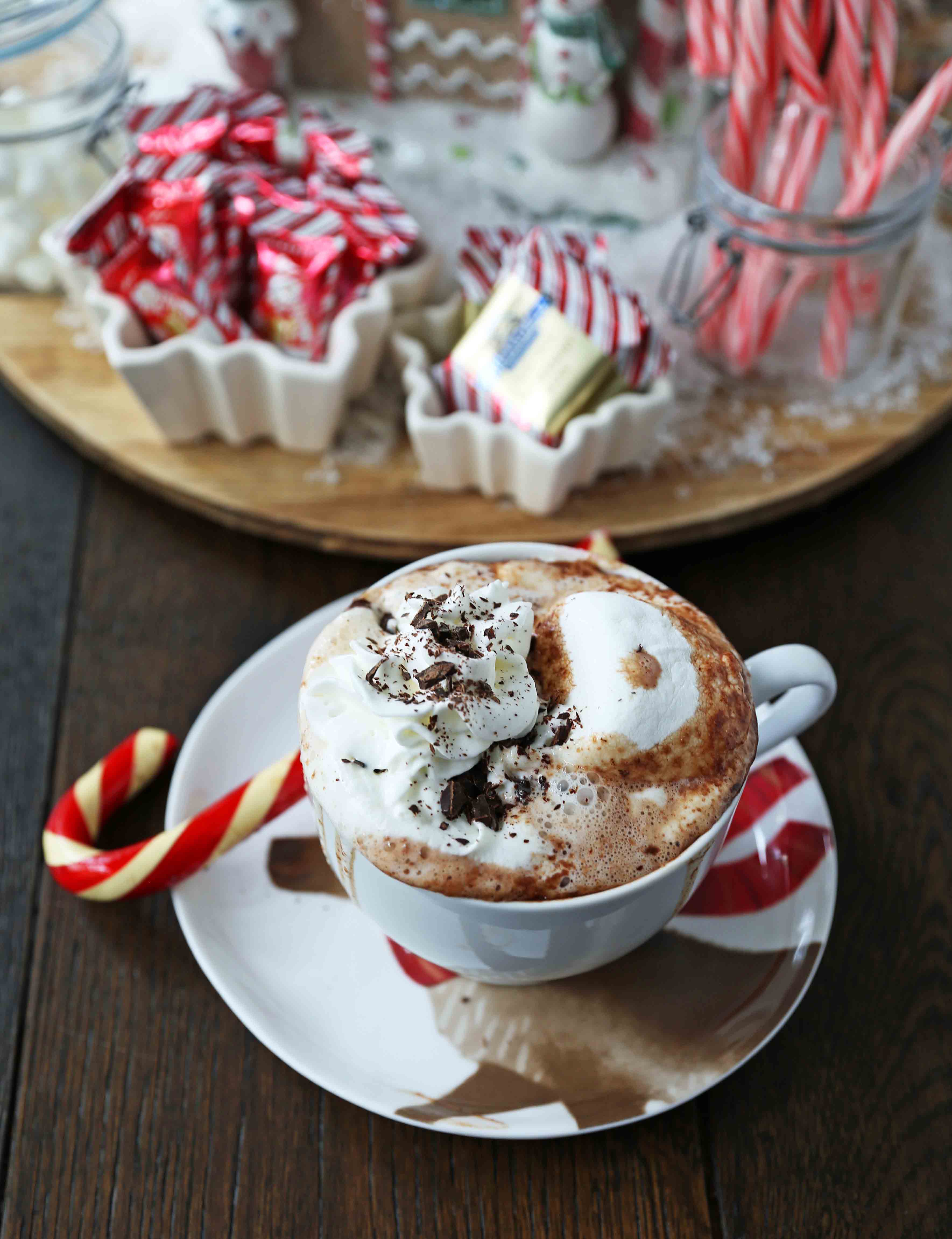 You can also change the amount of sugar depending on the desired sweetness. I find if I am making this for kids, they like a sweeter, more milk chocolate tasting hot chocolate while adults sometimes prefer a richer darker chocolate hot chocolate.  It is also fun to add some marshmallows to the hot chocolate at the very end and let them melt until they are ooey gooey.
You can find more stress-free tips by clicking this link HERE.  I use my Fry's app every single time I go to the grocery store and I save so much money. No more clipping coupons! They make it so easy for you.  It is literally a click of the button to add coupons to your shopper's card.  It has never been this easy to save money at the grocery store. Find out more information by clicking HERE.
I love to hear from you! If you make this recipe, please be sure to leave a comment and give this recipe a rating. If you make any of my recipes, tag me on Instagram @modern_honey and use #modernhoney so I can see your creations. It's one of my favorite things seeing you make these recipes in your own kitchen. Sign up for my newsletter below so you never miss a recipe. Thank you for following along! I truly do have the greatest readers. FOLLOW ME ON:   INSTAGRAM --- FACEBOOK --- PINTEREST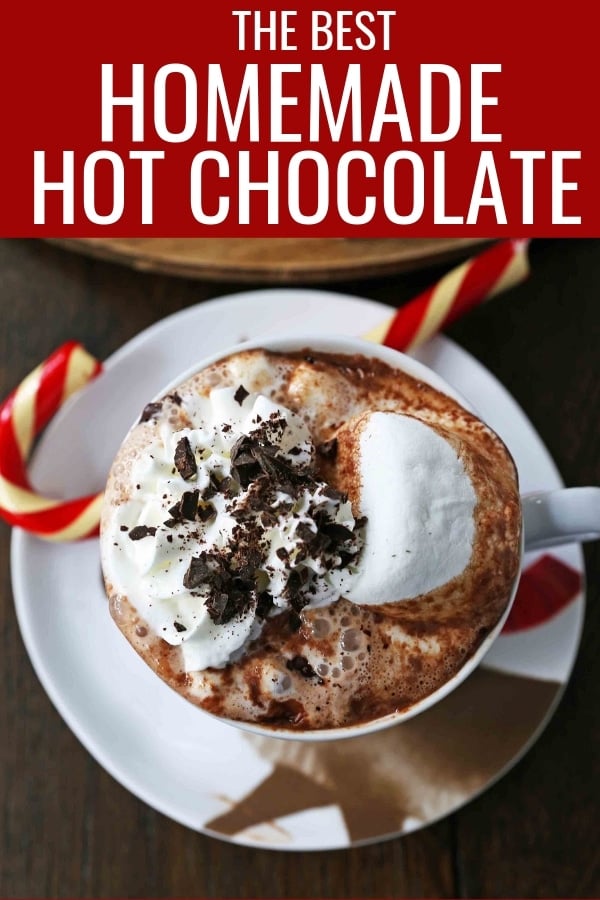 I hope you love this homemade hot chocolate recipe! This post is sponsored by Kroger but all of the opinions stated above are my own.