We just arrived home late last night from a heavenly trip to Seattle, Washington. It was our first time and I can't wait to share everything we experienced with you in an upcoming post. We hit 120 degrees two days before we left perpetual sunny Arizona so the cooler temps and green trees were beckoning us.
One of my dreams has been to go berry picking. Carrying a wooden basket and picking deep red berries straight from the vine sounds like the perfect day to me. We were able to pick both raspberries and strawberries so it was a two for one deal! We loved the experience and the berries were sweet and ripe.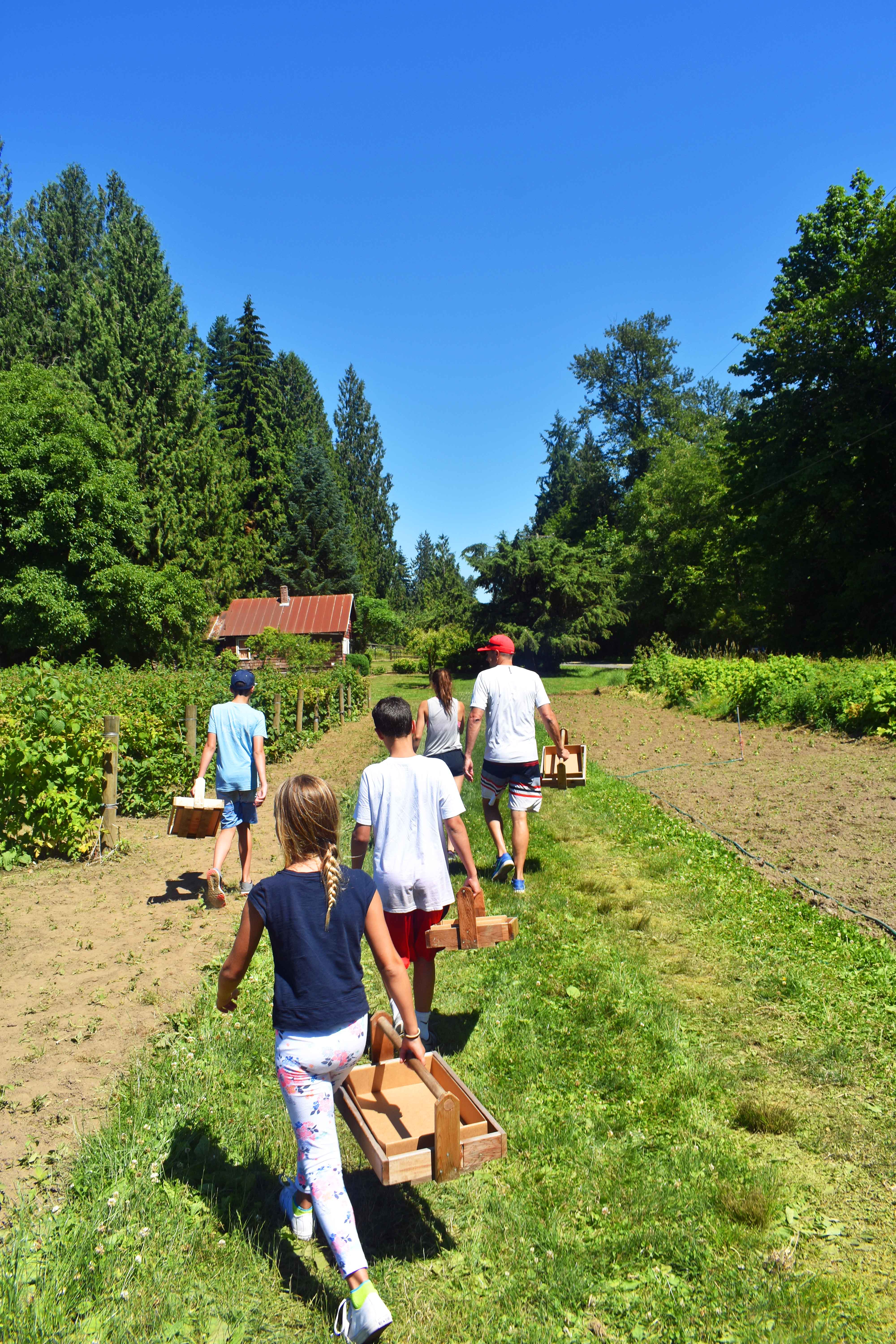 Since I have had berries on my mind, I had to make a refreshing summer drink. If you read my instagram post a few days back, you know that I don't like soda. I am not tempted by it at all and am more than happy with my water with extra lemon wedges or fruit infused waters.
There is one thing that tempts me big time — fruit flavored lemonade. It has me hook, line, and sinker. I don't usually like to drink my calories but this is when I bend the rules a little and enjoy every single sip.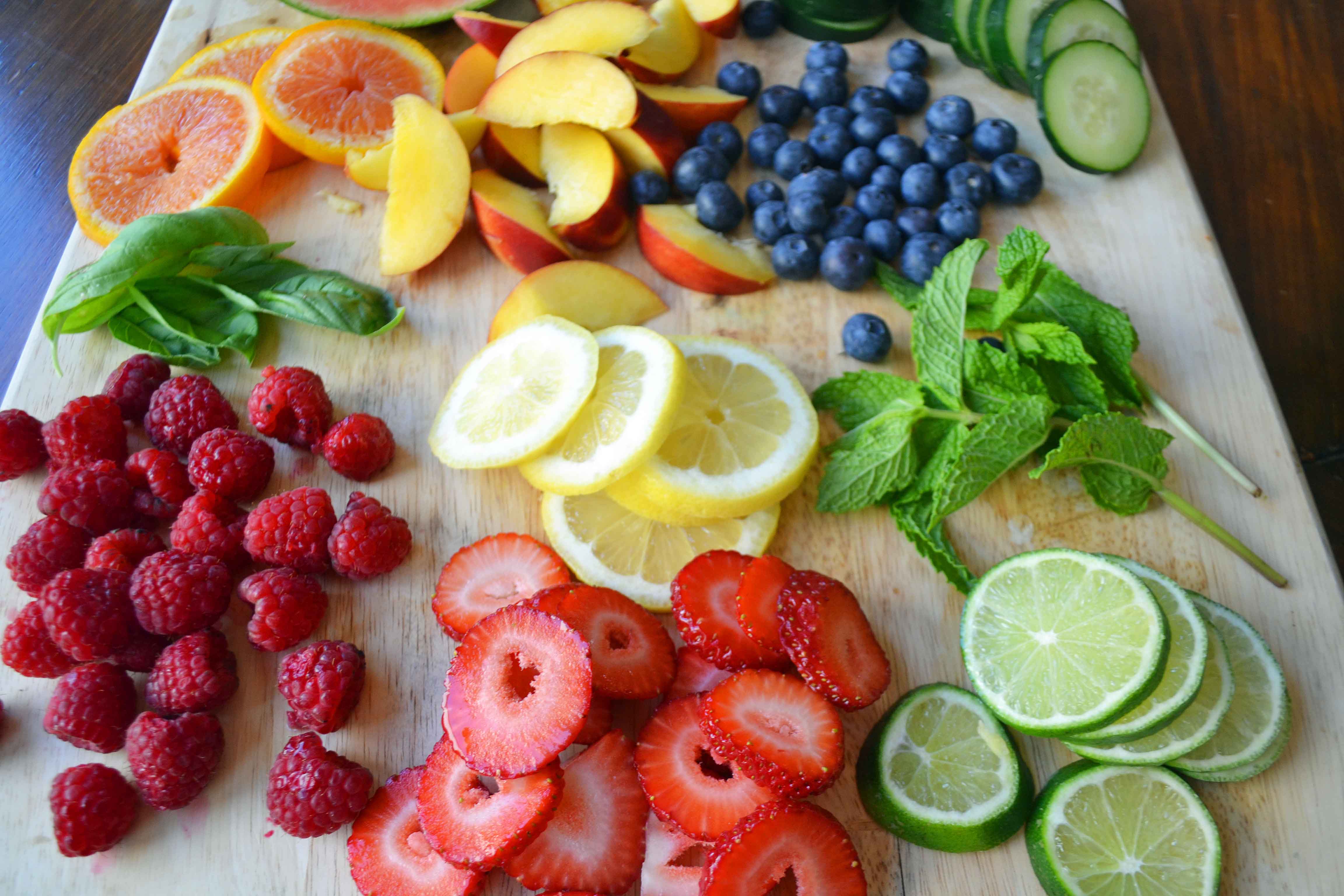 Fresh Strawberry Lemonade with freshly squeezed lemon juice, ripe strawberries, sweet sugar, water, and ice is a quintessential part of summer. Lemonade that is made from scratch, using the simplest of ingredients is what summer is all about. This strawberry lemonade recipe is so simple to make yet is so refreshing and delicious.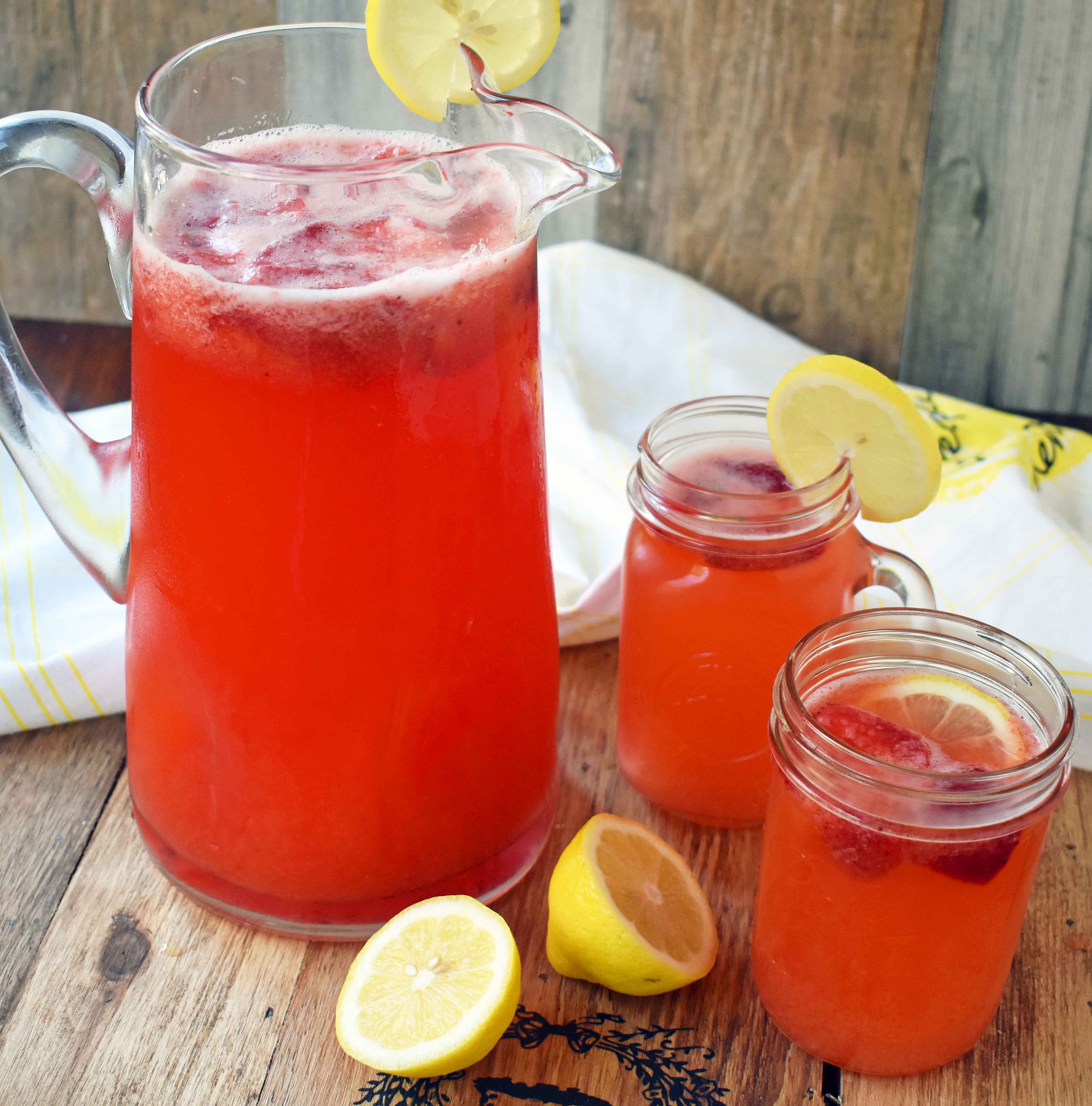 Here's how to make Fresh Strawberry Lemonade:
1.  Start with freshly squeezed lemon juice with real lemons. None of the fake stuff! Go straight to the source. When lemons are in season, we pick a bunch off the tree, squeeze the juice, and freeze it for a later time. I just made fresh squeezed lemonade using lemon juice that we squeezed in January! 
2.  Make a simple syrup using water and sugar. By cooking down some sugar in water over medium heat, it completely dissolves the sugar creating a smooth lemonade.
3.  Puree fresh strawberries in the lemonade.  This is the way to get the strawberry flavor infused into the lemonade. It is also beautiful to add a few chopped strawberries to the lemonade.
4.  Keep it COLD. Lemon juice should be kept cold at all times and it just tastes that much better!
Pin this now to find it later
Pin It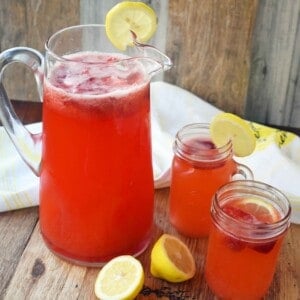 Fresh Strawberry Lemonade
Fresh Strawberry Lemonade made with freshly squeezed lemon juice, fresh strawberries, sweet sugar, water, and ice. Super simple!
Equipment
vitamix blender

food processor

citrus squeezer
Ingredients
2

cups

Water

2

cups

Sugar

1 1/2

cups

Fresh Strawberries

(divided)

2

cups

Freshly Squeezed Lemon Juice

8-10

cups

Water

Ice

Fresh Mint Leaves

optional
Instructions
In small saucepan, add water and sugar and cook over medium heat until sugar dissolves, about 5 minutes. Stir often. Remove from heat.

In blender or food processor, add 1 cup fresh strawberries and lemon juice and mix until blended.

Pour into large pitcher and add sweet sugar water.

Add water until desired taste, about 9-10 cups (try the lemonade around 8 cups to test strength).

Garnish with remaining 1/2 cup chopped strawberries.

Add ice and let chill.
Nutrition information is automatically calculated, so should only be used as an approximation.
I hope you all love this fresh strawberry lemonade for your 4th of July BBQ. What fun plans do you have to celebrate the 4th?  Have a wonderful day, my friends! xo