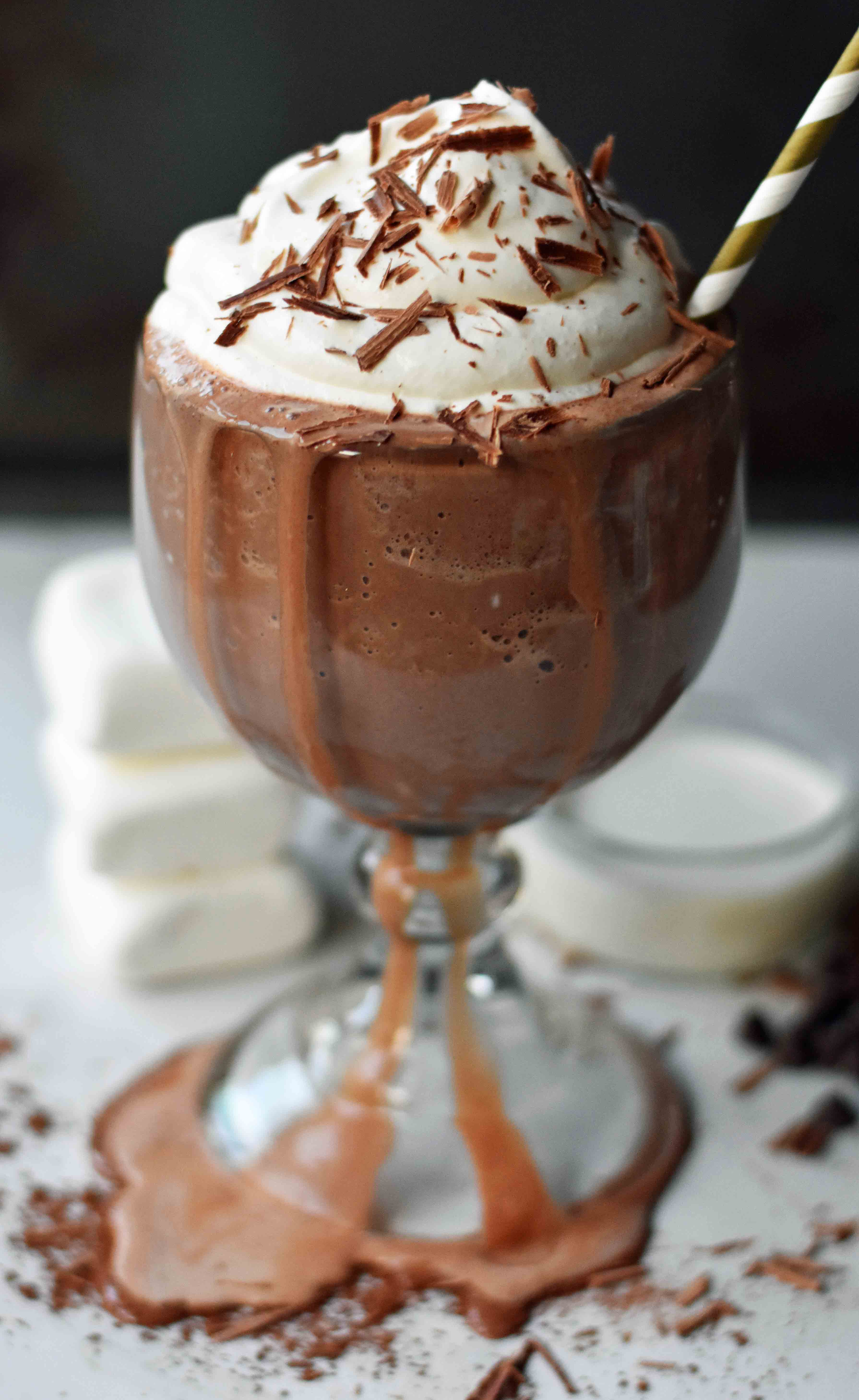 Frozen Hot Chocolate
Frozen Hot Chocolate is a famous New York City dessert found at Serendipity. It is a rich chocolate drink served cold with whipped cream and chocolate shavings. 
This frozen hot chocolate recipe is straight from heaven. It is rich, creamy, and unlike anything you've ever tasted! I fell in love with at first sip and I crave this frozen hot chocolate all of the time!
What is Frozen Hot Chocolate?
It's basically the opposite of hot chocolate. It is made with the same ingredients as hot chocolate but is served cold. It is whipped up in a blender with ice.  My frozen hot chocolate recipe uses melted semi-sweet chocolate, half-n-half (or whole milk), cocoa powder, and a touch of brown sugar. It is topped with homemade sweetened whipped cream and chocolate shavings.
How to make Frozen Hot Chocolate:
It is made by melting semi-sweet or dark chocolate, depending on how sweet you like it.  Half-n-half, unsweetened cocoa powder, and brown sugar are added. It is mixed in a blender and whipped up with ice, making it cold. This frozen hot chocolate can be made in less than 5-10 minutes.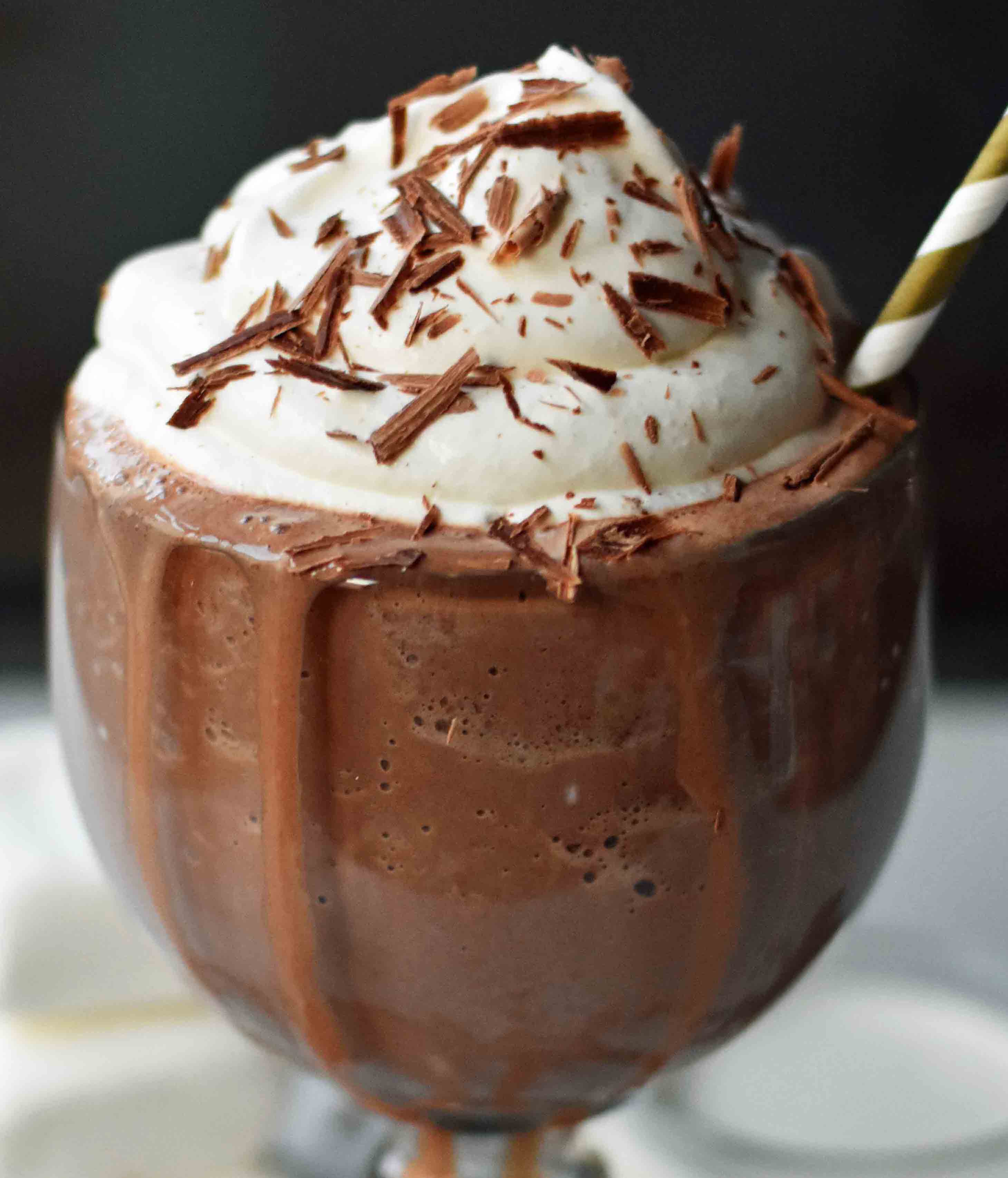 The History:
I crave visiting New York City. Every few years, I put a trip to visit the city on the calendar.  The first time we visited, it wasn't so magical. I was 7 months pregnant (first mistake) and I visited in August (second mistake). If you have ever spent any time in NYC in August, you will probably remember two distinct things — the humidity and the smells. I already have a really good smeller (is that even a word?) and it is magnified when I become pregnant. I can sniff out everything…even when I don't want to. I was a nauseous the entire trip.
My brother and sister-in-law lived in NYC for years so he was so excited to show me all around. They lived smack dab in the middle of midtown, so there was always a lot going on. We walked everywhere, which meant I was doing the full-on pregnancy waddle. By the time I got back to his place at night, I wouldn't be able to feel my legs. Tired would be an understatement. I came away from that trip wondering what in the world was so amazing about New York City.
But then I went back.
This time I wasn't pregnant and it wasn't on my own dime. Food Network and the Cooking Channel flew me in to film a segment for the "Perfect 3" Show.  The boutique hotel was right across from Chelsea Market and had cute cruiser bikes that we could use to ride around the city.  I was filming late in the afternoon, so we got up early and decided to venture around the city. We heard about the Hudson River bike lanes and wanted to see what the fuss was all about.
THIS was the day I fell in love with New York City.
The Hudson River Bike Path runs right along the Hudson River, so the views were beautiful. We were surrounded by green trees, plants, flowers, and gorgeous parks….it wasn't all about tall buildings, aggressive taxi cabs drivers, and bright lights. We got away from the city — even though it was within a block or two of the bike path. It was the perfect day and we were able to see the entire city on bikes.
This tradition didn't stop there. It doesn't matter if it is 20 degrees outside and we are the only crazy people to rent bikes — we always rent them. We have gone back in the dead of winter and also during the heat of summer, and we always ride bikes…especially to find the best food in the city.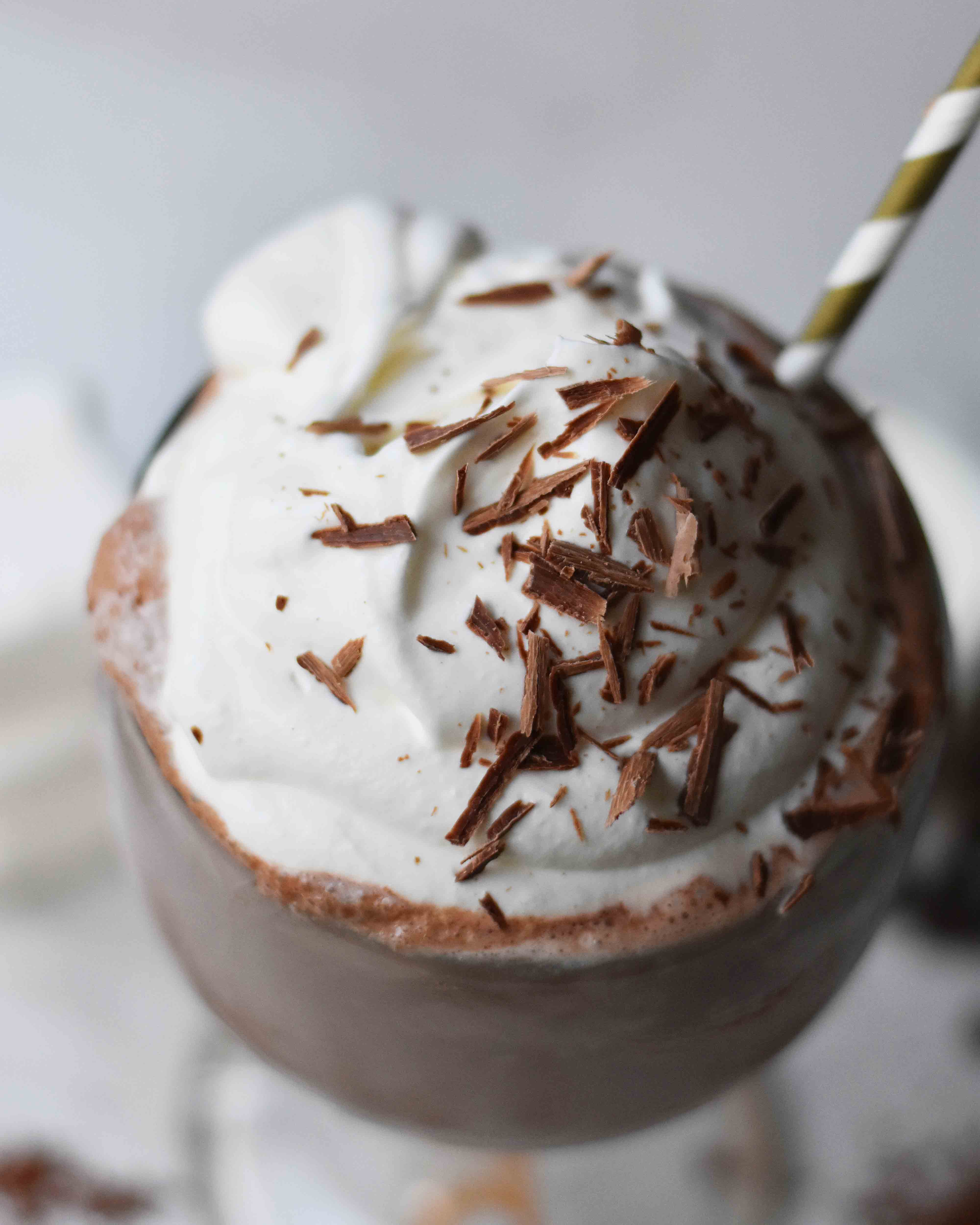 This is where Serendipidity frozen hot chocolate came in.  We had heard all about this world famous frozen hot chocolate. We had watched John Cusack and Kate Beckinsale sip it on their first date in the movie, "Serendipity." Since it was my daughter's 16th birthday and we were celebrating in New York City, we wanted to try this decadent creation.
It wasn't meant to be. We rode our bikes there but the wait was so long that we didn't have the time to try the Serendipity frozen hot chocolate. I told my kids not to worry because I would figure out how to make it at home.
I kept my promise. I figured out how to make amazing homemade frozen hot chocolate. Warning: it is addicting.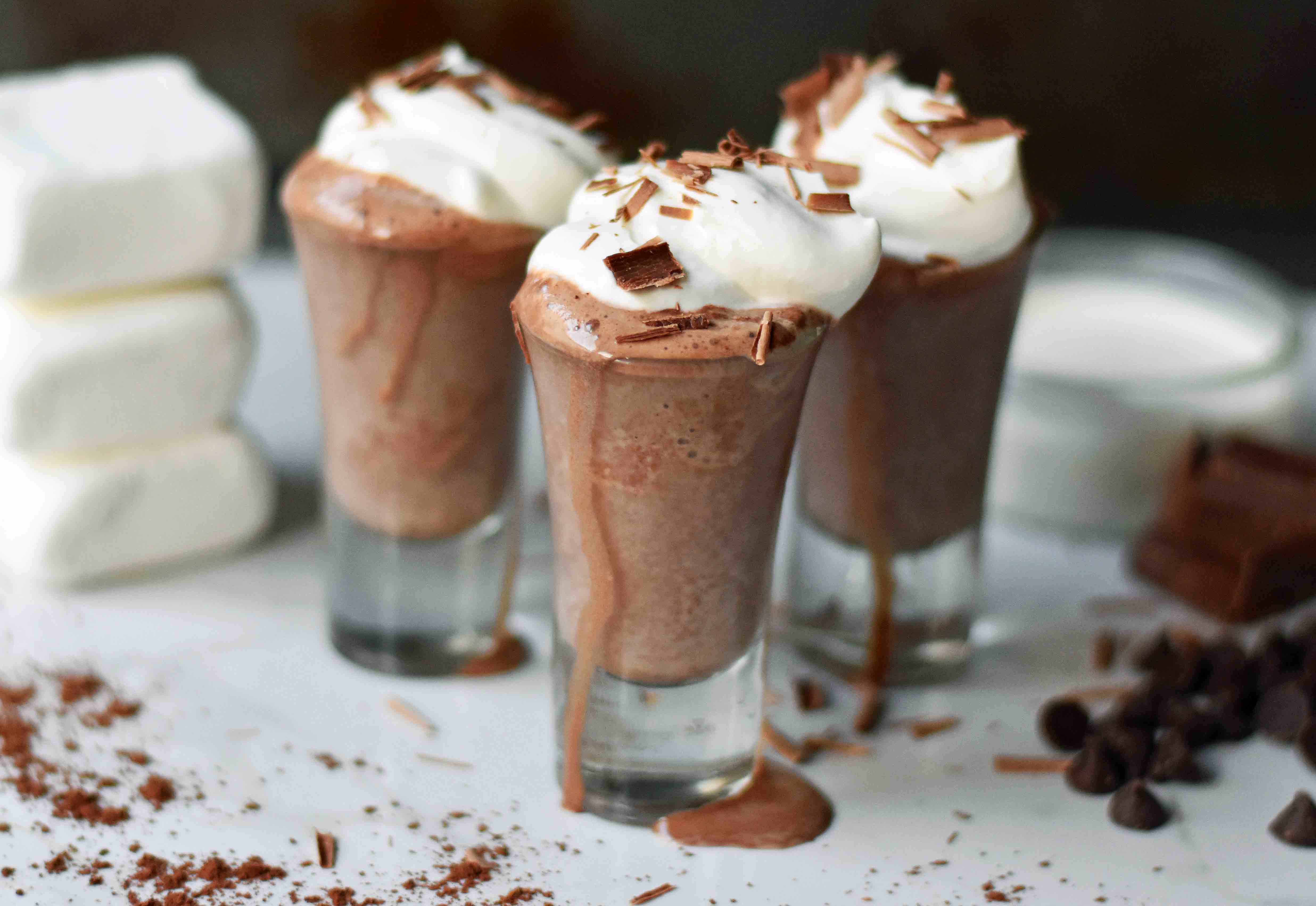 If you want to read about the BEST PLACES to EAT and SEE in New York City, click HERE.
If you want a copycat recipe for Levain Bakery's famous chocolate chip cookies, click HERE.
Pin this now to find it later
Pin It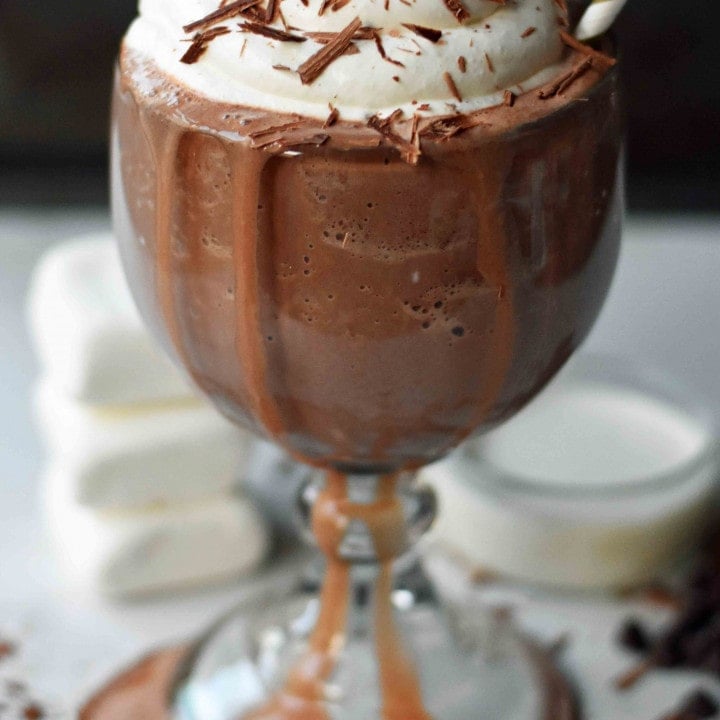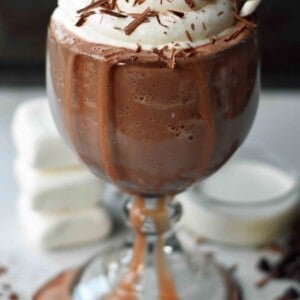 Frozen Hot Chocolate
Frozen Hot Chocolate is a famous New York City dessert found at Serendipity. It is a rich chocolate drink served cold with whipped cream and chocolate shavings.
Ingredients
Frozen Hot Chocolate:

2/3

cup

Semi-Sweet Chocolate

melted

1 1/2

cups

Half n Half or Whole Milk

1

Tablespoon

Cocoa Powder

2

Tablespoons

Brown Sugar

Ice

about 2-3 cups, depending on how cold you want it



Homemade Whipped Cream:

1/2

cup

Heavy Cream

2

Tablespoons

Powdered Sugar

Garnish:

Chocolate Shavings

cut from chocolate bar
Instructions
To melt chocolate: place chocolate in microwave-safe bowl and melt at 50% power for 45 seconds. Stir and repeat for 30 seconds, until melted.

To melt over saucepan: place the chocolate into pieces in a medium bowl set over a pot of simmering water, stirring often, until melted.

Remove from heat and add cocoa powder, brown sugar, and half n half or milk.

Let cool for 10 minutes.

Place chocolate mixture in a blender with ice and blend until it is creamy.

To make homemade whipped cream: place heavy cream in bowl and whip until soft peaks form. Stir in powdered sugar. Whip until desired consistency.

Place frozen hot chocolate in glasses, top with homemade whipped cream, and chocolate shavings. Drink with a straw.
Nutrition information is automatically calculated, so should only be used as an approximation.
Pin on PINTEREST: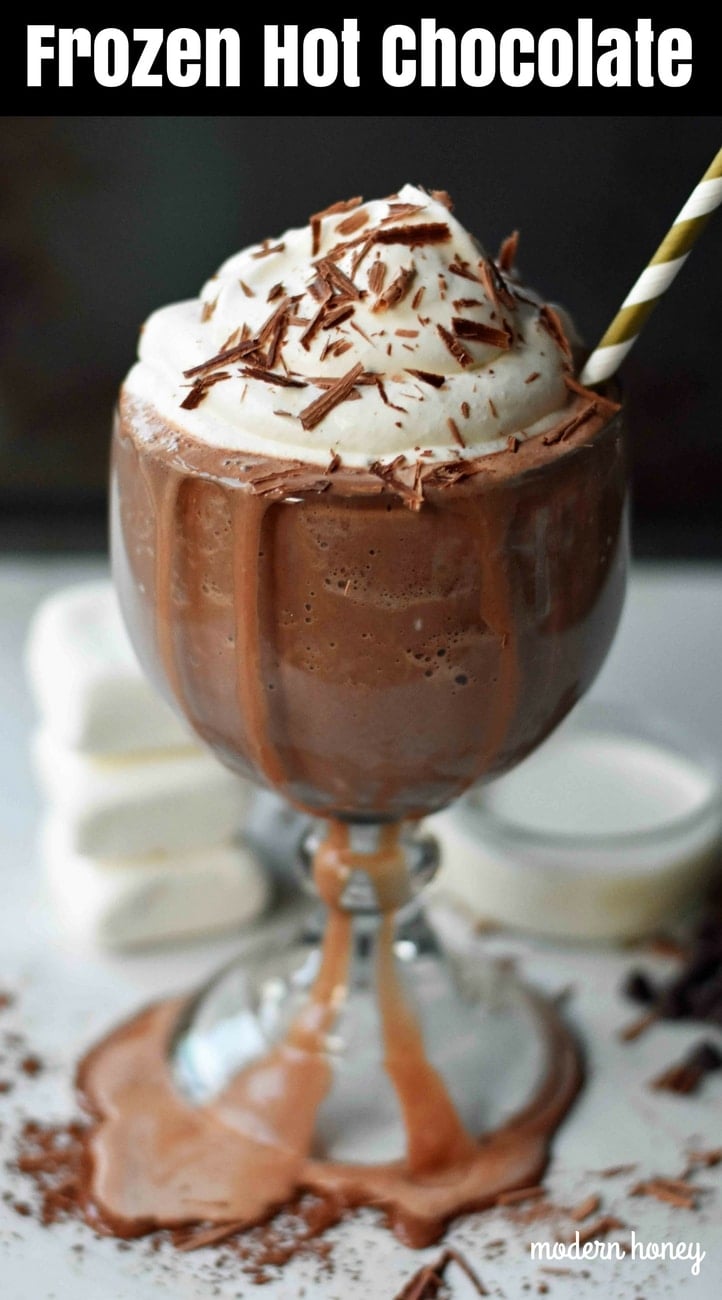 You are going to LOVE this Serendipity copycat frozen hot chocolate recipe. This will be the perfect chocolate drink for Valentine's Day. Have a wonderful weekend, my friends!