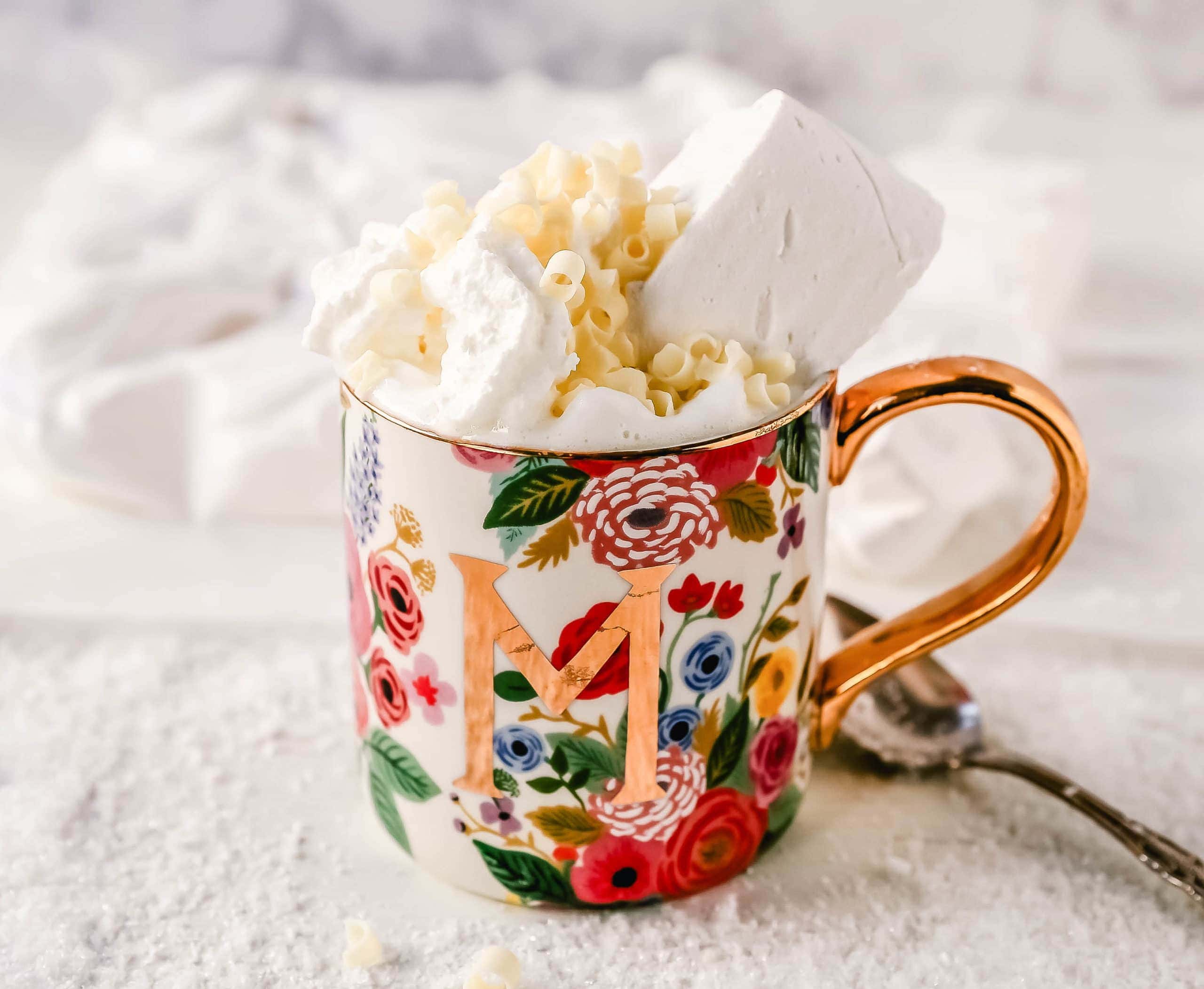 Homemade White Hot Chocolate
Creamy, silky-smooth white chocolate made with white chocolate, whole milk, and vanilla beans. Topped with fresh whipped cream, homemade soft marshmallows, and white chocolate shavings.
Tis'…the season for all of the warm drinks. I live in Arizona but I am a baby with the cold. If only you could see me now…it is 55 degrees outside and I am bundled up in sweats, two pairs of socks, with the thickest blanket on me. I am always looking for ways to warm me up!
I have a hot chocolate bar with all of the toppings set up on one of my kitchen islands at all-time during the Christmas season. Whenever the cravings strike or our friends and family need to warm up, the hot chocolate is ready to go.
I was recently at a store looking at their hot chocolate section and found some hot white chocolate powder. It sounded downright sinfully amazing! So I decided to try a decadent homemade hot white chocolate — made with only a few simple ingredients.
This Hot White Chocolate is made with high-quality white chocolate melted in a pot with whole milk and a vanilla bean or vanilla bean paste. The vanilla bean is a game-changer because it gives the hot white chocolate drink some depth and warmth.
Then you top it off with all the creamy, yummy things — homemade soft and fluffy marshmallows, handcrafted sweet whipped cream, and white chocolate shavings.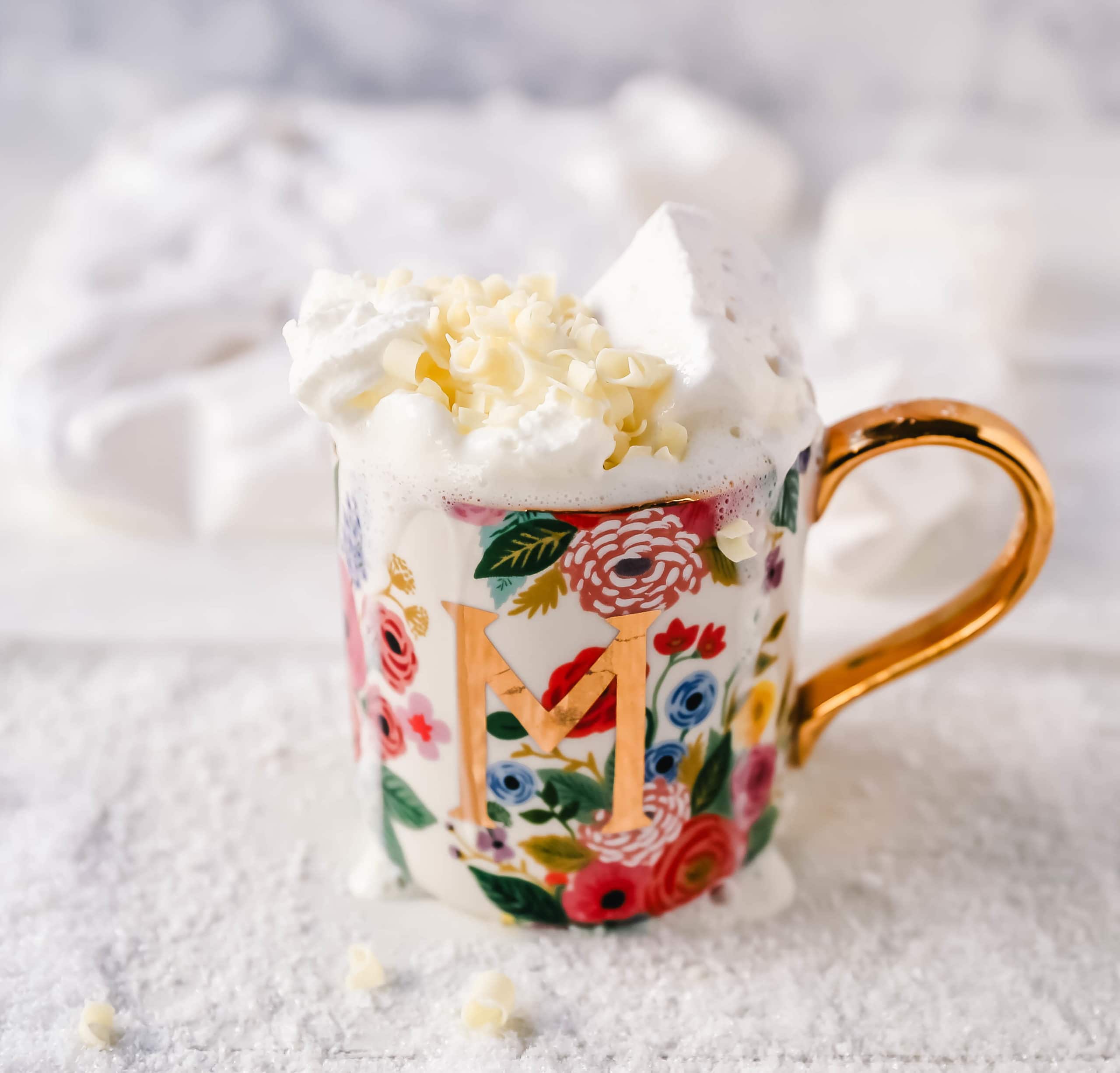 I suggest using high-quality white chocolate since it is the star ingredient. There are many white chocolate bars that have excellent flavor and creaminess. Green and Black's white chocolate bar is one you can find at your local grocery store and has a sweet, creamy flavor with vanilla notes.
If you want to use white chocolate chips, I suggest using Ghirardelli or Guittard. I always have a huge jar of Ghirardelli white chocolate chips on hand for baking. Another option is to buy the Ghirardelli white chocolate baking bar. Chocolate bars melt more easily than chocolate chips because they don't have the fillers to keep their shape.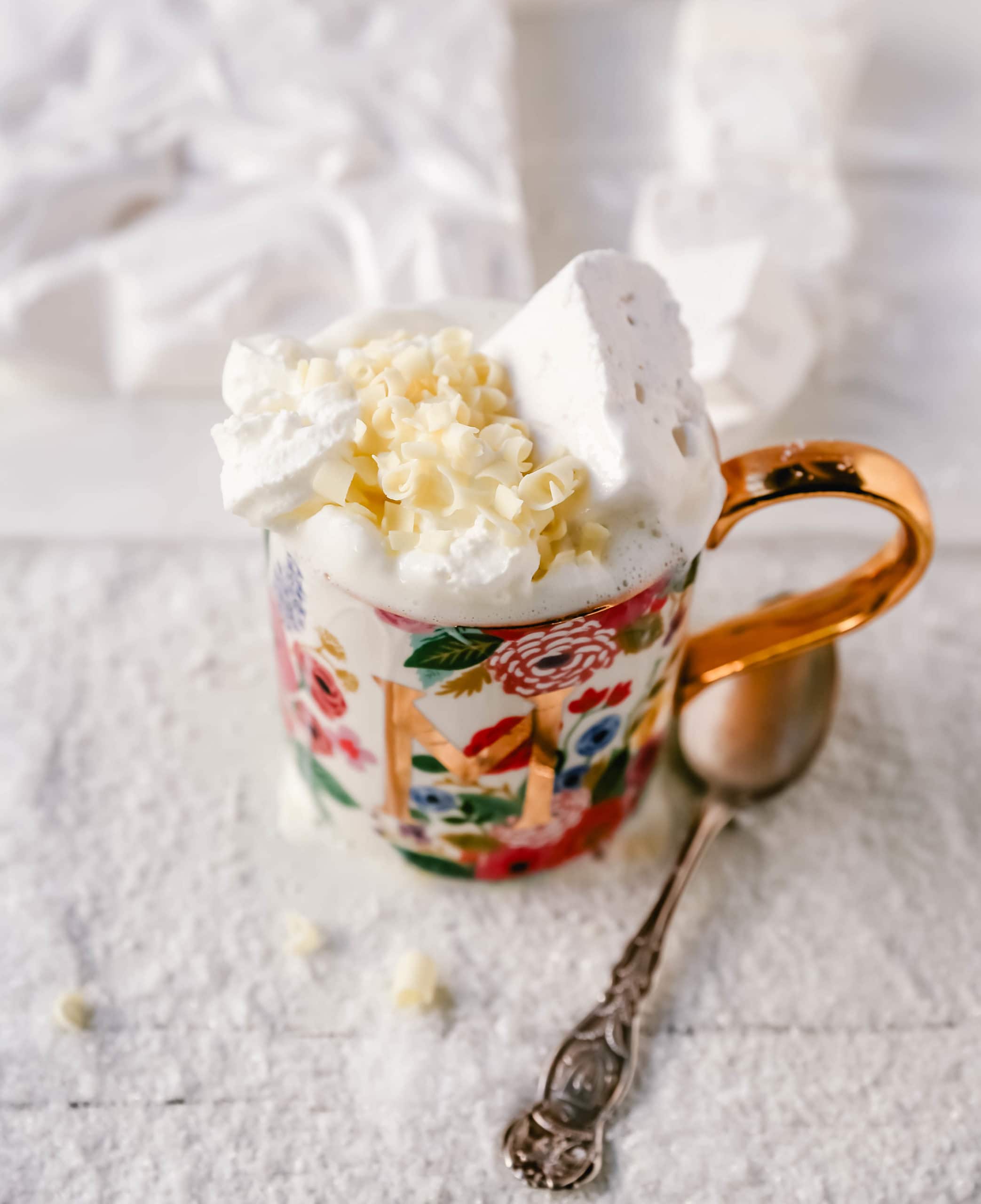 If you've ever wondered about the origins of white chocolate and if it is truly real chocolate, then here are all of the details of how it is made. I found this information on Cook's Illustrated…
What Is White Chocolate?
"First, let's clarify what white chocolate really is. Like all chocolate, it begins with cacao pods. After the cacao beans are harvested from the pods, they are fermented, dried, cleaned, and roasted. Next, the shells are removed from the beans, revealing cacao nibs, which are ground into a paste called chocolate liquor.
This liquor is divided into two parts: cocoa butter and cocoa solids. Cocoa butter is responsible for the richness we associate with chocolate. Though cocoa butter has some chocolaty flavor and aroma, cocoa solids are responsible for most of chocolate's flavor as well as its color and aroma. White chocolate, unlike other types of chocolate, contains only cocoa butter. That's why it's so light in color."
I highly suggest using a vanilla bean or a generous amount of vanilla bean paste in this white hot chocolate recipe. You can find vanilla bean paste in stores or online HERE.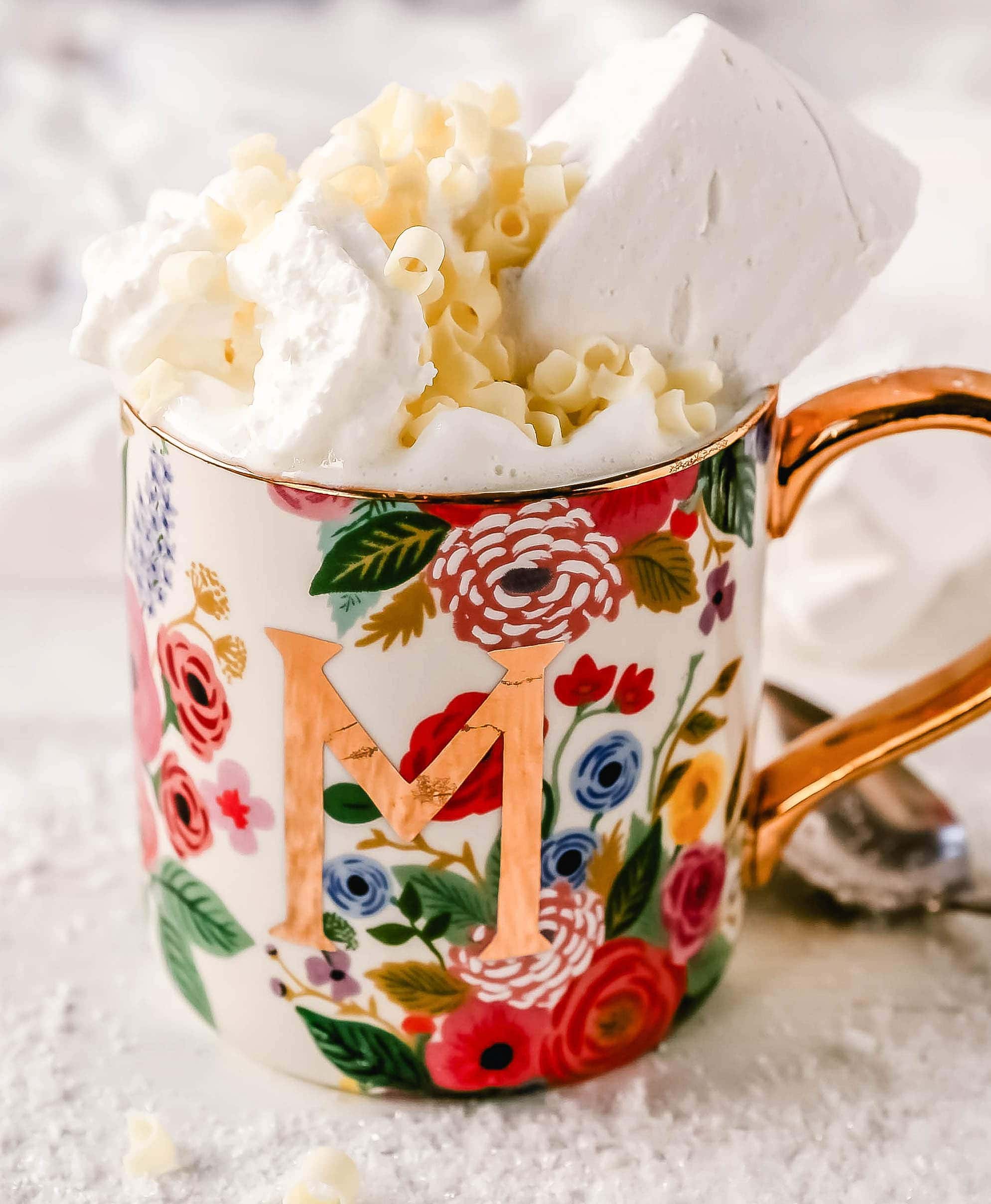 Here are some more cozy winter homemade drink recipes:
Homemade Hot Chocolate
Homemade Marshmallows
Frozen Hot Chocolate
Pin this now to find it later
Pin It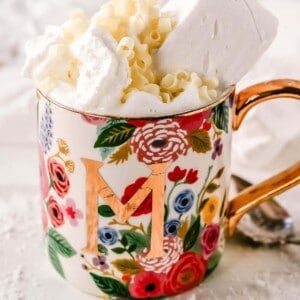 White Hot Chocolate
Homemade White Hot Chocolate Creamy, silky-smooth white chocolate made with white chocolate, whole milk, and vanilla beans. Topped with fresh whipped cream, homemade soft marshmallows, and white chocolate shavings.
Ingredients
4

cups

Whole Milk

1

cup

Heavy Cream or Half-n-Half

1

cup

High-Quality White Chocolate*

2

teaspoons

Vanilla Bean Paste

(or place vanilla bean in simmering white chocolate)

pinch

Salt
Garnish:
Whipped Cream

Homemade Marshmallows

https://www.modernhoney.com/homemade-marshmallows/

White Chocolate Curls
Instructions
In a medium saucepan over medium heat, combine white chocolate, whole milk, and heavy cream. Stir continuously until white chocolate chips have completely melted.

Remove from heat and add vanilla bean paste. If you don't have vanilla bean paste, substitute vanilla extract. Stir occasionally until heated through.

Pour into mugs and top with a dollop of whipped cream, marshmallows, and white chocolate curls
Notes
*I suggest Ghirardelli, Guittard, Valrhona, or Green and Black White Chocolate Bars
**Recipe adapted from Paula Deen
Nutrition information is automatically calculated, so should only be used as an approximation.