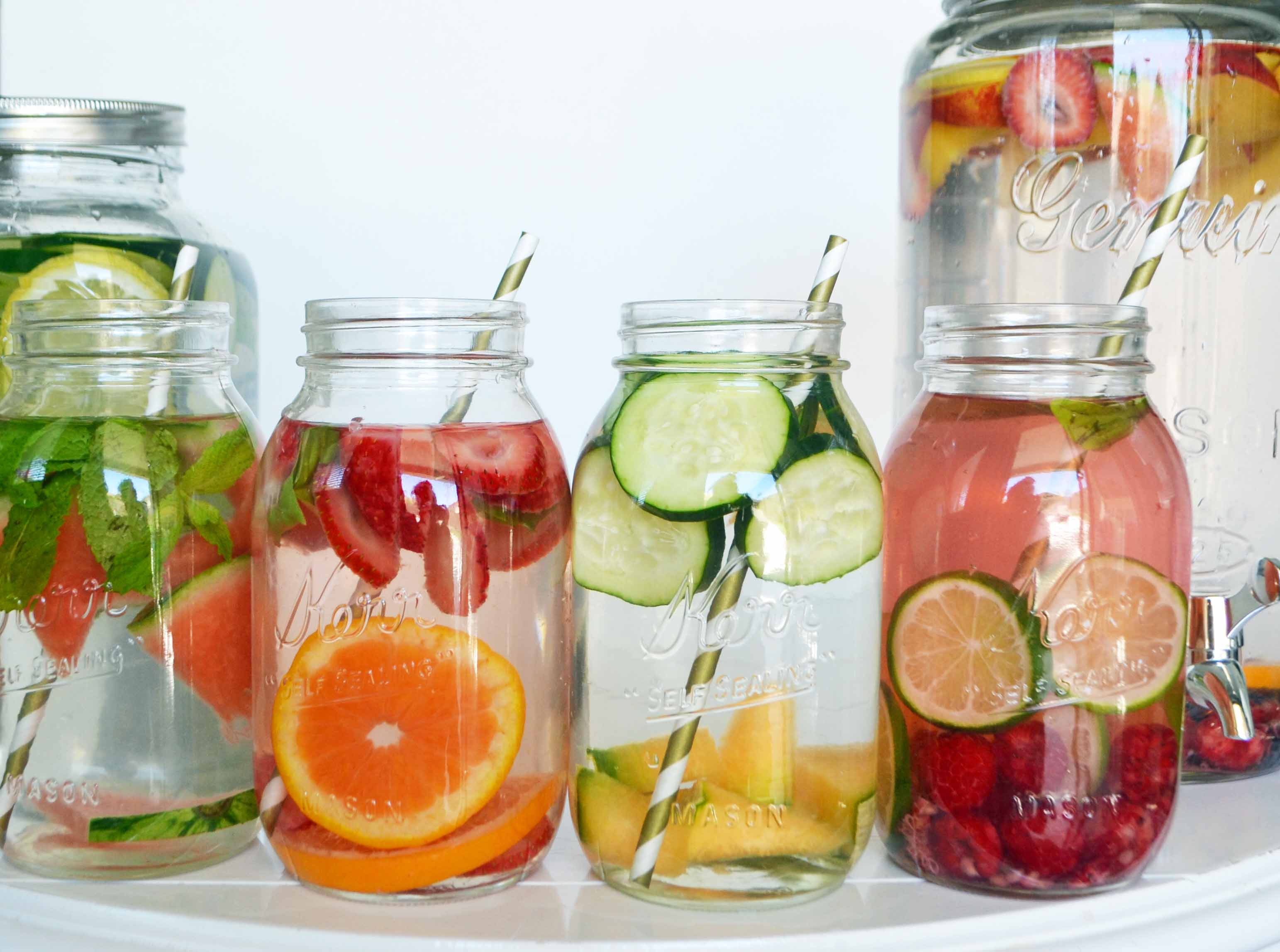 The weather app on my phone is telling me that it is going to be 118 degrees in Arizona on Saturday (insert crying emoji here).
Since Arizona heat makes you feel as if you are getting tossed around in a heated dryer, we have to find ways to not only cool off but keep hydrated during the summer months. I have just the solution!
We all know that drinking water is the best thing for our bodies but since 95% of my friends are addicted to Diet Coke, plain water isn't that appealing to them.
When we were in San Francisco last summer, we stumbled upon a massive clearance sale at Sur La Table. We found the cutest Glass Mason Jar Beverage dispenser and I convinced my husband that we could fit it, as well as all of my kitchen finds, into our Yukon. Thank heavens I married a good one!
In an effort to get my kids to drink more water and less soda, I filled the Glass Mason Jar dispenser with ice cold water and added fruit to the water. We experimented with different fruit fusions every 2 days. My kids drank more water than they ever had before and loved experimenting with unique combinations. They weren't even begging for soda and were happily drinking water without me reminding them. The Spa Fruit Infused Detox water was a hit!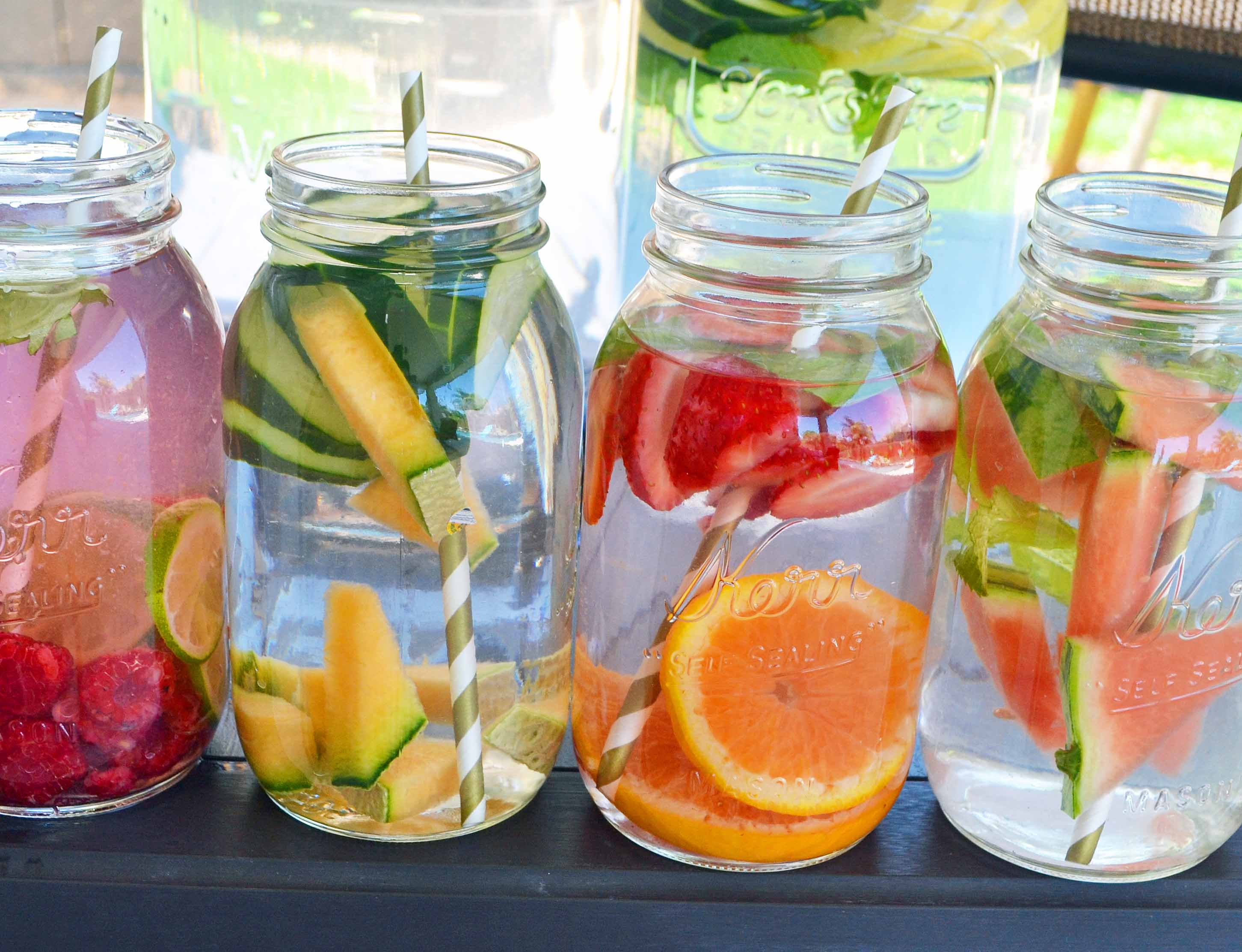 What makes water so good for you?
Water is the ultimate purifier, replenisher, and hydrator for all organs in our bodies. It aids in all functions of our body and helps to flush out toxins.
It is recommended to drink at least 8 glasses of water which equals 64 ounces every single day!
Adding fresh fruits and herbs adds minerals and vitamins to water and increases the nutritional benefits. It also makes it taste refreshing, slightly sweet, and delicious!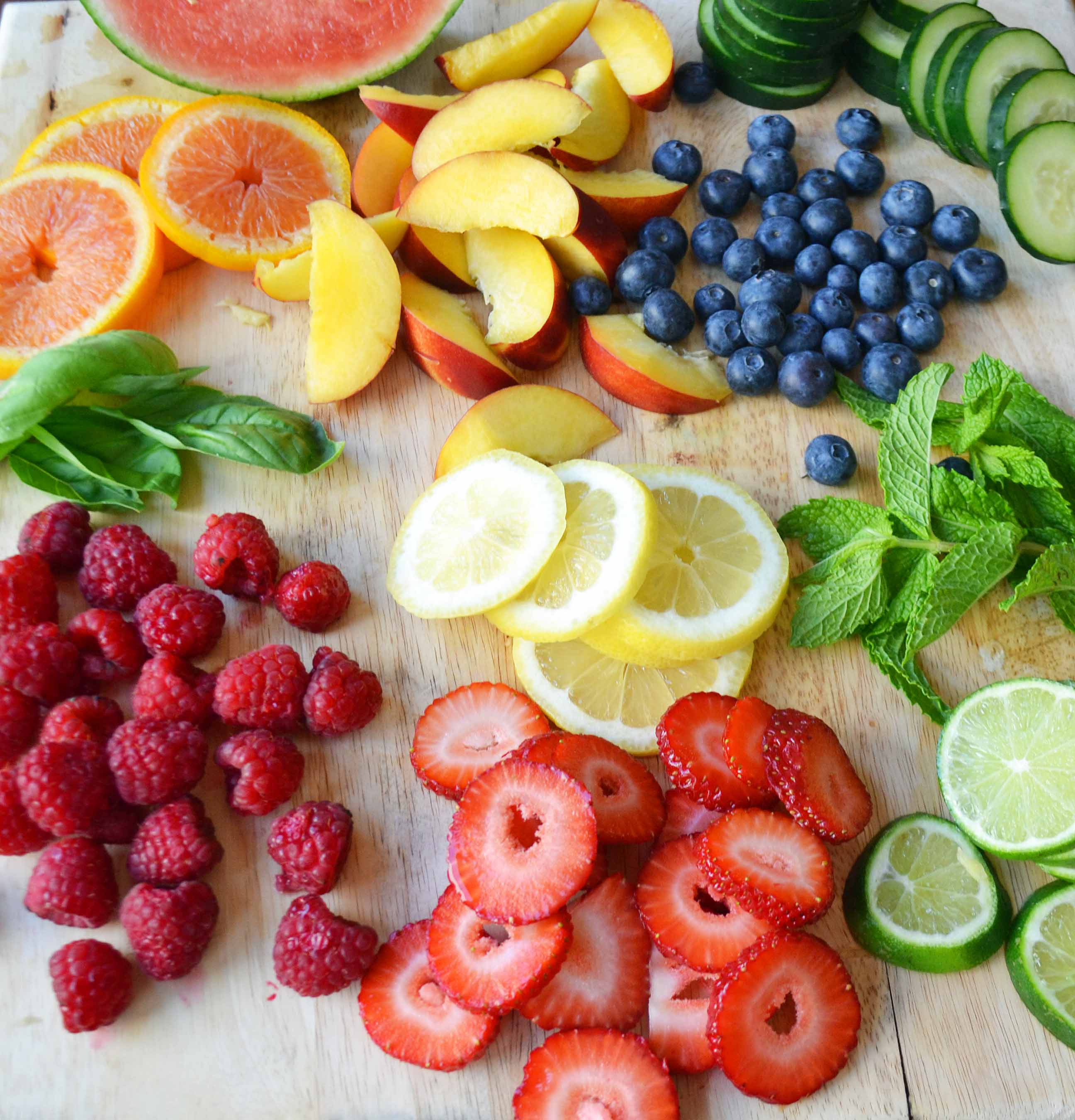 Fresh Fruit and Herbs Health Benefits to make incredible Spa Fruit Infused Detox Water:
Lemons – a natural detoxifier and aids with bloating and fluid retention
Cucumber – help cool the inflammatory response in body. Hydrates body, reduces puffiness and bloating, and flushes toxins.
Mint – soothes the stomach and reduces inflammation
Watermelon – high in lycopene and antioxidants
Lime – helps with digestion and natural detoxifier
Basil – anti-inflammatory and anti-bacterial benefits
Strawberries – high in antioxidants and boost immunity
Cantaloupe – great skin and hair benefits
Pineapple – has digestive enzymes that aid in digestion
Blueberries – the healthiest fruit on the planet, high in antioxidants
Peaches – high vitamin C content is beneficial for the skin
Oranges – high in Vitamin C and helps to alkalize the body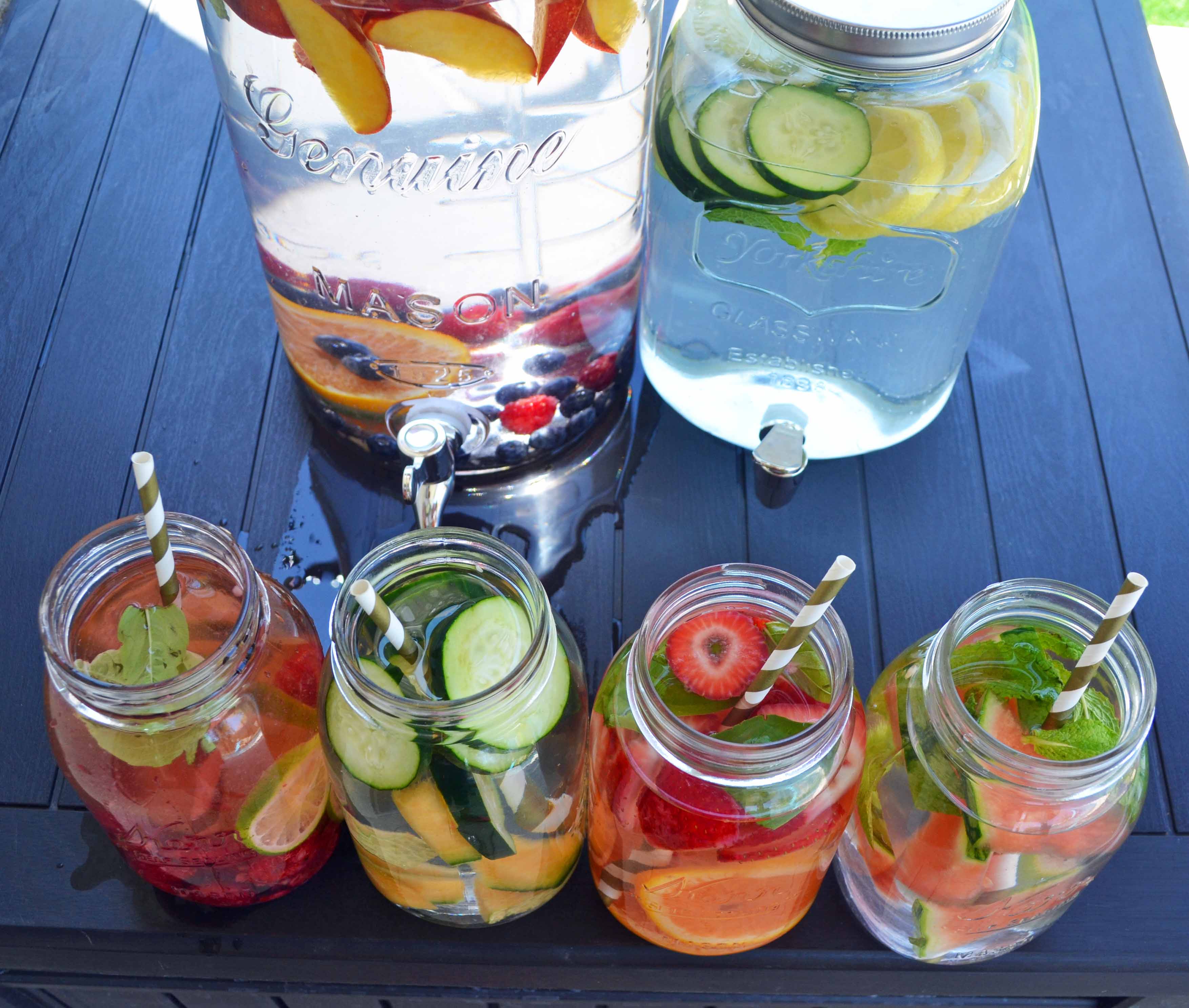 The Glass Mason Jar Beverage Dispensers can be found at places such as Home Goods, TJ Maxx, Marshall's, Ross, World Market, Target, Wal-Mart, Sur La Table among other places. Glass Mason jars are the perfect container for Spa Fruit Infused Detox Water.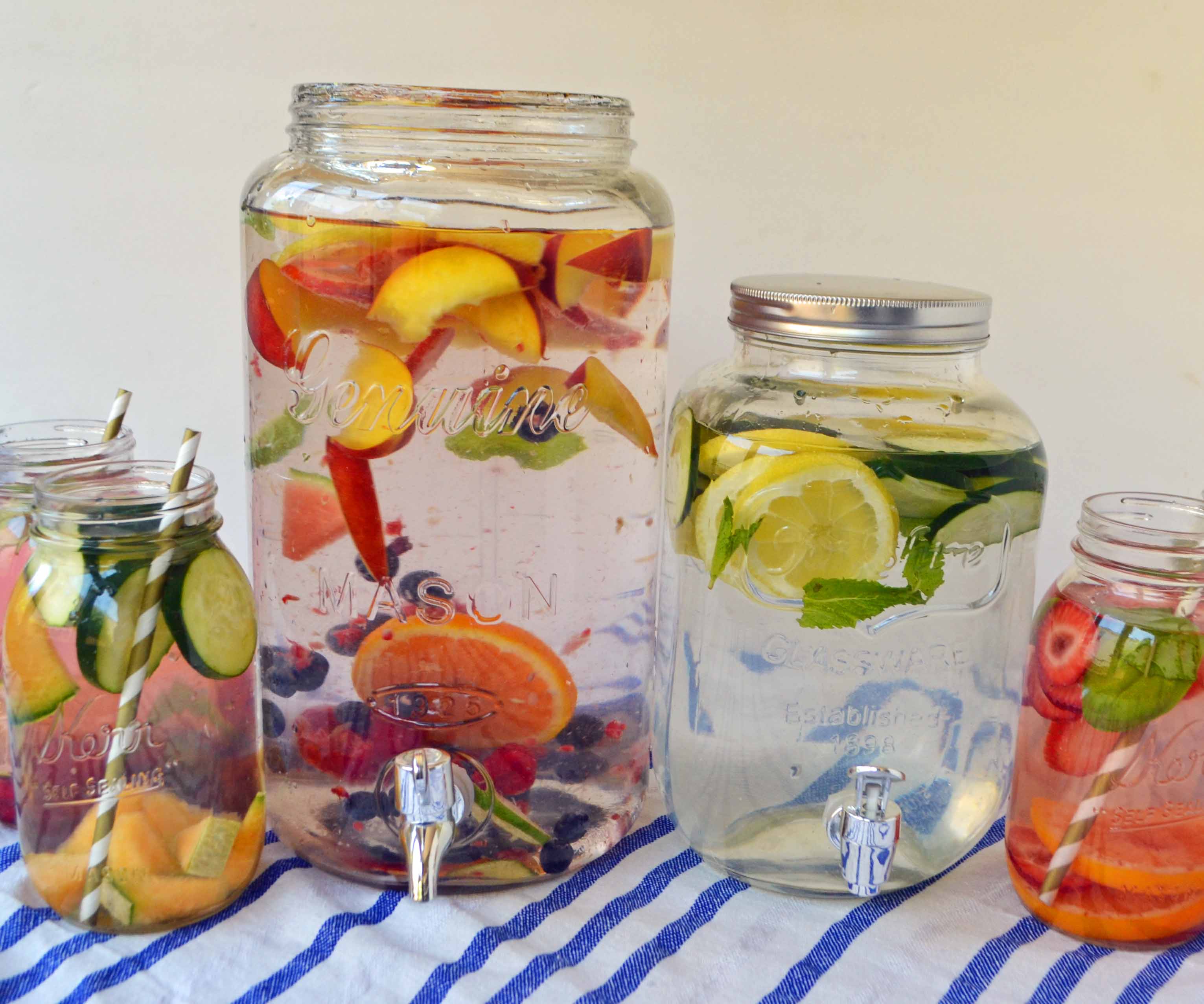 Pin this now to find it later
Pin It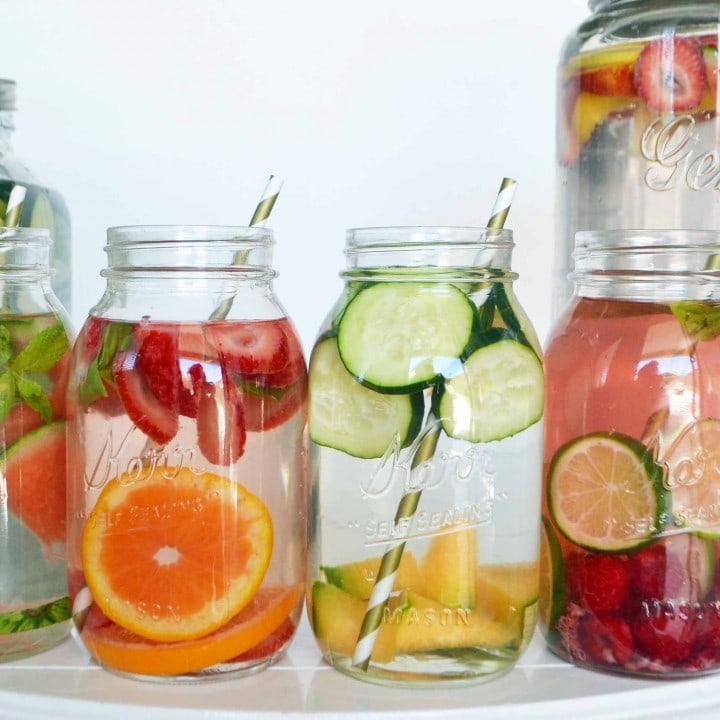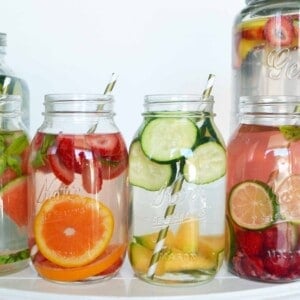 Spa Fruit Infused Detox Water
Fresh fruits and herbs infused in ice cold water has numerous nutritional benefits and makes water taste so refreshing.
Ingredients
Spa Fruit Infused Detox Water:
Ultimate Detoxifier:
Cucumber + Lemon + Mint Leaves
Sweet Watermelon:
Watermelon + Mint Leaves + Basil
Strawberry Basil:
Strawberry + Orange + Basil
Raspberry Lime:
Raspberries + Lime + Basil
Fruit Virgin Sangria:
Peaches + Blueberries + Strawberries + Mint + Lemon + Lime + Watermelon + Pineapple + Oranges
Instructions
Fill pitcher with ice cold water.

Add fresh fruits and herbs. Herbs have a very strong flavor so a little goes a long way. Use sparingly.

Let chill and infuse for at least 30 minutes in refrigerator.

Lasts for up to 2-3 days. Lemons, oranges, limes, and cucumbers will last longer. Berries will start to disintegrate within 1-2 days.

Enjoy ice cold.
Nutrition information is automatically calculated, so should only be used as an approximation.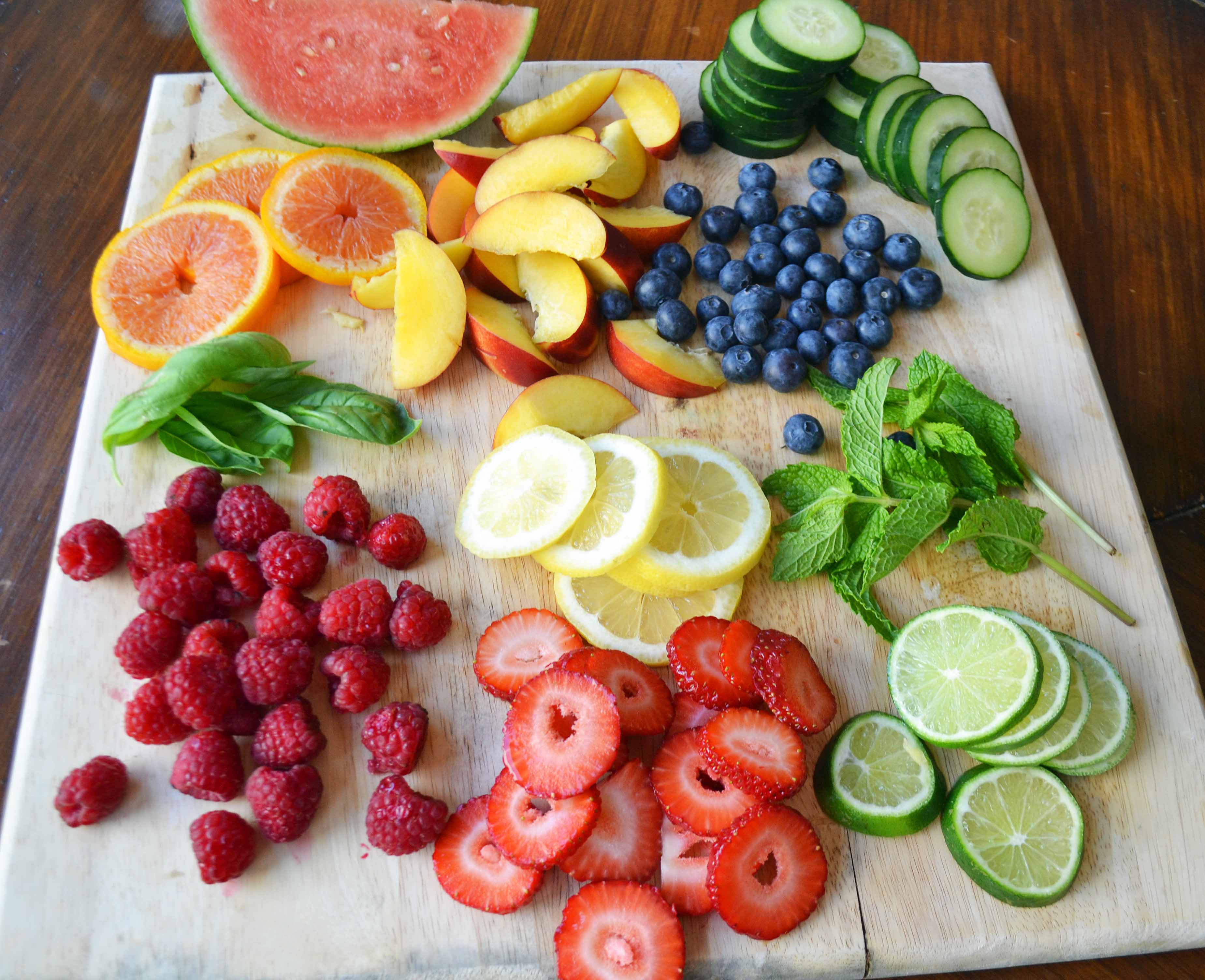 You will find me this weekend, sipping a gallon of this Spa Fruit Infused Detox Water, in my pool attempting to cool off during this upcoming crazy heat wave. Happy summer, my friends! xo
Happy Sipping!