This Chocolate Almond Butter Smoothie is the richest, creamiest healthy chocolate protein shake made with almond butter. This tastes like a chocolate milkshake and you will forget you are drinking a chocolate protein shake!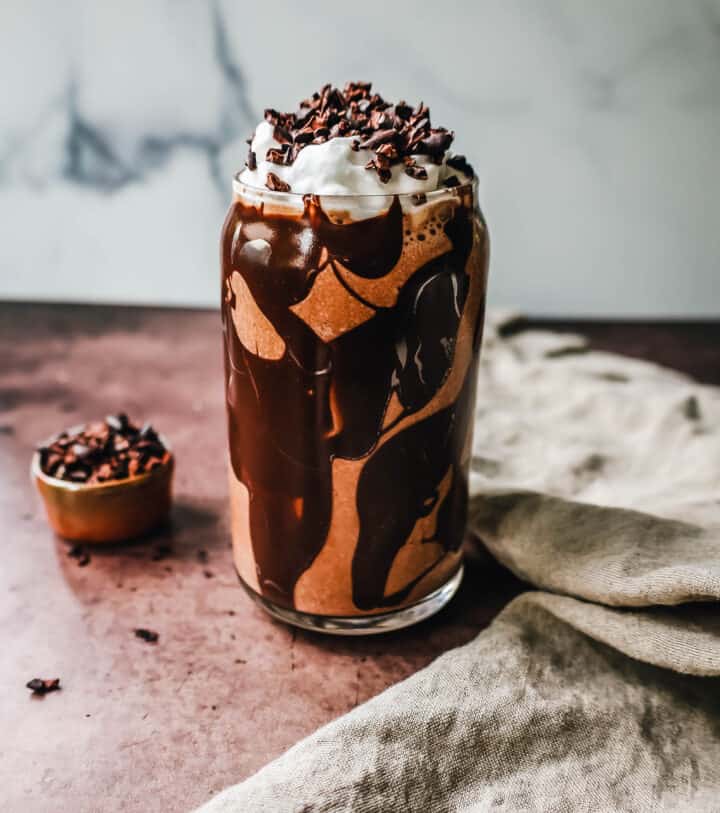 I am always looking for ways to make a protein shake taste better. As my kids are still growing, I love to send them out the door in the morning with a protein shake filled with healthy ingredients. I can't just send them off with protein powder mixed with water because they just won't drink it!
So I have become creative in the kitchen trying to make better-tasting protein shakes that taste like milkshakes! This Chocolate Almond Butter Protein Shake does the trick! It makes you think you are drinking a rich chocolate milk chocolate but in reality, you are getting a great balance of protein, fats, and energy-boosting nutrients.
I saw that Erewhon, the boujee natural grocery store in California, was selling Sami's Form Fuel smoothie and it looked so good! I wanted to create a simpler version I could drink every single day. I am literally obsessed with this chocolate smoothie.
Chocolate Protein Shake Ingredients:
Chocolate Protein Powder -- I prefer to use the Vital Protein Chocolate Collagen Peptides because of its rich, deep chocolate flavor plus the collagen benefits; however, you can use any of your favorite chocolate protein powder.
Unsweetened Almond or Oat Milk -- I like to use only unsweetened milk in this chocolate smoothie and garner the sweetness from all-natural ingrediens like dates and bananas.
Almond Butter -- this adds a nutty, creamy flavor to this protein shake. I use all-natural almond butter.
Sweet Dates -- dates are known for their sweet, chewy texture and are high in fiber, antioxidants, and even have 50% more potassium than a banana.
Frozen Banana -- this is what gives protein shakes and smoothies the creamy, velvety texture, and extra sweetness. When the bananas are frozen, less ice is required. Bananas are naturally sweet but also full of fiber, potassium, folate, and antioxidants, such as vitamin C.
OPTIONAL INGREDIENTS:
Coconut Whipped Cream -- if you want your protein shake to look like you just bought it from the local smoothie shop, add some whipped cream to the top. You can use traditional dairy whipped cream or coconut whipped cream (I buy the spray coconut whipped cream from Trader Joe's)
Cacao Nibs -- cacao nibs are a superfood and adds a pop of unsweetened, rich chocolate flavor and is full of phytonutrients and other potent antioxidants. They are all-natural and contain no added sugar or artificial sweeteners. Raw cacao nibs are high in magnesium, iron, selenium, and zinc.
Maca Powder -- maca is a plant-based superfood that is known for its energy and vitality benefits. It has a nutty, malted flavor and pairs well with chocolate and almond butter. It has been around for centuries and Inca warriors used it for endurance. It is known to combat stress and fatigue.
Lucuma Powder -- lucuma is known to add an all-natural maple sweet flavor yet is low on the glycemic index. Resembling a cross between a mango and a pear, the lucuma fruit's golden flesh is bursting with nutrients. Lucuma is packed with antioxidants and boosts your healthy immune system while giving you your daily dose of sweetness.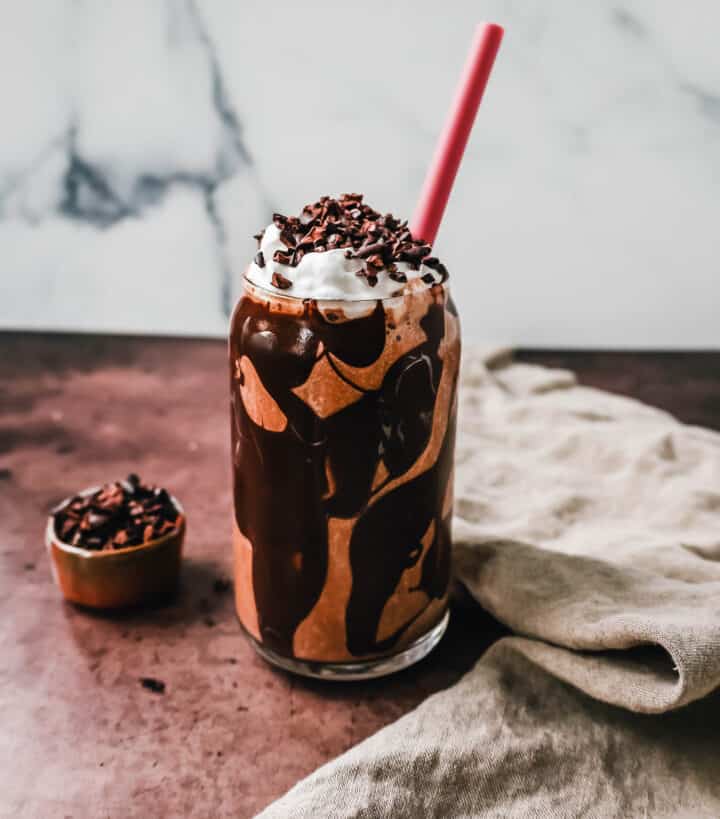 How to make this Chocolate Almond Butter Smoothie:
Start with your favorite type of milk. You can use cow's milk, almond milk, oat milk, coconut milk, and more. Then choose your favorite chocolate protein powder. I love to use Vital Proteins Chocolate Collagen Powder because of its taste.
Add all-natural almond butter, dates (if you want it sweeter, add more dates), and ½ of a frozen banana. I recipe tested this by using 1 whole banana and ½ banana. We found that by using ½ banana, you still get the creamy texture and natural sweetness without the banana overpowering the chocolate smoothie.
Add in any supplemental ingredients like maca powder or lucuma powder. Add ice and blend until smooth.
Take a glass and drizzle melted dark chocolate all over the glass. Pour the chocolate smoothie into the glass. Top with coconut whipped cream and cacao nibs.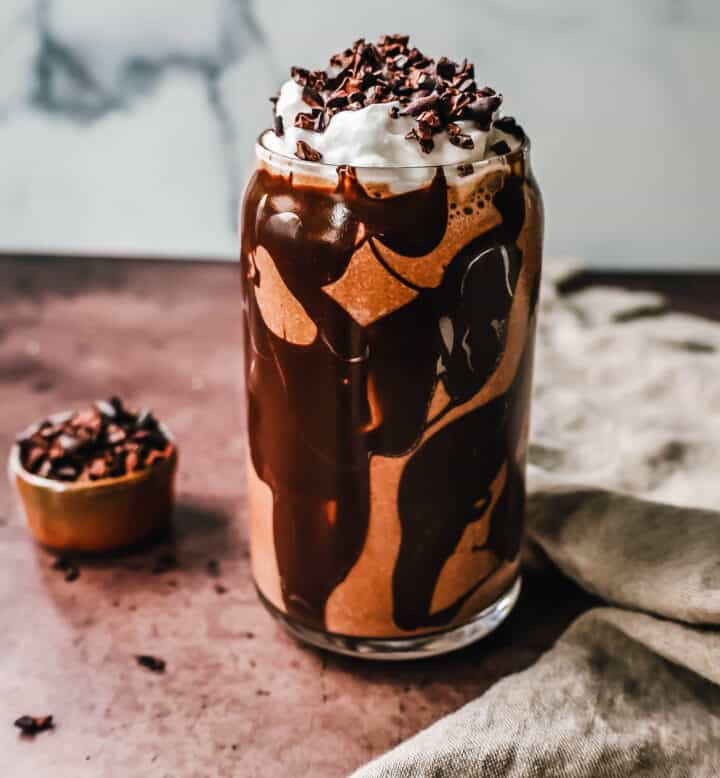 Substitutions:
If you don't want to use unsweetened milk, use your favorite type of sweetened milk.
You can use chocolate milk instead of regular milk for extra chocolate richness.
You can use more dates for more sweetness.
If you want extra sweetness, you can add vanilla stevia drops or all-natural maple syrup.
MORE SMOOTHIE RECIPES:
These nutritional facts are only used as a guide. The carbohydrates aren't completely accurate as there are no options for unsweetened almond milk and all-natural almond butter with no sugar added. The carbohydrates would read lower if you used unsweetened almond milk and all-natural, no-sugar added almond butter.