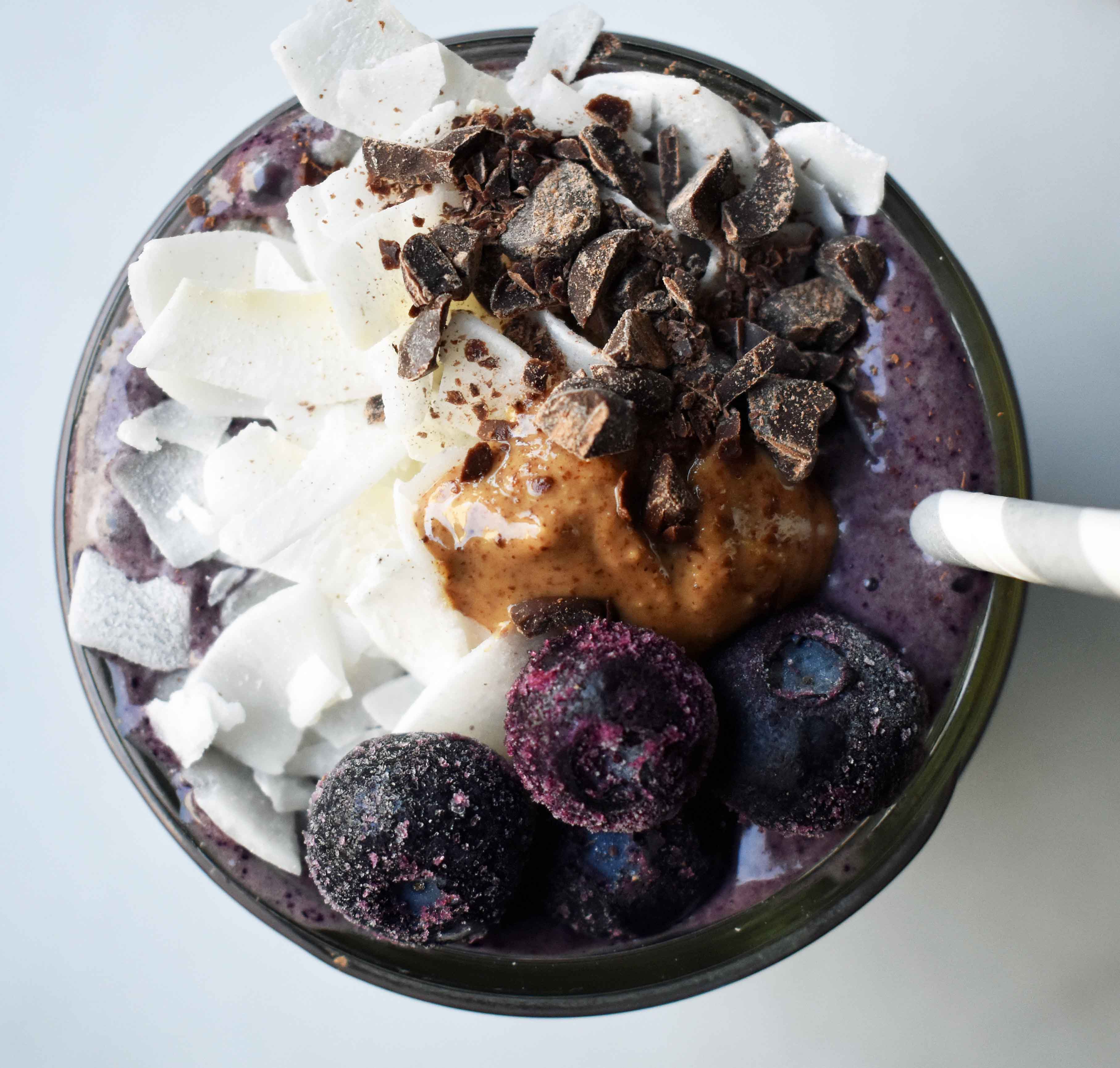 As a busy mama of four kids,  I am always trying to figure out ways to send my kids off to school with a nutritious breakfast. Smoothies have become a breakfast staple in our home because I can pack and disguise powerful fruits, vegetables and nuts into one drink.
Since my kids are growing like weeds, we love to add protein to our smoothies. Protein shakes can be boring if made with just water and protein powder.  You can add fresh fruits and nut butters to add richness and up the vitamin content.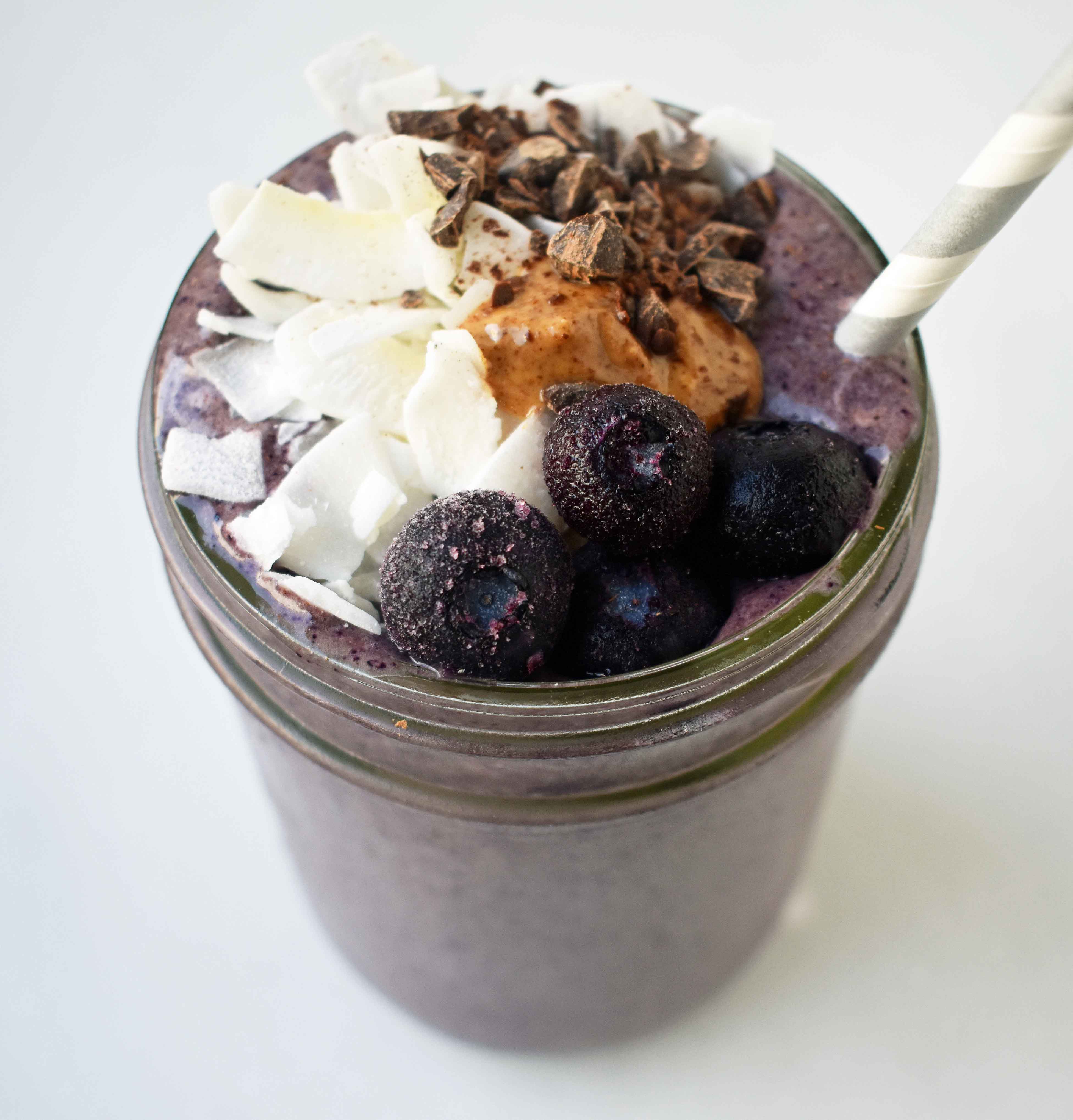 We keep frozen berries and bananas on hand at all times to throw into our superfood smoothies. Frozen wild blueberries are my go-to fruit because you get so much bang for your buck! So much nutrition packed into one small berry. We have played around these different combinations and this Wild Blueberry Chocolate Coconut Smoothie has became a family favorite.
The Wild Blueberry Chocolate Coconut Shake is made with wild blueberries, coconut milk, chocolate protein powder, almond butter, cacao powder, banana, and topped with coconut flakes.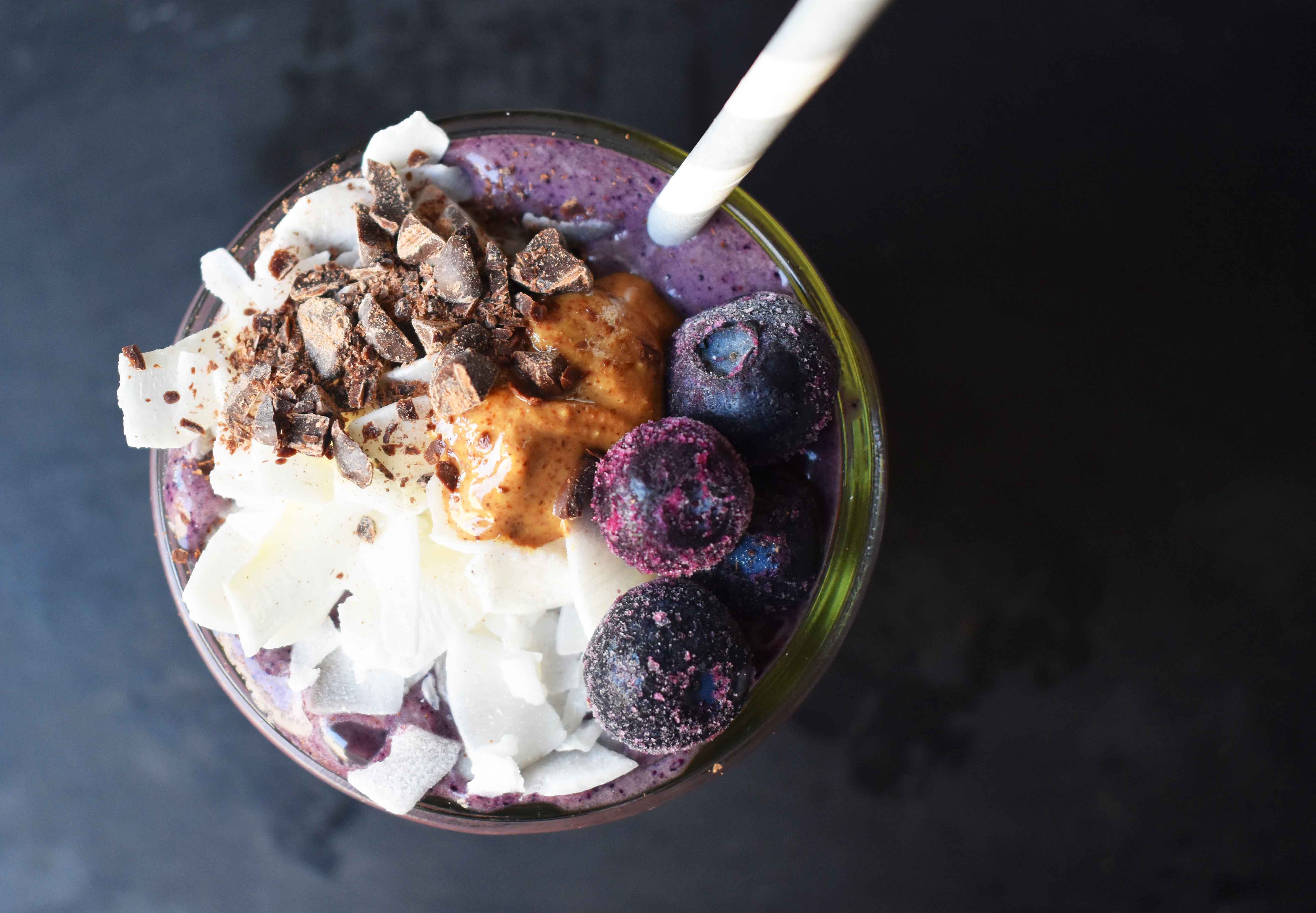 Frozen Wild Blueberries - A superfood that is packed with antioxidants. We keep frozen wild blueberries in the freezer at all times. Wild blueberries have a more intense flavor and have twice the antioxidant capacity of regular, cultivated blueberries. Wild blueberries are quick-frozen right at harvest, locking in their nutrition and taste. Wild blueberries aren't planted and occur naturally in barrens and fields in Maine. Picking blueberries in Maine sounds downright heavenly!
Chocolate Protein Powder - Gives a rich chocolate flavor with 32 grams of protein and only 140 calories.  A perfect protein source to start your morning or after a good workout.
Coconut Milk (unsweetened) - This is one of my favorite things to use in smoothies because it is so low in calories. It is dairy-free and one cup of unsweetened coconut milk is only 45 calories. The subtle coconut flavor pairs well with the chocolate protein powder.
Almond Butter - Made only from ground almonds with zero additives. It is a great natural, healthy fat source plus it adds a little protein boost as well. Adds a creamy richness to the chocolate smoothie.
Cacao Powder (unsweetened cocoa) - Made by separating cacao butter from the whole bean by cold-pressing. A rich magnesium source that gives a deep chocolate flavor to this smoothie.
Banana - A well-known potassium source gives a natural sweetness and silky creaminess to the Wild Blueberry Chocolate Coconut Smoothie.
TOPPINGS:
Coconut Flakes (unsweetened) - Raw, dried coconut flakes straight from fresh coconuts. A natural, healthy fat source.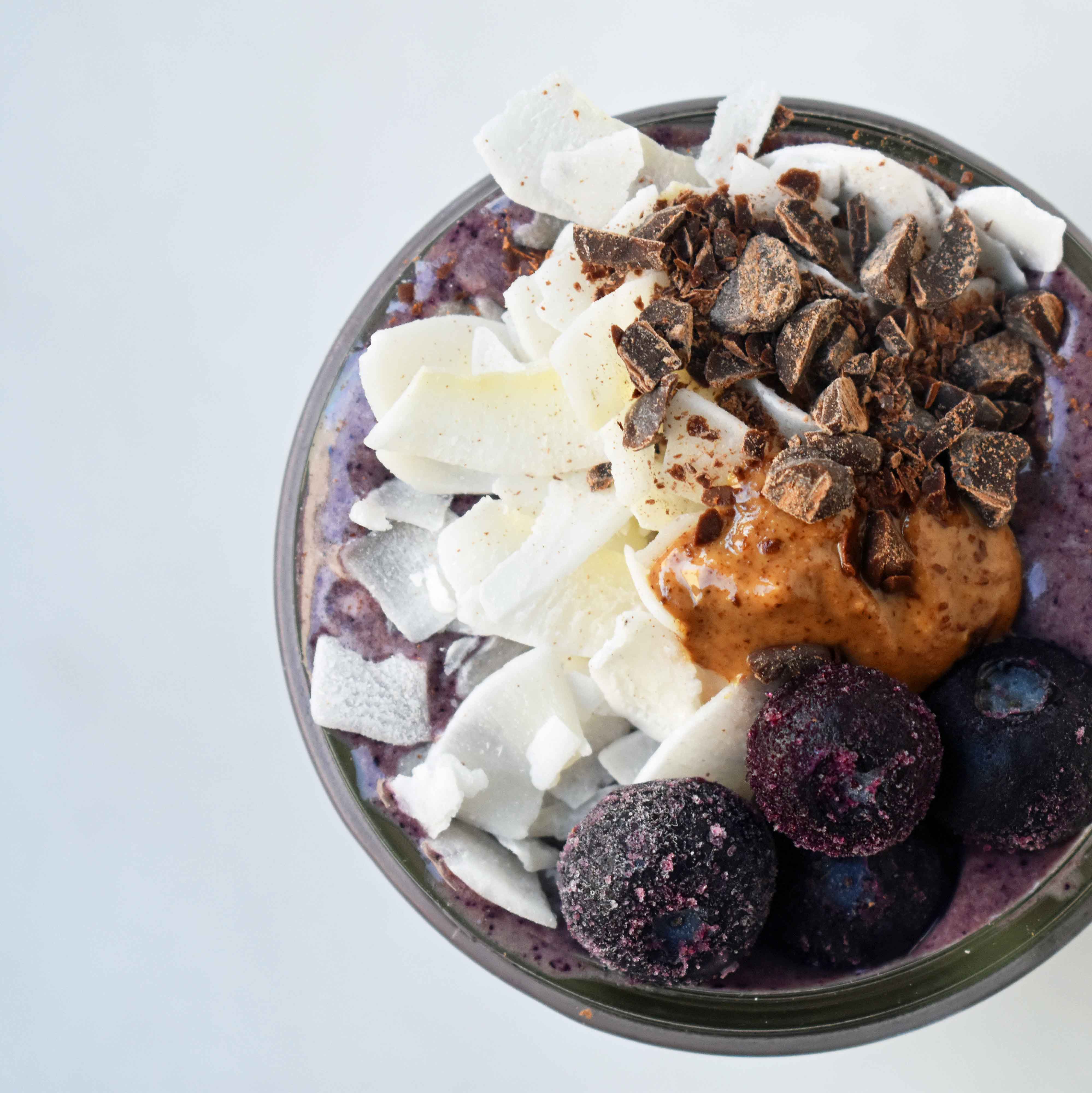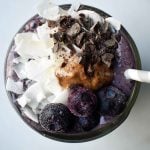 Wild Blueberry Chocolate Coconut Smoothie
A nutrient dense smoothie packed with protein, fruits, and nuts.
Ingredients
1

c.

Coconut Milk

unsweetened

1/4

cup

Chocolate Protein Powder

1

cup

Frozen Wild Blueberries

1

Banana

1

Tablespoon

Almond Butter

1

Tablespoon

Cacao Powder

unsweetened cocoa

Coconut Flakes

Dark Chocolate Shavings
Instructions
Combine coconut milk, protein powder, wild blueberries, banana, almond butter, and cacao powder. Blend until smooth.

Top with coconut flakes, almond butter and dark chocolate shavings, if so desired.
When you drink this Wild Blueberry Chocolate Coconut Smoothie, you will literally forget that you are drinking something healthy for you. So rich and delicious, you will be craving it every morning! Have a wonderful day, my friends!
Happy Healthy Eating! xo
By posting this recipe I am entering a recipe contest sponsored by the Wild Blueberry Association of North America and I am eligible to win prizes associated with the contest. I was not compensated for my time.