Strawberry Banana Smoothie
Creamy strawberry banana smoothie made with strawberries, bananas, your favorite type of milk, honey, and almond butter (if you want it extra rich and creamy).
This is the time of year when we are back on the healthy eating kick and smoothies are in abundance in our home. Smoothies are my favorite thing to whip up for my kids and husband in the morning because I can pack in so much nutrition into one little drink.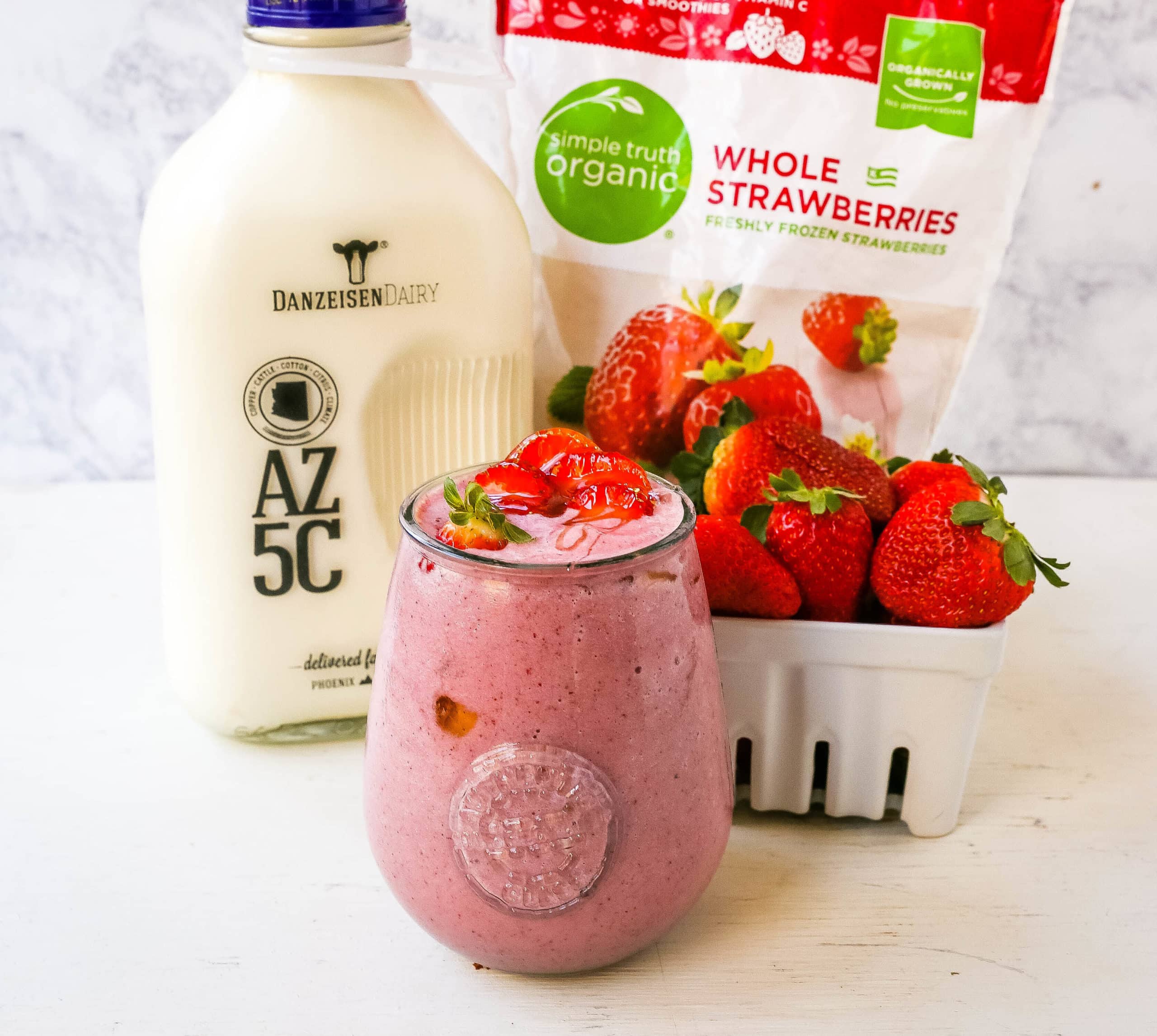 This Strawberry Banana Smoothie is our go-to smoothie in our home because it is so simple to make and everyone loves it. It is made with very few ingredients -- strawberries, ripe banana, your favorite type of milk, honey, and a touch of almond butter, if you want the extra creaminess.
You can use any type of milk -- from cow's milk, almond milk, coconut milk, or oat milk in this strawberry banana smoothie recipe. I usually reach for unsweetened milk to not add any refined sugar but if you do use sweetened milk, you can reduce the amount of honey to the desired sweetness.
You can add all types of ingredients to up the nutritional factors -- baby spinach, vanilla protein powder, unflavored collagen peptides, chia seeds, flaxseed meal, and so many more options!
My favorite thing to sneak into smoothies is baby spinach! For every 2 cups of baby spinach, it is only 20 calories, 0 grams of fat, and is packed with vitamins and minerals, essential for health.
When making this strawberry smoothie, I prefer to use frozen strawberries. This creates a super cold smoothie without the use of ice. Since ice melts and can make the smoothie watery, I prefer to use frozen strawberries. If you don't have frozen strawberries on hand, you can use fresh strawberries, no problem. You will just need to add ice to get the smoothie nice and cold.
One of my favorite kitchen appliances has to be my Vitamix. I use it all of the time because it is incredibly powerful and creates the creamiest smoothies. You can find a Vitamix HERE.
If you are looking for more HEALTHY recipes, check out these popular healthy recipes:
6 Superfood Smoothies
The Energizer Spinach Berry Smoothie
Juice Cleanse Recipes
Banana Oatmeal Pancakes (gluten-free and dairy-free)
Protein Energy Balls
Homemade Granola Bars
Thank you for following along! I love to hear from you! Leave a comment if you make one of my recipes. You can find me on Instagram, Facebook, and Pinterest.