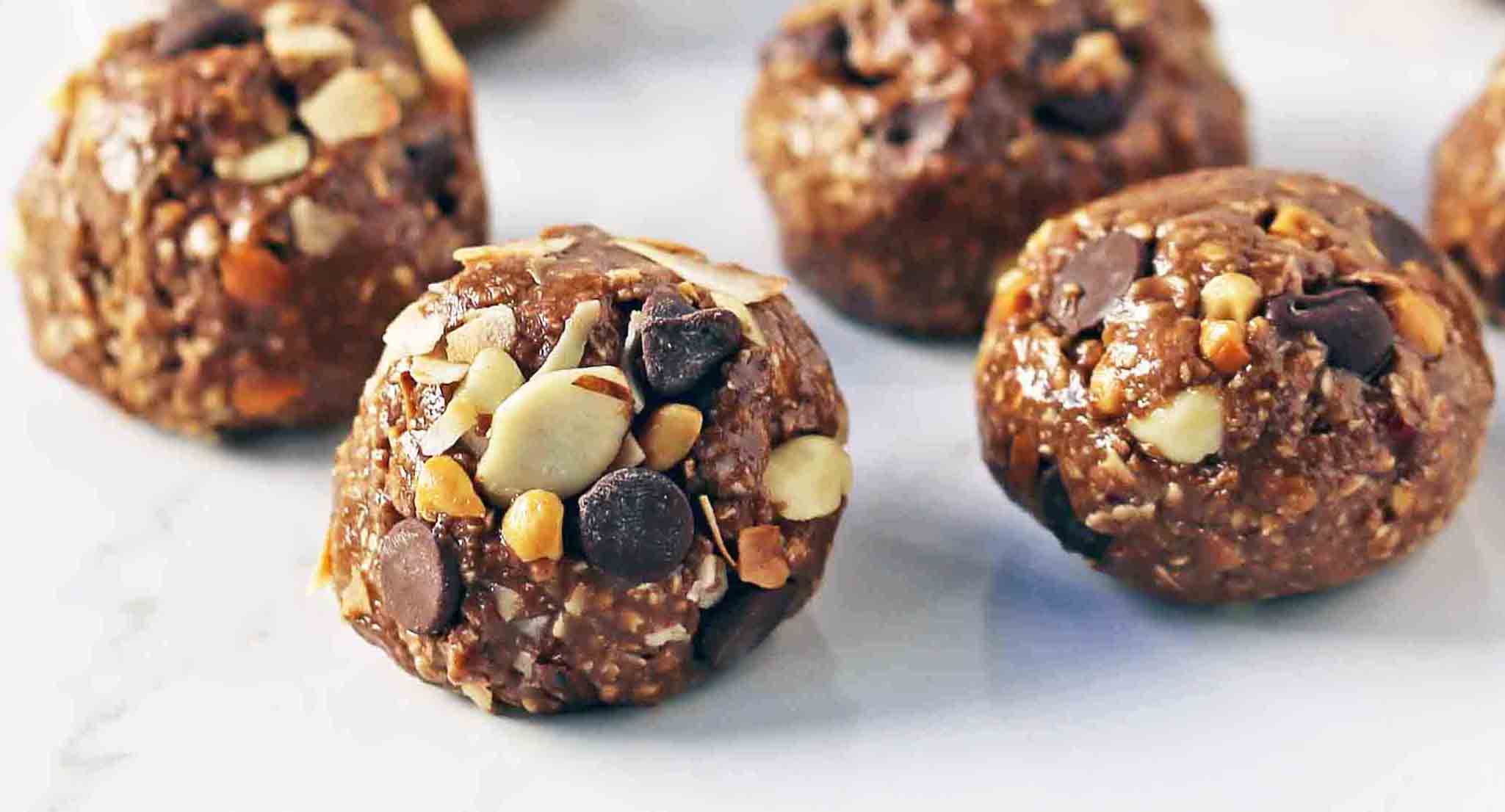 No-Bake Protein Energy Balls
A high-protein no-sugar-added snack made with oats, nut butter, honey, protein powder, and additions such as dark chocolate chips, and toasted coconut. These energy balls give you energy all day long!
I am one of those people who can't go very long without food.
I become "hangry" and there is no turning back. When I was a young girl, I would go shopping with my Mom. She loves to tell stories about how we could be in the middle of shopping when suddenly I would become hungry. All shopping came to a halt! Food had to be found right away! Forget the clothes….bring on the food.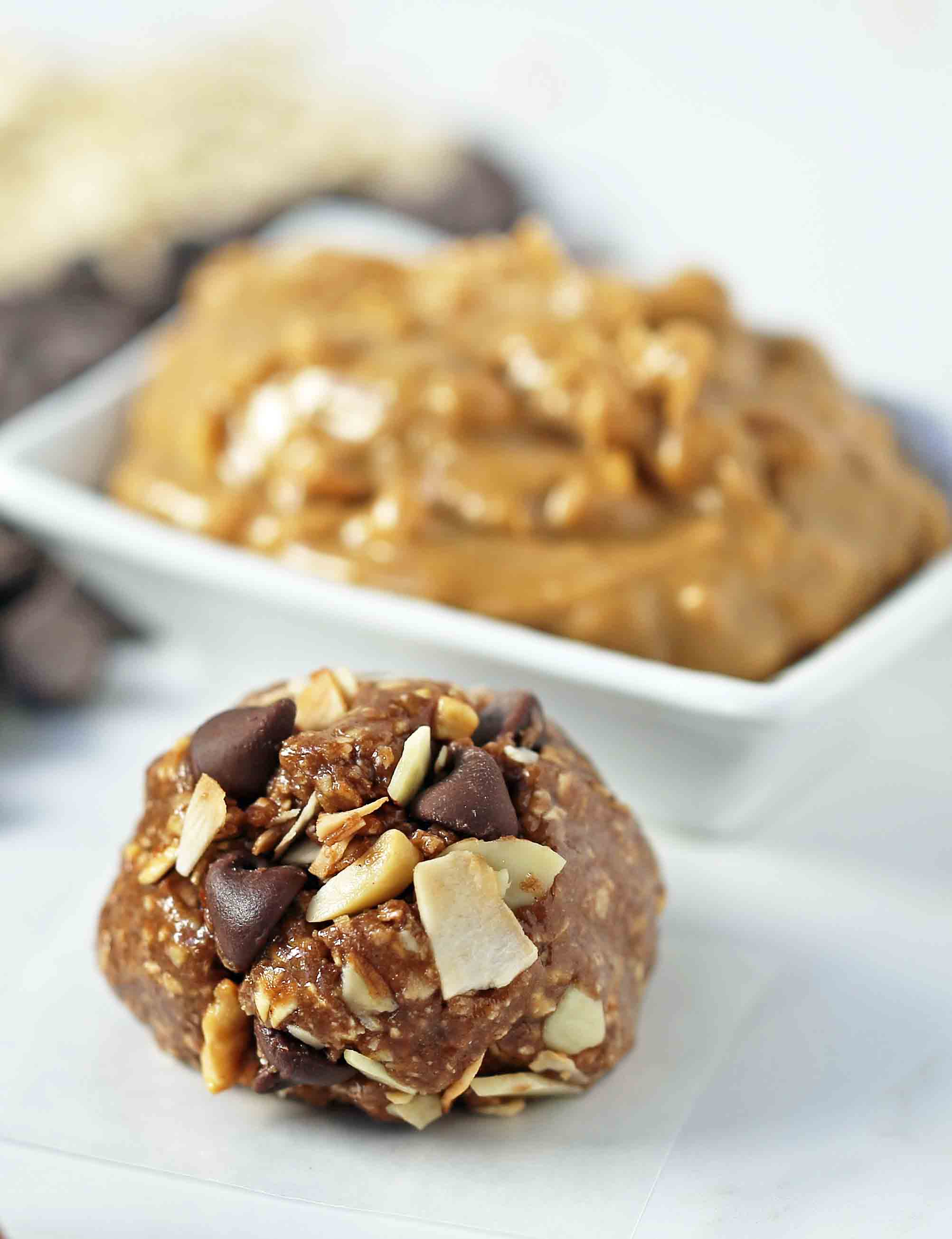 Thankfully, I have become smarter and now pack snacks! Snacks and shopping are the perfect combination. The problem is that snacks are usually not the healthiest foods on the planet. Finding healthy snacks that will actually satisfy can be a difficult task.
Let me introduce you to a protein snack that will keep you full and satisfied and give you the burst of energy you need to get through your day – Protein Energy Balls. These Protein Balls with Oats are full of all-natural ingredients to keep your energy up!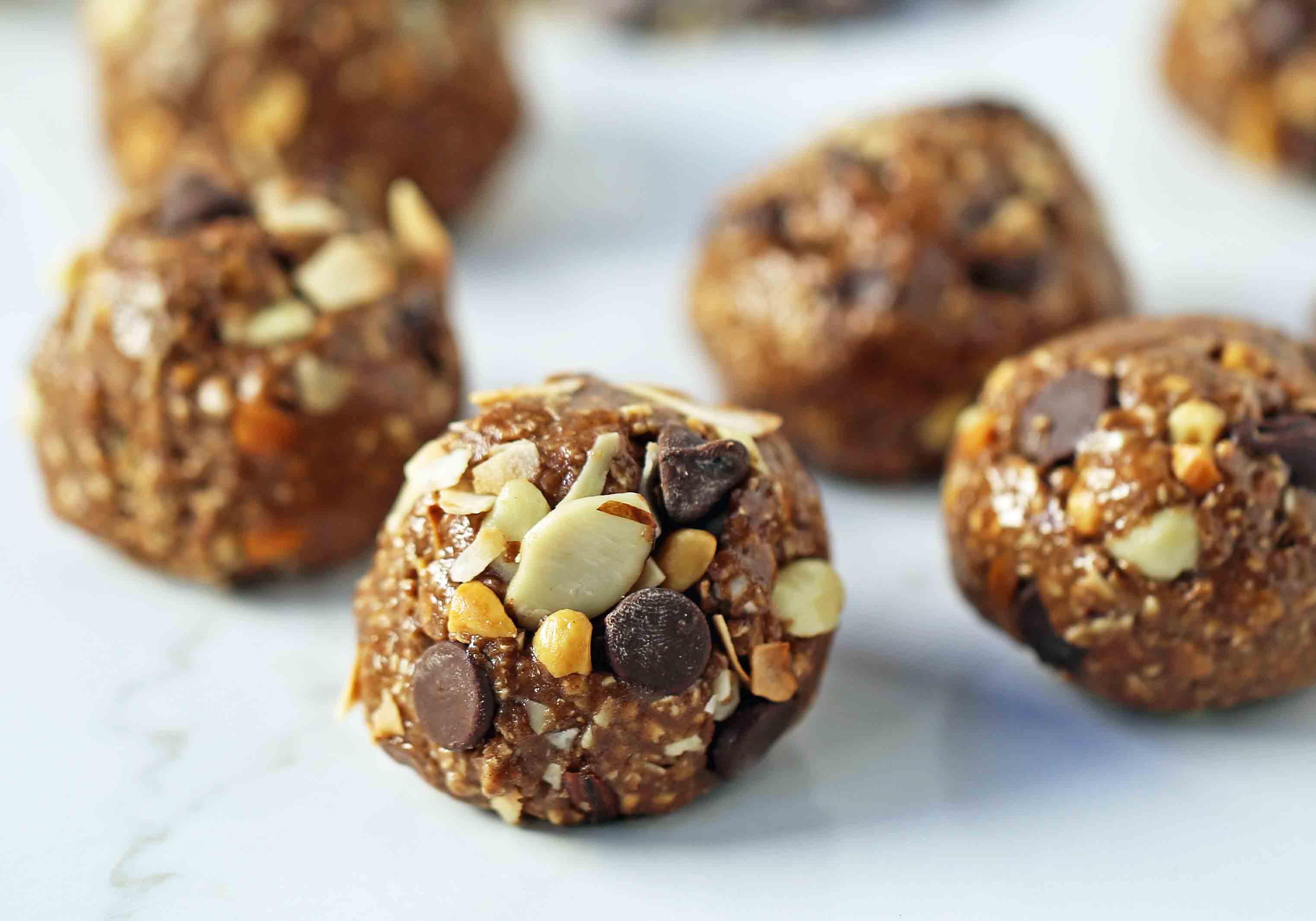 When my kids were young, I wanted to create a recipe that had a good balance of protein and good carbs but wasn't loaded with sugar. I started playing around with a recipe for energy balls that my mother-in-law made for her six kids growing up in Lake Havasu, Arizona.
She is one of the healthiest ladies I know and has always inspired me with her healthy eating and living. She used powdered milk, but I decided to use whey protein powder instead and the results were downright amazing. My kids ate the entire batch and I knew we were on to something!
What ingredients are in Protein Balls?
These peanut butter energy balls are made with all-natural ingredients – rolled oats, nut butter, honey, protein powder, dark chocolate, and even toasted coconut. These No-Bake Protein Energy Balls are so simple and can easily be whipped up in a few minutes. You can customize them with any of your favorite add-ins.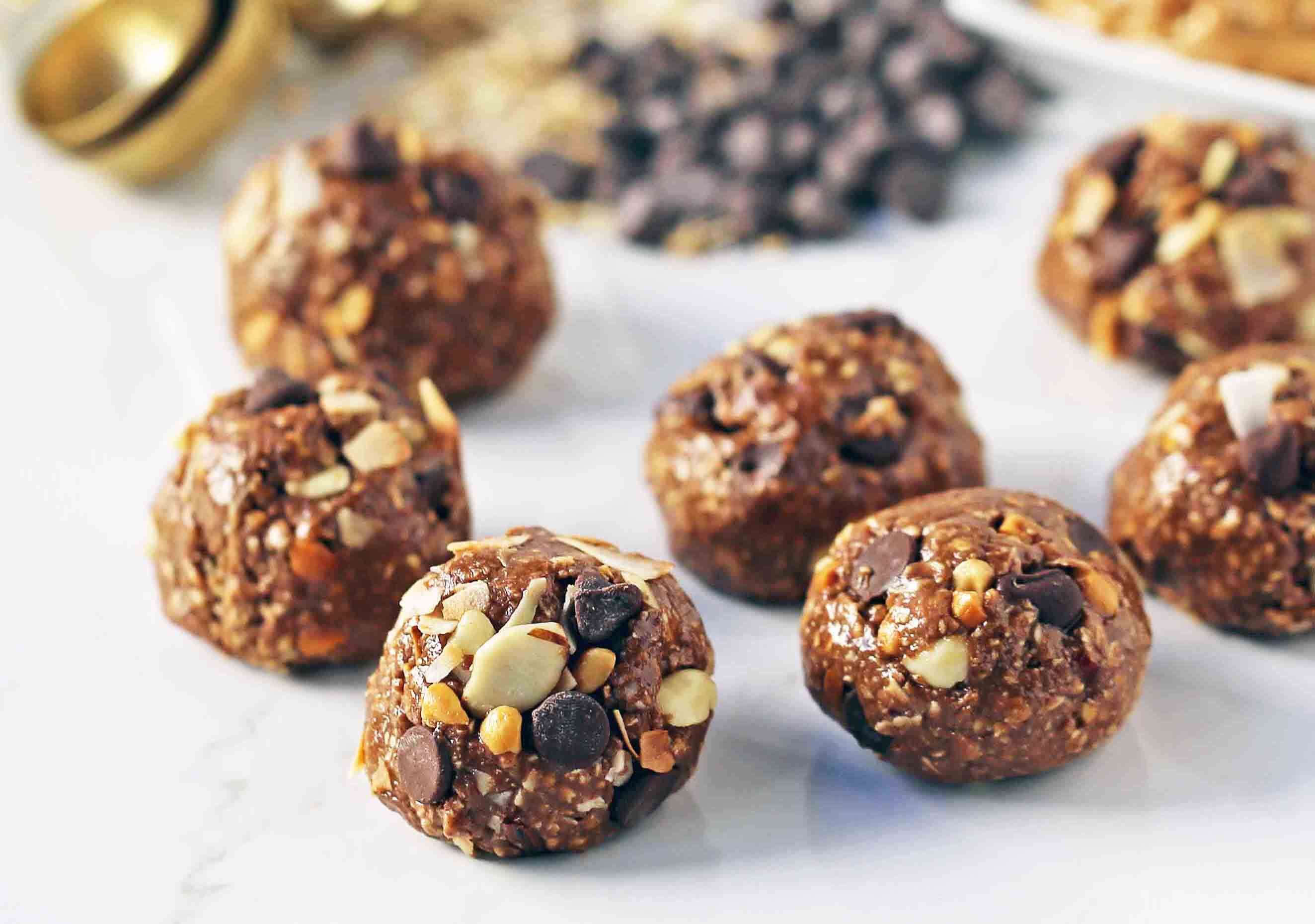 The beauty of these Energy Protein Bites is that they are so versatile. You can use any type of nut butter – peanut butter, almond butter, or even cashew butter. I use all-natural peanut butter that I find at my local Fry's store. Have you seen the machine that literally grinds peanuts right in front of you? I always have natural peanut butter and natural almond butter on hand at all times. It is a healthy kind of fat that keeps you satisfied. Plus there's no sugar added! You can find all of these all-natural ingredients in the Natural Foods Section at your local Kroger store. Find out more information by visiting https://www.frysfood.com/d/wellnessyourway.
Honey is called for to add not only sweetness but to bind the ingredients together. I love providing homemade snacks for my kids with no-sugar-added, plus I know every ingredient that goes into these protein balls.
I am sharing two No-Bake Protein Balls Recipes – Chocolate Peanut Butter Protein Balls and Chocolate Coconut Almond Joy Protein Balls.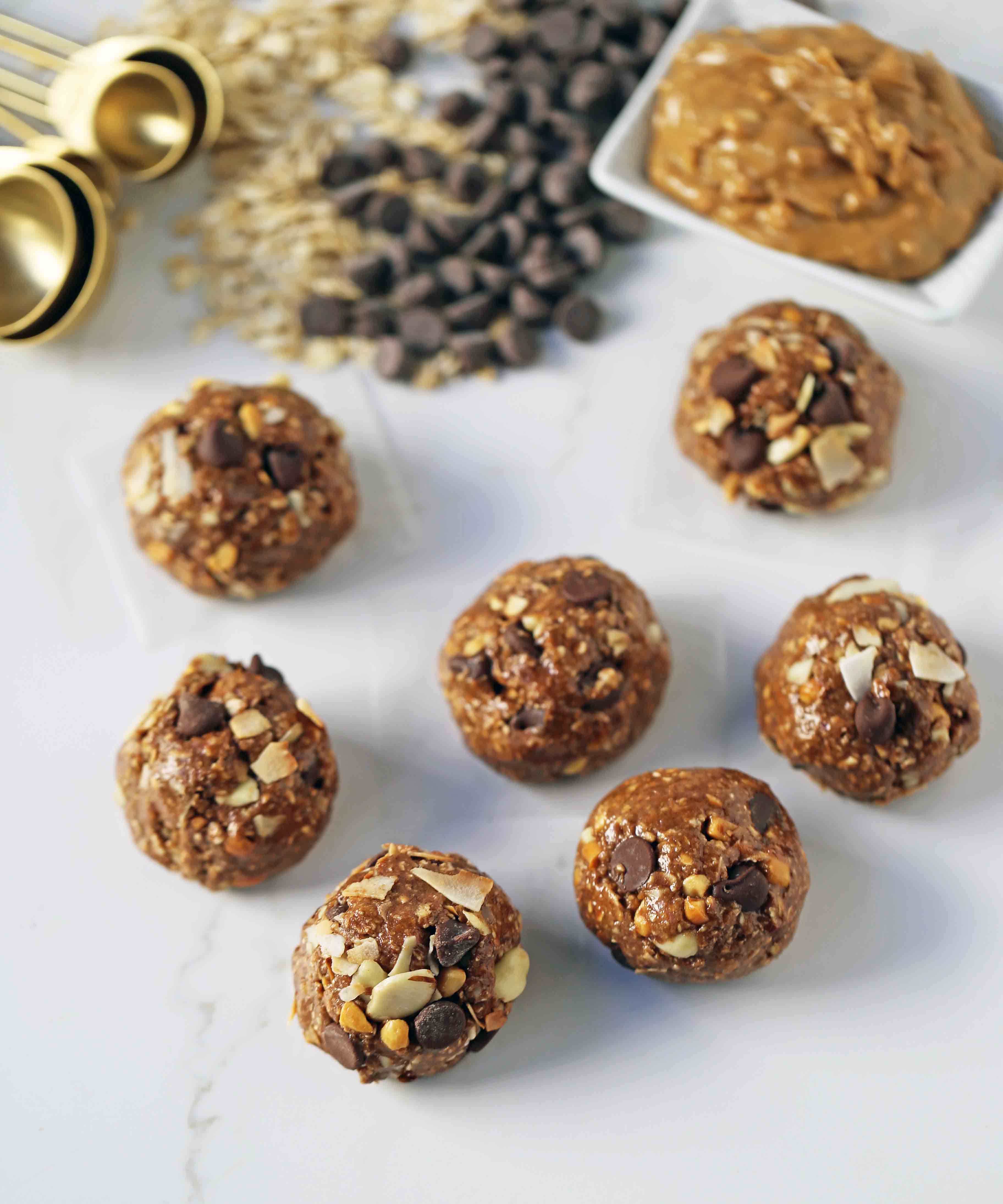 How to make Energy Balls:
Start with Rolled Oats. This is the base of the energy balls. You may want to pulse in food processor or high-powered blender. I make my protein balls in a food processor and pulse the oats, peanut butter, and honey 4-5 times to slightly blend the oats.
Use Nut Butter. Depending on preference, use peanut butter or almond butter for this recipe. I use all-natural, no-sugar-added peanut butter for these energy bites.
Add Honey as a sweetener. You may add a little less or a little more, depending on preference. You need to add enough so that it binds all of the ingredients together.
Throw in some add-ins. Dark chocolate chips, toasted coconut, sliced almonds, and even dried cranberries are perfect additions.
Roll into balls, cover, and chill for at least 20-30 minutes. If you are in a hurry, you can even throw them in the freezer for 10 minutes. Store in a bag or tightly covered container.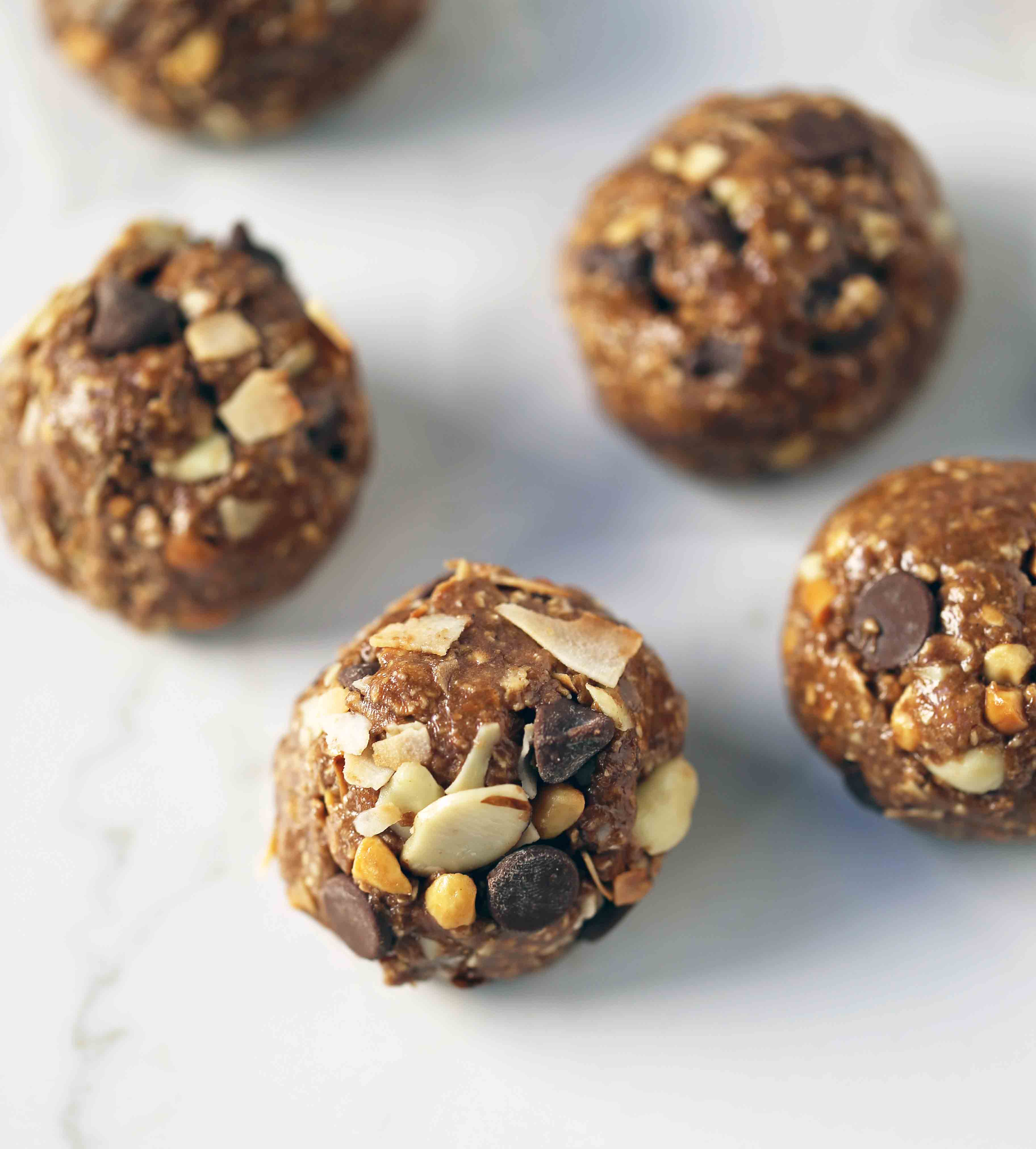 I am always trying to make healthier choices for my family. My four kids love when I pack these peanut butter oatmeal balls on any road trip as a healthy snack option. These peanut butter energy balls give them long-lasting energy.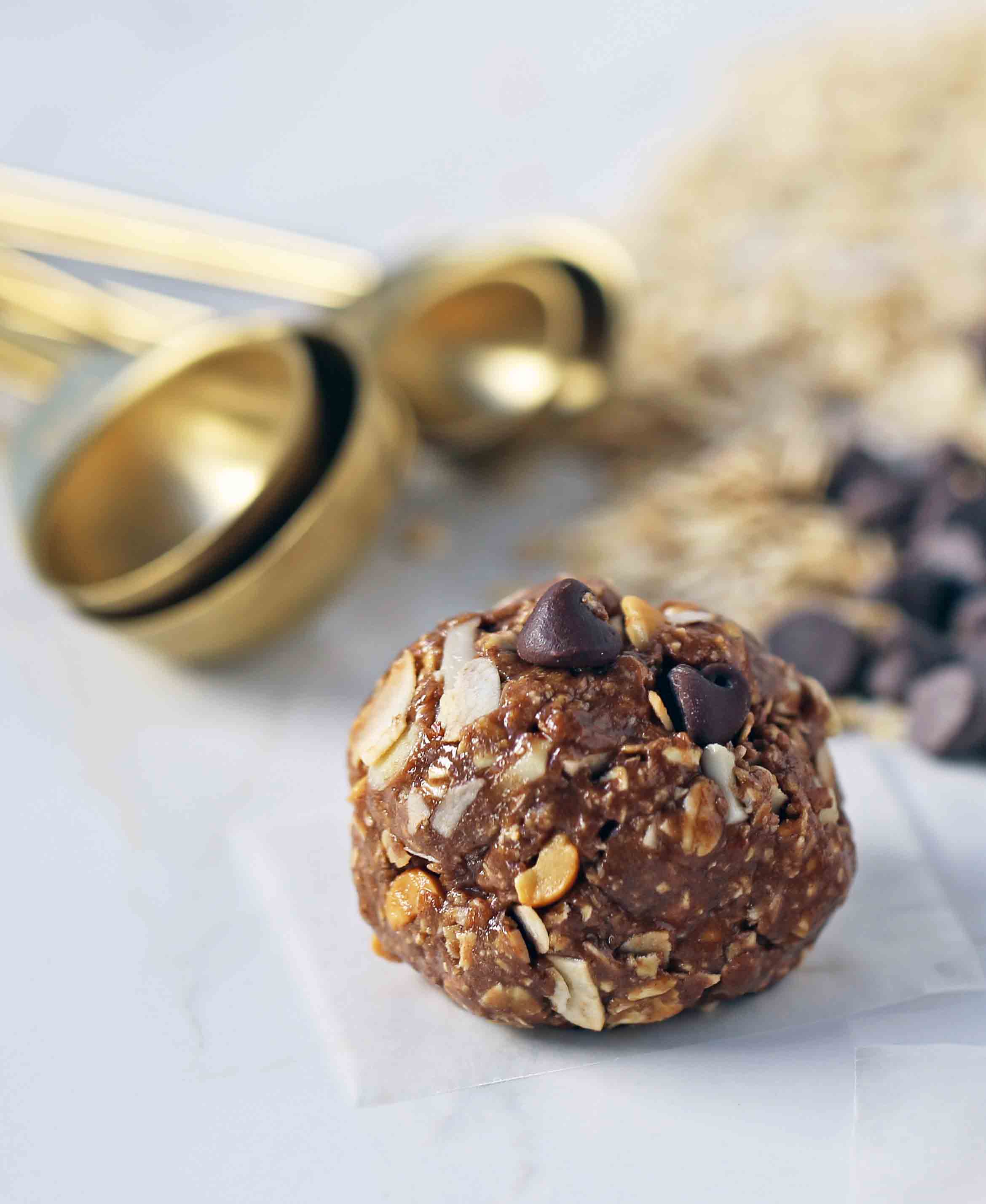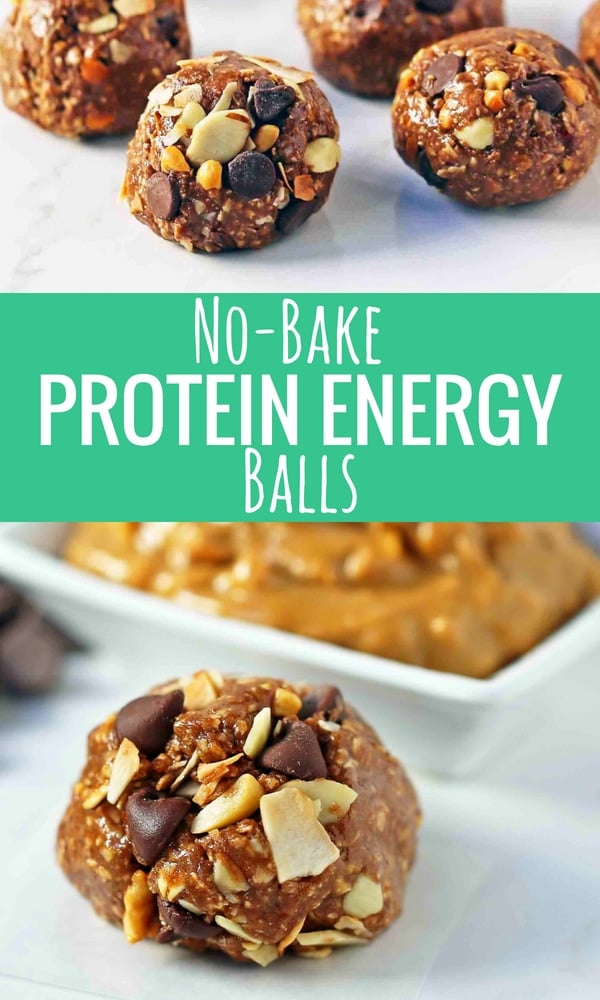 I hope you love this healthy, energizing snack that has a good balance of protein and carbs. Happy Healthy Eating, my friends!
This post is sponsored by Kroger but all of the opinions are my own.