You can't walk down the streets of California without seeing vibrant acai bowls sold everywhere. Acai Smoothie Bowls have been the rage for awhile now because they taste so unbelievably good and are crazy good for you. People have tapped into the antioxidant benefits of acai berries because they have more antioxidants than any other berry in the world. However, acai smoothie bowls many times come with a hefty price tag, so here's your chance to make them at home for a fraction of the price.  I am sharing two Acai Bowl recipes with you - an antioxidant packed berry smoothie bowl and a sweet tropical acai bowl. 
This Antioxidant Power Acai Smoothie Bowl is full of vitamins and minerals that make your skin look fresher and younger and gives you all-natural energy to get you through the day. There are even options to add more protein to make it a satisfying meal.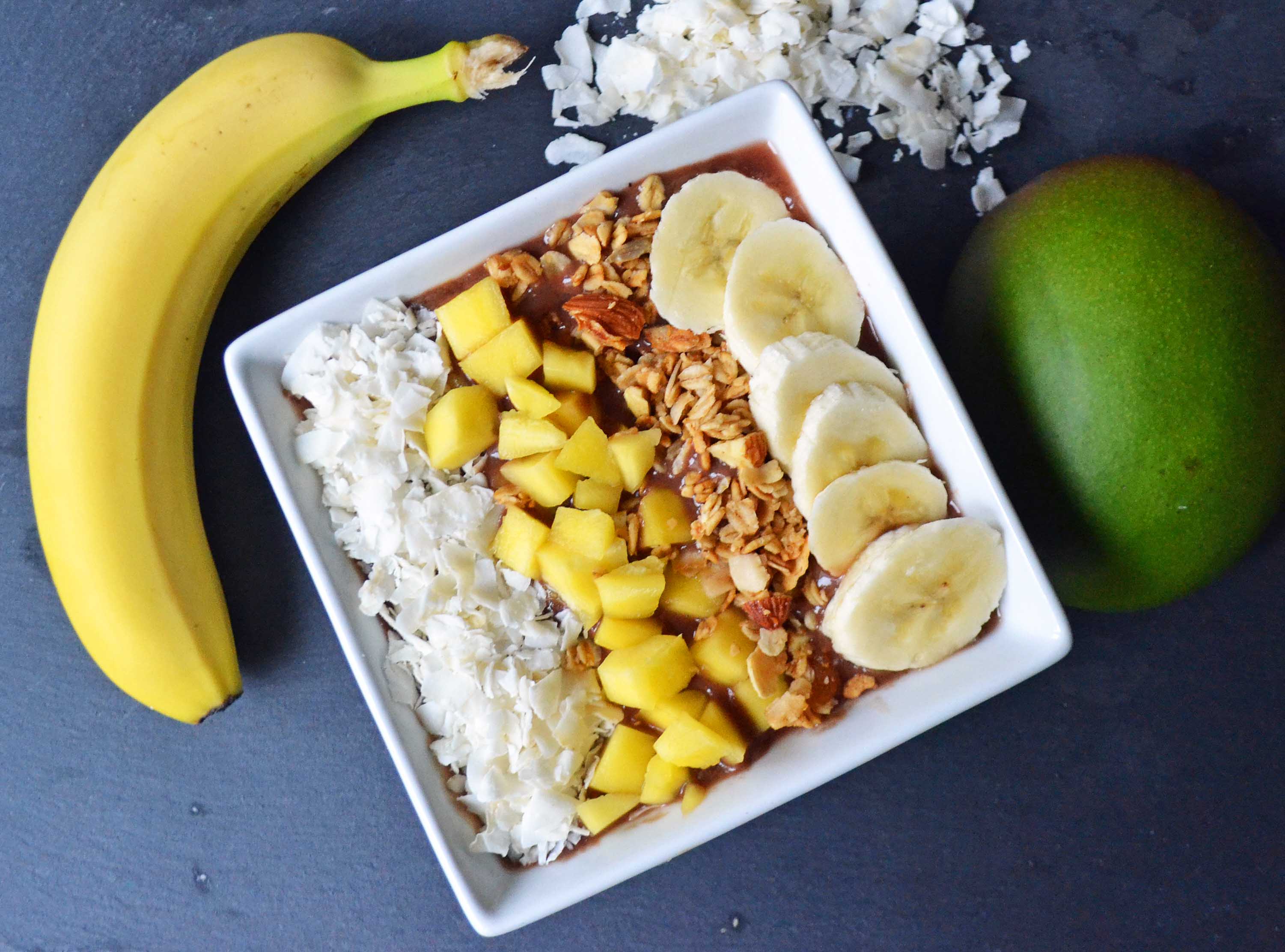 I am a health nut.
I know....stop laughing.
If you have looked at my blog, you can see that I love baked goods with all of my beating heart. However, what you might not know about me is that I am also a health freak. I am not a huge drive-thru fan (except for my beloved Chick-Fil-A and In-N-Out Burger) and you'd have to pay me big bucks to choke down a McDonald's Big Mac. I care about WHAT goes into my food and how it is made. I drink only water 99.9% of the time (plus an occasional juice in my smoothie). I try to eat healthy 80% of the time so I can enjoy my sweets without the guilt!

At a time when my body needed healing, rest and repair, I discovered the amazing healing power of food.   I have read countless books which has helped me learn about the healing power of vegetables, fruits, seeds, and nuts and have witnessed first-hand their therapeutic power.  When I conquer my 7 days smoothie and juice cleanses and crave something sweet, this Antioxidant Power Acai Smoothie Bowl becomes my ultimate treat.  Adding protein helps sustain me for a longer time and adds to the rich flavor.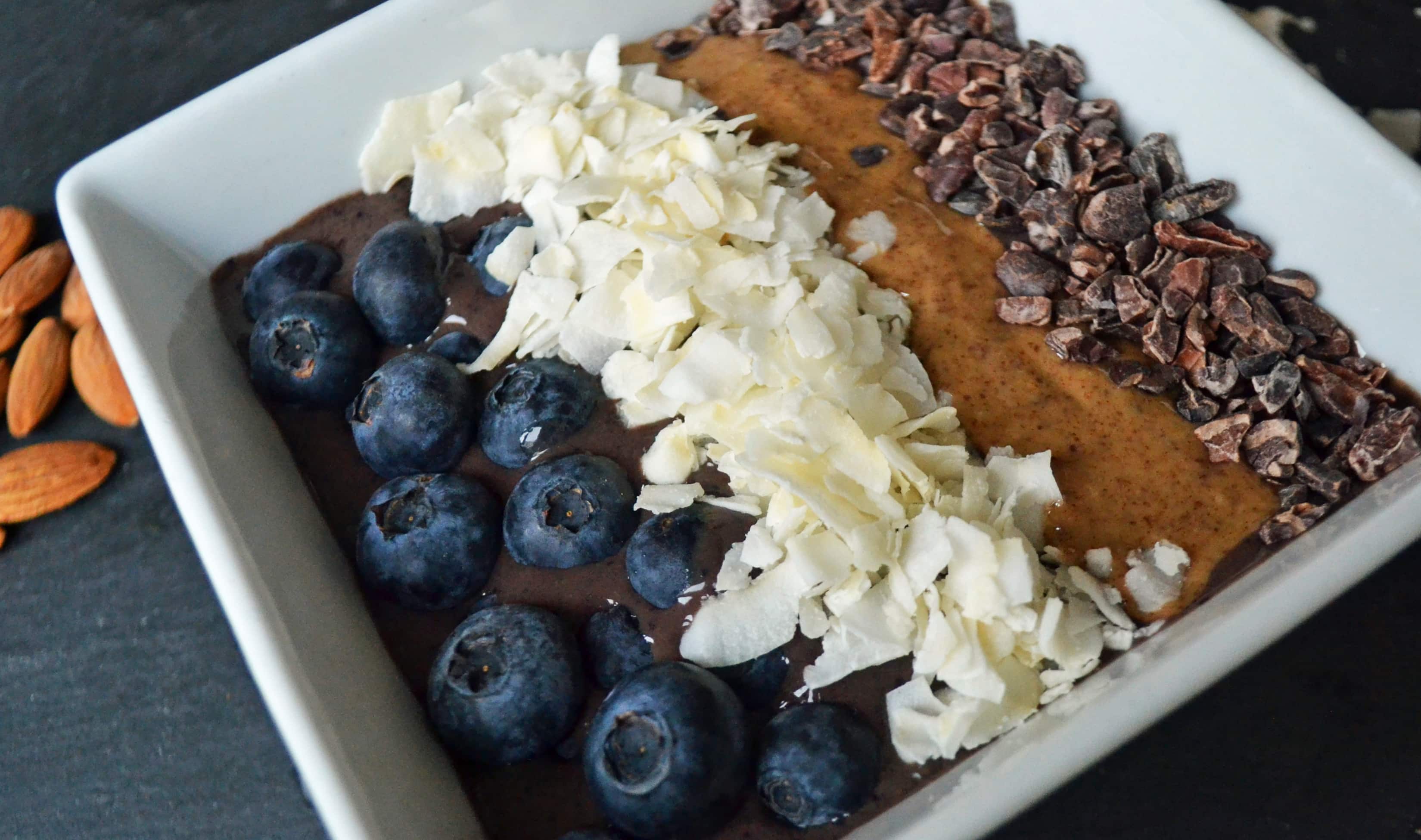 So what is a smoothie bowl?
It's basically a smoothie that is thicker and can be eaten in a bowl with a spoon. It is usually topped with fresh fruit, nuts, seeds, almond butter, cacao nibs, granola or honey.
Where do I buy acai? (pronounced ah-sigh-ee)
They come frozen in smoothie packs - pure unsweetened and sweetened versions. They come 4 to a package. Whole Foods, Sprouts, Costco (check availability), health food stores and several grocery stores.
If I want to up the ante on antioxidant benefits, here are some Antioxidant Power Acai Smoothie Bowl topping ideas that will keep you full + happy:
Almond Butter  -  a good source of protein, healthy fat, vitamins and minerals and adds a creamy richness.
Cacao Nibs - made from crushed cacao beans and rich source of antioxidants. They can be slightly bitter but impart an earthy chocolate crunch.
Unsweetened Coconut Flakes - contributes to happy hormones and a healthy fat.
Blueberries - an antioxidant powerhouse and one of the healthiest foods on the planet.
Granola -  a way to add heartiness to an acai bowl. Many acai bowl places use Nature's Path Hemp Plus Granola or you can make your own - https://www.modernhoney.com/nature-chick-granola/
Honey - adds a natural kiss of sweetness.
Goji berries, chia seeds, almonds, dark chocolate shavings, and fresh fruit are some other ideas to mix it up.
*If you don't want to use acai smoothie packs, you can substitute other frozen berries and still make a fantastic bowl.
I would LOVE to hear from everyone on how they are doing with their healthy eating resolution. How is the Youthful Glow Green Smoothie https://www.modernhoney.com/youthful-glow-green-smoothie/ challenge going?  Who is in? I have heard from so many of you on Instagram, Facebook and even text and it makes me so happy that you are already reaping the benefits. Now, just add this Antioxidant Power Acai Smoothie Bowl to your regimen and you are going to have skyrocketing energy.
Happy Blending!