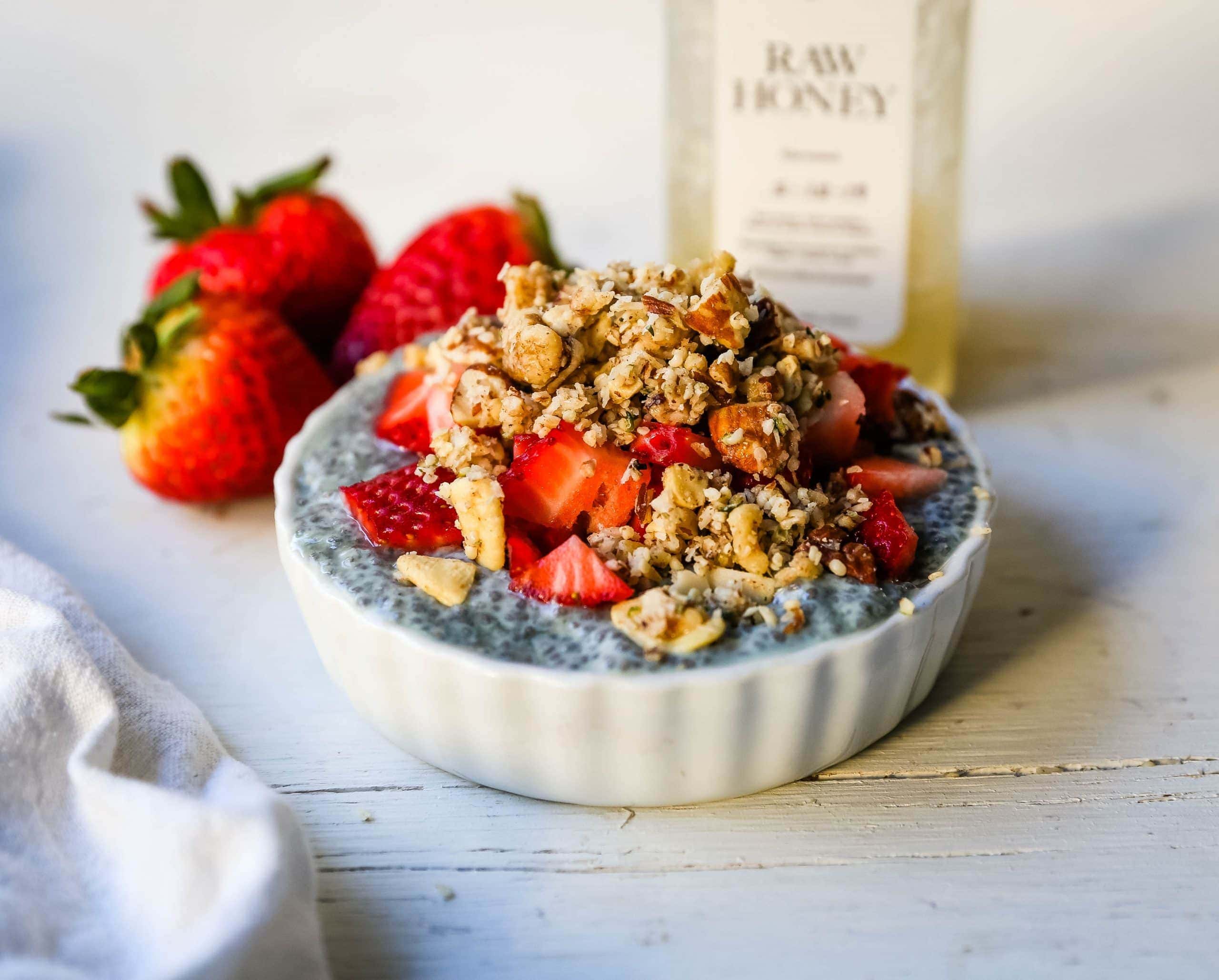 Nutty Coconut Granola
Almonds, cashews, walnuts, pecans, coconut, hemp seeds, unsweetened coconut flakes, coconut oil, and honey make this an all-natural snack.
This is my new favorite snack. I made it two batches in one week and my parents ended up trying it and begged to take some home and my daughter, who flew home from college, made sure she took a big Ziploc bag back on the airplane to Provo. Everyone seems to love this Nutty granola and I am definitely addicted!
I recently attended an event where we ate breakfast with Kelly LeVeque, a best-selling author and health guru to the stars in Hollywood. She sat directly across from me so I had the opportunity to learn so much from her! She just came out with a new book and I read it cover to cover in one weekend. Seriously amazing! She shared this Grain-Free Nutty Granola recipe with all of us (you can ditch the hemp to make it grain-free) and I literally made a batch the day I returned home. It is THAT GOOD.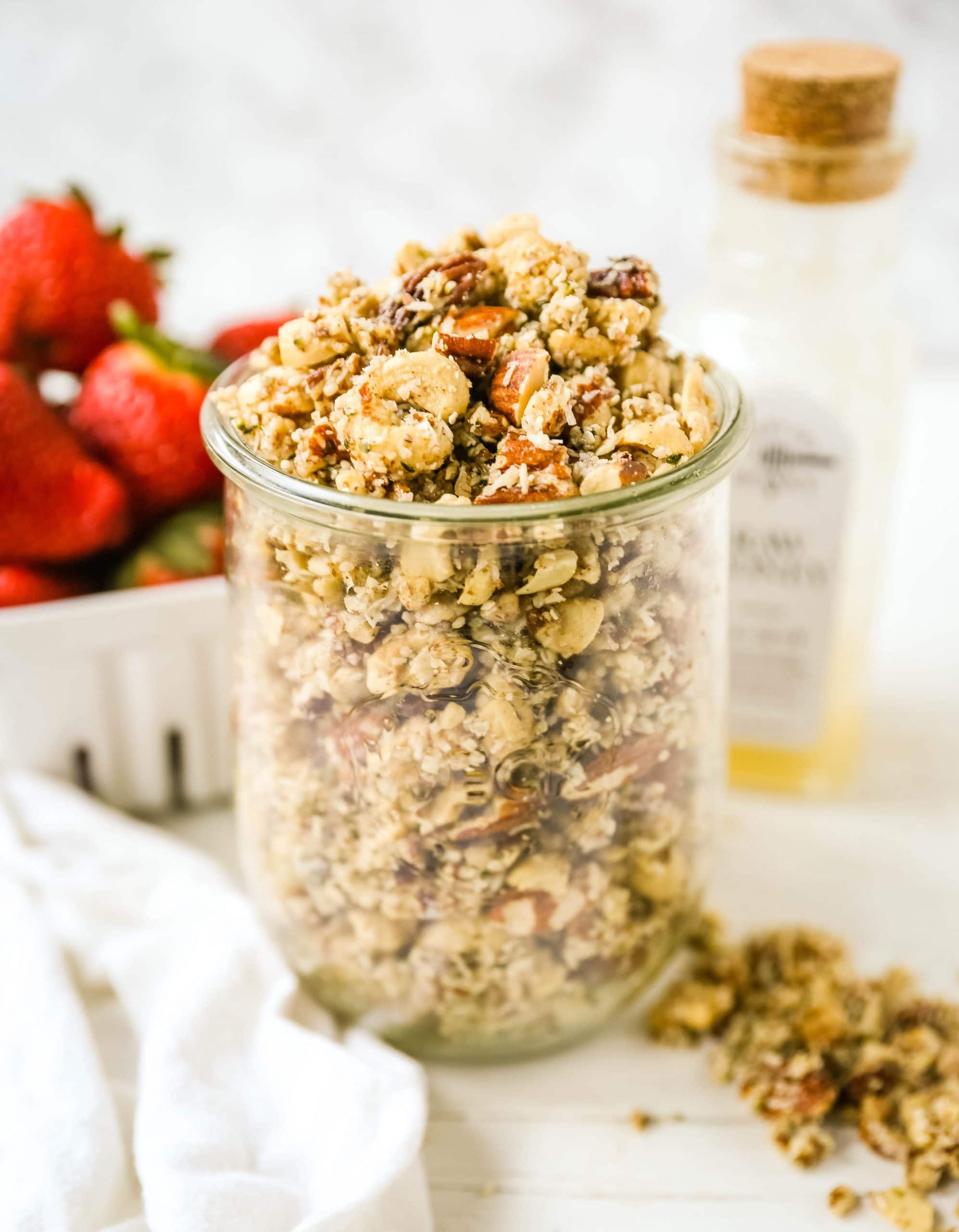 Here's the deal. There are so many pre-packaged snacks that claim that they are all-natural; yet, they are full of preservatives and ingredients I can't even pronounce. I want to make snacks full of quality protein and healthy carbs and fats. Yes, people may say this nut granola is full of a lot of fat due to the nuts, coconut, and hemp seeds. This may be true…but we need a balance of good fats, carbs, and protein in our diets.
This Grain-Free Granola is made up of four kinds of nuts — almonds, cashews, walnuts, and pecans. The hemp seeds are rich in protein, fiber, and healthful fatty acids, including omega-3s and omega-6s. I throw in some unsweetened coconut flakes, a little bit of melted coconut oil, and honey for sweetness and to bind it all together. Then I bake it until the nuts become a little toasty to bring out their nutty flavors and then I store it in a container for easy snacking.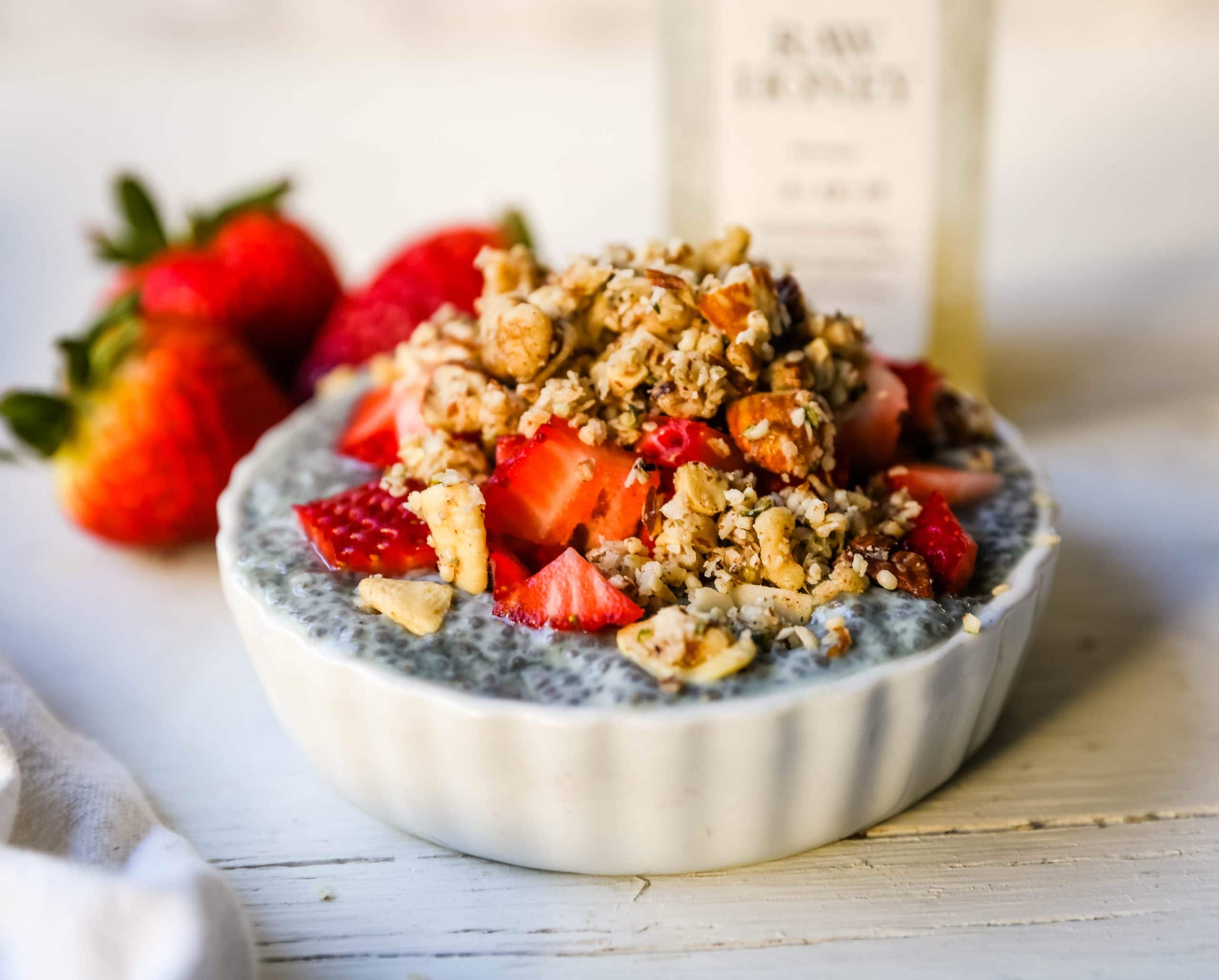 My daughter, Sierra, called me from BYU to tell me that she couldn't stop devouring the coconut granola and it was hands-down the best granola she has ever tasted. I put it on homemade chia pudding, greek yogurt, acai smoothie bowls, and just eat it by the handful. It is so filling and keeps me full and satisfied for hours!
You can some of the ingredients here on Amazon — Now Foods Hemp Seed Hearts and Unsweetened Coconut Flakes and Creamed Honey.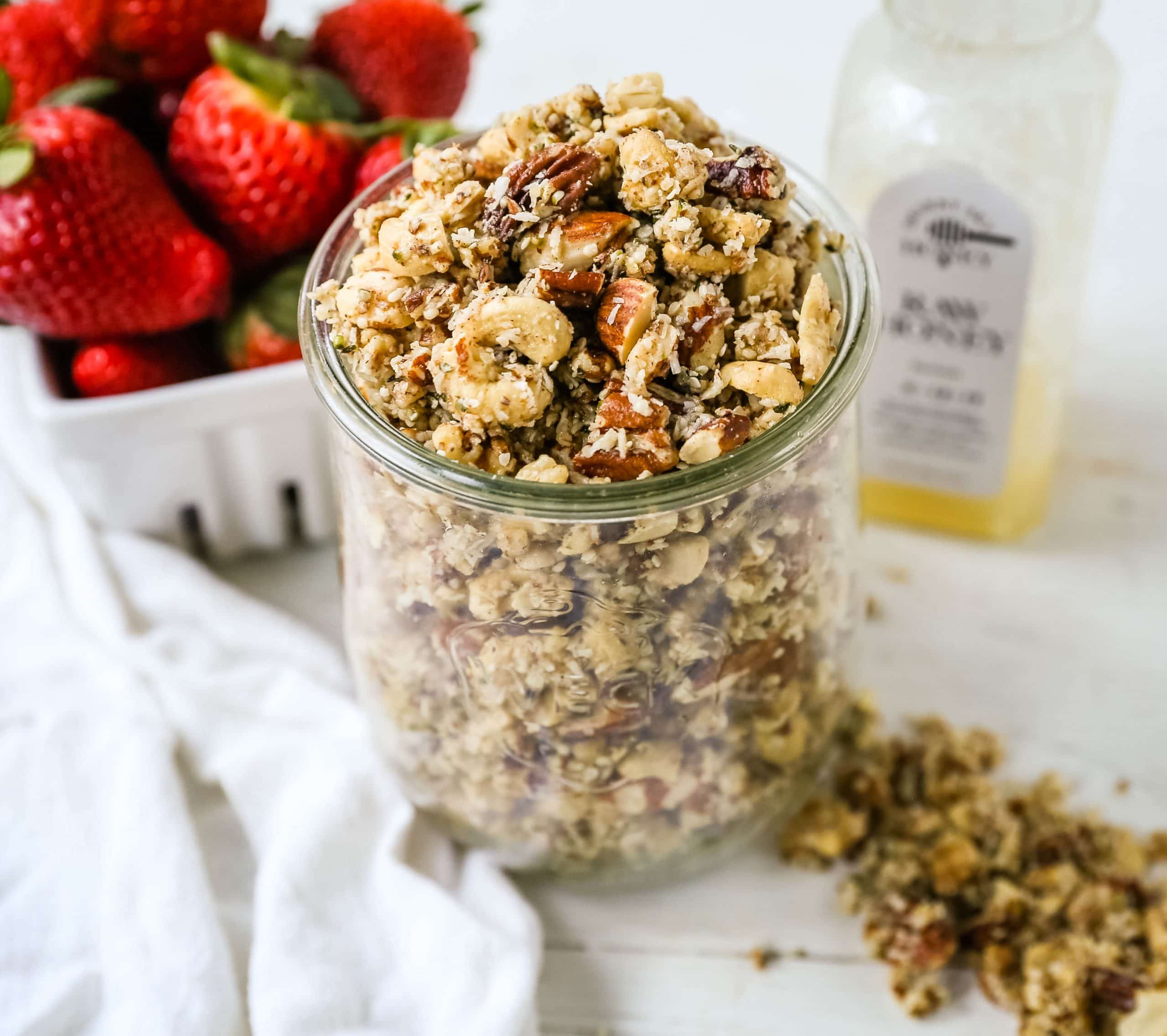 If you are looking for more healthy recipes, click the recipes below:
JUICE CLEANSE RECIPES
GREEK YOGURT BOWLS with TOPPINGS
6 HOMEMADE GRANOLA BAR RECIPES
HEALTHY BANANA OATMEAL PANCAKES
You can find Kelly LeVeque's book called BODY LOVE Everyday for only $18 on Amazon and it is a wealth of information. She knows her stuff and the recipes I have tried have been amazing! I am only sharing this because I am passionate about sharing information that I believe can be helpful to my incredible Modern Honey readers!!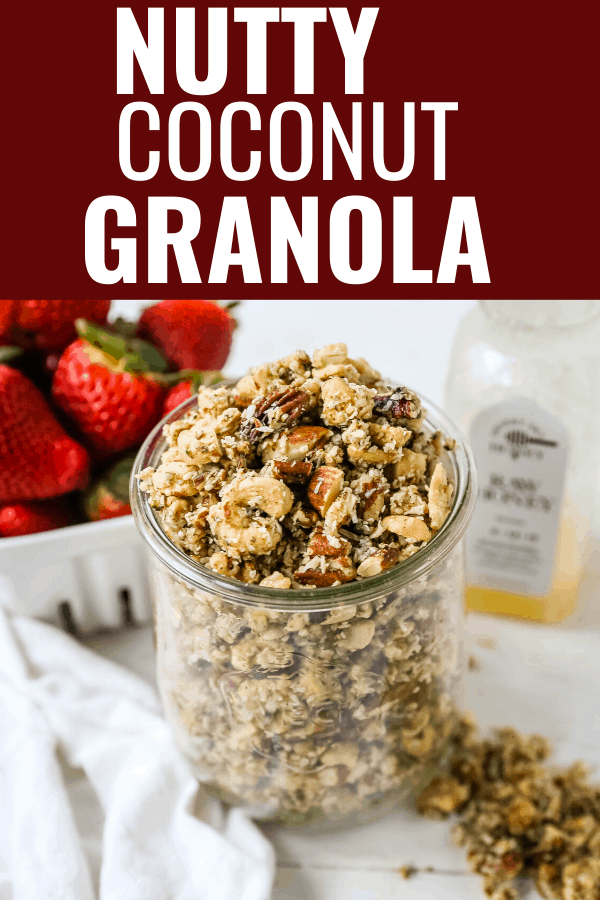 Pin this now to find it later
Pin It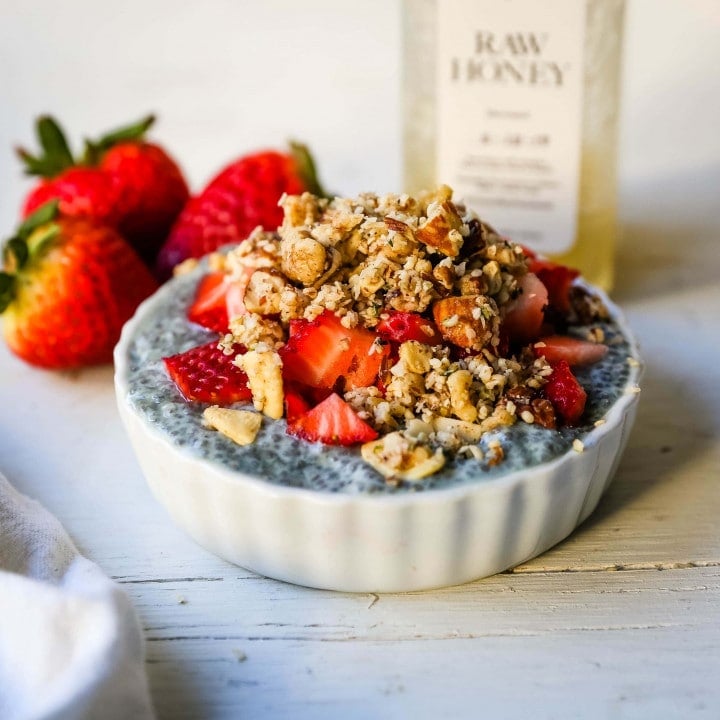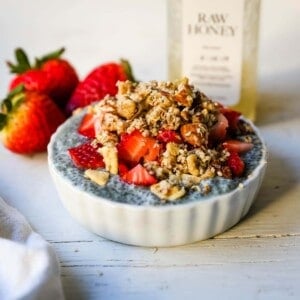 Nutty Coconut Granola
Nutty Coconut Granola Almonds, cashews, walnuts, pecans, coconut, hemp seeds, unsweetened coconut flakes, coconut oil, and honey make this an all-natural snack. 
Ingredients
1

cup

Almonds

1

cup

Cashews

1

cup

Walnuts

1

cup

Pecans

3

Tablespooons

Coconut Oil

(melted)

3

Tablespoons

Honey

(I love the creamed honey)

1

cup

Unsweetened Coconut Flakes

(I use the shredded coconut)

1/2

cup

Hemp Seed Hearts

1/2 to 1

teaspoon

Salt
Instructions
Preheat oven to 220 degrees.

Place the nuts in a food processor and pulse to create small chunks. If you don't have a food processor, you can put them in a large Ziplock bag and use a mallet or rolling pin to pound them to desired size.

In a large bowl, mix the melted coconut oil, honey, coconut flakes, hemp hearts, salt, and nuts. Transfer the mixture to a parchment paper-lined baking sheet. I love to use light-colored baking sheets.

Bake for approximately 24-28 minutes, until the nuts are lightly toasted. Let the granola cool and then store it a room temperature in an airtight container.
Nutrition information is automatically calculated, so should only be used as an approximation.