A CHRISTMAS BUCKET LIST
How to Bring the Christmas Spirit Back into Our Homes.
Years ago I was stressed out to the max. I wasn't feeling the Christmas spirit and was a slave to my never-ending to-do list. I felt overwhelmed and frustrated by the jam-packed parking lots and the crazy hustle and bustle of the holidays. In an effort to slow things down, my husband and I decided to make a Christmas bucket list. My husband is always so good at reminding me to slow down. We wanted to make a list of all the really IMPORTANT stuff -- things we wanted to do that would help us to feel the Christmas Spirit.
It was our best Christmas yet.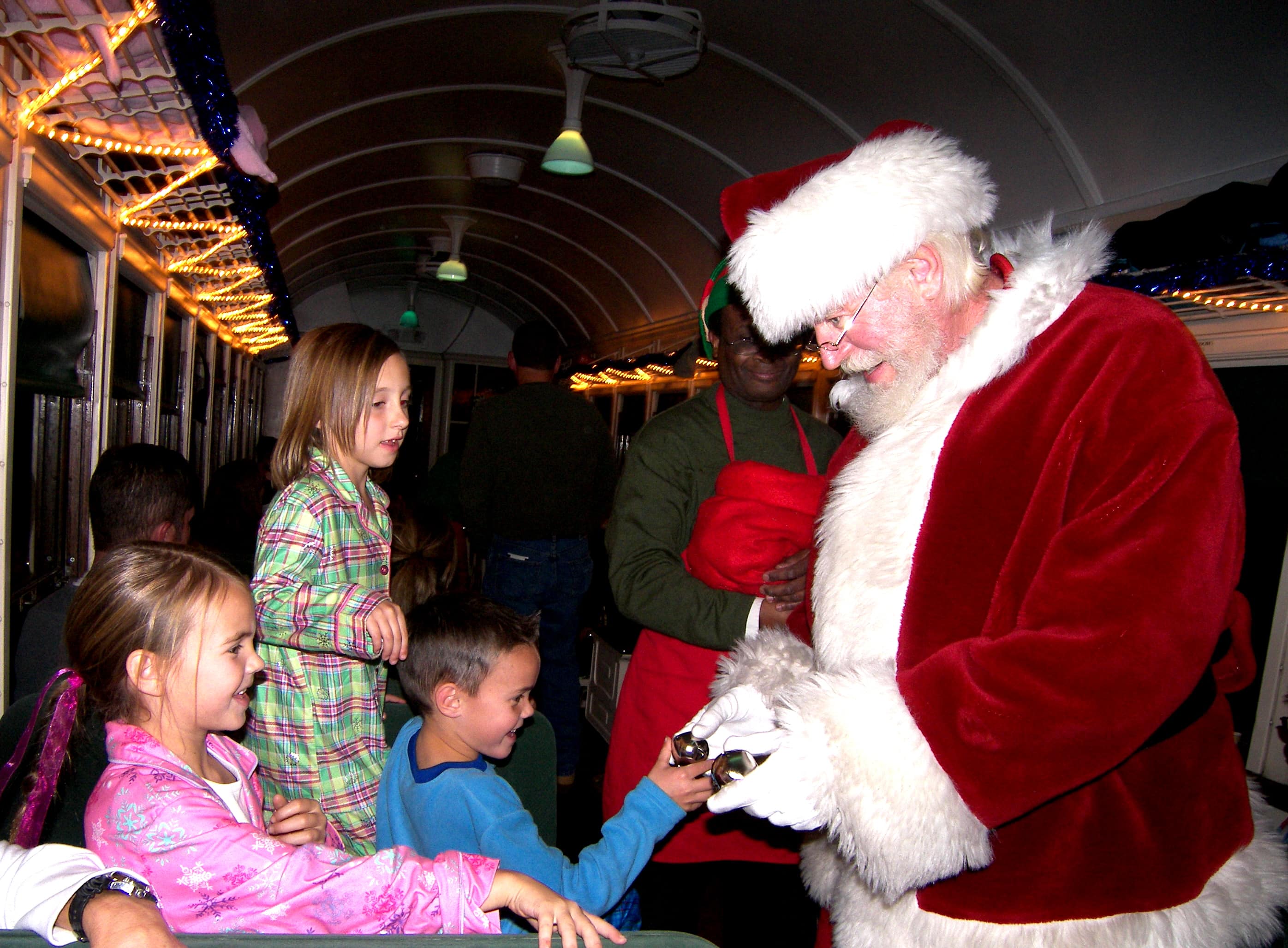 None of us want to get so busy that we miss the beauty of the special season, so I've made a Christmas Bucket List of some Christmas traditions that have helped our family bring the Christmas Spirit into our home. They serve as good reminders for me and may be helpful suggestions for you.
A CHRISTMAS BUCKET LIST - TEN WAYS TO FEEL THE CHRISTMAS SPIRIT:
 The Ultimate Christmas Movie Night + Hot Chocolate Bar. Put on the comfiest PJ's you own, wrap up in a warm blanket, and watch with your family a favorite Christmas movie (Elf, anyone?).  We put away our phones and just enjoy time snuggled on the couch together. A highlight is definitely a hot chocolate bar with all of the fixings -- marshmallows, candy canes, chocolate chips, caramel bits, and lots of whipped cream for dessert. It's a bonus to drink it by a warm fire.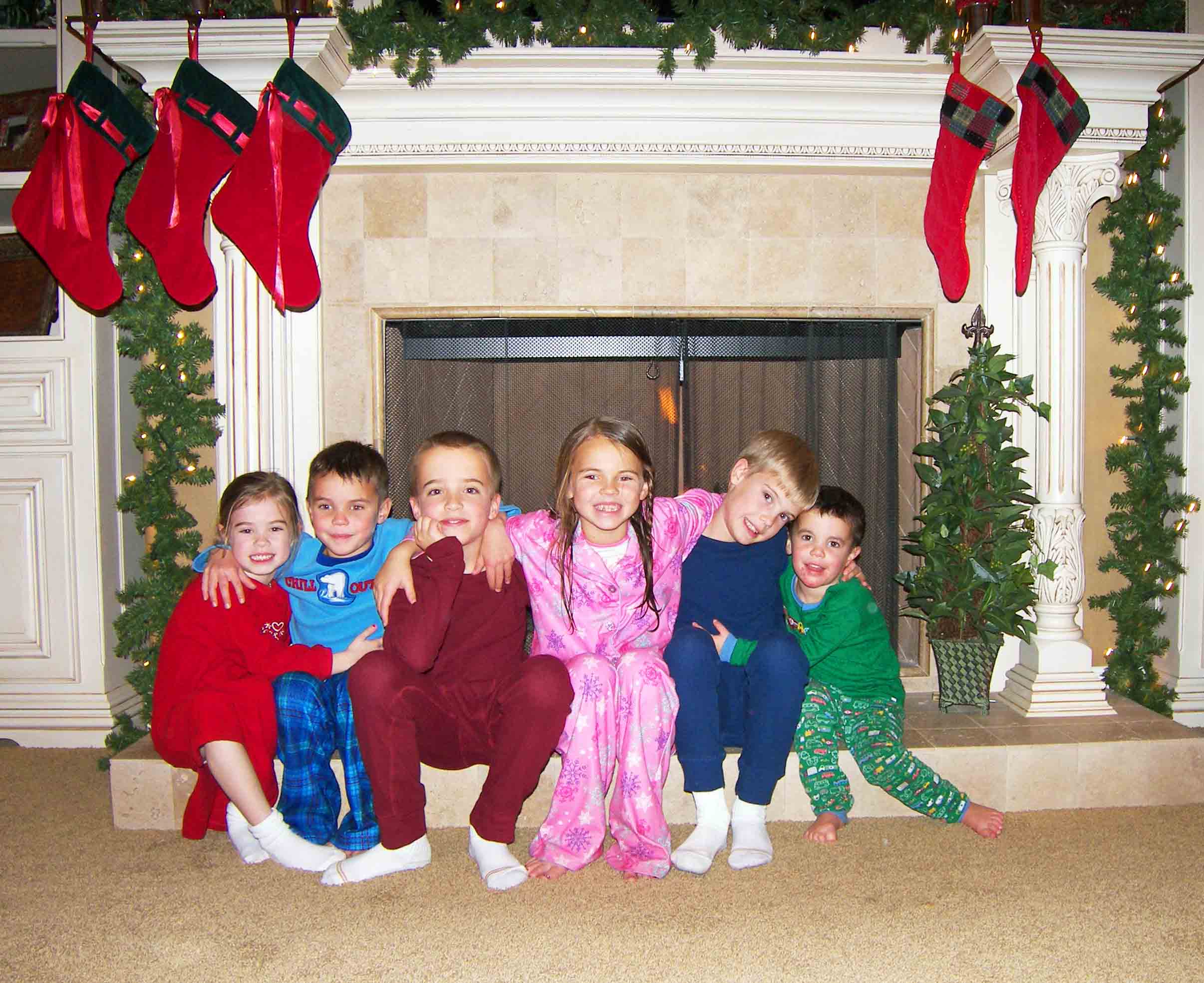 2. Perform Random Acts of Kindness. Bring Joy to Someone Else. Spend one night in the service of others. One of our favorite things to do is to bake homemade cookies and wrap them up in bags and deliver them to people we don't know. We named this "Operation Cookie Droppers." We put bags of homemade goodies at people's door, ring the doorbell, and run. Another idea is to wrap blankets up and deliver them to needy neighborhoods.
A simple blanket may be a welcomed gift to someone in need. I found soft fleece blankets at our local grocery store for less than $5. A simple gift may help someone feel loved. You can look for service opportunities in your area at http://www.justserve.org. Serving food at a local homeless shelter is always a needed service and can be a rewarding experience. You can also find service ideas through the Light the World initiative to focus more on doing things for others.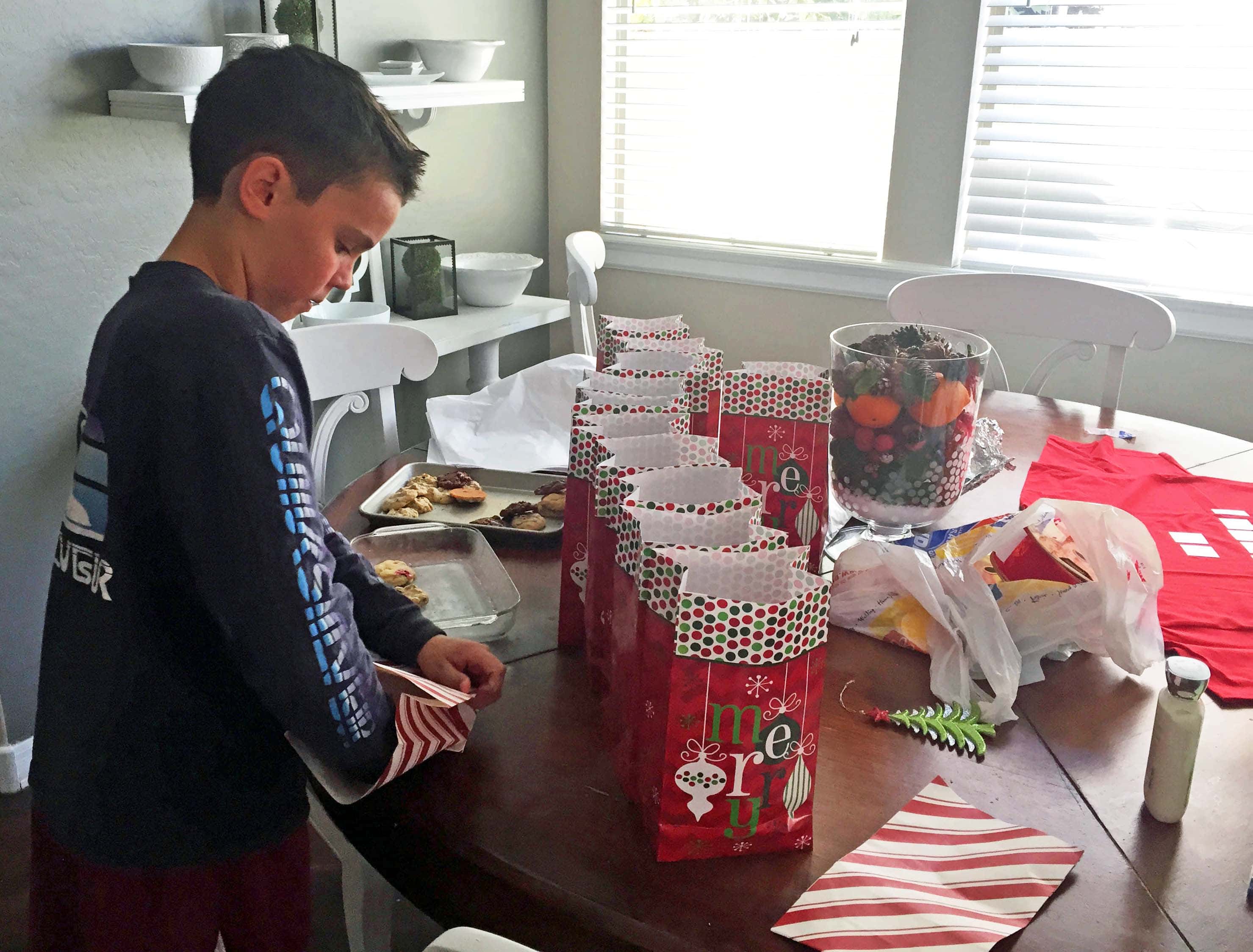 3.  Special Christmas Eve or Christmas Night Dinner. This was my favorite part of Christmas growing up (besides the presents, of course). My Mom would set the dining room table with her best china, beautiful lighted candles and place cards directing us where to sit.  The menu was simple -- a cream soup, homemade rolls, and Martinelli's cider.
At every seat was a wrapped gift. It was a different gift than the gifts we would receive on Christmas day.  These were spiritual gifts -- meant to bring us closer to Christ by reflecting on the true meaning of Christmas.  The gifts were all personalized. Some years it was new scriptures, a special necklace, or a beautifully framed picture of the Savior.
After we opened our gifts, we would go around the table and say something nice about the person sitting next to us (she was very strategic as to where she placed all of us).  It usually turned into a cry fest, but always brought us closer.  One year she had us write letters to each other, which was something meaningful we could keep.  I have continued this with my own kids and it's still one of my most cherished traditions.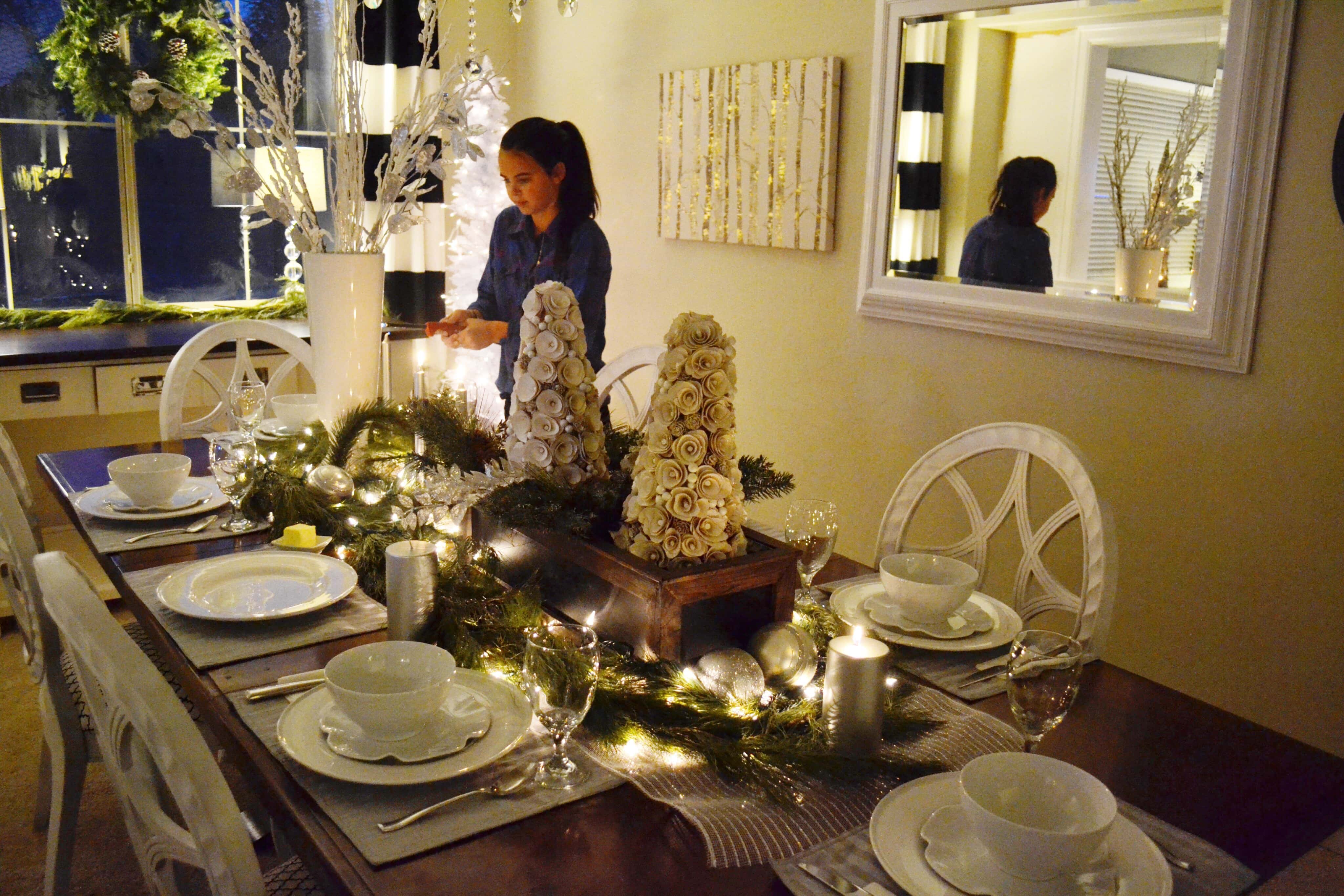 4.  Read Luke 2 and Act out Nativity. We can get so busy shopping, wrapping, baking, stressing, and running around that we sometimes forget the true meaning of Christmas and why we celebrate it. We love to read Luke 2 while my kids act it out...always a sweet experience. It helps to bring in the Spirit of Christmas into our home.
5.  Go Ice Skating or Build a Snowman. If you want to laugh a lot, take your family ice skating. It's always entertaining watching rookie attempt ice skating. Some may pick up easily and others may have a death grip on the side railings but regardless it is so much fun! Check out your local outdoor ice rinks. If you have snow (and don't live in the desert) build a snowman together.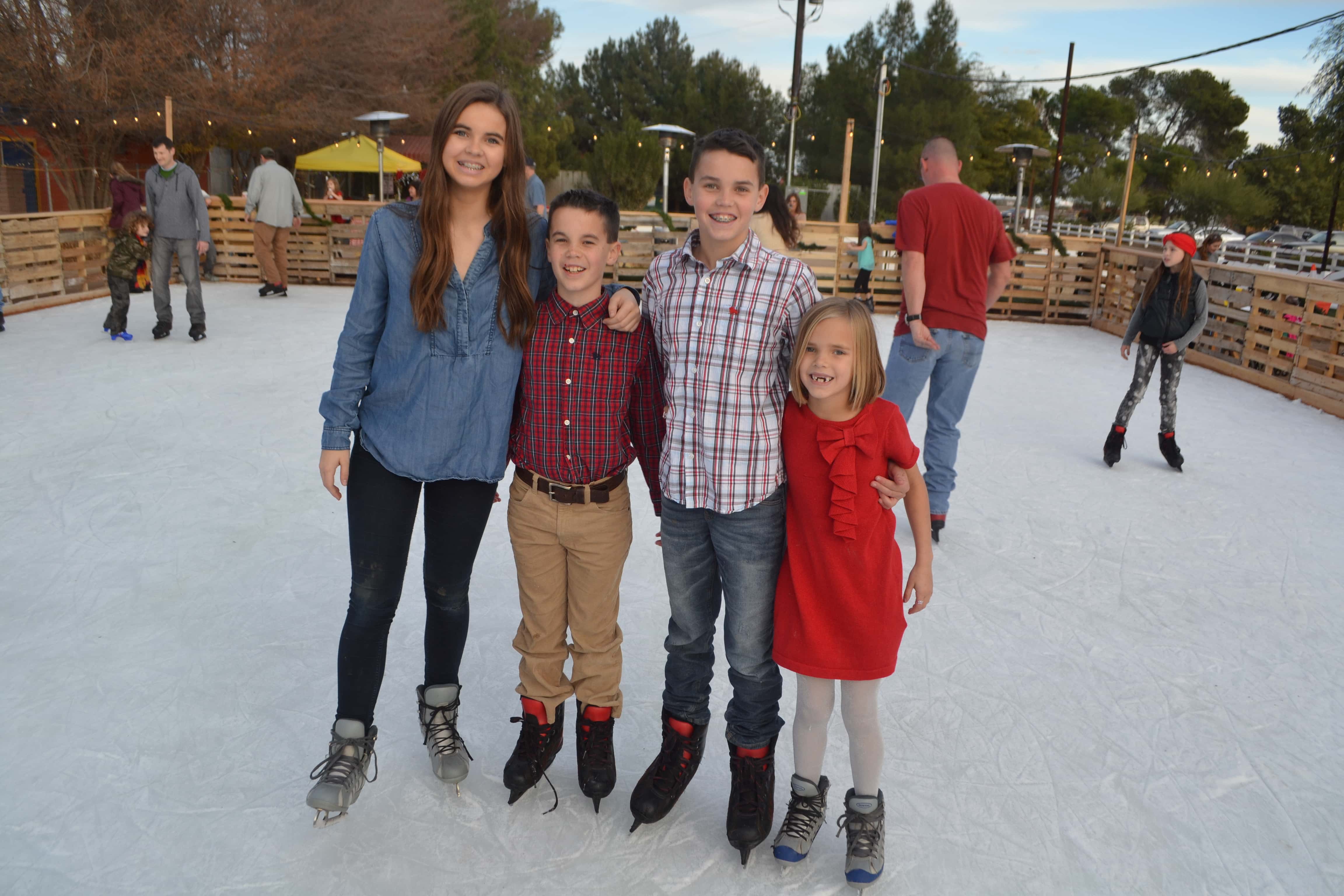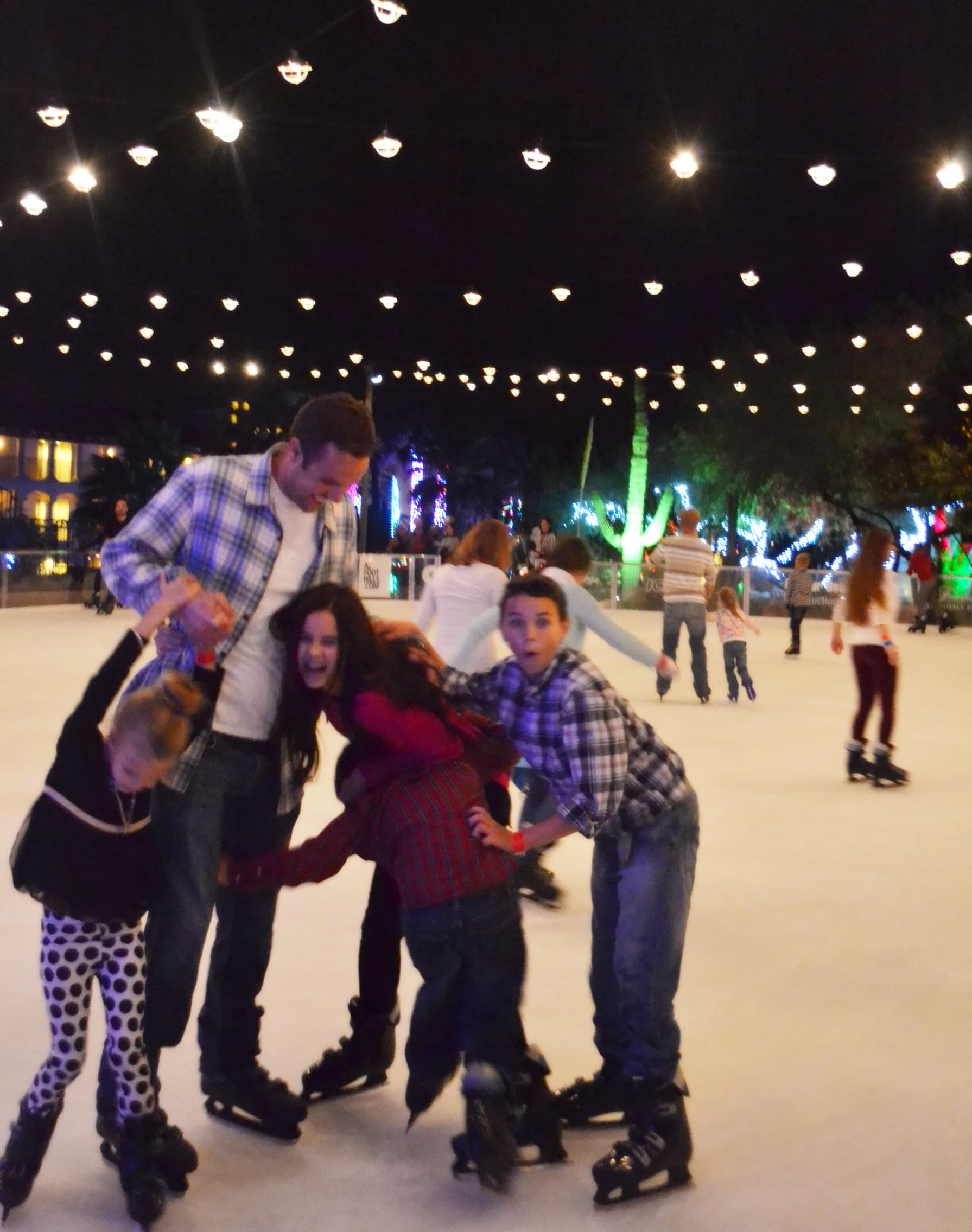 6. Buy Gifts for a Family in Need. It's a great way to teach your kids to think about others and there are so many families in need during the holidays.  Years ago we had such an incredible experience doing a service opportunity with my husband's family in Texas. We visited a home for kids with disabilities and provided Christmas for them. It was such a beautiful experience to see my kids light up as they delivered the presents they bought for these special kids. It's ultimately the TRUE meaning of Christmas. This short 2-minute clip is something that we've loved to watch as a family -- Light the World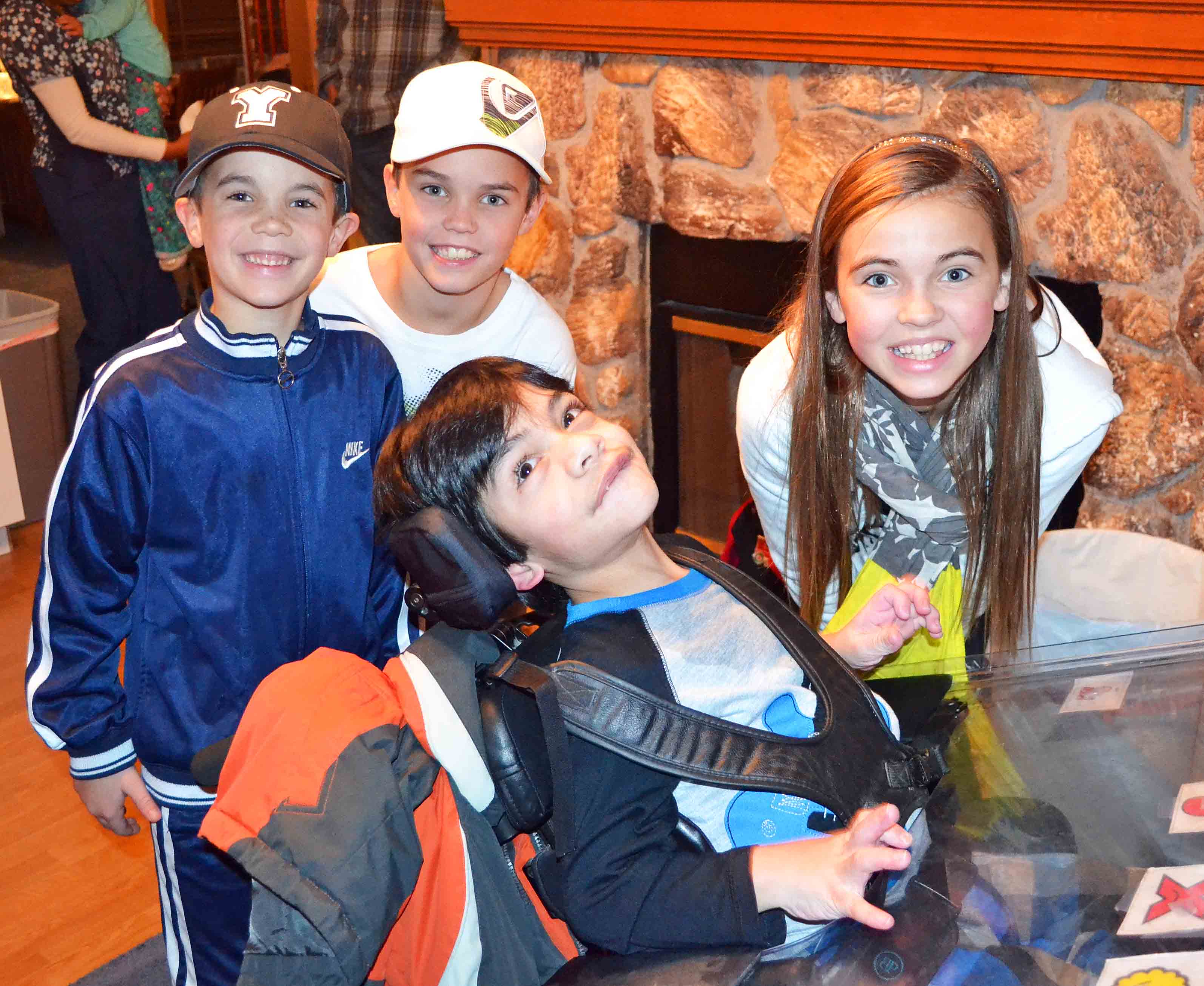 7.  Go see Christmas Lights. Check online to find out the neighborhoods that are decked out with lights for Christmas. Get out and walk around or just enjoy the lights from your car. Play Christmas music and sing Christmas carols as you go along. Stop for hot chocolate on your way home.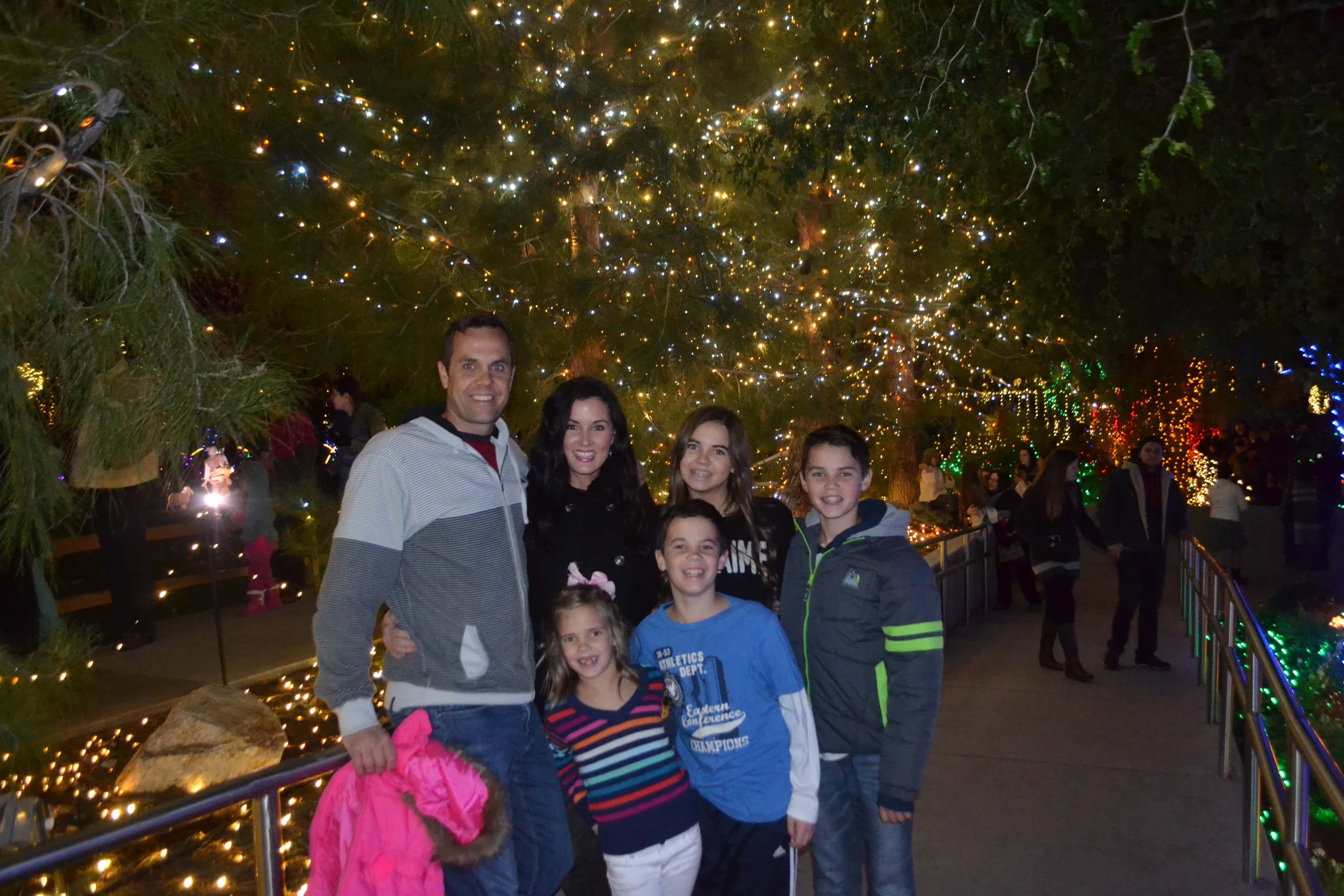 8. Have Kids Buy for Each Other. This is one of my kids' favorite traditions. They find such happiness in buying for each other and can't wait to watch their brother or sister open the present they picked out for them. I watch them fight like cats and dogs some days so it is refreshing to see them do something kind for each other.  Years ago we started this tradition at the dollar store, but now they earn money so they can spend more. It's usually a $5 limit.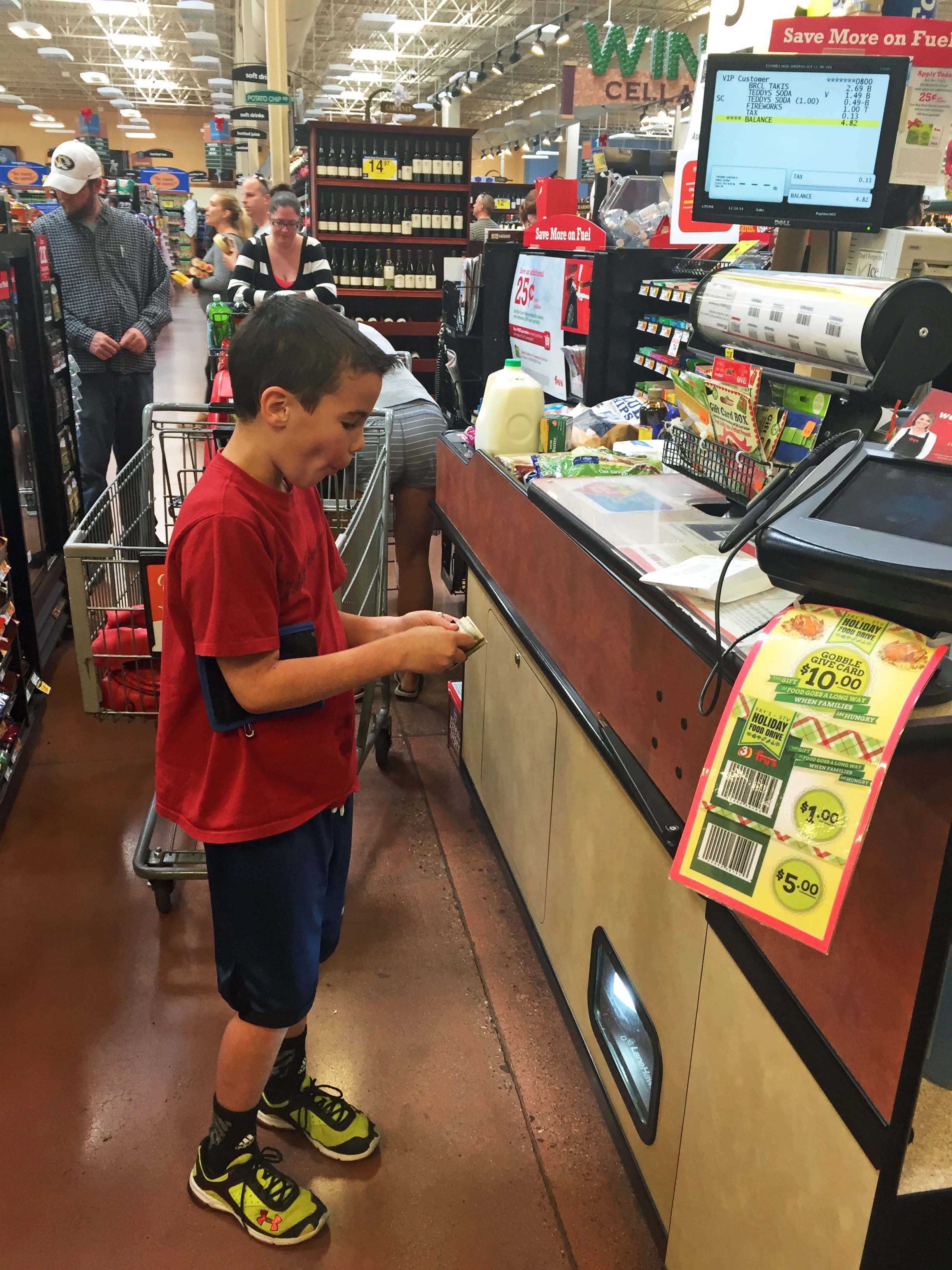 9. Bake Together. Build a Gingerbread House. Make Grandma Geri's Famous Gingersnaps. Make cookies or baked goods for the neighbors and have your kids deliver them to the door. These Ghirardelli Squares Chocolate Cookies are a huge hit for neighbor gifts. We have a tradition of making a special Christmas cookie for Santa Claus on Christmas Eve.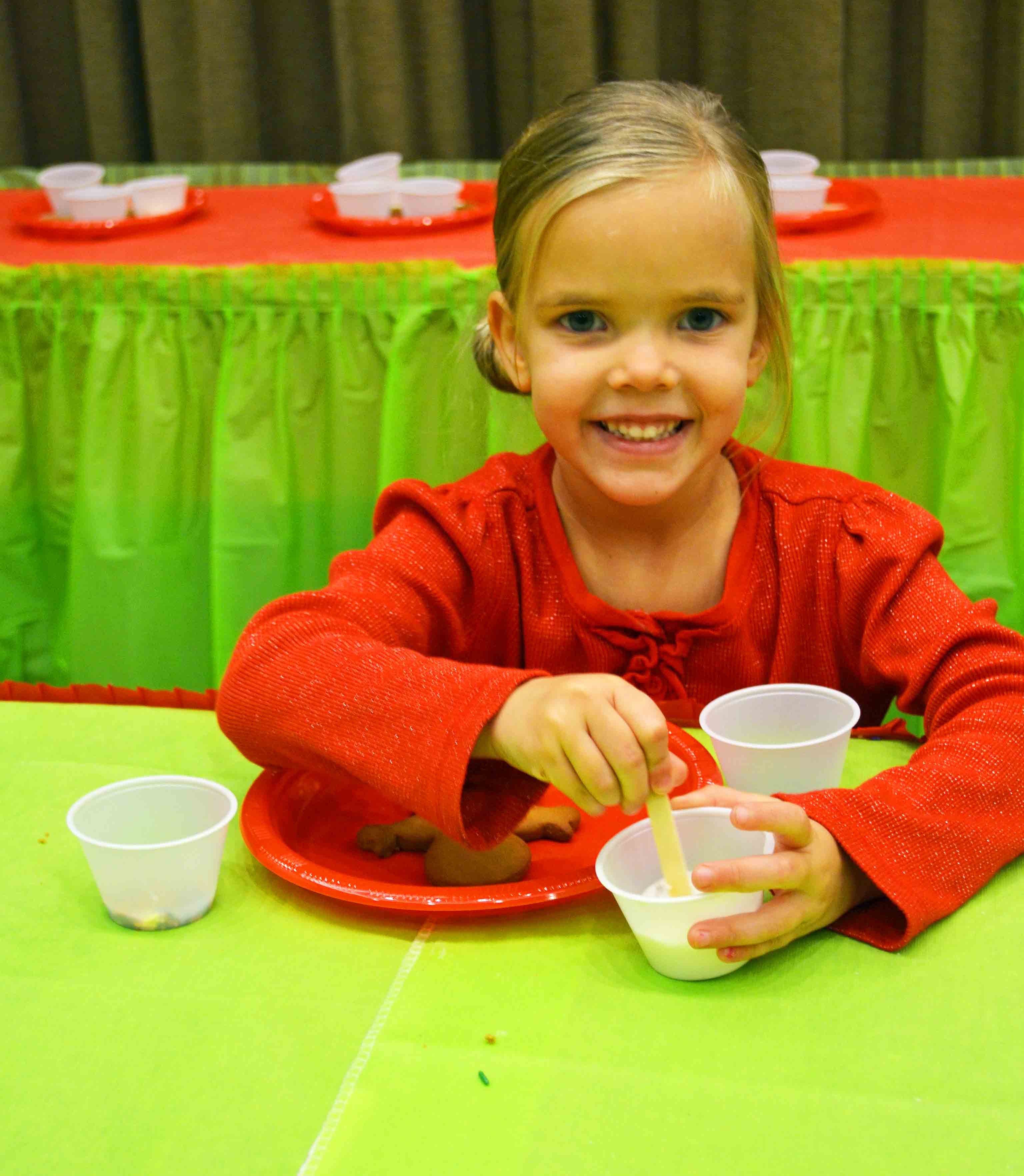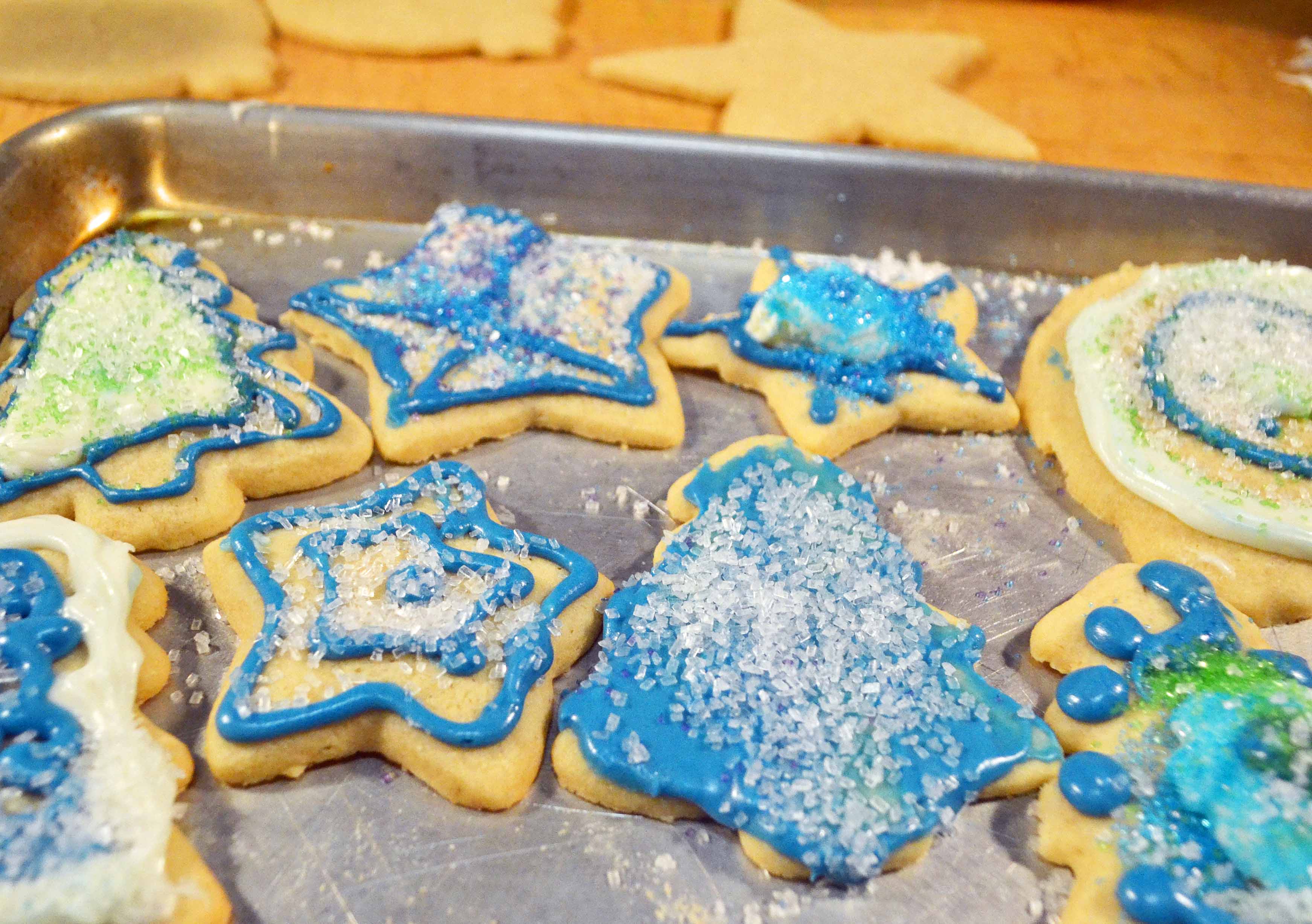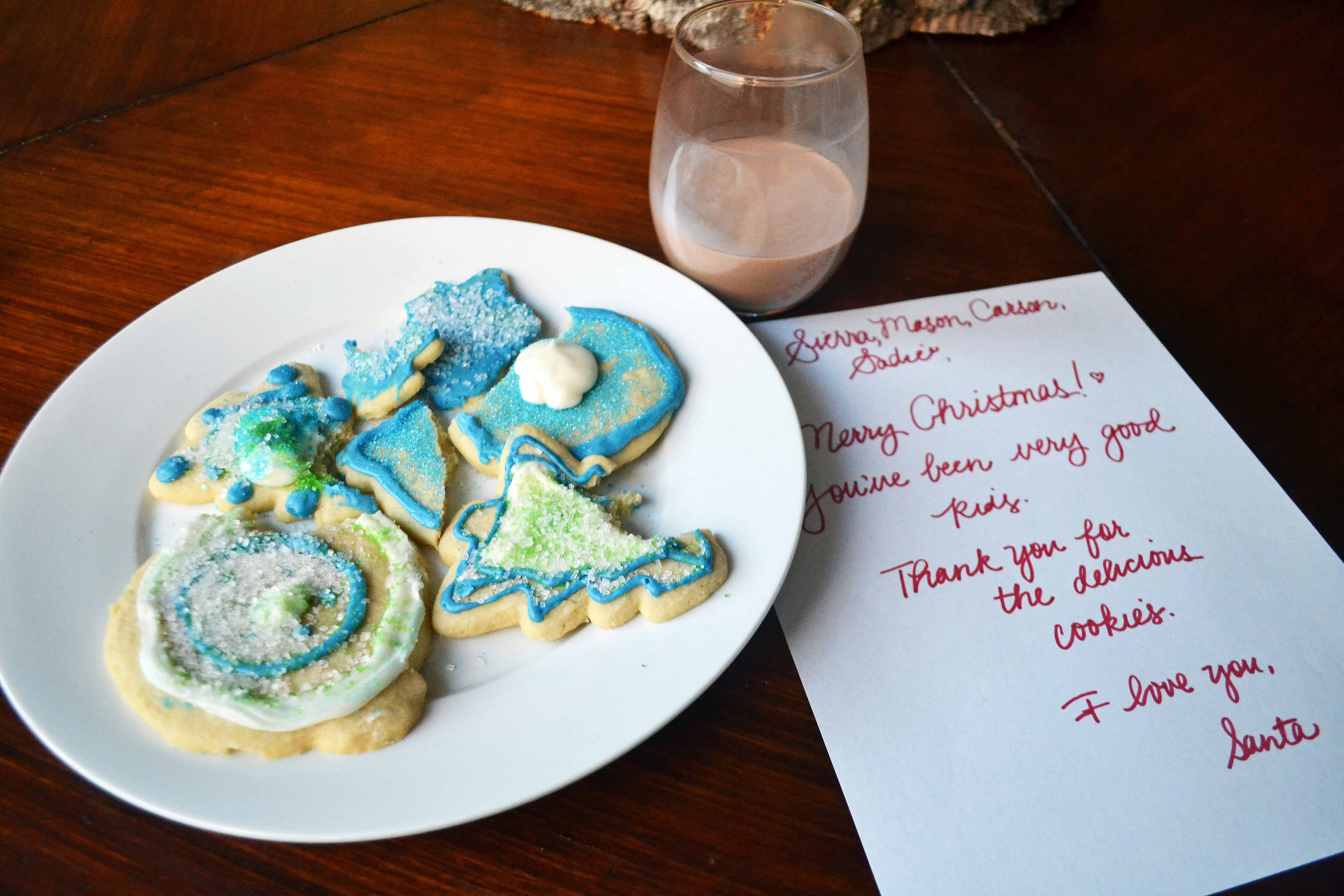 10.  Read a Christmas Story + Christmas Orange. My wonderful Mother started this tradition when she visited us in Texas a few years ago. Before bedtime she would pull out a few Christmas stories. My kids favorite story was always "The Christmas Orange." She purchased a Chocolate Orange from the store. Every night after the kids showered and got into their PJ's, they would snuggle up on the couch to listen to my Mom read this special Christmas story. After the story, they would each get one slice of the chocolate orange.  This happened many nights in a row and they never tired of the same story and the same nightly routine...most likely influenced by the chocolate treat at the end!
BONUS: Take a priceless photo with Grandma and Grandpa. They always treasure photos with their grandchildren and it is a perfect gift to frame for them.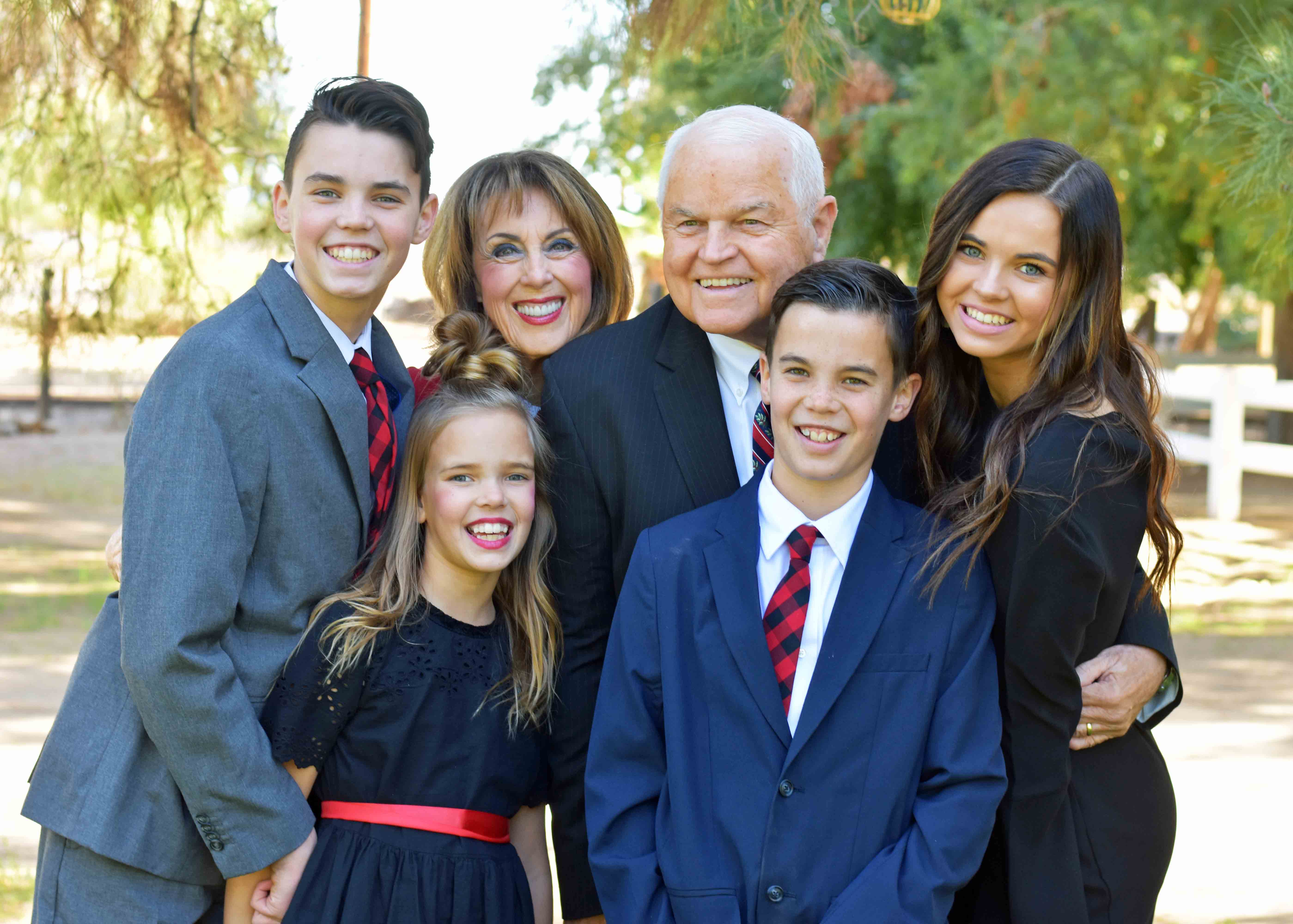 I hope this Christmas Bucket List will help give you ideas of ways to bring the Christmas Spirit into all of our lives. What are some of your Christmas traditions? Have a wonderful day, my friends! xo