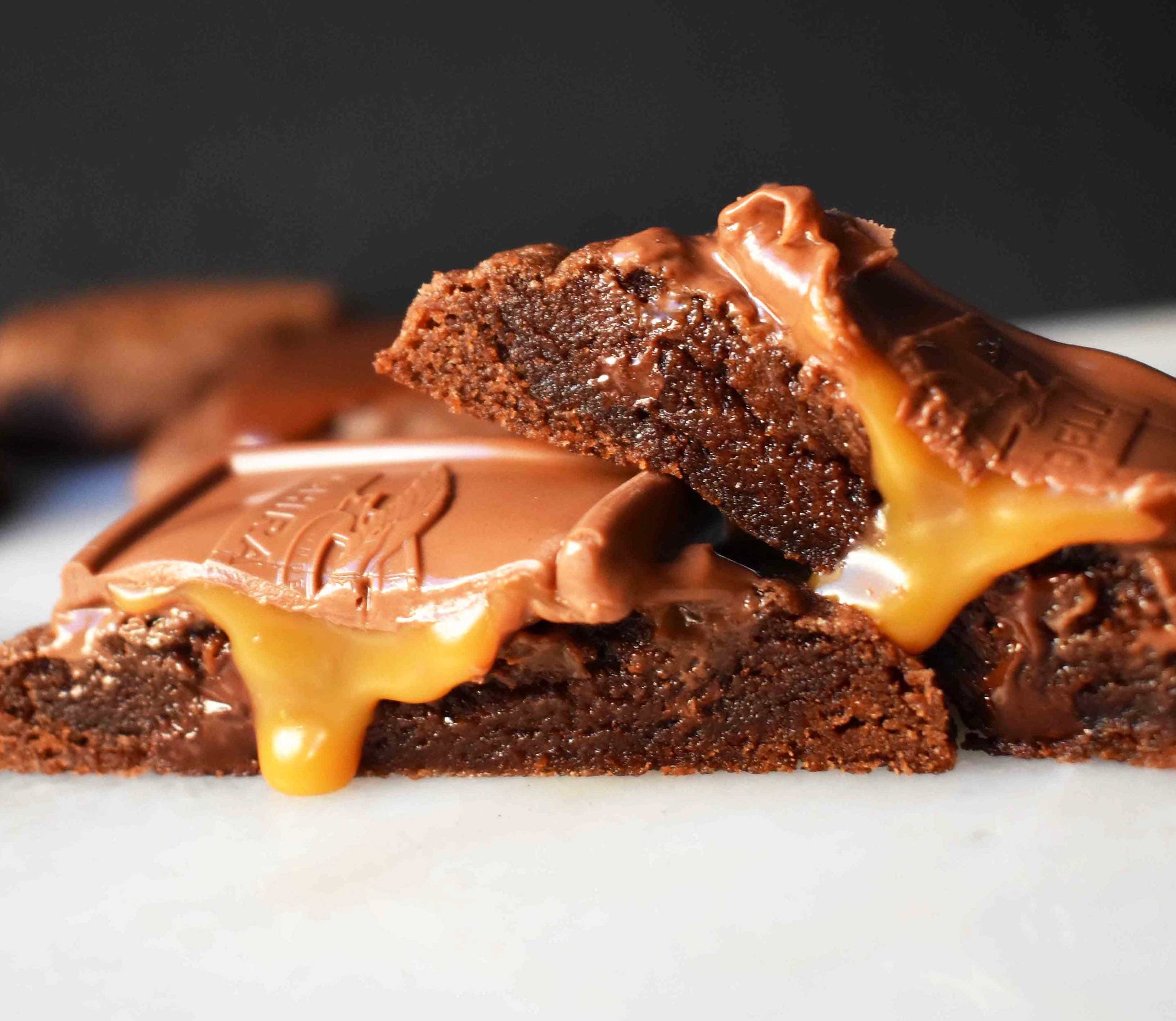 Chocolate Sea Salt Caramel Ghirardelli Squares Cookies are a rich double chocolate cookie with a chocolate caramel melted on top. A perfect chocolate caramel cookie! One of the most sinfully good cookies I have ever eaten in my life.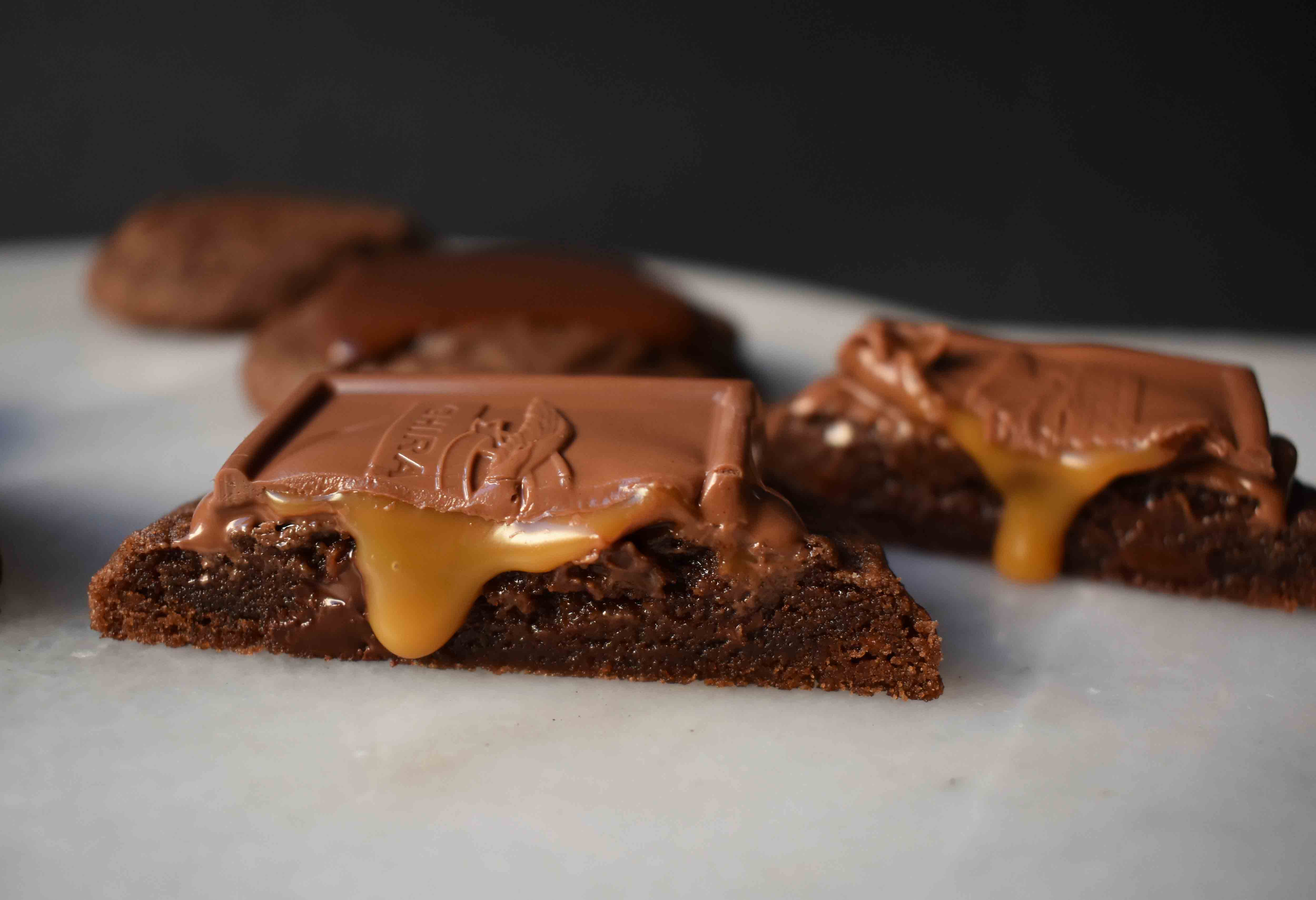 Several years ago, we embarked on our annual summer trip to California. We played on the beach every day, soaked in the sun and enjoyed the cool ocean breeze. At the end of our trip, several of my brothers and their families were driving up to San Francisco to explore the city for 3-4 days before heading home and they convinced us to join them.
It was an incredibly spontaneous idea but the thought of going home to 115-degree weather made the decision easy. Unfortunately, my husband had to head back to work so I was on my own. I loaded my Yukon with my 4 kids, all of our luggage, and headed up the coast. Since it was a last-minute decision and around the 4th of July, hotels were booked. I ended up in a sold-out hotel in a town outside of the city.
Every day we would make the trek into the city in our over-sized SUV, struggle to find a parking space, then explore the city all day long. I promised them if they got along with each other then our first stop would be the Ghirardelli Chocolate shop. I told each of my kids to pick out their favorite Ghirardelli Chocolate Square flavor. They were hooked and craved them every day and I found that chocolate was quite the motivator! Every time we go back to San Fran, the first thing my kids want to do is to hit the Ghirardelli Chocolate store. Man alive, they are smart children.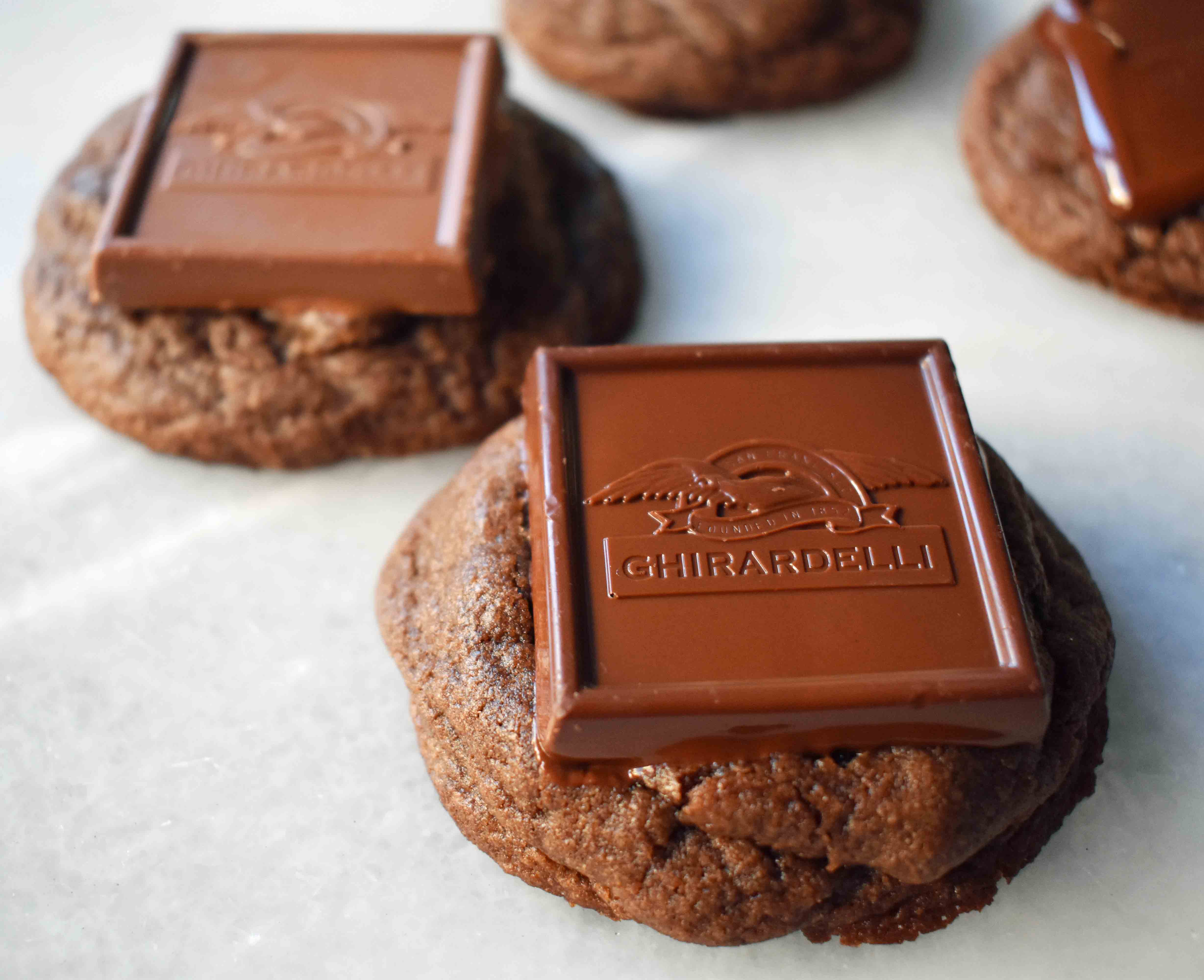 Since it's National Cookie Day, I thought we should combine two of the best things in the world -- a rich, decadent chocolate cookie and a creamy Ghirardelli chocolate square. As soon as the holiday flavors came out, I went straight to Target and bought a bag of the holiday Ghirardelli squares. As I was eating one, I thought how incredible it would be to combine it with a cookie. I played around with it and sure enough it came out just as I hoped it would.
This Ghiradelli Square Chocolate Cookie is straight out of heaven and there are so many decadent chocolate square choices to choose from:
Milk chocolate
Milk chocolate with caramel filling
Milk chocolate with caramelized almonds
Dark chocolate with sea salt and almonds
Dark chocolate with caramel filling
Dark chocolate with mint filling
Dark chocolate with raspberry filling
White chocolate with vanilla bean
Peppermint Bark layered white and milk chocolate with candy cane pieces (holiday exclusive)
Milk chocolate with pumpkin spice caramel filling (holiday exclusive)
Sublime White [Cookies Jubilee], Rich layers of chocolate with crunchy cookie bits.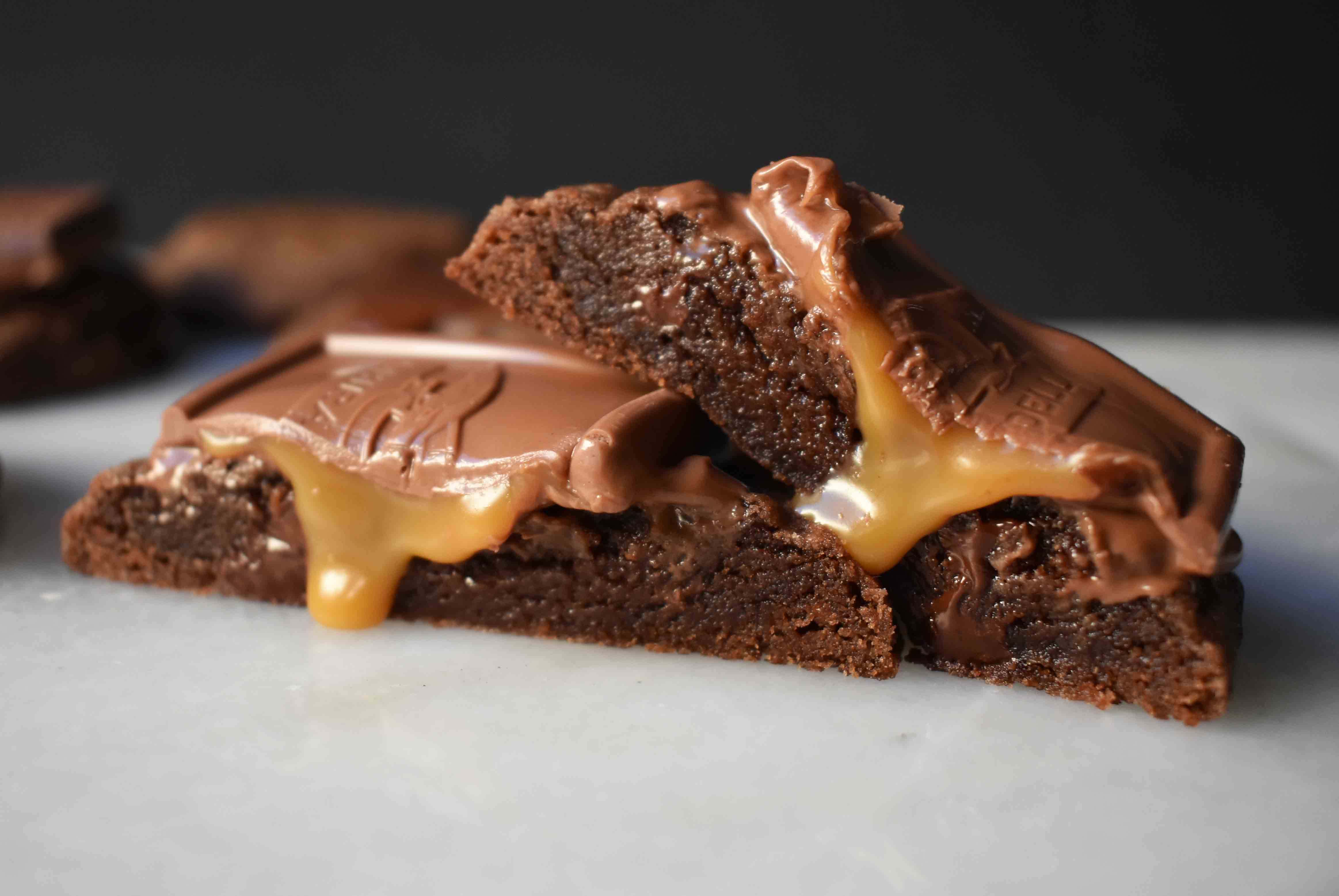 This cookie begins with a rich double chocolate cookie and is topped with a Ghirardelli chocolate square. My personal favorite is the Milk Chocolate with Caramel Filling, as it just melts in your mouth. The chocolate mint square is a close second!
After the cookie is done baking, wait about 5 minutes before putting the square on top or it will completely melt. I tested to figure out how long to wait and 5 minutes was just right. Just place the square on top of the cookie and press it gently for perfection!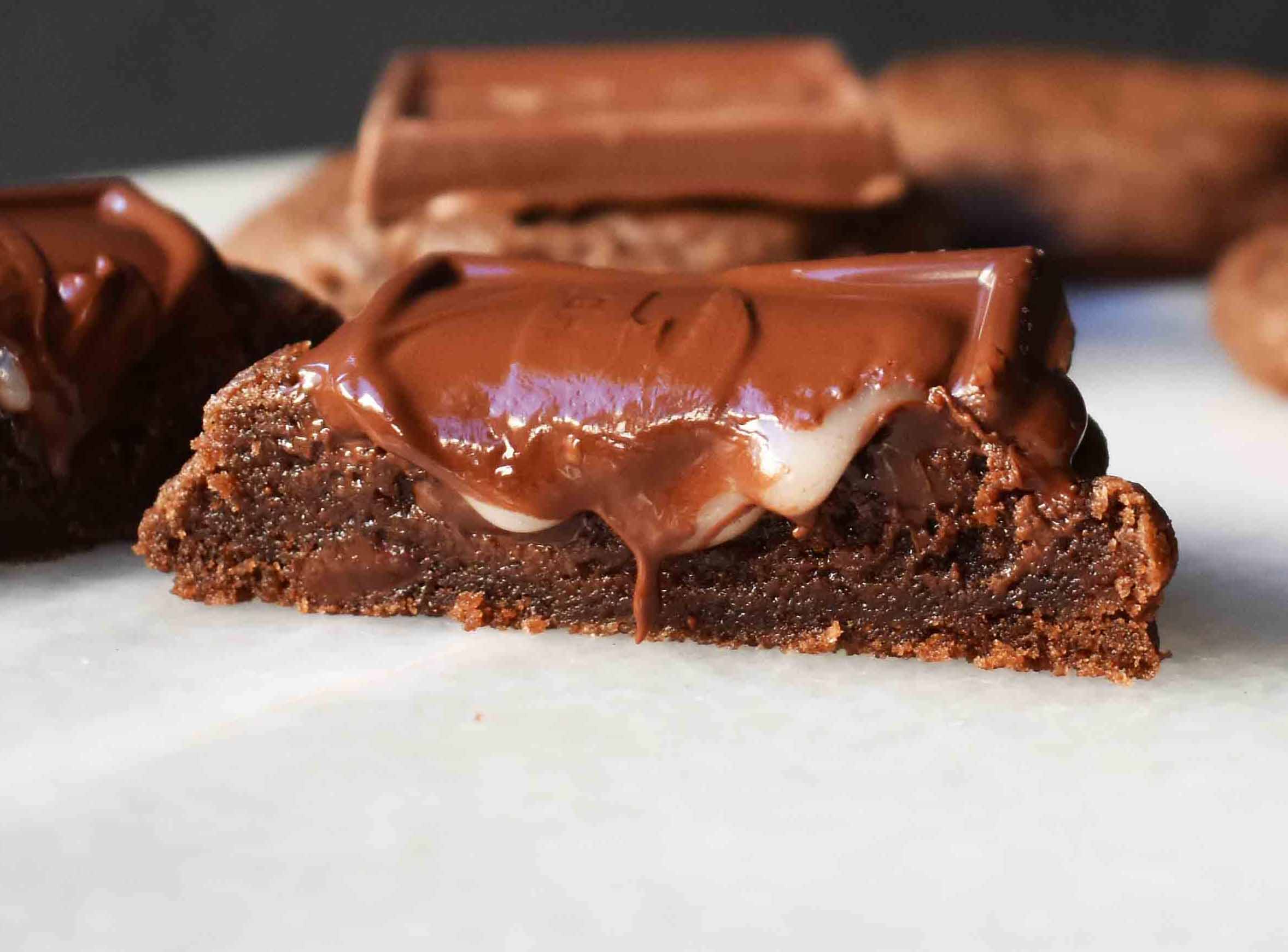 These Ghirardelli Squares Chocolate Cookies are one of my favorite cookies I have ever made. They will be a huge hit to bring to neighbors and friends during the Christmas season. Top them with peppermint bark for a festive cookie.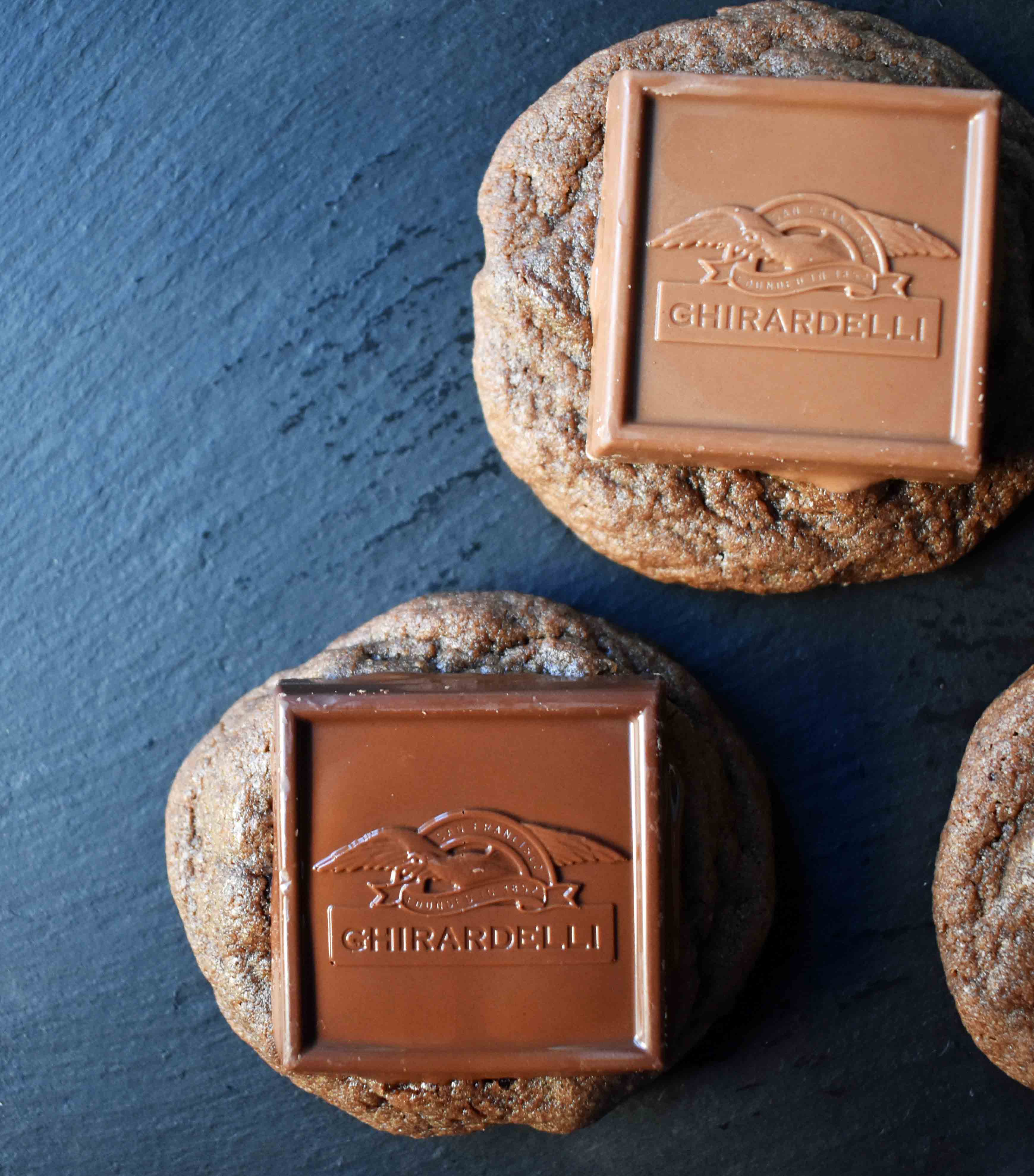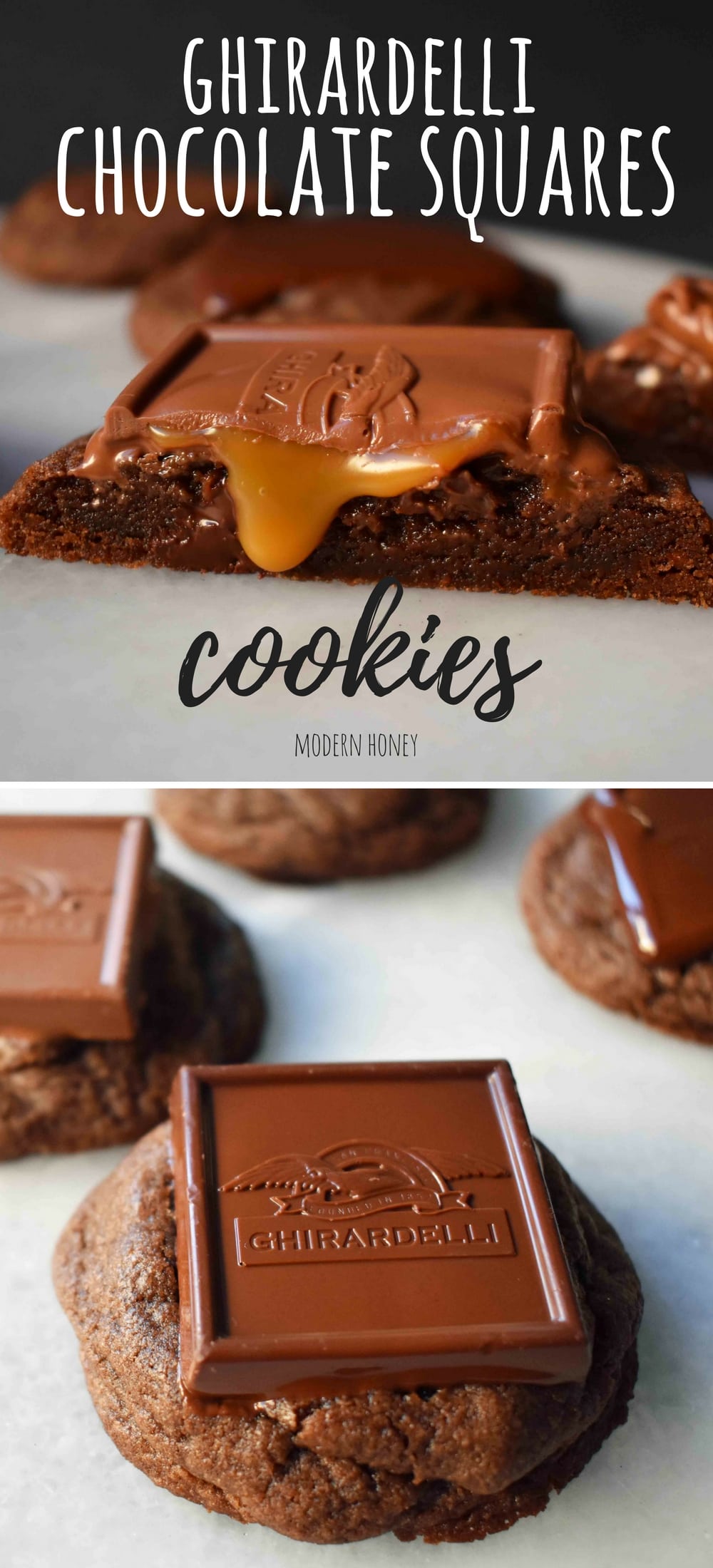 I hope you love these Ghirardelli Squares Chocolate Cookies as much as we do! Share with your friends and pin this recipe on Pinterest. Have a wonderful Sunday, my friends! xo
Happy Baking!