This Pecan Cheesecake is a rich, creamy homemade cheesecake topped with decadent brown sugar pecan praline sauce. This Pecan Praline Cheesecake combines pecan pie and cheesecake into one perfect pecan dessert!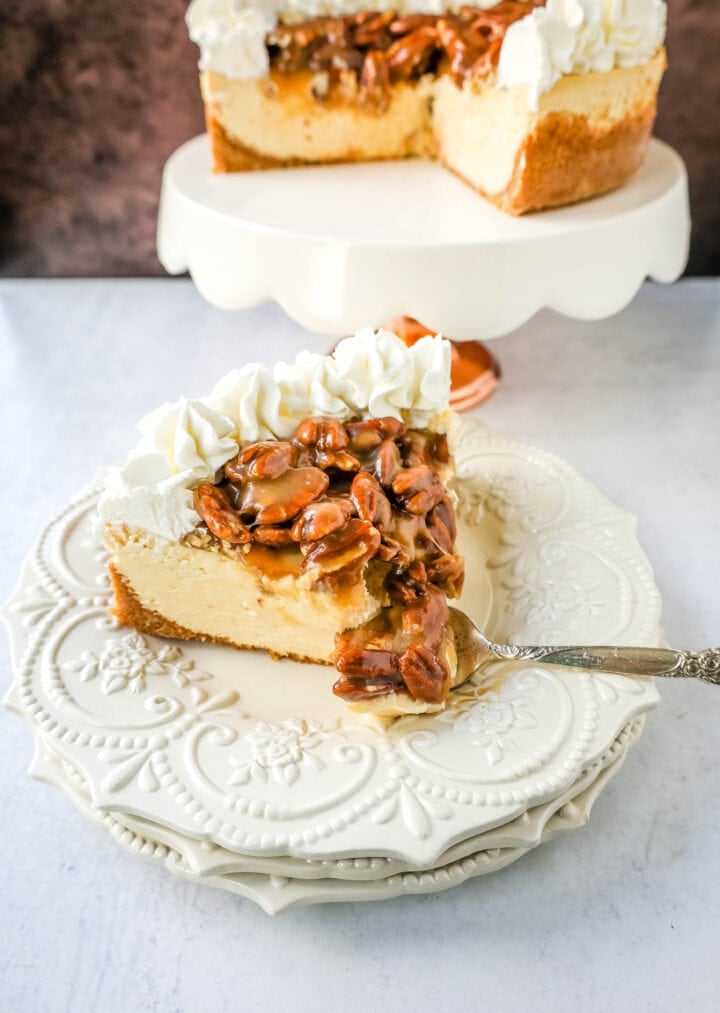 This is Day 1 of Thanksgiving Recipes 2022 and I can't wait to share this Southern Pecan Praline Cheesecake which is a special cheesecake recipe topped with the most heavenly pecan praline topping.
If you love cheesecake and you love pecan pie then you are going to love this marriage of those two popular desserts.
We spent time in the South this October in Georgia, South Carolina, North Carolina, and Virginia. We loved it! We ate so much Southern food, which included a lot of pecan pralines. It was heavenly! One of my good friends is moving to North Carolina and when I gave her this pecan cheesecake, she told me it had to be named Southern Pecan Praline Cheesecake because it is the perfect Southern dessert.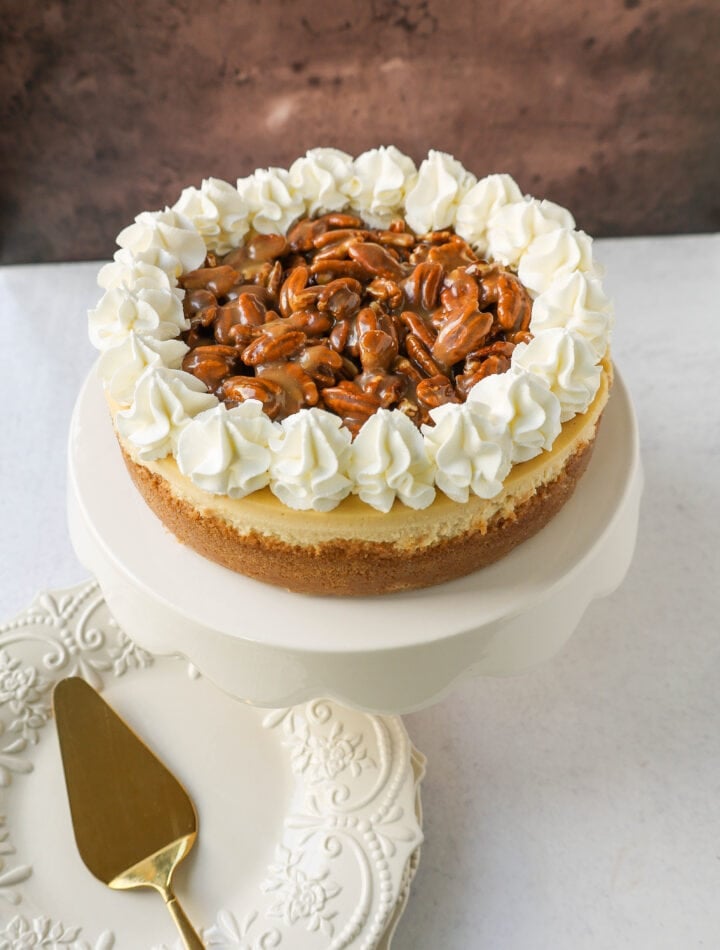 Pecan Praline Cheesecake Ingredients:
This cheesecake topped with pecan praline starts with a graham cracker crust, and a creamy vanilla cheesecake filling, and is baked until creamy. The cheesecake is topped with pecan praline sauce and fresh whipped cream.
CHEESECAKE FILLING:
Cream Cheese
Brown Sugar + Sugar
Vanilla
Eggs
Sour Cream (preferably full-fat)
Cornstarch (or flour)
GRAHAM CRACKER CRUST:
Graham Crackers
Butter (melted)
Sugar
PECAN PRALINE TOPPING:
Butter
Brown Sugar
Pecans (Whole)
Karo Syrup (Light)
Heavy Cream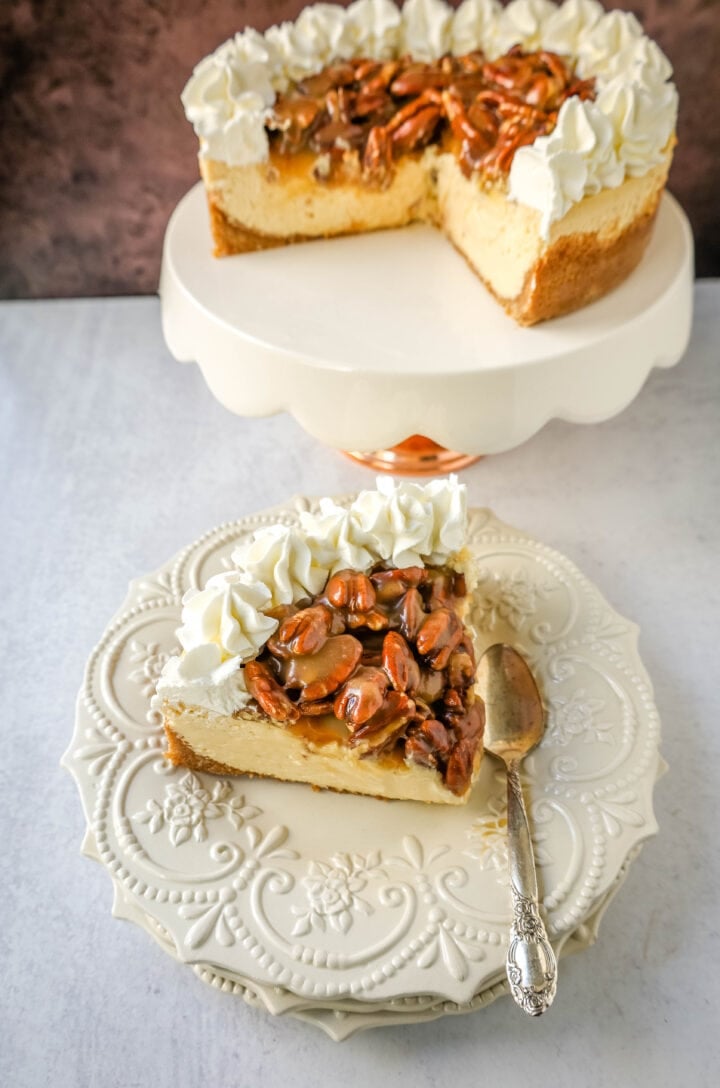 How to make Cheesecake with Pecan Praline Topping:
Make the graham cracker crust and bake for about 8 minutes. This helps to keep the graham cracker crust together. I suggest using a 9-inch springform pan.
Bring the cream cheese to room temperature. This allows it to become super creamy and smooth. Beat the cream cheese and sugar until light and fluffy, about 2-3 minutes, scraping the sides of the bowl often.
Add vanilla and cornstarch and beat just until combined. We don't want to overmix this cheesecake batter and allow air bubbles to form.
Add eggs one at a time, beating after each addition. Fold in full-fat sour cream.
Pour into cooled graham cracker crust and lightly bang the pan on the counter to release any air bubbles.
IMPORTANT! When using a water bath, you want to line the outside of the springform pan with foil. I use heavy-duty foil and wrap it twice (at least) to secure the pan and ensure no water comes through. Place the springform pan in the center of a double layer of foil. Lift the edges of the foil up, wrapping tightly around the sides of the pan and folding the foil under itself as needed.
Place the filled springform pan inside a roasting pan and transfer it to the center rack of the oven. Carefully pour enough boiling water into the roasting pan to come halfway up the sides of the springform pan (this is safer than pouring it in and then transferring it to the oven).
Bake and then reduce heat and let cook low and slow. Once the baking time is over, turn off the oven and allow the cheesecake to gently still bake for 1 hour.
Let come to room temperature for about 1 hour and then place it in the refrigerator for about 6-8 hours or overnight to allow it time to set up and solidify.
Make the pecan praline sauce. When ready to serve, top the cheesecake with the pecan praline topping and fresh whipped cream.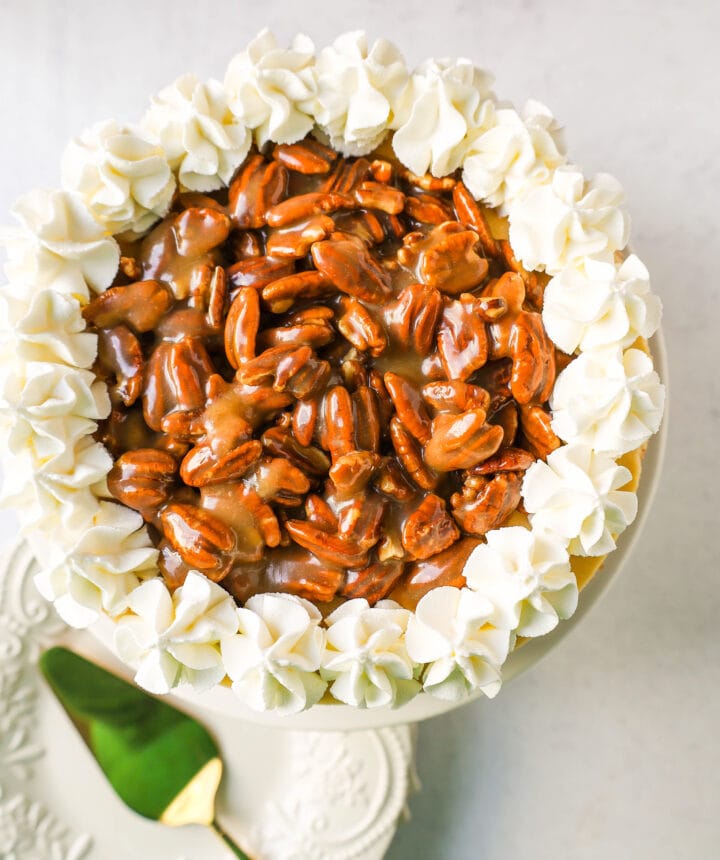 Q & A:
How to avoid cheesecake cracking in the center?
The best way to avoid the cheesecake cracking in the center is to cook it at a low temperature and slowly in a water bath. A crack can happen when the cheesecake is baking faster towards the edges, while the center is still liquid.
Also, make sure to keep the oven closed! No peeking! If you need to check on the cheesecake, use the oven light.
What kind of cream cheese should I use in this cheesecake?
Use full-fat regular cream cheese. I suggest Philadelphia brand cream cheese.
Why is a water bath important?
A water bath is a pan of hot water that surrounds the springform pan with your cheesecake. It acts as a buffer for heat so your cheesecake filling bakes slowly, gently, and evenly. The steam from the water bath helps to keep the cheesecake from drying out. It creates a creamy textured cheesecake.
How to avoid bubbles in your cheesecake?
Make sure to not overwhip the cheesecake batter and develop air bubbles. I suggest pounding the springform pan on the counter once the batter has been added to release any air bubbles.
Why is it important to let the cheesecake chill?
After removing the cheesecake from the oven, let the cheesecake come to room temperature before placing it in the refrigerator, for about 1 hour. Then place in the refrigerator for at least 6-8 hours, preferably overnight. This allows the cheesecake time to solidify and set up.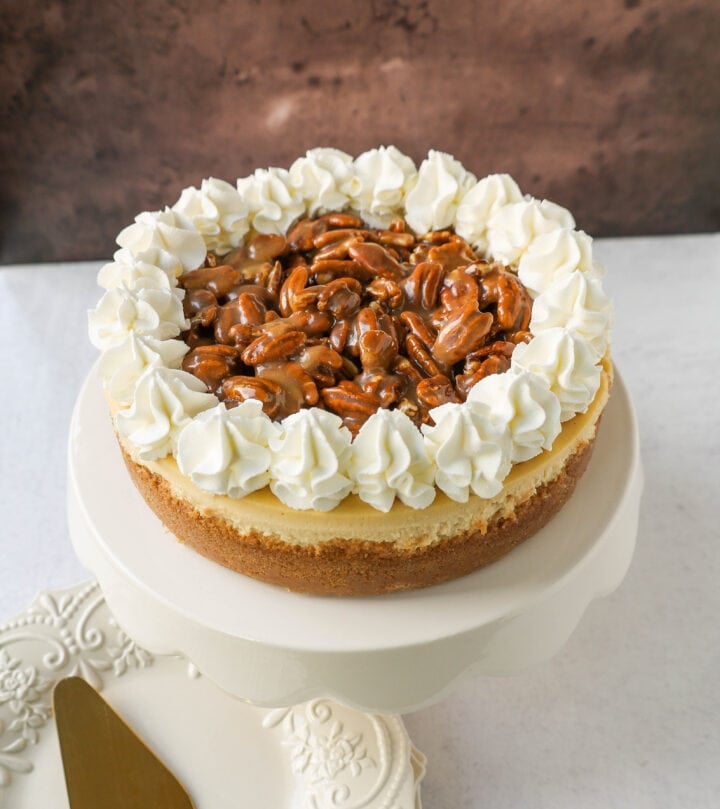 If you are looking for a Classic Pecan Pie Recipe, click HERE. If you love chocolate and pecans together, check out my Chocolate Pecan Pie Recipe.
We will be serving this on Thanksgiving Day. If you are looking for popular Thanksgiving recipes, click HERE.
I love to hear from you! If you make this recipe, please be sure to leave a comment and give this recipe a rating. If you make any of my recipes, tag me on Instagram @modern_honey so I can see your creations. It's one of my favorite things seeing you make these recipes in your own kitchen. Sign up for my newsletter below so you never miss a recipe. Thank you for following along! I truly do have the greatest readers. FOLLOW ME ON: INSTAGRAM --- FACEBOOK --- PINTEREST