The Best Ambrosia Salad is a fluffy salad made with fresh pineapple, mandarin oranges, maraschino cherries, coconut, marshmallows, fresh whipped cream, a touch of sour cream, and sugar. This is a nostalgic, classic side dish or dessert recipe.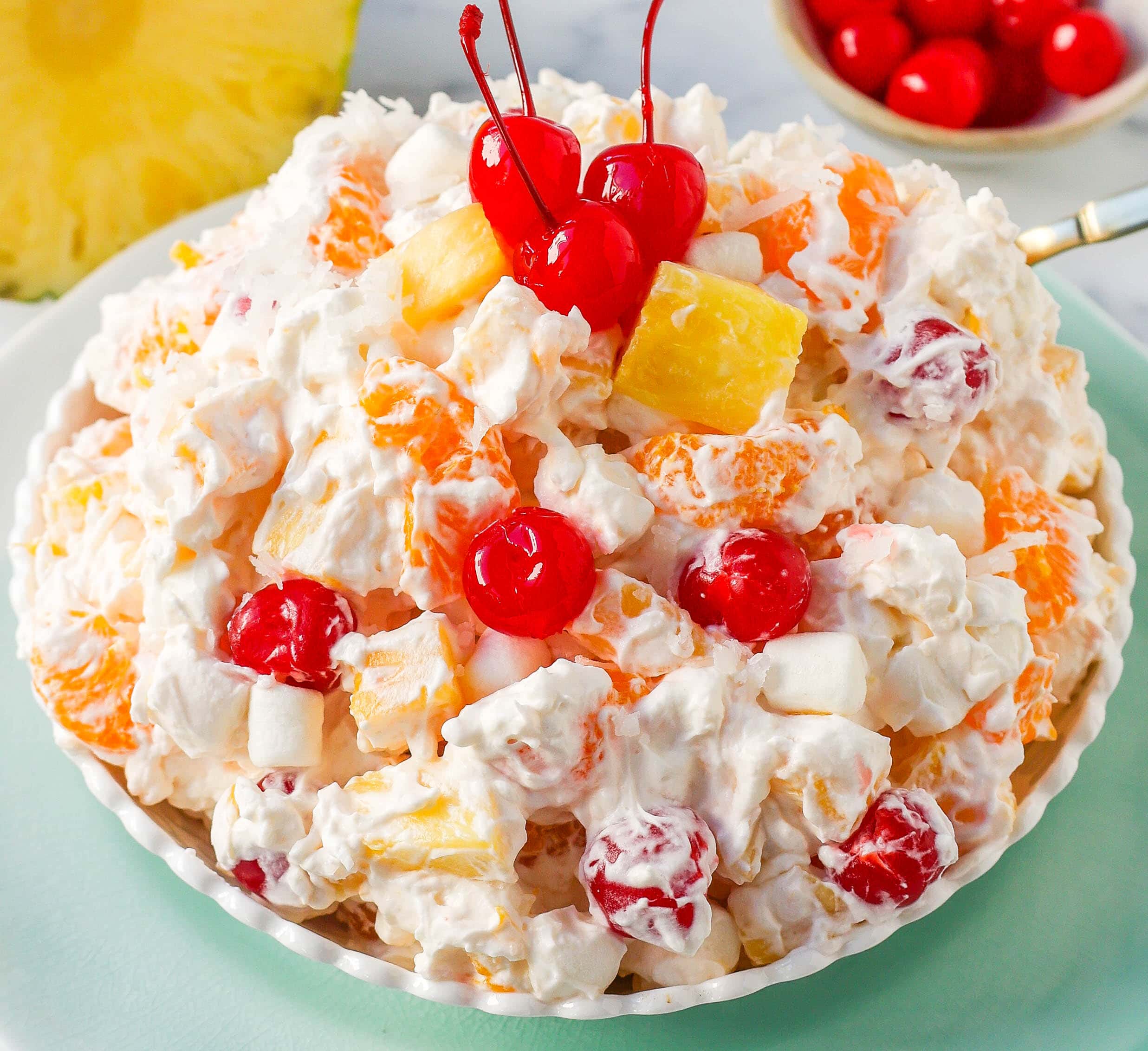 Growing up, my Mom and Grandma were obsessed with making holiday ambrosia salad for all of the special holidays, especially Easter. This fluffy marshmallow fruit salad was always a hit, especially with the kids.
Have you ever tried ambrosia fruit salad? It is creamy, sweet, fresh, and is right in between a side dish and a dessert.
I wanted to take that classic, old-fashioned recipe and modernize it a bit. I tweaked this recipe and had my recipe testers analyze it over and over again to perfect it.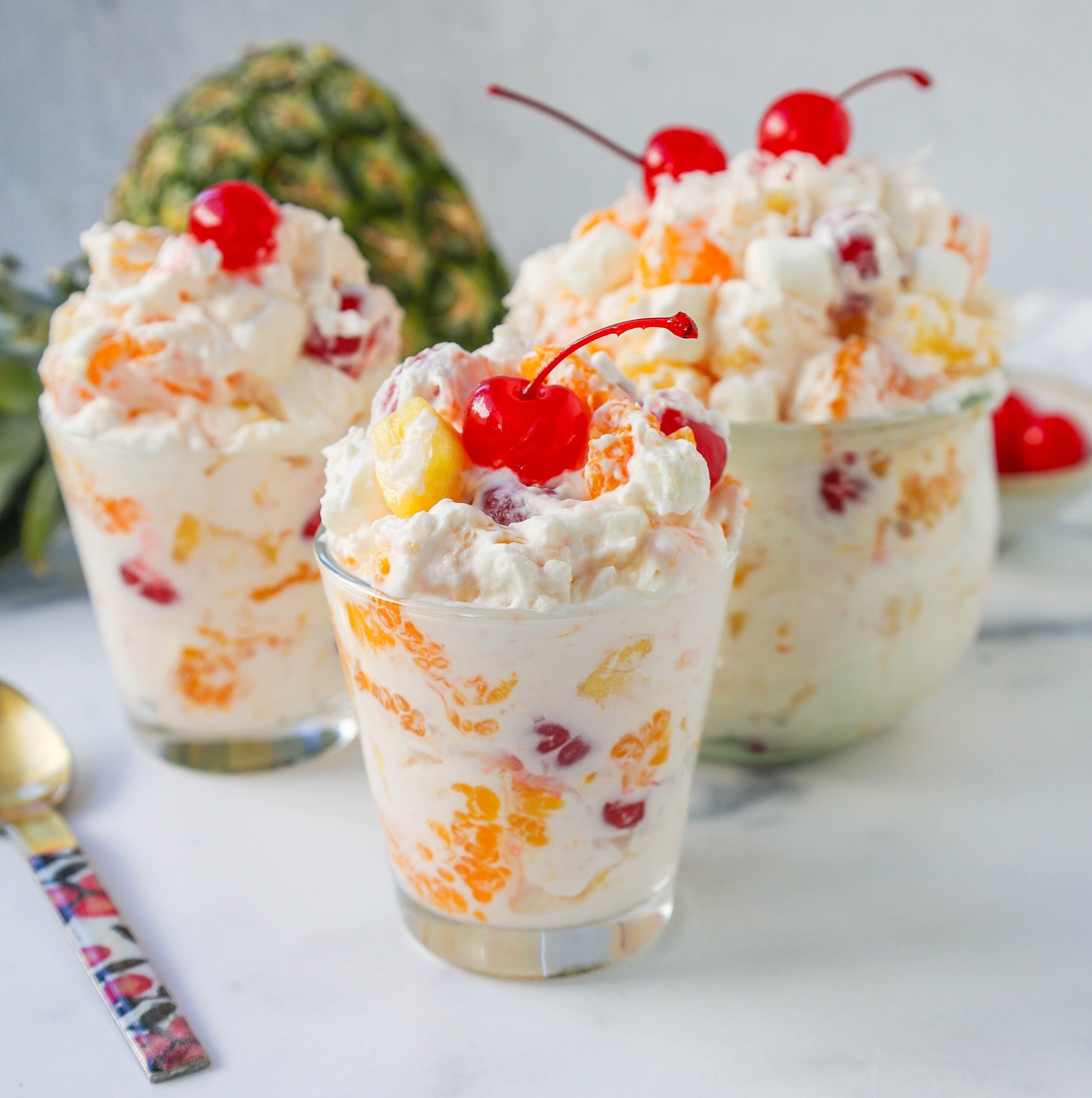 If you ever attended a picnic or potluck in the 1970's and 1980's, you probably saw a big bowl of ambrosia salad on the table. I called it marshmallow salad and as a young girl, I would try to pick out as many marshmallows and maraschino cherries as I could out of the bowl.
I wanted to elevate this ambrosia salad recipe by using fresh pineapple instead of canned and making the fluffy filling with fresh whipped cream and sugar instead of Cool Whip. The fresh pineapple is a huge game changer and everything is better with homemade whipped cream.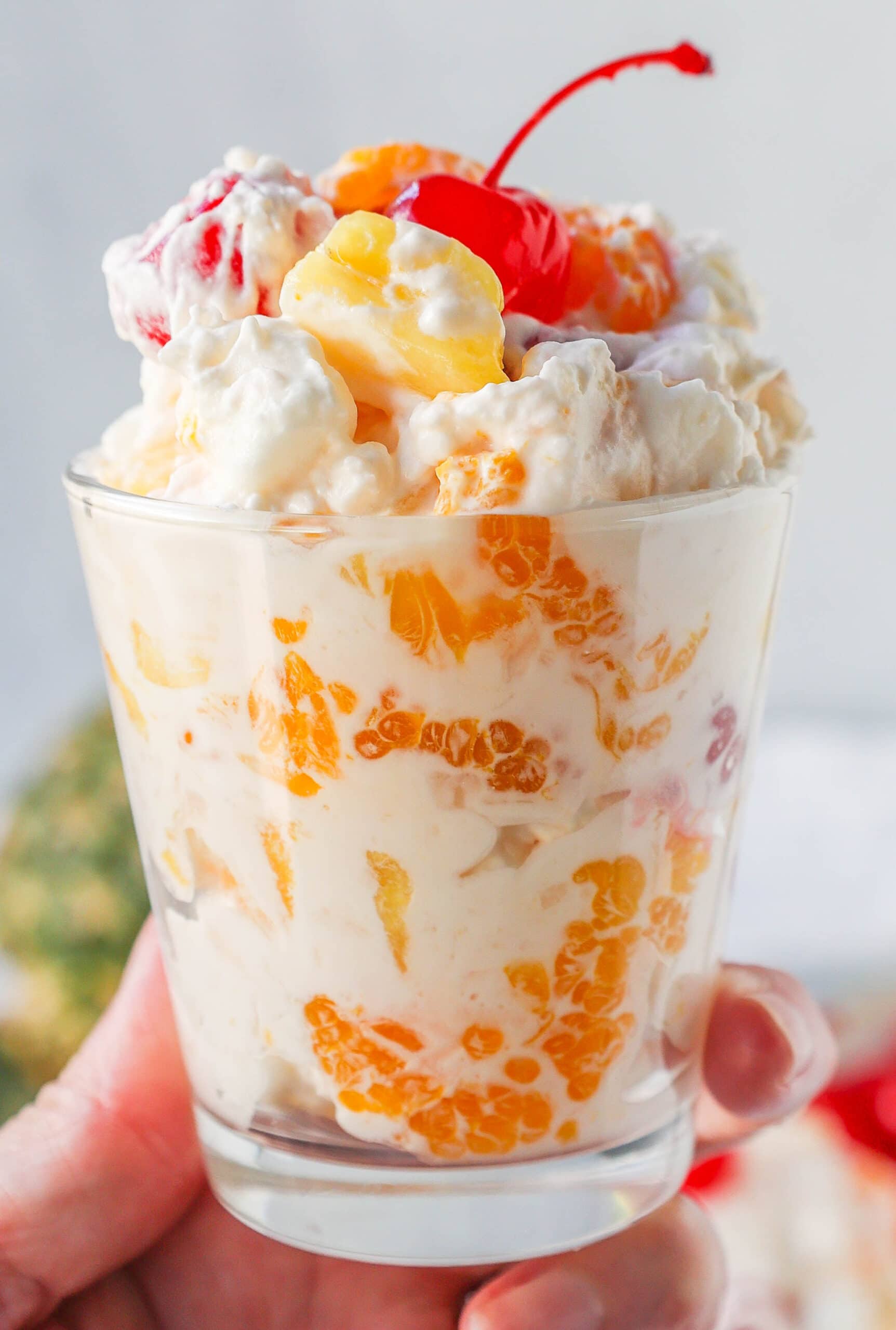 Some other classic Southern recipes that I have worked to perfect are my classic pimento cheese dip recipe, creamy deviled eggs, easy potato salad with bacon, and cold spinach dip with crunchy water chestnuts.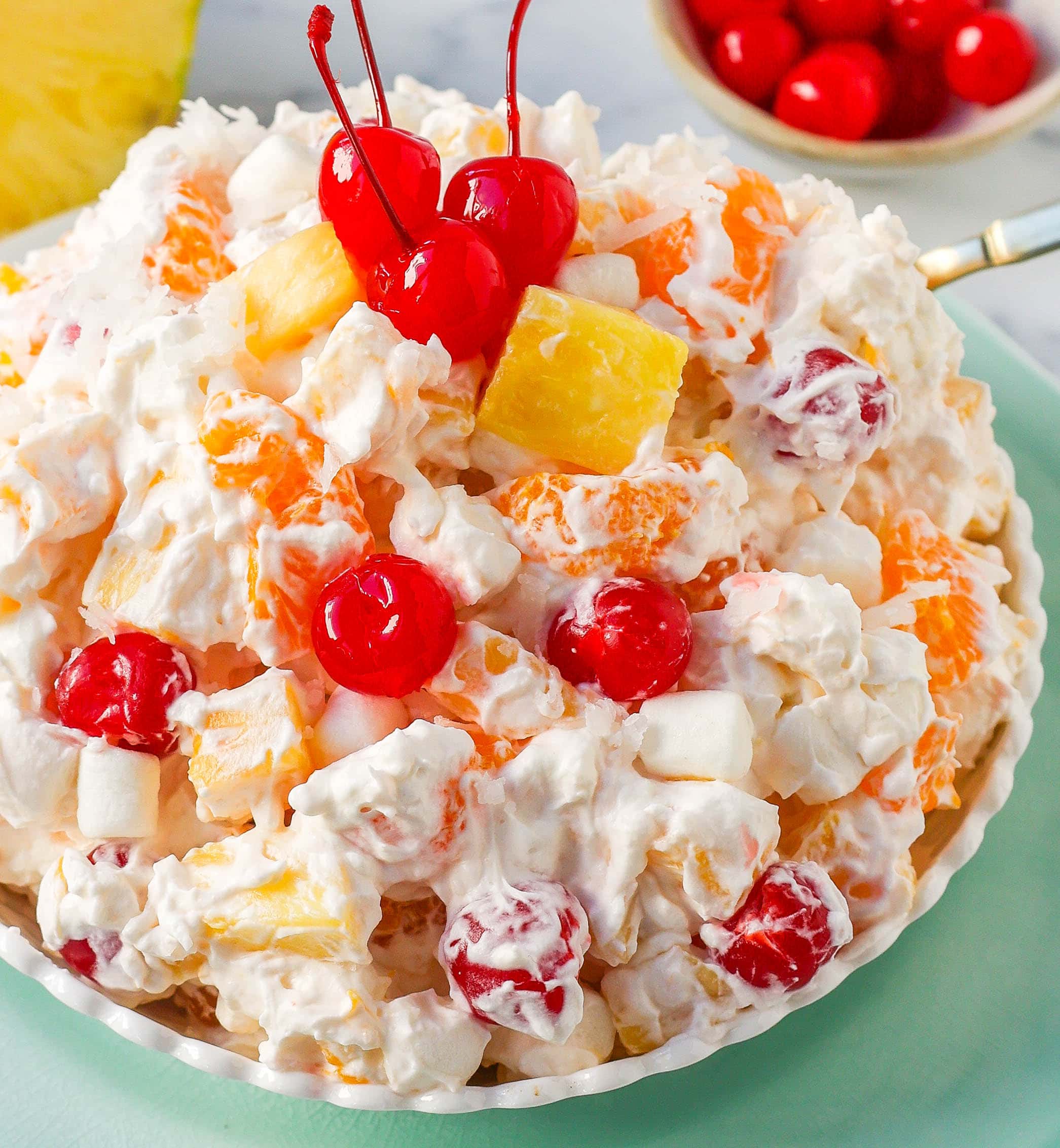 Ambrosia Salad Ingredients
I looked up my Mom's old church cookbooks to find every single ambrosia salad recipe I could get my hands on. They varied in the ingredients and amounts but some ingredients were constant -- pineapple, oranges, coconut, cherries, and whipped cream. And a touch of sour cream for some tang!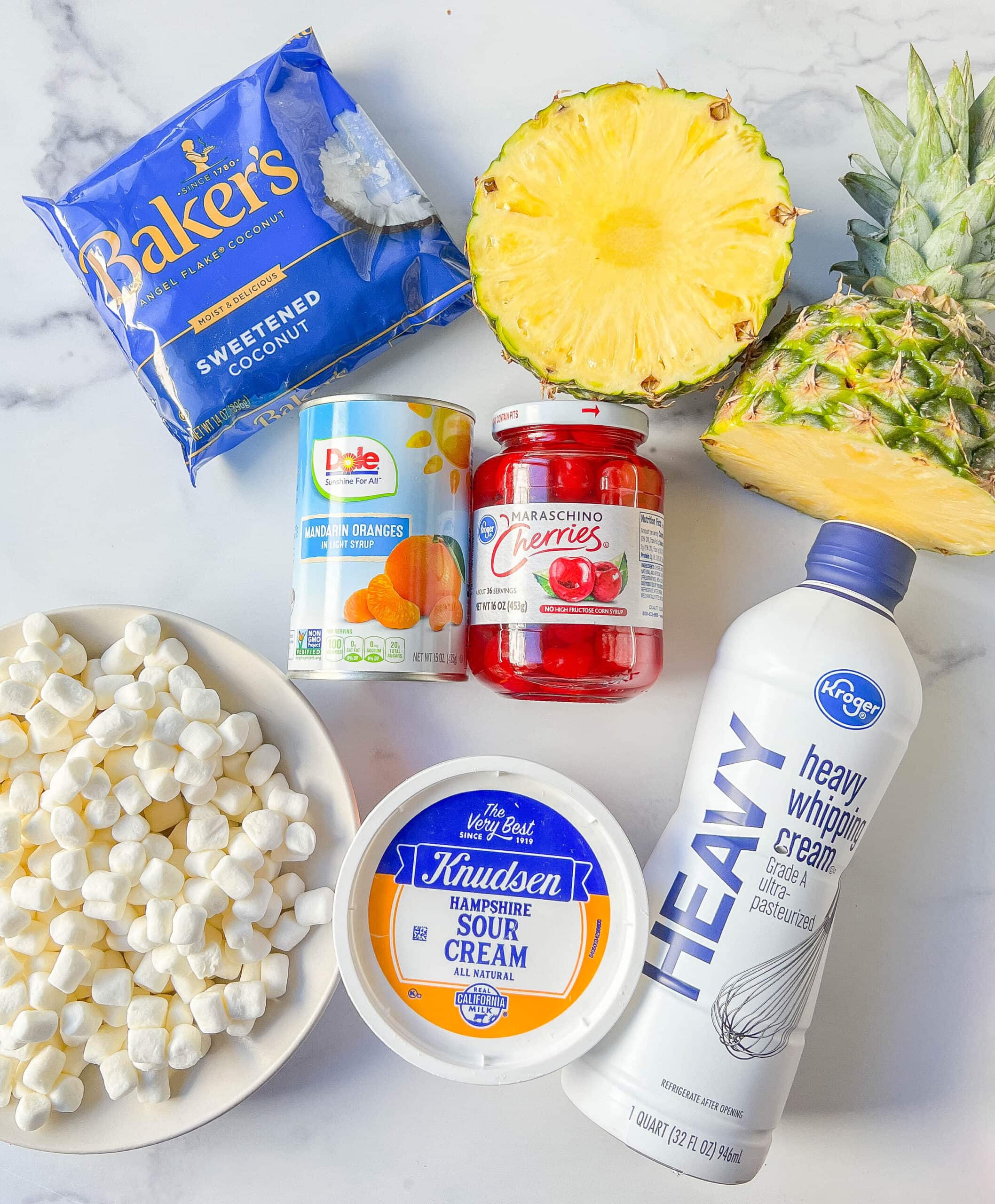 Pineapple -- I suggest using fresh pineapple but you can also use canned crushed pineapple or pineapple rings, cut into small pieces.
Mandarin Oranges -- you can find canned mandarin oranges in the canned fruit aisle or you can use fresh clementines.
Maraschino Cherries -- the cherries add so much sweetness and a little almond flavor which pairs perfectly with the whipped cream.
Coconut -- I suggest using sweetened flaked coconut in this recipe.
Marshmallows -- use soft mini marshmallows.
Heavy Cream -- whip heavy whipping cream and sugar until soft peaks form and fold in sour cream.
Sugar -- if you want this to be more of a dessert, feel free to add more sugar to taste.
Sour Cream -- a touch of sour cream in this ambrosia salad gives the perfect amount of tang. I suggest using full-fat sour cream.
Optional Ingredients: green grapes, pecans, etc.
See recipe card for quantities.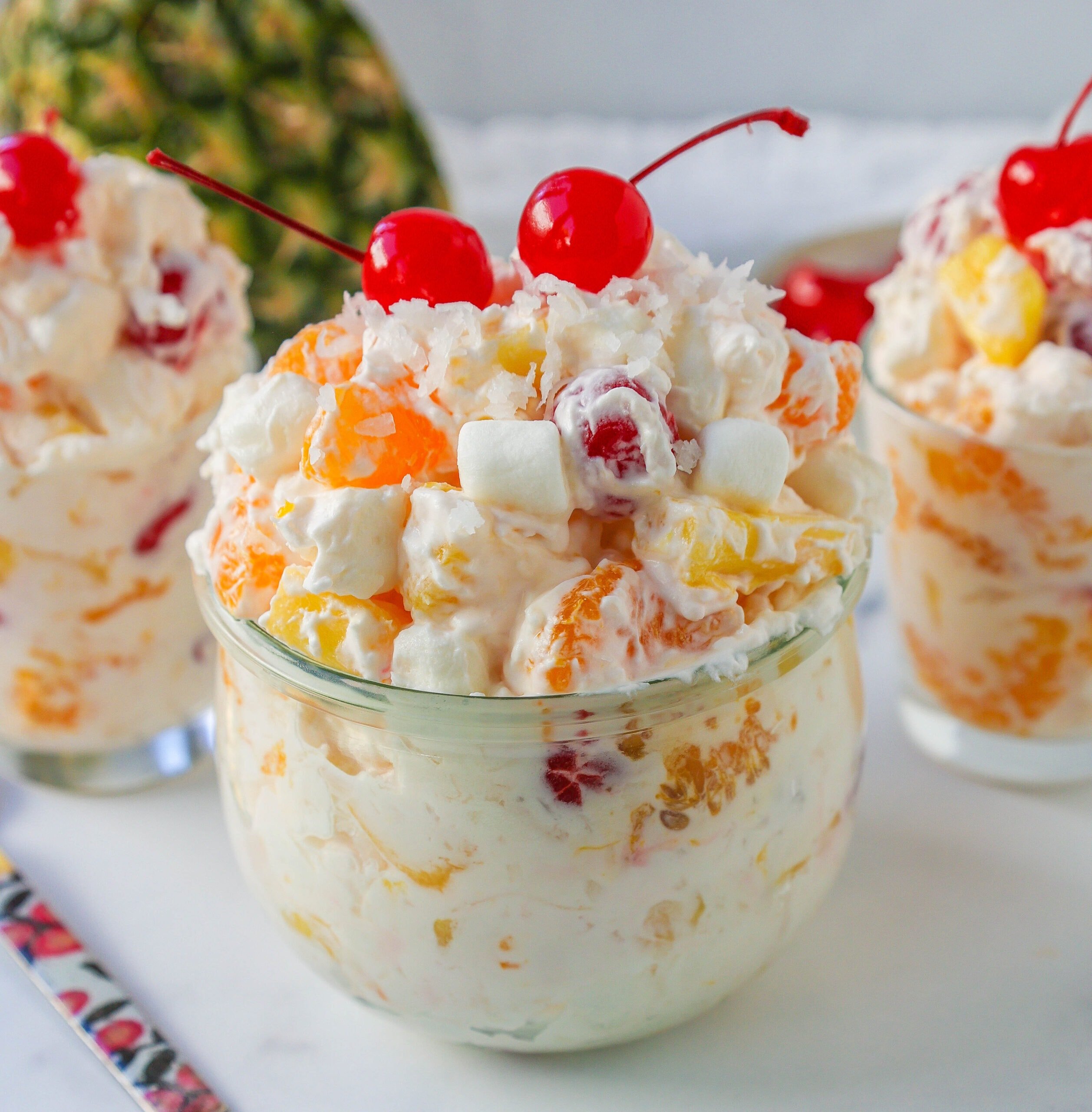 Instructions
This is such an easy ambrosia salad recipe. All you need to do is throw the fruit in a large bowl, whip the heavy cream and fold in sour cream, stir it all together, and let it chill in the refrigerator.
Start by whipping the heavy cream and sugar until soft peaks form. Carefully fold in the sour cream. If you want a sweeter ambrosia salad, add more sugar to taste.
Cut the pineapple into small pieces.
In a large bowl, add pineapple, drained mandarin oranges, drained maraschino cherries, coconut flakes, and mini marshmallows. Make sure to thoroughly drain the fruit so this ambrosia fruit salad isn't runny.
Carefully fold in the whipped cream mixture. Cover and place in the refrigerator to chill for about 2 hours to allow the flavors to develop.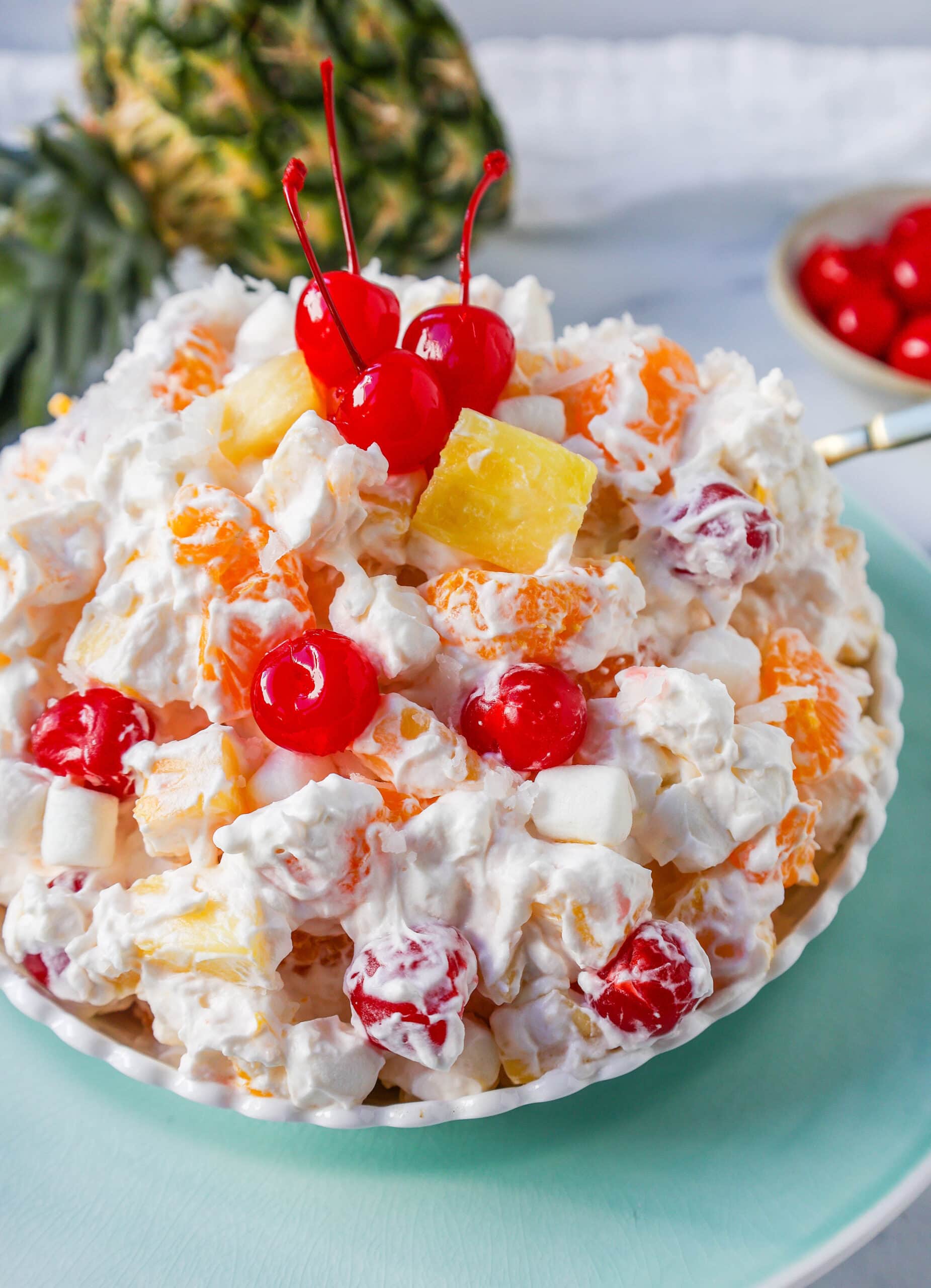 Substitutions
There are so many ways to customize this ambrosia salad recipe.
Can I use Cool Whip in this recipe?
Absolutely! You can make ambrosia salad with Cool Whip. I would suggest adding 12 ounces of Cool Whip.
Can I add nuts?
Yes! You can add your favorite type of nuts. I usually see pecans added to homemade ambrosia salad.
Can I add more fruit to this recipe?
Of course! You can add green grapes or even fresh strawberries to this creamy marshmallow fruit salad.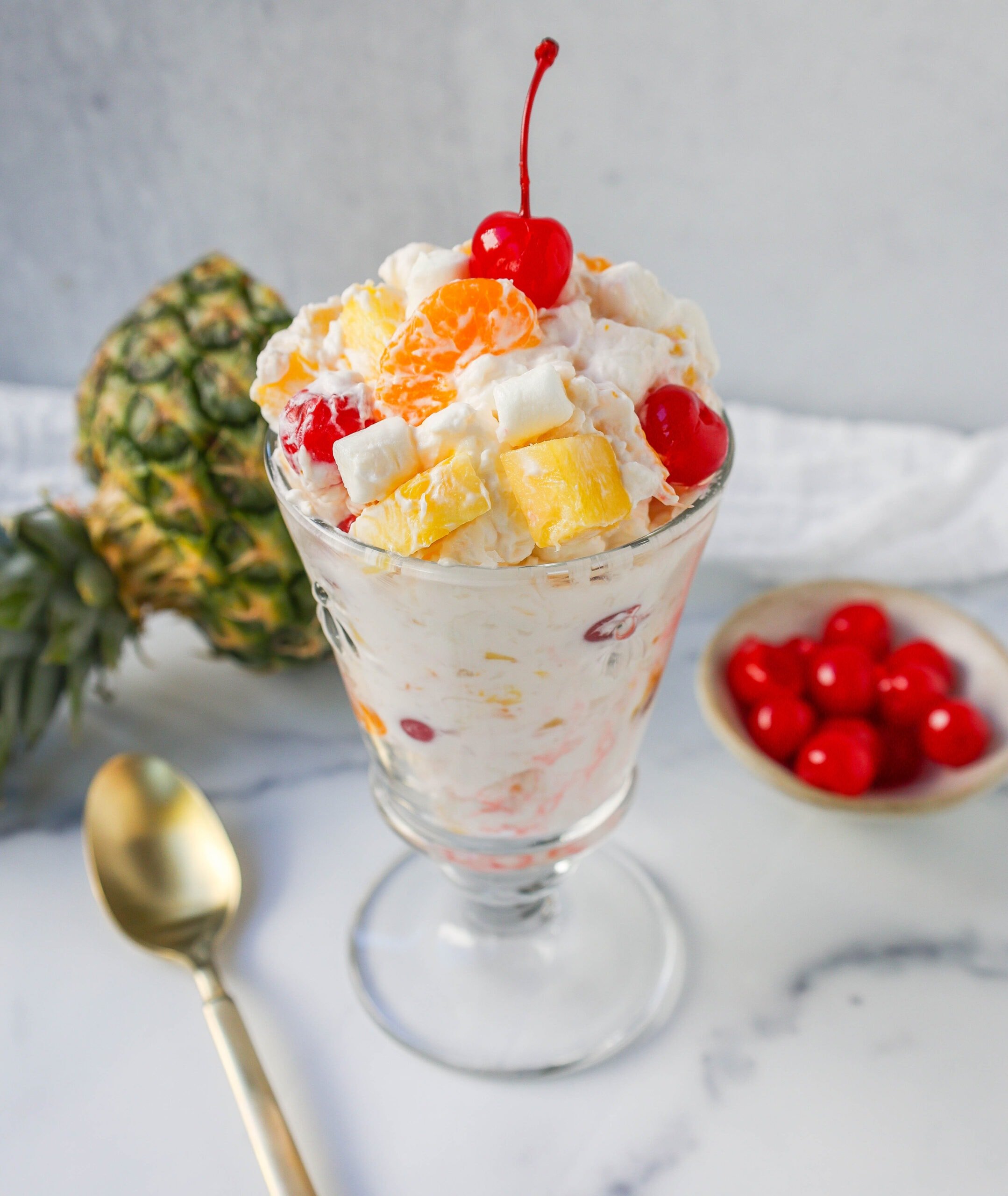 Storage
The homemade ambrosia salad can be stored in an airtight container for up to 7 days in the refrigerator. It can be made ahead of time.
Top tip
Drain the canned mandarin oranges and maraschino cherries well for the creamiest ambrosia salad.