A bright and fresh fruit salad that is perfect for summertime! Made with vibrant and flavorful seasonal fruits and a sweet and simple honey lime dressing. The perfect fruit salad recipe!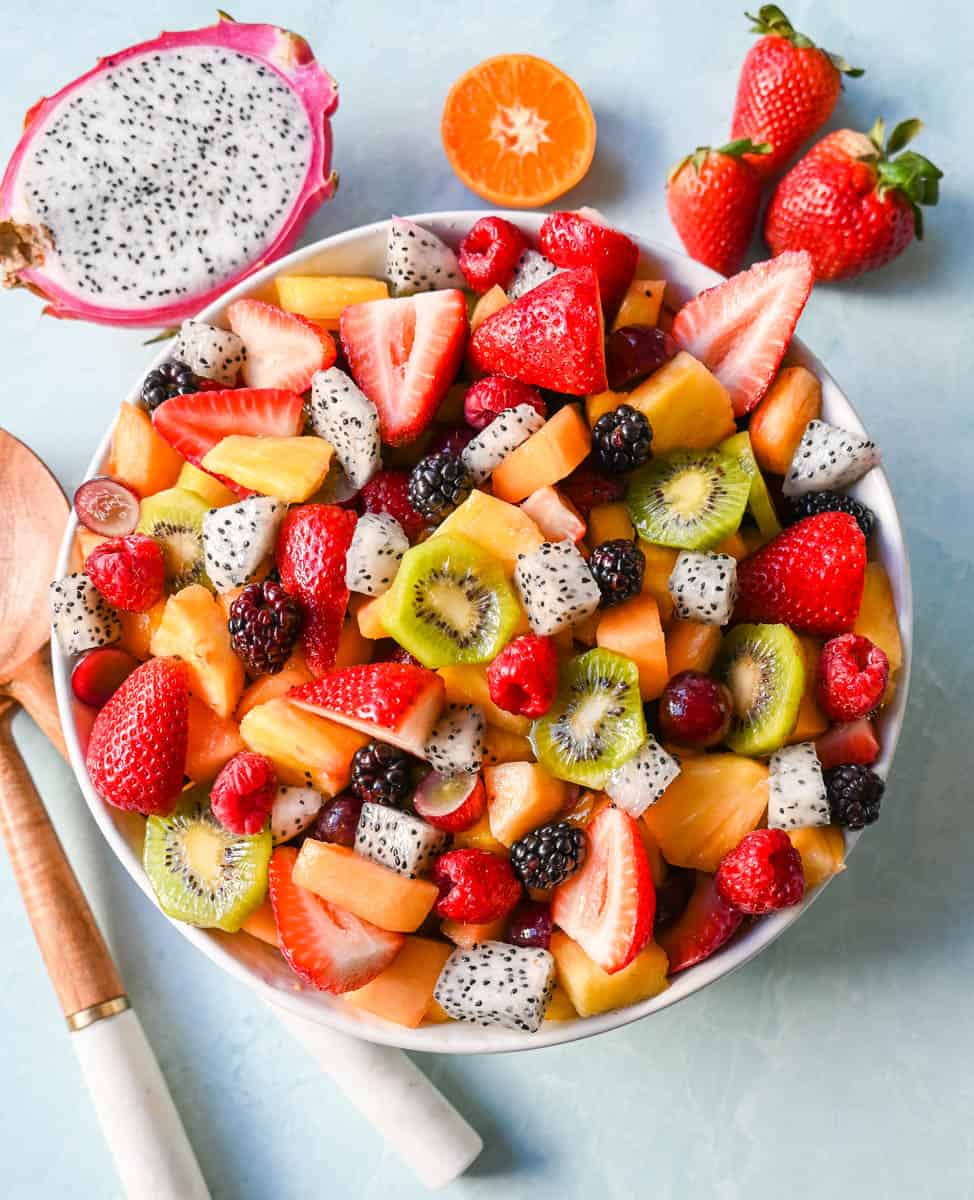 Fruit salad with honey lime dressing
As Arizona starts to heat up, my desire to turn on the oven (or the stove, or even the microwave at times!) is extremely low. I love making cold and crisp salads and side dishes for any gathering, snack, or BBQ!
This fruit salad is my go-to! It is so fresh and sweet. I use an array of summer fruits – strawberries, honeydew, cantaloupe, watermelon, mangoes, pineapple, kiwi, grapes, and so much more! The options are endless. I also love to add a fresh dressing made with citrus juices and honey.
This dressing serves several purposes. It adds a touch of sweetness and shine to the fruit and the lime juice keeps the fruit from turning brown. If you add apples to your fruit salad, you know that citrus is your friend to keep them from becoming brown.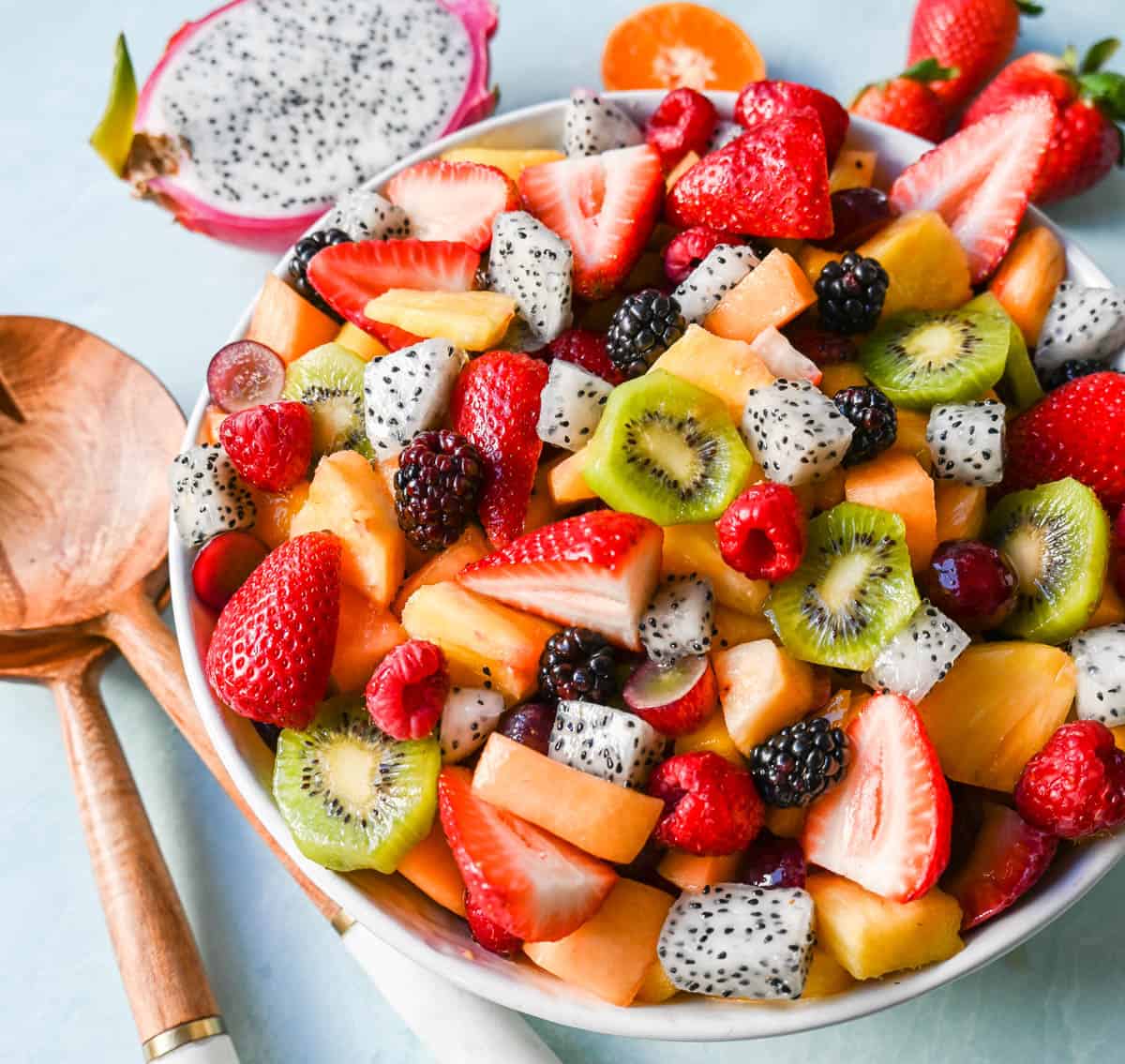 Fruit Salad Ingredients:
A vibrant fruit salad with a sweet honey citrus dressing is a perfect summer side dish. Here is a list of fresh fruits to put in your fruit salad:
Strawberries: Try to pick out the sweetest ripe strawberries that you can find! Avoid ones with any beginnings of mold, any strawberries that are soft. You'll want to cut the strawberries and take out the hull.
Kiwi: Kiwis can take a while to ripen. Try to take this into consideration when preparing the salad, you may have to buy the kiwis before the other fruits so that they have time to get ripe. I have found that the easiest way to cut the kiwis is to first peel the skin off, then cut the fruit into the size you prefer.
Grapes: I typically use red grapes, but green would be a great tart contrast to the rest of the sweet fruits. I prefer to halve my grapes for this salad.
Mangos: Sweet and juicy mangos are one of my favorite parts of this salad! They really help to take this salad to the next level. Pick out the best mango at the grocery store by finding a mango that has slight give when you press on it. If you get a hard mango, it can take several days to ripen.
Pineapple: I definitely recommend using a fresh pineapple for this recipe rather than canned or frozen! Fresh pineapple has a sweet zing that helps give this fruit salad a delicious tropical vibe. Try to pick a fragrant pineapple that is starting to yellow at the bottom. These tend to be the sweetest and ripest, giving you a juicy yellow pineapple.
Watermelon: I love to throw in some bright watermelon when I make this salad in the summer time. It is so refreshing! To pick out the best watermelon, look for the ones that are the densest. These have the most water and tend to be the sweetest. Another thing to look for is the watermelons with the dry yellow/orange spots. I used to avoid these, thinking that they meant something was wrong with the watermelon. But it's the opposite! These spots mean that the watermelon was on the vine longer, so they're sweeter.
Cantaloupe: These can be tricky to pick out! It's hard to get a bad one as long as you avoid soft, brown spots or a cantaloupe that is overly soft or firm.
Blueberries: I love big and juicy blueberries. They add both color and flavor to the fruit salad. Loaded with antioxidants, blueberries are a total super-fruit! Make sure not to get a box with any squished or moldy berries.
Raspberries: The tartness of the raspberries is the perfect completion to the ultimate fruit salad. Raspberries are high in nutrients and low in sugars, making them one of my favorites. I usually flip over the raspberry carton and make sure that none of the berries stick to the bottom, showing that the berries are ripe but not going bad. Try to get raspberries with a deeper red that covers the whole berry.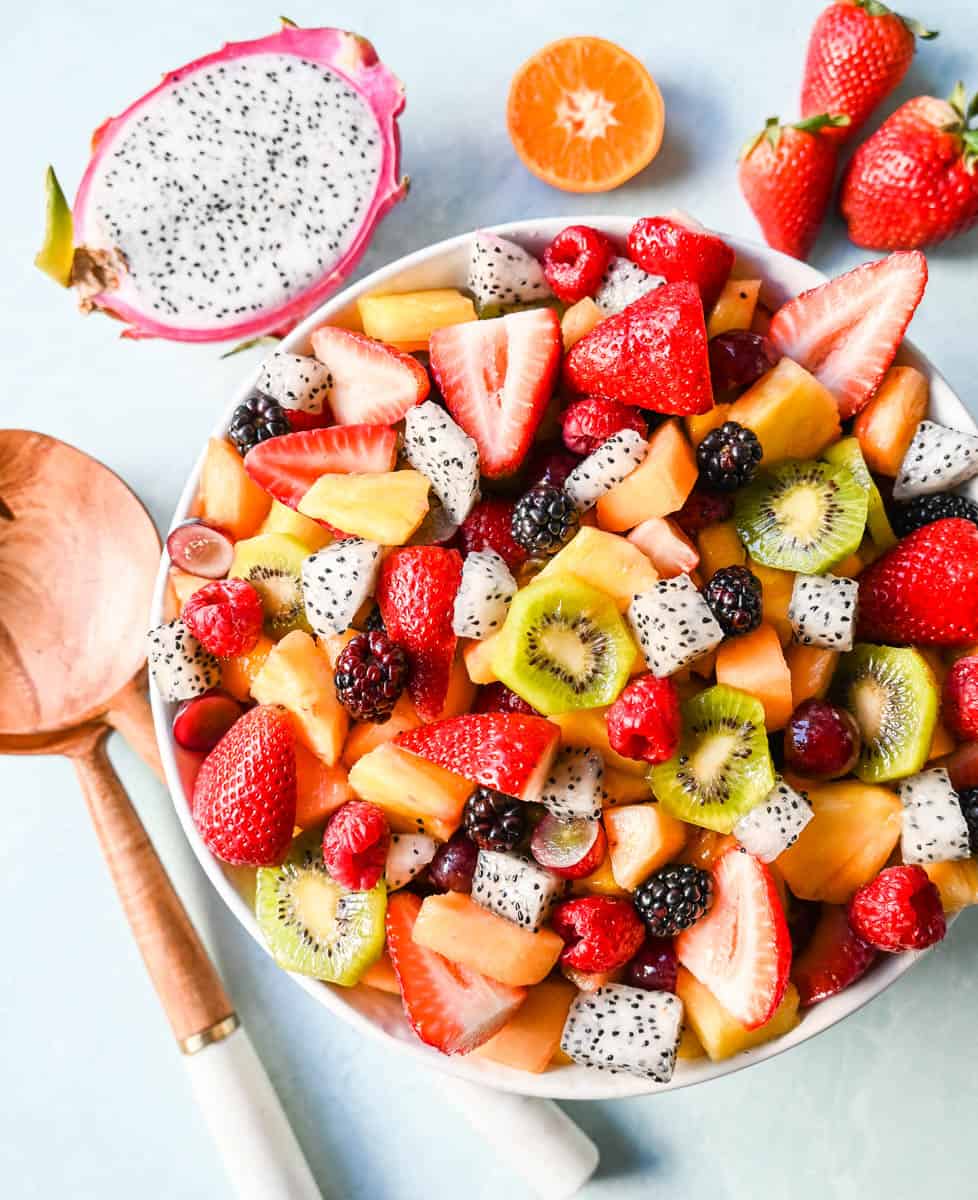 Honey lime dressing ingredients:
Honey: Sweet and sticky honey is the base of this dressing. It keeps the ingredients together while adding a beautiful shine to the fruit.
Lime, orange, and lemon juice: The fresh and tangy citrus juices are a perfect balance to the sweet and rich honey. The acidity of citrus fruits helps to keep the other fruits from browning, which is an added benefit of the dressing.
Lime zest: Citrus zest holds more flavor and more punch than the juices do, so I like to include it in the dressing as the perfect bold flavor to compliment the fruit salad.
How to make fruit salad:
I like to make my fruit salad only a short while before serving, to ensure that it is as fresh and crisp as possible.
Whisk together the honey, lime zest, and citrus juices until they are completely combined.
Peel, wash, and cut each of the fruits to the sizes that you prefer. Make sure that after washing the fruit you pat it dry to avoid adding extra water to the fruit salad.
Lay the fruits out on a platter or a serving tray. Pour the dressing over the fruit and mix until the dressing is covering the salad.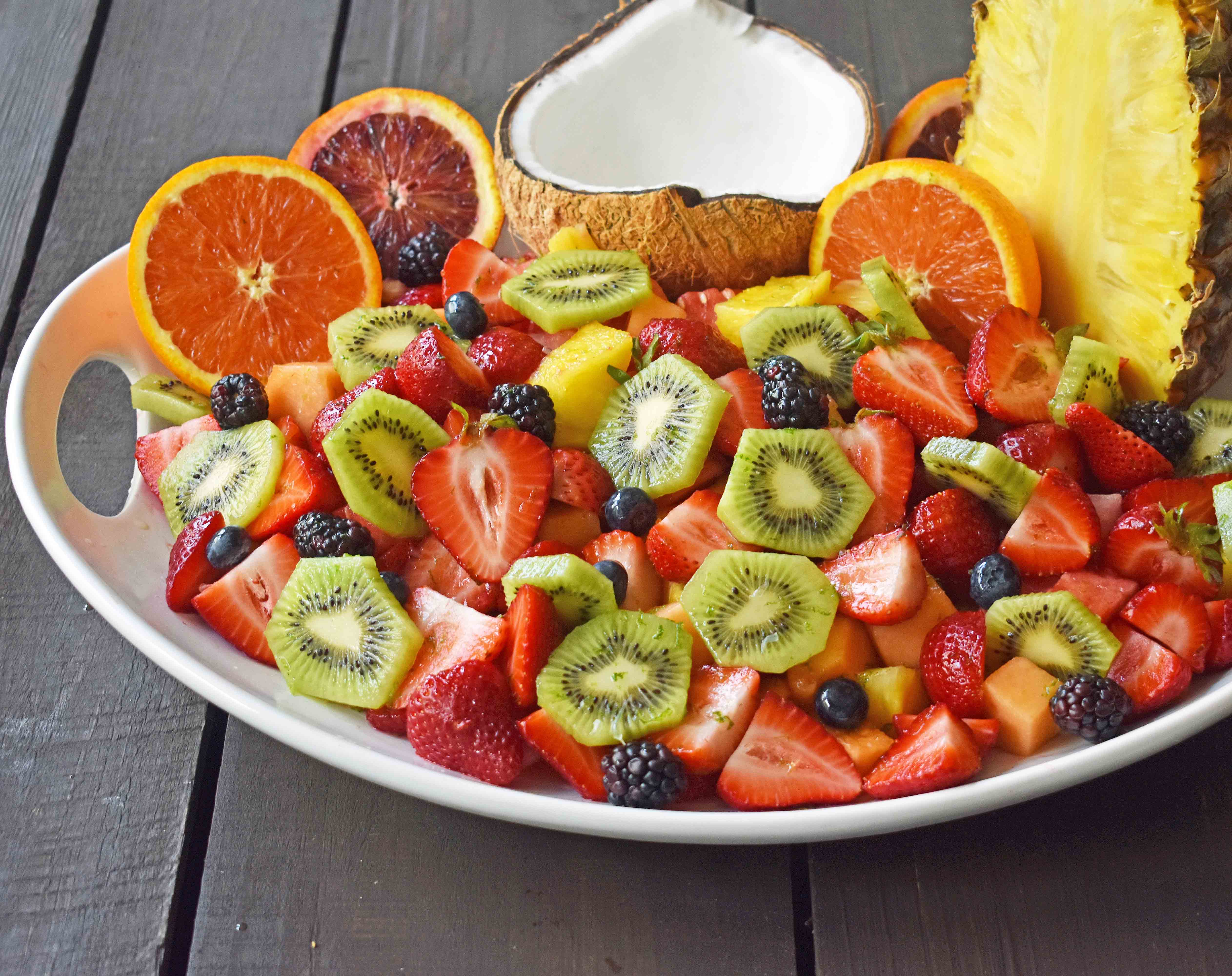 Summer Fruit Salad with Honey Lime Dressing
Top tips
Make sure that the fruit is dried after washing. Wet berries will add more water to the fruit salad and will make the fruit soggy!
Use ripe fruit. Plan ahead! Some fruits ripen quicker than others, like mangos and kiwis, so try to buy those a couple of days in advance.
Use fresh fruit rather than frozen. Frozen fruit will thaw to be soft, sometimes soggy, and leave too much water in the salad.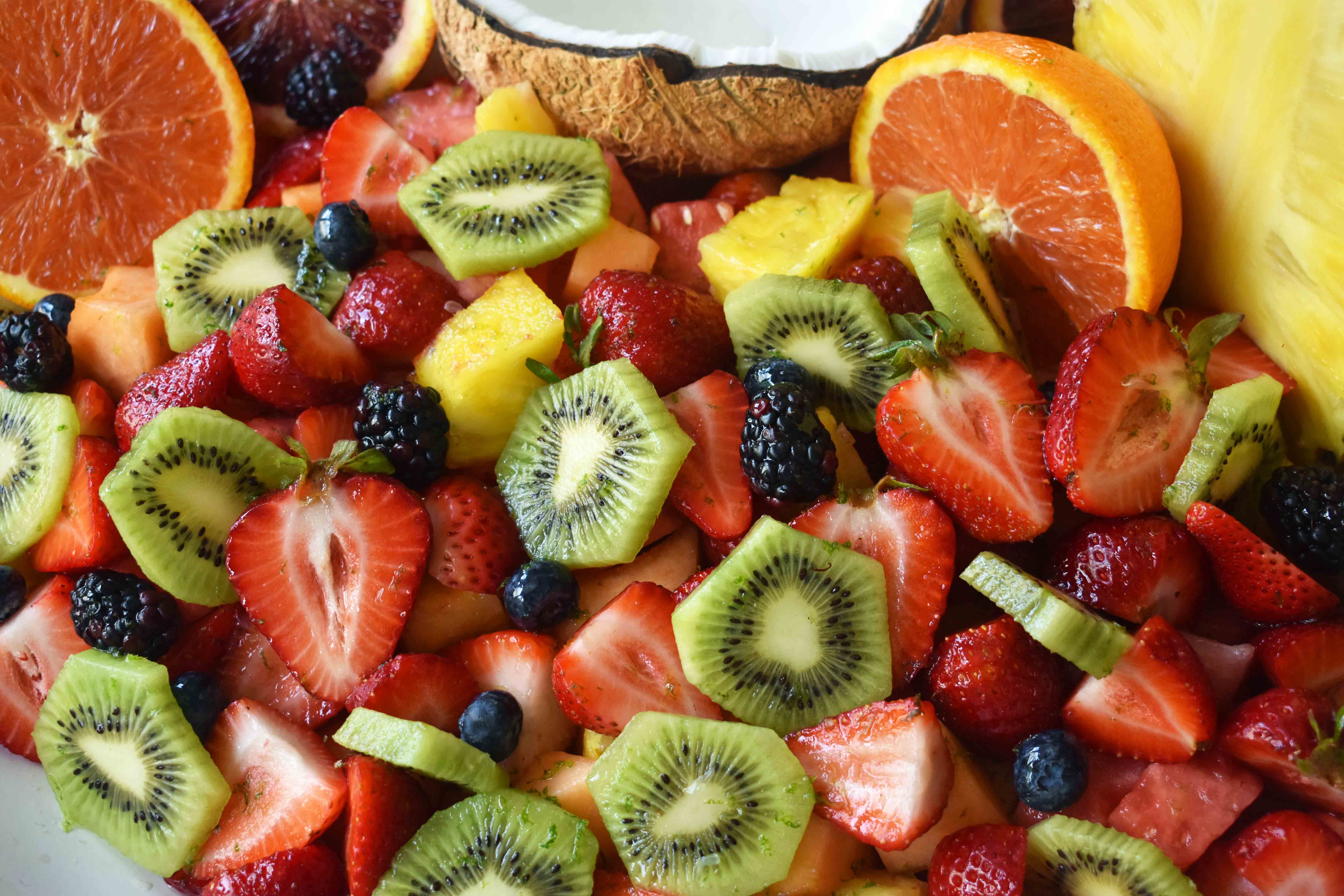 Other summer salad recipes
Recently, I had an incredible experience flying to Cincinnati, Ohio to attend the Kroger Influencer Council Think Tank with 20 other bloggers and influencers. I have been working with Kroger this past year and was honored to be a part of this 2-day event. One of the things we learned about is all of the good Kroger is doing with their Zero Hunger Zero Waste Initiative.
As well as learning about Zero Hunger, Zero Waste, we also competed in a cook-off with my fellow blogging friends. It was judged by the Kroger executives, who had the difficult task of choosing the winners.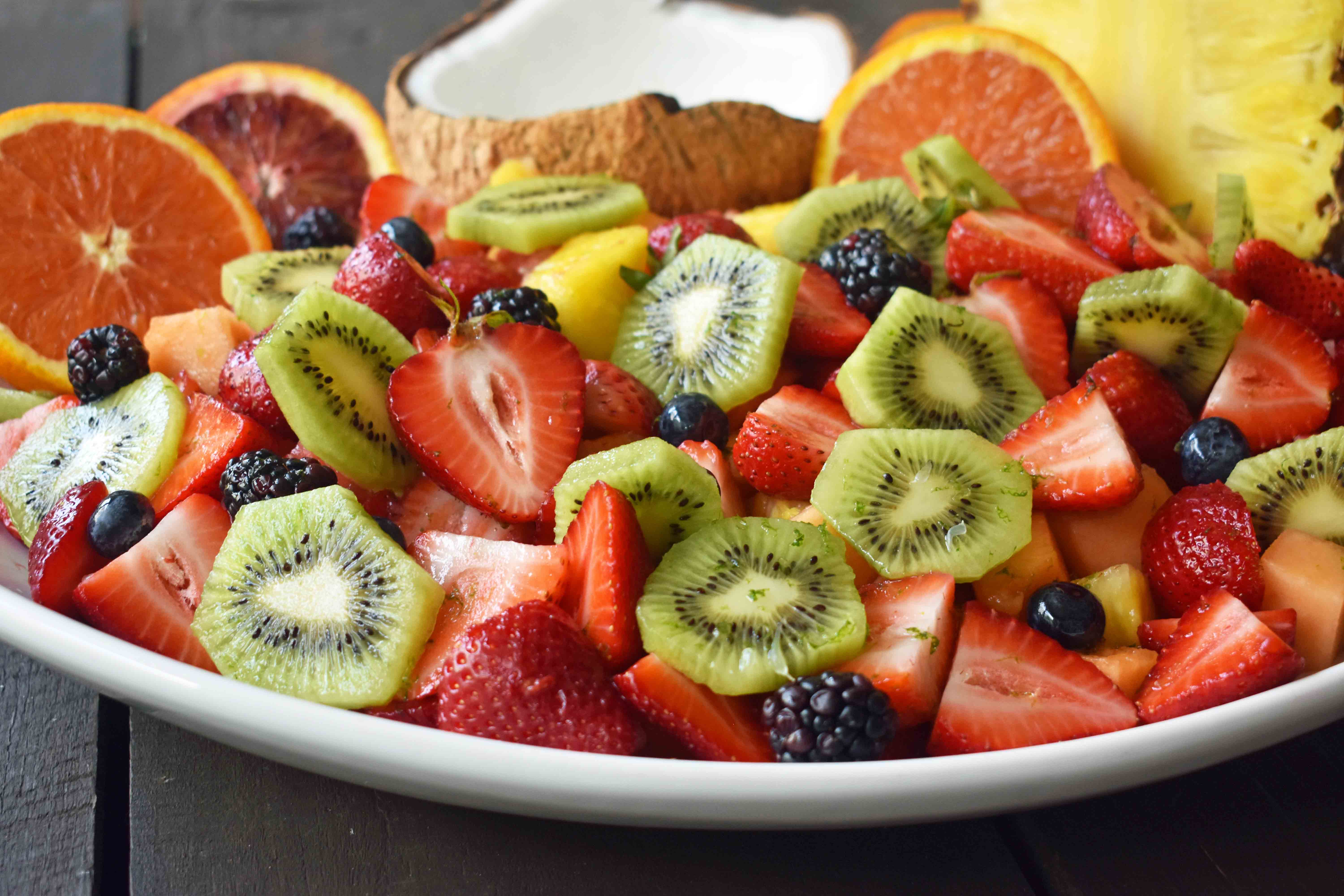 The experience felt straight out of Food Network. We were able to cook in the Kroger test kitchen, had our own stations, and were given two hours to create a dish for a BBQ. I was in the healthy side dish category so I decided to make a beautiful, fresh, and vibrant fruit salad. The honey citrus dressing with fresh vanilla beans was the perfect way to highlight the star ingredient – the fruit.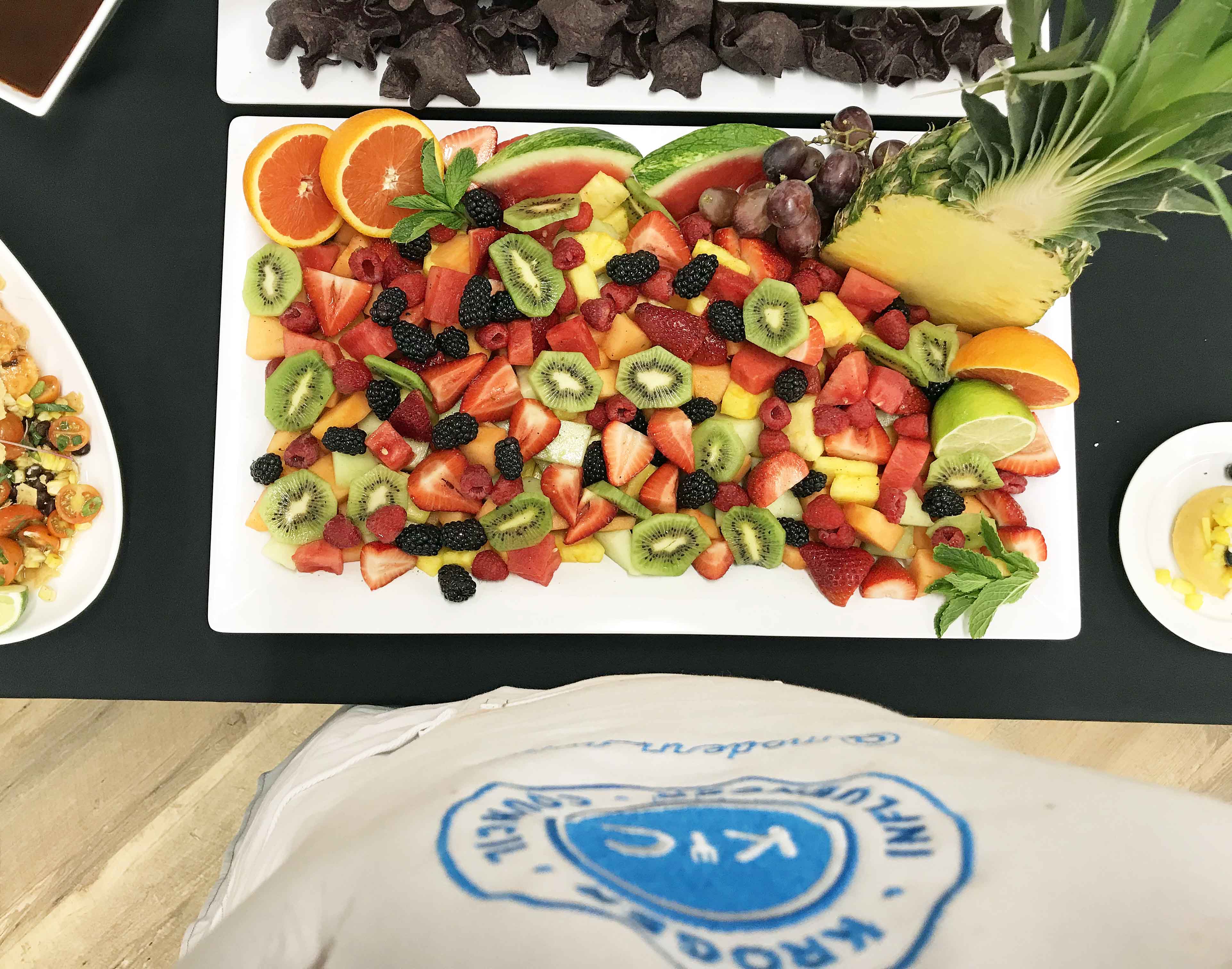 We had to present our dish and tell a little bit about it in front of the judges. I talked about the reasons why I added a citrus honey lime dressing to the fruit salad. Honey works wonders in fruit salad as it not only adds sweetness but it gives a nice shine to the fruit. I used the Simple Truth Raw Manuka Honey, for its extra health benefits. People all over the world are tapping into the benefits of eating raw manuka honey. It is known to help with allergies, the immune system, and the digestive system. The juices from the limes and oranges help to keep the fruit their natural color.
After the cooking part was finished, we were able to sit at a beautiful table and partake of one another's food. Can I just say how amazing it was to sit amongst such talented cooks and eat their food? It was everything I dreamed of and then some! It was time to announce the winners of each category and much to my shock, I was declared the winner in my category! What a fun surprise!
I came away from the event feeling honored and grateful to be able to work with a company that is working to help others and do good in the world. I also made some new blogging friends which was such a fun bonus. It was a true privilege to be at the KIC Think Tank Event!
I love to hear from you! If you make this recipe, please be sure to leave a comment and give this recipe a rating. Sign up for my newsletter below so you never miss a recipe. Thank you for following along! I truly do have the greatest readers. FOLLOW ME ON:   INSTAGRAM — FACEBOOK — PINTEREST
Pin this now to find it later
Pin It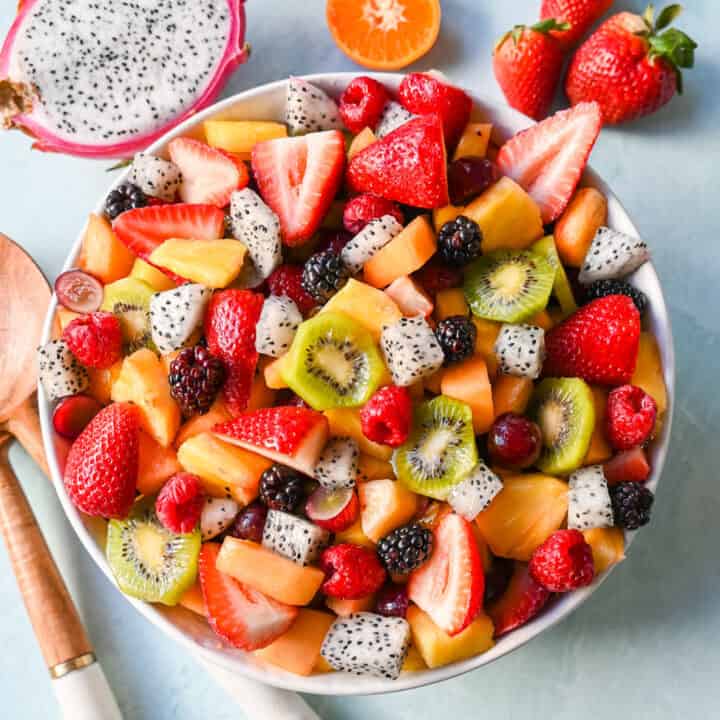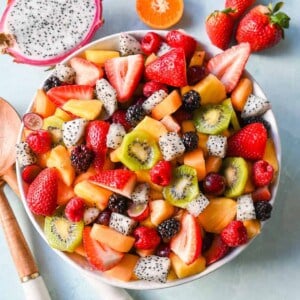 Fruit Salad with Honey Lime Dressing
A bright and fresh fruit salad that is perfect for summertime! Made with vibrant and flavorful seasonal fruits and a sweet and simple honey lime dressing. The perfect fruit salad recipe!
Ingredients
Fruit Salad:
1

lb.

Strawberries

sliced

3

Kiwis

1

cup

Seedless Grapes

halved

1 – 2

Mangoes

1/2

Fresh Pineapple

1/2

Watermelon

1

Cantaloupe

(1)

6-ounce

pkg. Blueberries

(1)

6-ounce

pkg. Raspberries

Dragonfruit

(optional)
Honey Lime Dressing:
1/2

cup

Honey

2

Tablespoons

Fresh Lime Juice

2

Tablespoons

Fresh Orange Juice

2

teaspoons

Fresh Lemon Juice

2

teaspoons

Fresh Lime Zest

Vanilla Beans

optional
Instructions
To make the dressing, whisk together honey, lime juice, orange juice, lemon juice, and lime zest. Add optional vanilla beans, if desired.

Peel and cut fruit. Spread onto a platter. Drizzle with honey lime dressing.

Refrigerate until ready to serve.
Nutrition information is automatically calculated, so should only be used as an approximation.
Pin on Pinterest: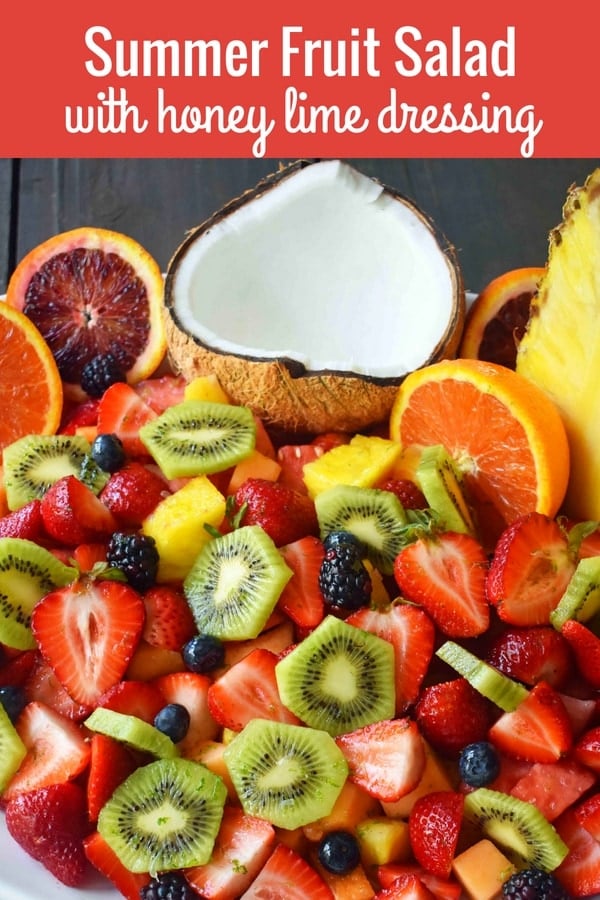 I hope you love this Summer Fruit Salad with Honey Lime Dressing. What is your favorite summer side dish? I would love to hear! Thank you for following along, my friends!