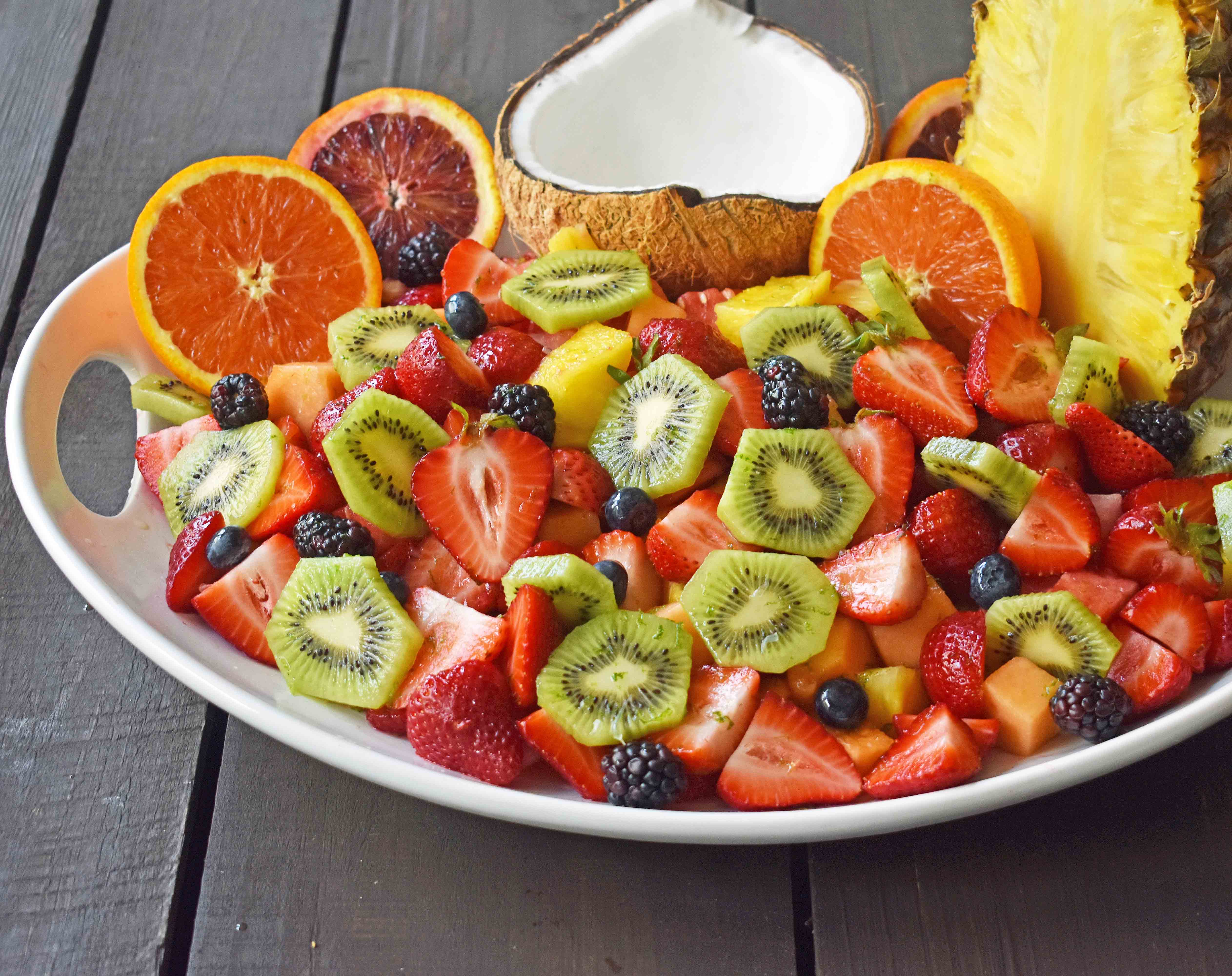 Summer Fruit Salad with Honey Lime Dressing
Vibrant fruit salad with a sweet honey citrus dressing is a perfect summer side dish.
Summer is on its way! We are hitting record temperatures in Arizona so it is all about laying by the pool, BBQ's, and eating all of those luscious summer fruits.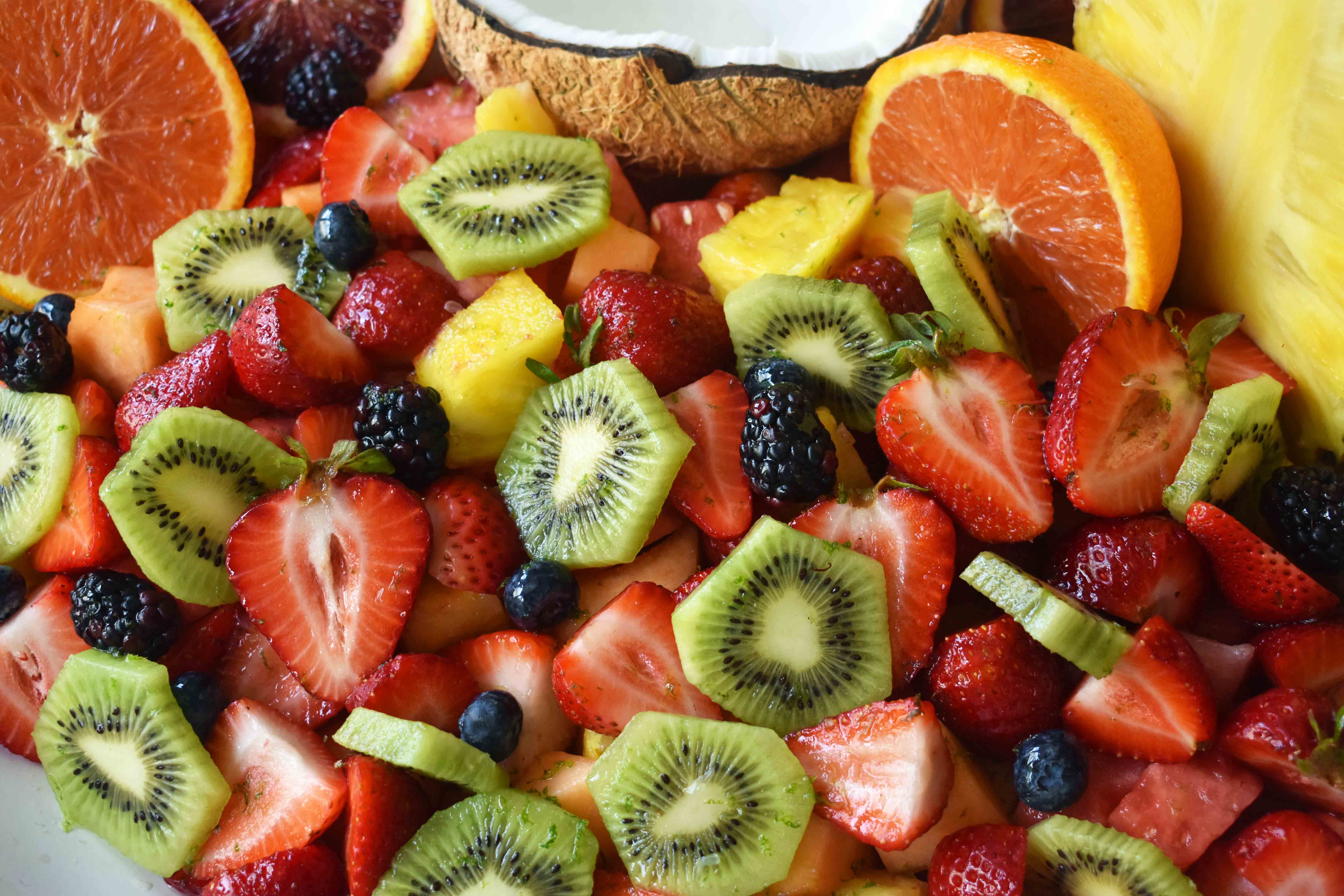 One of my favorite things to serve when I am entertaining is a simple fruit salad. Since so many people are dealing with food allergies these days, fruit is always a safe bet. It is perfect for those who are looking for a fresh and healthy alternative. It also brings so much vibrant color to a spread of food.
I love using an array of summer fruits – strawberries, honeydew, cantaloupe, watermelon, mangoes, pineapple, kiwi, grapes, and so much more! The options are endless.  I also love to add a fresh dressing made with citrus juices and honey. This dressing serves several purposes. The Simple Truth Honey adds a touch of sweetness and shine to the fruit and the lime juice keeps the fruit from turning brown. If you add apples to your fruit salad, you know that citrus is your friend to keep them from becoming brown.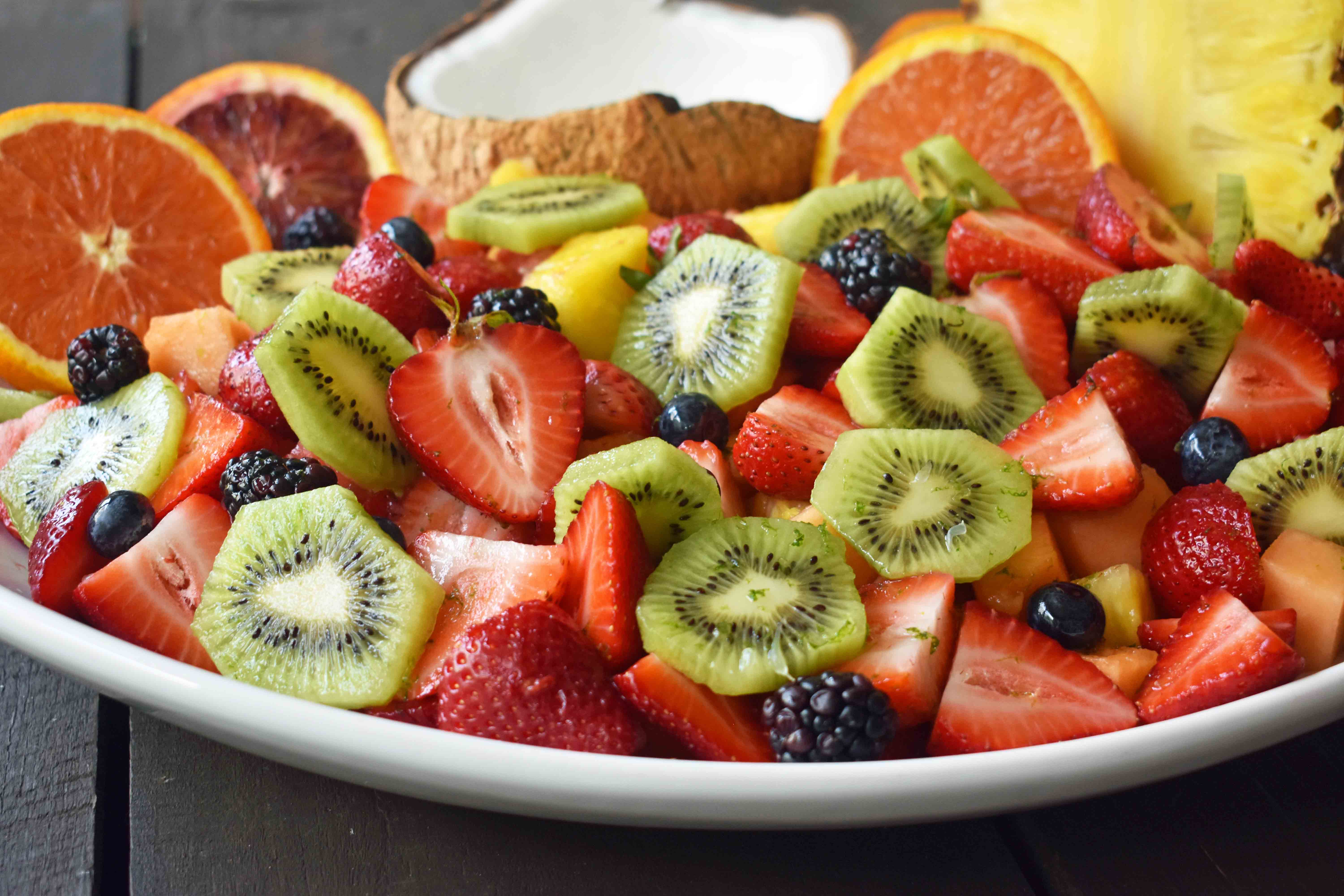 Recently, I had an incredible experience flying to Cincinnati, Ohio to attend the Kroger Influencer Council Think Tank with 20 other bloggers and influencers. I have been working with Kroger this past year and was honored to be a part of this 2-day event. One of the things we learned about is all of the good Kroger is doing with their Zero Hunger Zero Waste Initiative.
Have you heard of the Zero Hunger Zero Waste Program? I was blown away when I learned all about it! Rodney McMullen, Kroger's chairman and CEO said, "No family in a community we serve should ever go hungry, and no food in a store we operate should ever go to waste. Across the United States, 42 million Americans struggle with hunger. At the same time, an estimated 72 billion pounds of food ends up in a landfill every year. "More than 40 percent of the food produced in the U.S. each year goes unconsumed, while one in eight people struggle with hunger. That just doesn't make sense," Mr. McMullen said. "As America's grocer and one of the largest retailers in the world, we are committing to doing something about it."
Kroger is establishing a $10 million innovation fund through The Kroger Co. Foundation and is setting a goal to accelerate food donations to give 3 billion meals by 2025. They are also focusing on donating not just more food, but more balanced and nutritious food.  I think it is simply amazing!
As well as learning about Zero Hunger, Zero Waste, we also competed in a cook-off with my fellow blogging friends. It was judged by the Kroger executives, who had the difficult task of choosing the winners.
The experience felt straight out of Food Network. We were able to cook in the Kroger test kitchen, had our own stations and were given two hours to create a dish for a BBQ. I was in the healthy side dish category so I decided to make a beautiful, fresh, and vibrant fruit salad. The honey citrus dressing with fresh vanilla beans was the perfect way to highlight the star ingredient – the fruit.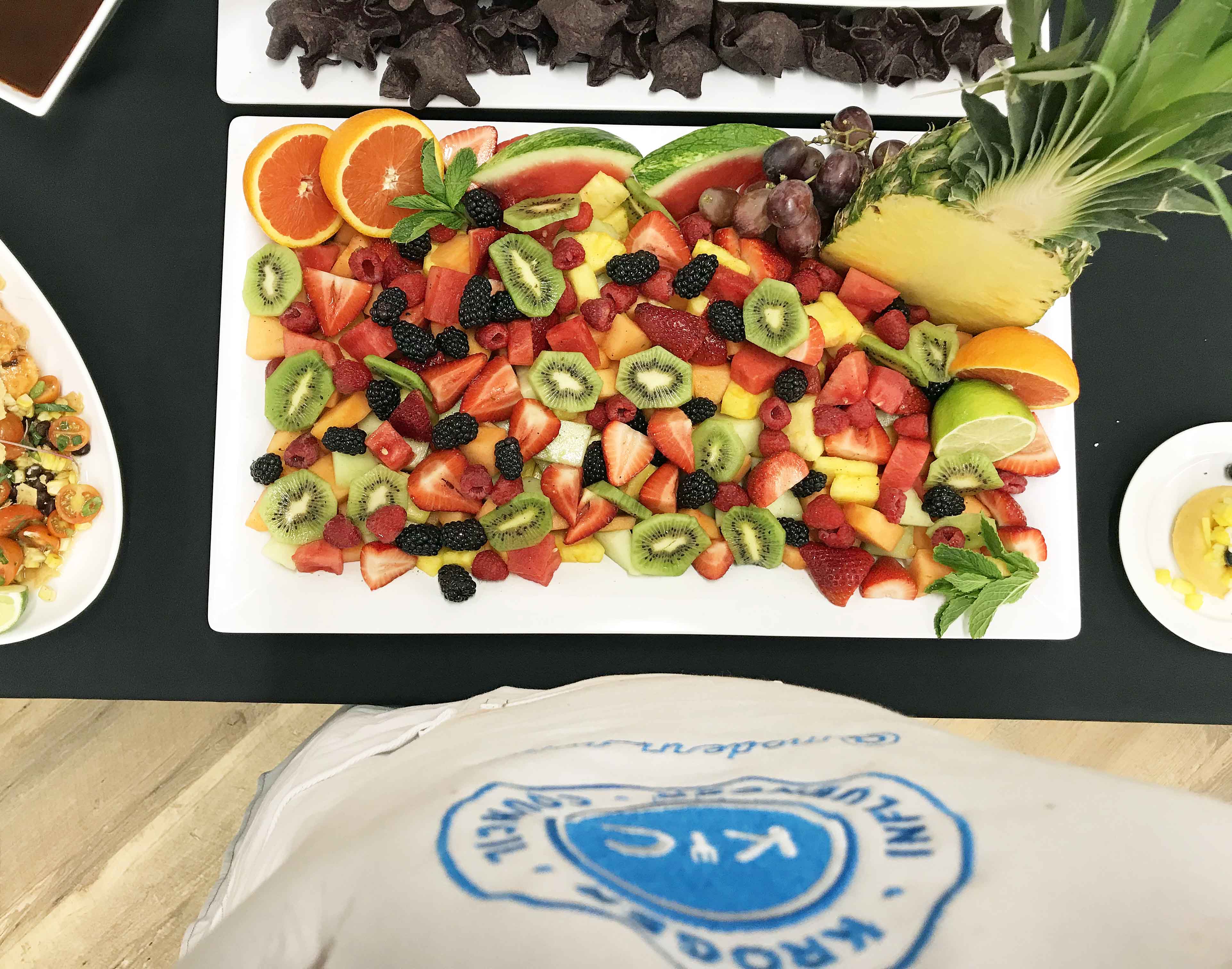 We had to present our dish and tell a little bit about it in front of the judges. I talked about the reasons why I added a citrus honey lime dressing to the fruit salad. Honey works wonders in fruit salad as it not only adds sweetness but it gives a nice shine to the fruit. I used the Simple Truth Raw Manuka Honey, for its extra health benefits. People all over the world are tapping into the benefits of eating raw manuka honey. It is known to help with allergies, the immune system, and the digestive system. The juices from the limes and oranges help to keep the fruit their natural color.
After the cooking part was finished, we were able to sit at a beautiful table and partake of one another's food. Can I just say how amazing it was to sit amongst such talented cooks and eat their food? It was everything I dreamed of and then some! It was time to announce the winners of each category and much to my shock, I was declared the winner in my category! What a fun surprise!
I came away from the event feeling honored and grateful to be able to work with a company who is working to help others and do good in the world. I also made some new blogging friends which was such a fun bonus. It was a true privilege to be at the KIC Think Tank Event!
You can find all of the items to whip up a vibrant, fresh fruit salad at your local Kroger store. Try using ClickList to make your life even easier.
Pin on Pinterest: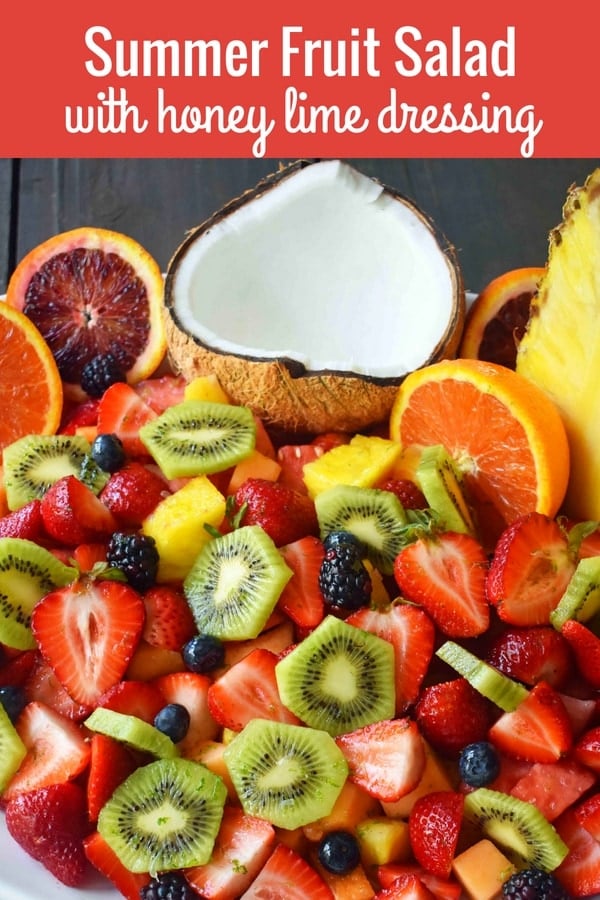 You can find out more about everything Kroger is doing by going to www.kroger.com.  You can find more summer recipes at https://www.frysfood.com/f/redwhitebbq.
I hope you love this Summer Fruit Salad with Honey Lime Dressing. What is your favorite summer side dish? I would love to hear! Thank you for following along, my friends!
https://kroger.mvk.co/1bmw7