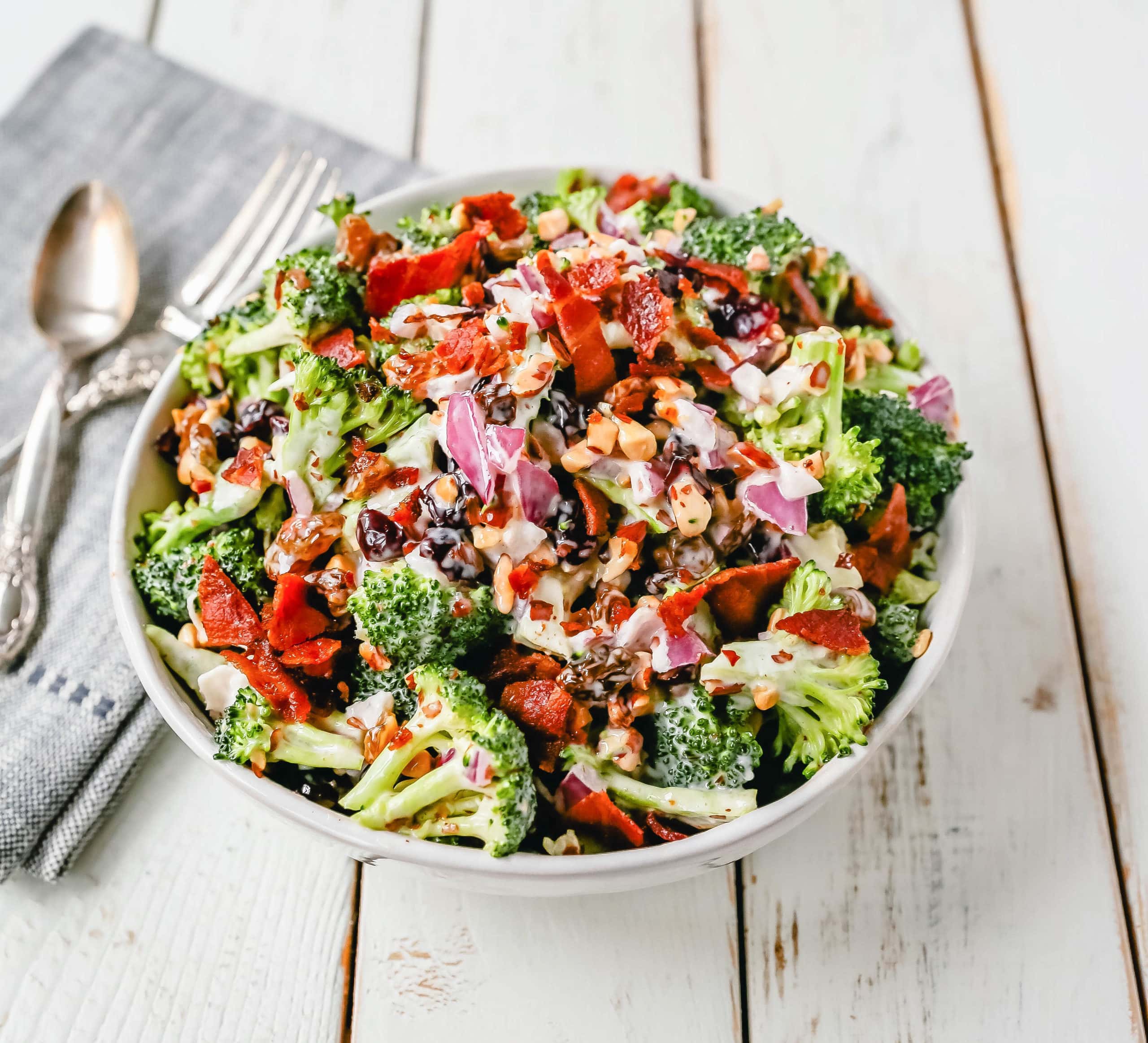 Broccoli Salad
Crunchy broccoli salad with crispy bacon, sweet dried cranberries, onion, nuts, tossed in a sweet and tangy dressing. A classic potluck side dish recipe!
This is one of those classic make-ahead of time delicious potluck recipes. There is a reason why Broccoli Salad is so popular. Now at first hearing the words broccoli and salad together, you may not think it is worthy of your consideration but did I tell you there's bacon?! We are upping the potluck side dish game.
There are many reasons I love this salad but one of them is that it keeps you on your toes. You've got crunchy, you've got sweet, you've got tangy, you've got crispy. The crunchy broccoli paired with extra crispy bacon with dried cranberries and nuts with a sweet tangy dressing is just one winning combination.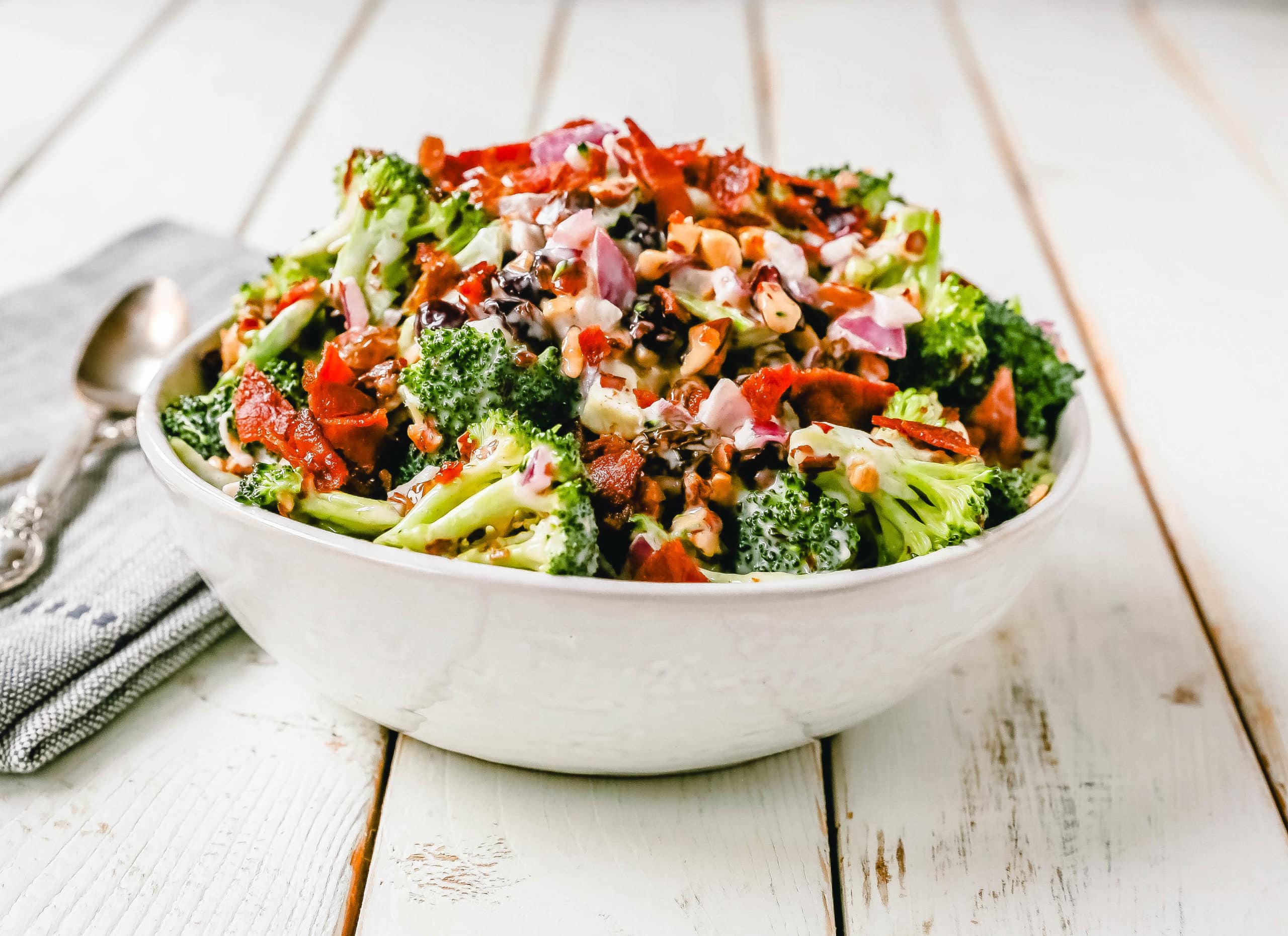 The beauty of this broccoli salad with bacon is that you can make it ahead of time. It just gets better with age...like all of us! 🙂 You can mix it up depending on your personal preferences -- you can use dried cranberries, dried cherries, raisins, or golden raisins and they will all taste amazing. You can use what you have on hand.
A little tip...if your dried cranberries or raisins have dried up a bit and are no longer soft...you can put them in hot water and let them soak to allow them to soften and plump up a bit. Shriveled raisins are not as good as plump raisins!
When cooking the bacon, you can use a skillet, a microwave, or an oven. I love to use the oven when cooking the bacon because it is less messy. It is so easy -- just set your oven to 400 degrees and line a baking sheet with aluminum foil. Cook for about 20 minutes, depending on how crispy you like it. For this bacon and broccoli salad, I like to get the bacon extra crispy so it stands up against the dressing.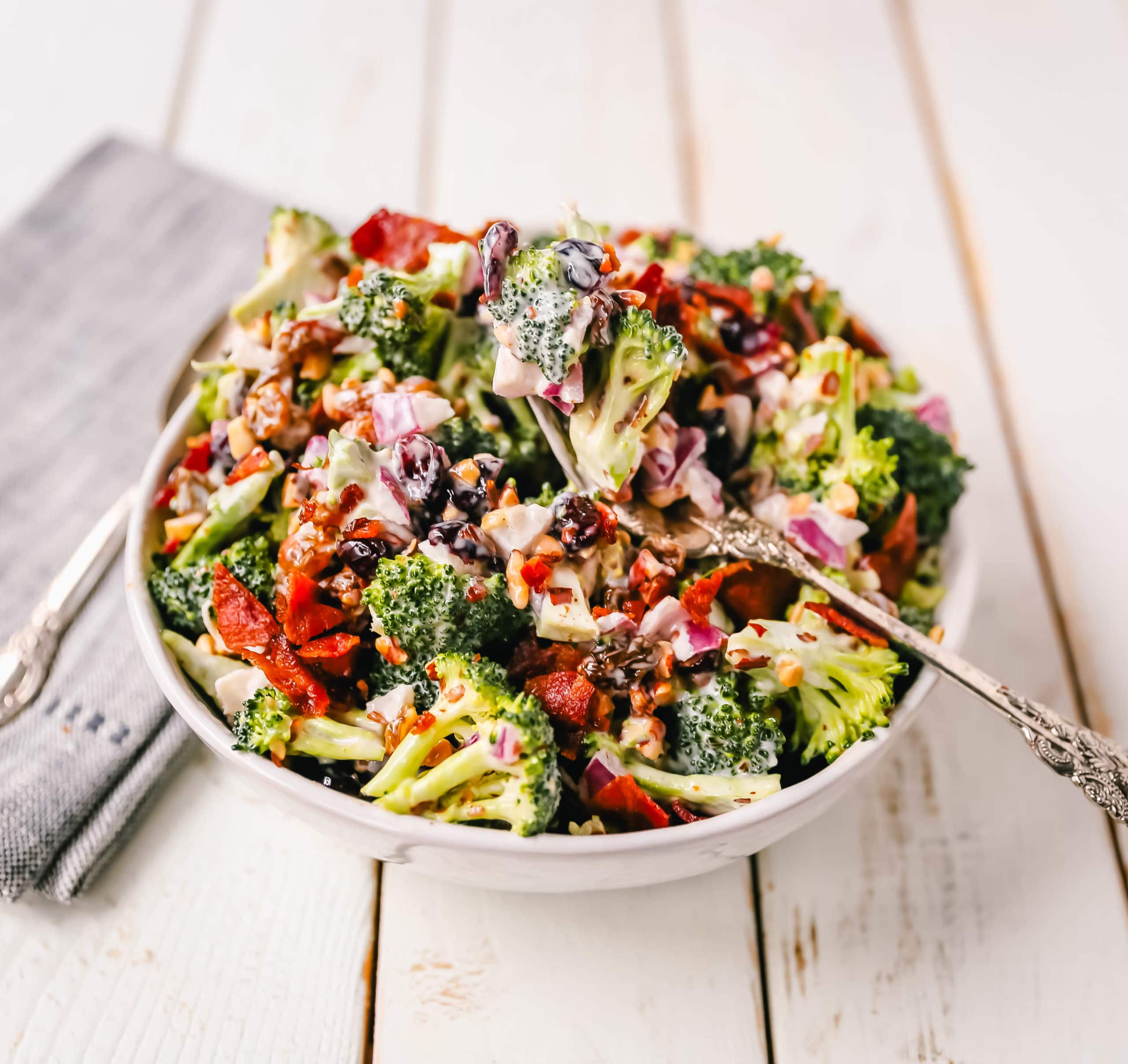 How to make the Best Broccoli Salad:
Start with broccoli crowns. You want to focus on the broccoli crown part (which is the very top) and cut off most of the stem. If you want to save time, you can buy a bag of pre-cut broccoli crowns so you have less waste. Cut them into small bite-size pieces.
Cook the bacon until nice and crispy. Once the bacon is cooked, cut into small bite-size pieces.
Make the dressing. The dressing is made with mayonnaise, apple cider vinegar, sugar, salt, pepper, and red pepper flakes. The red pepper flakes add the smallest amount of subtle flavor. If you like spice, add a little bit more.
Stir in your favorite dried fruit such as dried cranberries, dried cherries, or dried raisins.
Use your favorite type of nut. Most recipes for broccoli salad call for sunflower seeds. You can also use almonds, walnuts, or pecans. I have tried this broccoli salad with sunflower seeds and almonds and both taste delicious!