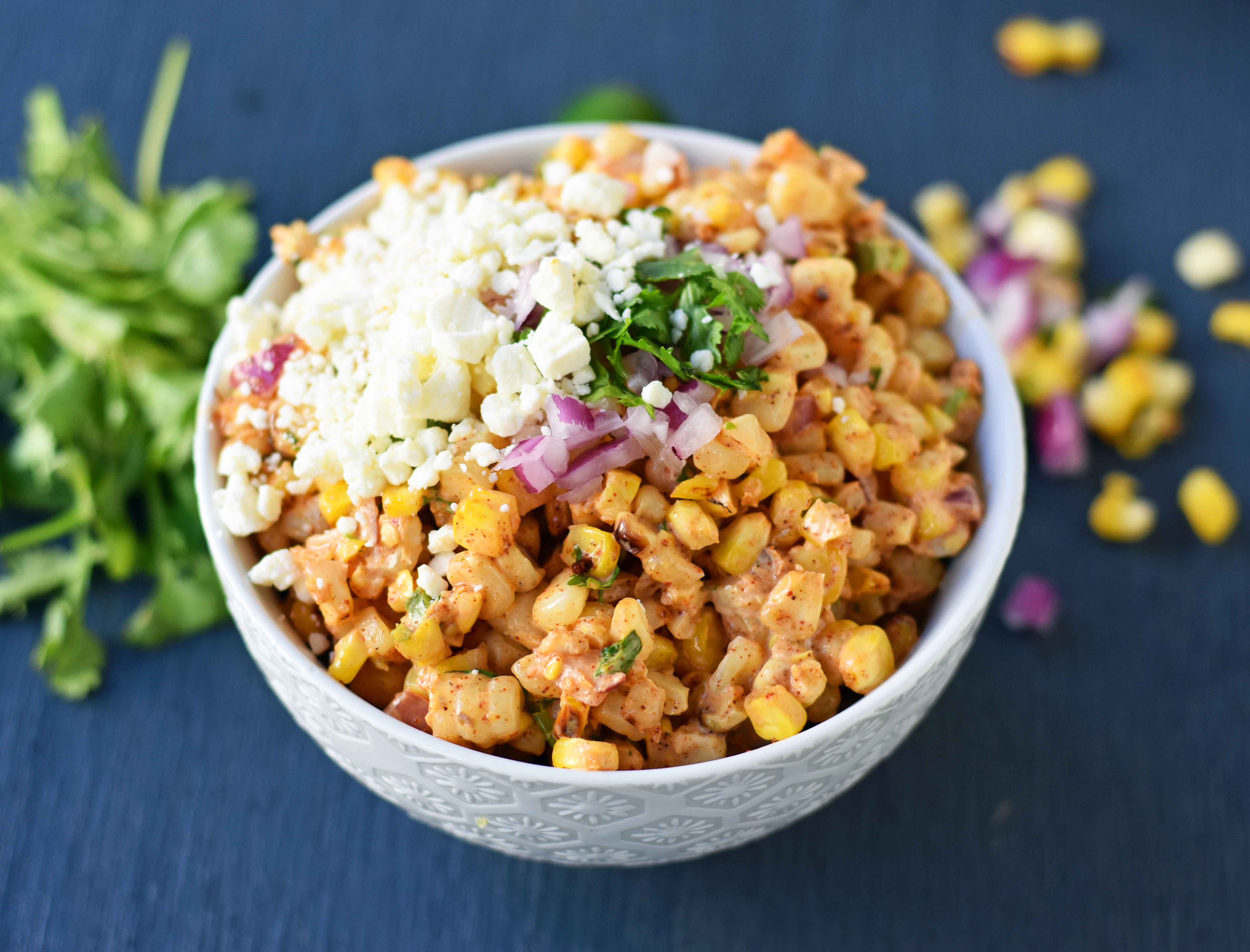 This is the time of year that you see corn on the cob everywhere. It is one of my husband's huge weaknesses. He doesn't care that Disneyland charges 5 bucks for an ear of corn. He will eat two of them. There is just something amazing about fresh corn on the cob.
Let's take it up a notch.
How many of you have eaten Mexican street corn? As I talked about in my last chicken burrito bowl post, I just arrived home from spending 5 days in the great state of Texas. If you've ever been so lucky to eat at Torchy's Tacos, you may have tried their killer street corn in a bowl. It is phenomenal.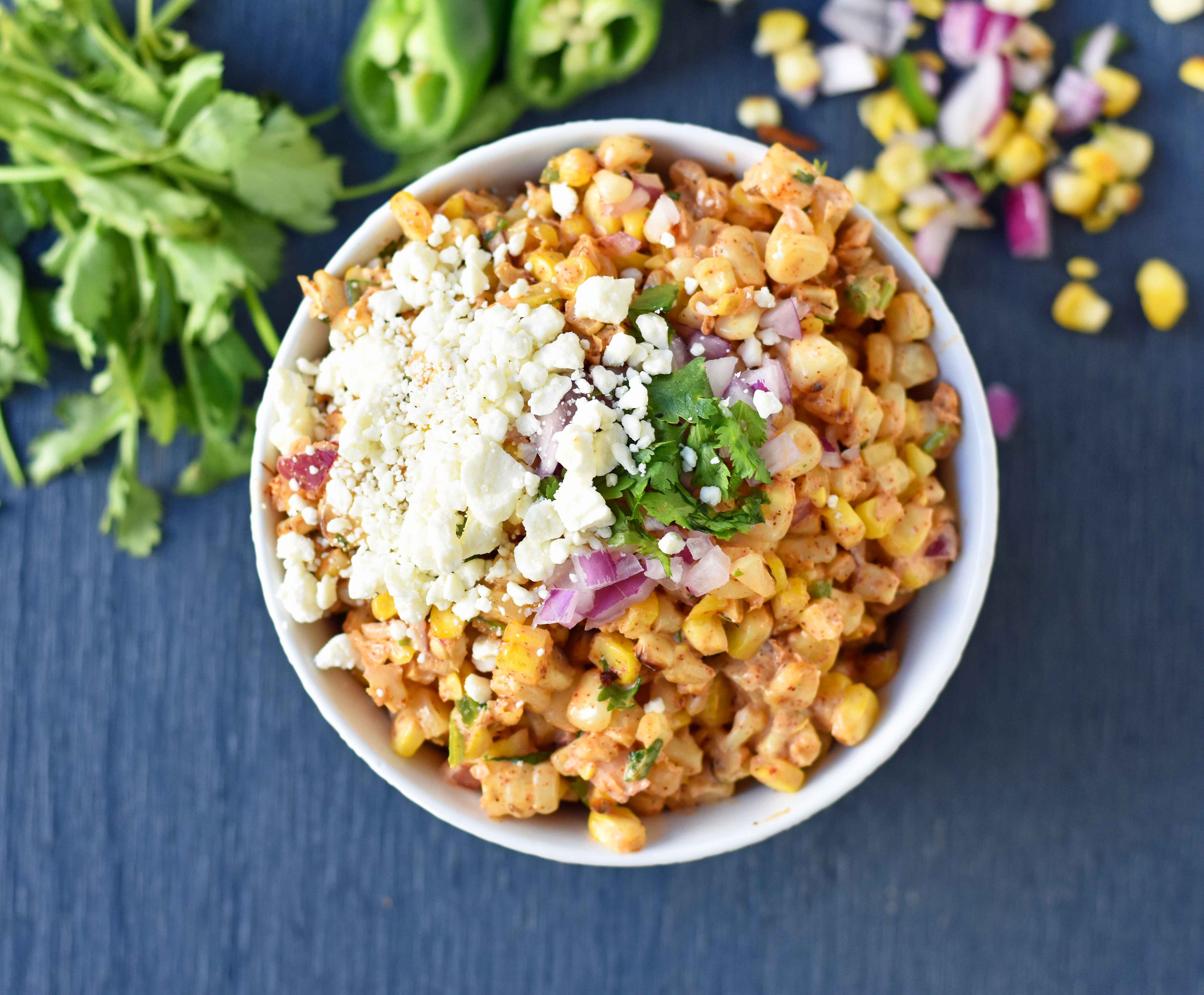 This Mexican Street Corn Salad is made with fresh shucked corn (you can even use frozen white corn) sauteed until nice and roasted and mixed with red onion, cilantro, jalapeno, lime juice, mexican spices, a touch of mayo and cotija cheese.
When I was recipe testing this, I couldn't stop eating it. My husband came home from work and I asked to give me his honest opinion and assumed he would just take a bite and give his feedback. Next thing I knew he was sitting on the couch, watching the Diamondbacks baseball game with the big ol bowl in his hands. He ate the entire bowl!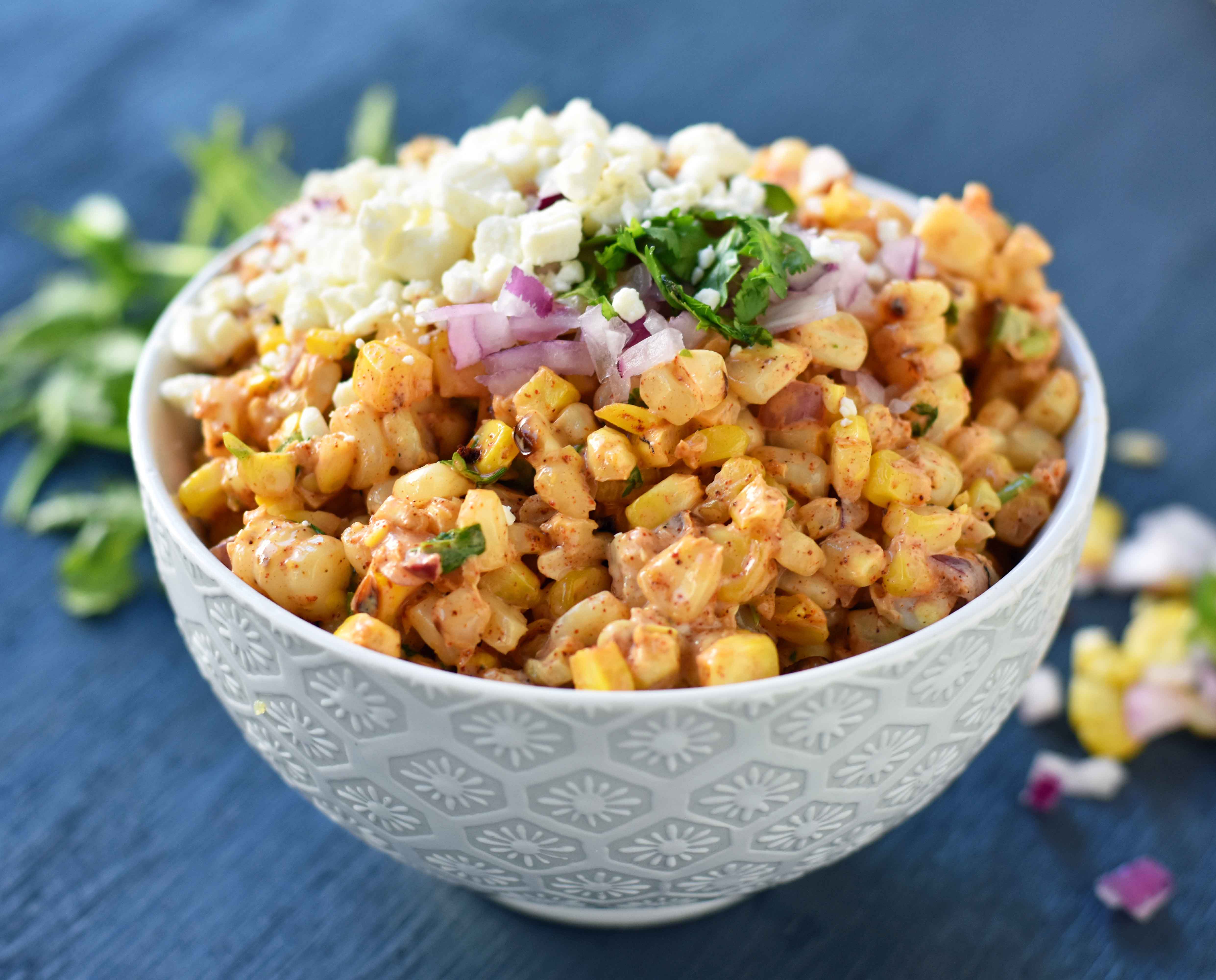 This Mexican Street Corn Salad can be an appetizer, a side dish, or can be used on top of tacos. Yes! My husband basically made it his dinner so you can do that as well. It is so flavorful and you will want to keep coming back for more. It can be served warm or cold.
To make this Mexican street corn salad, I will usually throw several corn on the cobs on the grill for a few minutes. There may be times of year when it may be more difficult to find fresh corn. Frozen corn works well in this mexican street corn salad. I am a sucker for the frozen white corn you can find at Costco. It is super simple to saute it in a little olive oil until it is cooked through and gets a little char on it.  Once the corn is cooked, toss it the remaining ingredients.
Here's an easy way to remove the kernels from corn on the cob -- the corn stripper. It makes life much easier!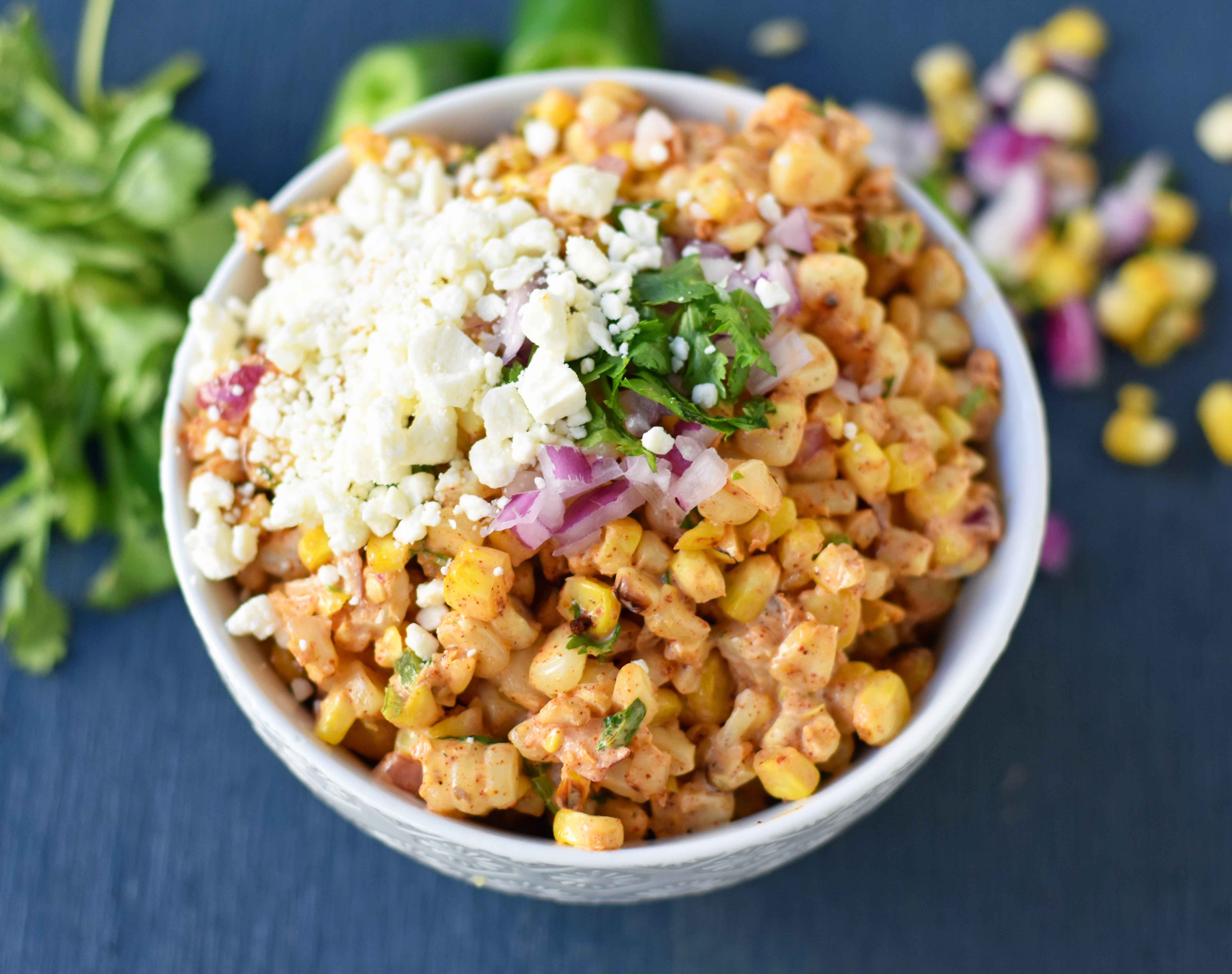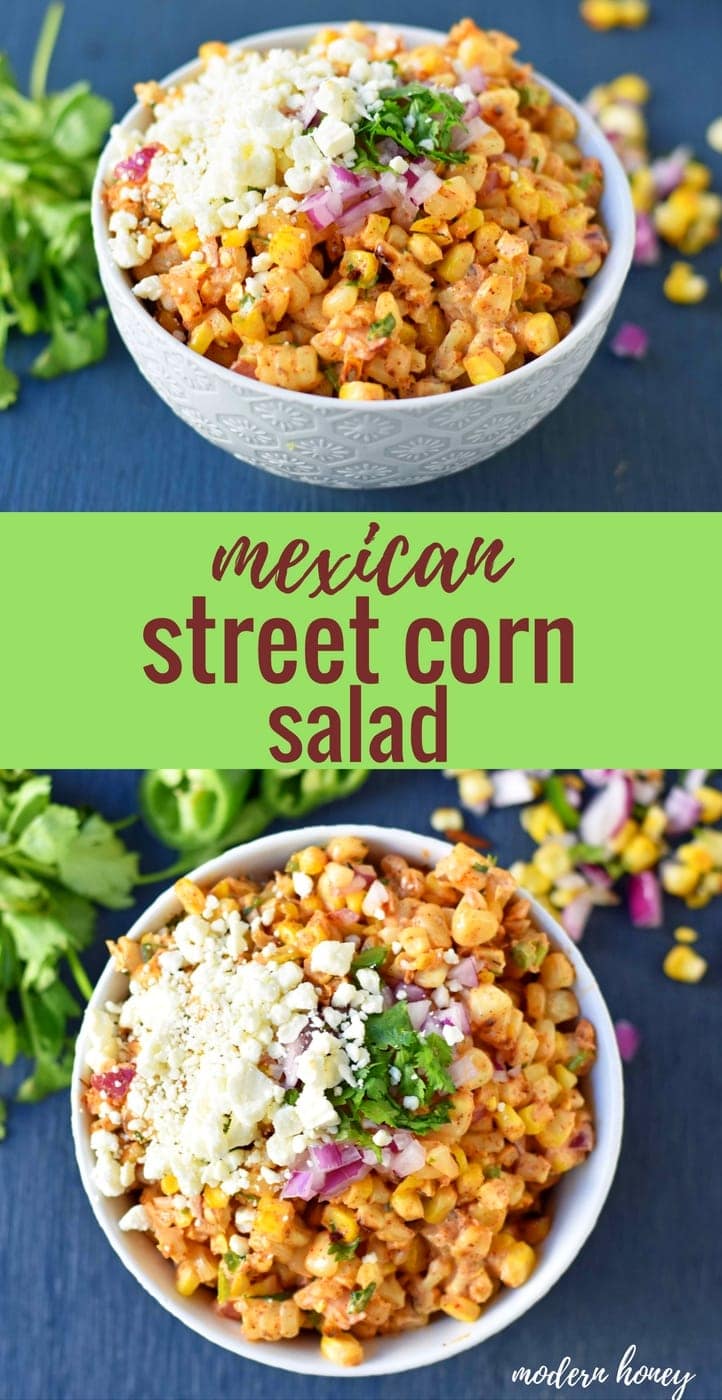 I have been craving this stuff all day! I can't wait to make another bowl of this Mexican street corn. Happy Eating, my friends!