This is the best bean dip recipe ever! This is such an easy bean and cheese dip made with creamy beans, sour cream, cream cheese, taco seasoning, hot sauce, and lots of Mexican cheese! This easy bean dip is the best appetizer recipe.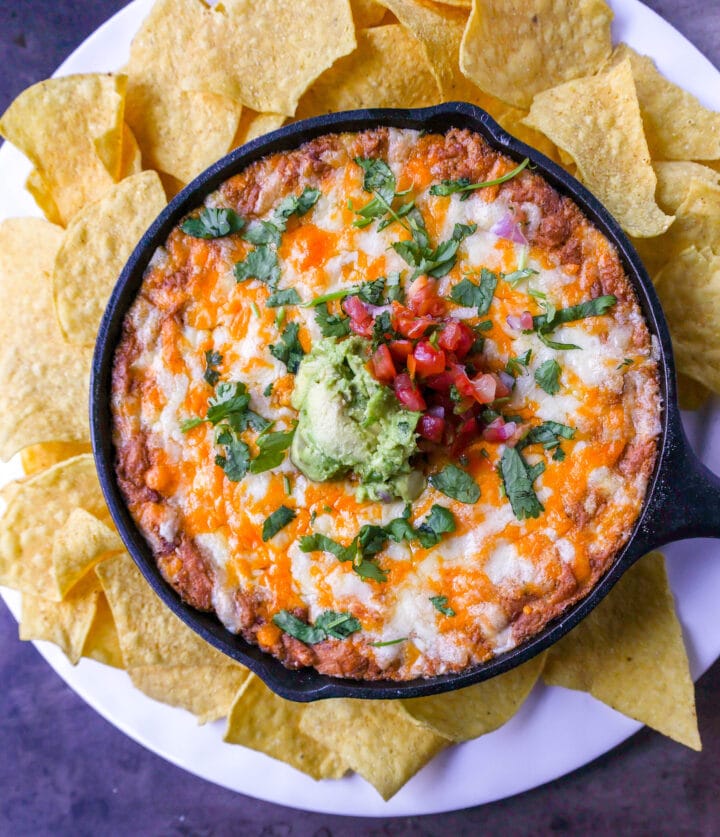 This is one of my favorite appetizers to bring to a party. Everyone always begs me for the recipe and wonders what in the world is in it.
This isn't your typical bean dip recipe -- it literally is the best bean dip recipe!
Since the Super Bowl is around the corner, I love sharing popular appetizer recipes perfect for your Super Bowl watching party.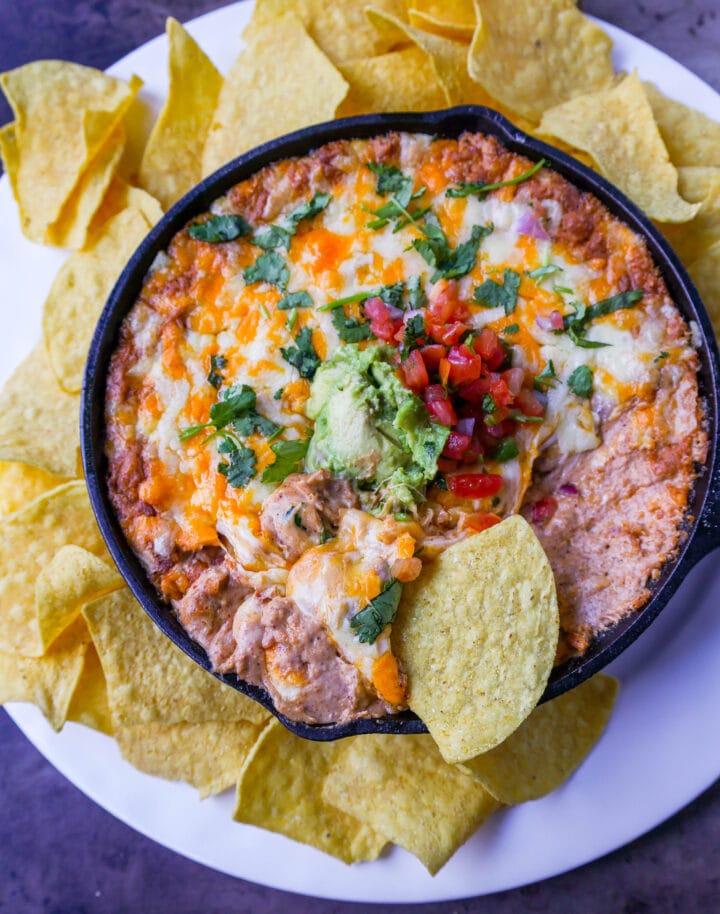 What is Bean Dip?
It is a hot dip made with only six ingredients, usually served with tortilla chips. It starts with refried beans combined with sour cream and cream cheese.
BEAN DIP INGREDIENTS:
Refried Beans -- you can use any canned refried beans. My favorite refried beans are the Rosarito Spicy Jalapeno refried beans. They have the perfect amount of spice.
Sour Cream -- I suggest using full-fat sour cream to make it extra creamy.
Cream Cheese -- use softened full-fat cream cheese. If the cream cheese is at room temperature, it makes it easier to combine the ingredients.
Taco Seasoning -- a mix of chili powder, cumin, paprika, garlic, onion powder, salt, and pepper adds so much flavor to this hot bean dip.
Hot Sauce -- I like to use different types of hot sauce in this bean and cheese dip recipe -- Taco Bell Hot Sauce, Cholula, Tapatio, or your favorite hot sauce. You can also use your favorite jarred salsa.
Mexican Cheese -- a mix of creamy Mexican cheeses makes the perfect cheesiest bean dip.
Cilantro -- top with fresh chopped cilantro to add freshness to this hot bean and cheese dip.
Optional Additions: Chopped Green Chilies, Green Onions, and Jalapenos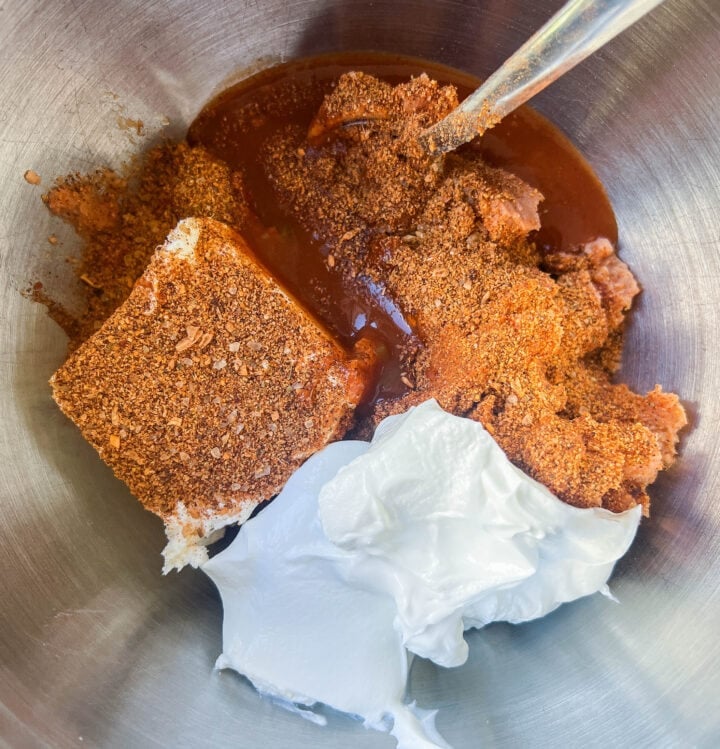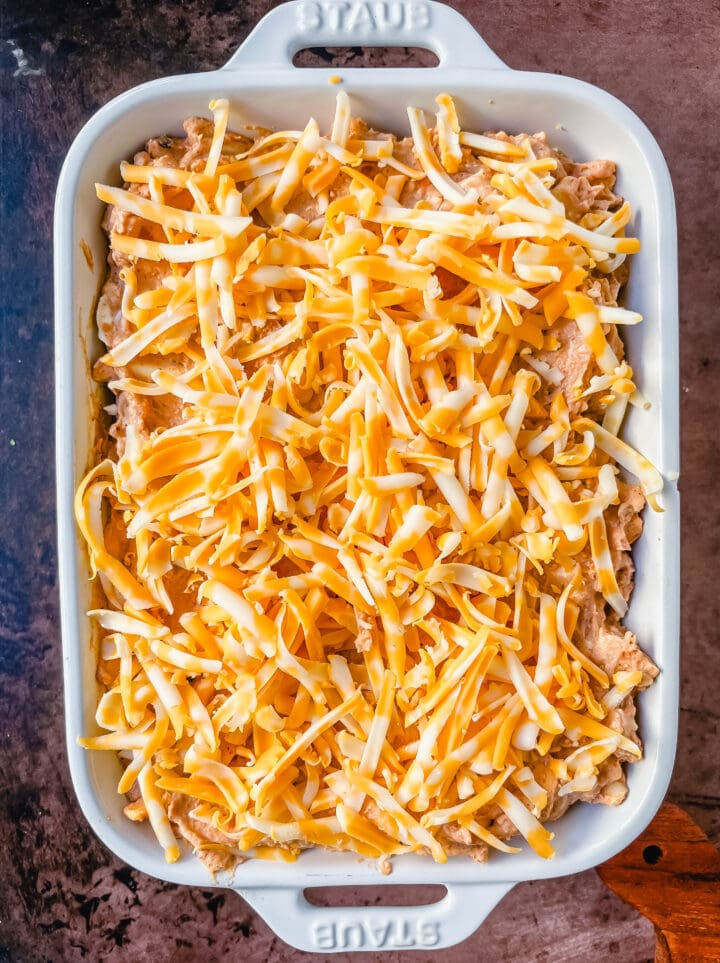 What kind of refried beans to use in hot bean dip?
I would suggest using any type of canned refried beans. For extra flavor, use a spicy jalapeno refried beans.
Bean and Cheese Dip Toppings:
Pico de Gallo
Guacamole
Cilantro
Sour Cream or Mexican Crema
Avocado
Green Onions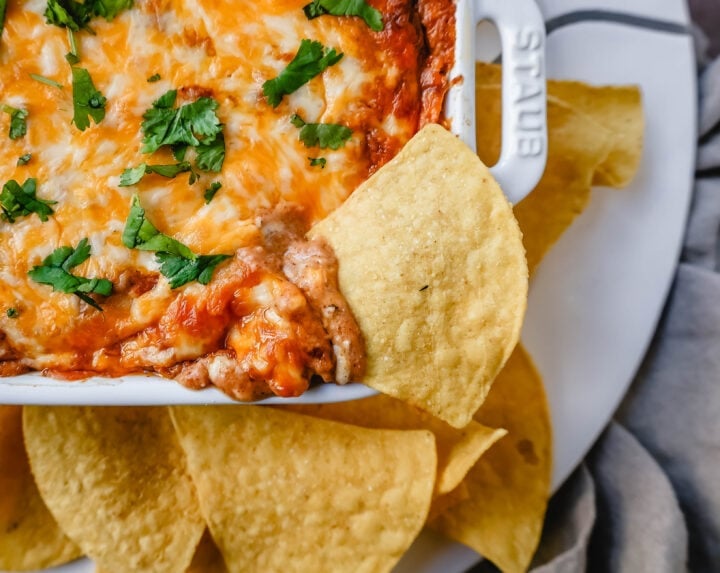 How to make Bean Dip:
STEP 1: In a bowl, whip together refried beans, softened cream cheese, sour cream, taco seasoning, hot sauce, and 1 ½ cups of cheese. Stir together until it is completely combined.
STEP 2: Spread into a 8 x 8 baking dish and generously top with cheese. Bake until hot and bubbly. Sprinkle with fresh cilantro.
STEP 3: Serve warm with tortilla chips.
We serve this Bean and Cheese Dip with some of our favorite Mexican recipes -- Crispy Ground Beef Tacos, Tex-Mex Chile con Carne Enchiladas, Creamy Green Chile Chicken Enchiladas, and Slow Cooker Barbacoa Beef.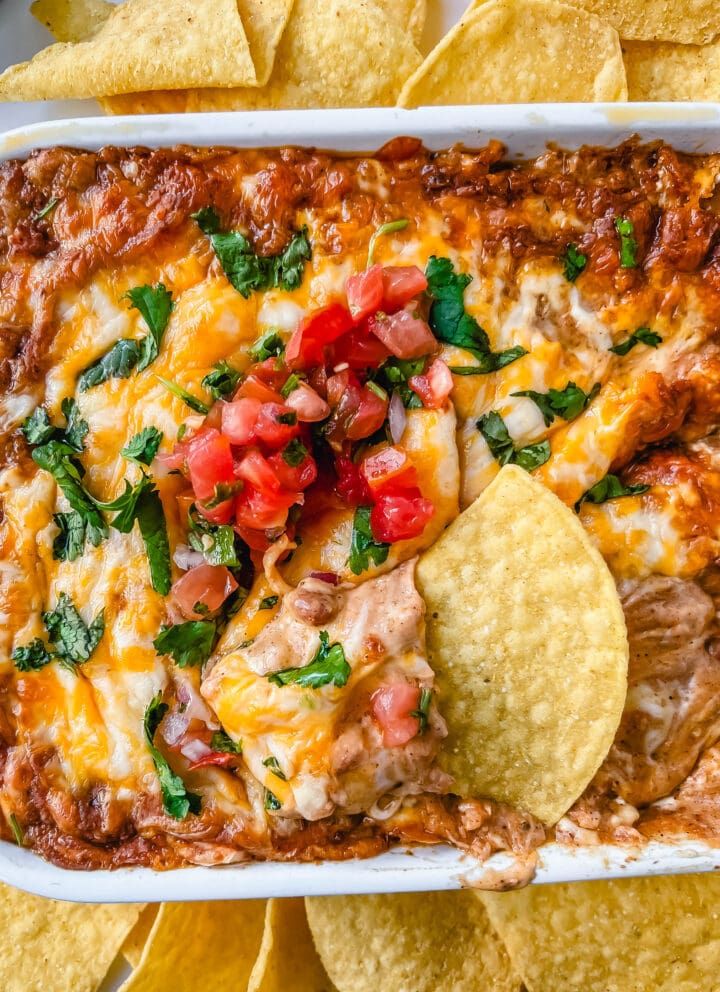 VARIATIONS:
Make it spicier by adding more hot sauce, taco seasoning, finely diced jalapenos, or chopped green chilies.
Add ground beef, chorizo, or shredded chicken to add some protein to the bean dip.
Change up the type of cheese you use in this dip recipe. I suggest a blend of Mexican cheeses but you can also use pepper jack and colby jack.
More Dip Recipes:
I love to hear from you! If you make this recipe, please be sure to leave a comment and give this recipe a rating. If you make any of my recipes, tag me on Instagram @modern_honey so I can see your creations. It's one of my favorite things to see you make these recipes in your own kitchen. Sign up for my newsletter below so you never miss a recipe. Thank you for following along! I truly do have the greatest readers. FOLLOW ME ON: INSTAGRAM --- FACEBOOK --- PINTEREST