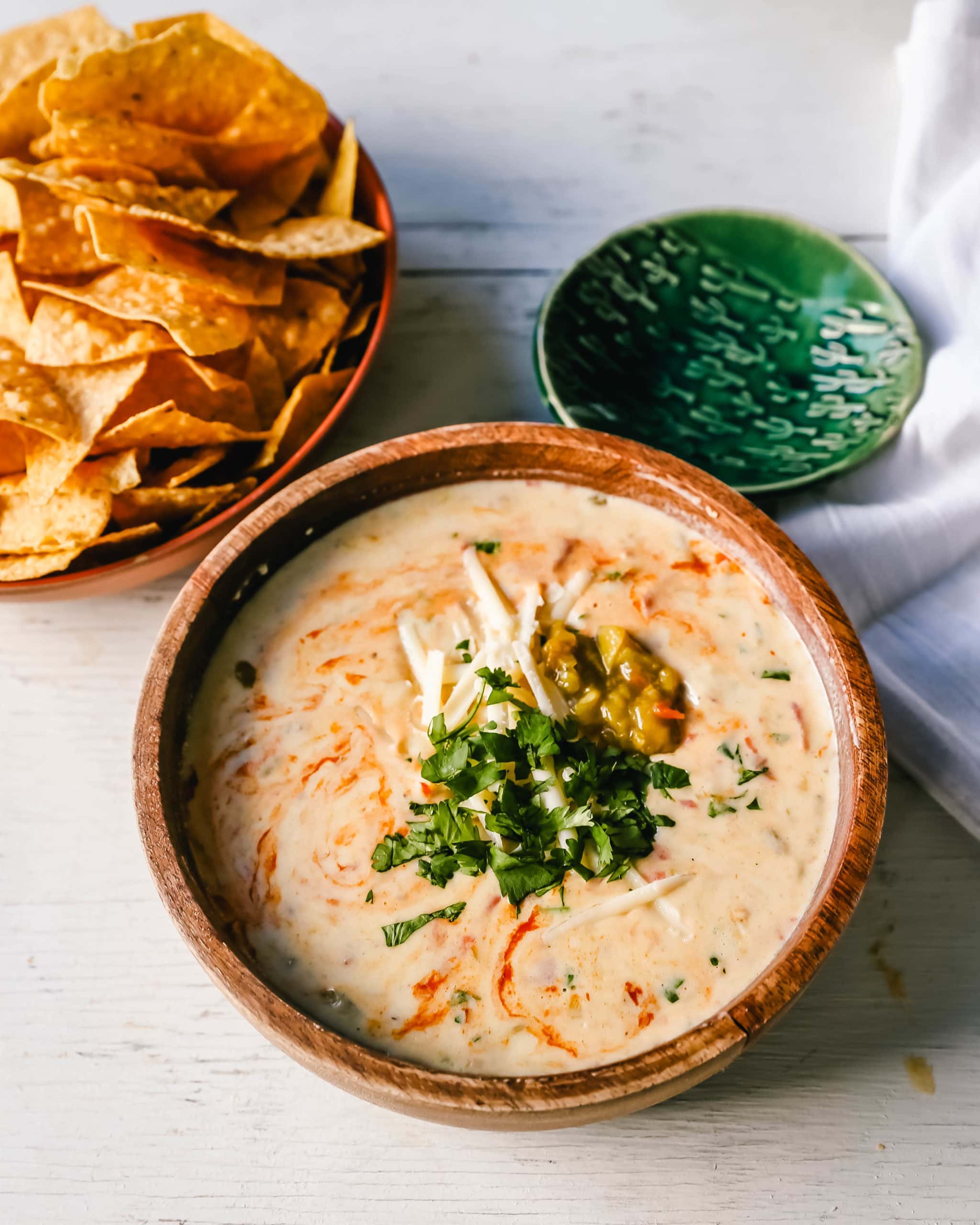 Queso Dip
Creamy green chile queso blanco dip made with the perfect blend of cheeses, green chiles, fresh cilantro, and hot sauce. How to make the perfect homemade queso!
We are one day away from celebrating Cinco de Mayo so I am so excited to share my ultimate queso dip recipe with you! This has been a recipe that I have tweaked over and over to get it just right. We love Mexican food in our home and eat it almost daily so a phenomenal queso dip is pretty important.
If you are looking for the best homemade restaurant-style queso, this is the recipe for you. I tried making queso for years and struggled with it curdling, becoming hard, or stringy and it just wasn't good after the first 5 minutes.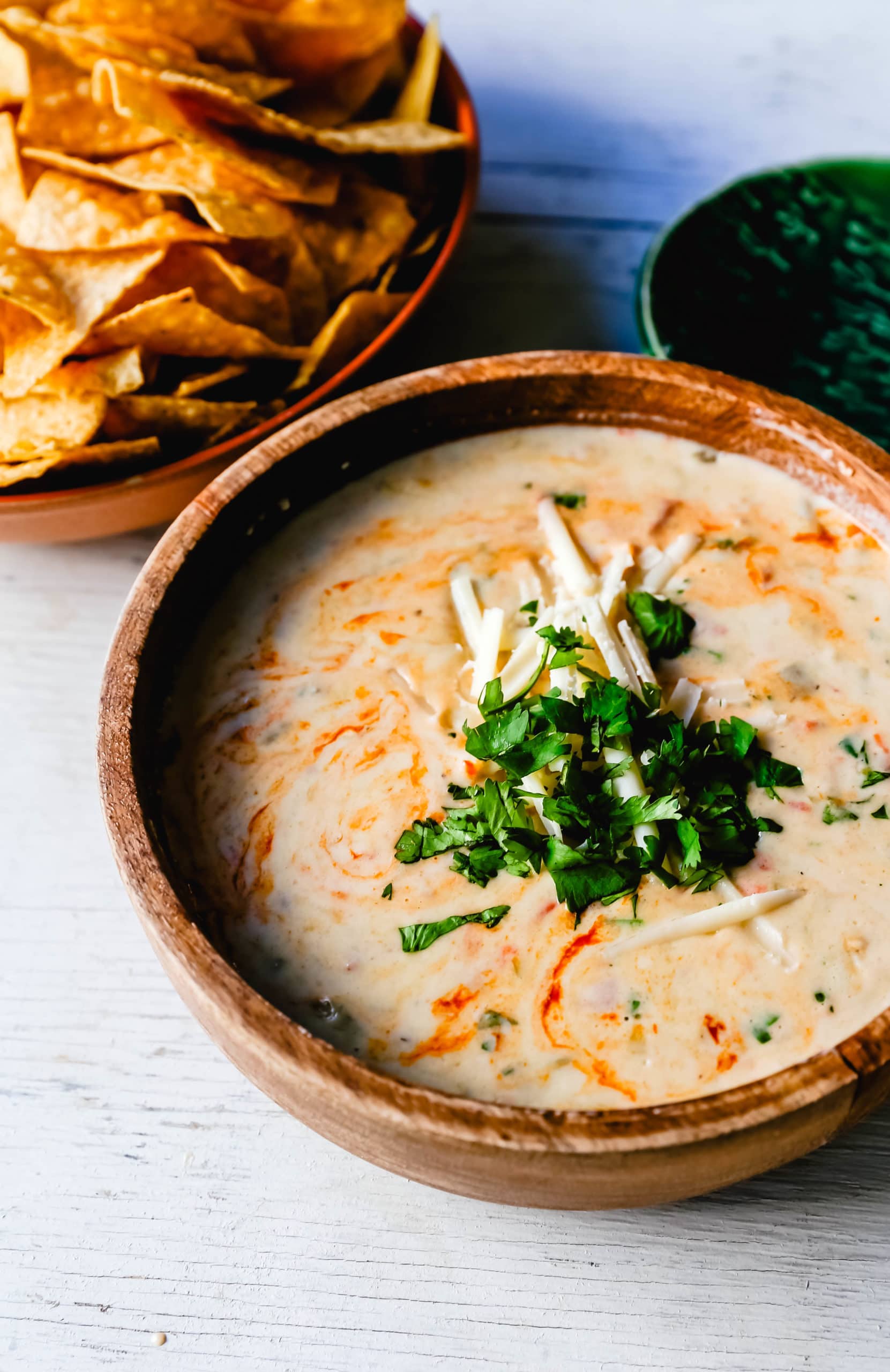 There are a few keys to making the perfect Mexican queso dip. This green chile queso recipe calls for only 7 ingredients and is a million times better than what you get in a can. It takes about 10-15 minutes to whip up and you can refrigerate it and re-heat it. It is the easiest queso dip recipe!
This Queso dip is made with sharp cheddar cheese, high-quality white American cheese, half-n-half, Rotel tomatoes with green chiles, salt, a touch of butter, and more green chiles. The key to making it extra creamy is the high-quality Boar's Head American cheese. You can find it in your deli and it is the best stuff out there! You can order it by the pound (this recipe calls for ½ lb). It is perfectly creamy and melts beautifully so it keeps the queso that perfect consistency.
The Rotel tomatoes with green chiles infuse some fresh flavor into the queso and give some texture. I love to add a can of green chiles because they add so much to the queso.
When we lived in San Antonio, Texas, we would drive 1 hour and 10 minutes to Austin, Texas to order the green chile queso dip at Torchy's Tacos. It was the best queso I had ever eaten and was determined to figure out the secrets. This is a quicker and easier version than the famous Torchy's taco queso.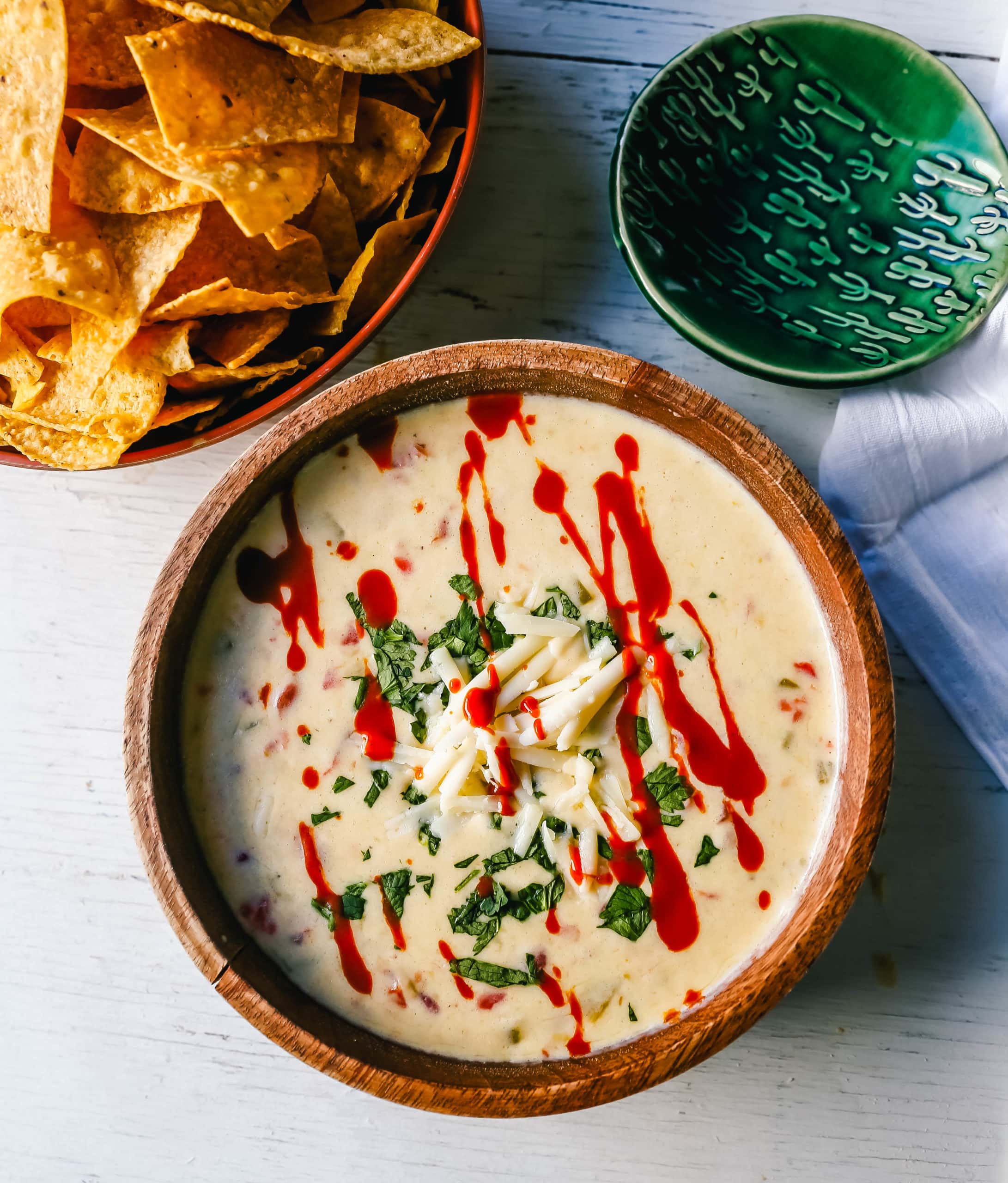 How to make the Best Queso Dip:
Start by adding a touch of butter to a skillet. Drain the Rotel tomatoes with green chilies until all of the liquid is gone. Add to the skillet and saute for 1 minute. Sprinkle with salt. If you prefer smoother queso, you may puree the tomatoes.
Add the half-n-half to the skillet. Add the American cheese (suggest using Boar's Head from the deli department) in small increments stirring well after each addition. Once the American cheese is melted, stir in the sharp cheddar cheese (or you may use a pepper jack) in small pieces. You want to add it a little at a time to allow it to slowly melt.
Once the cheese is all melted, stir in green chiles. Reduce heat to low and allow to simmer for about 10 minutes. The queso will thicken up as it cooks and sets up. The green chilies take some time to infuse into the queso blanco. This queso dip may be refrigerated and re-heated.
Serve with freshly chopped cilantro, hot sauce such as Valentina or Tapatio, and a sprinkle of Monterey Jack or cotija cheese.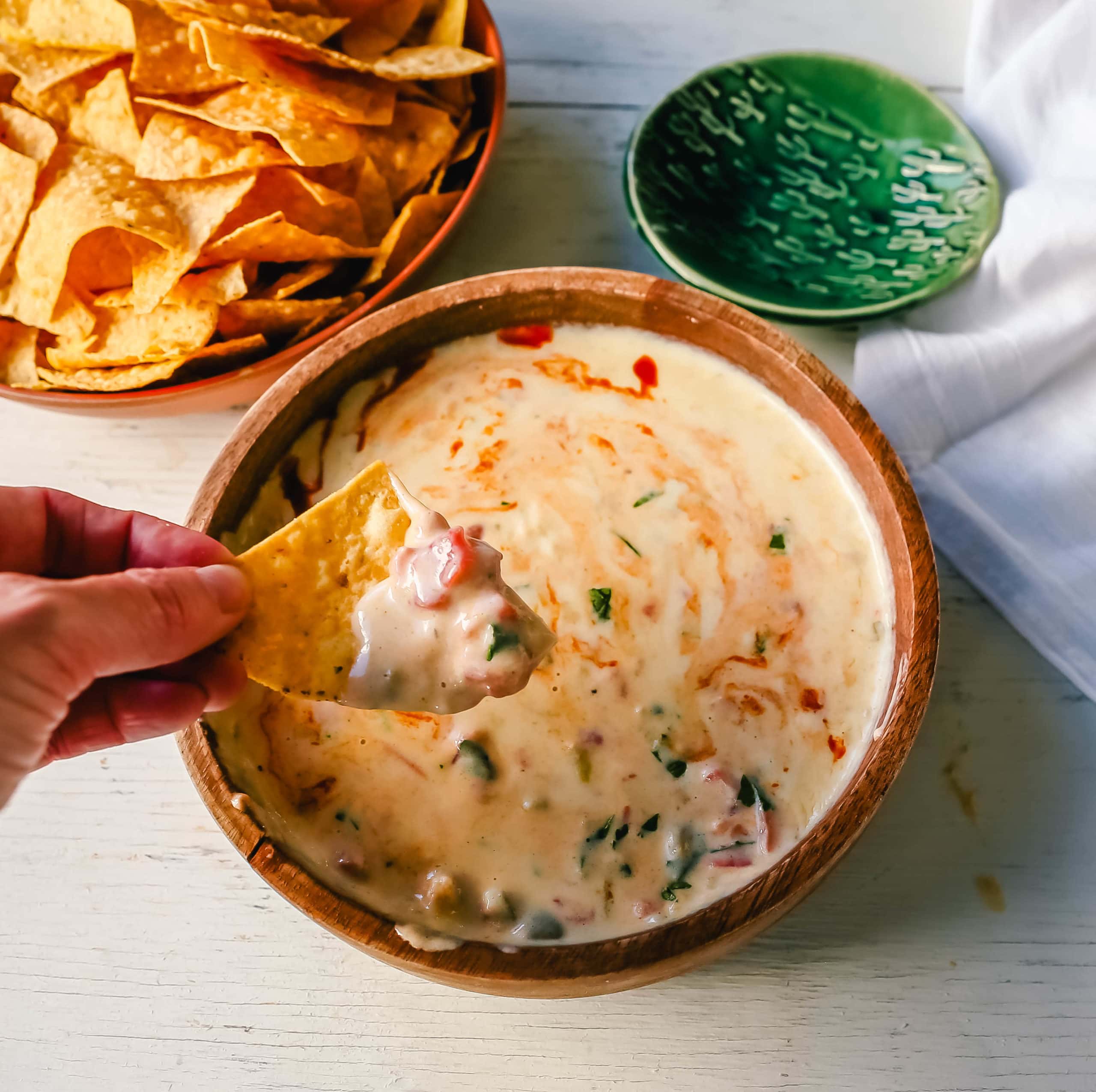 If you love Mexican food, check out these recipes:
Cheesy Mexican Chicken and Rice
Chicken Enchiladas Suizas
Chicken Street Corn Tacos
Grilled Steak Tacos
Chile con Carne Enchiladas
Follow Modern Honey on Facebook
Follow @modern_honey on Instagram
Follow me @ModernHoney on Pinterest