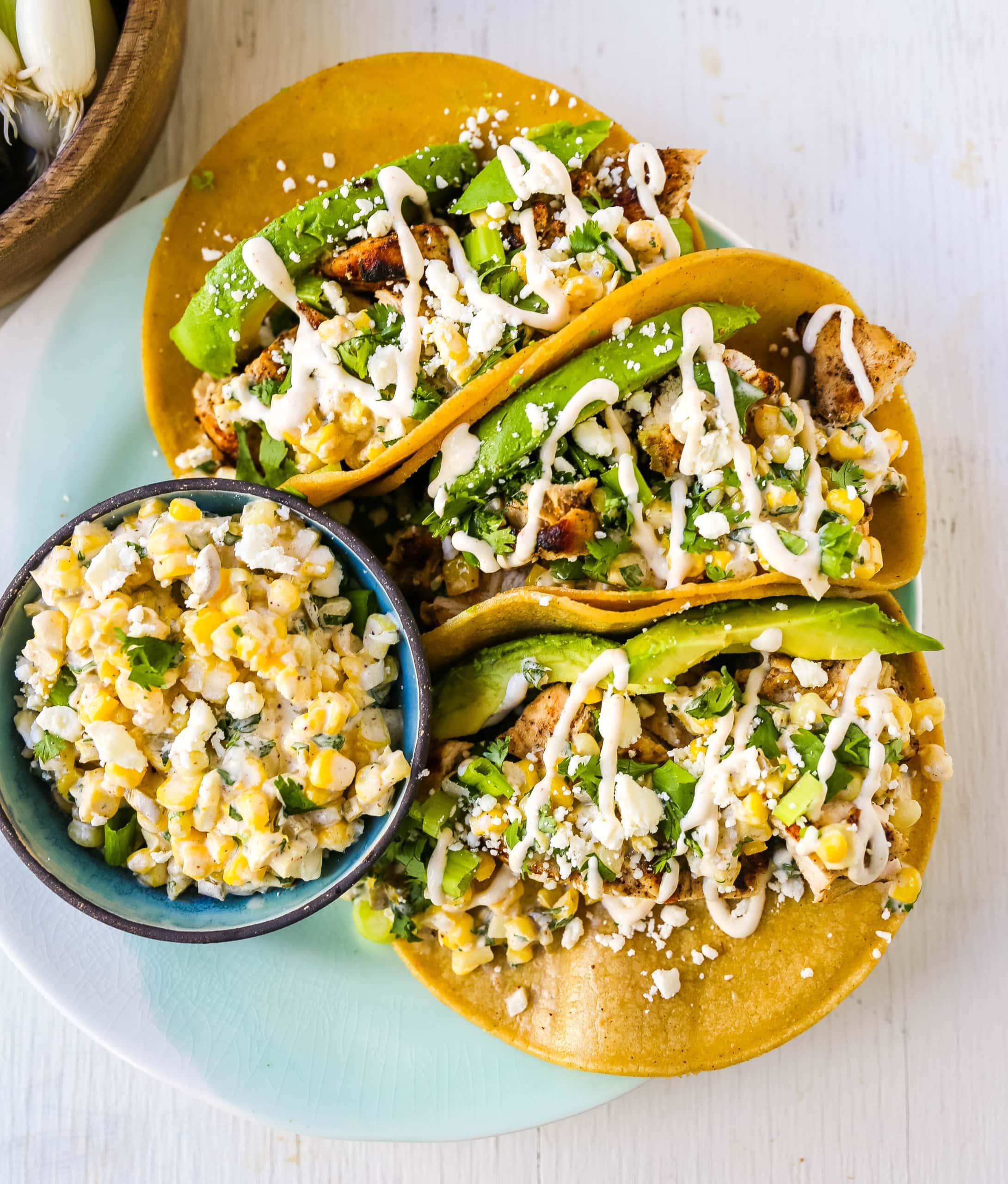 Mexican Street Corn Chicken Tacos
Marinated grilled chicken with a homemade street corn salsa, fresh avocado, cotija cheese, and spiced Mexican crema. These tacos will become a family favorite in no time at all!
As most of you know, I live in sunny Arizona and we are known for our Mexican food. We are pretty much taco connoisseurs and know a phenomenal taco when we taste it.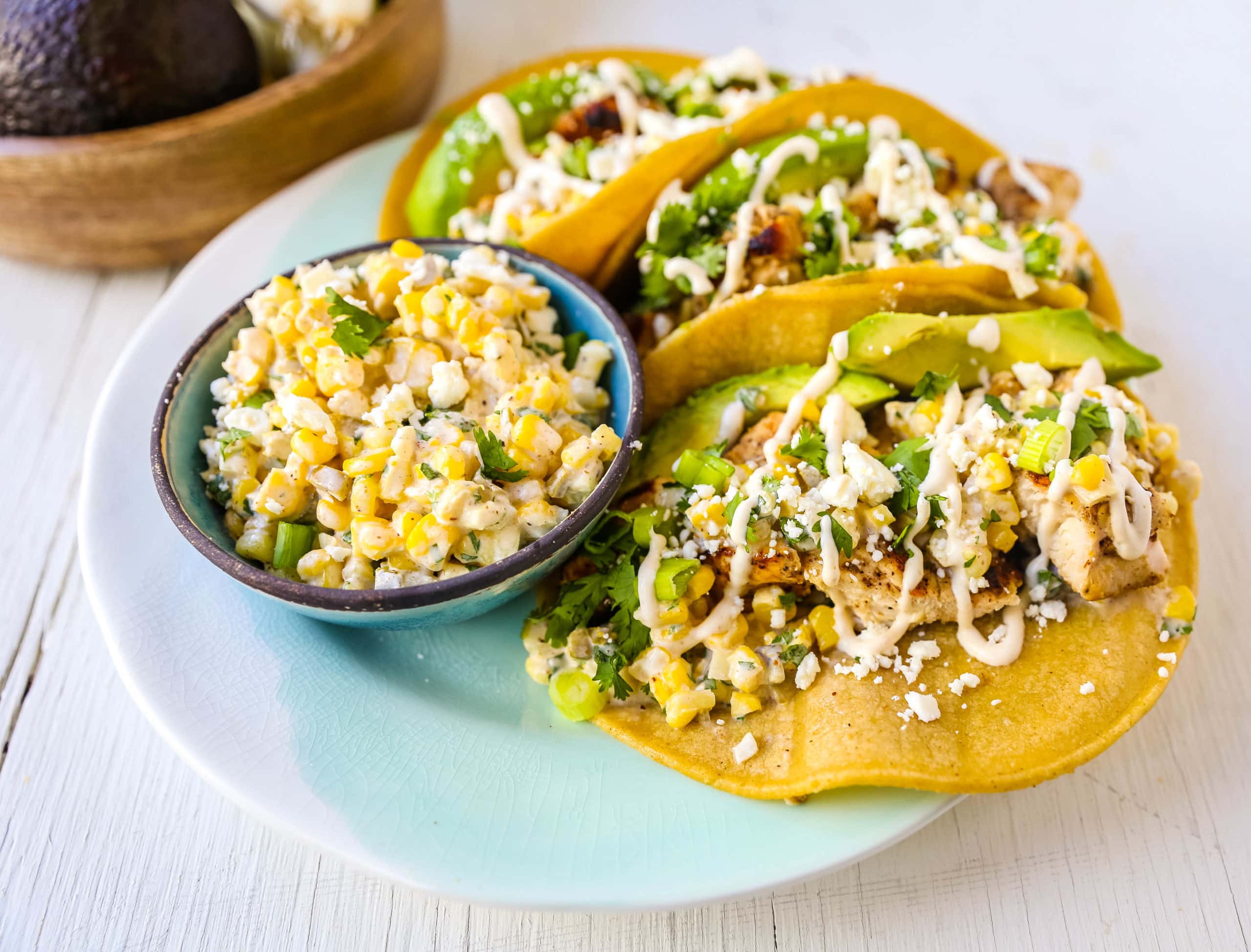 I love a good taco place that uses some creativity to change up a traditional taco. This is what we are doing here with these Mexican Street Corn Chicken Tacos. There is flavor, there is texture, there is spice, and you will want to keep coming back for more. I can't get enough of these Mexican Street Corn Chicken Tacos!
How many of you out there have tried Mexican street corn? It is usually served on the cob, slathered with mayo, cotija cheese, and a sprinkle of lime and chili powder. We were just in California and stood in line TWICE at an ultra-popular taco joint just to eat their street corn on the cob and tacos. Completely worth it.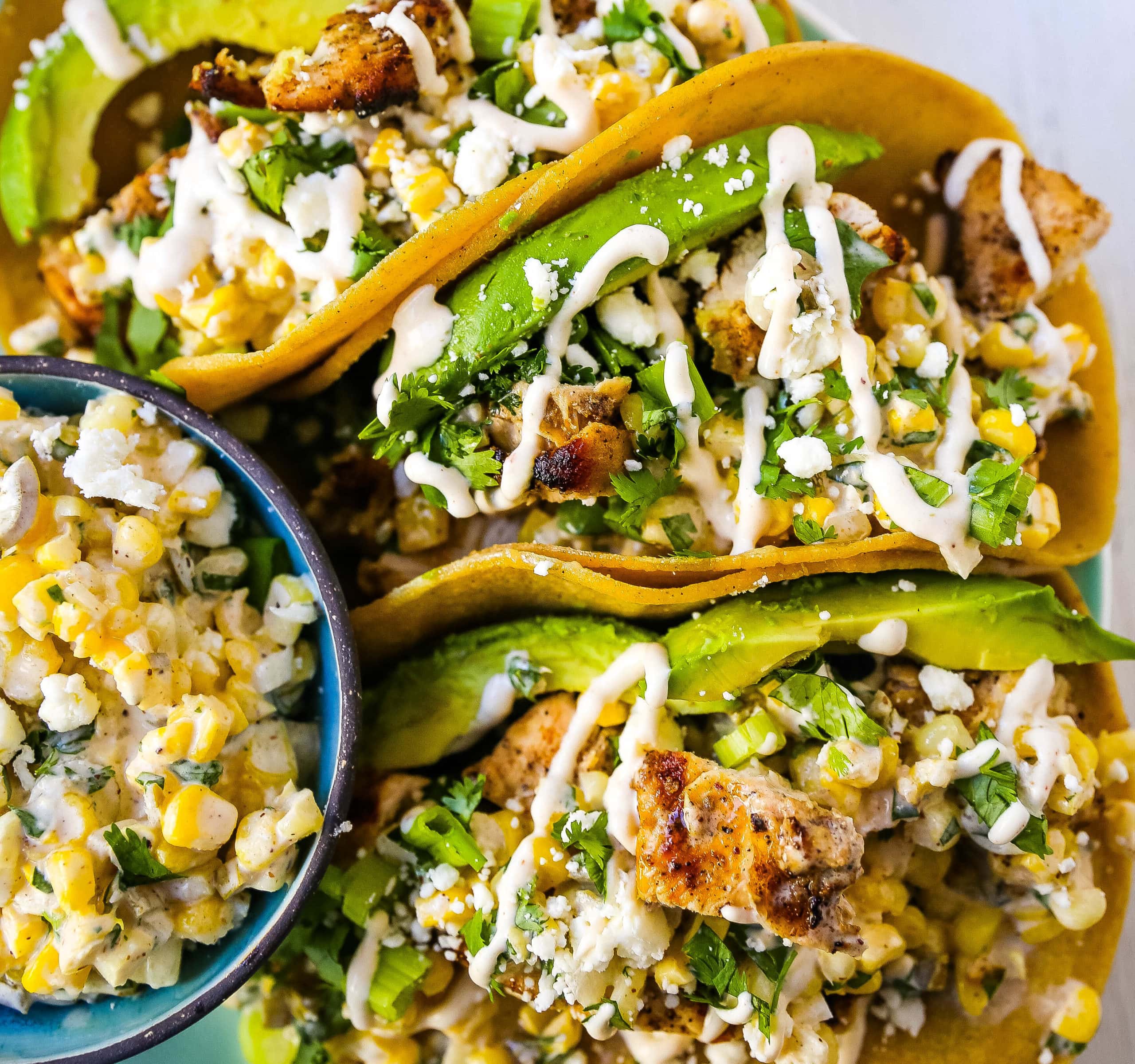 So why not combine a traditional Mexican grilled chicken taco and creamy Mexican street corn? Oh and then add in some sliced avocado because we all know that is elevating the taco and making it that much better.
It all starts out with marinating chicken breast (or thighs) with fresh lime juice, oil, and Mexican spices. This is the base of the taco and needs to be juicy, moist, and bursting with fresh and bright Mexican flavors. Let it marinate for about 30 minutes and then throw it on the grill and cook it until it is no longer pink. If you want to expedite the process, use chicken tenderloins as they cook so much faster!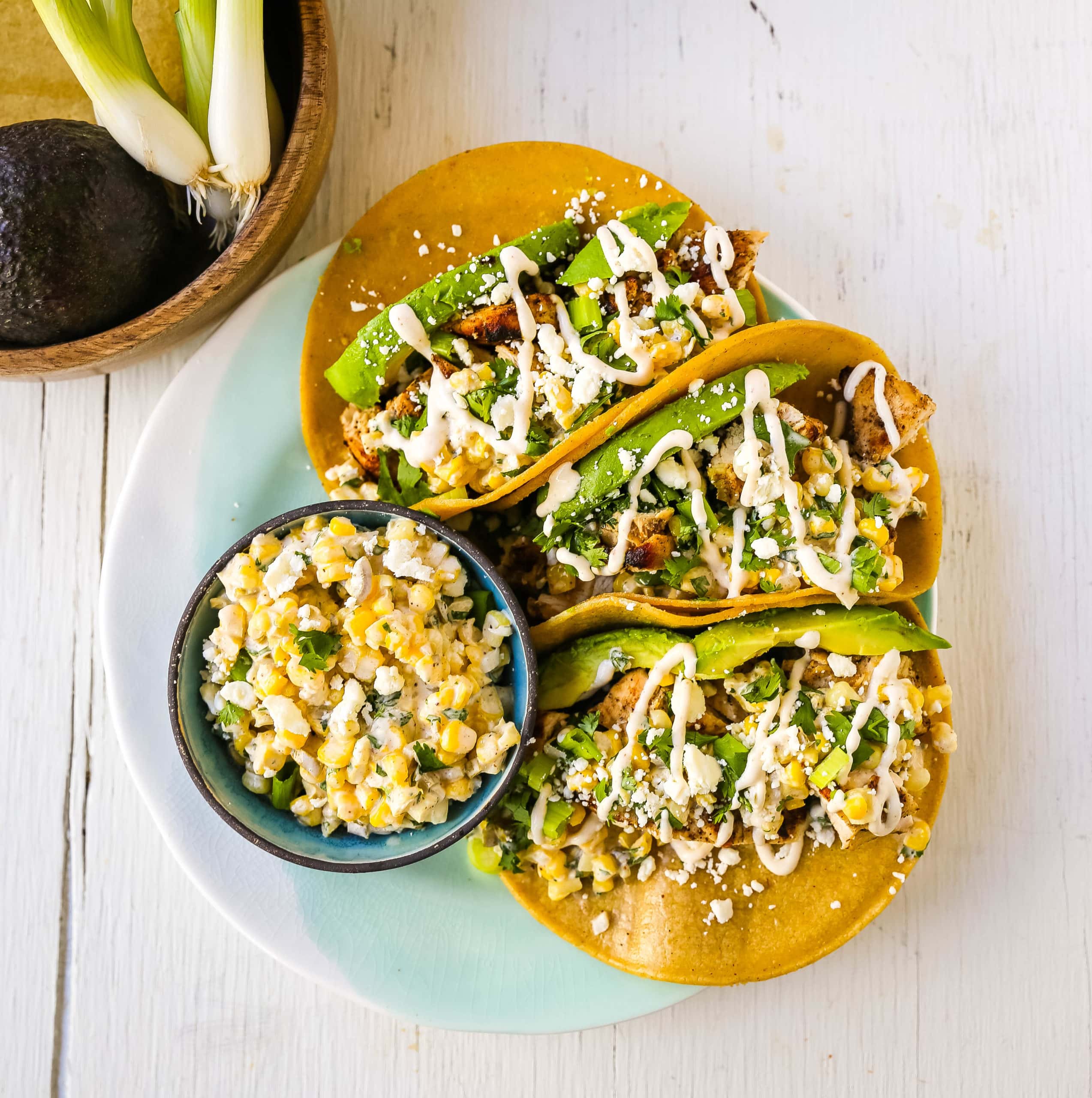 The Mexican street corn is made by using fresh or frozen white corn (both cooked) and then folding in a little mayonnaise, lime juice, cilantro, jalapenos, and Mexican spices. If you want to take a shortcut, there is a Mexican street corn dip sold at Costco and people are really digging it right now. You can always add a dollop of that and call it good.
I love to make a spicy Mexican crema and keep it in my refrigerator at all times. You can drizzle it on anything from tacos to quesadillas to enchiladas to nachos. It is so simple and made with sour cream or Mexican crema and taco sauce. That's it! Instead of just using sour cream, it gives it a spiced flavor boost and helps to thin it out to make it easier to drizzle on Mexican food. It is optional with these tacos but I highly suggest it.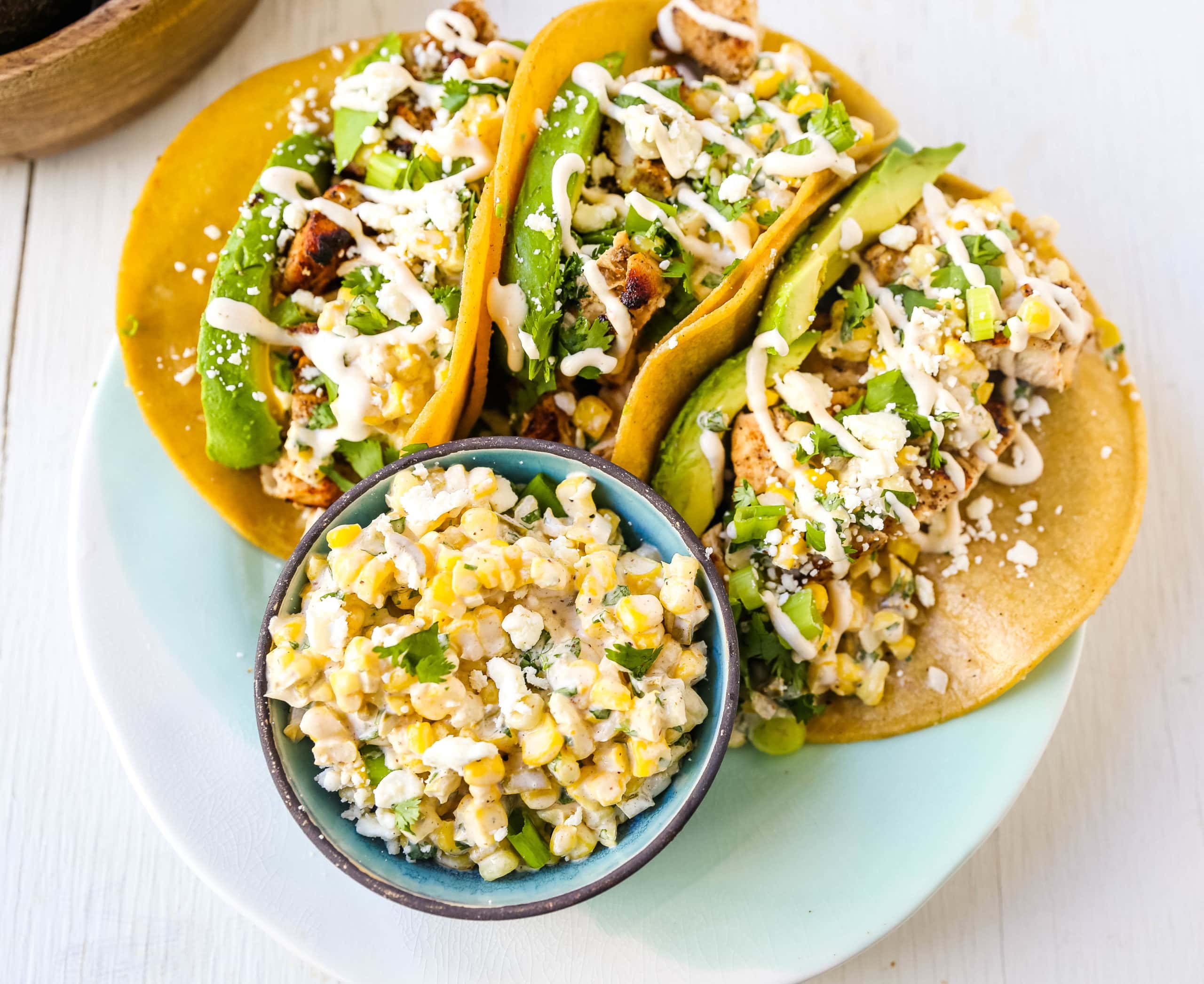 How to make Grilled Chicken Tacos with Mexican Street Corn:
Marinate chicken with lime juice, oil, and Mexican spices for at least 30 minutes. Preheat grill to medium heat. Brush grill with oil to prevent sticking. Place chicken on the grill. Cook for approximately 5 - 6 minutes per side, depending on the thickness of chicken. The internal temperature of the chicken should reach 165 degrees.
Make street corn salsa by stirring together cooked corn, mayo, fresh lime juice, cilantro, jalapeno, and Mexican spices.
Heat corn tortillas in a small amount of oil heated in a medium skillet. This helps to keep them soft when making tacos.
Make spicy crema by stirring together sour cream or Mexican crema and your favorite hot taco sauce.