These homemade Ground Beef Tacos are made with spiced taco meat loaded into fried taco shells. Top with your favorite toppings for an easy 30-minute meal!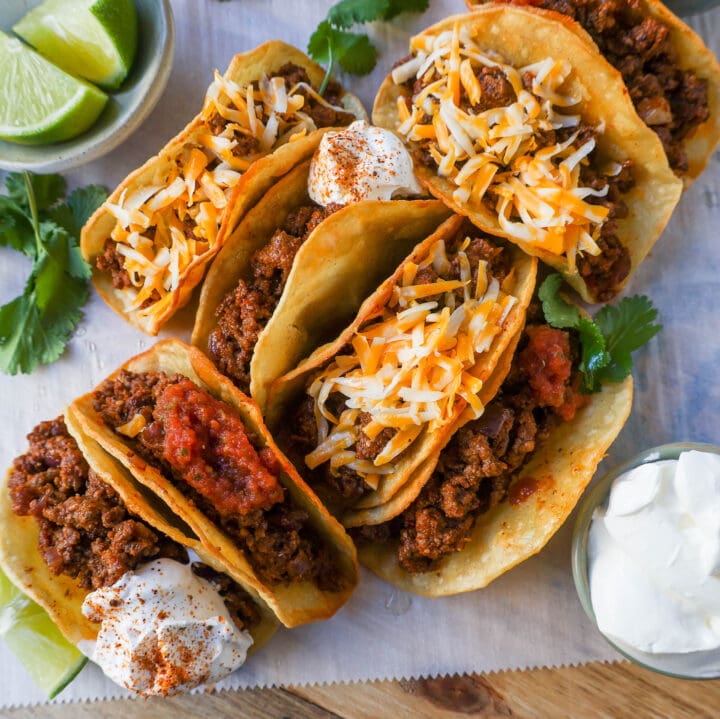 When I married my husband over 26 years ago, I figured out real fast that his favorite meal of all time was tacos.
Now we aren't talking about street tacos but he was obsessed with classic ground beef tacos with crispy shells. We literally ate them at least once a week!
To this day, this is one of the go-to meals that he wants me to make so it is shocking that these homemade tacos haven't made their debut on Modern Honey yet.
These Ground Beef Tacos are so easy, super delicious, and can be made in less than 30 minutes. Plus these tacos are customizable so you can top them with all of your favorite toppings.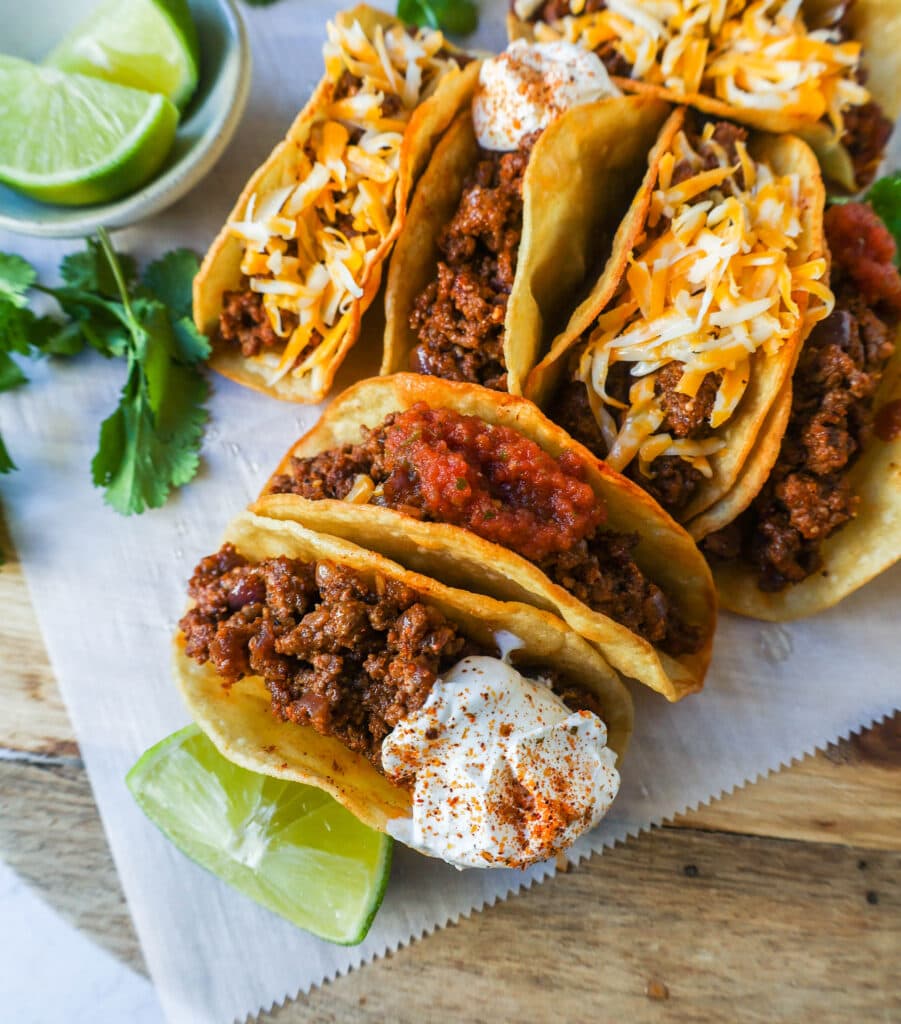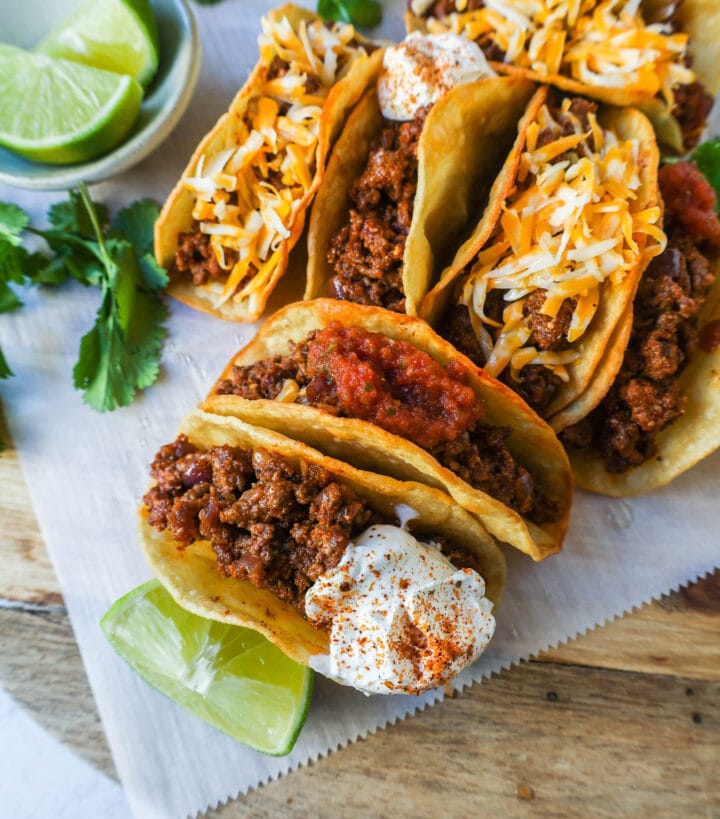 What do I love about these Homemade Tacos?
The spiced ground beef has the perfect blend of taco seasoning plus tomato sauce to keep it from getting too dry and crumbly.
The freshly fried taco shells are a huge difference-maker! They take no time at all and make a big difference in flavor.
My family loves them! My kids and husband are always happy when tacos are served so that makes my job easier.
Ground Beef Taco Ingredients:
Ground Beef -- I suggest using 80-85% lean ground beef in this recipe. If you use 80/20 ground beef, you will have some extra grease. You can drain it or blot the grease with a paper towel.
Onion -- use diced red, white, or yellow onions in these homemade tacos.
Taco Seasoning -- is made up of spices like chili powder, cumin, paprika, onion powder, and garlic powder. If you want extra flavor, add more taco seasoning.
Tomato Sauce -- this helps to keep the ground beef extra moist, tender, and flavorful. Buy the tomato sauce without any add-ins (such as oregano, basil, etc).
Corn Tortillas -- I suggest using white corn tortillas in this recipe.
Oil -- use basic cooking oils like canola or vegetable to fry the corn tortilla shells.
Pepper
Ground Beef Taco Toppings:
Cheese
Guacamole
Salsa
Sour Cream
Diced Fresh Tomatoes
Lettuce
The sky is the limit with the toppings on tacos. You can also drizzle on some queso, sprinkle on some green onions, pour on the hot sauce, or sprinkle with cilantro.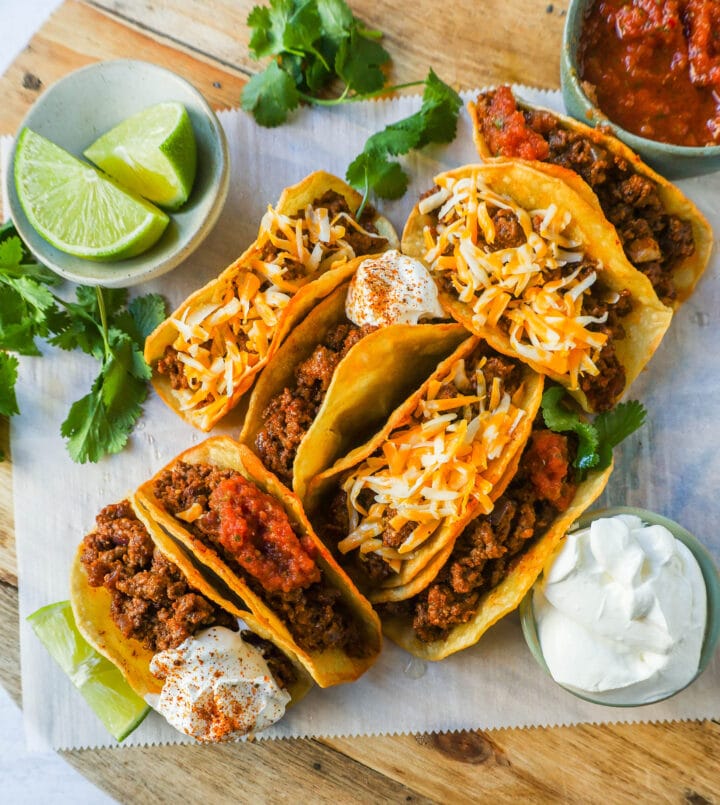 Q & A:
What should I serve with tacos?
You can serve a homemade queso dip, make your own homemade salsa, make homemade guacamole, or serve cowboy caviar with chips.
You can also serve the tacos with Mexican rice or beans.
Do you have other taco recipes?
How much ground beef per person?
I would suggest about 1 lb of ground beef for 3-4 people, depending on how many tacos they will eat.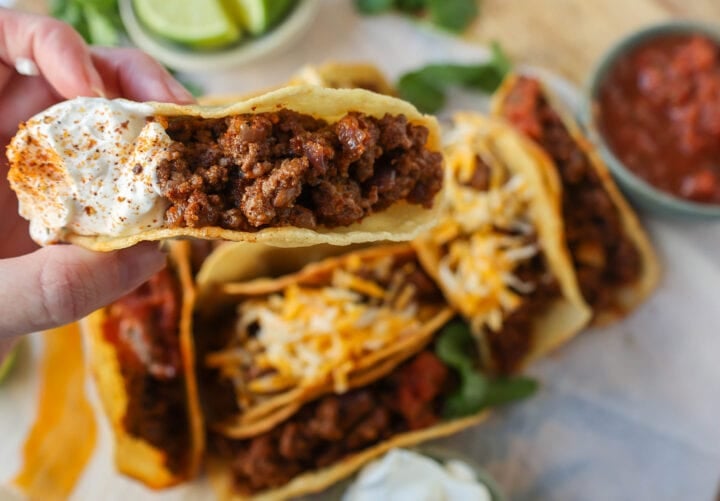 How to make Beef Tacos:
Step 1: Start off by sauteeing the onion in oil until it is tender. Once it is tender, add the ground beef and break it up with a wooden spoon. Cook until the ground beef is browned and no longer pink. Blot any extra grease from the pan using a paper towel.
Step 2: Add the taco seasoning, pepper, and tomato sauce. Stir to coat the ground beef.
Step 3: Heat oil in a skillet. Once it is heated, fry the corn tortillas on both sides, remove the tortillas, and fold them in half to form their taco shape. I like to use tongs for this action.
Step 4: Place the fried taco shells on paper towels to drain.
Step 5: Fill the tortillas with the ground beef mixture. Top with cheese, salsa, sour cream, guacamole, or any other toppings you would like!
Step 6: Serve warm.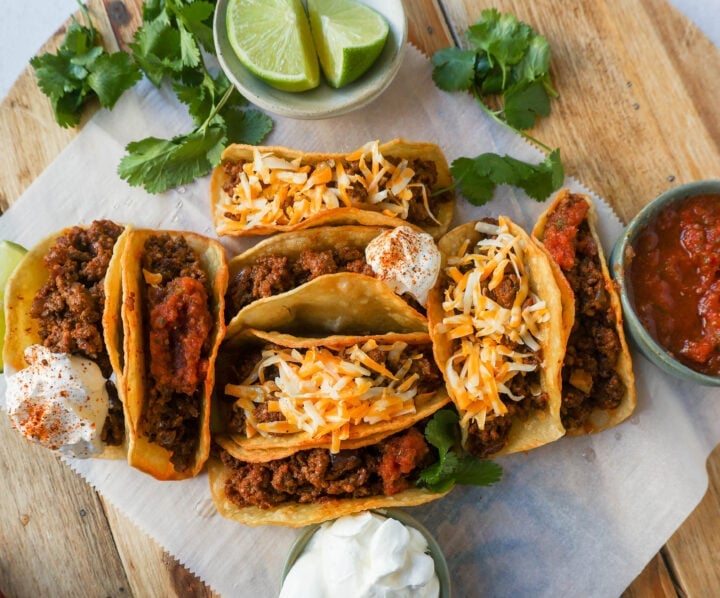 I love to hear from you! If you make this recipe, please be sure to leave a comment and give this recipe a rating. If you make any of my recipes, tag me on Instagram @modern_honey so I can see your creations. It's one of my favorite things to see you make these recipes in your own kitchen. Sign up for my newsletter below so you never miss a recipe. Thank you for following along! I truly do have the greatest readers. FOLLOW ME ON: INSTAGRAM --- FACEBOOK --- PINTEREST