This is the best homemade salsa recipe! Fresh salsa made with the freshest of ingredients — tomatoes, cilantro, jalapeno, green onions, and a secret ingredient makes this homemade salsa taste like it's from an authentic Mexican restaurant!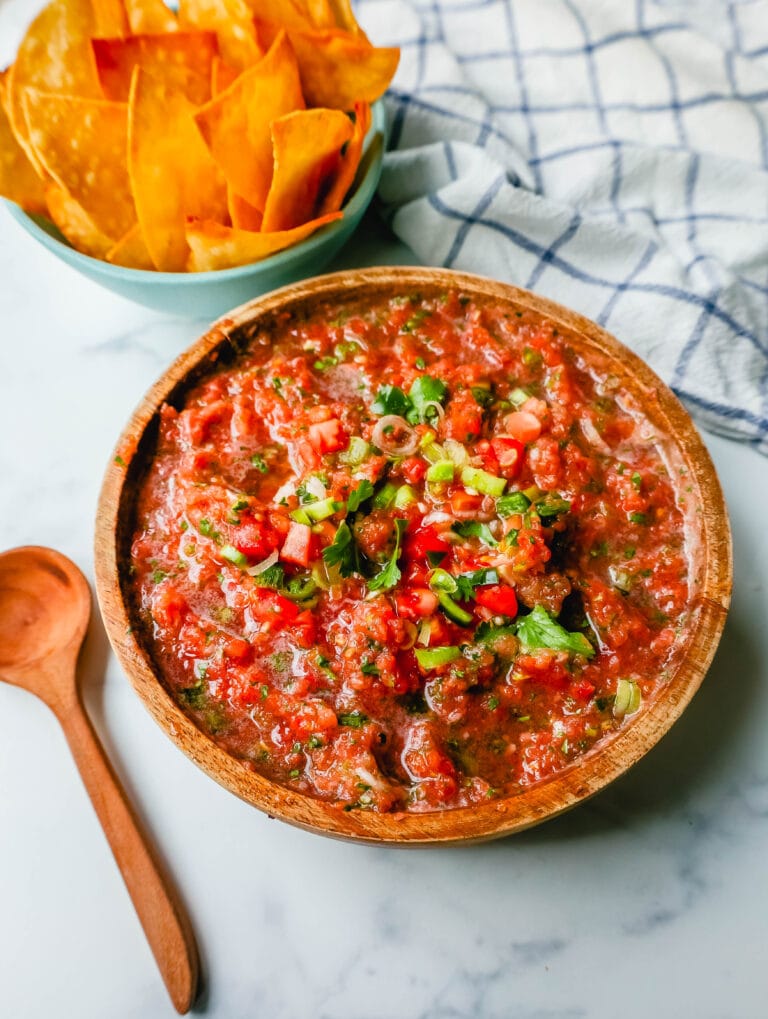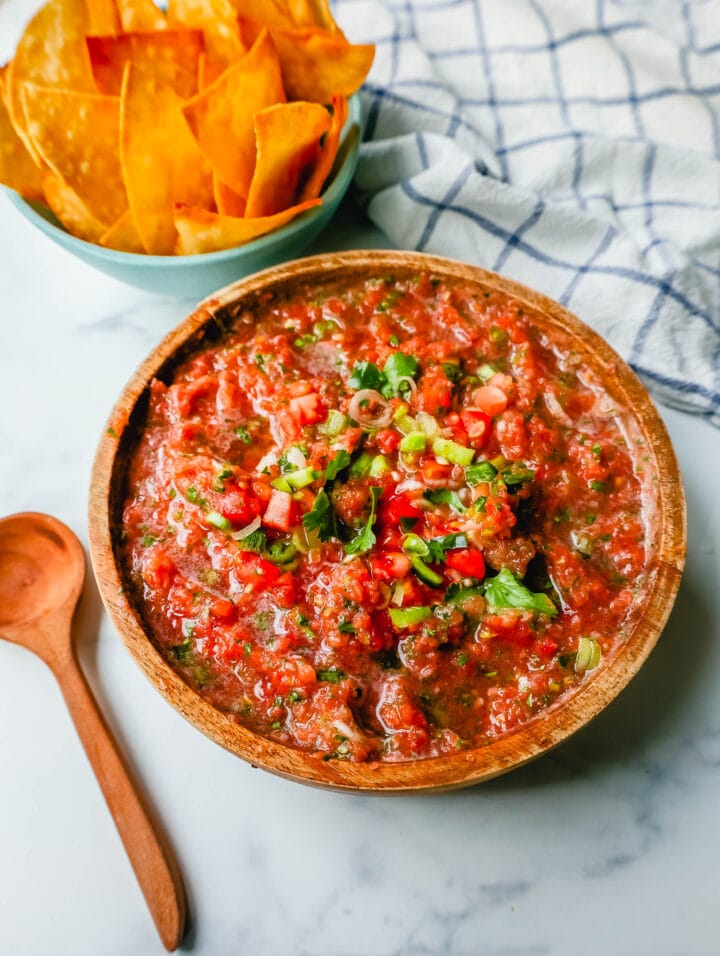 My husband is a salsa connoisseur. If you know him well, you have probably tasted his homemade salsa. It is his favorite thing to make for friends and family. So many people have asked for his famous salsa recipe so I am sharing it with all of you!
We are sharing the secrets to making the most delicious salsa. It is super fresh, healthy, and can be made as mild or as hot as you prefer. This is the best homemade salsa recipe!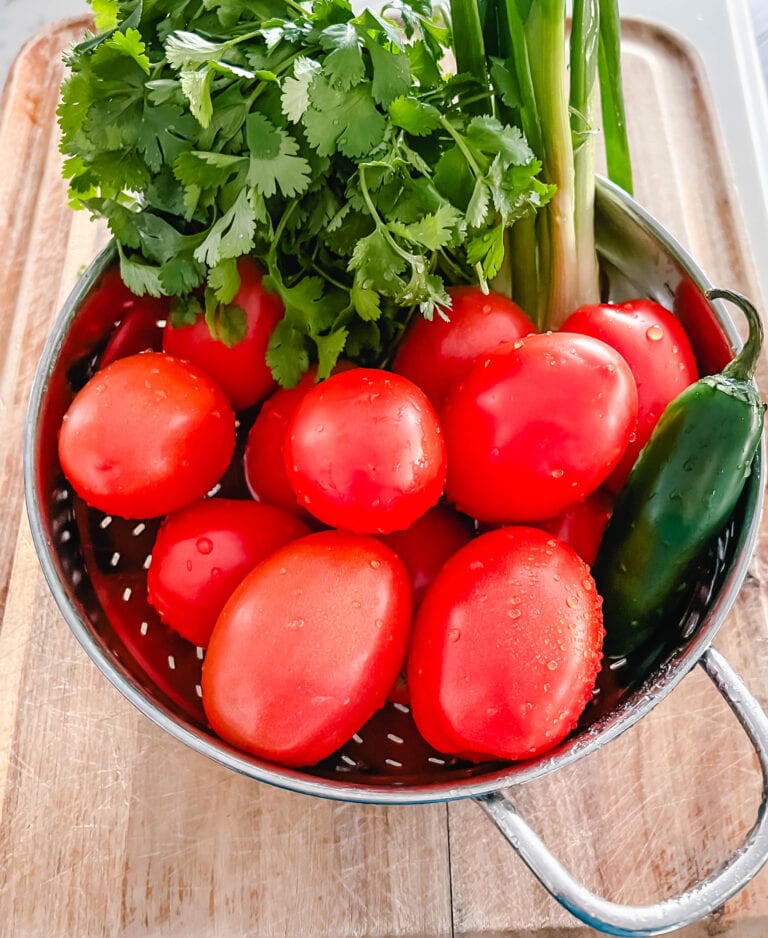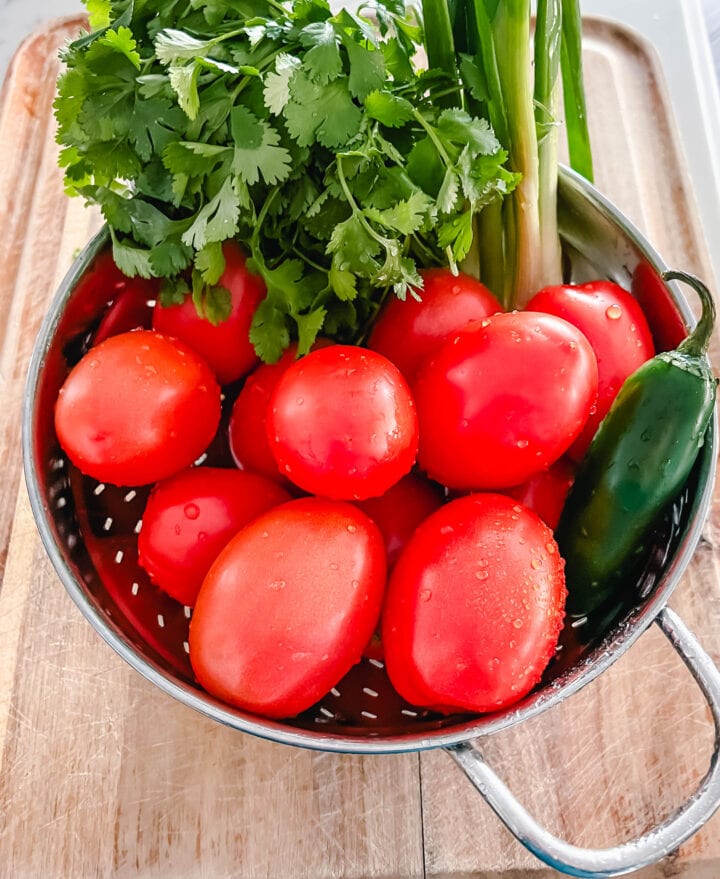 Homemade Salsa Ingredients:
This restaurant-style salsa is made with fresh ingredients. This is the secret to making the best salsa! Here is everything you need to make the most delicious salsa easily at home:
Roma Tomatoes — try to find ripe, red, yet firm roma tomatoes for this fresh salsa recipe.
Fresh Cilantro — use a full, fresh bunch of cilantro for this recipe. Try to use only the cilantro leaves and remove most of the stems.
Jalapeno — if you want a spicier salsa, leave in all of the seeds and center membrane because that is where most of the heat comes from.
White or Green Onions — I love to use green onions in this recipe because they are milder than a typical white or yellow onion and won't overpower the homemade salsa.
Garlic Salt — this gives both the flavor of garlic and salt in one! You can substitute granulated garlic or garlic powder and salt for garlic salt.
Pato de Salsa de Chile Fresco (optional) — this is a canned taco sauce found in the Mexican aisle. If you want a little more spice and flavor, add this in to the fresh salsa.
For extra fresh flavor, you may add in some freshly squeezed lime juice.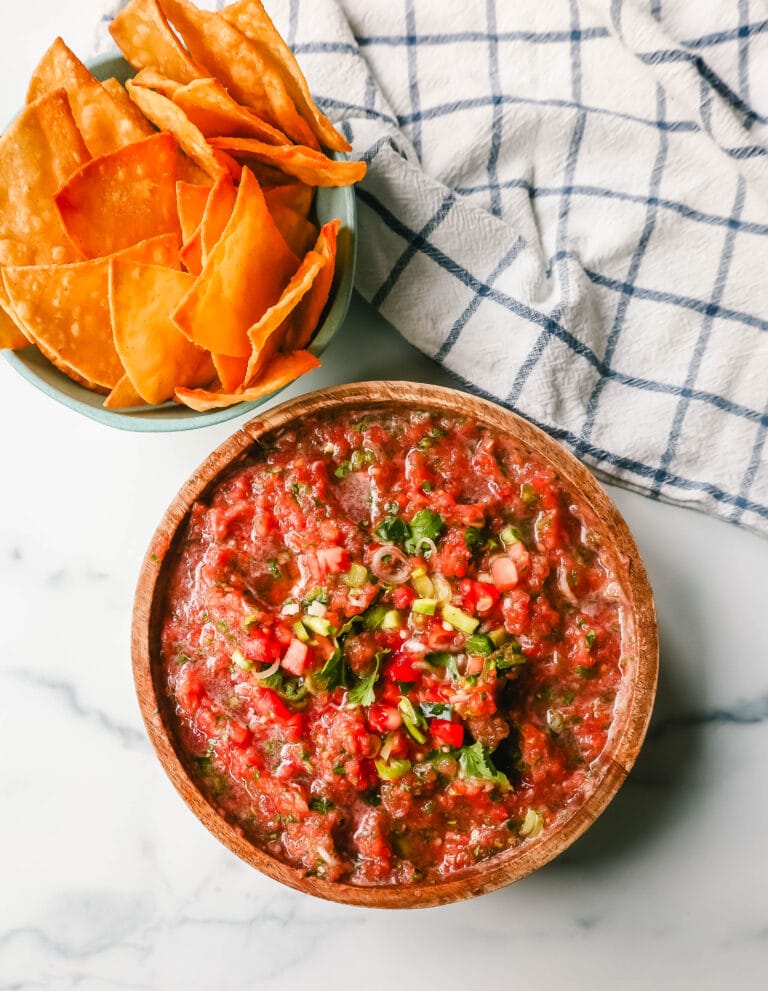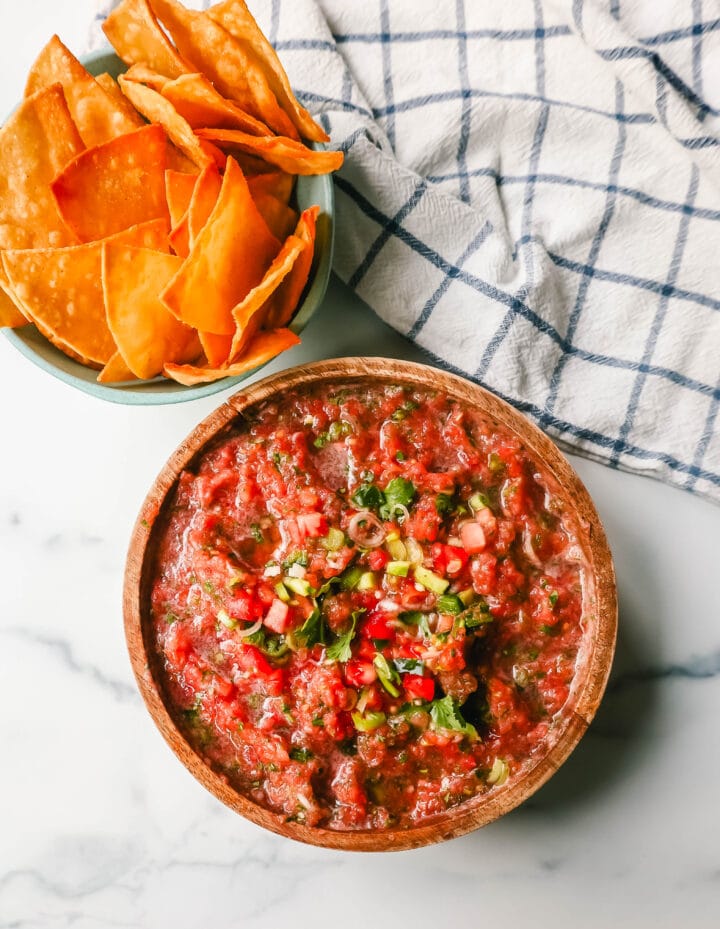 How to Make the Best Salsa:
This is the easiest fresh homemade salsa recipe. Here's how to make salsa:
Roughly chop the roma tomatoes, fresh cilantro (remove those stems!), jalapeno, and green onions.
Add fresh salsa ingredients to a food processor. Don't over-pulse the salsa or it will become too pureed and foamy.
Add in seasonings and keep tasting until the salt is just right.
Tips for making the Best Salsa:
Use the freshest produce! Pick out your salsa ingredients and choose the ripest tomatoes you can find.
Don't over mix the salsa in a food processor.
Hand chop some extra tomato, cilantro, green onions, and jalapeno to garnish the top of the salsa to add some extra chunks.
Let the homemade salsa chill in the refrigerator first to allow the flavors to meld together for an even more delicious salsa.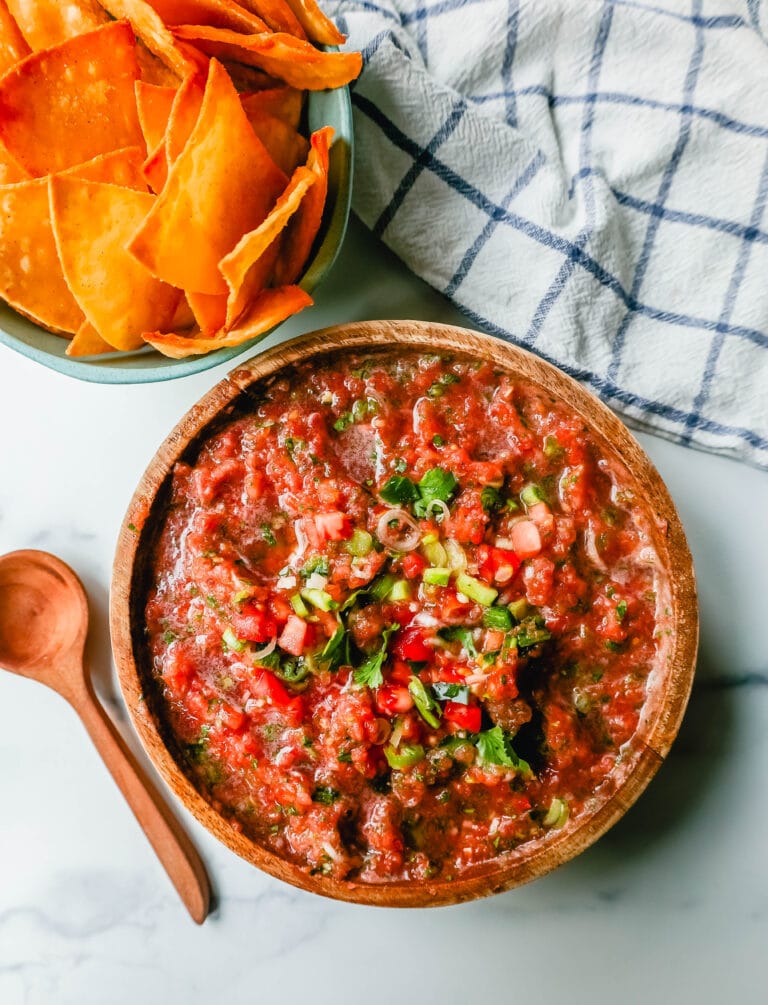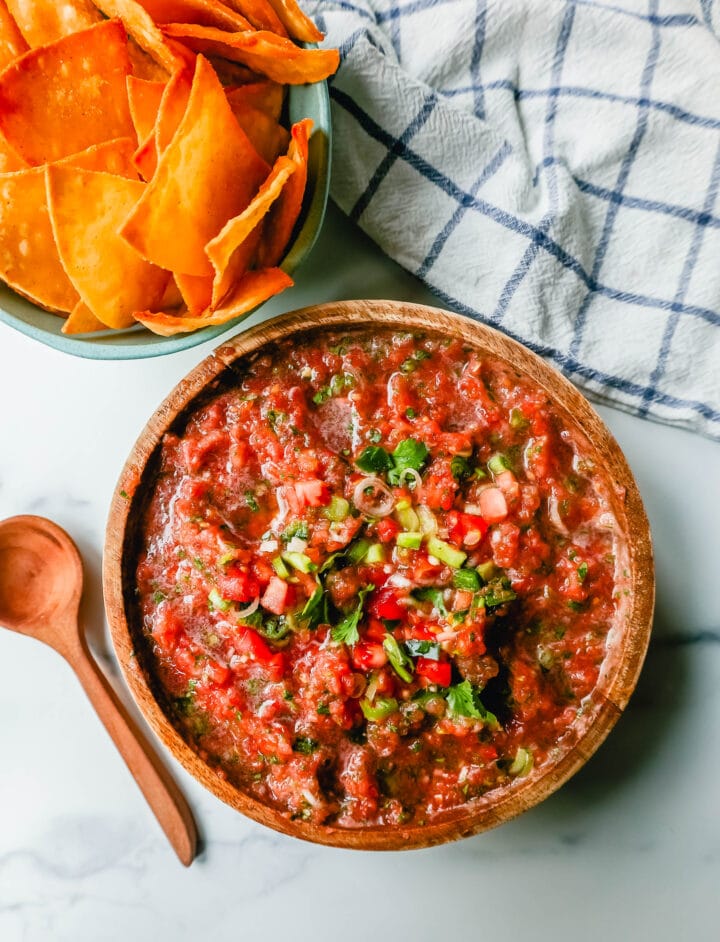 What if I Don't Own a Food Processor?
This salsa recipe is easiest to make in a food processor because it takes 30 seconds! But if you don't own a food processor, there are a few other options.
This homemade salsa can be made in a blender. Since there isn't a pulse option on every blender, make sure not to over-blend the salsa.
You may chop up the salsa ingredients by hand and then stir everything together in a bowl.
How Long Will Fresh Salsa Last?
This salsa should last for about 5-7 days if stored in a sealed container in the refrigerator.
How to store homemade salsa:
Store in a tightly sealed container in the refrigerator until ready to serve.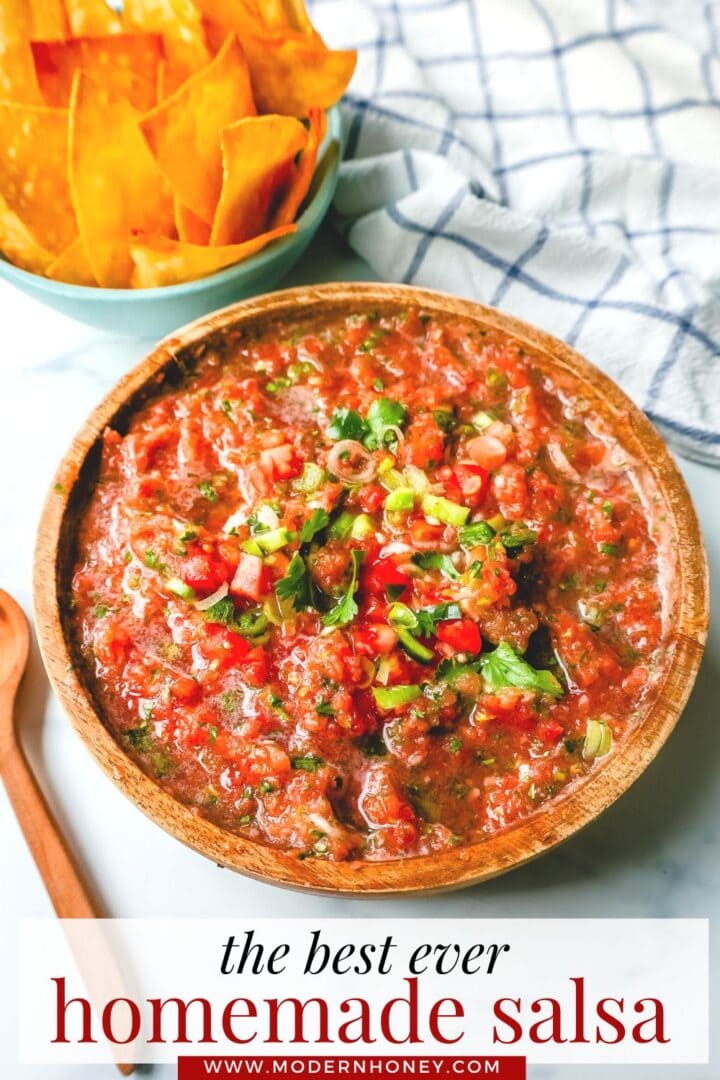 This salsa recipe was updated on 12/30/2022. Below is the previous salsa post. Keep scrolling to find the salsa recipe below.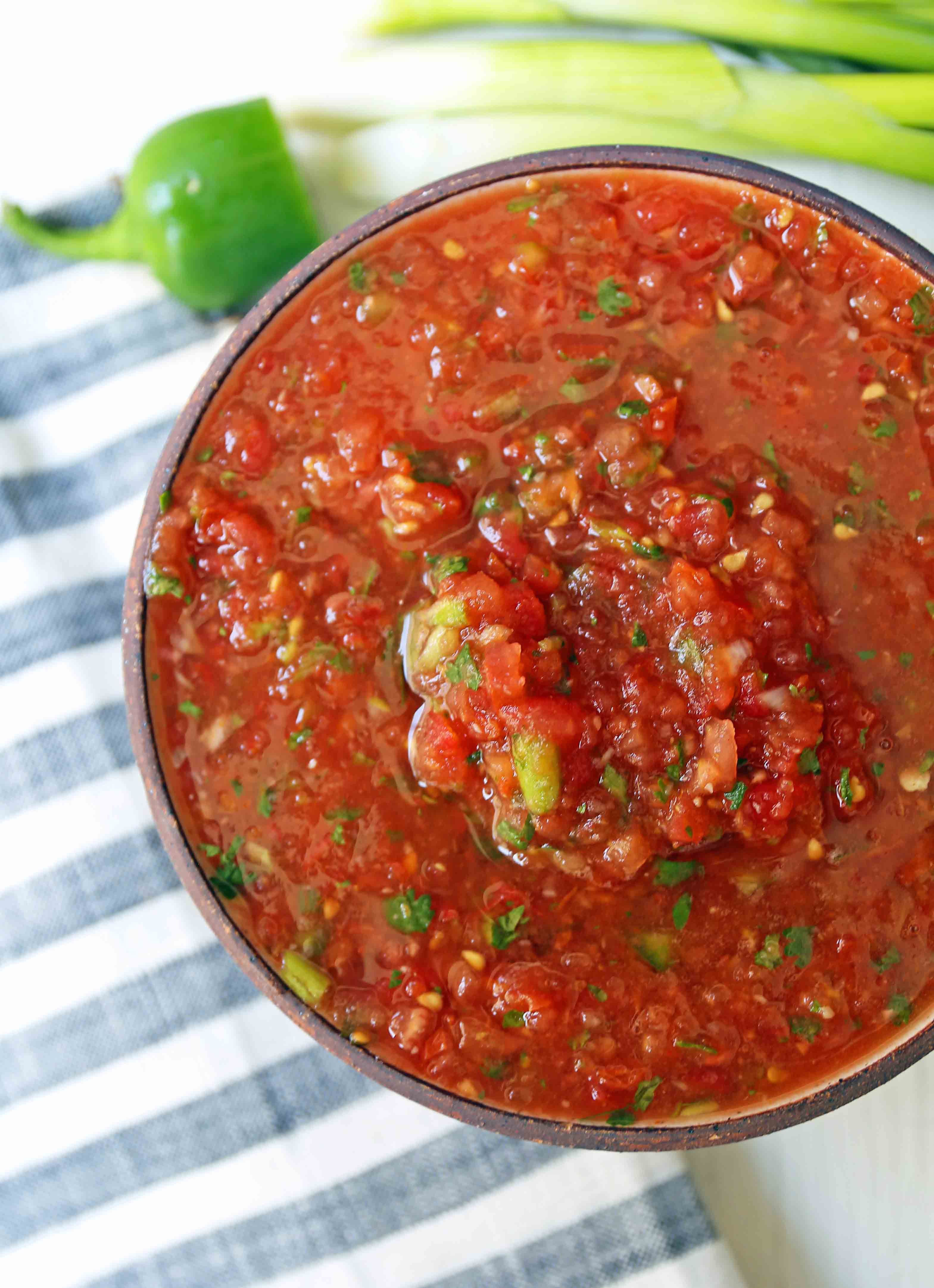 Homemade Restaurant Style Salsa
Everyone needs a perfect salsa recipe. A tried and true homemade salsa recipe that will be the ultimate crowd-pleaser. This is such a simple, fresh salsa recipe!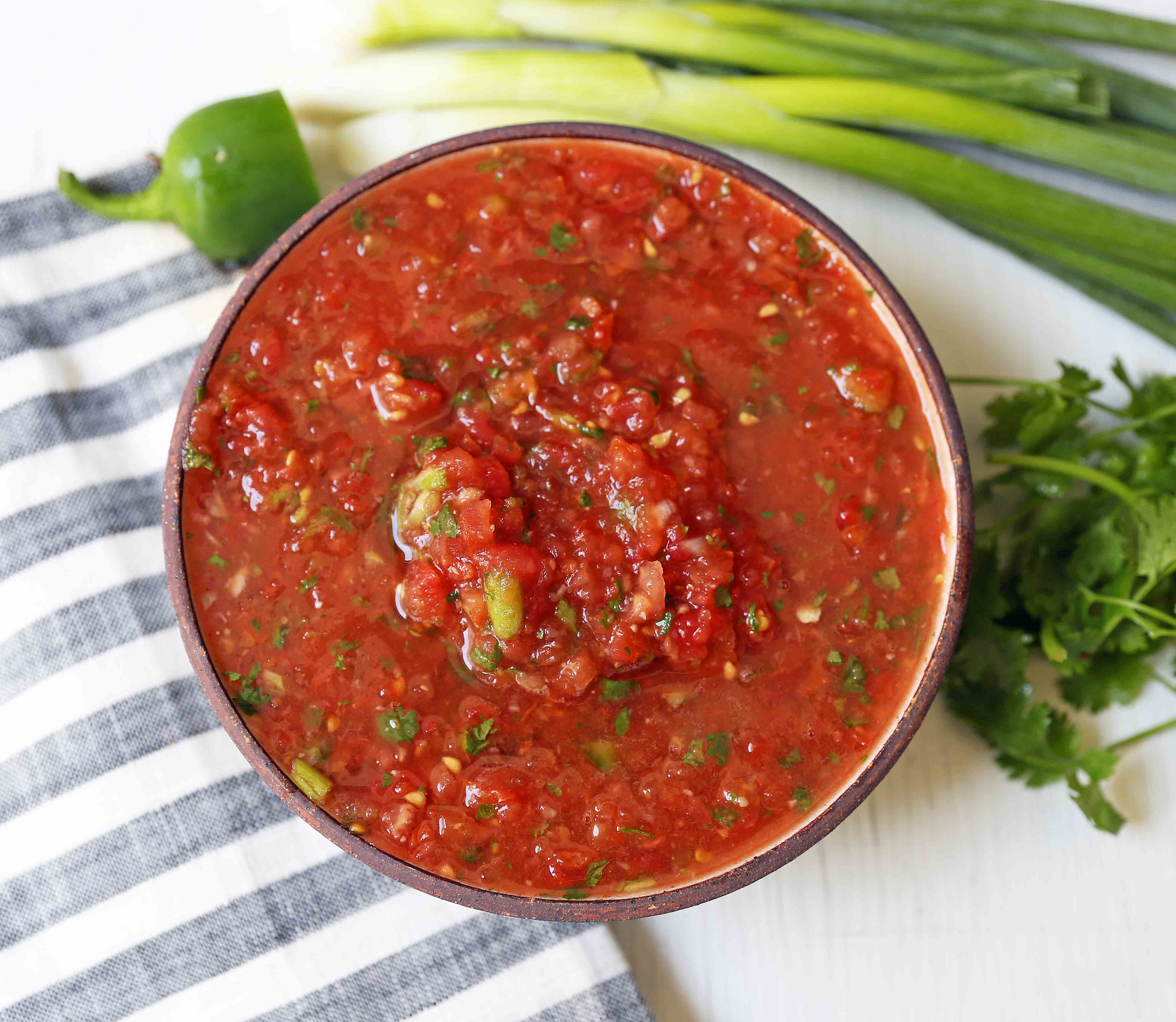 My husband could eat chips and salsa for every single meal. He used to go to restaurants and bring home salsa in large styrofoam containers. It was super pricey! I decided that 8 bucks for a pint of salsa was ridiculous and wanted to create my own Homemade Restaurant Style Salsa. He hasn't gone back since.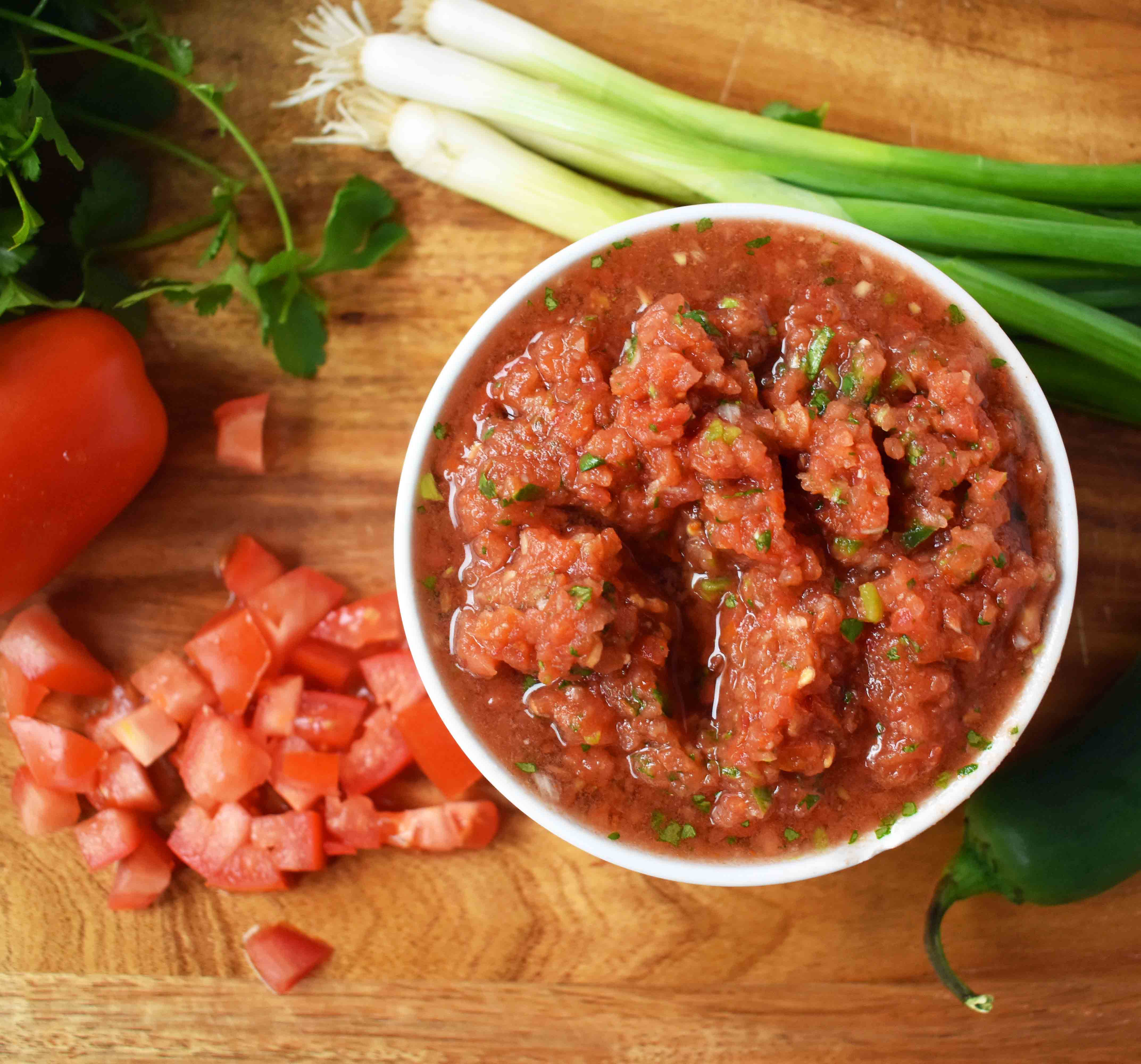 This recipe costs less than $2-3 to make, depending on the price of produce where you live. Did you know a jalapeno usually costs about 4 cents each? That is crazy! Plus it's made with all of the fresh ingredients and you know exactly where they came from!
What ingredients are in Homemade Salsa?
Roma Tomatoes
Fresh Cilantro
Jalapeno
White or Green Onions
Garlic Salt
Pato de Salsa de Chile Fresco (optional)
The key to this salsa is the combination of fresh ingredients such as vibrant roma tomatoes, fresh cilantro, green onions, jalapenos, and a secret ingredient. I found that white or yellow onions can overpower the salsa and heaven forbid you to get so lucky to pick a strong one that makes you shed major tears. We tried this salsa with green onions and loved the subtle flavor it gave the salsa without being too overpowering. There were no tears in the house using green onions!
Now there's a secret ingredient in this Homemade Salsa with fresh tomatoes that sets it apart. My sister-in-law (hi Sarah!) told me this secret and it is a huge difference-maker in this easy salsa recipe.
It's in a little yellow can and it's called El Pato Salsa de Chile Fresco. It's only about 59 cents and gives such a rich depth of flavor to this fresh salsa. It can be found in the Mexican food aisle of all major grocery stores.
Since my husband requests this salsa with fresh tomatoes so often, I finally showed him how to make it. Now he is officially obsessed. He runs to the store 1-2 times per week to whip up batches for the week. As soon as he walks in the door from work, he pulls out his chips and salsa and eats his appetizer before dinner.
This fresh salsa recipe is super simple and can be whipped up in a food processor in less than 5 minutes.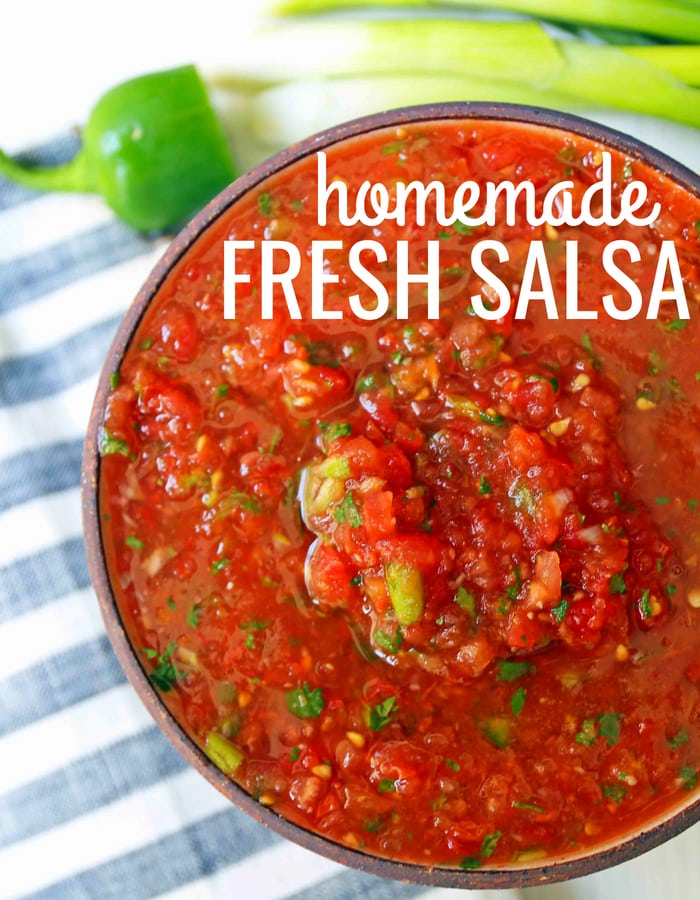 Pin this now to find it later
Pin It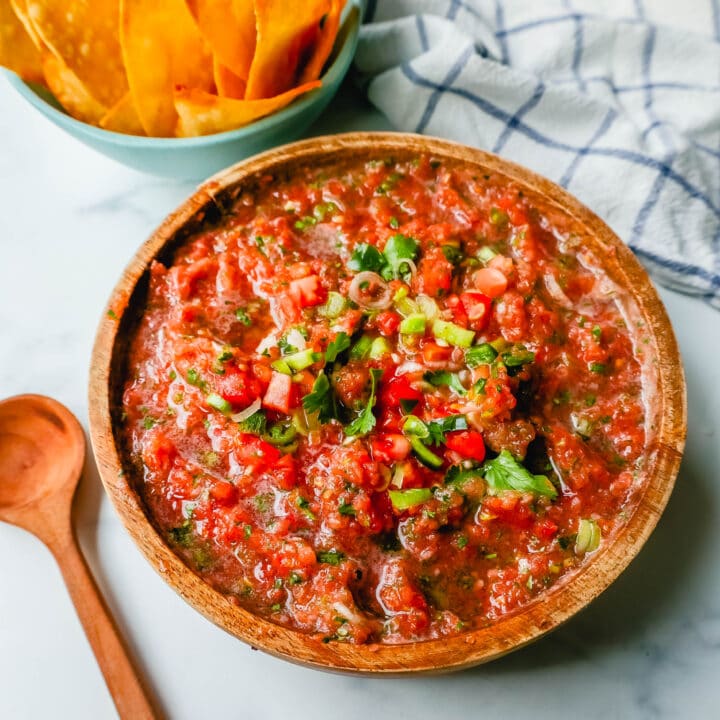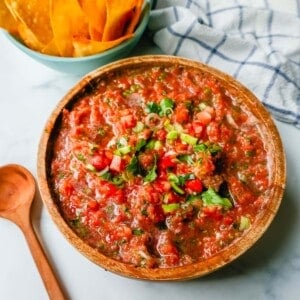 Homemade Restaurant Style Salsa
Homemade Restaurant Style Salsa with a simple secret ingredient that sets it apart!
Ingredients
10

Roma Tomatoes

1

cup

Fresh Cilantro Leaves

(about 1 bunch of cilantro, tightly packed)

1

Jalapeno

deseeded*

1 to 2

teaspoons

Garlic Salt *

(or to taste, start with 1 teaspoon if using the el pato salsa)

4

Green Onions

sliced

(1)

7.75 ounce

can El Pato Salsa de Chile Fresco

(optional)
Instructions
Combine the tomatoes (set aside 1 tomato for garnish on top), cilantro, jalapeno, and garlic salt in a blender or food processor. Set aside some tomato, cilantro, and green onion to hand chop to garnish the salsa.

Stir in sliced green onions and el pato sauce.

Taste and season accordingly. Start with 1 teaspoon of garlic salt and keep adding to taste. This recipe uses all fresh ingredients so the fresh tomatoes soak up the salt. If you don't use the canned el pato salsa, you will need to add more garlic salt to the recipe.

Sprinkle the top with the hand chopped tomatoes, green onions, and cilantro to make it more chunky. Refrigerate the salsa for at least an hour to give time for flavors to develop.

*May use 1/2 jalapeno if you want a mild salsa. Most of the heat is located in the seeds and inner membrane. Remove those for a mild flavor. If you like heat, add the entire jalapeno!
Notes
If you don't use the el pato sauce, you will need more garlic salt. We like to make the salsa has enough flavor so keep adding garlic salt to taste. If you use only the fresh ingredients, and not the canned salsa, you will need more garlic salt than listed on the recipe.
Nutrition
Calories:
11
kcal
,
Carbohydrates:
2
g
,
Sodium:
197
mg
,
Potassium:
140
mg
,
Sugar:
1
g
,
Vitamin A:
575
IU
,
Vitamin C:
9.6
mg
,
Calcium:
9
mg
,
Iron:
0.2
mg
Nutrition information is automatically calculated, so should only be used as an approximation.
I hope you love this Homemade Restaurant Style Salsa as much as we do! Thanks for all of the love and support. Have a great day, my friends!