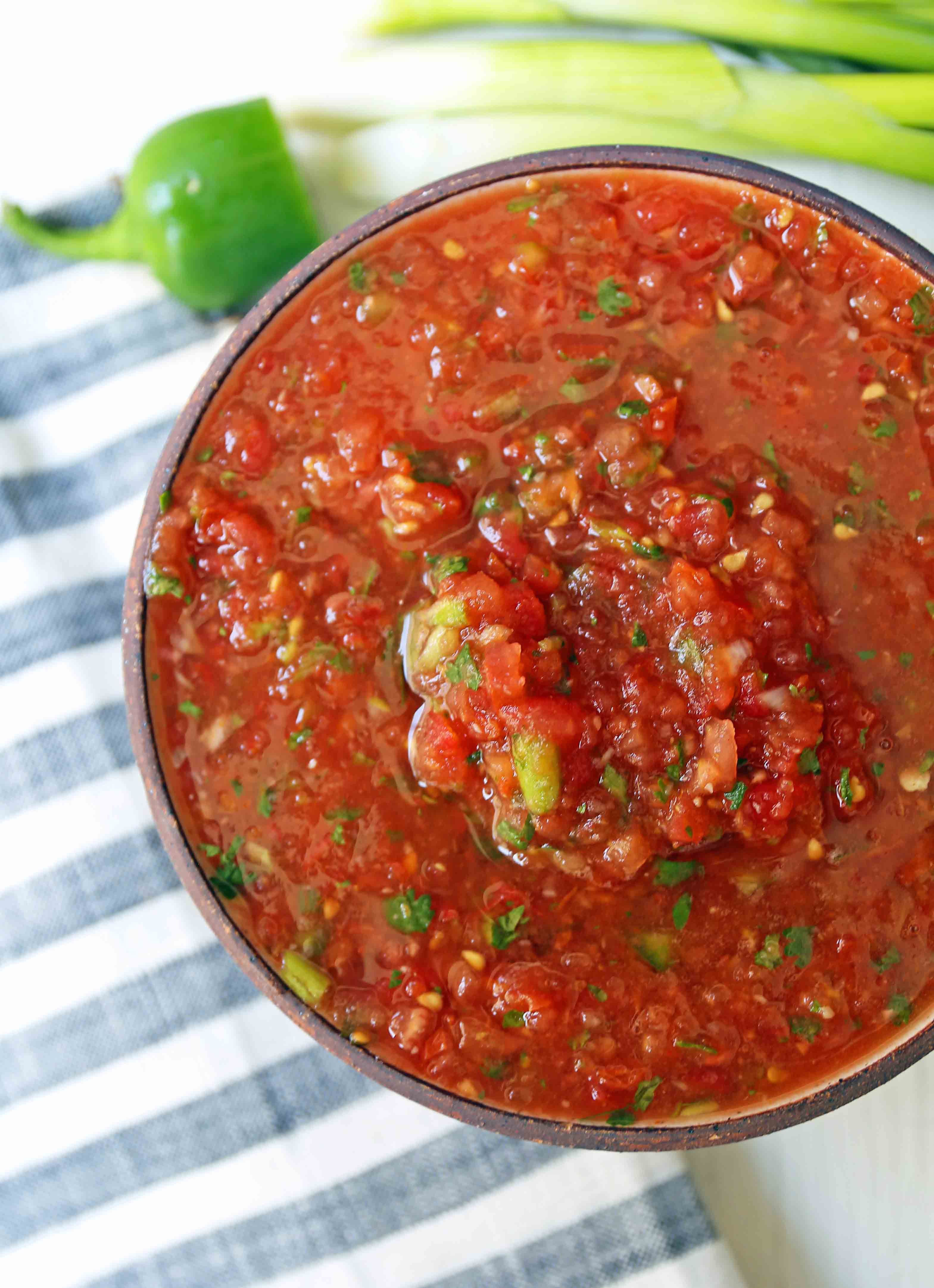 Homemade Restaurant Style Salsa
Fresh salsa made with the freshest of ingredients -- tomatoes, cilantro, jalapeno, green onions, and a secret ingredient makes this homemade salsa taste like it's from an authentic Mexican restaurant!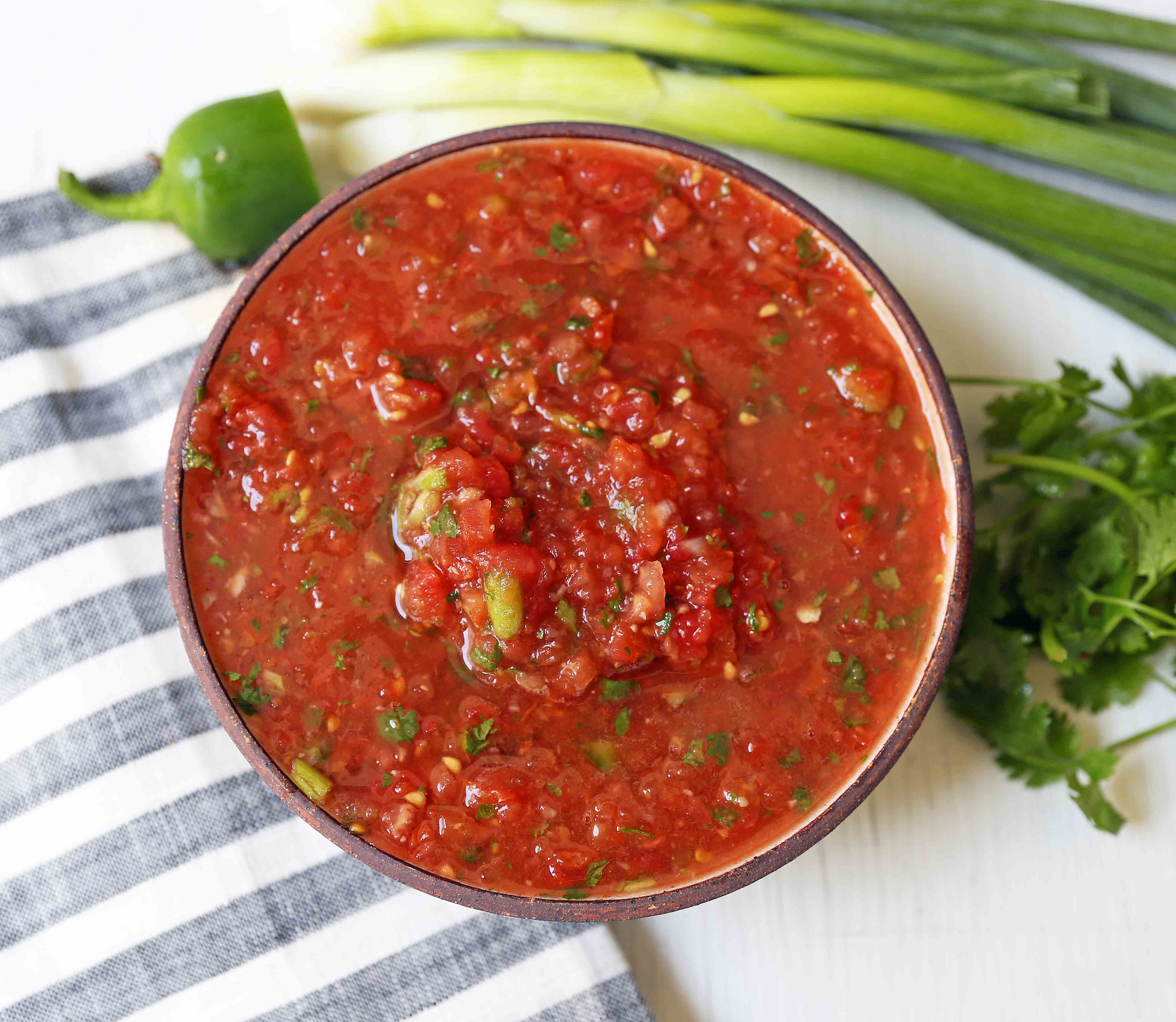 Everyone needs a solid salsa recipe. A tried and true homemade salsa recipe that will be the ultimate crowd pleaser.
My husband could eat chips and salsa for every single meal. He used to go to restaurants and bring home salsa in large styrofoam containers. It was super pricey! I decided that 8 bucks for a pint of salsa was ridiculous and wanted to create my own Homemade Restaurant Style Salsa.
He hasn't gone back since.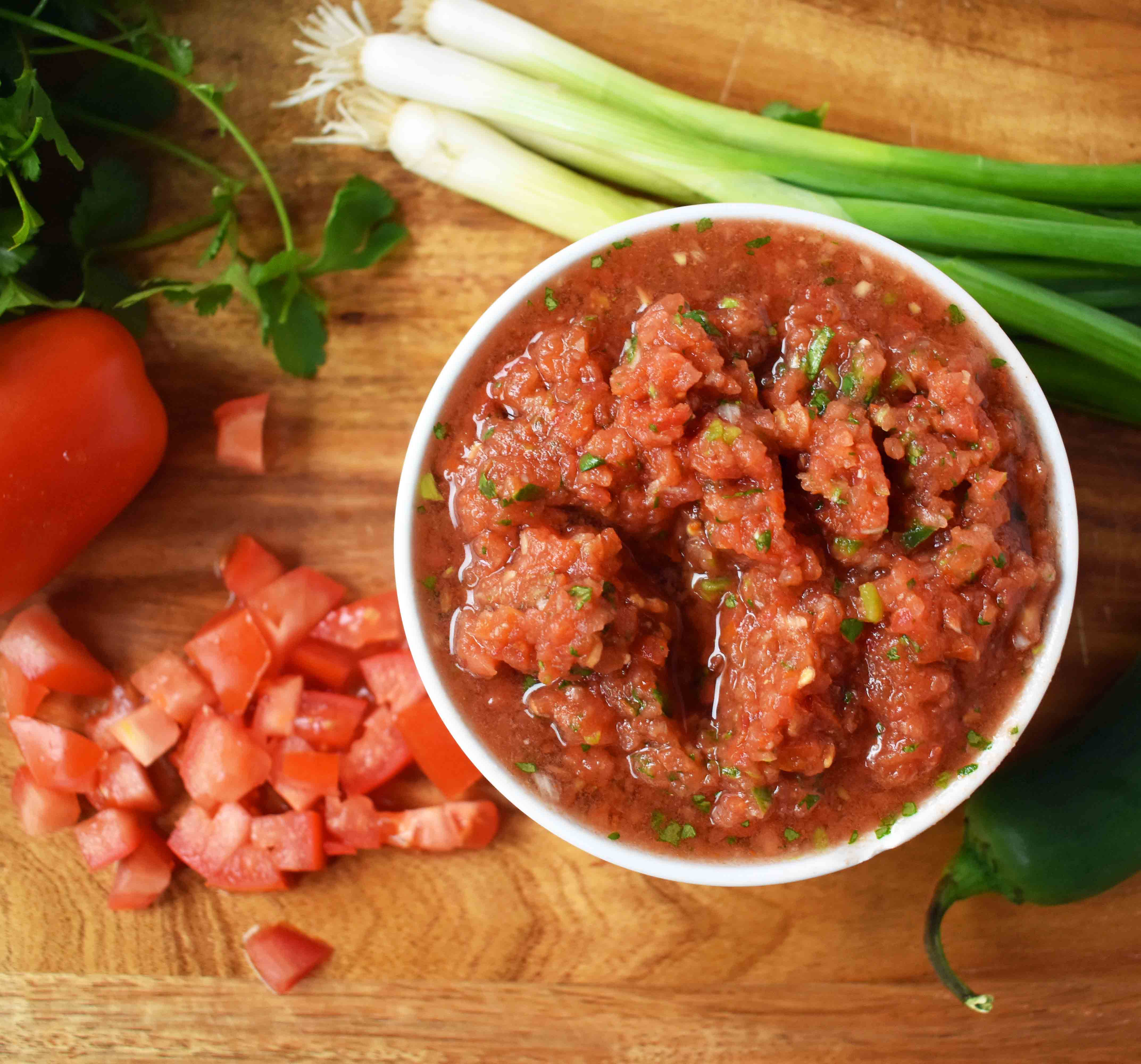 This recipe costs less than $2-3 to make, depending on the price of produce where you live. Did you know a jalapeno usually costs about 4 cents each? That is crazy! Plus it's made with all of the fresh ingredients and you know exactly where they came from!
What ingredients are in Homemade Salsa?
Roma Tomatoes
Fresh Cilantro
Jalapeno
White or Green Onions
Garlic Salt
Pato de Salsa de Chile Fresco (optional)
The key to this salsa is the combination of fresh ingredients such as vibrant roma tomatoes, fresh cilantro, green onions, jalapenos, and a secret ingredient. I found that white or yellow onions can overpower the salsa and heaven forbid you to get so lucky to pick a strong one that makes you shed major tears.
We tried this salsa with green onions and loved the subtle flavor it gave the salsa without being too overpowering. There were no tears in the house using green onions!
Now there's a secret ingredient in this Homemade Salsa with fresh tomatoes that sets it apart. My sister-in-law (hi Sarah!) told me this secret and it is a huge difference-maker in this easy salsa recipe.
It's in a little yellow can and it's called El Pato Salsa de Chile Fresco. It's only about 59 cents and gives such a rich depth of flavor to this fresh salsa. It can be found in the Mexican food aisle of all major grocery stores.
Since my husband requests this salsa with fresh tomatoes so often, I finally showed him how to make it. Now he is officially obsessed. He runs to the store 1-2 times per week to whip up batches for the week. As soon as he walks in the door from work, he pulls out his chips and salsa and eats his appetizer before dinner.
This fresh salsa recipe is super simple and can be whipped up in a food processor in less than 5 minutes.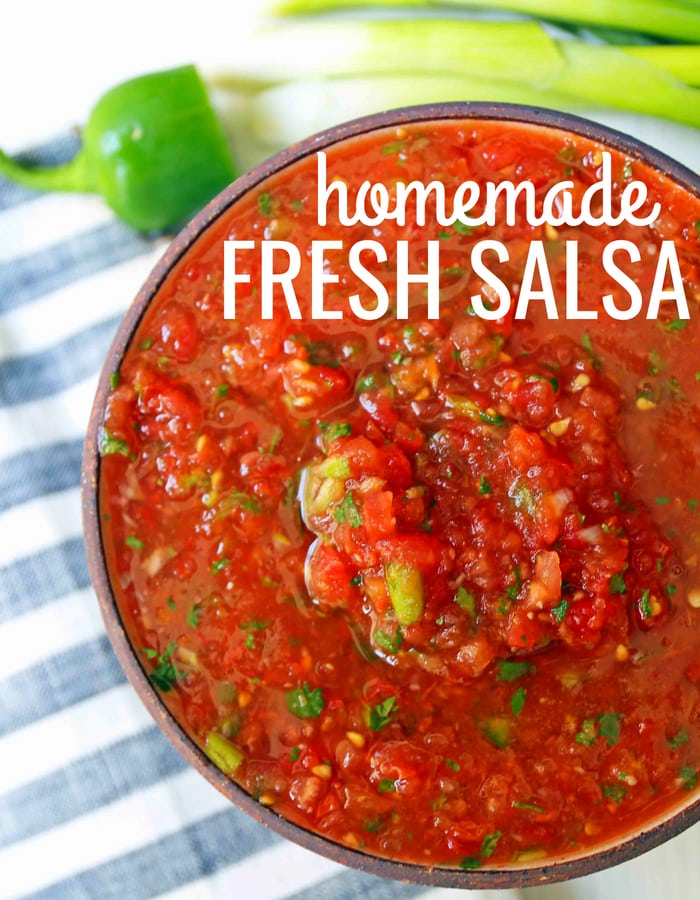 I hope you love this Homemade Restaurant Style Salsa as much as we do! Thanks for all of the love and support. Have a great day, my friends!