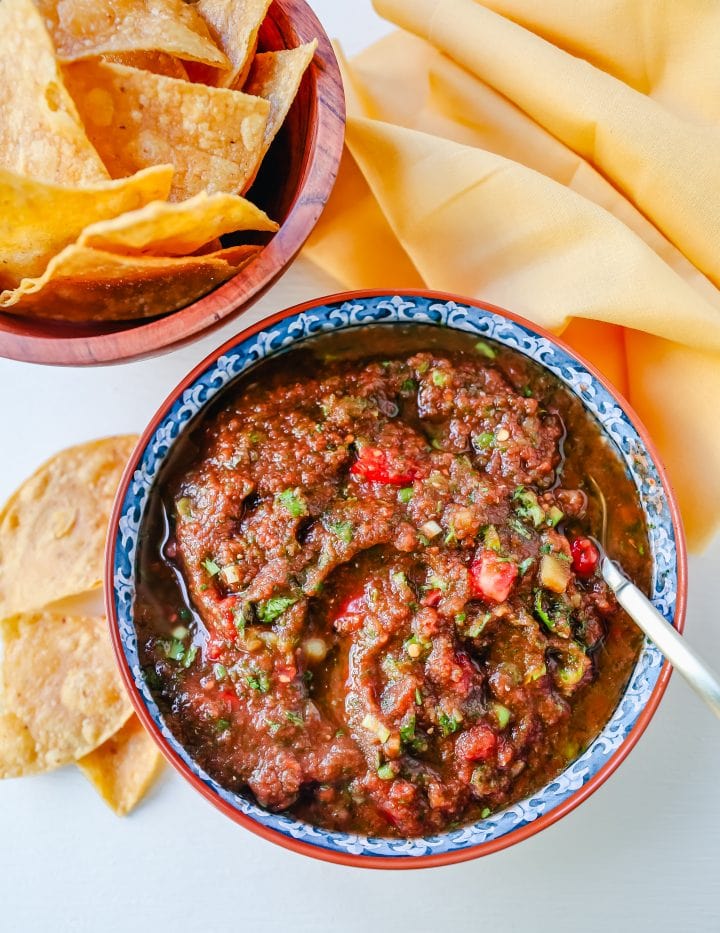 Easy Homemade Salsa made with canned tomatoes, cilantro, jalapeno, green chilies, green onions, and salt. This is easy homemade salsa and can be made in a blender in 5 minutes!
This homemade salsa is a recipe you need to have in your back pocket. It is a fresh salsa recipe that is quick and easy and can be whipped up in no time. Need to feed some hungry teenagers? Feed them chips and salsa. Need a quick and easy appetizer? The answer is chips and salsa.
My husband, Dean, is our homemade fresh salsa guy. He makes it at least once a week and delivers it to his friends or the youth in our church. His Restaurant-Style Salsa Recipe made with fresh roma tomatoes can be found here and everyone loves it.
There are a few differences since his recipe calls for fresh tomatoes and this tomato salsa recipe simplifies things a bit. This blender salsa is made with canned tomatoes which are so nice because it is a pantry staple. Also, you always know what you are going to get. The canned tomatoes are picked at their peak ripeness so you ensure red, juicy tomatoes. I love the simplicity of using canned tomatoes.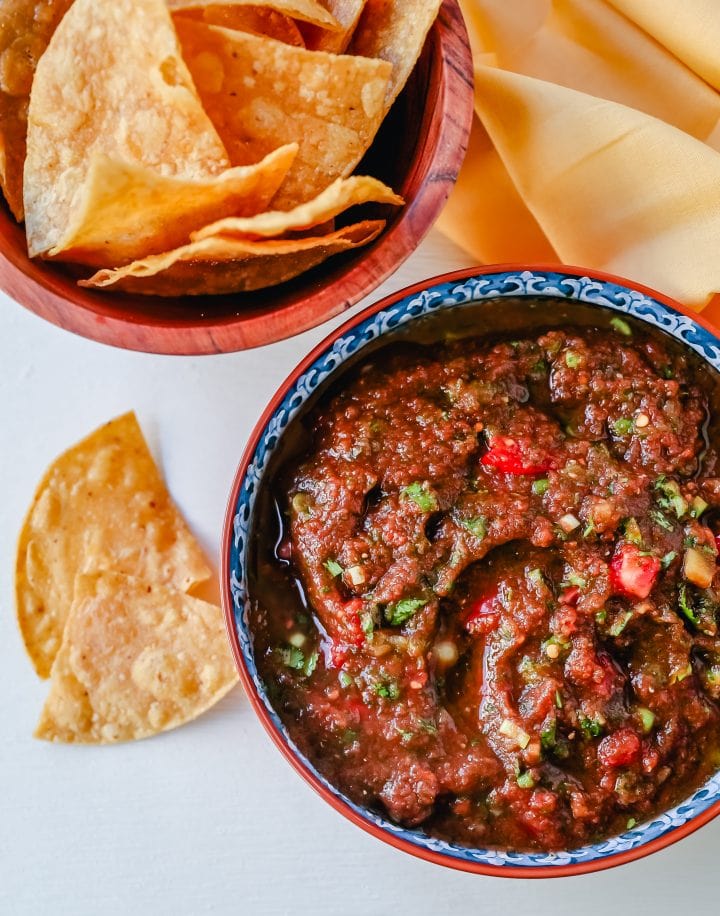 What ingredients are in Homemade Salsa?
Canned Tomatoes,
Fresh Cilantro Leaves
Jalapeno
Diced Green Chilies
White or Green Onions
Chopped Roma Tomato
Salt
All you do to make this homemade blender salsa is to throw a can of whole tomatoes (or diced or whatever you have on hand), fresh cilantro leaves, and jalapeno in a blender and blend it for several seconds until it is pureed. Then pour the easy homemade salsa into a bowl and add a can of diced green chilies, sliced green onions, and 1-2 diced tomatoes to add a little chunkiness. Salt to taste is an important step because you need to add enough salt to bring out the flavor of the salsa. If you think the salsa is too bland, add more salt.
What type of tomatoes should I use in homemade Salsa?
When making homemade salsa, we reach for fresh roma tomatoes. They are the perfect balance of firmness and flavor. When we make this easy homemade salsa, we use a combination of canned tomatoes and diced fresh roma tomatoes to give it some chunkiness and fresh flavor. Using canned tomatoes in salsa gives it a consistent flavor because they usually always taste the same. You can make this homemade salsa with rotel tomatoes which has a lot of flavor due to the chiles and cilantro.
I love to use my Vitamix blender to make this salsa because it literally takes 5-10 seconds to whip it all together. It is so high-powered. But any blender or even food processor will work!