Homemade Fresh Mango Salsa with ripe mango, red peppers, cilantro, red onion, jalapeno, lime juice, salt, and a touch of honey. The freshest and best mango salsa recipe!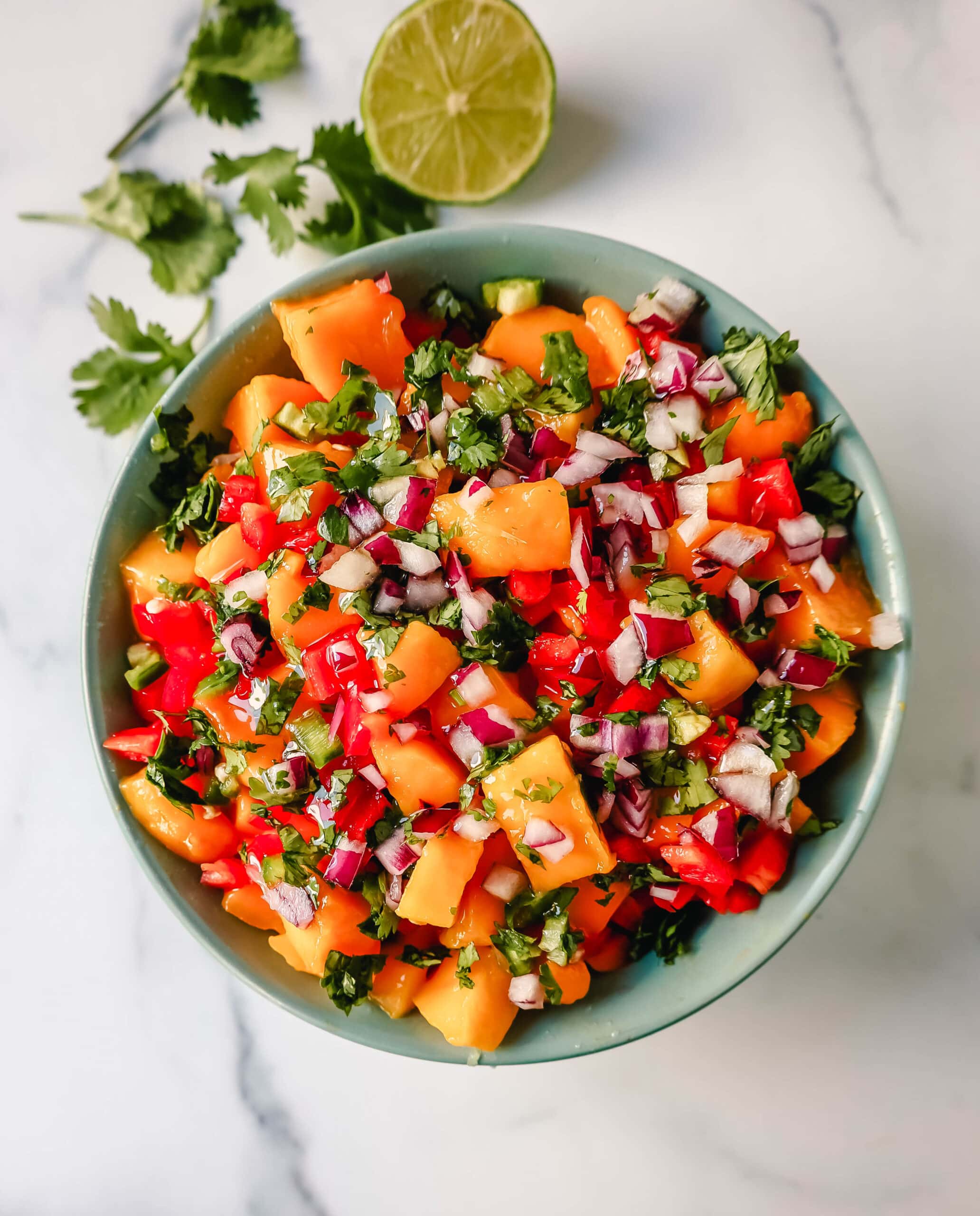 It is summertime and we love any fresh foods we can get our hands on. We recently returned home from over two weeks in California and we tried to hit as many farmer's markets as possible. We would stock up on fresh fruits and vegetables and plan our meals around them. We tried a fresh mango salsa at a farmer's market and I couldn't wait to get home to my test kitchen to recreate it.
What I love about mango salsa is that it has so many elements -- the sweetness from the mango, the crunchiness from the onion and red pepper, and the spiciness from the jalapeno. It has it all! You can pair a homemade mango salsa with tortilla chips, pita chips, or top shrimp or chicken tacos with it. I love to put it in my grilled chicken bowls for a touch of natural sweetness.
I love to drizzle a touch of honey in my mango salsa and it not only gives it some shine but a touch of sweetness as well.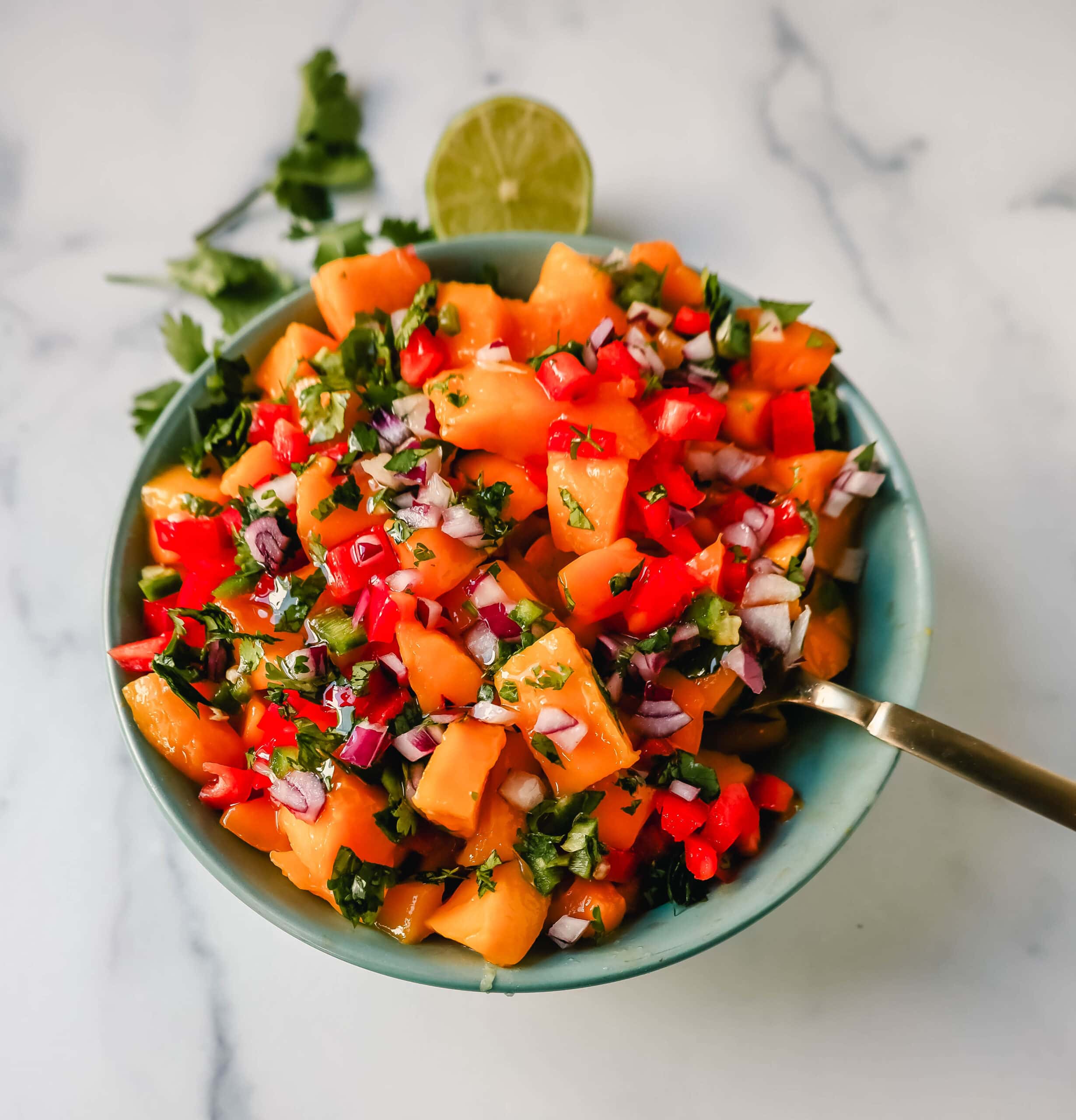 MANGO SALSA INGREDIENTS:
Fresh Mango
Red Pepper
Cilantro
Jalapeno
Red Onion
Lime Juice
Salt
Touch of Honey
The key to the best mango salsa recipe is to use ripe fresh mangoes! Since mangoes are the star ingredient, it makes such a difference if the mangoes are ripe, since they are much sweeter.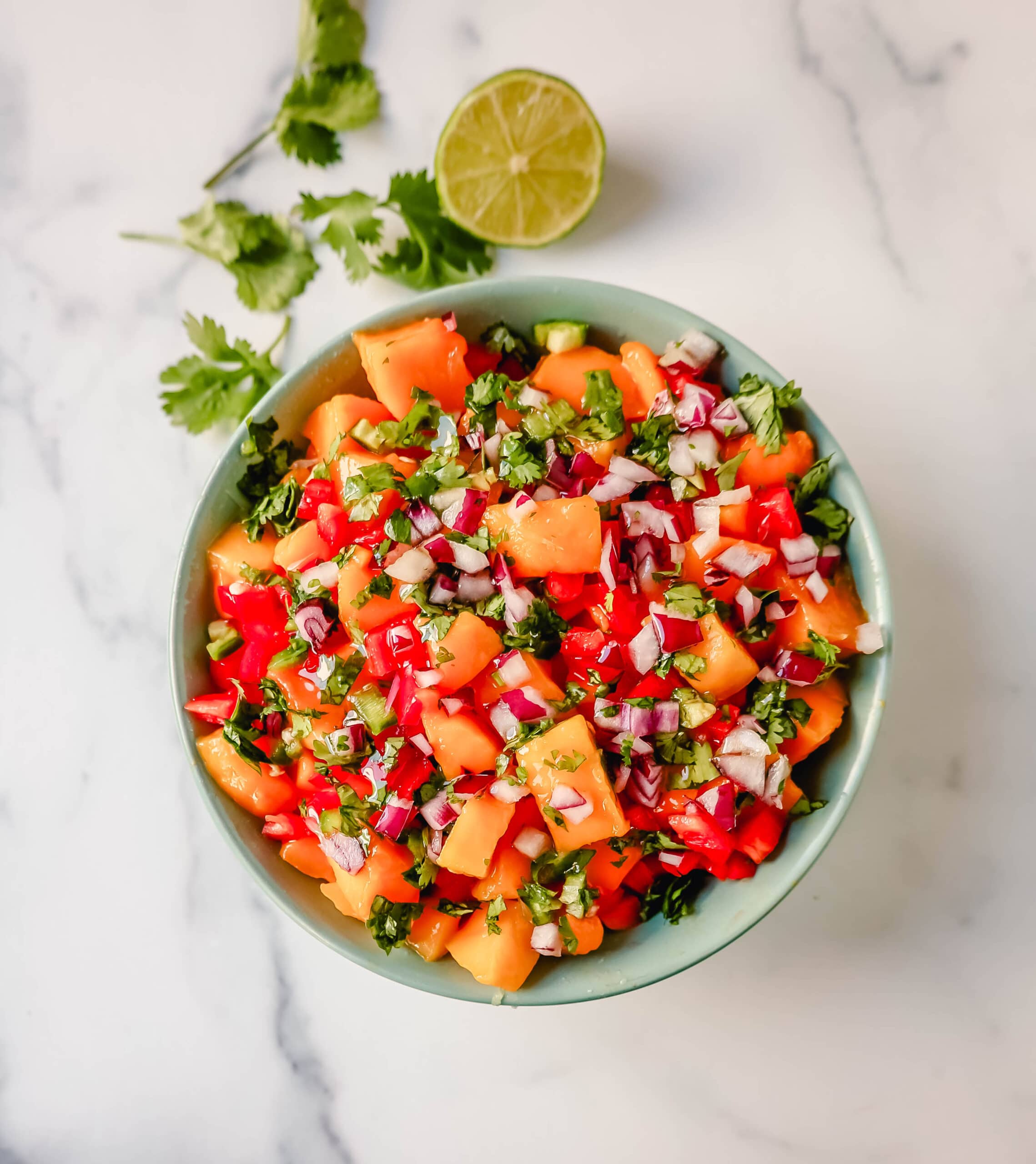 How do I know if a mango is ripe?
Use your senses! First, gently pick up and touch the mango. I would suggest slightly pressing on the mango to see if it slightly gives. If it doesn't give it at all and is hard as a rock, it is not ripe. Try to find softer mangoes where their flesh is ripe and sweet.
Also, use your sense of smell by picking up the mango and smelling it at the stem to see if you can pick up on its fruity notes. A ripe mango definitely has a beautiful fruity fragrance.
Mangoes can ripen so leave them out on your counter at room temperature for a few days and keep checking them.
How do you cut a mango:
The easiest way to cut a mango when making homemade mango salsa, is to cut it alongside the center of the pit. You don't even need to peel the mango. Just run a sharp knife lengthwise down the mango. You will feel the hard pit in the center. Cut each side of the mango and then take a small pairing knife and score the fresh mango by carefully running the knife in a grid-type pattern to make mango cubes. You don't want to cut all the way through the mango skin, just the flesh part. Now, take a spoon and scoop out the scored mangoes.
POPULAR SALSA RECIPES: